This post may contain affiliate links. Read my disclosure policy.
So I have to round out my Sunday meal for you when I cooked for Grandpa, Dad, The Hubby, and The Bug. We had meatloaf. And veggies. And Asparagus dippers. And Balsamic Ketchup. What else could we possibly need with all of that?! Fries, of course! Well, dessert, too, but I'll tell you about that another time, as I am working on some gluten-free baking recipes.
These days, I try to stay away from actual fried French Fries. I used to eat them like crazy, until my tummy started rebelling on me years ago. But sometimes you just want to dunk a fry in some ketchup. So I now make oven fries. And it you do it right, they get nice and crispy on the outside, and stay soft on the inside. So this is my technique. I like to flavor them up a bit. In this recipe, I use Italian seasoning, but I have use Herbes de Provence, seasoned salt, thyme and garlic. So it is very versatile. And eaier than hauling out the deep fryer, which is something I am sort of afraid to do (we got two, yes TWO, for our wedding, and have used one of them, once).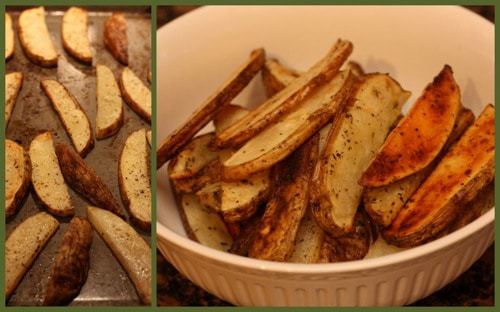 Where do you think they make the best fries? Or are you a fan of oven fries, like me?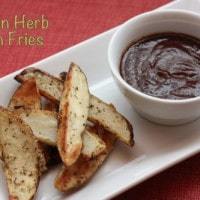 Italian Herb Oven Fries
Ingredients
About 1 lb russet potatoes

1

T

olive oil

plus more for pan

kosher salt & freshly ground pepper

1

t

Italian seasoning

or other herbs, seasonings
Instructions
Cut potatoes into about 1/2 in. by 1 in. steak fries, and place fries in a bowl of cold water, and allow to soak. This can be done in advance, and you can hold the potatoes in the cold water until you are ready to bake them.

Preheat oven to 450°F, and coat a baking sheet with olive oil or cooking spray.

Remove potatoes from the water and dry thoroughly.

Toss the potatoes in the olive oil, salt & pepper, and Italian seasoning, and lay on the baking sheet in a single layer.

Bake for 10 minutes, flip the fries, and bake for about another 10 minutes, or until golden and crispy.
Enjoy!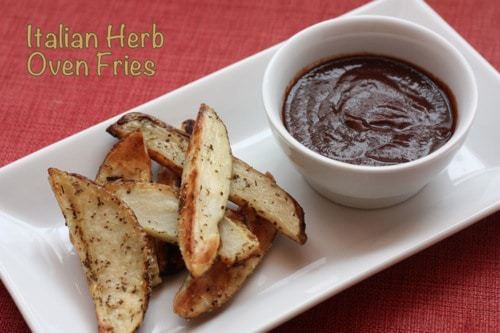 This recipe was shared with: