This post may contain affiliate links. Read my disclosure policy.
These stunning Hasselback Sweet Potatoes make a delicious holiday or everyday side dish with a sweet and savory honey butter sauce that gets into every nook and cranny.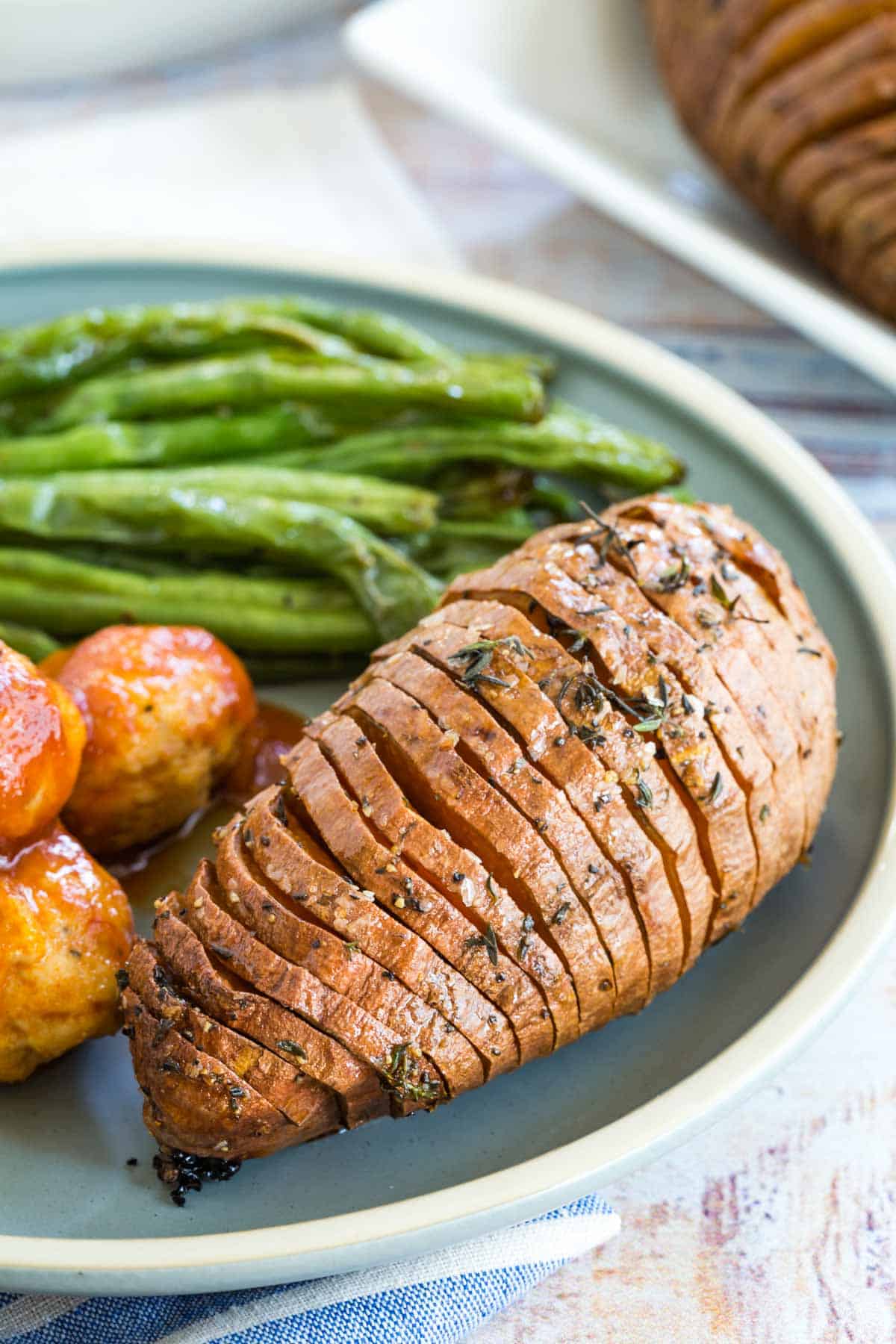 Easy Hasselback Sweet Potatoes
If you love sweet potato dishes on a holiday table, and want to try something totally new this year, you have to make this easy hasselback sweet potato recipe. The potatoes are perfectly fluffy and tender on the inside with a crispy, crunchy crust on the top. They're glazed with a sweet and savory honey butter that seeps into every nook and cranny for the tastiest sweet potatoes yet.
Hasselbacking the potatoes expands the surface area for flavor and crunchy texture, and what could be better than that? If you're a fan of regular hasselback potatoes, this is a must-try twist for Thanksgiving, the holidays, or any weeknight. Not to mention it's a crowd-pleasing gluten-free and vegetarian side dish!
What Does Hasselback Mean?
Hasselback is a term for potatoes, or any vegetable, sliced into a fan-like shape. Hasselback is made by slicing a vegetable, usually a potato or sweet potatoes, into thin slices, but not going all the way through. The slices remain attached, but the top of the potato opens up like a fan. This offers plenty of space to add seasonings like the honey butter sauce in this recipe.
You can make hasselback potatoes as an appetizer with baby potatoes, or as a side dish with larger potatoes.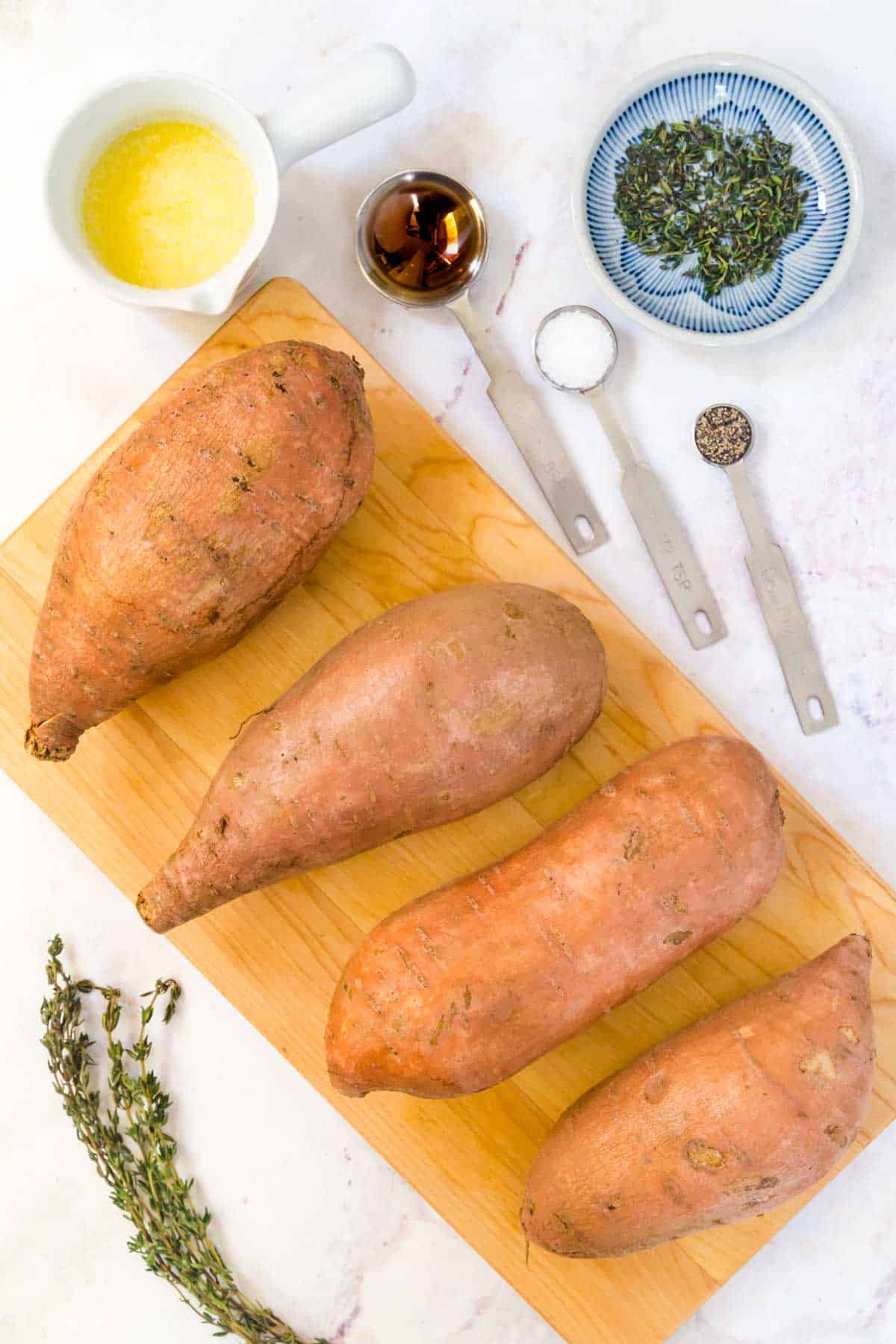 Recipe Ingredients
Here's what you need to make this sweet potato recipe:
Sweet Potatoes
Butter. Use unsalted butter.
Honey. Maple syrup will also work.
Fresh thyme. Feel free to try other herbs, like parsley, marjoram, or sage.
Salt and pepper
How to Make Hasselback Sweet Potatoes
Once you've practiced how to slice hasselback sweet potatoes, this recipe is a quick and simple process. Most of the time is hands-off, as the potatoes roast in the oven until they're soft and fluffy on the inside with a crisp, golden top.
Here are the steps to making the best sweet potatoes with honey-butter glaze:
Prepare for baking: Preheat the oven to 425°F. Cover a baking sheet with aluminum foil or parchment and grease with nonstick spray.
Prepare the potatoes: Slice the sweet potatoes into 1/8-inch slices widthwise, stopping 1/2 inch from the bottom of the potato so you don't cut all the way through. This creates a fan-like design on the top of each potato.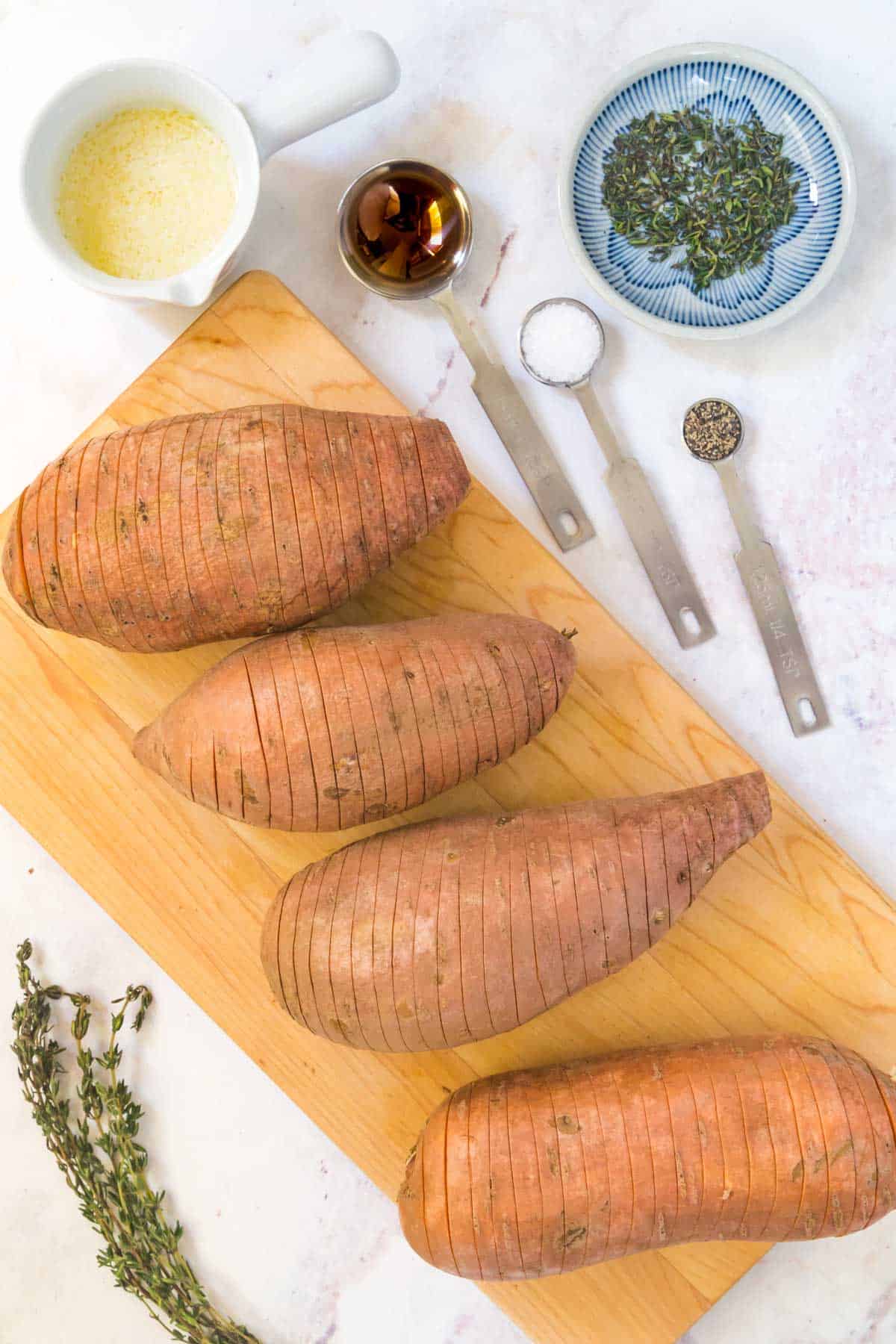 Make the honey butter: Melt the butter, and add the honey, thyme, salt and pepper. Brush the potatoes with half of the honey butter. Make sure to get all over the sides and into the slices.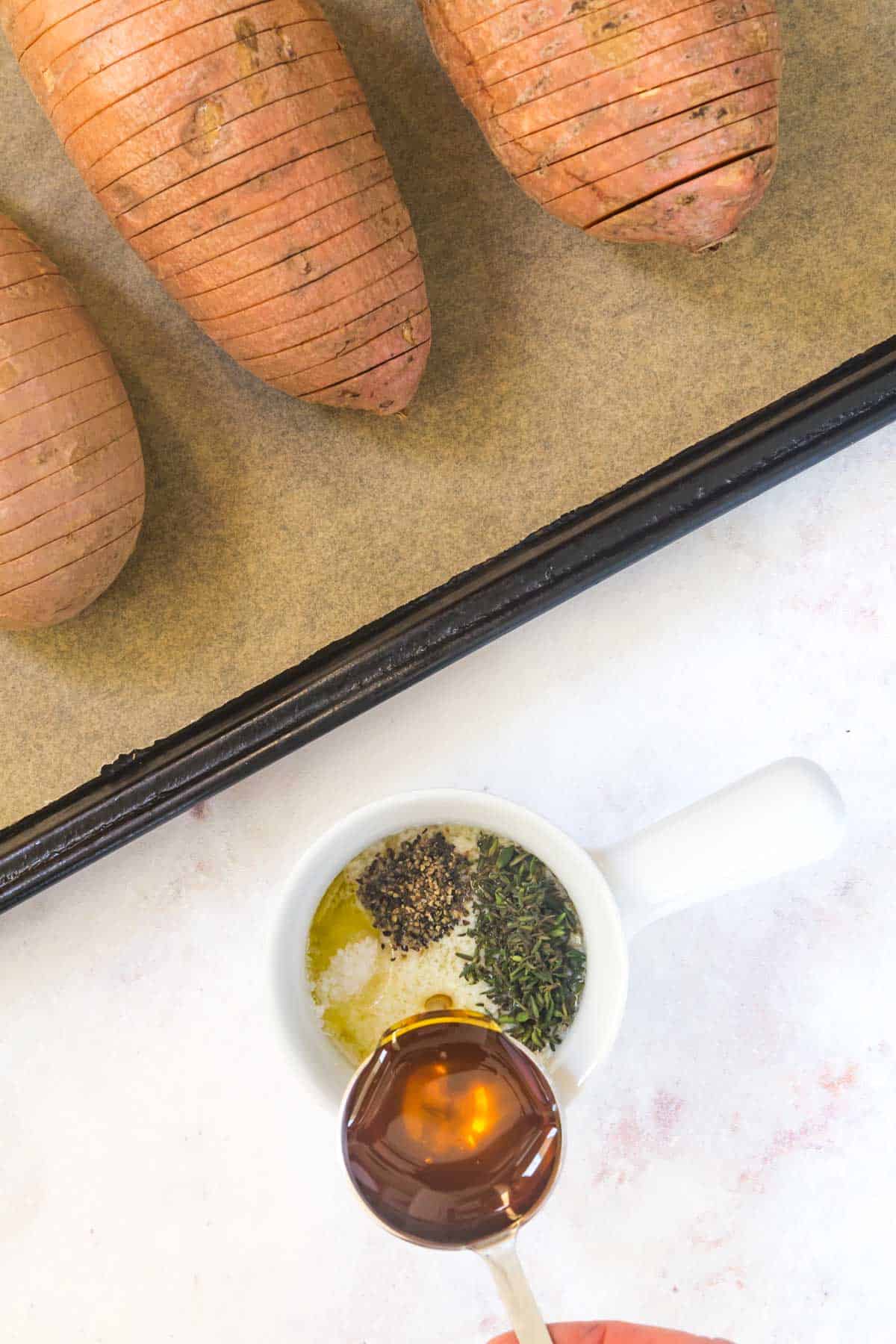 Bake: Bake the sweet potatoes for 30 minutes. Remove them from the oven and carefully fan out the slices. Brush the potatoes with the remaining honey butter.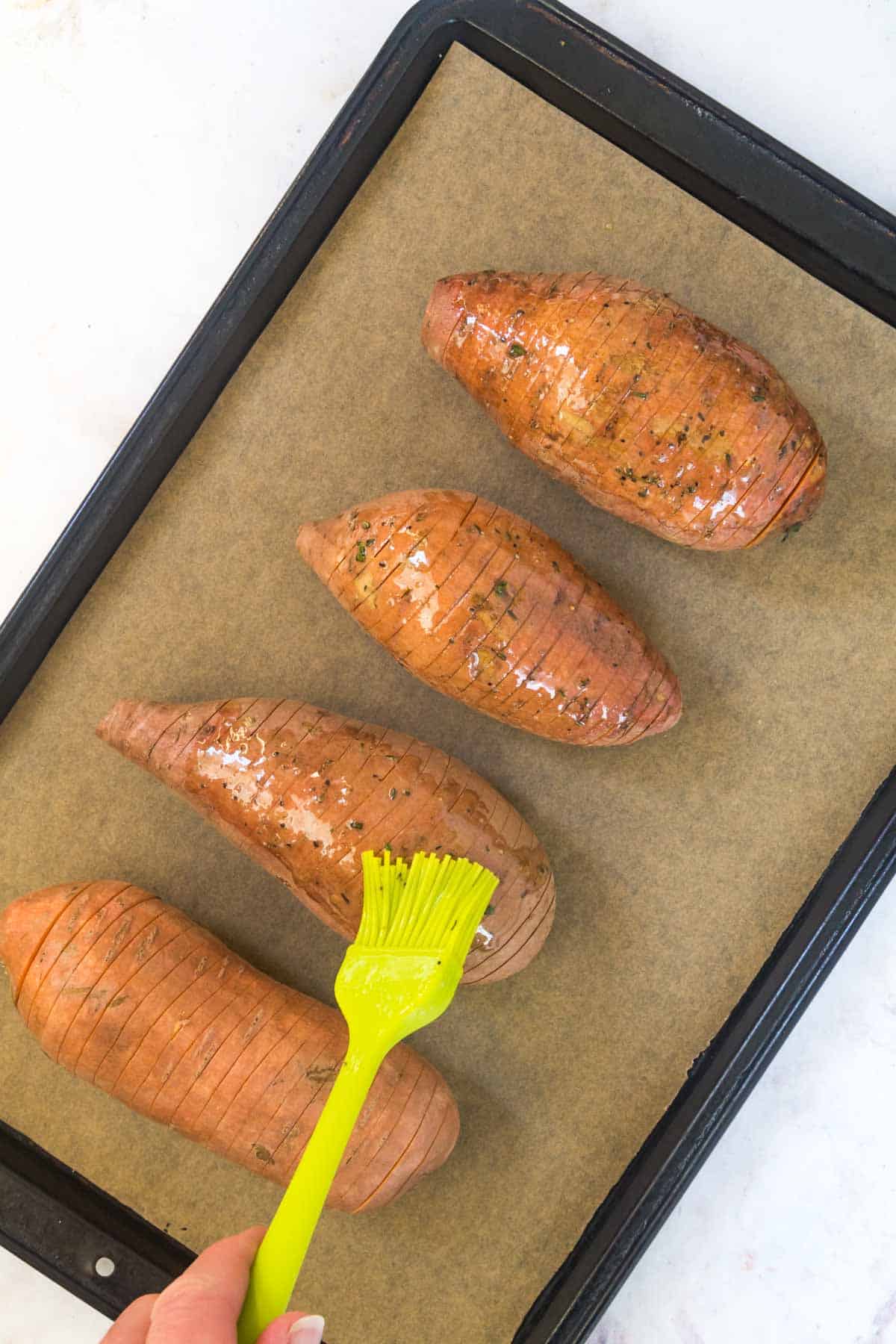 Finish baking: Return the potatoes to the oven and bake for another 20 to 30 minutes, until the inside is soft and the edges are crispy.
Serve: Remove the cooked sweet potatoes from the oven. Brush them with any remaining honey butter and serve warm. Enjoy!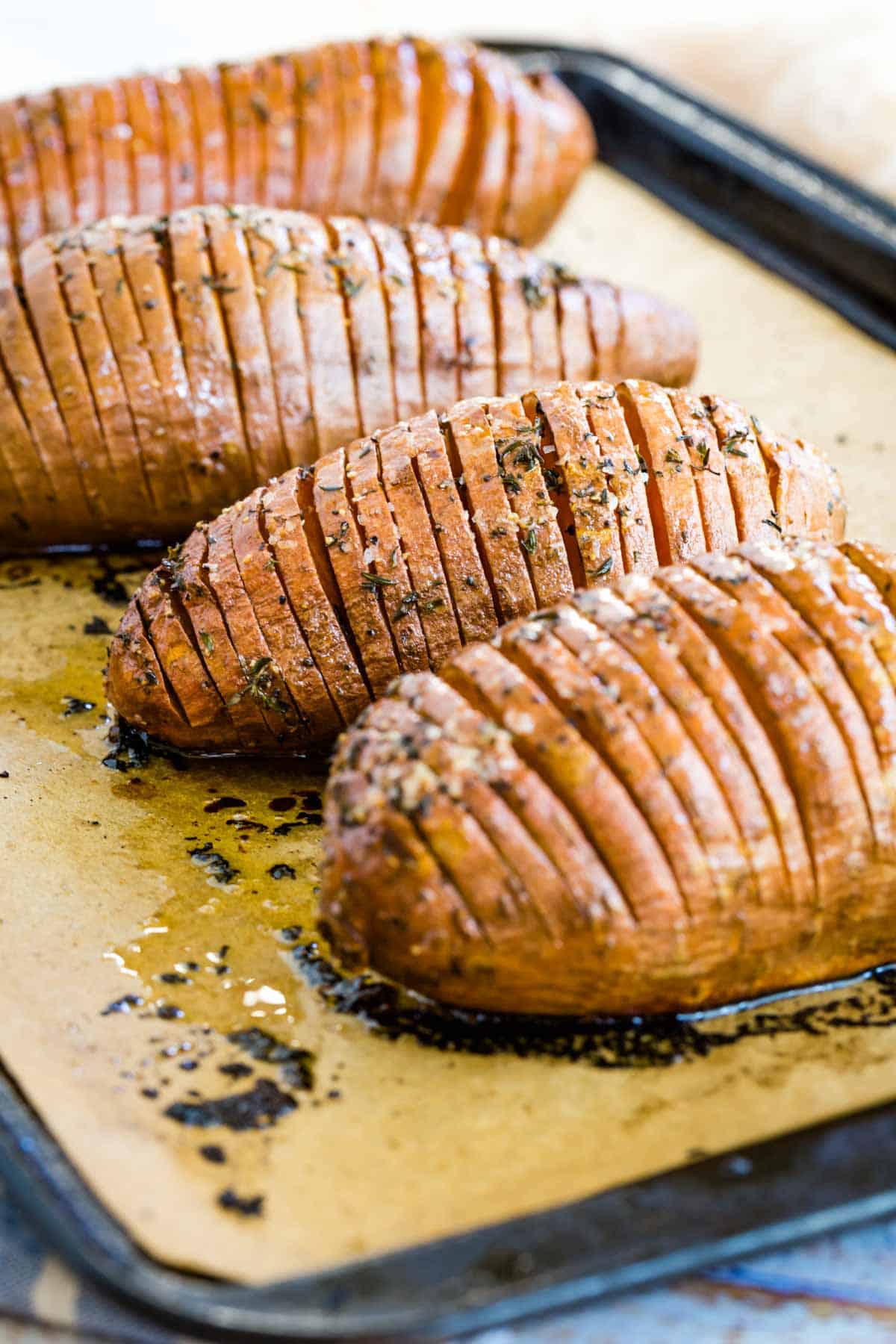 Tips for Success
Before you get started, here are a few helpful tips for this recipe to make sure that your hasselback potatoes come out beautifully:
When slicing the potatoes, place a chopstick on either side of the potato. This will prevent your knife from cutting all the way through.
The potatoes are done cooking when you can easily pierce them with a knife and theyre cispy on the tops.
Rotate the pan in the oven halfawy through cooking. This ensures that your poatoes cook evenly, in case your oven has hot and cold spots.
Use a low-sided baking sheet for the crispiest potatoes. A deep baking dish will trap moisture inside that can prevent the crevaces and tops of your potatoes from getting crispy and toasted.
Keep the skin on your potatoes. It's full of nutrients and helps them hold their shape while baking.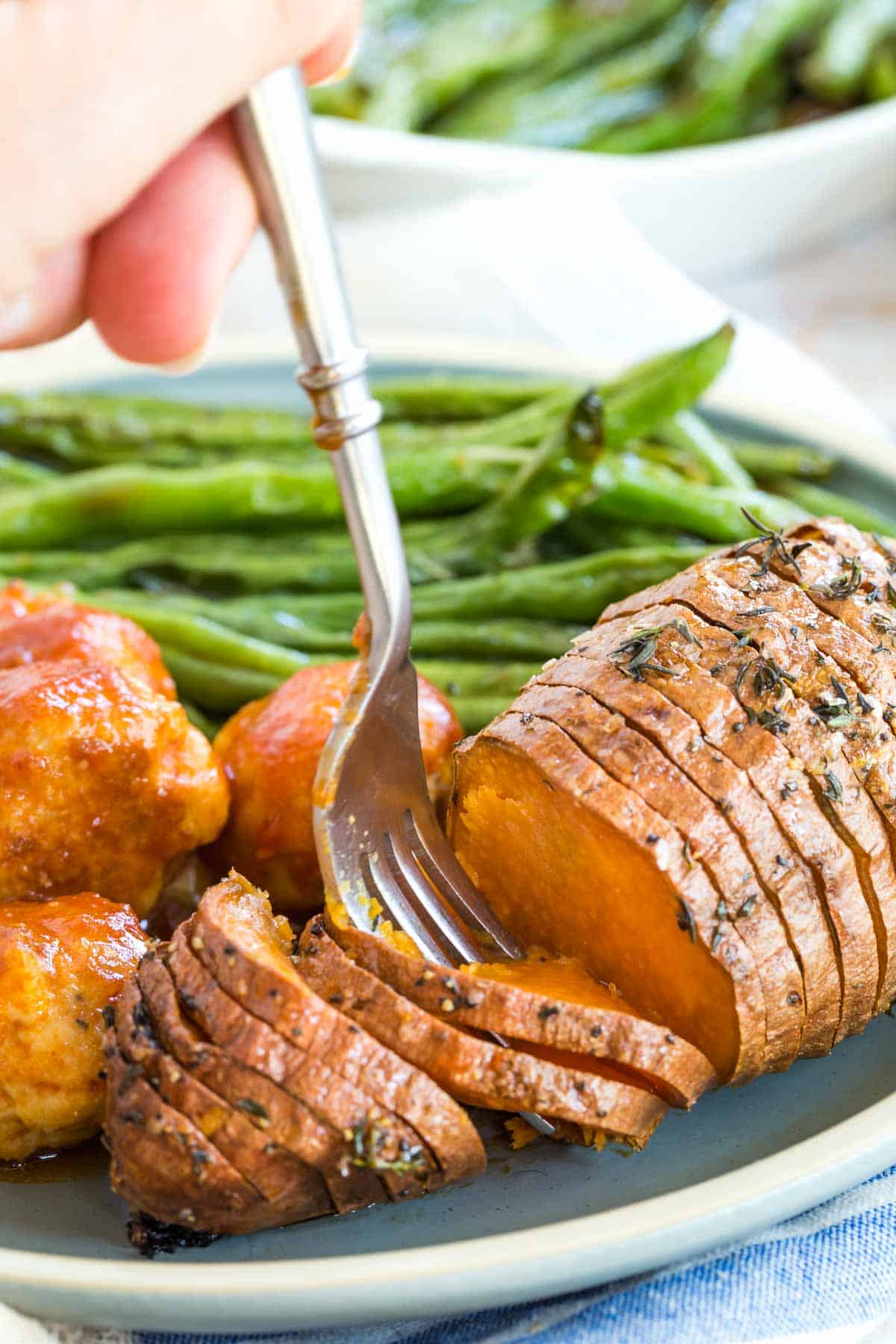 Can I Make Vegan Hasselback Sweet Potatoes?
Absolutely! With one simple ingredient swap you can make these totally dairy free. Instead of regular butter, use your favorite plant-based option, whether it's dairy free butter or melted coconut oil. And for strict vegan, use maple syrup instead of honey. The rest of the recipe steps and ingredients remain the same.
Can I Make Paleo Hasselback Sweet Potatoes?
Yes, using ghee or clarified butter or even coconut oil makes these paleo-friendly. Just be sure to use raw honey or pure maple syrup.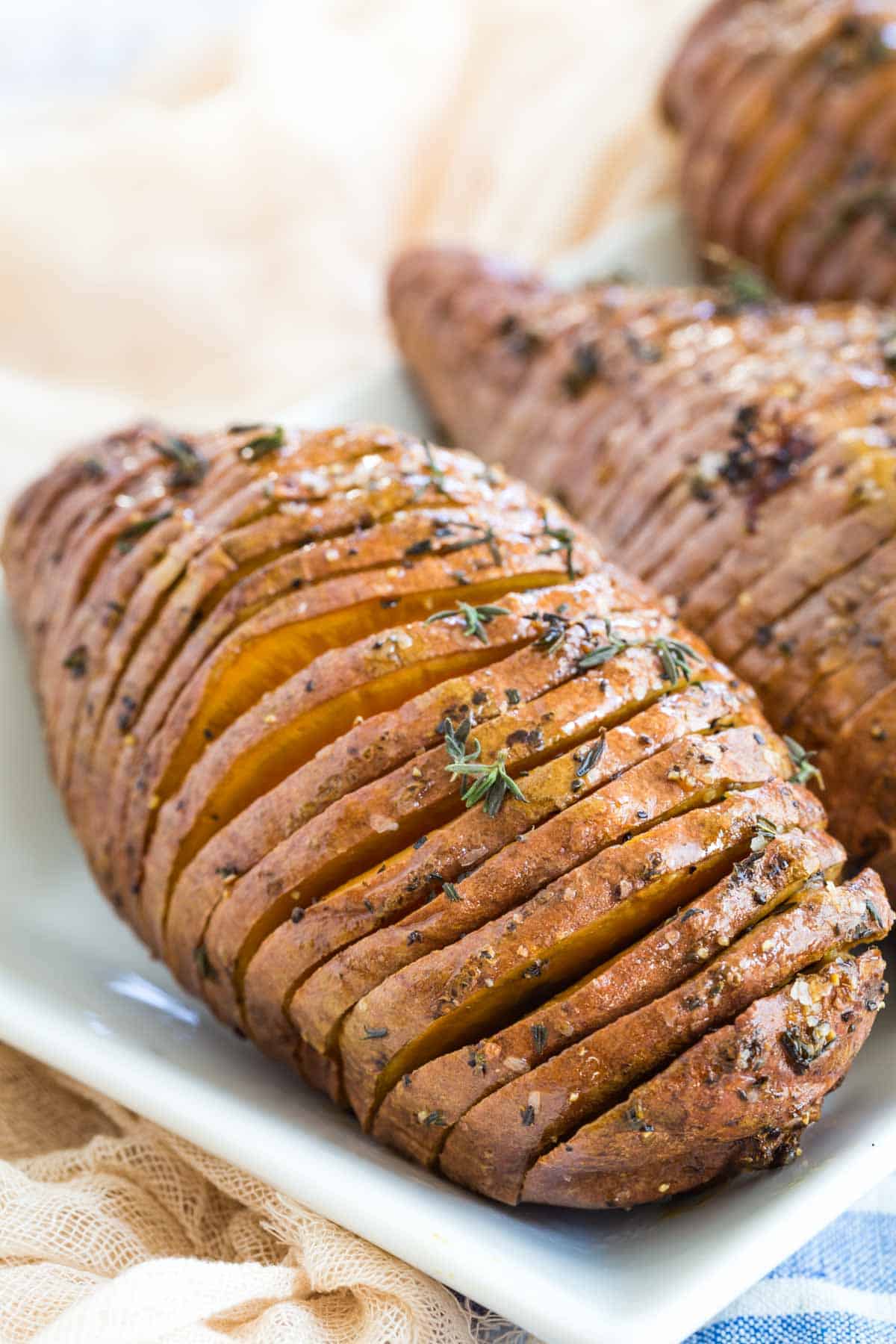 How to Store Extras
Store leftover sweet potatoes in an airtight container in the fridge for up to four days. To reheat, warm the sweet potatoes in a 350°F oven for 10-15 minutes, until warmed through.
Can I Make These in Advance?
You can make the sweet potatoes a day or two in advance. keep them in an airtight container. then reheat the sweet potatoes in a 350°F oven until heated through. these are best served warm.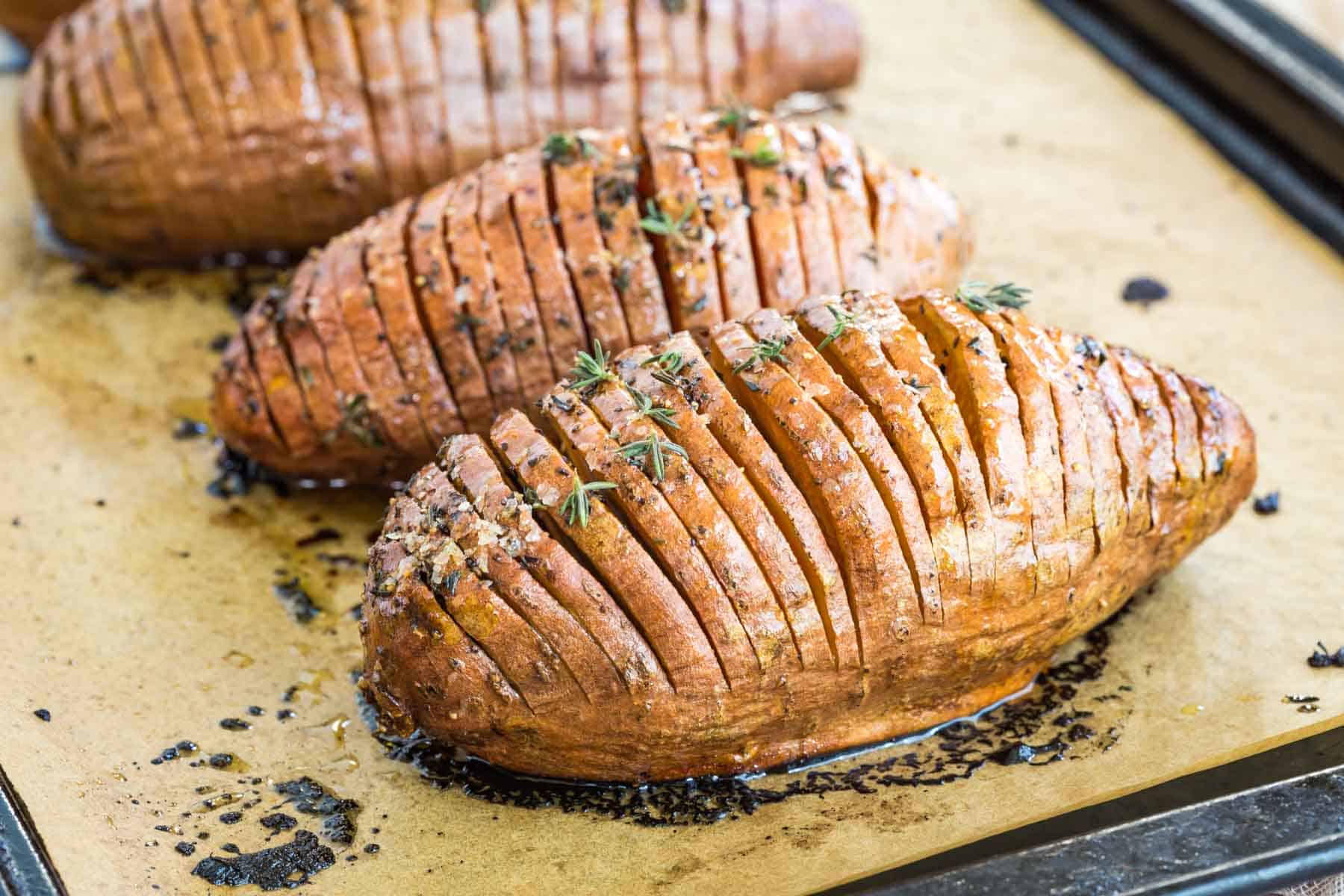 Make it a Meal
While these would be especially good with a Thanksgiving roast turkey or your Christmas glazed ham, they also are perfect with many weeknight meals!
Pair these honey butter sweet potatoes with your favorite protein and a green side dish. My family loves serving these sweet potatoes with proteins like:
And here are some green ideas to serve with hasselback sweet potatoes: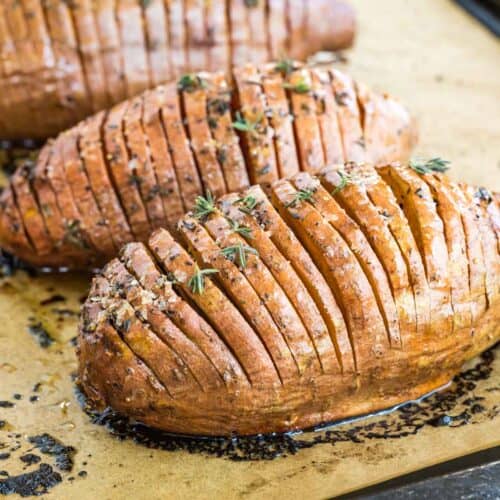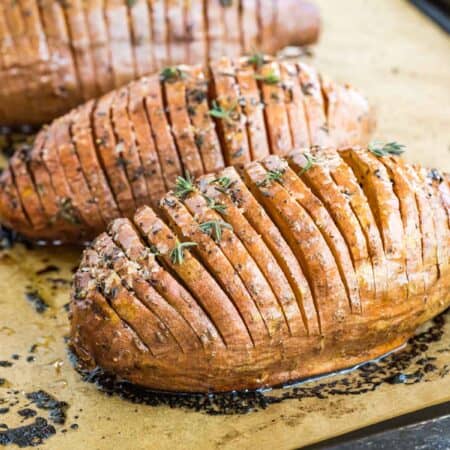 Honey Butter Hasselback Sweet Potatoes
Honey Butter Hasselback Sweet Potatoes are a fast and easy holiday side dish with a savory and sweet sauce.
Ingredients
4

medium sweet potatoes

2

Tablespoons

unsalted butter

, melted

1

Tablespoon

honey

1

teaspoon

minced fresh thyme

½

teaspoon

kosher salt

¼

teaspoon

pepper
Instructions
Preheat the oven to 425°F. Line a baking sheet with parchment paper or aluminum foil sprayed with nonstick cooking spray.

Wash and dry potatoes thoroughly. Make a series of 1/8 inch slices along the top of each potato, stopping ½ inch from the bottom, taking care not to slice all the way through the potatoes. Place the potatoes on the prepared baking sheet.

In a small bowl, combine the melted butter, honey, thyme, salt, and pepper. Using just half of the honey butter mixture, brush the potatoes all over the sides and in between the slices.

Bake sweet potatoes for 30 minutes then remove from oven. Gently fan out the slices a bit. Rewarm the butter, if necessary, to melt it, then brush all of the remaining honeybutter all over sweet potatoes,including in between slices.

Return to the oven and continue baking until the potatoes are tenderon the inside and crispy on the outside, about 20- 30 minutes.

Brush sweet potatoes with any of the butter that has accumulated at the bottom of the pan and serve them right away
Nutrition Facts
Honey Butter Hasselback Sweet Potatoes
Amount Per Serving
Calories 261
Calories from Fat 54
% Daily Value*
Fat 6g9%
Cholesterol 15mg5%
Sodium 416mg17%
Potassium 771mg22%
Carbohydrates 50g17%
Protein 4g8%
Vitamin A 32262IU645%
Vitamin C 6mg7%
Calcium 73mg7%
Iron 2mg11%
* Percent Daily Values are based on a 2000 calorie diet.
Categories:
More Sweet Potato Recipes to Try