This post may contain affiliate links. Read my disclosure policy.
Roasted Vegetable Balsamic Meatloaf takes the classic retro dinner and gives it more flavor and an extra dose of veggie goodness. Plus they make it extra moist and tender. Whether you want to use up leftover roast veggies or are looking for an easy and healthier way to stretch your ground beef, this is a hearty dinner recipe the entire family will love. And it's even super simple to make this Roasted Veggie Meatloaf with Balsamic Glaze one of your favorite gluten free comfort food recipes too.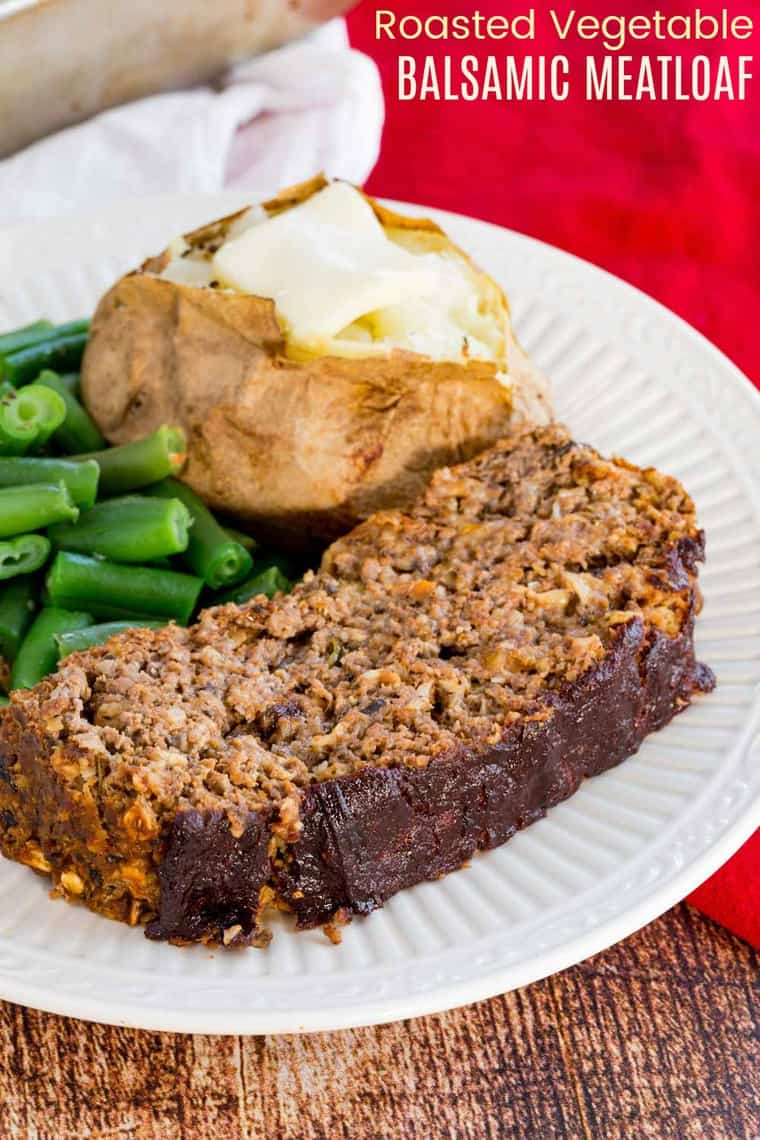 Originally published on April 30, 2012. Updated with new photos, video, and additional helpful information.
The first time I made this, I was looking for a true manly-man meal. You see, I was cooking dinner for my son (I only had one at the time), husband, father, and grandfather. And the best guys in my life deserved a hearty and satisfying dinner.
Enter, meatloaf.
So many of us grew up on this dish that was a genius was of stretching already relatively inexpensive ground beef by adding fillers like egg and breadcrumbs. While this is great for making the food budget go a little further, it doesn't do much for the flavor and nutrition factors. In fact, not all of us even have fond memories of meatloaf.
However, with a few changes to the classic meatloaf recipe, you can not only add the healthy benefits of eating more veggies but actually make it taste amazing. Dare I say it, almost gourmet.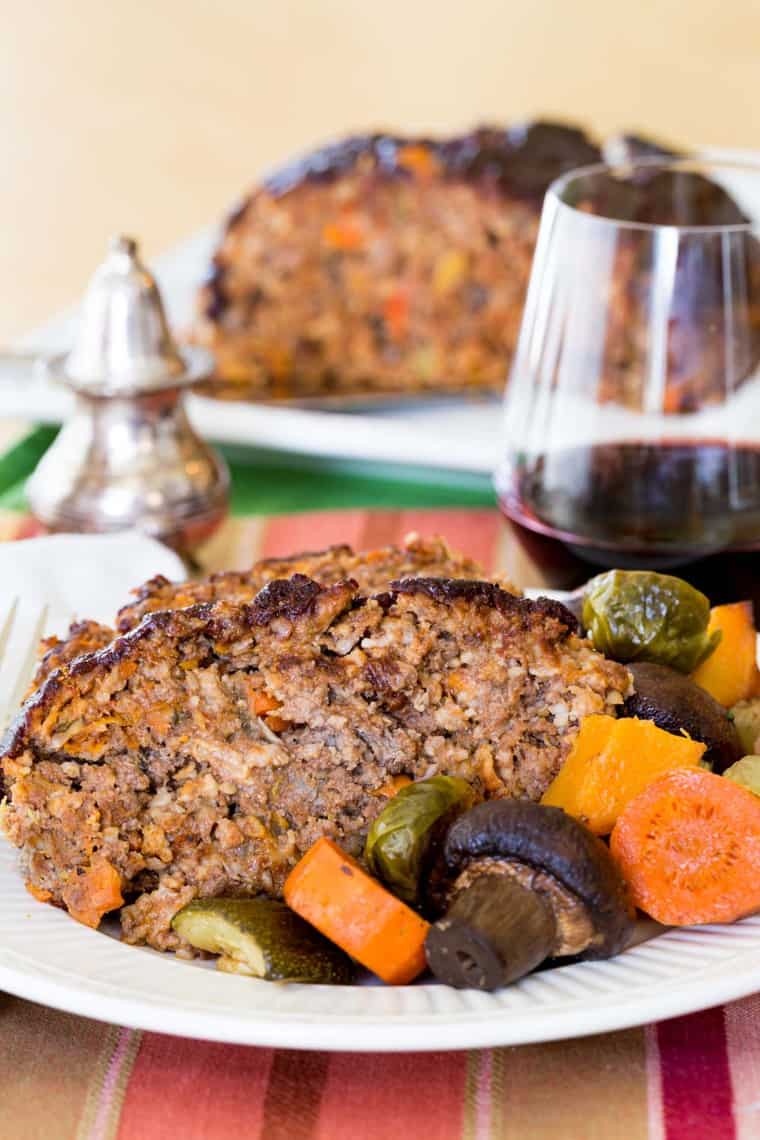 How to flavor meatloaf
When I saw this Roasted Veggie Meatloaf with Balsamic Glaze from Ann at The Fountain Avenue Kitchen, I knew I had to try it. But I did put my own spin on it.
Sure, many traditional versions do have raw veggies like onions, carrots, and celery to help stretch it out. But when you use a mix of things like carrots, squash, mushrooms, peppers, or whatever you have on hand, then roast them at a high temperature to get them browned and caramelized, it really intensifies the deliciousness.
Instead of bottled ketchup, I mix up a quick batch of my homemade balsamic ketchup. It literally takes just seconds to stir together and really adds that delightfully tangy punch of balsamic goodness with the moisture and umami from the tomato-ey base.
And then it does double duty as the balsamic glaze slathered on top before baking.
No packets of onion soup mix needed, like my mom always used to use. Yet it might be twice as yummy. My guys, my kids, my extended family, even one of my best friends, who makes this recipe all the time, and her family repeatedly devour it.
It might be a manly meal, but you have to admit, this is some fancy meatloaf. But don't worry. Not too fancy. We keep it real around here.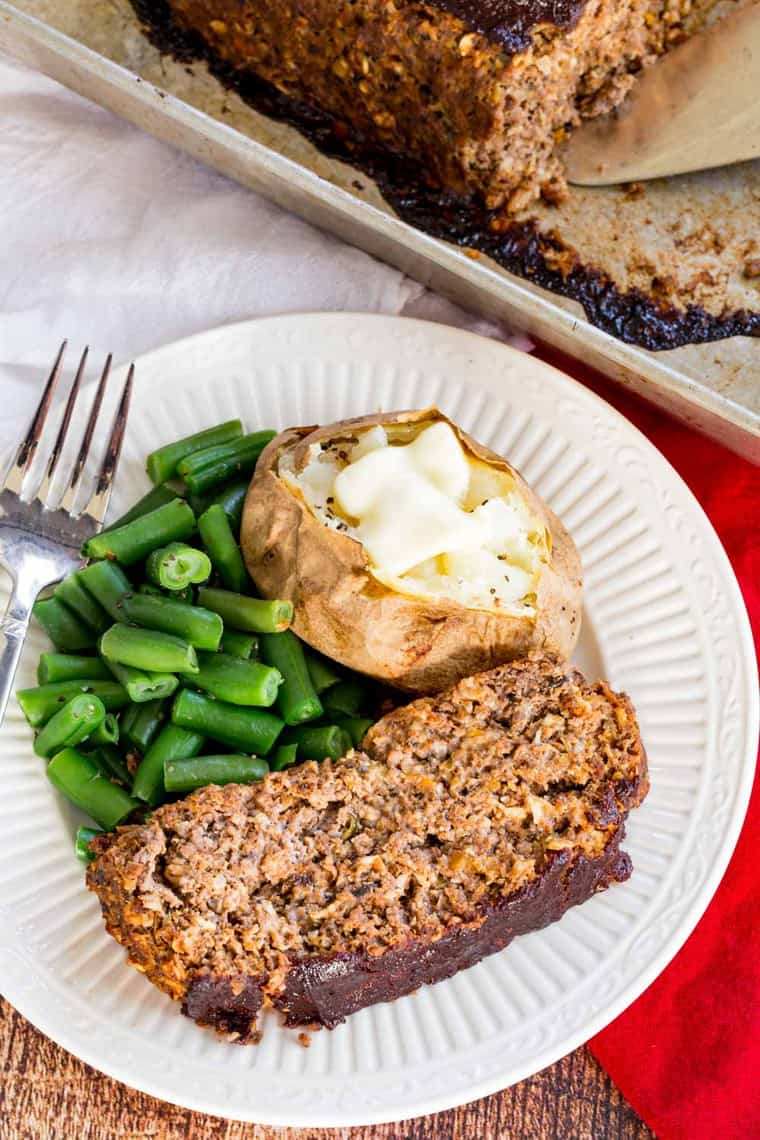 How to make Balsamic Glazed Meatloaf with Roasted Vegetables
You have a few steps to follow, but it's really quite simple to make. Roast some veggies or set aside leftovers, then puree them in a food processor or blender. Then stir together a quick, extra tasty homemade ketchup to add to the meat mixture and to serve as the balsamic glaze.
Make your standard ground beef, bread crumbs (or oats), egg, ketchup, and seasoning mixture, but add in those pureed veggies. Form it all into a loaf and bake for about an hour. The balsamic and the caramelization on the veggies made this a more interesting and exciting spin on an old standard.
Here is a brief overview so you can see just how easy it is to make. Scroll down to the printable recipe card for the full quantities and details.
But don't skip my PRO TIPS below!
Ingredients
Directions
Stir together the balsamic ketchup.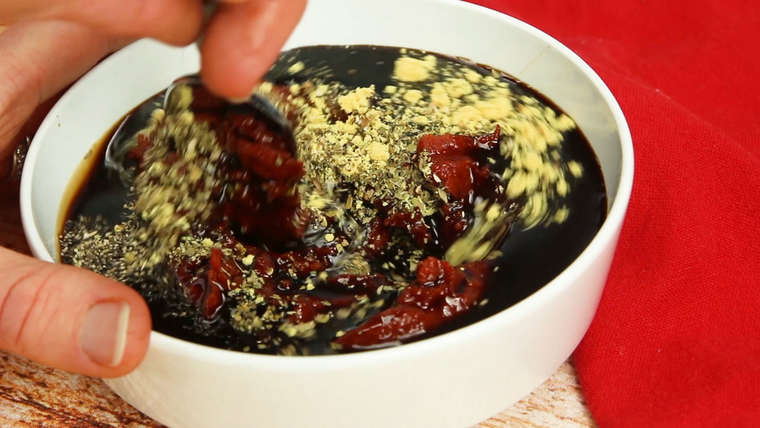 Puree the veggies in a food processor or blender.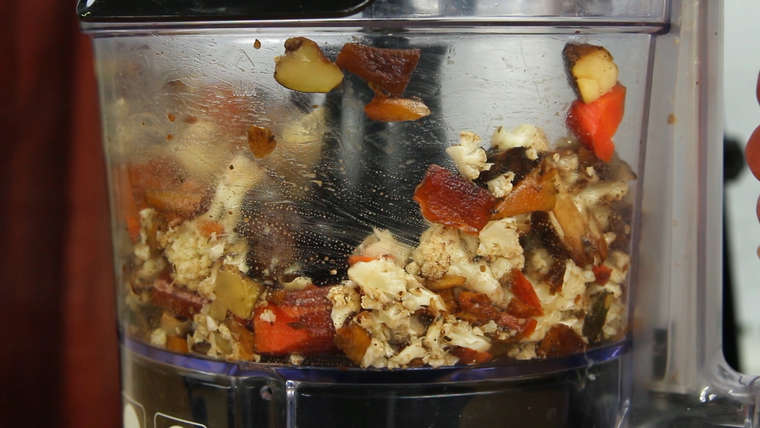 In a bowl, stir together the eggs, breadcrumbs or oats, Parmesan, balsamic ketchup, thyme, Italian seasoning, salt, and pepper.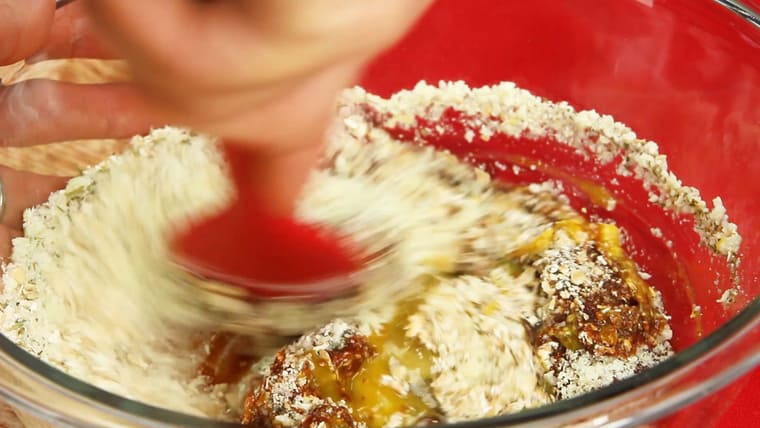 Stir in the roasted vegetables.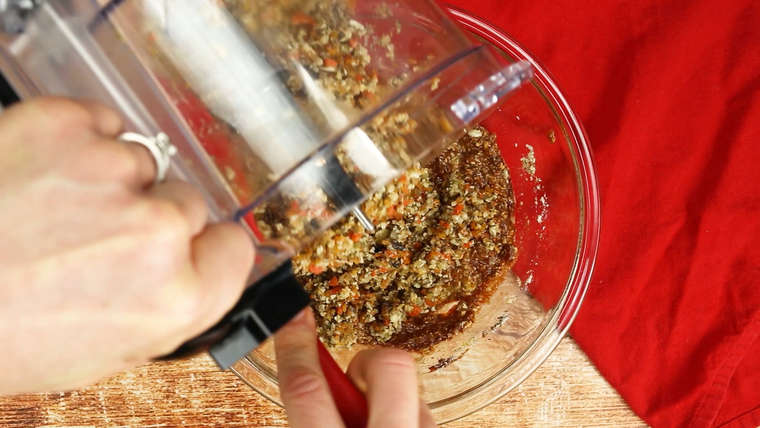 Add the ground beef and work it together with your hands.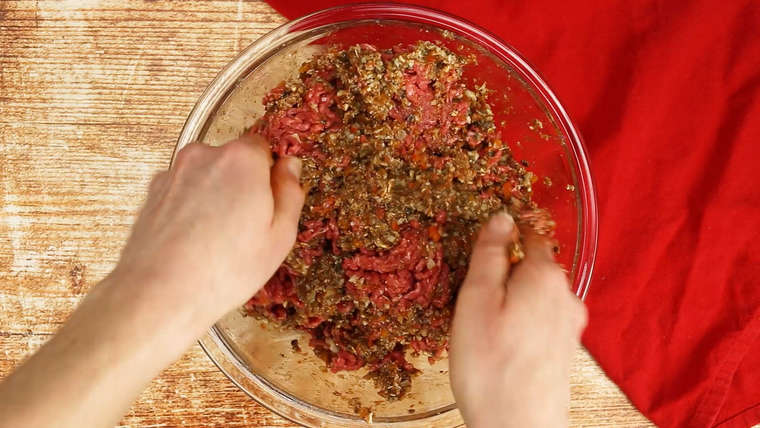 Shape the meat mixture into a loaf and place it into a baking pan. Pack it firmly together.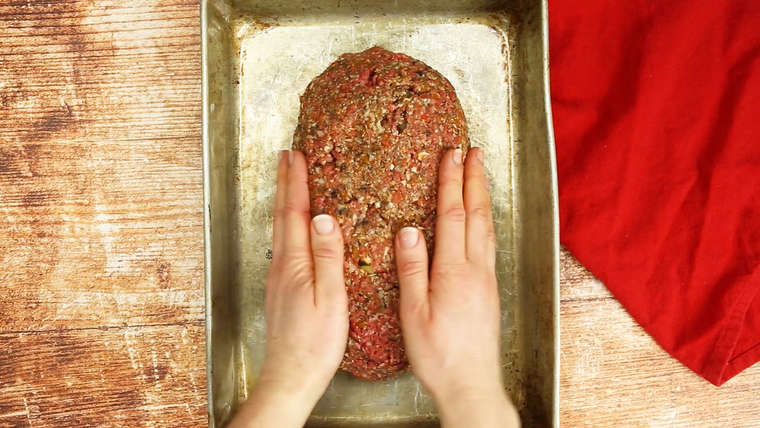 Spread more of the balsamic glaze over the top.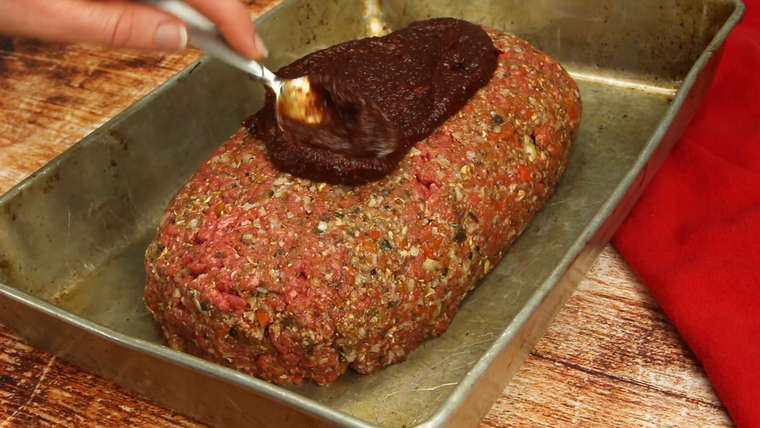 Bake at 350°F for about an hour, until the internal temperature, reaches 160°F.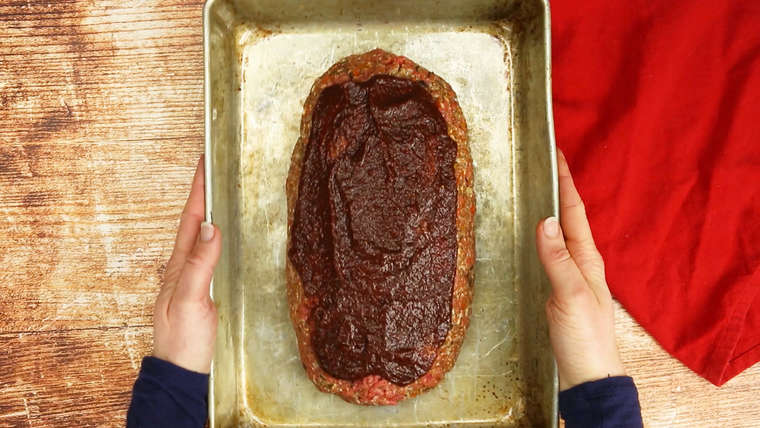 Let rest for about 10 minutes before slicing. Serve with additional balsamic ketchup, if desired.
Brianne's recipe pro tips
First, a few general tips to help you make perfect meatloaf.
Sure, you can just use a mixture of ketchup and balsamic vinegar for the meatloaf and glaze. But it is much thinner than my Balsamic Ketchup. So I'd recommend at least just mixing the specified amount of tomato paste and balsamic vinegar, even if you want to skip the dried herbs and spices. Do be sure to add a pinch or two of salt, though.
The pureed veggies do make this meatloaf moist and tender, but you will want to be sure you mix it thoroughly and pack it together tightly so it doesn't fall apart. There really isn't as much of a concern of overmixing like with other meatloaf recipes.
You'll want to cook the meatloaf to an internal temperature of 160°F. I recommend an Instant Read Thermometer for a quick and accurate reading.
Now, let's get into some specifics.
Veggies to use
The roasted vegetables do add a lot of flavor just from their caramelization in the roasting process. But adding balsamic vinegar when you roast them, as I do in the Balsamic Roasted Veggies recipe I link to above, really kicks it up.
What veggies do I use? Well, it depends on what I have in the fridge. But I have used different combinations of carrots, cauliflower, mushrooms, Brussels sprouts, red peppers, butternut squash, zucchini, and onions.
Gluten free meatloaf
Gluten Free Disclaimer: I am not a medical professional. This information is solely based on my research and personal experience, and I provide it as a courtesy to my readers. Please consult your doctor or medical professional for any questions as it relates to your needs, particularly if you have celiac disease or a severe gluten allergy or intolerance. Products, manufacturing facilities, and ingredients change frequently, so you should always contact the manufacturer for the latest information.
Most people think of breadcrumbs as the traditional binder for meatloaf. And you can certainly use gluten free breadcrumbs. But another option is oatmeal (certified gluten free oats, of course, if needed).
I highly recommend using old fashioned oats that you've ground slightly in a food processor or blender. Just add them to the container and press "Pulse" several times just to break it down a bit.
I DO NOT recommend quick or instant oats. These are processed to be able to absorb liquid quickly. Thus they will absorb the liquid from the roasted vegetables and beef, expand quickly, and cause the meatloaf to break apart.
Make it ahead
Roasted Veggie Balsamic Meatloaf is a great make ahead or meal prep recipe, and you have several options for advance preparation.
If you are roasting vegetables for dinner one night, double the batch and set aside 2 1/2 cups to be able to mix up the meatloaf a day or two later.
After you bake your meatloaf, you can keep all of it or just the leftovers in the fridge for up to 2 or 3 days. It's great to cut off a slice to make meatloaf sandwiches for lunch.
It also freezes well in an airtight container for up to two months. Cut into slices and wrap individually if you want to be able to pull out single servings. Or if your family only eats about half of it, freeze the entire thing for another full meal.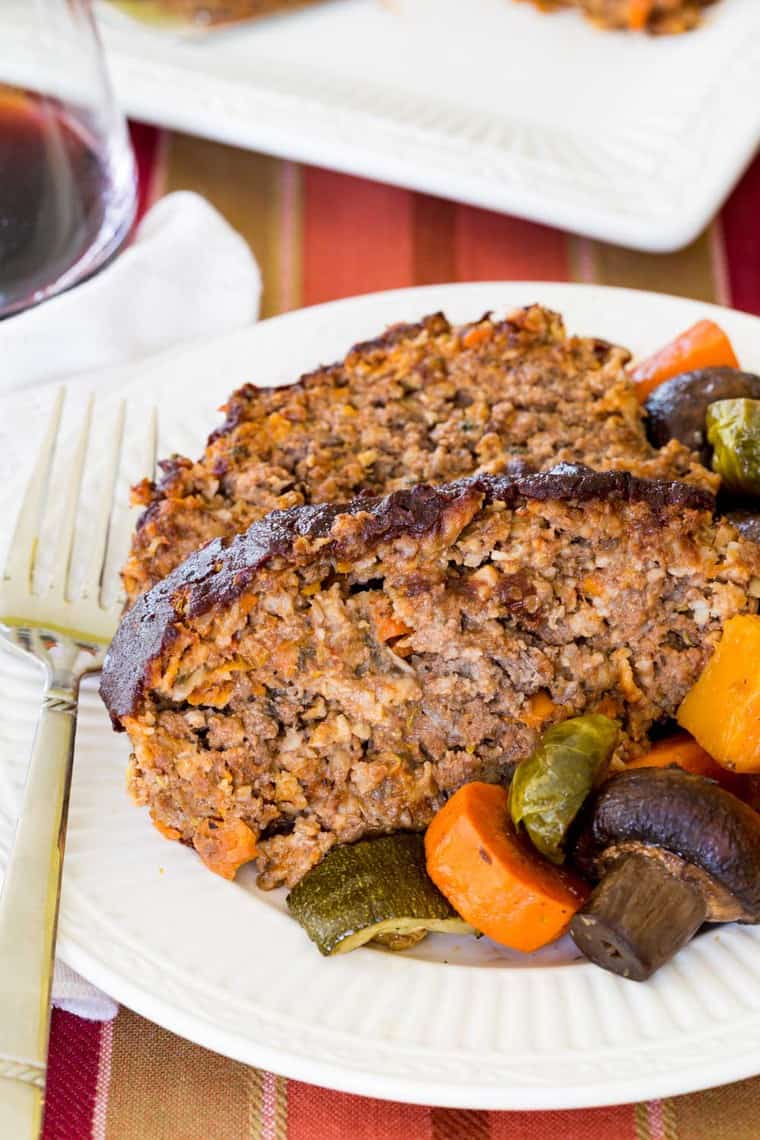 Side dishes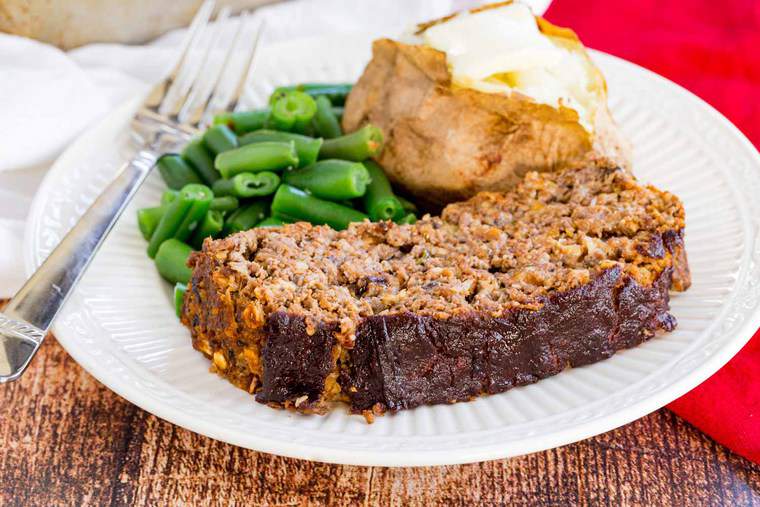 More ground beef comfort food recipes
Other meatloaf recipes
Roasted Veggie Balsamic Meatloaf Recipe
When I say veggie meatloaf, I don't mean vegetarian meatloaf. What I do mean is, let's take the classic comfort food and add more flavor, more juiciness, and yes, even more healthy benefits by adding roasted vegetables to the mix. Sure, it might be a bit sneaky, but it's also extra delicious. And easy to make gluten free too!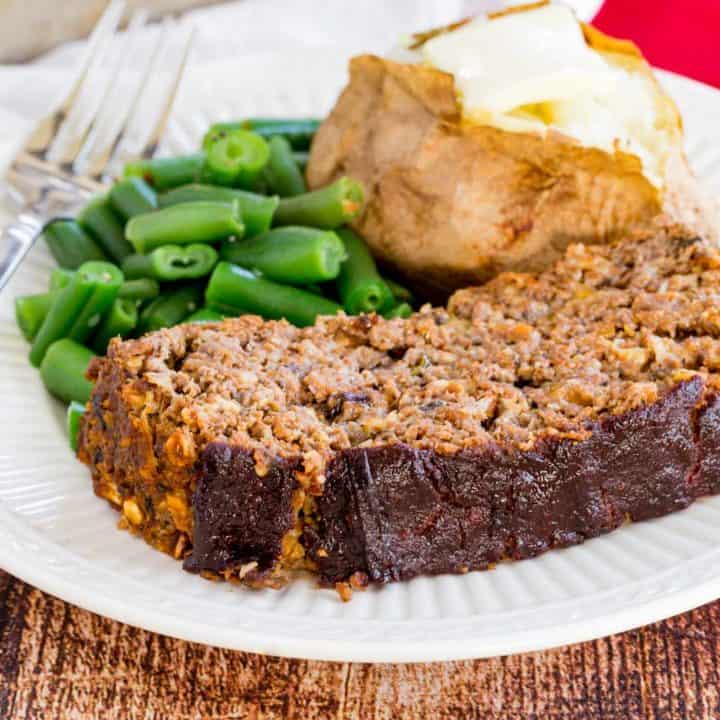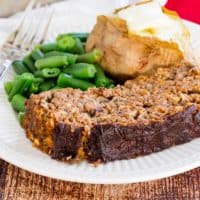 Roasted Vegetable Balsamic Meatloaf
Ingredients
For the Meatloaf:
2 1/2

cups

roasted vegetables

see note

2

eggs

1 1/4

cup

Balsamic Ketchup

divided (see below for how to make it, and note for substitution)

1/2

cup

bread crumbs

or old fashioned oats, slightly ground in a blender or food processor

1/2

cup

freshly-grated Parmesan cheese

1

teaspoon

dried thyme

or 1 tablespoon fresh thyme

1

teaspoon

Italian seasoning

1

teaspoon

kosher salt

1/4

teaspoon

freshly ground black pepper

2

pounds

ground beef

(I've used 90%-93% lean, but 80-85% will work just fine)
For the Balsamic Ketchup (see note):
Instructions
For the Meatloaf:
Preheat your oven to 350° F.

Prepare the Balsamic Ketchup and set aside.

Puree the roasted vegetables in a blender or food processor, leaving them a bit chunky.

In a large bowl, combine the eggs, 3/4 cup of the Balsamic Ketchup, bread crumbs or oats, Parmesan cheese, thyme, Italian seasoning, salt, and pepper. Stir until combined.

Add the roasted veggie puree and stir to combine.

Add the ground beef and incorporate everything together thoroughly with a spoon, spatula, or your hands.

Form into a loaf, place into a baking pan, and press it together firmly and tightly.

Spread 1/2 cup of the Balsamic Ketchup over the meatloaf as a glaze.

Bake for 60-70 minutes, or until it reaches an internal temperature of 160°F.

Let rest for 10-15 minutes before slicing.
For the Balsamic Ketchup:
Combine all of the ingredients in a small bowl and stir until smooth.
Notes
I used 2 1/2 cups of the Balsamic Roasted Vegetables, but any leftovers will work. Can be a mix of carrots, cauliflower, butternut squash, zucchini, mushrooms, peppers, Brussels sprouts, and more.
If you don't want to make the full Balsamic Ketchup recipe, you can simply mix one 6 oz. can of tomato paste with 1/2 cup balsamic vinegar and a few pinches of salt.
Nutrition Facts
Roasted Vegetable Balsamic Meatloaf
Amount Per Serving (1 slice)
Calories 223
Calories from Fat 90
% Daily Value*
Fat 10g15%
Cholesterol 80mg27%
Sodium 525mg22%
Potassium 527mg15%
Carbohydrates 12g4%
Protein 19g38%
Vitamin A 3317IU66%
Vitamin C 11mg13%
Calcium 94mg9%
Iron 3mg17%
* Percent Daily Values are based on a 2000 calorie diet.
Categories:
Enjoy!