This post may contain affiliate links. Read my disclosure policy.
It's National Grandparents Day and #SundaySupper is sharing meals and memories from those special people in our lives. I am honoring my grandma and all the things she did for me, big and small, with this recipe which I wanted to call Cabbage-less Stuffed Cabbage, you might call porcupine meatballs, and I am calling Grandma's Polish Meatballs.
Grandma's Polish Meatballs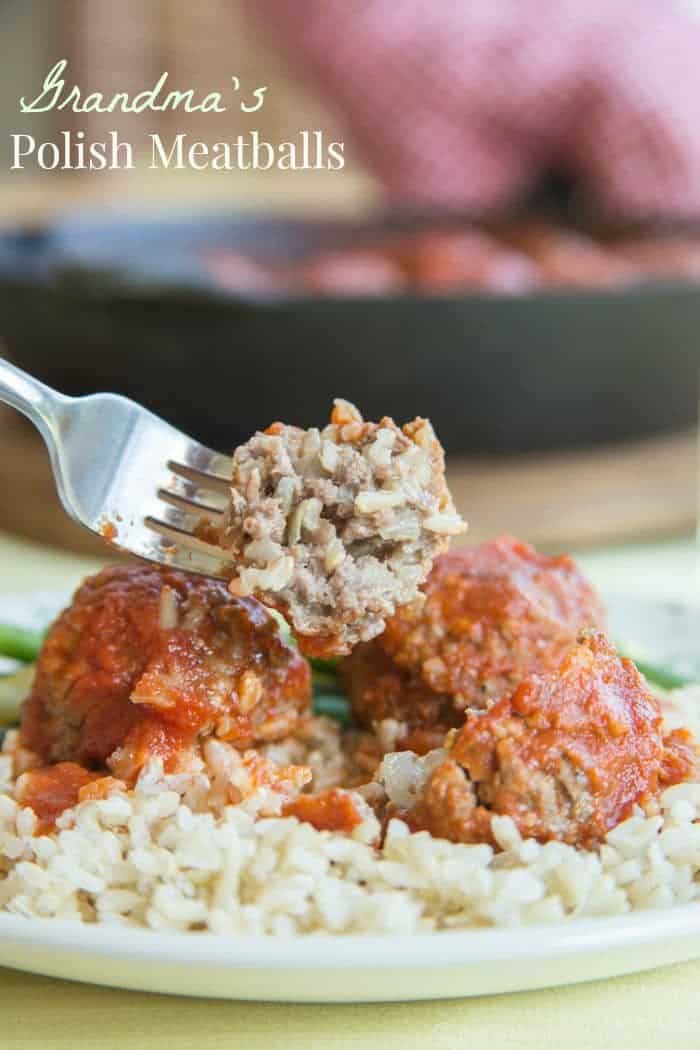 In my lifetime, my grandma did, admittedly, get old. But even in her not-so-old years (remember, I was a little girl, so in my mind she was always old), her bent and shrivelly hands belied her actual age. They were definitely "older" than the rest of her body. Sure, she could still manage to light a cigarette, apply her bight pink lipstick, spray on her Charlie, and play Bingo. That pretty much defined who she was. But there was a lot she couldn't do. I never had a grandma who could teach me to knit or sew, or even really bake. Her days of taking my cousins and I to the park and pushing us on the swings were short-lived. I don't ever remember her getting on the floor to play Barbies or Matchbox cars with us. She was a tough cookie, too. She knew what she wanted, liked, didn't like, and you can be sure she wasn't going to keep it to herself.
Yet somehow, despite her increasingly frail state and her hard-headed Polock tendencies, she never seemed cold or distant. She was loving and warm and funny, in her own sort of way. I am the oldest and probably spent the most time with her out of all of my cousins,  but I don't think any of them, and certainly not I, would ever question the extent of how much she adored each of us. For me, it was that she let me lay in her bed and watch PBS, yes, everything from Sesame Street and Mr. Rogers to Bob Ross and The Frugal Gourmet, when I stayed with her on days I was sick of off from school. She always knew when I was getting a report card and waited for me to count my A's so that she could give me a quarter for each one. She'd take me to the local five and dime-type store and get me little playsets of plastic makeup or money or doctors kits. She let me bang on the beyond out of tune piano to my heart's content. She brought me with her to Bingo and let me use her Bingo chips to play my own games on my hand-drawn boards.
Even to her last days, it was these little things. She knew I had been planning a trip to Tuscany with The Hubby, and she insisted I go, though every system in her body was rapidly failing. And when I went to see her in the hospital the day before we boarded our flight, I think we both knew it would be the last time we would hug each other. That phone call I received in a cafe in Siena was one of the hardest moments of my life, but I also had no regrets because I knew she wanted me to go on that trip, to do things that she was never able to do for many reason, from physically to financially and beyond. I'm fairly certain we both said our good-byes in that hospital room, not admitting it to ourselves or anyone else, but deep down in our heart of hearts, knowing that is what we were doing. To this day I miss her tremendously, but we had our closure.
I hear stories about what a great cook she was, but by the time I was born, the amount and extent of cooking she did was certainly on the decline. I can tell you, though, she made the best darn cream cheese sandwiches, farina, and scrambled eggs with American cheese. And every once in awhile, if I asked, she would even make homemade chicken noodle soup. Yet with those gnarly hands, for a good portion of my childhood, she still managed to pull together Sunday dinner for the family. After church and Sunday school we would all start to trickle in to the house. If it was summer, my oldest younger cousin and I (he was the only one born when these dinners happened with regularity) would play one on one wiffle ball or H-O-R-S-E or walk to the park, and in the winter we would be in the basement banging nails into scrap wood. The adults would sit around and chat or watch the Yankees or the Giants. Then we would all gather around the table for spaghetti or pot roast or something of that sort. Honestly, I don't rememeber many of the meals, except there were nearly always mashed potatoes. I just remember the times together as a family. While these times don't happen as often as we used to, if there is one thing we all like to do together, it's eat.
Oh yes, I do remember one other meal that was often our Sunday supper. Stuffed cabbage. I hated cabbage, and yet I was always excited when I'd walk into the kitchen and see a big pot of stuffed cabbage simmering on the stove. Why? Well, these…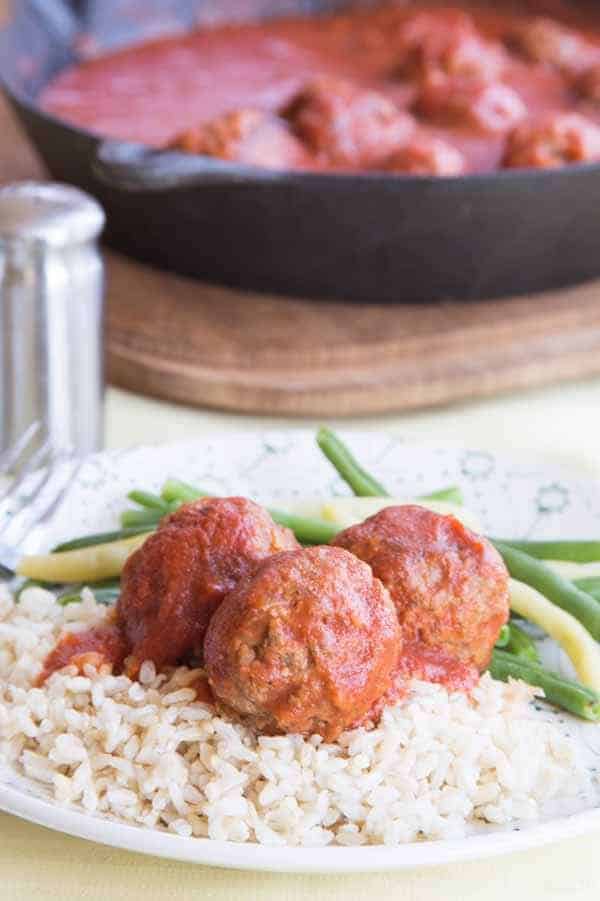 You see, with those gnarly fingers, grandma would make a few meatballs out of the stuffed cabbage filling just for me. Apparently these are a thing, and people call them "porcupine meatballs", but we never called them that. They were just meatballs, or as I am not calling them, Grandma's Polish Meatballs.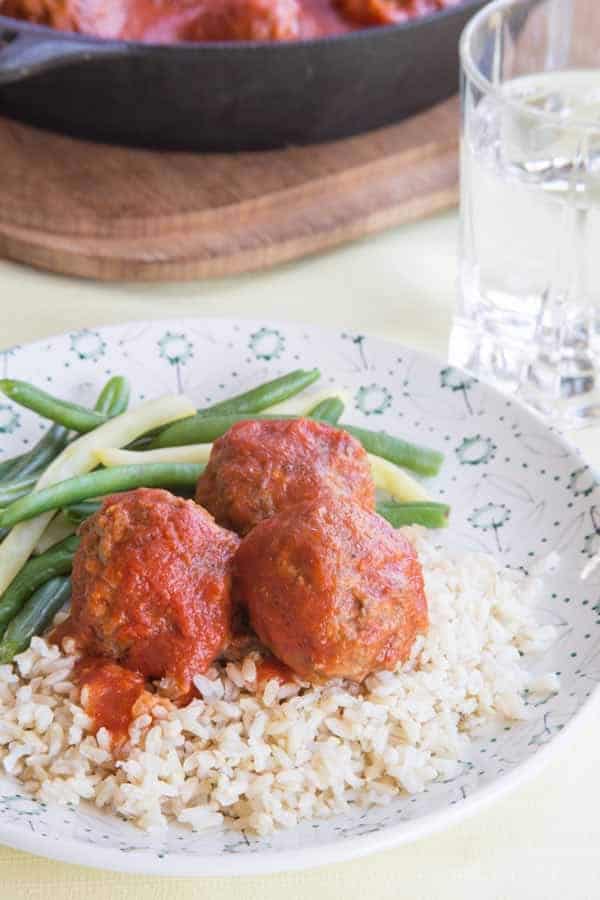 My grandma was a simple cook. She didn't use tons of herbs or spices or seasonings. So this is a simple recipe, made how she would make it – onions sautéed in butter then mixed with meat and rice. The sauce, nothing more than Hunt's tomato sauce (yes, for some reason it had to be Hunt's. Don't ask me, I have no idea), a little brown sugar, and the flavor from the butter and beef. But sometimes simple flavors are all you need to make a meal that satisfies the belly and the soul. These meatballs did just that. One bite of those tender meatballs enveloped in a rich and velvety sauce and I was instantly transported back to that small dining room stuffed as tightly as those cabbage rolls.
Join the #SundaySupper conversation on twitter on Sunday! We tweet throughout the day and share recipes from all over the world. Our weekly chat starts at 7 pm ET. Follow the #SundaySupper hashtag and remember to include it in your tweets to join in the chat. To get more great Sunday Supper Recipes, visit our website or check out our Pinterest board.

Would you like to join the Sunday Supper Movement? It's easy. You can sign up by clicking here: Sunday Supper Movement.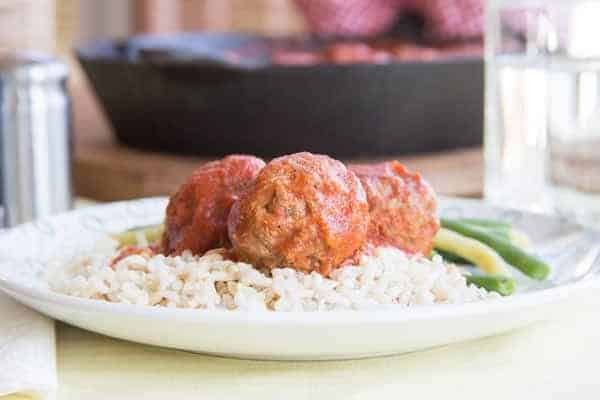 What recipe reminds you of your grandparents?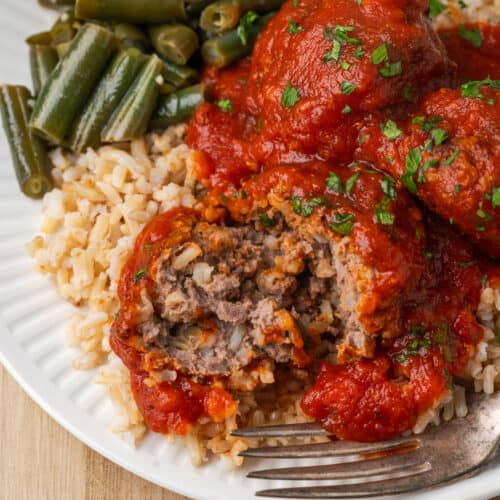 Porcupine Meatballs
Tender Porcupine Meatballs are filled with ground beef and brown rice, bathed in tangy tomato sauce, and perfect for tonight's dinner.
Ingredients
2

tablespoons

unsalted butter

, divided

1

medium

onion

, chopped

1

pound

lean ground beef

¾

cup

cooked brown rice

1

teaspoon

salt

¼

teaspoon

black pepper

1

egg

28

ounces

tomato sauce

(I used Hunt's)

1

tablespoon

brown sugar

salt and pepper

, to taste
Instructions
Melt one tablespoon butter in a skillet, add the onion and sauté till tender and translucent, about 5-7 minutes. Remove from the heat.

In a large bowl, combine the beef, cooked onions (do not rinse the skillet, as you can use the same one for cooking the meatballs), cooked rice, salt, pepper, and egg, and gently mix together without overworking the meat. Using a scant ¼ cup for each, shape the meat mixture into balls.

Melt another tablespoon of butter in the same skillet over medium heat. Add the meatballs and brown on each side, turning gently after nicely browned. This will take about ten minutes total.

Pour the sauce over the meatballs, sprinkle with the brown sugar, salt and pepper, and gently mix around slightly.

Cover, bring to a simmer, reduce heat to low and cook for about 10-15 minutes, or until the meatballs are cooked through.
Nutrition Facts
Porcupine Meatballs
Amount Per Serving (3 meatballs)
Calories 332
Calories from Fat 117
% Daily Value*
Fat 13g20%
Cholesterol 126mg42%
Sodium 1714mg71%
Potassium 1133mg32%
Carbohydrates 24g8%
Protein 29g58%
Vitamin A 1095IU22%
Vitamin C 15.9mg19%
Calcium 52mg5%
Iron 5.2mg29%
* Percent Daily Values are based on a 2000 calorie diet.
Categories:
And check out a few other recipes inspired or adored by my grandma…
Sweets that are the Sweetest
Savory Meals with Special Memories
5 Tips for Preserving Family Recipes and a Grandparents Day Tribute by Sunday Supper