This post may contain affiliate links. Read my disclosure policy.
This Roasted Asparagus Salad with caramelized leeks is a flavorful, healthy side dish to make for holidays and every day! It's a light and easy salad recipe bursting with fresh spring vegetables, plus sweet dried cherries and tangy goat cheese.
Roasted Asparagus Salad with Caramelized Leeks
I don't know about your family, but mine is a little carb-crazed at the holidays. Christmas? Carbs. Thanksgiving? Carbs.
The first time I made this roasted asparagus salad was for Easter. Our family's Easter menu is typically heavy on, you guessed it, carbs. And pork. Among a table full of Paska (Ukrainian Easter bread) and Hrudka and Syrnyk (Ukrainian cheeses), this asparagus salad with caramelized leeks was a welcome bowlful of fresh spring vegetables.
This easy salad recipe is a light and healthy side dish, made from a flavor-packed combination of oven-roasted asparagus, caramelized leeks, dried cherries, and creamy goat cheese. All the ingredients are gluten-free, so it's quickly become one of my favorite fancy-without-even-trying salad ideas.
Balsamic vinegar and Dijon mustard pull the whole thing together for an irresistible side salad that you can serve hot, cold, or at room temperature. This makes it versatile enough to make for a holiday like Easter, a weeknight dinner, or a meal-prep lunch.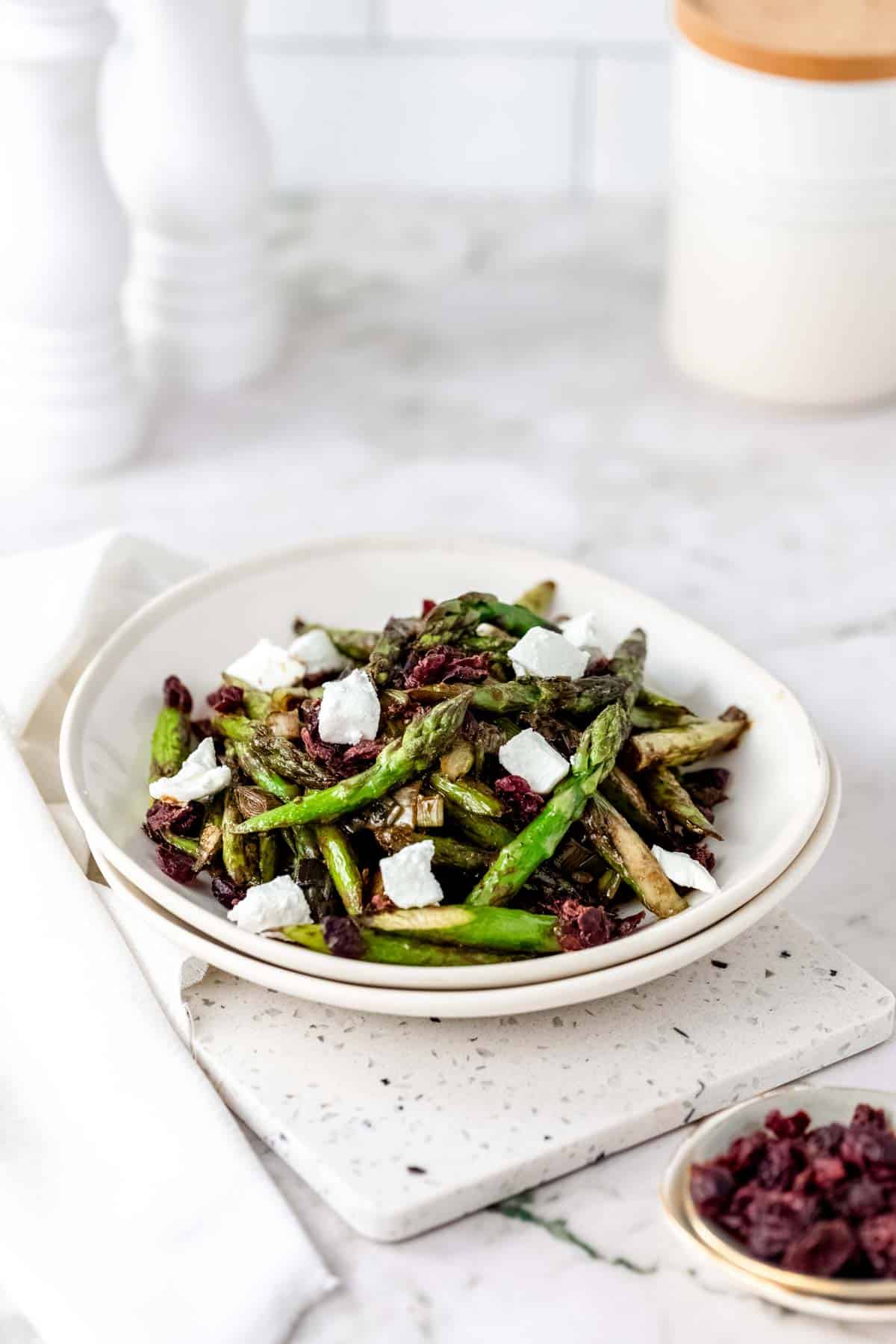 What You'll Need
Below is an overview of the ingredients you'll need to make this spring vegetable salad. Don't forget to scroll to the recipe card further down for the full recipe details:
Asparagus: This recipe calls for about one pound of fresh asparagus. Trim or snap off the extra-tough ends, then chop the spears into 1-inch pieces. I like to cut them at an angle to make the shape a little fancier.
Olive Oil: You'll need a nice quality extra virgin olive oil to toss the asparagus in before roasting.
Leeks: In case you're unfamiliar, leeks are long vegetables with white flesh that turns into leafy green tops. They resemble spring onions and are found in most produce aisles. And if you can't get leeks, spring onions are your next best alternative.
Balsamic Vinegar: Like your olive oil, you'll want to use good quality balsamic vinegar for caramelizing the leeks.
Dijon Mustard: I love the contrast of flavors that comes from using Dijon in this recipe. It has a mild, creamy spiciness that's just delicious.
Dried Cherries: Sweet-tart cherries play wonderfully off of the earthiness of the asparagus and leeks. You can also use dried cranberries.
Goat Cheese: Crumbled goat cheese brings a nice tanginess to the salad. If you don't have goat cheese, use cubed feta.
Salt and Pepper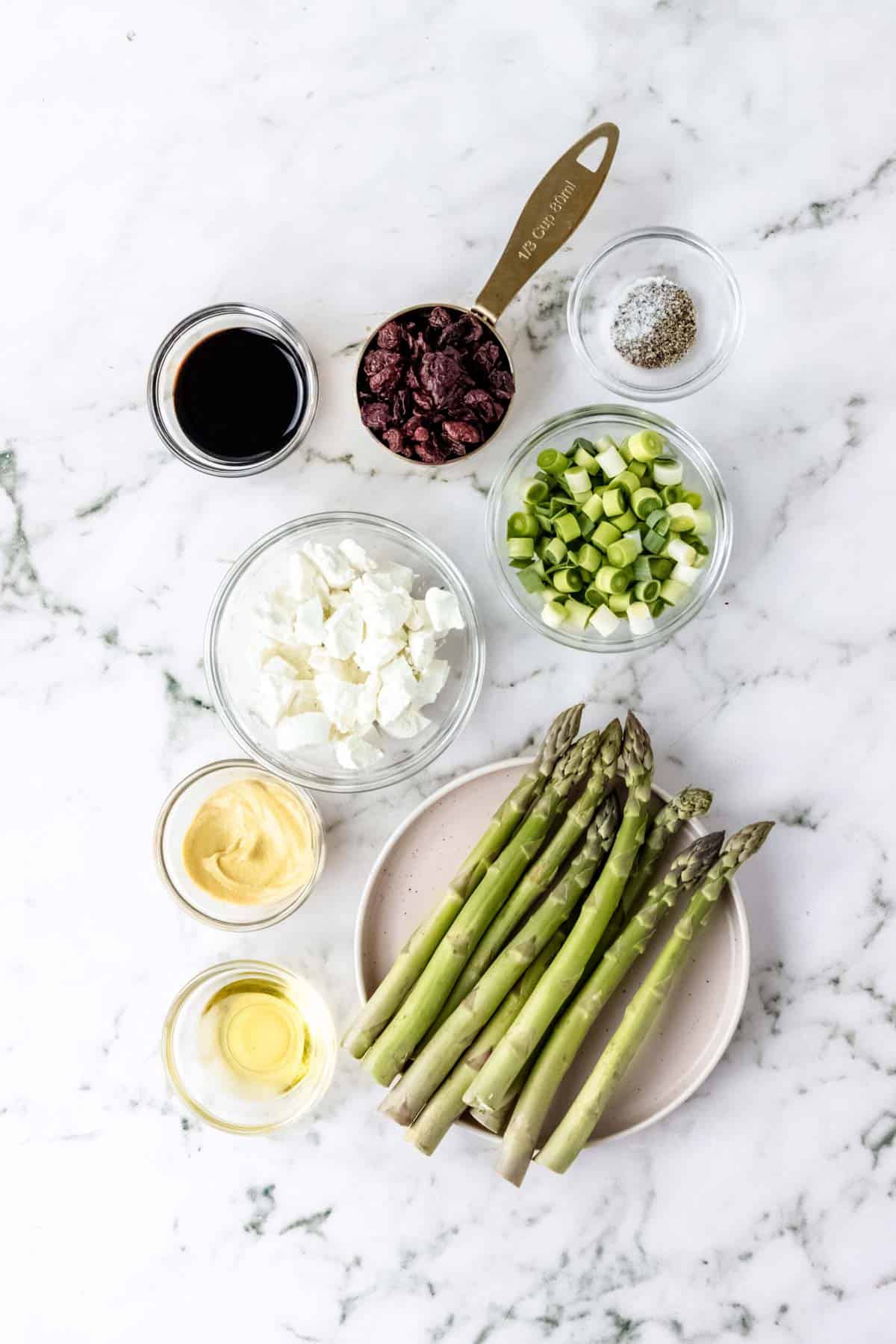 What Part of Leeks Do You Eat?
While the whole leek is edible, the best parts are the white and light green parts, as they have the most flavor. The dark green parts are also a bit tougher, but soften up if you sauté them like in this recipe.
Leeks are very similar to spring onions, and both are part of the onion family. But there is a difference! The main way to tell a leek from a spring onion is to look at the base: spring onions have a white, round bulb at the base, while leeks generally don't.
How to Make Roasted Asparagus Salad
This salad is actually very simple. It's a matter of roasting the asparagus spears with olive oil, salt, and pepper, and meanwhile caramelizing leeks in a pan before you toss everything together. Here's the quick step-by-step:
Roast the Asparagus: First, toss the chopped asparagus with olive oil and salt, and then roast it at 425ºF for 20 minutes.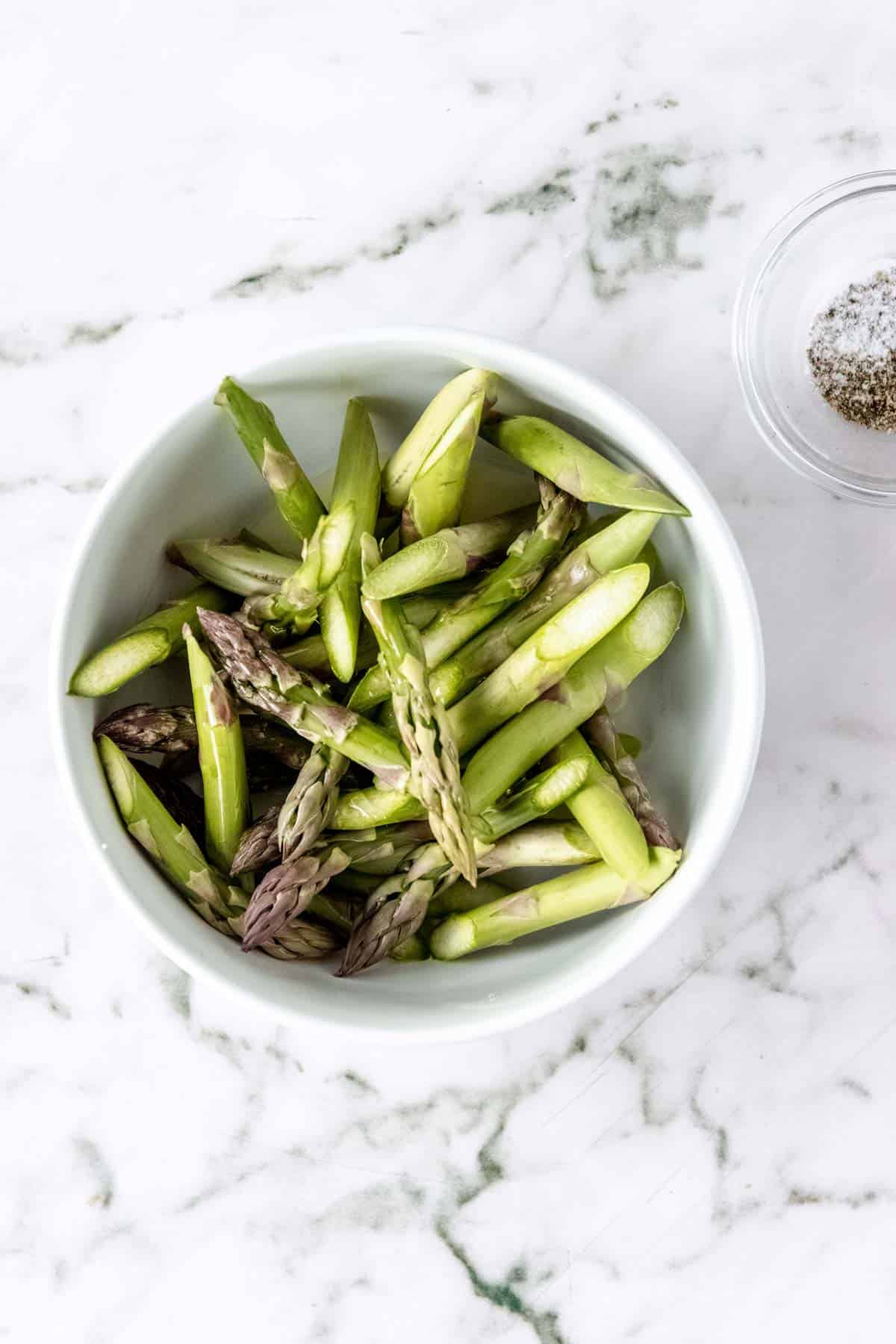 Cook the Leeks: Meanwhile, sauté the leeks in a pan with olive oil until golden. After about 15 minutes, turn the heat down and stir in the balsamic. Give it a few minutes to reduce and caramelize.
Combine and Serve: Finally, take the pan with the leeks off the heat and stir in Dijon, salt, and pepper. Once the asparagus is out of the oven, toss the leeks together with the roasted asparagus. Crumble over the goat cheese and sprinkle on some dried cherries, give it a gentle stir, and then serve!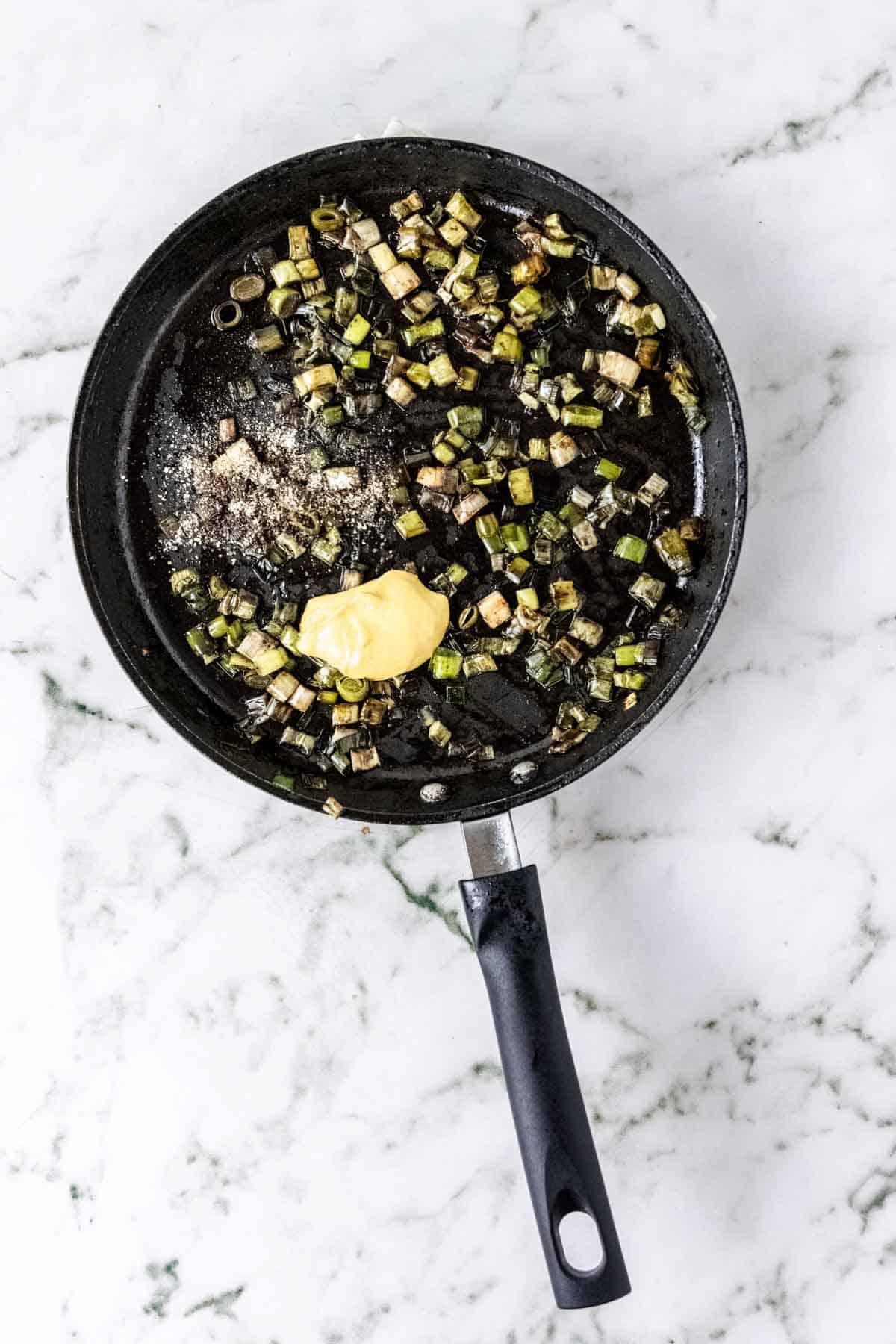 Tips for Success
Here are some bonus tips for making the best roasted asparagus salad:
Time-saving tip: Need a quicker way to roast the asparagus? Follow the directions for my Air Fryer Asparagus to have it crisp-tender in under 10 minutes! If you are making it in the oven, you can get all the info you need in my article about roasting asparagus.
Serve warm or cold. This roasted asparagus salad can be served hot right after you make it, cold out of the fridge, and even at room temperature.
Can I caramelize regular onions? In a pinch, you can make this salad with regular white or yellow onions. Slice them up thin and then caramelize them as directed.
Easy Add-Ins and Variation Ideas
Like any salad, this roasted asparagus and caramelized leek salad is perfect for customizing!
More Spring Vegetables: Add carrots or broccoli to the roasting pan along with asparagus. Or, sauté spinach with the leeks, or add snap peas, chopped radishes, or beets over top of the salad.
Herbs and Garnishes: Garnish your salad with microgreens, sprouts, and fresh herbs like basil or fennel.
Spicy: Add crushed red pepper flakes for a spicy kick.
Nuts and Seeds: Chopped pecans or walnuts would go nicely with the cherries and goat cheese. Sprinkle on pepitas or sunflower seeds.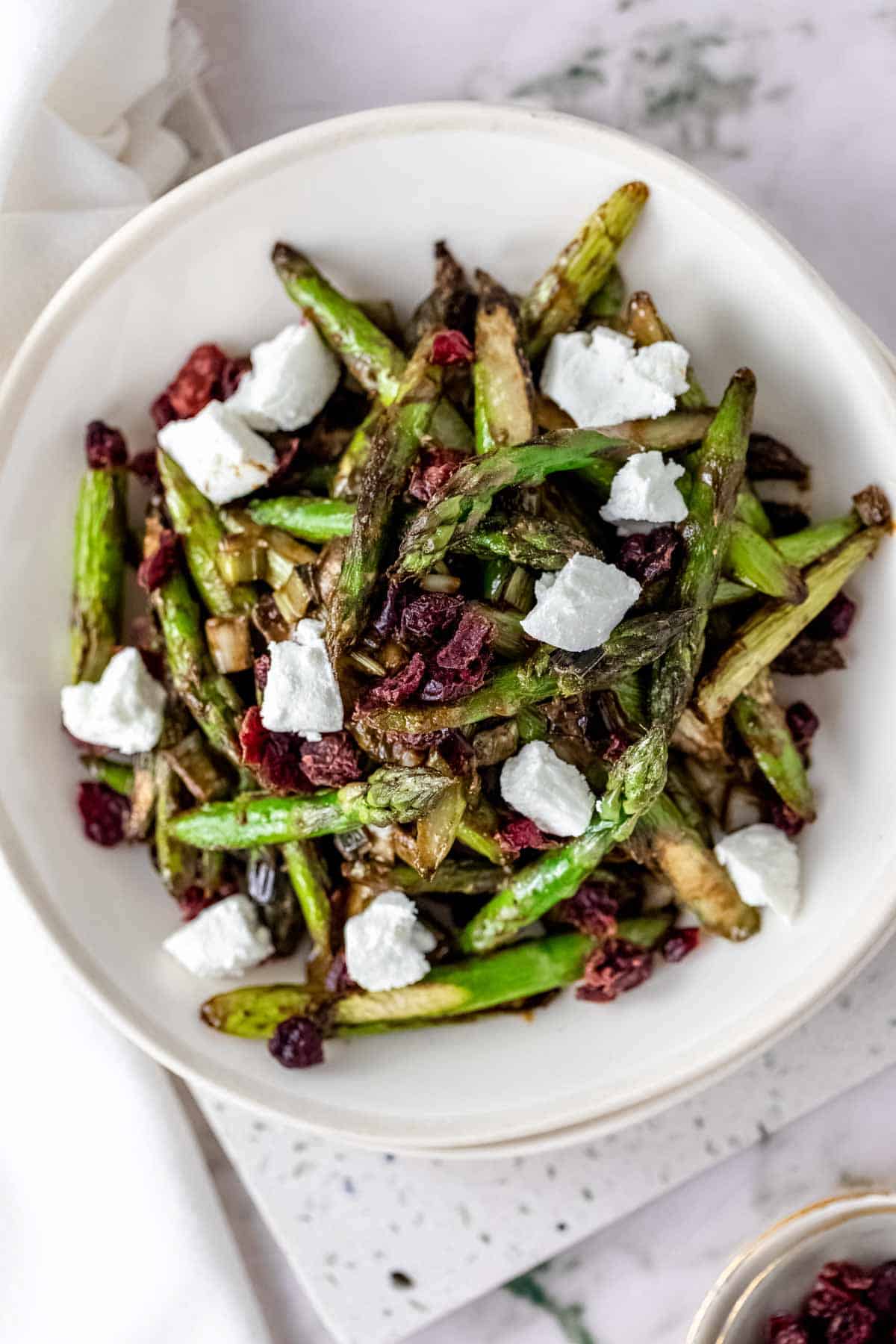 Make It a Meal
It's not difficult to pair this savory spring vegetable salad with our favorite meals. The flavors complement so many different dishes! I'll make this salad as a healthy side dish to Roast Chicken or Grilled Steak, plus a side of crispy Air Fryer Potatoes.
Serve this salad at the holidays with more easy side dishes like Cheesy Scalloped Potatoes, Oven Roasted Carrots, and Gluten Free Dinner Rolls. Paired with a Holiday Ham, of course.
This roasted asparagus salad is a light and tasty brunch salad. Serve it as a side to Gluten Free Eggs Benedict or Ham and Cheese Strata.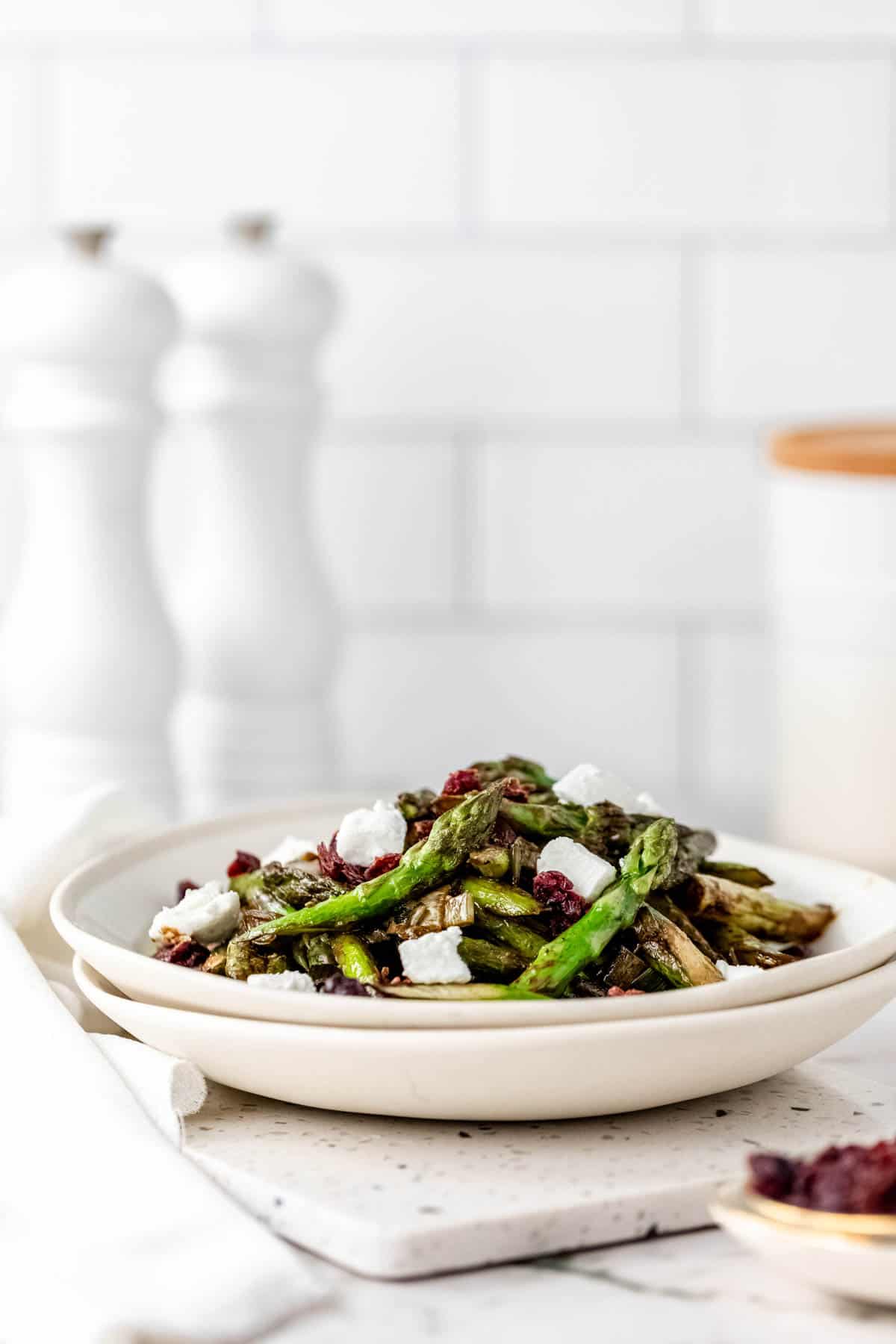 How to Store Asparagus Salad
If you'd like to make this roasted asparagus salad in advance, or if you'd like to keep the leftovers fresh, store it airtight in the fridge. It will keep for a day or two.
Can I Freeze This?
I don't recommend freezing this salad once it's all tossed together, however, you can freeze the roasted asparagus by itself.
Seal the cooked and cooled asparagus in an airtight bag or container to freeze it. Thaw the frozen asparagus in the fridge before caramelizing your leeks and assembling the salad.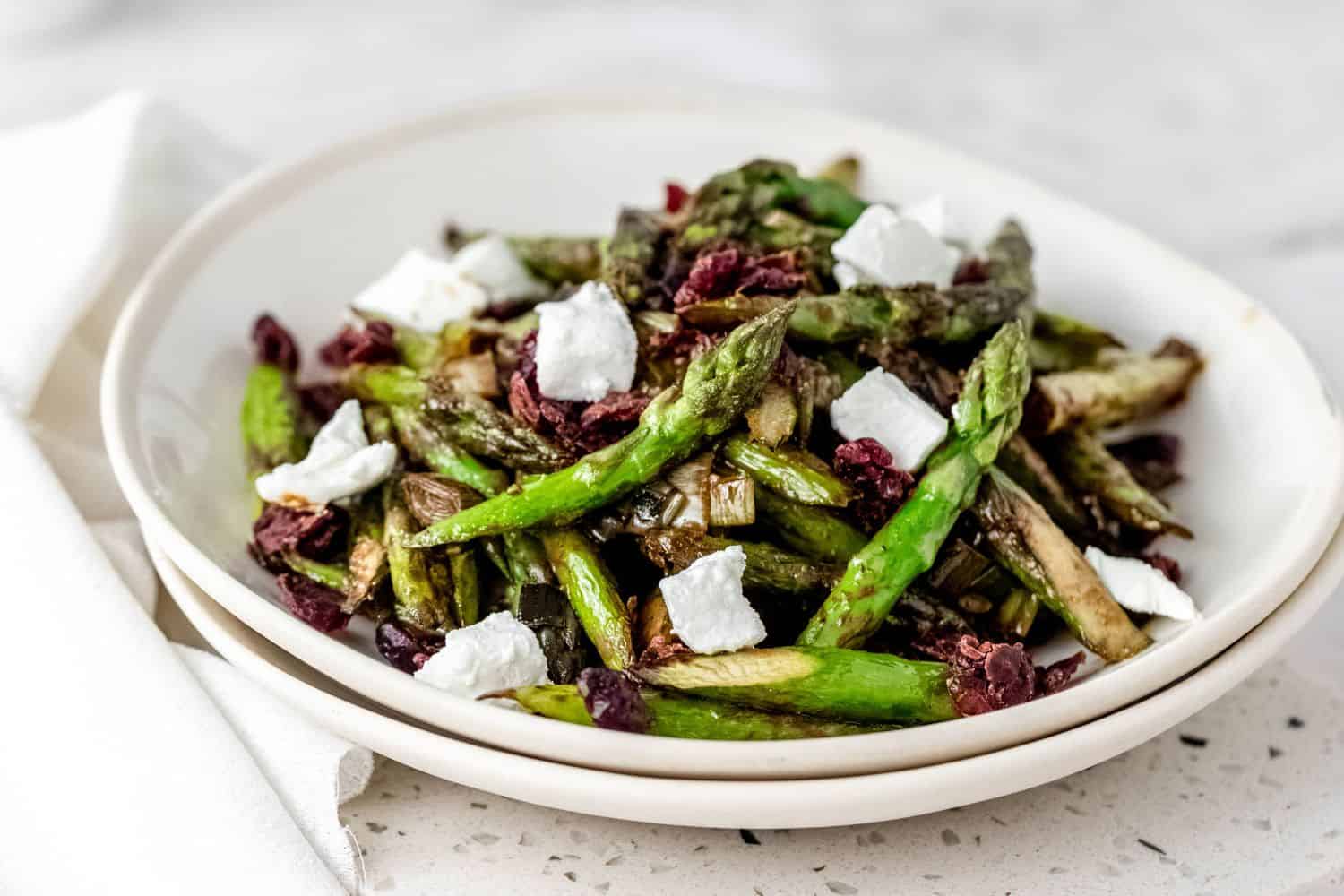 The Best Pans for Roasting Vegetables
If I am making roasted asparagus salad, roasted cauliflower, or my medley of balsamic roasted vegetables, you know I am getting out my Nordicware Baking Sheets. They are lightweight and heavy duty at the same time, with no warping whatsoever. And they clean easily, with those little charred bits and caramelized edges sliding right off and washing up with little effort with only a thin coating of oil.
$21.99
$25.30
in stock
7 new from $21.99
23 used from $17.37
as of Dec 6, 2023 11:03 pm
Last updated on Dec 6, 2023 11:03 pm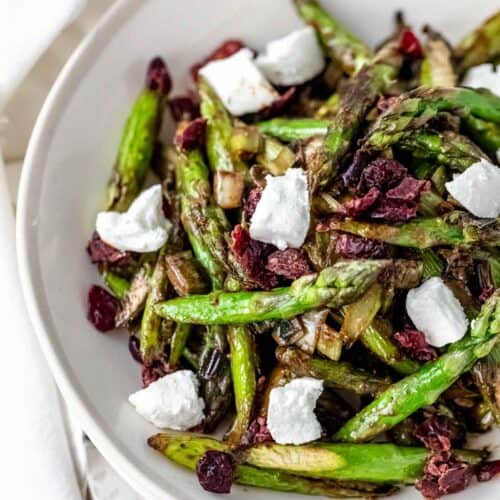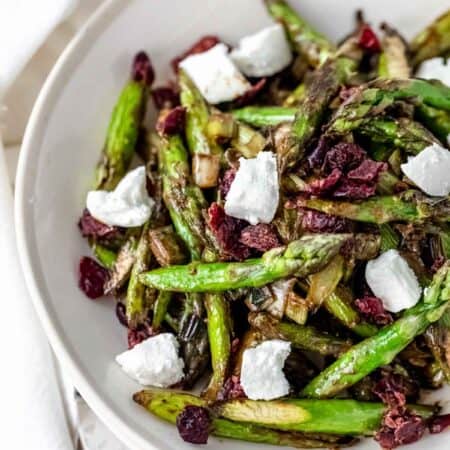 Roasted Asparagus Salad
This Roasted Asparagus Salad with caramelized leeks brings together the best spring vegetables in a flavorful, healthy side dish that's also gluten-free.
Ingredients
1-1½

pounds

asparagus

, trimmed and cut into 1 in. pieces on an angle

1

teaspoon

extra-virgin olive oil

, plus 2 Tablespoons (divided)

2

leeks

, sliced

3

Tablespoons

balsamic vinegar

2

teaspoons

Dijon mustard

1/3

cup

dried cherries

, chopped (can substitute dried cranberries)

4

oz.

goat cheese

, crumbled
Instructions
Preheat your oven to 425°F.

Toss the asparagus with 1 teaspoon olive oil and a sprinkling of kosher salt.

Roast in the oven for about 20 minutes, or until the asparagus is tender. Set aside or place in the refrigerator.

Heat the 2 Tablespoons olive oil in a pan over medium heat.

Add leeks and cook until caramel colored, stirring occasionally for about 10-15 minutes.

Reduce the heat to low, add the balsamic vinegar and reduce slightly. Remove from heat and add the dijon mustard, and salt and pepper, to taste.

Toss the caramelized leeks with the asparagus, and gently fold in the cherries and goat cheese.

Serve warm, room temperature, or cold.
Notes
This salad can be made a day or so in advance, and kept in the refrigerator.
Adapted from Rachael Ray's Asparagus and Caramelized Onion Salad.
Nutrition Facts
Roasted Asparagus Salad
Amount Per Serving
Calories 126
Calories from Fat 45
% Daily Value*
Fat 5g8%
Cholesterol 9mg3%
Sodium 99mg4%
Potassium 299mg9%
Carbohydrates 15g5%
Protein 7g14%
Vitamin A 1787IU36%
Vitamin C 10mg12%
Calcium 80mg8%
Iron 4mg22%
* Percent Daily Values are based on a 2000 calorie diet.
Categories:
More Healthy Vegetable Side Dishes to Try