Caramelized Leek and Asparagus Salad
Disclosure: This post may contain affiliate links. Cupcakes & Kale Chips is a participant in the Amazon Services LLC Associates Program, an affiliate advertising program designed to provide a means for us to earn fees by linking to Amazon.com and affiliated sites.
Asparagus salad with caramelized leeks brings the best of spring vegetables into a bowl for a flavorful, healthy side dish. It's one of my favorite gluten free asparagus recipes!
I am so excited to be joining in my first Recipe Redux this month. The Recipe Redux is a recipe challenge and blog hop started by registered dietitians, with a focus on DELICIOUS and nutritional foods. Yes, eating healthy can be tasty! And that is what all of the participants are here to show you. Each month there is a theme, and we all post our takes on the theme on the 21st of each month. And after an Easter weekend binge and some subsequent thoughts on mindful eating, what better time for me to join this group.
This month's theme is "The First Shoots of Spring," such as scallions, leeks, pea shoots, rhubarb, and my personal favorite, asparagus. I had already told my family that I would bring an asparagus "something or other" for Easter, so I knew this would be the basis of my Redux recipe. And I will say, this salad was definitely not the part of the meal that constituted the aforementioned binge. That might have been the homemade bread, and chocolate. Ah yes, the chocolate!
In fact, other than my aunt's tossed salad (which was yummy with the addition of some cilantro), this asparagus salad was the only veggie. Easter is typically heavy on the carbs (bread and potato salad) and pork products (ham and kielbasa). So the asparagus salad was actually a nice, light contrast to the heaviness of the meal. And it would be equally tasty warm, room temperature, or cold, as we ate it

MY LATEST VIDEOS
Caramelized leek and asparagus salad is definitely a dish that you can bring to a party or holiday gathering.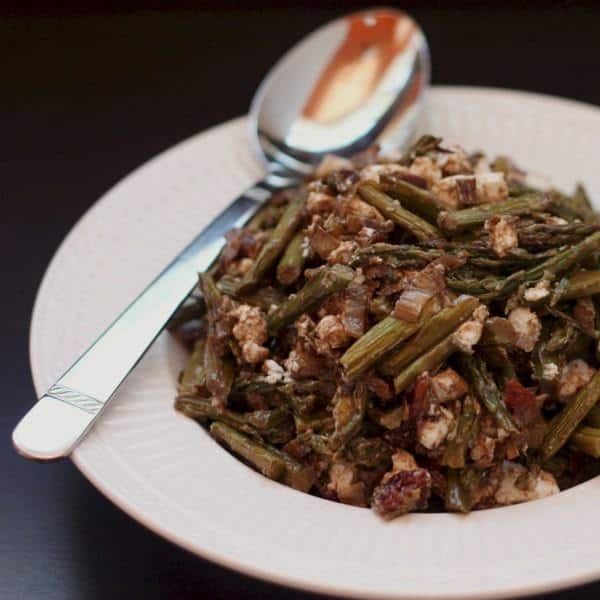 Several years back, for Easter, in fact, I brought Rachael Ray's Asparagus-Caramelized Onion Salad to my friends' house when I joined them after the baptism of their son, my godson, Logan. It was quite delicious, and I've made it a few times since. I had originally thought about that recipe for Easter this year, but I wanted to incorporate another of those spring shoots, and I wanted to make it just a little more exciting.
So I thought I would roast the asparagus, caramelize some leeks instead of onions, and add a few dried cherries and goat cheese for extra flavor and a sweet and tangy balance to the earthiness of the asparagus and leeks. And to make the asparagus salad even prettier. And because I always like to add a little goat cheese to make something more tangy and flavorful, like this salad or this potato dish. And I clearly have a thing with balsamic vinegar. So tasty!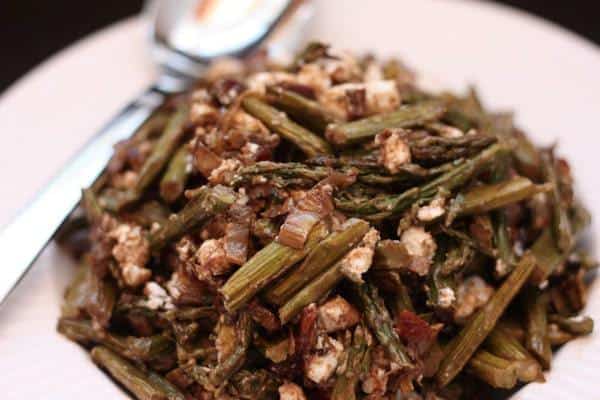 I hope you'll give the asparagus salad recipe a try.
And be sure to check out the other Redux participants' recipes and blogs by using the links below.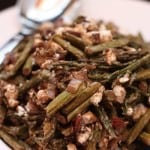 Print Recipe
Caramelized Leek and Asparagus Salad - April #RecipeRedux
Ingredients
1-1 1/2

pounds

asparagus

trimmed and cut into approximately 1 in. pieces on an angle

1

t

plus 2 T extra-virgin olive oil

divided

2

leeks

3

T

balsamic vinegar

2

t

Dijon mustard

1/3

c

dried cherries

chopped (can substitute dried cranberries)

4

oz

goat cheese

crumbled
Instructions
Preheat your oven to 425°F.

Toss the asparagus with 1 t olive oil and a sprinkling of kosher salt.

Roast in the over for about 20 minutes, or until the asparagus is tender. Set aside or place in the refrigerator.

Heat the 2 T olive oil in a pan over medium heat.

Add leeks and cook until caramel colored, stirring occasionally, 10-15 minutes.

Reduce the heat to low, add the balsamic vinegar and reduce slightly. Remove from heat and add the dijon mustard, and salt an pepper, to taste.

Toss the caramelized leeks with the asparagus, and gently fold in the cherries and goat cheese.

Serve warm, room temperature, or cold.
Notes
Can be made a day or so in advance, and kept in the refrigerator.
Adapted from Rachael Ray's Asparagus-Caramelized Onion Salad.
Enjoy!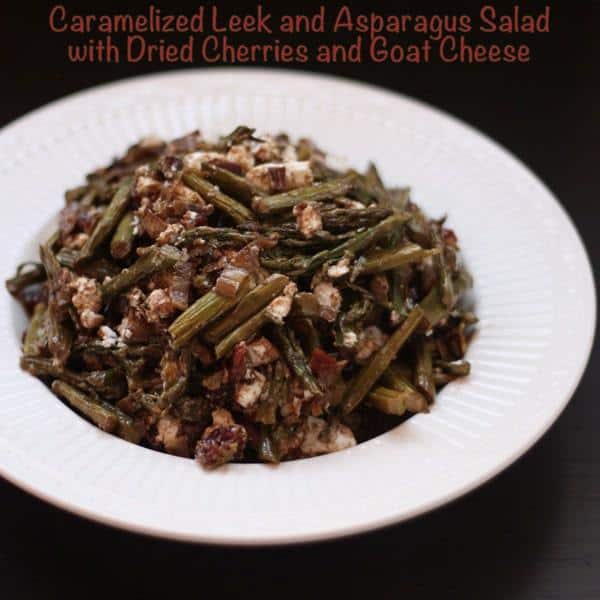 '); // ]]>

This asparagus salad recipe was shared with:
Newlyweds Recipe Linky 4/25/12
Gooseberry Patch A Market-Fresh Recipe Round-Up!