Paska – Ukranian Easter Bread for #SundaySupper
We are celebrating Easter and Passover for #SundaySupper this week, and in my family, it isn't Easter until we have Paska, the Ukrainian Easter Bread…
Paska, the Ukrainian Easter Bread

 This recipe has been handed down for generations.  In fact, up until a few years ago when my aunt rewrote it, we were working off of a scrap of paper where my grandmother had scribbled out the ingredients and a few vague instructions.  The bread is always made on Good Friday, starting fairly early in the morning, blessed on Holy Saturday, and we get to sink our teeth into the first slice on Easter morning.
It started with my Great-Grandma, well before my time, who passed on the recipe to my Grandpa and Great-Aunts.  Then Grandma used to make it, but when her rheumatoid arthritis got bad, my mom took over, with my grandma hovering closely to make sure she was doing it right.  Now my mom is the pro, and I am learning the ropes.  I often helped out as a kid, but now I occasionally get my hands in there a little more so that I know how it feels.  My mom has that intuition now, knowing when the dough is just right.  I'm honing my skills.
So one of my main reasons for putting this on my blog is not just to share my stories and my family's recipe with you, but to preserve it for me, my cousins, my sister, and our families and future families.  Hopefully I'll get some better photos this year.  Last year I was still a novice with the camera, but they'll do for now.
As you can imagine, this one is a labor of love.  And I am going to describe how it is made, but, as you can imagine with bread recipes and family recipes from the old country, a lot of it is just feel.  You'll notice a couple of the ingredients don't have a measurement.  You know, that's just the way it is.  I do need to get my mom to help me figure out about how much salt goes in, but the raisins truly are just eyeballed.  I didn't like them as a kid, so I always tried to get my mom to add less, so I wouldn't have so many to pick out.  My sister is always begging her to add more.  Do as you wish.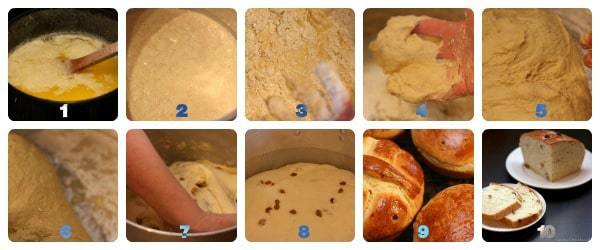 This Ukranian Easter Bread is slightly eggy and subtly sweet and savory, with the bursts of sweet from the raisins.  The photos here are from last year, and it was a pretty good batch, but truly it turns out differently every year, depending on the weather conditions, the noise level in the house (if you believe what my grandmother always said), and if there were enough of us gathered around to pray over the dough before the first rise.  Some years it is a bit dense, and you really want to slather it with butter.  Other years you could just tear into the light, fluffy bread just as it is (unless you are my mother, in which case you still slather it with butter, or my sister who commits the ultimate crime and pops her buttered Paska into the microwave for a few seconds – ugh!).
We like to enjoy it for breakfast, spread with whipped butter.  It is also served along with our Easter meal, which is usually a simple meal that always consists of ham, kielbasa, potato salad, hard boiled eggs, and then we usually put together a couple of other side dishes or veggies.  This year, since I'll have a newborn, my contribution will be some of the pierogies that we made and froze back at Christmastime.
But before our Paska can be eaten, we take it, along with our Easter ham, kielbasa, butter, eggs, horseradish, and a few other items to church to be blessed.  Then once we have celebrated the resurrection of Christ in Easter mass, we can enjoy all these delicious foods.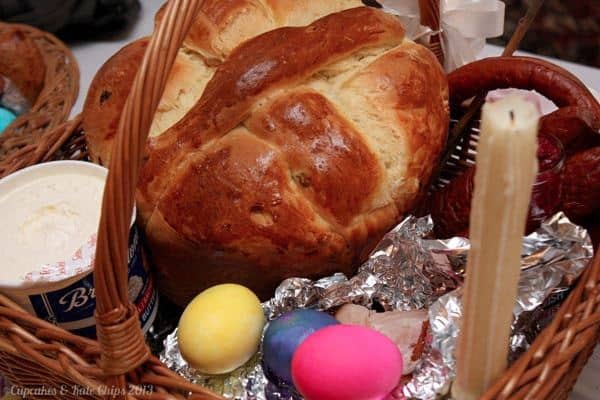 Don't miss our  #SundaySupper conversation on twitter, where we are talking about Easter and Passover this week.  We tweet throughout the day and share recipes from all over the world.  Our weekly chat starts at 7:00 pm ET and you do not want to miss out on the fun.  Follow the #SundaySupper hash tag and remember to include it in your tweets to join in the chat.  Don't forget to check out our #SundaySupper Pinterest board for more fabulous recipes and food photos.
Join us Around the Family Table this Sunday at 7pm Eastern Time and share your favorite Easter and Passover traditions and recipes with us!  And if you are still working on your menu, don't forget to check out the other Easter and Passover recipes linked at the bottom of this post!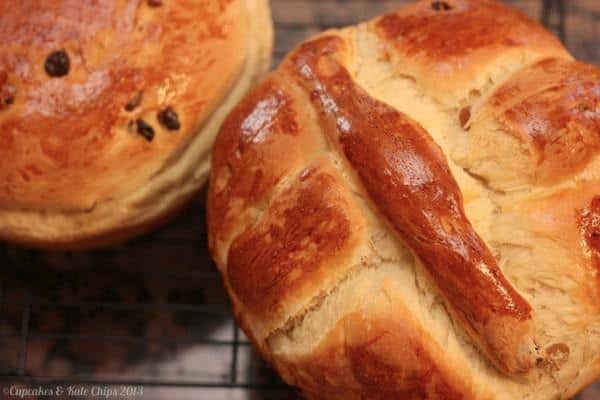 What are your favorite traditional or ethnic Easter or Passover foods?
Paska - Ukranian Easter Bread
Paska is a slightly eggy and sweet Ukranian Easter bread flecked with raisins that has been passed down through my family for generations.
Ingredients
For the sponge
Three 0.75 oz packets of yeast
2 c flour
2 c warm water
For the bread
1 lb. (4 sticks) butter
2 c milk
8 eggs, lightly beaten
1 c sugar
5 lb bag flour, plus additional if needed, and for kneading
salt - no exact measurement, a tablespoon or two
golden raisins - as many or as few as you like
1 egg, lightly beaten, for brushing the loaves
Directions
For the sponge:
In a very large stock pot, combine all of the sponge ingredients, cover the pot, and let rest in a warm place until bubbly (usually at least an hour).
For the bread:
While the sponge is bubbling, combine the milk and butter in a saucepan, heat to melt the butter and the scald the milk (see photo #1). Let cool to room temperature.
Once the sponge is bubbly (see photo #2), Add about one-third of the butter/milk mixture, one-third of the eggs, one-third of the sugar, a little less than one-third of the flour, and the salt. Begin mixing with your hands (see photo #3) until combined.
Add another third of each of the ingredients and mix with your hands until combines. The dough may start coming together a little more at this point (see photo #4).
Add the remaining butter/milk, eggs, sugar, and gradually add the flour, kneading until the dough pulls away cleanly from your fingers (see photo #5) and the sides of the pot (see photo #6).
Knead in the desired amount of raisins (see photo #7).
Put the lid on the pot and allow to rise in a warm place for about 2½ hours, or until at least doubled in size (see photo #8).
Punch down and raise for another 1½-2 hours, or until again at least doubled in size.
Punch down, then divide the dough into four high-sided about 9-inch diameter round pans (from what I have seen, I think tube pans will also work, but we don't do that). If desired, set aside a small amount of the dough, then use this to add decorations to the tops of the loaves. Since it is Easter, we make crosses on a couple of the loaves.
Lay towels over the loaves and let raise in the pan for about an hour.
Preheat the oven to 350°F.
Brush the tops of the loaves with the egg wash, and bake (typically two loaves at a time will fit nicely in the oven at once) for about 45 minutes, or until golden brown, and sound hollow when lightly tapped (see photo #9).
Allow to cool completely before removing from the pans. Then slice and serve (see photo #10).
Loading nutrition data...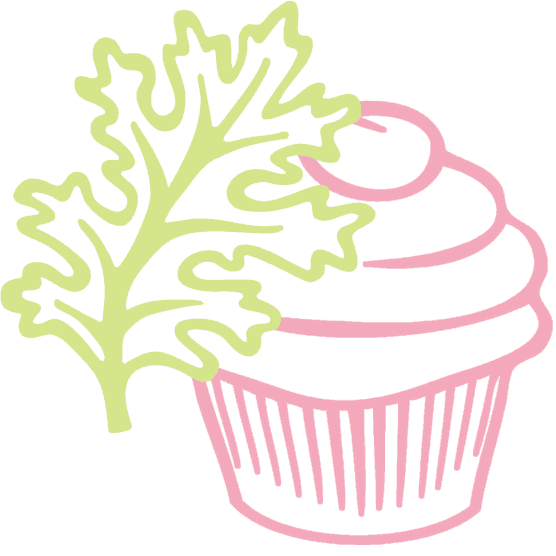 LOVE THIS RECIPE?
Give it a 5 STAR rating and share your photos on Instagram with the hashtag #CKCrecipes!
Enjoy!
Make sure you check out all of these wonderful Easter and Passover recipes from my #SundaySupper friends!
Easter
Breakfast, Breads, and Buns
Appetizers and Sides
Main Dishes
Dessert
Passover
Dessert
Wine Pairing Recommendations for #SundaySupper Religious Feasts from ENOFYLZ Wine Blog