This post may contain affiliate links. Read my disclosure policy.
Hrudka, the Ukrainian Egg Cheese is the Eastern European Easter cheese made from eggs that we have made in my family for generations. This traditional Ukrainian Easter food is always part of our Slovak Easter menu.
Sadly I don't know a lot about the background of many of the traditions in my Eastern European heritage. I don't think it's that I didn't pay attention as a kid. I honestly don't think that my family really talked about it. I mean, I have a cursory understanding. All of the foods that we put in our Easter basket to be blessed at church on Holy Saturday have a significance. The homemade bread is a symbol of Jesus, the Bread of Life. Horseradish is usually mixed with beets and the color is a symbol of the blood he shed for us. Eggs are a symbol of new life and the rebirth of Christ. A candle is lit to symbolize the Light of the World.
Well as I was researching the recipe I was making for today's Sunday Supper, I learned that cheese is symbolic of the moderation Christians should have in their lives. Huh? Cheese? Moderation? I never thought that cheese and moderation belonged in the same sentence, especially when you are talking about a cheese made from a quart of whole milk and a dozen eggs. But I'll go with it.
I also have no idea about the origins of this particular cheese. A cheese made out of eggs. I mean, I guess it makes sense in the context of Easter and the symbolism of the eggs. Maybe it came out of frugality – those chickens laid a lot of eggs, so it was a way to stretch out the milk supply. I'm not sure, but it is definitely unique, and, from what I can find, unique to Eastern Europe. A Google search for "egg cheese" turns up lots of cheese eggs, but really only Hrudka as actual cheese made from eggs.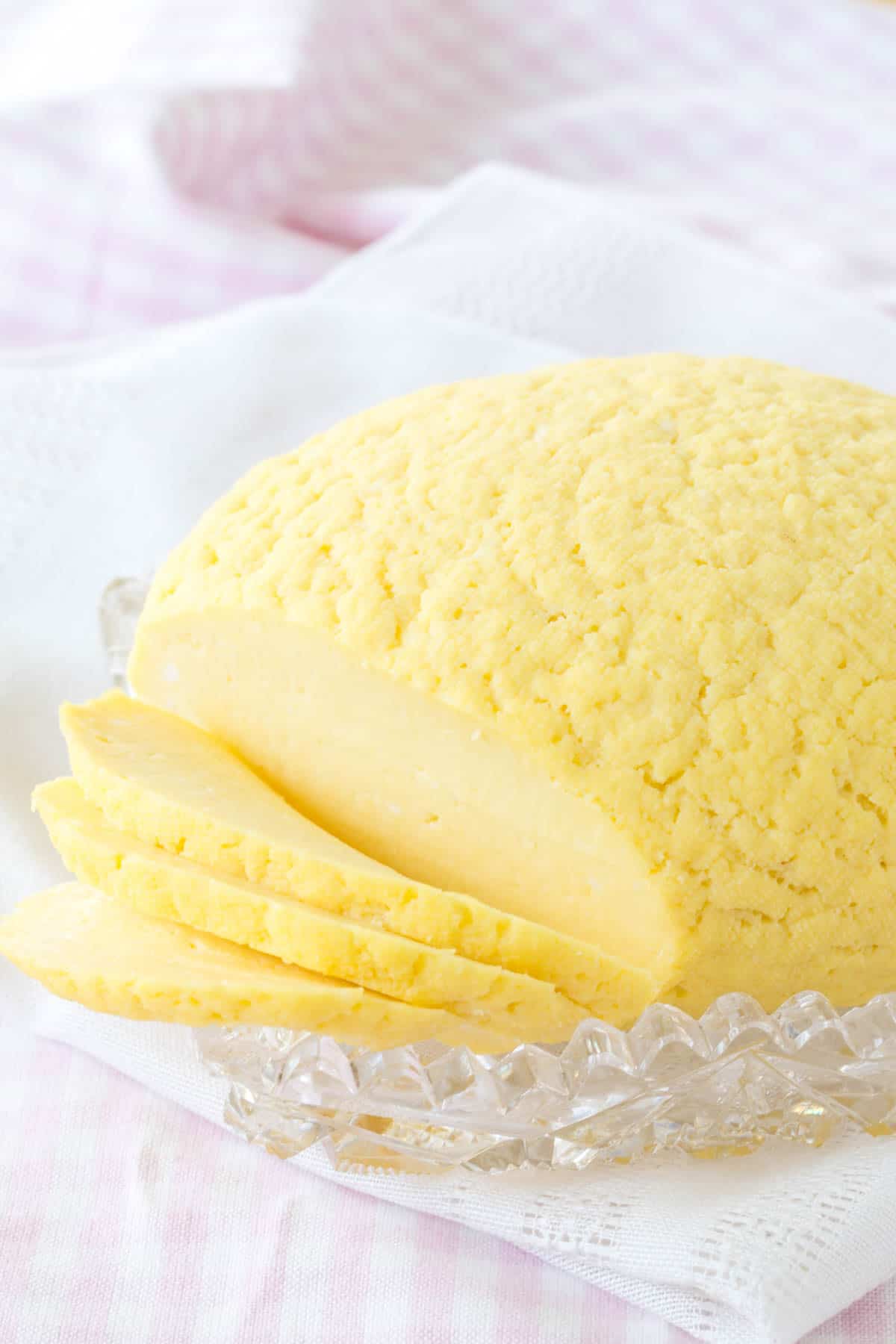 Ukrainian Easter Cheese
While I might not have known much about the overall history of the recipe, I do know that in our family, while my mom was helping my grandma make Paska, my aunt was making the Easter cheeses – the sweet Syrnyk, and this one. As a kid, unless it was my grandma's cheese eggs (which I decided I hated by the time I was about five), I wouldn't eat anything with eggs. Well, I mean, unless it was a cake or something, but you know what I mean. I told you once how this frustrated my grandpa every year on Easter when it was expected that we would all share a blessed hard boiled egg. So I certainly wasn't eating this.
I totally blame my family. They should have just called it cheese. I'd have eaten cheese. But egg cheese? Heck to the no!
By the time I even began to accept that eggs were not repulsive, my aunt had long since moved to Kentucky and wasn't often with us for Easter to make the egg cheese. Hence, the first time I ever even tried a bite was just several days ago when I made this…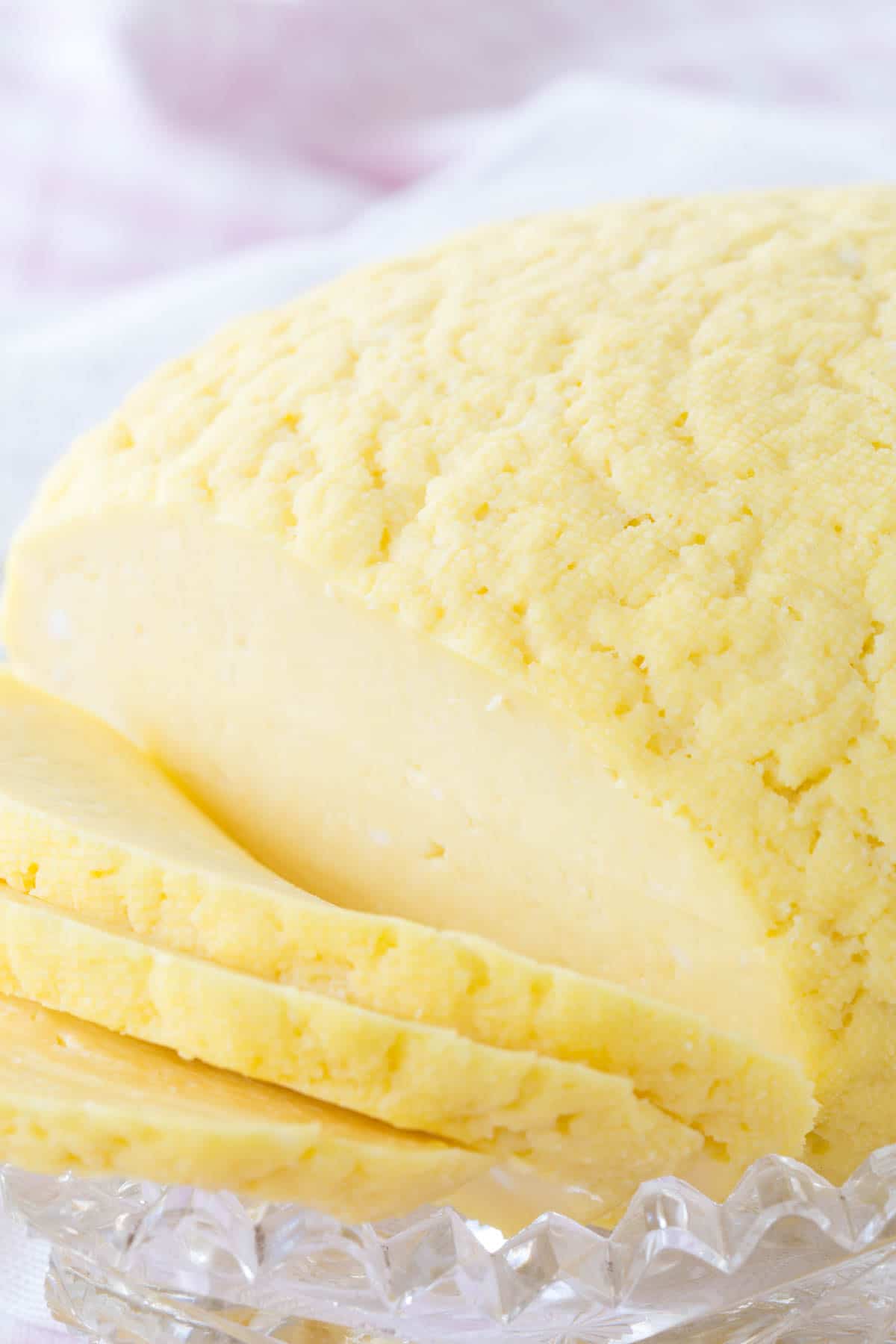 I am so proud to slowly be ticking items off the list of foods from my Eastern European background.
I have now made Hrudka, the Ukrainian Egg Cheese for Easter.
And I tried it. And I liked it! I think I could have used a bit more salt (I wrote the recipe to reflect it) since the recipe my aunt gave me literally said "level salt". The only thing I changed from the family recipe was to omit the flour. It was only two tablespoons, and every recipe I found online didn't call for any flour. Since I didn't want to mess around with gluten free flours, I just left it out. Seems no harm, no foul.
Or fowl? Hahaha! I'm a bad egg! How punny!
And while I shunned all things with egg as a kid, The Bug is alllll about cheese and eggs, so he was totally game for egg cheese. If you saw my Snaps the other day (yes, I'm on Snapchat at cupcakekalechip), he said "It's pretty good! It tastes like an Easter egg!" I'm not sure what that means, but since he requested it in his lunchbox, I'm guessing that's a good thing. I think it's smooth and slightly sweet, and would be yummy with some Easter ham.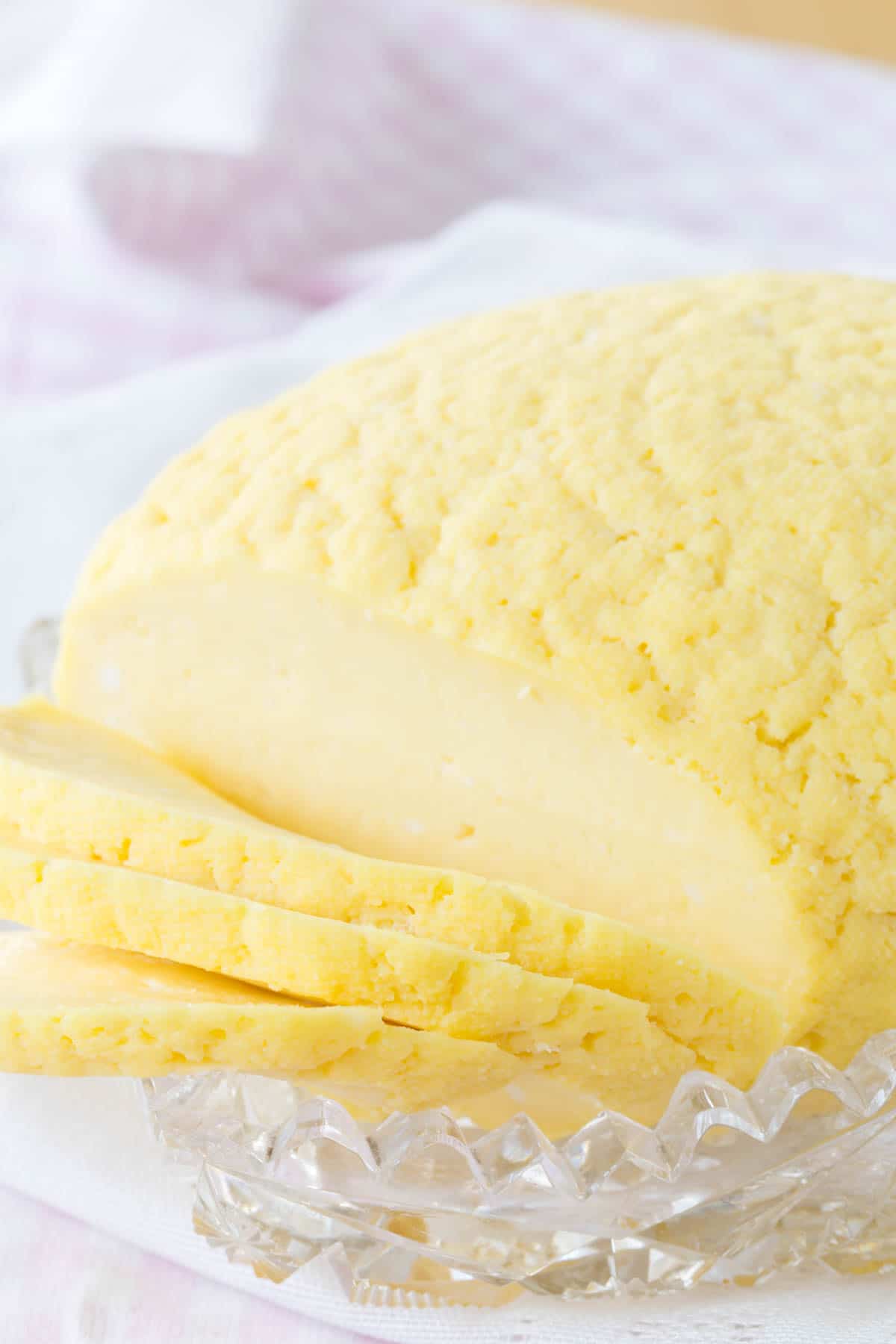 All you need to make Hrudka is:
Eggs
Whole milk
Sugar
Salt
Plus a pot, a whisk, and some cheesecloth. Check out the recipe to see how simple it is!
Want to chat with fellow foodies? Join the No-Fuss Food and Fun group on Facebook to share recipes and ideas, ask and answer questions, and tell everyone what you're making for dinner! Request to join HERE.
For more no-fuss wholesome meals and snacks with a sprinkle of sweet treats, keep up on…
Or sign up to have the weekly newsletter from Cupcakes & Kale Chips delivered straight to your Inbox!
Here are some more of my family's Eastern European recipes…
You can also try Haluski or Fried Cabbage and Noodles from A Family Feast. Sweet and Sour Cabbage Rolls from Noble Pig are always a classic. And though more popular around Christmas than Easter, you can't go wrong with Nut Roll from Brown Eyed Baker.
Ukrainian Easter Cheese Recipe
If you are Ukrainian, Polish, Slovak, or other Eastern European descent and want to connect with your roots, or just like trying new and unique recipes from different regions of the world, give this Hrudka recipe a try. It's easy, fun, and pretty awesome to say that you made your own cheese!

Hrudka - Ukrainian Egg Cheese for Easter
A generations-old family recipe for the traditional Ukrainian Easter cheese made from eggs.
Ingredients
1

dozen

eggs

1

quart

whole milk

2

Tablespoons

sugar

1

teaspoon

salt
Instructions
Line a strainer with cheesecloth and set aside.

Combine the ingredients in a heat-proof bowl or the top of a double boiler and whisk until combined.

Place bowl over a pot of water or assemble the double boiler and, over medium heat, bring the water to a simmer. Cook, stirring very frequently, until the mixture begins to thicken and then the bids separate from the whey. This will take 20-30 minutes form when you start to see the curds begin to form, and it will look similar to scrambled eggs when it is done.

Pour the mixture into the cheesecloth to drain off the liquid (the whey), and allow to drain for several minutes. Then gather the cheesecloth, forming the cheese into a ball and squeeze out as much liquid as possible, allowing to cool until you can handle it, if necessary.

Keeping the cheesecloth wrapped tightly around the cheese, drain for several hours or overnight in the refrigerator.

Preheat the oven to 350°F and place the cheese in an oven save dish. Bake for about 30 minutes or until golden.

Cool completely in the refrigerator before slicing.

Serve with your Easter ham.
Nutrition Facts
Hrudka - Ukrainian Egg Cheese for Easter
Amount Per Serving (1 slice)
Calories 59
Calories from Fat 27
% Daily Value*
Fat 3g5%
Cholesterol 85mg28%
Sodium 145mg6%
Potassium 82mg2%
Carbohydrates 3g1%
Protein 4g8%
Vitamin A 185IU4%
Calcium 57mg6%
Iron 0.4mg2%
* Percent Daily Values are based on a 2000 calorie diet.
Enjoy!