This post may contain affiliate links. Read my disclosure policy.
Delicious Gluten Free Ham and Cheese Strata is a make-ahead casserole that you'll love throughout the holidays, and all year round! Made with layers of fluffy gluten-free bread chunks, salty ham, sharp cheddar cheese and eggs, then baked to golden perfection. Great for breakfast, brunch, or even an easy weeknight dinner!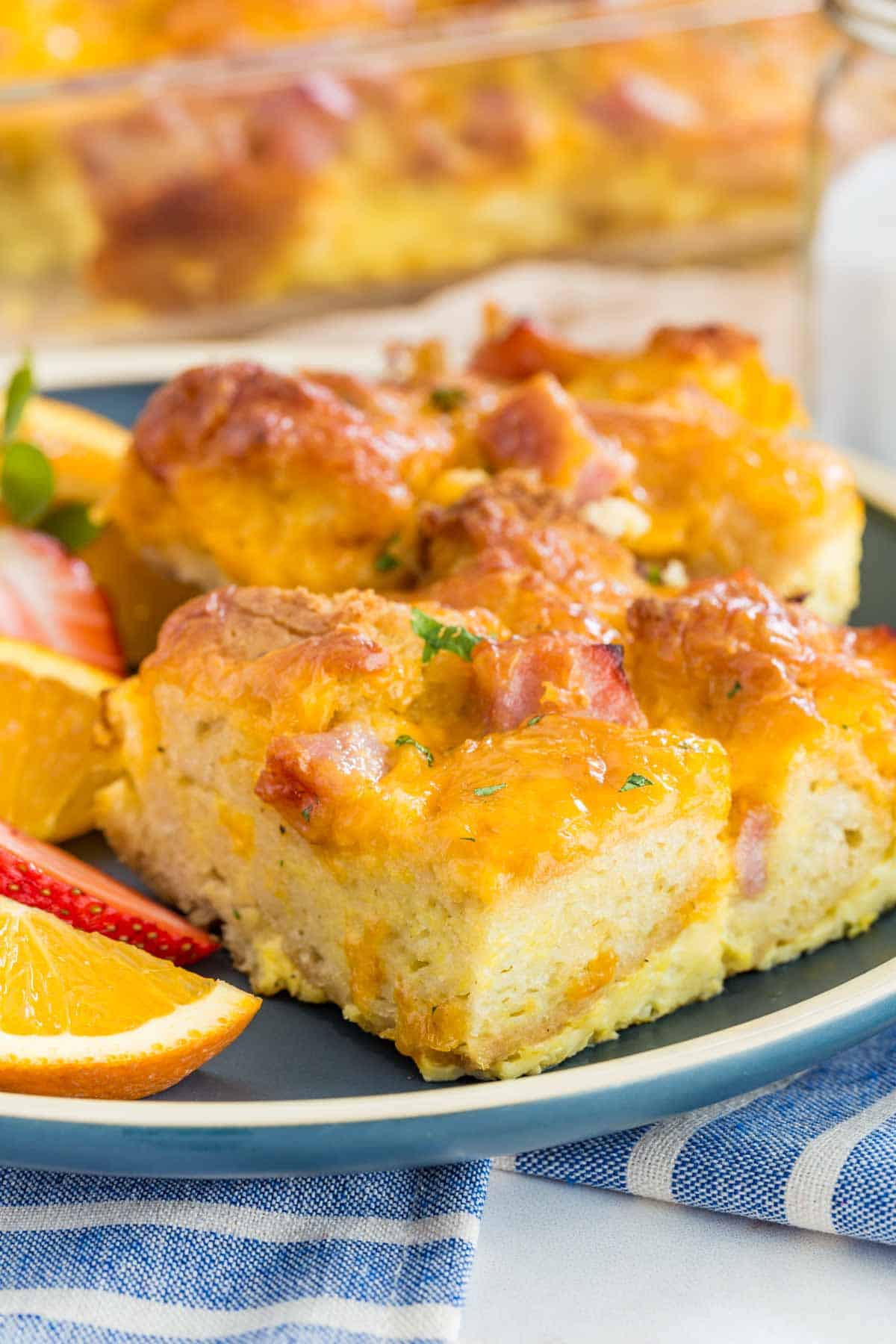 Gluten Free Ham and Cheese Breakfast Casserole
Today I'm sharing one of my family's favorite recipes: this version of classic overnight strata, made with gluten-free bread. This homemade casserole checks all the boxes for a fuss-free breakfast, or even weeknight dinner idea: quick to assemble, great for feeding a family, and it tastes amazing.
Tucking into a slice of this rich and hearty strata really is what breakfast dreams are made of. Loaded with gluten-free bread, smoky ham, and melted cheese, the best part is, you can make it ahead!
This easy gluten-free ham and cheese strata is wonderful to prepare around the holidays. Assemble it the night before, pop it in the fridge, and bake it in the morning! I love this recipe especially, since the mild ham and cheese flavors are super satisfying, and also kid-friendly. Plus, it's a perfect excuse to use up any leftover holiday ham!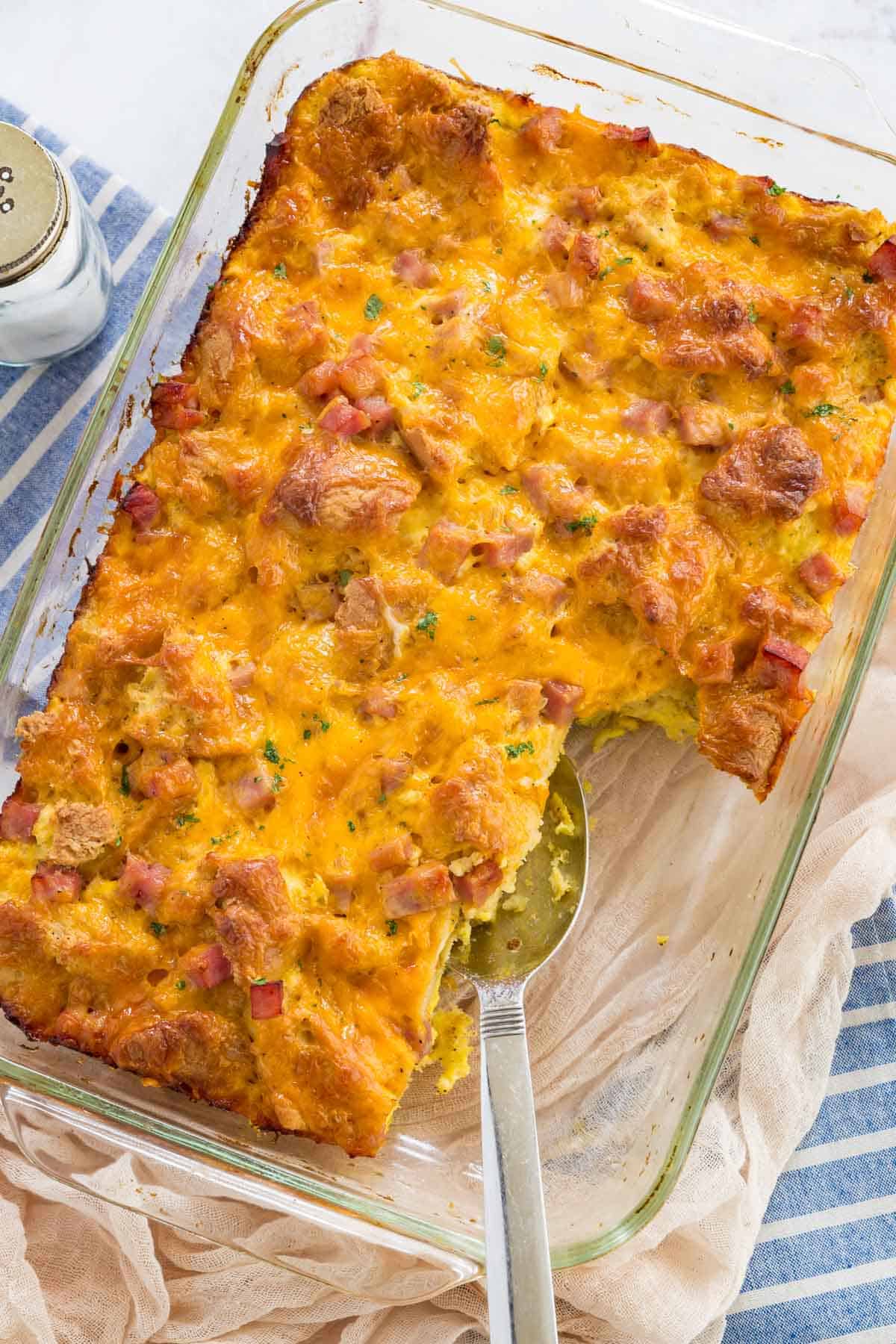 What is a Strata?
A "strata" is a type of layered casserole made with bread, eggs, and cheese. Oftentimes meat (like the ham in this recipe) or vegetables are also added. Strata is a popular overnight breakfast in the United States, since it needs to sit for a while before it's baked.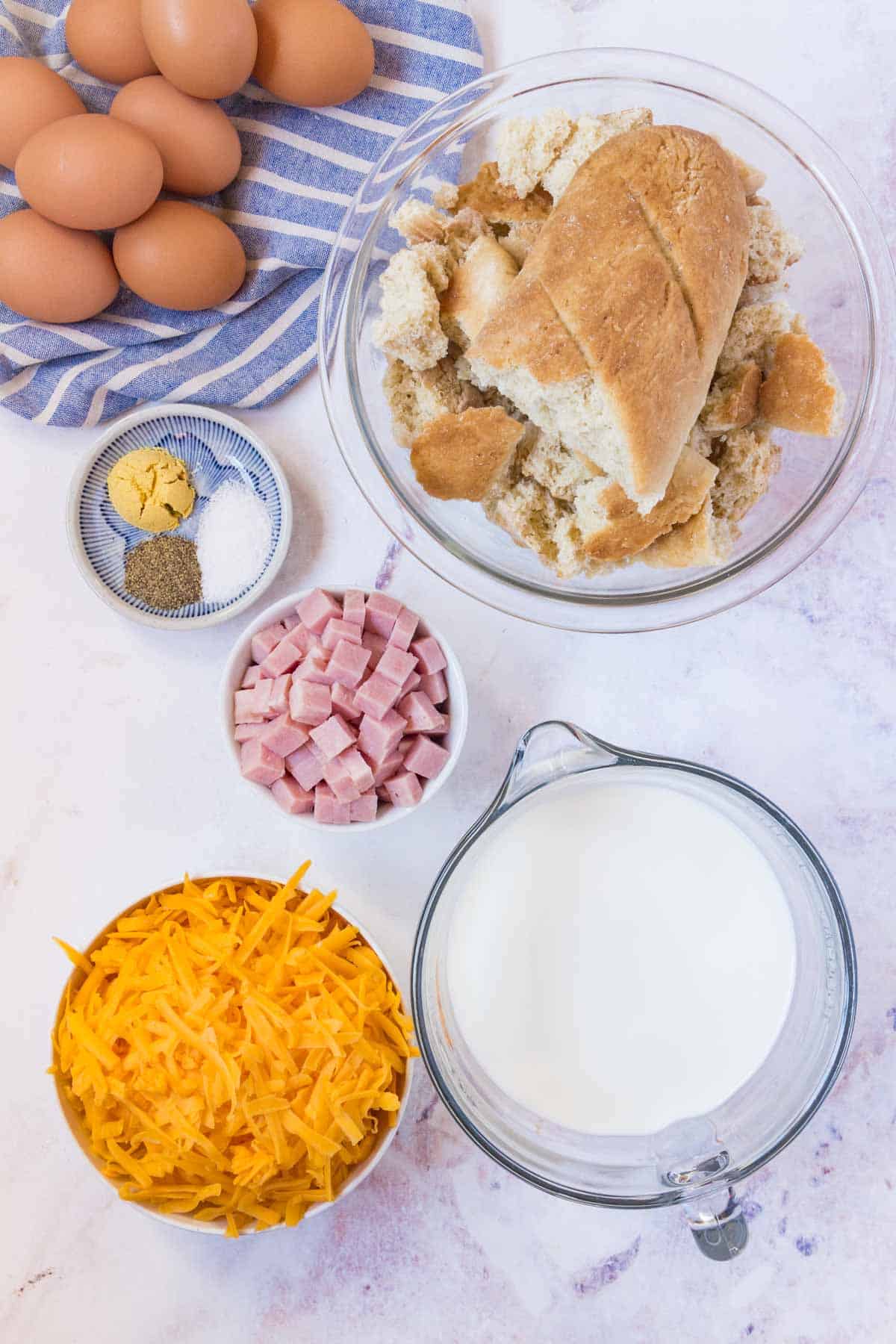 Recipe Ingredients
Gluten-Free Baguette: You'll need a couple of gluten-free baguette loaves, torn into pieces. You can buy baguettes from a store, or you can use one full recipe of my Homemade Gluten-Free French Baguettes!
Cheddar Cheese: I like to use a nice quality sharp cheddar cheese, freshly shredded.
Ham: Chopped or cubed. This breakfast casserole is a wonderful way to use up any leftover ham you have kicking around the fridge.
Eggs: An egg mixture is the backbone of this casserole recipe. This is what binds the ingredients together once the strata is baked!
Milk: I use whole milk for its slightly creamy texture.
Dry Mustard: I love the extra kick of flavor that mustard gives the egg mixture in this recipe.
Kosher Salt & Black Pepper
How to Make Ham and Cheese Strata
In just 3 easy steps, you'll have your gluten-free breakfast casserole assembled and ready to bake!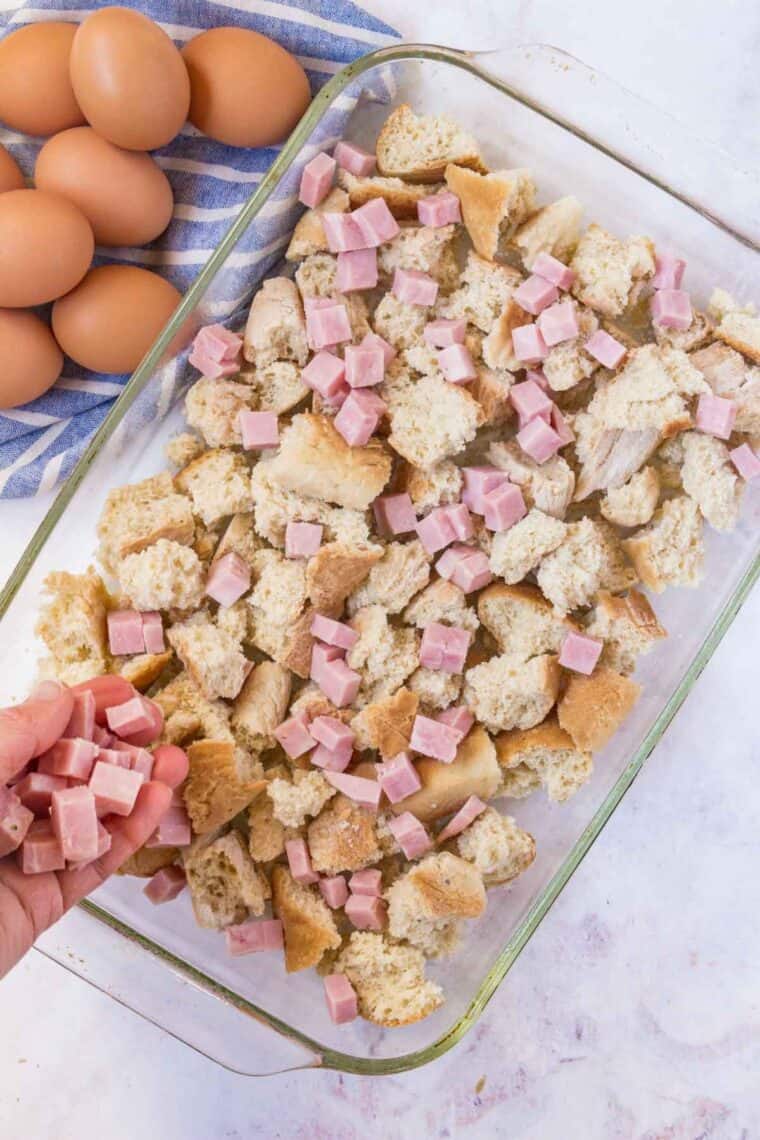 Assemble the Ingredients: Fill a greased casserole dish with baguette pieces. Next, sprinkle on the cheese, followed by a layer of ham.
Mix in the Eggs: Whisk together the eggs, milk, dry mustard and seasonings. Pour the egg mixture into the baking dish, covering the bread.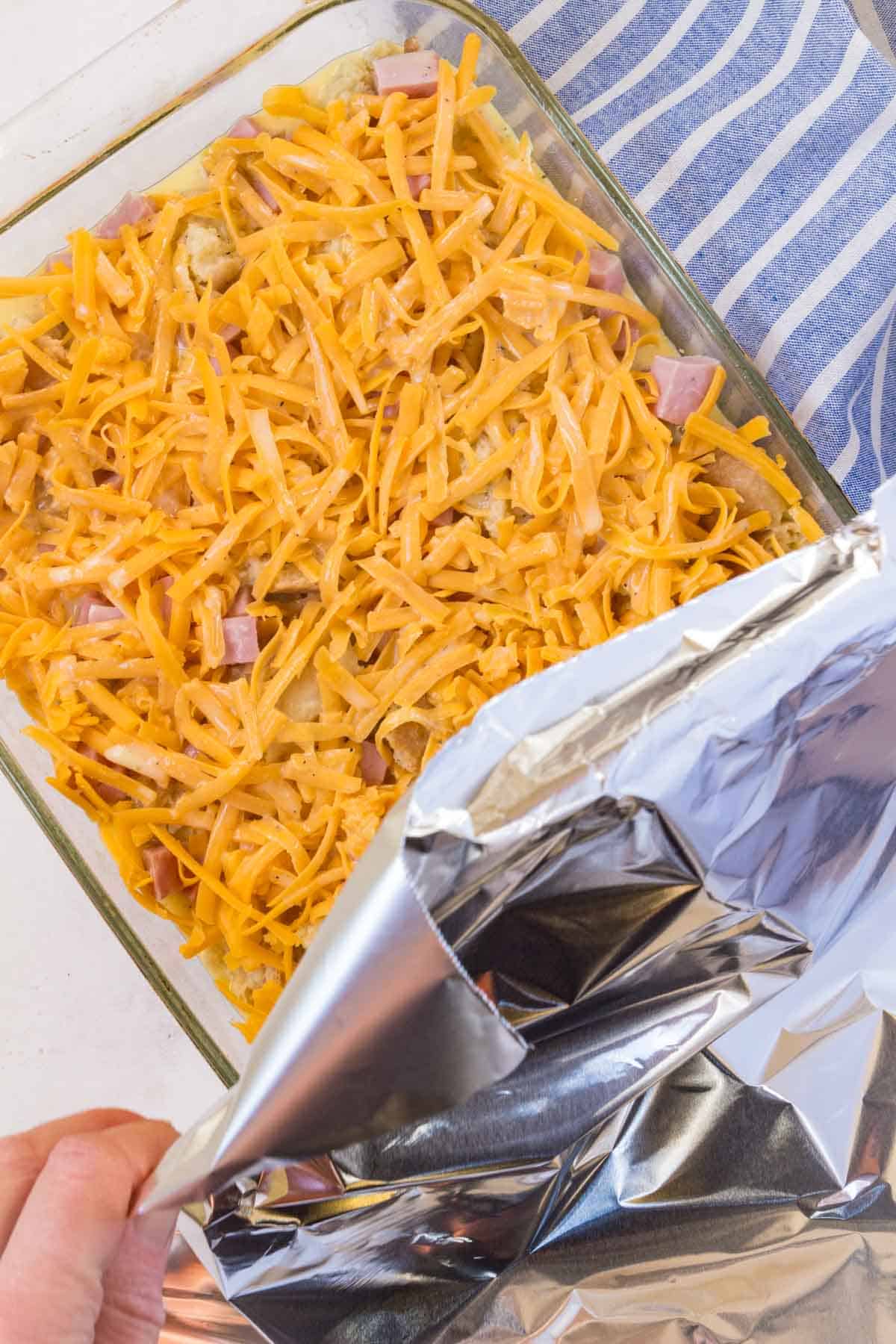 Cover and Chill: Cover the casserole with foil and place it in the fridge. I recommend leaving your strata to chill for at least 8 hours, or overnight to really get those flavors mingling!
Bake: Take the casserole out of the fridge while the oven preheats. Bake the strata until the eggs are puffed up and the top is nice and golden.
Tips & Variation Ideas
Use Stale Bread: If you have time, you can dry out the bread pieces before assembling the casserole. Fresh bread may not need to soak as long, though it can still be left for up to 24 hours before baking.
Substitute Different Ingredients: Swap out the type of cheese (try Monterey Jack, Swiss, or Pepper Jack), change up the ham for cooked sausage or bacon. Or maybe do more than one kind of meat!
Add Veggies: Add in extra veggies like cooked spinach, diced peppers, or mushrooms. I recommend cooking the veggies you add for the best flavor, texture and to make sure you aren't adding extra moisture to the strata.
Add Herbs & Spices: Chop up fresh herbs like dill, thyme, basil, or oregano to mix into your strata recipe. You can also toss in a pinch of cayenne pepper for some kick!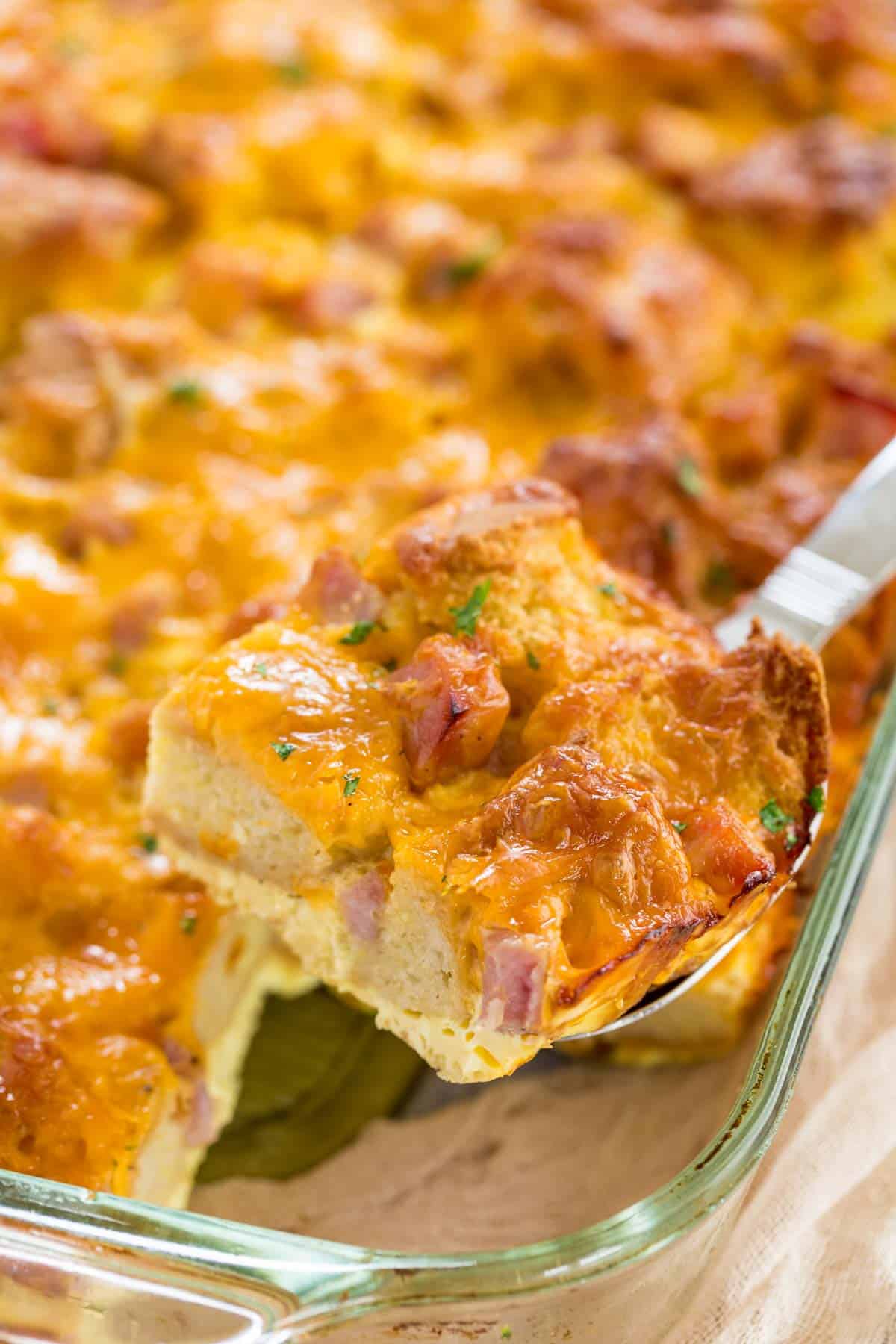 Make it a Meal
Serve this easy ham and cheese strata with more of your favorite breakfast dishes! It's a satisfying dish, so you might just need something light on the side. Whether you're serving it as part of an easy holiday breakfast, or as a hearty brunch, here are some ideas:
Fruit Salad
Breakfast Potatoes
Yogurt Parfaits
Veggies for Brunch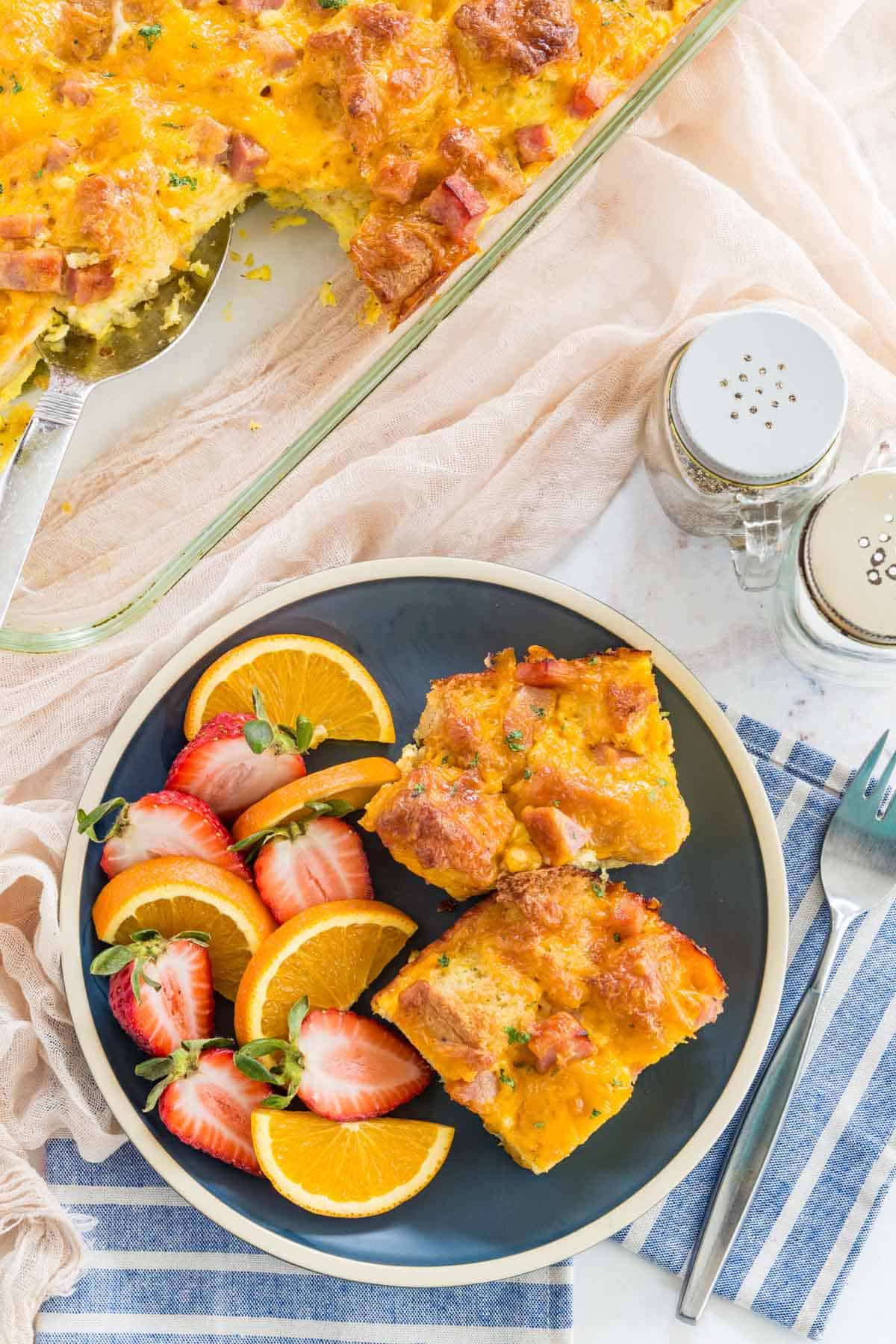 How to Store and Reheat Leftovers
After the strata has cooled, wrap it tightly and refrigerate within 2 hours of baking. It'll keep fresh for up to 3-4 days. Reheat the casserole in the oven either whole or in portions. Individual servings can also be warmed up in the microwave in bursts.
Can I Freeze This Recipe?
You can freeze this ham and cheese strata before or after it's baked. Store the unbaked casserole airtight in a container or wrapped tightly in plastic wrap, and keep frozen for 2-3 months. Allow the strata to thaw overnight in the fridge and then take it out about 30 minutes before baking.
Freeze baked strata the same way, and defrost it in the fridge before reheating.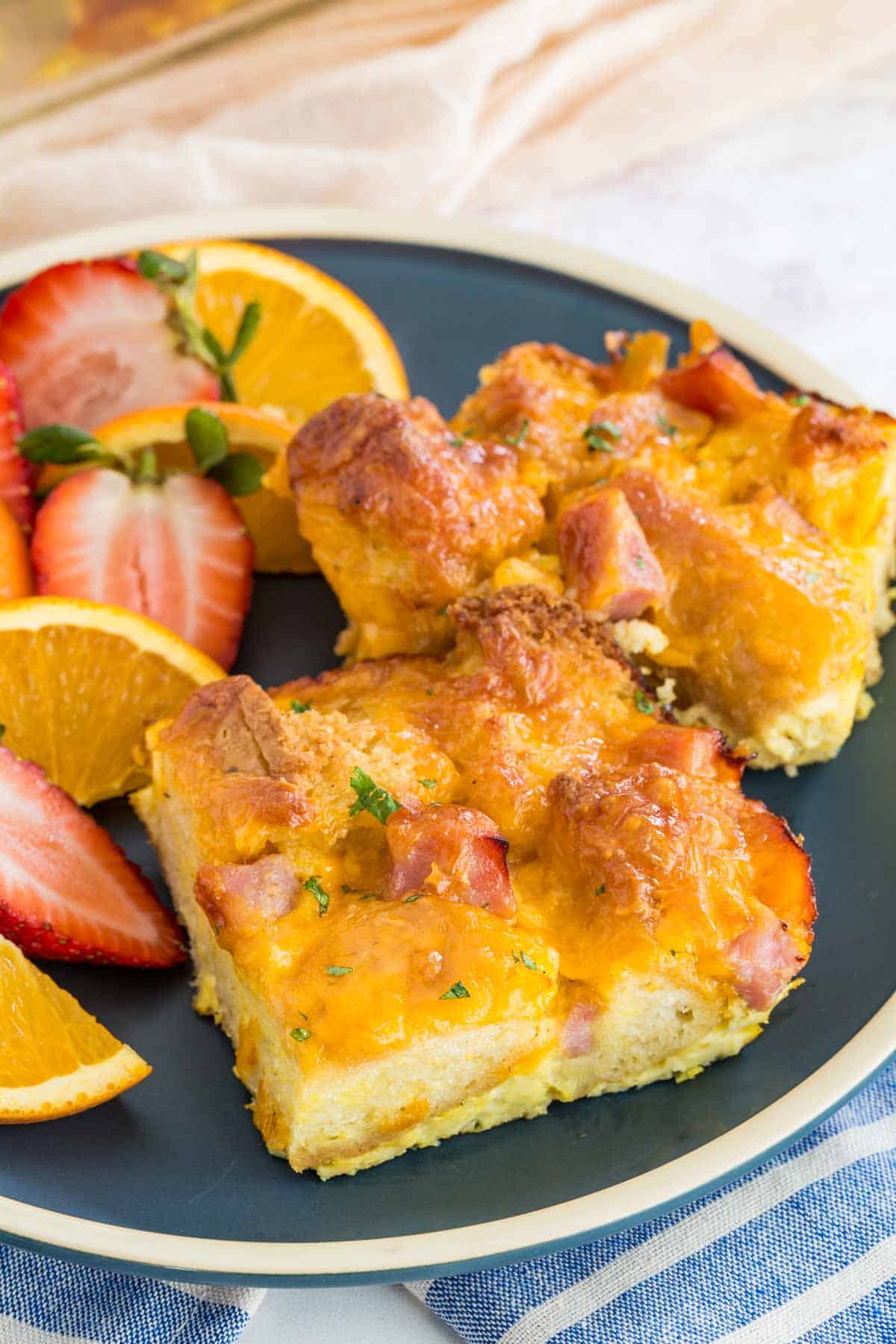 More Gluten Free Breakfast Ideas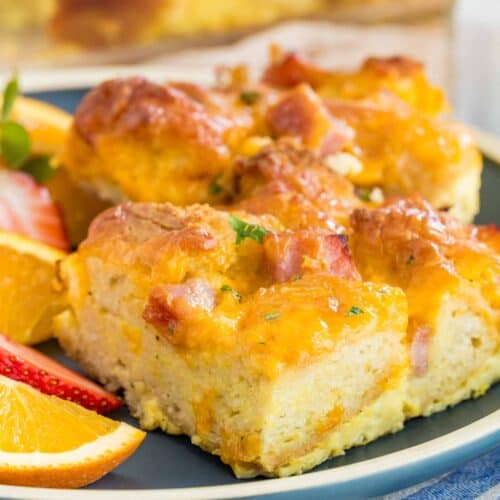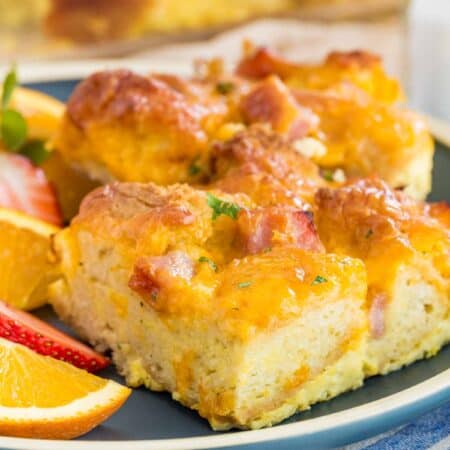 Gluten Free Ham and Cheese Strata
This Gluten Free Ham and Cheese Strata is an easy overnight breakfast casserole that you'll love throughout the holidays, and all year round!
Instructions
Coat a 13×9-inch baking dish with cooking spray. Place the bread pieces in the baking dish and sprinkle the cheese and ham over the bread.

In a large bowl, whisk together the eggs, milk, dry mustard, salt, and pepper. Pour evenly over the bread in the baking dish. Cover the pan with foil and refrigerate for at least 8 hours or overnight.

Remove the pan from the refrigerator and preheat the oven to 350°F.

Baked uncovered for 45-55 minutes or until puffed and set in the middle, and golden on top. Let cool slightly before serving.
Notes
You can allow your bread to dry out if you have time. If it is fresh, the casserole may not need to soak as long. It can be left up to 24 hours before baking.
You can substitute with a different type of cheese, use sausage or bacon instead of ham, or add mushrooms or other vegetables.
Nutrition Facts
Gluten Free Ham and Cheese Strata
Amount Per Serving
Calories 123
Calories from Fat 81
% Daily Value*
Fat 9g14%
Cholesterol 104mg35%
Sodium 349mg15%
Potassium 115mg3%
Carbohydrates 2g1%
Protein 9g18%
Vitamin A 301IU6%
Vitamin C 1mg1%
Calcium 144mg14%
Iron 1mg6%
* Percent Daily Values are based on a 2000 calorie diet.