This post may contain affiliate links. Read my disclosure policy.
Gluten-Free Eggs Benedict is a tantalizing stack of breakfast goodness! A buttery English muffin is topped with salty Canadian bacon and a perfectly poached egg, and then drizzled with rich and creamy homemade hollandaise sauce. This recipe comes together in just 25 minutes, for an easy brunch staple that you can make at home.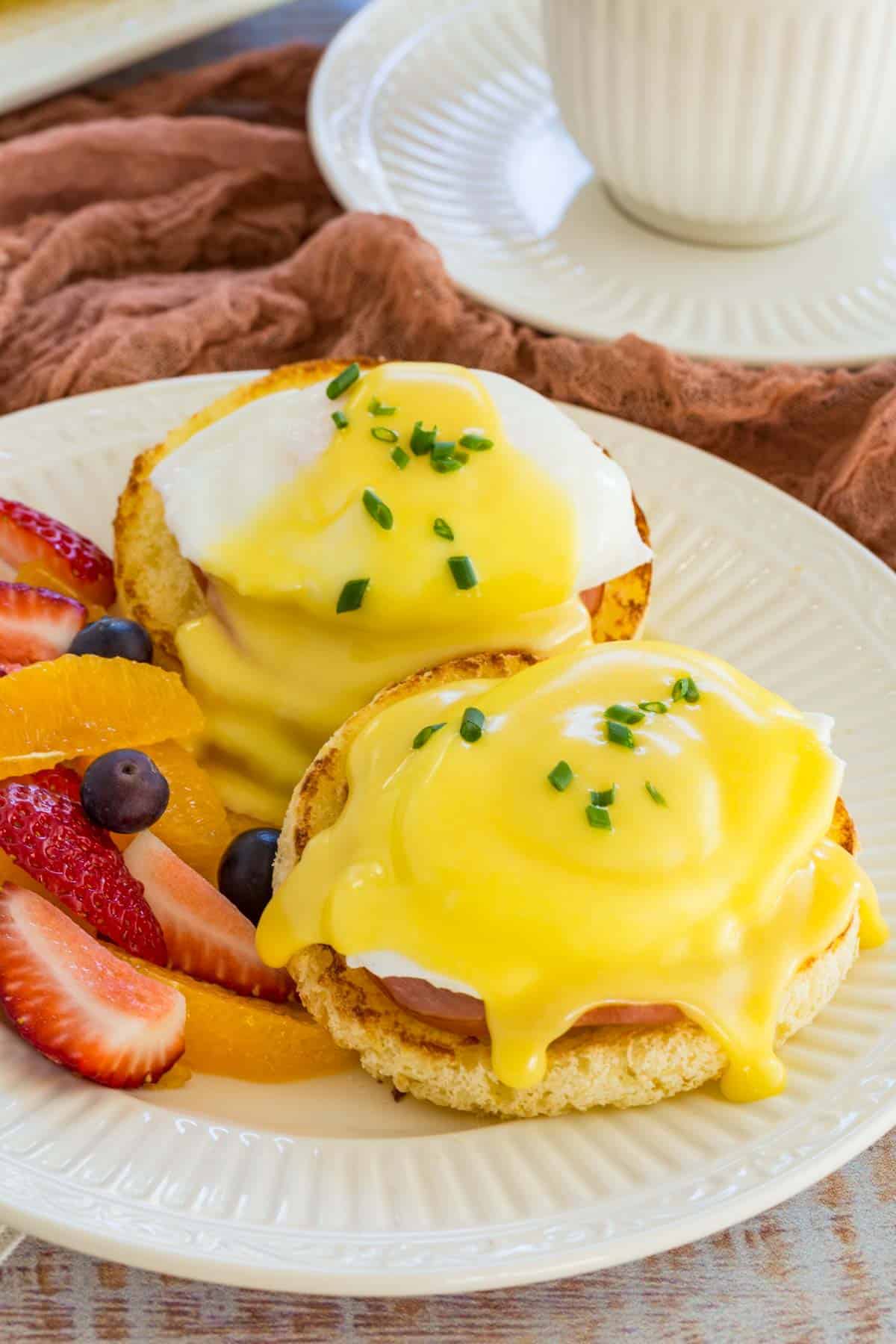 Easy Gluten-Free Eggs Benedict
If you've ever been out for brunch in America, chances are you've come across a variation of Eggs Benedict on the menu. This breakfast staple is all kinds of indulgent (in the best way): a toasted gluten-free English muffin stacked with Canadian bacon and a runny poached egg, smothered in a rich and buttery hollandaise sauce.
Eggs Benedict is one of my favorite brunch foods, but gluten-free versions aren't too common in restaurants. So, naturally, I set out to make my own version at home!
This might just be the quickest and easiest homemade Eggs Benedict ever. As in, all it takes is only a few common ingredients and less than half an hour to make! Needless to say, our weekend family brunch got a serious gluten-free upgrade.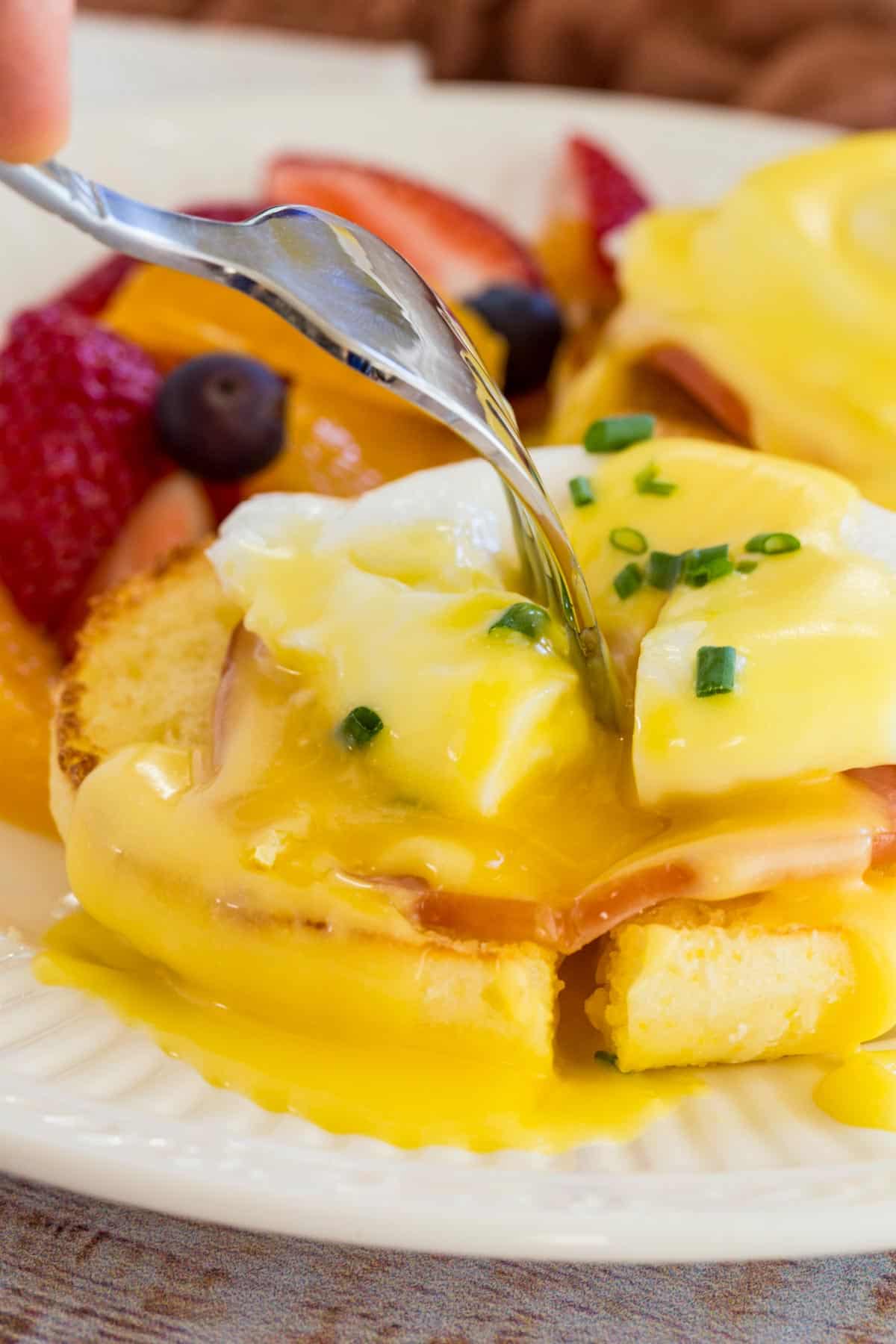 What is Eggs Benedict?
Eggs Benedict is a popular breakfast or brunch dish. It's become a staple in the US, consisting of poached eggs and bacon served over English muffin halves, topped with hollandaise sauce (a creamy sauce made from egg yolks, lemon juice, butter, and seasonings).
Why Are they called Eggs Benedict?
The origin of Eggs Benedict, as well as where the name comes from, is actually a bit of a mystery. Some accounts say the dish was named after Mr. and Mrs. LeGrand Benedict, who were regulars at Delmonico's in Manhattan, as far back as the 1860s. Others say it was the hungover creation of Wall Street stock broker Lemuel Benedict, who ordered a variation of poached eggs with hollandaise on toast at the Waldorf Hotel in 1894.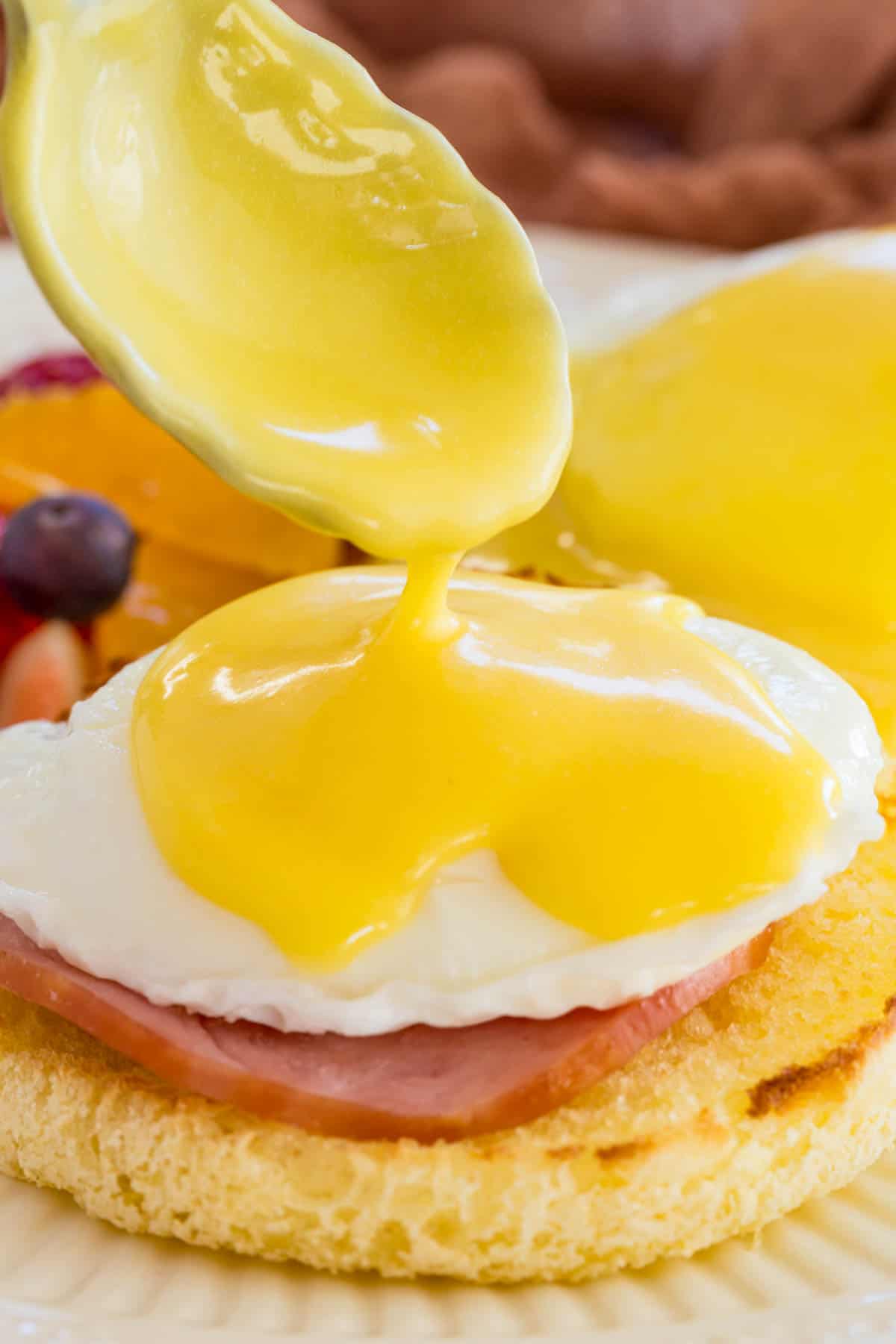 Recipe Ingredients
Here's everything you'll need to make your own fresh and fully stacked Eggs Benedict:
Egg Yolks: Egg yolks (without the whites) form the custard-like base for the hollandaise sauce.
Lemon Juice: Make sure to use fresh lemon juice! This gives the sauce its classic citrusy flavor.
Cayenne Pepper: A classic hollandaise recipe contains cayenne for a little kick. However, it's optional and you can leave it out if you prefer.
Unsalted Butter: You'll need one stick of butter cut into small cubes, to make the hollandaise. Also additional butter for buttering the English Muffins.
Gluten Free English Muffins: You can use store bought, or make your own Homemade English Muffins.
Canadian Bacon: Canadian bacon is leaner than traditional cuts of pork, and often comes in disc-like cuts that fit perfectly over an English muffin! You can also use regular bacon strips or ham though, if you prefer.
White Vinegar: Adding vinegar to the boiling water when poaching the eggs will help the eggs set faster.
Whole Eggs: For Poaching. Try to use the freshest eggs you can get in order to minimize the spreading.
Chives or Parsley: For an optional garnish. Both of these herbs complement the flavor of eggs so perfectly! Plus, they add a little extra something to the presentation.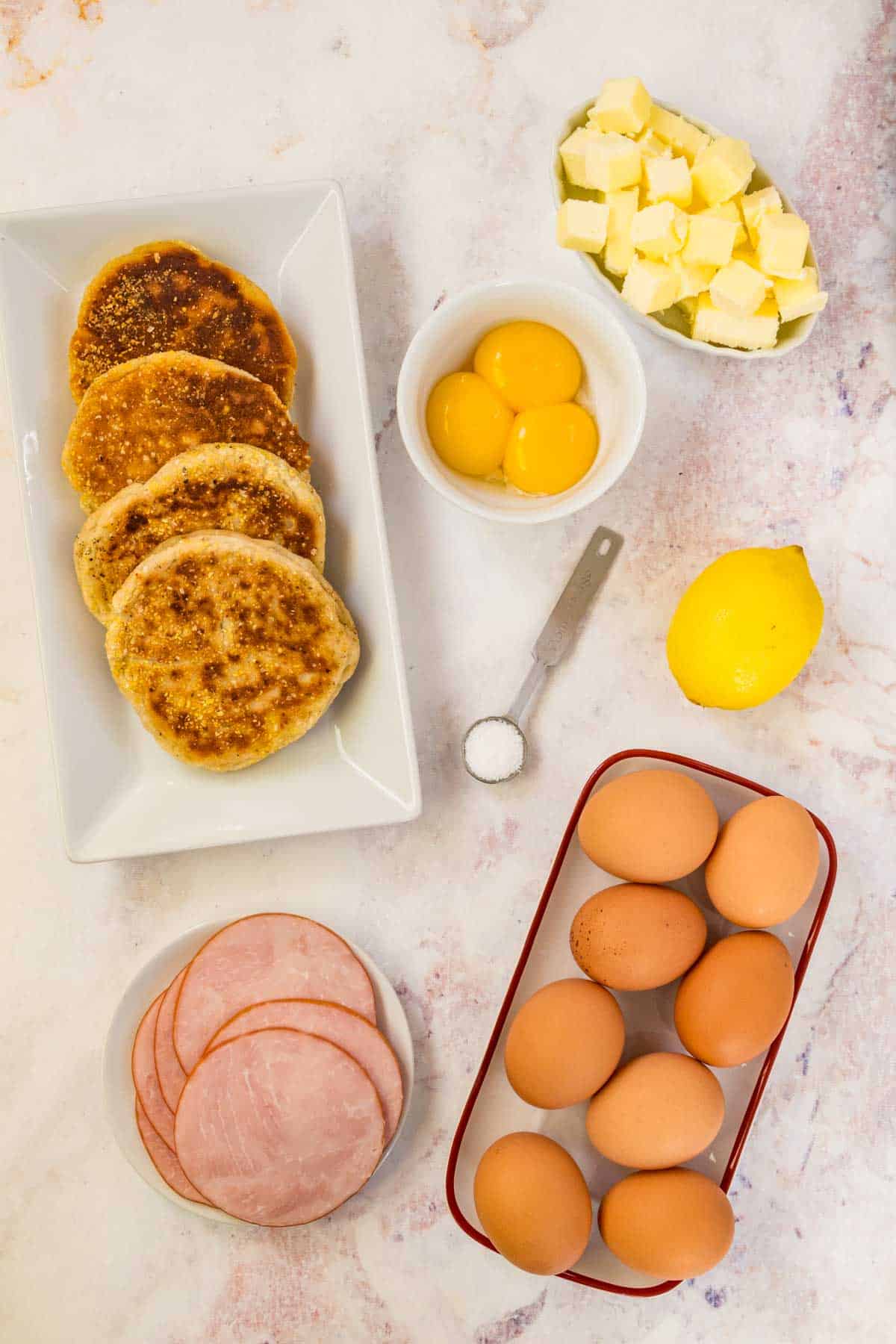 How to Make Eggs Benedict
Here's how to make the different components for your homemade Eggs Benedict, in a grand total of 25 minutes! It's actually so easy, and perfect to whip up for weekend brunch.
You'll need to toast the English muffins, buttering each of the halves, and brown the bacon. As for the rest, everything comes together super quickly:
Making the Homemade Hollandaise Sauce
In a saucepan, whisk together the egg yolks, lemon juice, and cayenne pepper with a pinch of salt. Next, add in one half of the butter cubes and place the pan over low heat.
Whisk until the butter is melted, then stir in the remaining cubes of butter to thicken.
Take the sauce off of the heat and set aside.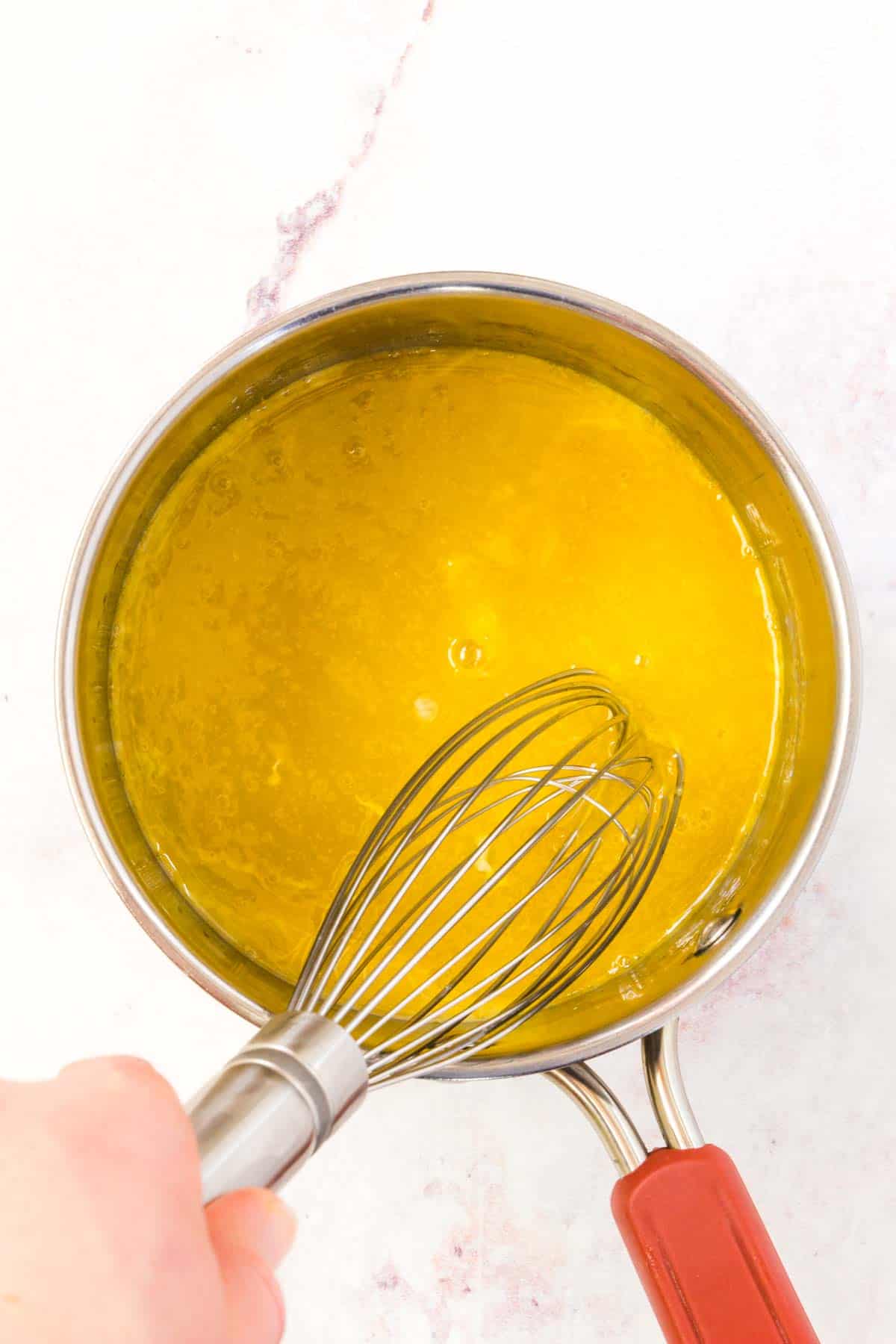 Poaching Eggs for Eggs Benedict
Bring water to a simmer in a saucepan (not a rolling boil). Add in the white vinegar.
Carefully crack the eggs and slip them into the water. This is easiest to do if you break the eggs into a small dish first. Depending on the size of your saucepan and the number of eggs, you may need to work in batches.
Poach the eggs until the yolks are set. This will take between 3 to 5 minutes depending on your desired doneness (less time for a more runny yolk).
Remove the eggs from the water. Transfer them to a plate with paper towels to drain.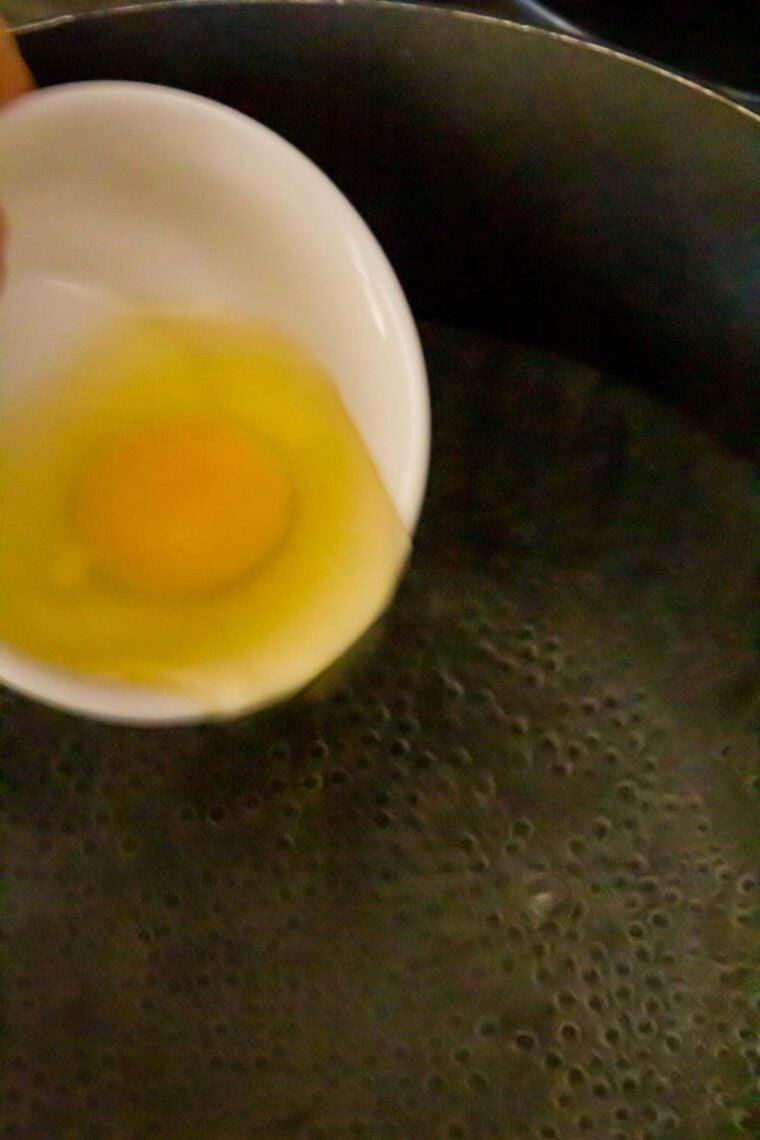 Assembling your Eggs Benedict
Now it's time to put it all together! First, place a slice of bacon on top of each buttered English muffin half. Top this with a poached egg, and lastly a few spoonfuls of hollandaise sauce. Give your Eggs Benedict a sprinkle with chives or parsley for garnish, and you're ready to serve.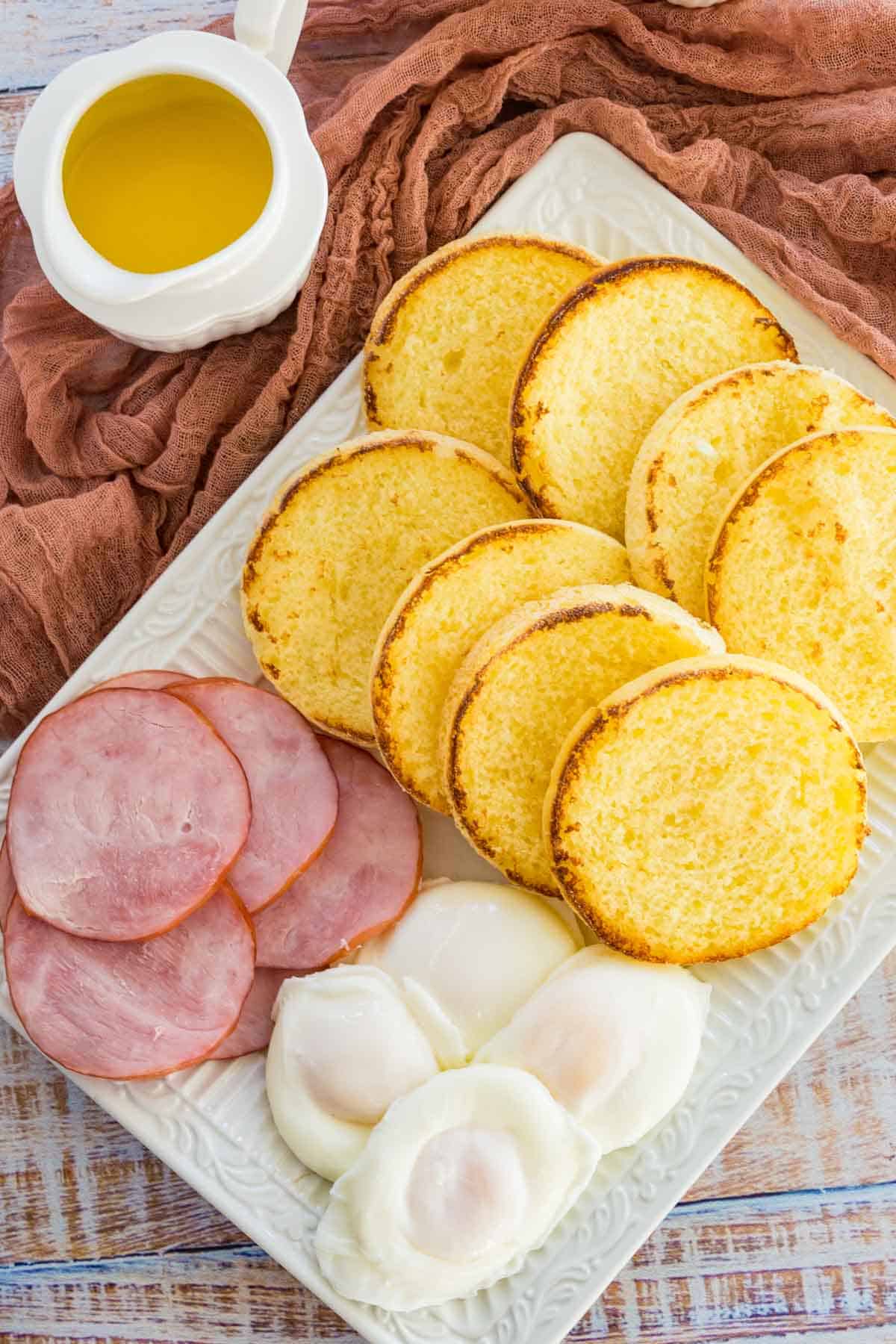 Tips for Success
Use Fresh Eggs: The fresher the eggs, the better the outcome. The whites are thicker in fresh eggs and won't spread as much in the boiling water. On that note, don't add salt to the water – this will also cause the whites to spread more! 
If the Egg Whites are Spreading: If you're struggling with eggs that spread too much in the boiling water, try poaching them in a pot instead, one at a time. Use a spoon to gently swirl the simmering water, creating a vortex to slip the egg into. This should help the whites to spread less.
Change it Up. Add some roasted asparagus, use sliced steak instead of ham, or go with crabmeat.
Make it Easier. If you don't want to fuss with poaching eggs, try an easier Benny using Baked Eggs.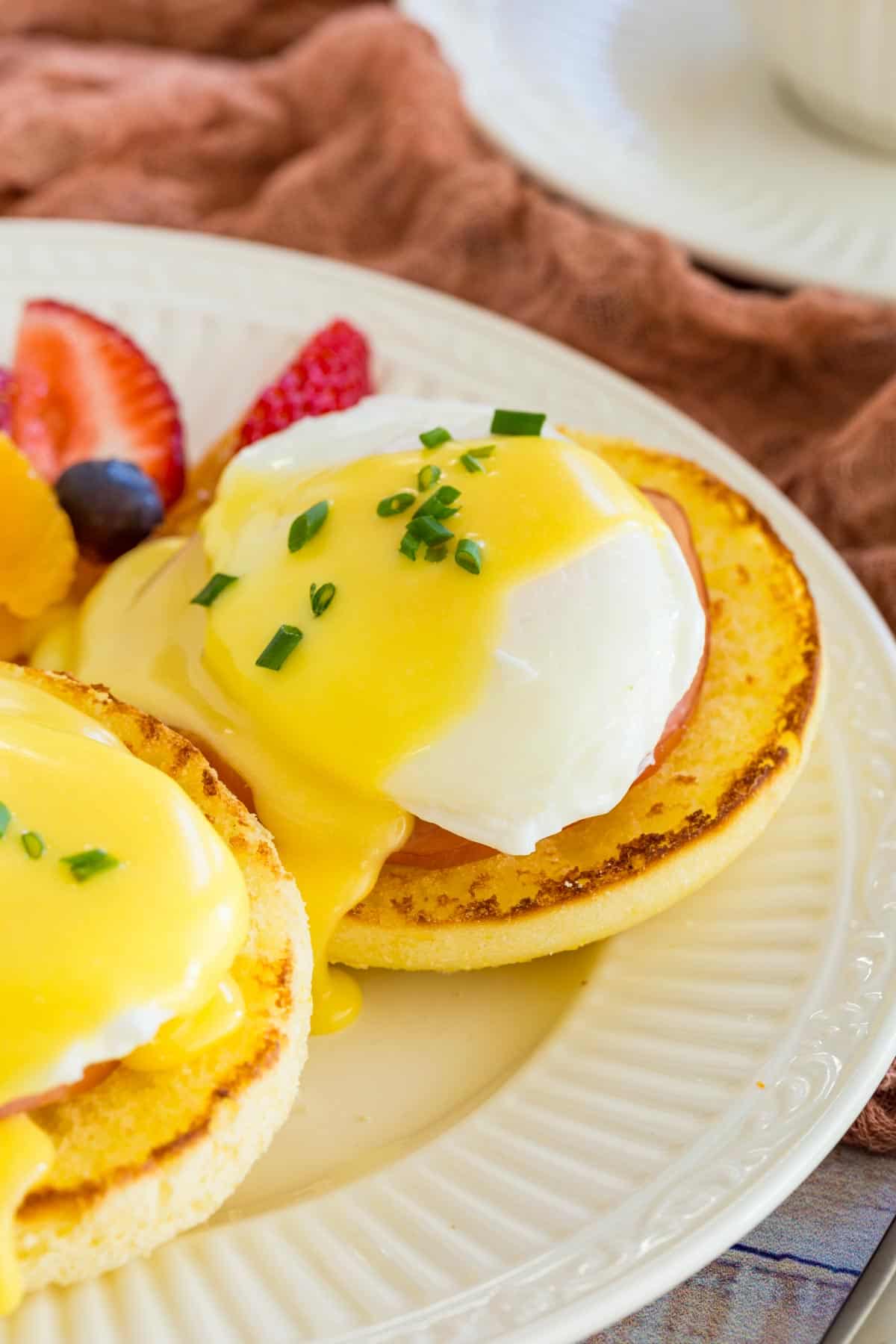 What to Serve with Eggs Benedict
Eggs Benedict is a meal in itself, with all its rich and creamy sauce and stack of tasty ingredients! However, if you're really going all out at your next brunch, here are some other ideas to serve it with: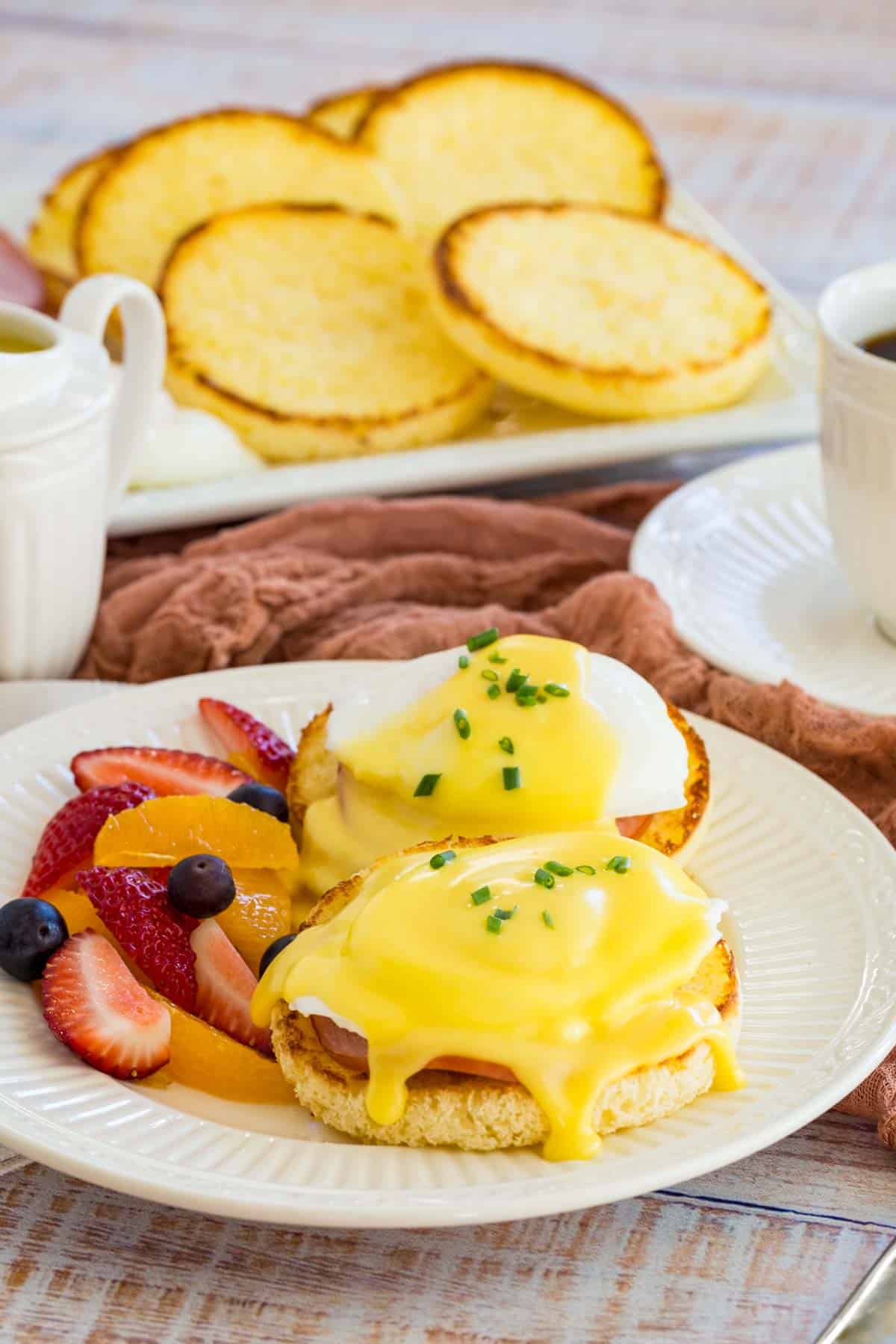 Can I Store Extras for Later?
Once assembled, storing leftover Eggs Benedict becomes tricky due to the muffins becoming soggy from the hollandaise and eggs. However, you can store the individual components separately.
Poached eggs can be stored for up to 2 days in the fridge. You'll just need to reheat them in boiling water again for a couple of minutes before serving.
Store leftover hollandaise airtight in the fridge. Reheat the sauce in the microwave (in increments) or on the stove over low heat. Note that the consistency may be a bit thicker once it's reheated! I find that stirring in a bit of water or butter helps to liven it back up.
English muffins and bacon are best when heated fresh (to avoid becoming stale).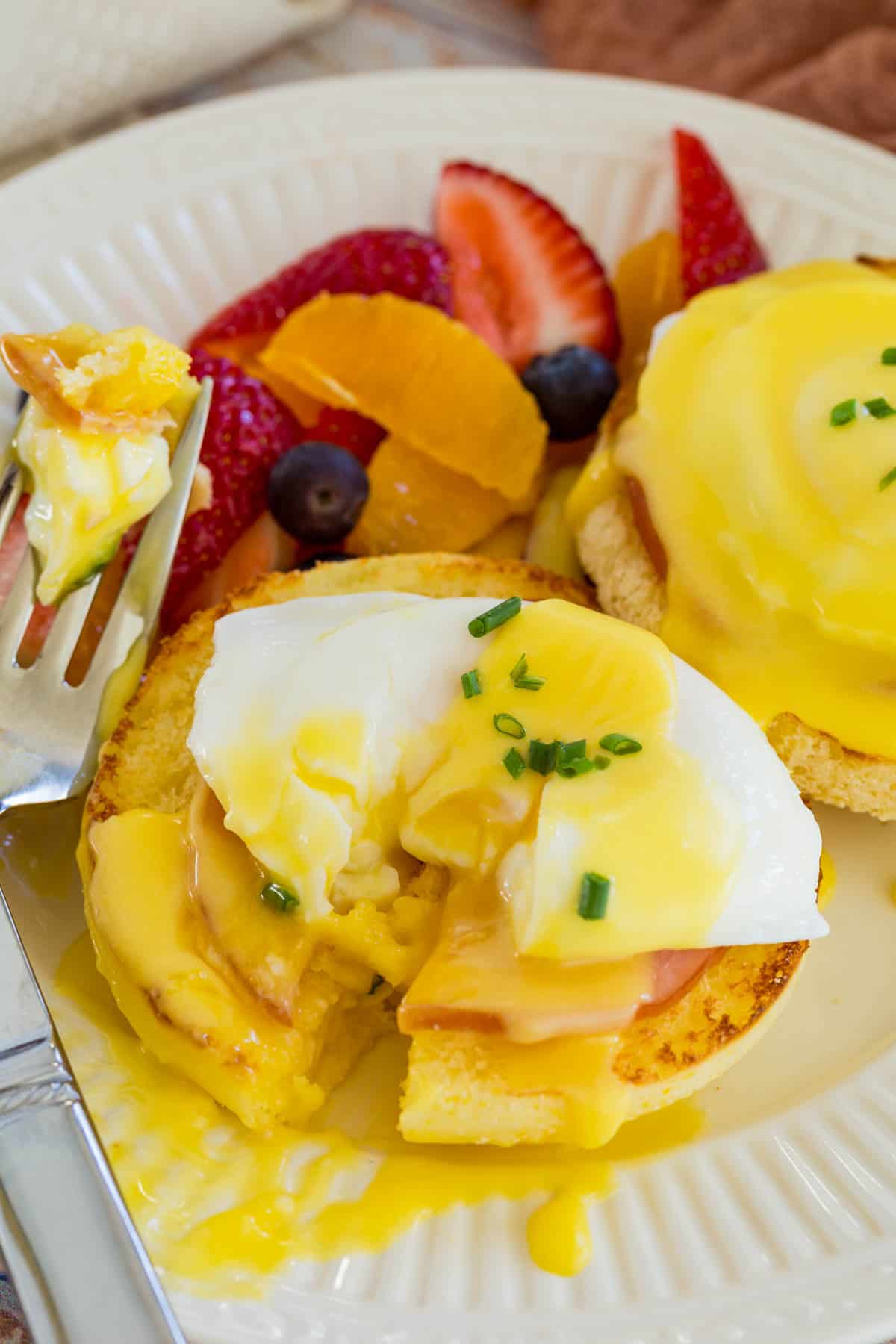 More Gluten-Free Breakfast Ideas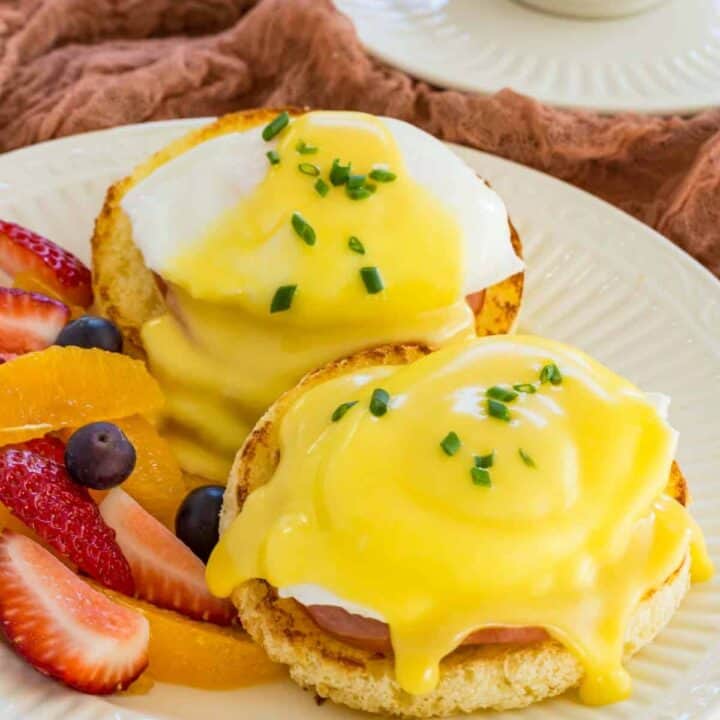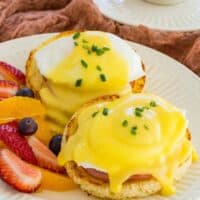 Gluten Free Eggs Benedict
Gluten Free Eggs Benedict is a tantalizing stack of brunch or breakfast goodness. This homemade recipe comes together in just 25 minutes!
Ingredients
3

large

egg yolks

1

tbsp

fresh lemon juice

1/2

tsp

Kosher salt

1

pinch

cayenne pepper, optional

1/2

cup

unsalted butter

(one stick), cut into small pieces, divided, plus additional for buttering the Englush muffins

4

gluten free English muffins

store bought or homemade

8

slices

Canadian bacon

(can also use ham or bacon)

2

tsp

white vinegar

8

large

eggs

Chives

or parsley for garnish, optional
Instructions
In a small saucepan, whisk together the egg yolks, lemon juice, salt, and cayenne pepper. Add in half of the cubed butter.

Place the saucepan over low heat and stir constantly with a whisk until the butter is melted. While still whisking, gradually add the remaining butter and whisk until it is melted and the sauce is thickened. If it is too thick, you can whisk in a little warm water, a teaspoon at a time. Remove the Hollandaise sauce from the heat and cover with a lid to keep warm.

Split open the English muffins and toast in a toaster or by placing on a baking sheet under the broiler for 2-3 minutes. Lightly butter each half.

In a skillet over medium-low heat, brown the Canadian bacon or bacon, turning often.

Fill a large saucepan with about 3 inches of water and bring to a simmer. Break an egg into a small dish or saucer. Holding the dish near the surface of the water, gently slip the egg into the water. Repeat with each of the eggs. Cook until the yolks are set as desired, about 3 to 5 minutes. Remove the eggs with a slotted spoon and drain on paper towels.

Top each English muffin half with a slice of bacon, one poached egg, and a tablespoon or two of the Hollandaise sauce. Garnish with minced chives or parsley, if desired.
Nutrition Facts
Gluten Free Eggs Benedict
Amount Per Serving
Calories 306
Calories from Fat 180
% Daily Value*
Fat 20g31%
Cholesterol 300mg100%
Sodium 611mg25%
Potassium 217mg6%
Carbohydrates 14g5%
Protein 16g32%
Vitamin A 717IU14%
Vitamin C 1mg1%
Calcium 57mg6%
Iron 2mg11%
* Percent Daily Values are based on a 2000 calorie diet.
Categories: