This post may contain affiliate links. Read my disclosure policy.
This Red, White, and Blue Berry Fruit Salad with watermelon stars is perfectly patriotic for the 4th of July and all of the summer holidays. Tossed in a light honey lime dressing, it's fresh, sweet, healthy, and delicious!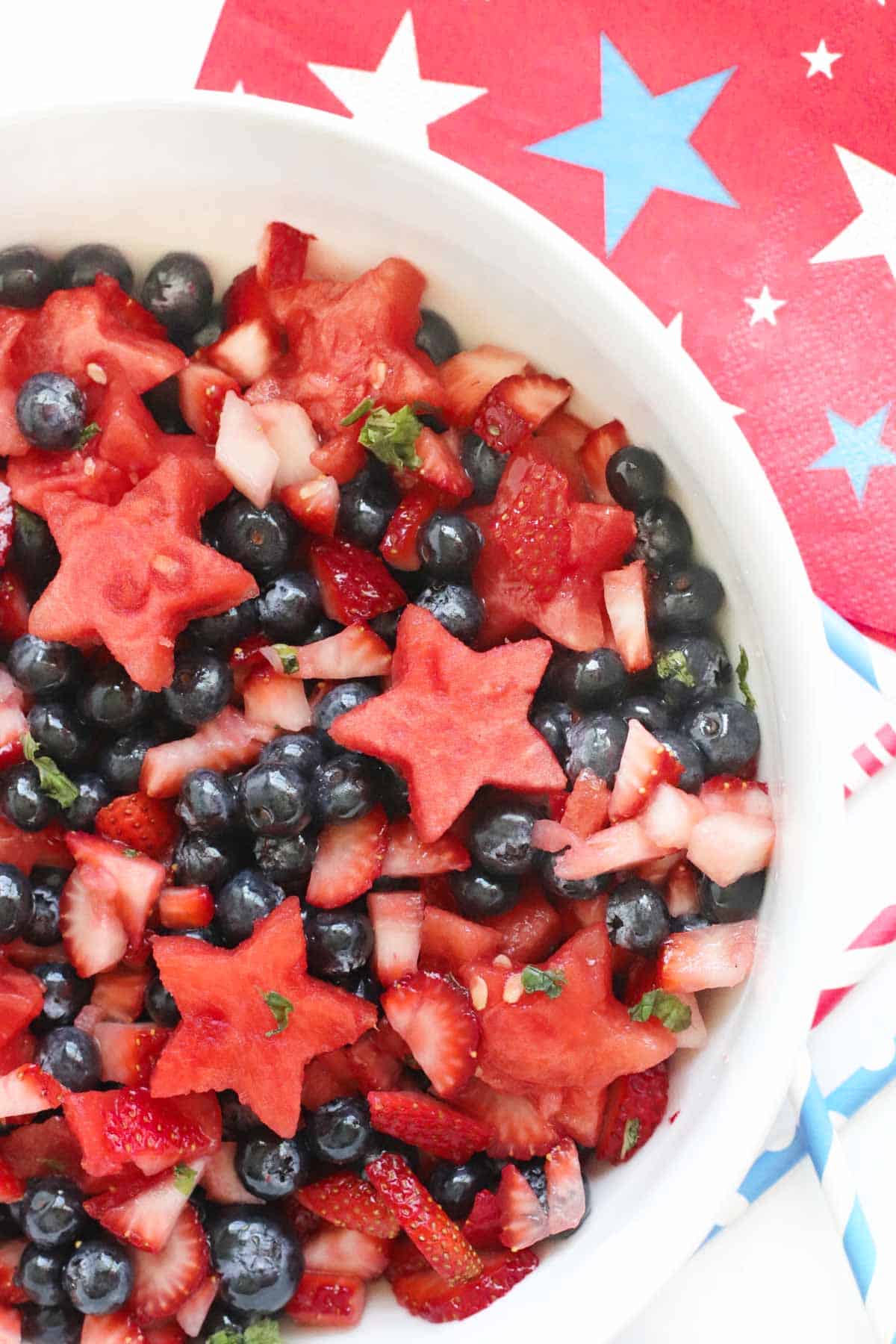 Watermelon Berry Fruit Salad for Fourth of July and More
In the summer, I don't think there is much better than digging into a big bowl of fresh fruit salad. When berries and melons are in their peak season, they are sweet, juicy, and absolutely delicious. And if you choose the right fruits, you have the perfect colors for our favorite summertime holidays.
But do you really need a recipe for fruit salad?
Sure, you could just cut up a bunch of fruit and toss it in a bowl. But the addition of a simple honey lime dressing really makes the flavors pop.
And while you can enjoy it anytime, the strawberries and blueberries with the addition of watermelon stars make it an especially fun fruit salad for the Fourth of July, Labor Day, and Memorial Day, as well as birthday parties or baby showers!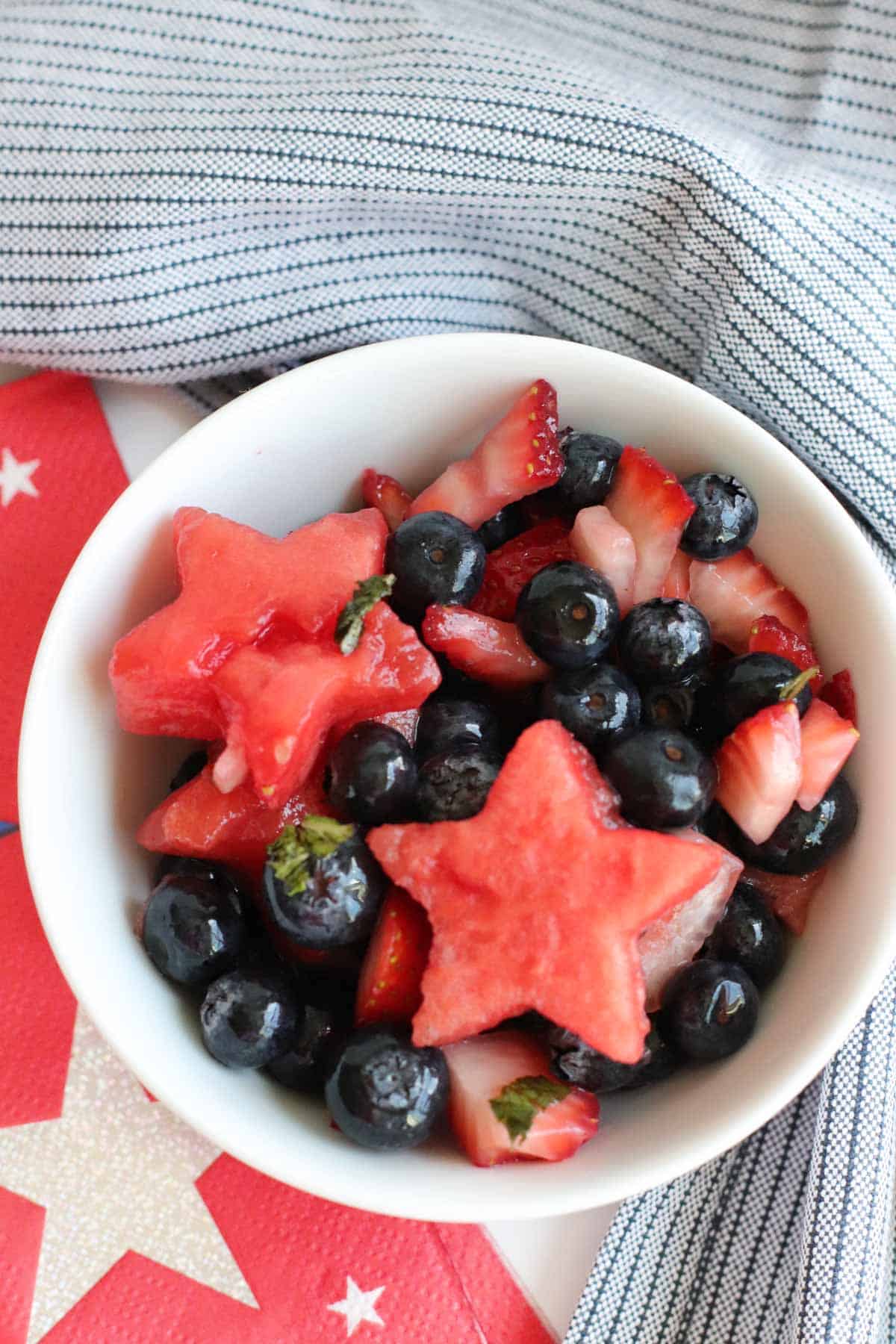 What Makes This the Best Fruit Salad
Using Fresh Fruit
If you are making this watermelon berry fruit salad for the 4th of July or pretty much anytime during the summer, you know that the melons and berries are going to be in season. And using fresh fruit that isn't bruised or getting mushy will ensure that you have the best results.
Also, especially in the case of the berries, you'll want to make sure you hold off on washing them until right before you plan to assemble the salad, as that can make them start to get soft or moldy faster.
And if the berries aren't perfect, you can always add in other fruits that are at their prime. Earlier in the spring and summer you can get some gorgeous raspberries and blackberries. Later in the summer, stone fruits like cherries and peaches are perfection. And apples, bananas, and mangoes are available pretty much any time of the year!
Delicious Fruit Salad Dressing
The flavors in the simple honey lime dressing enhances the fruit. Honey adds a little extra burst of sweetness. Lime juice gives it that citrusy zing. And just a bit of mint adds an extra element of freshness.
And if your strawberries, blueberries, and watermelon aren't super juicy, this will add more moisture.
Plus, while the fruits in this recipe don't tend to discolor, if you decide to add others like apples or bananas to the mix, the honey and lime will help keep them from turning brown.
Watermelon Stars
While this doesn't change the flavor of the fruit salad, taking a few minutes to cut the watermelon into stars definitely makes it more fun and festive! It's a simple step that impresses kids and adults. And you could really use any shape.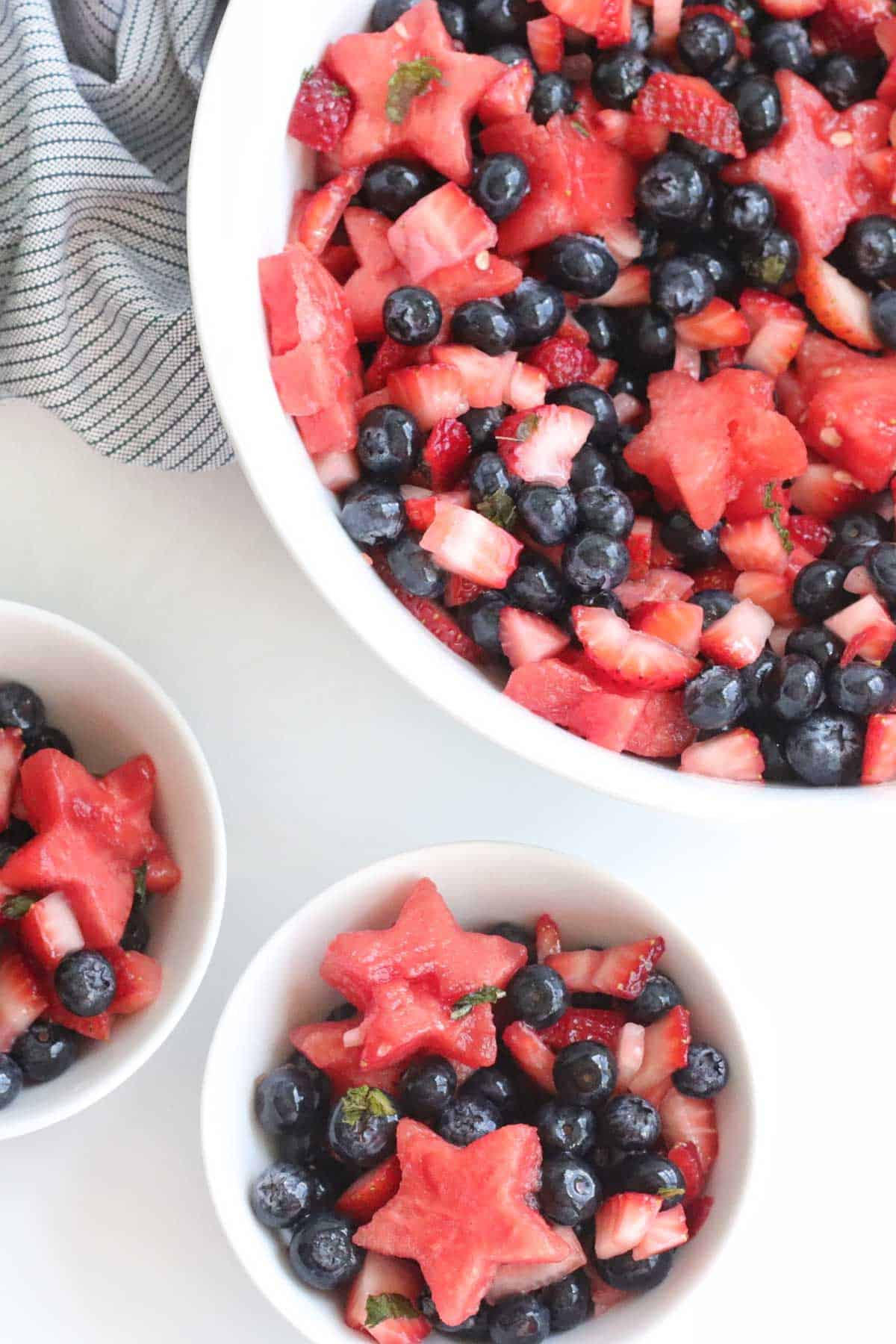 Ingredients to Make Honey Lime Dressing for Fruit Salad
Just three simple ingredients come together to add a sweet, refreshing flavor to your berry fruit salad.
Honey: If you want to make it vegan, you can substitute agave nectar or maple syrup.
Lime: You'll just need the juice (trust me, you want fresh, not the bottled stuff), but you can zest it before you squeeze out the juice if you want to use the zest as a garnish.
Fresh mint: The flavor is strong. Start with a little and you can always add more.
Want a brighter citrus flavor?
Try using lemon or orange juice instead! 🍋🍊
Fruits for Fruit Salad
To keep it simple for a red, white, and blue berry fruit salad, you really only need a few different fruits.
Strawberries
Blueberries
Watermelon
Or any other fruit that is in season!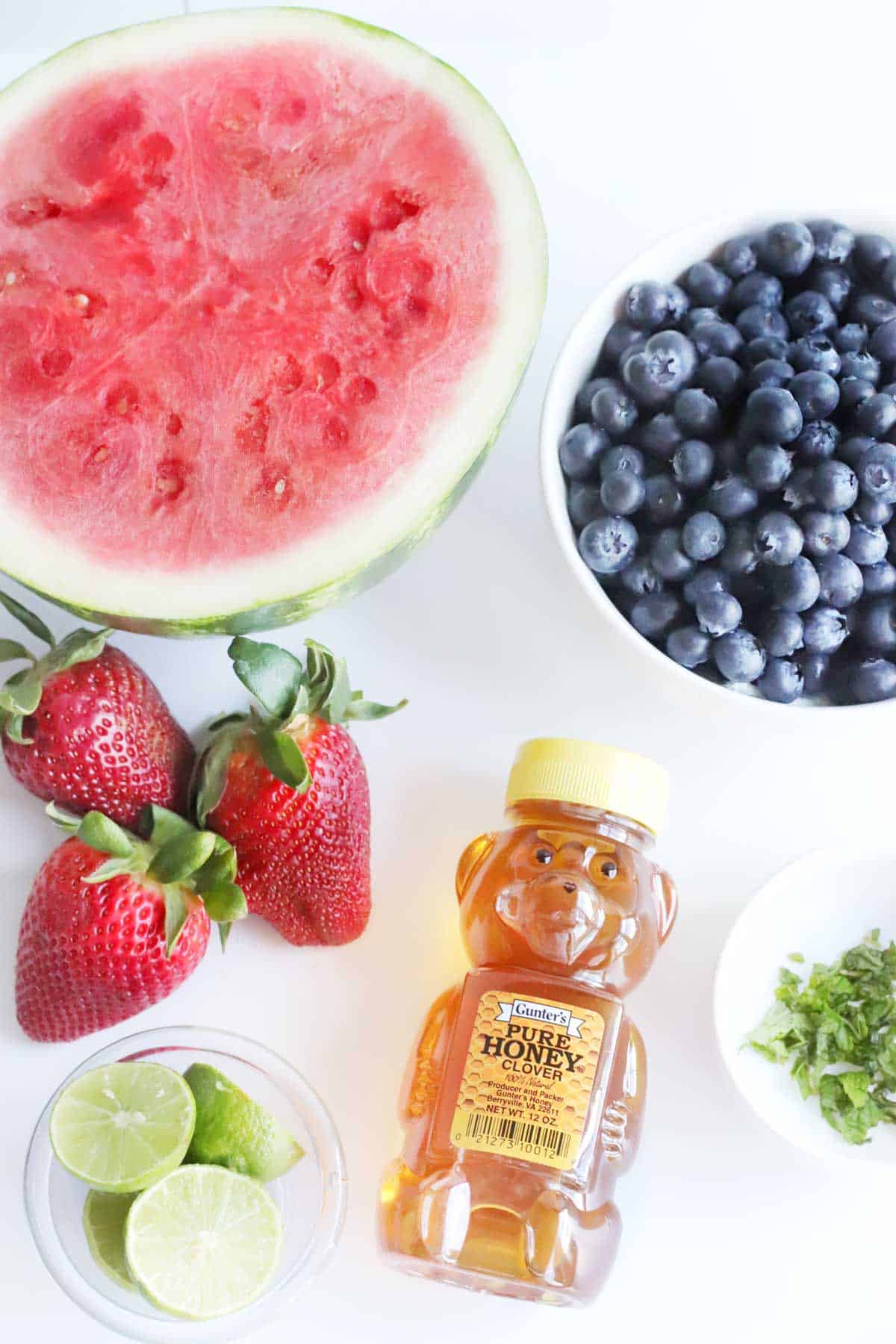 How to Make Fresh Fruit Salad
Make the Dressing: Stir together the honey, juice of the lime, and fresh mint, then set it aside.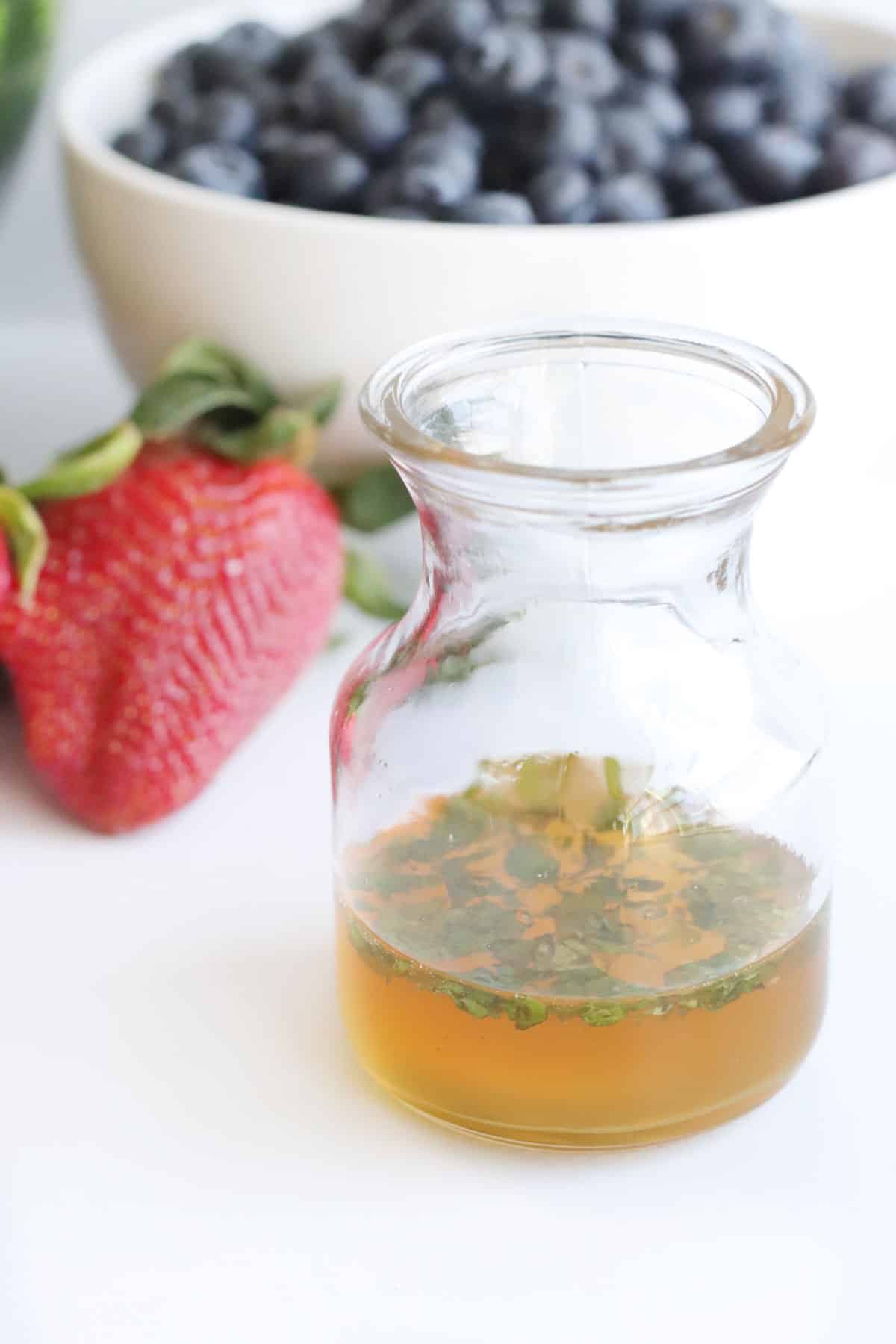 Prepare the Berries: The strawberries and blueberries should be washed and dried well. Remove the stems and hulls from the strawberries and chop into smaller pieces. Combine the berries in a bowl.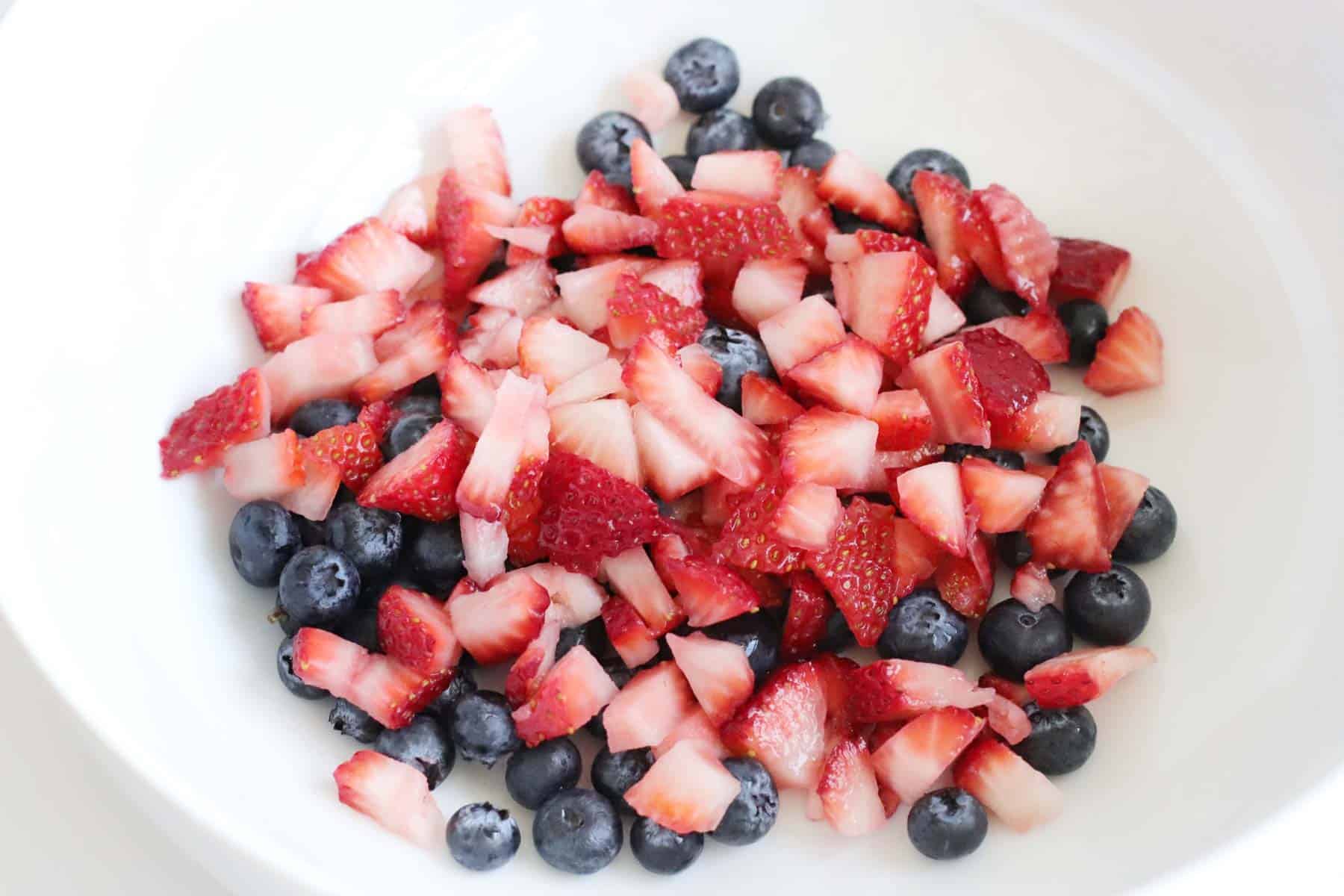 Make the Watermelon Stars: Slice the watermelon into rounds about an inch thick. Lay each slice flat and use a star cookie cutter to cut out as many stars as you can fit. Add them to the bowl.
What should I do with the leftover pieces of watermelon?
You can cut the bits of watermelon that are left as the outlines where you cut the star out away from the rind and place it into the bowl of fruit as well, save it to eat on its own, or even freeze it to make a watermelon slush!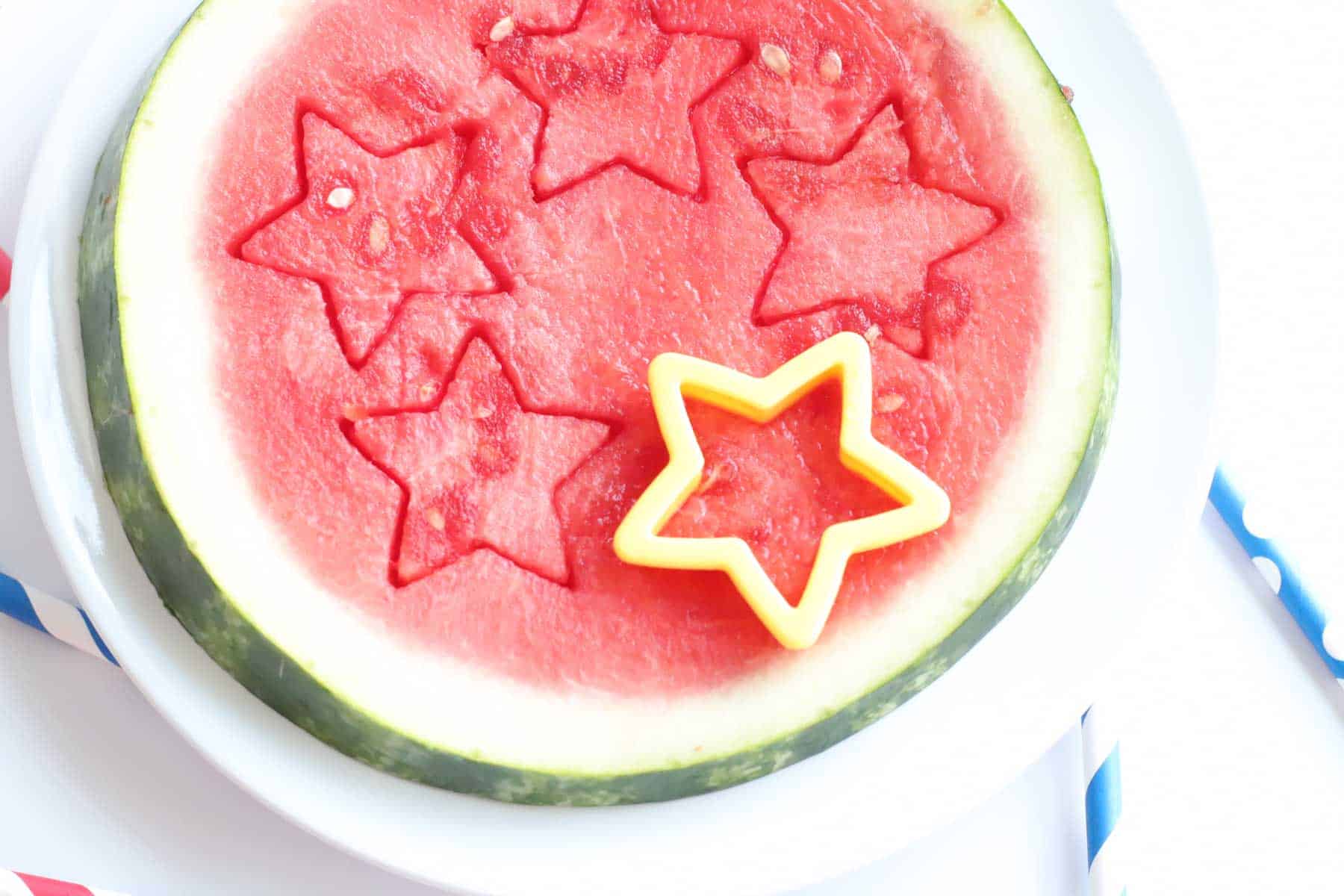 Toss it All Together: Pour the Honey Lime Dressing over the watermelon and berries, then gently toss it all together with a spatula. Garnish with some of the lime zest or additional mint, if you like.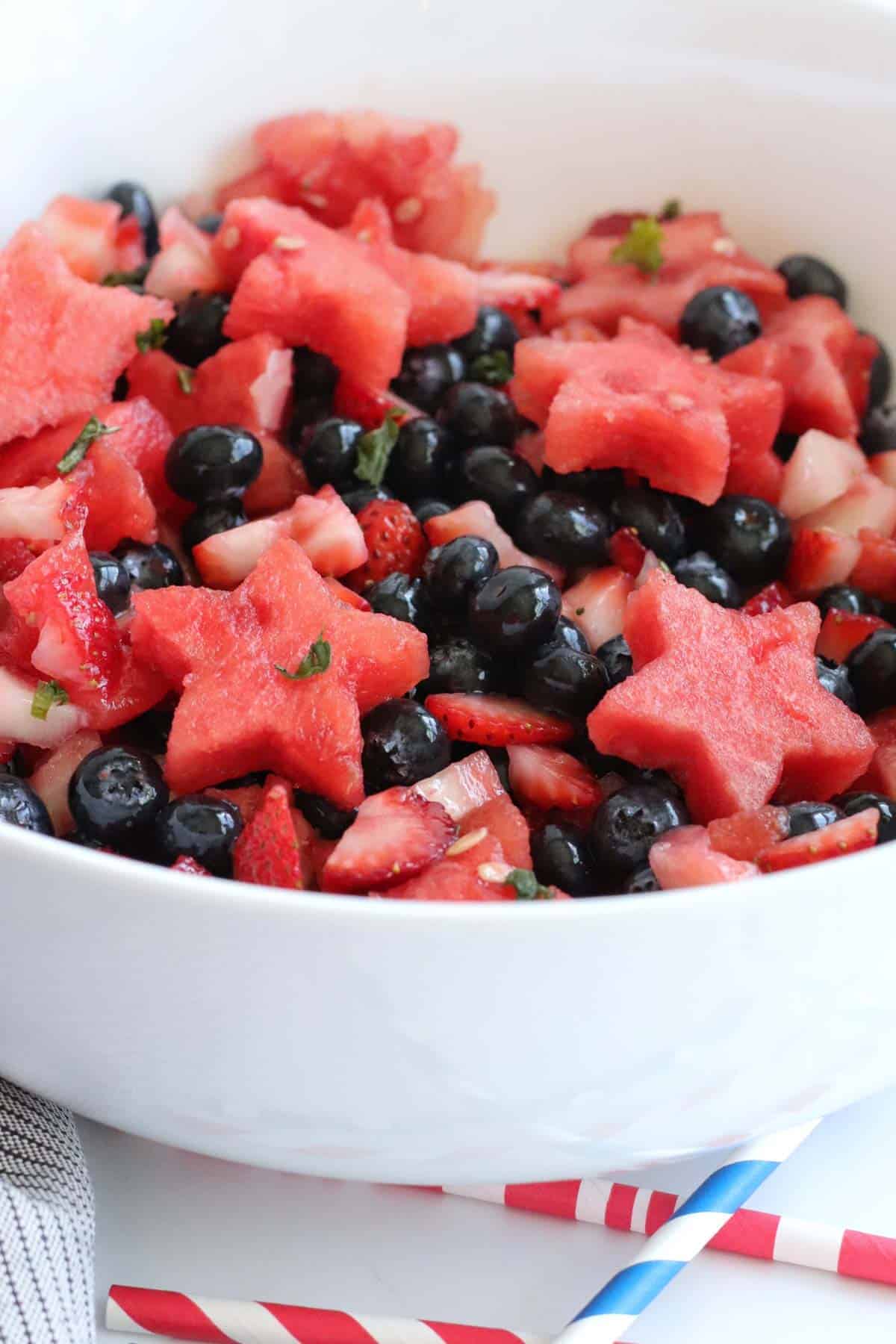 Can You Make Fruit Salad in Advance?
Fruit salad is best eaten right away, especially when you are adding a dressing. Cut fruit tends to give off juice after it is washed or cut, so adding extra liquid just causes more moisture to collect. Then the fruit sits in it and can get mushy.
If you must do any preparation in advance, I recommend washing, drying, and cutting the fruit, and keeping them in separate containers. Then toss them together with the dressing before serving.
How to Store Fruit Salad
This is best eaten right away but if you have extra it will keep in the fridge covered for 2-3 days. You might want to check it each day and pour off the collected liquid.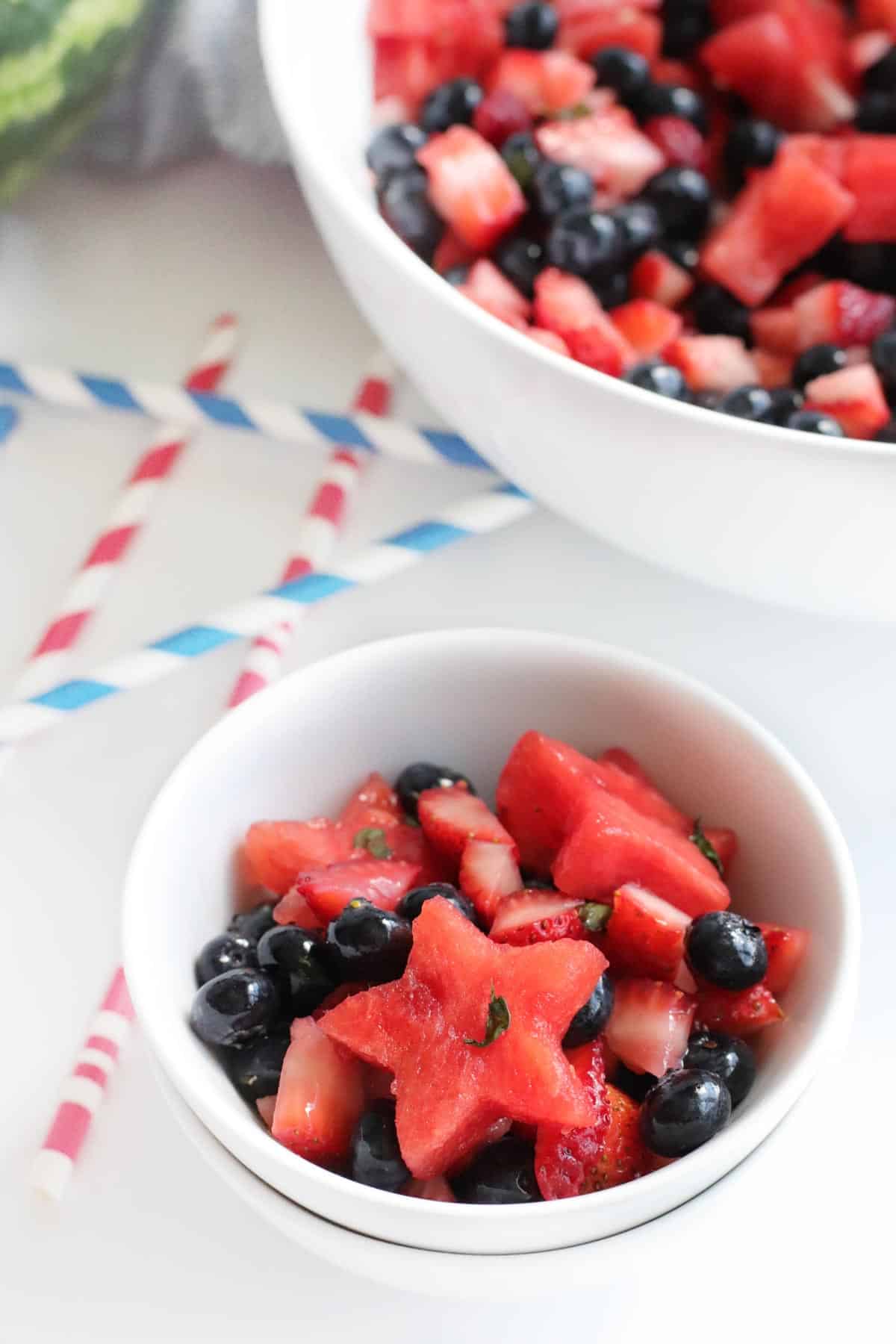 Things You'll Need
Brianne Recommends
Make quick work of those limes with a juicer.
Another time-saver is a strawberry huller.
Don't forget those star-shaped cookie cutters.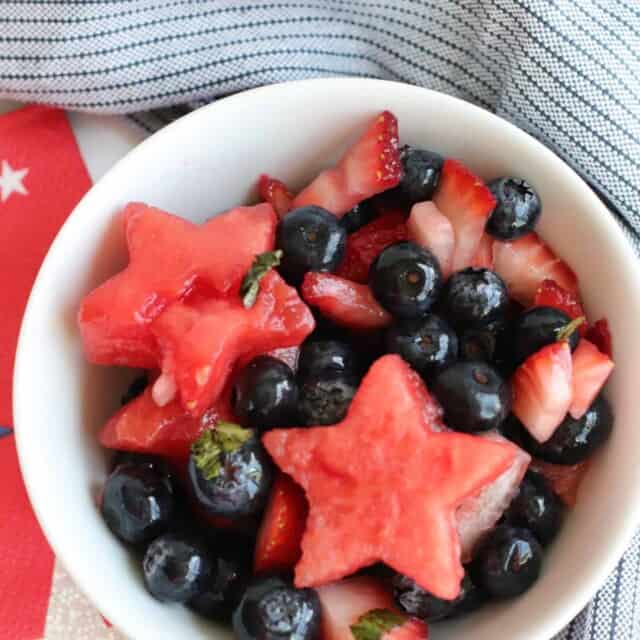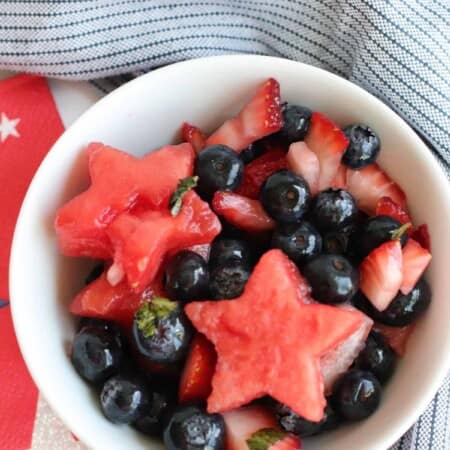 Red, White, and Blue Berry Fruit Salad
This Red, White, and Blue Berry Fruit Salad with watermelon stars is perfectly patriotic for all of the summer holidays and especially for the 4th of July, Labor Day, Memorial Day, Birthday Parties, or Baby Showers. Tossed in a light honey lime dressing, it's fresh, sweet, healthy, and delicious!
Ingredients
2 ½

Tablespoons

honey

(or agave nectar or maple syrup for vegan)

juice of one lime

1

Tablespoon

minced fresh mint

18

oz.

fresh strawberries

18

oz.

fresh blueberries

one small seedless watermelon

lime zest or additional mint for garnish, if desired
Instructions
Make the Honey Lime Dressing by combining the honey, juice of a lime, and mint in a small bowl. Whisk together until well mixed. Set aside.

Wash and thoroughly dry the strawberries. Remove the stem and hull. Cut them into smaller pieces (about quarters or eighths, depending on the size of the strawberries) and add them to a large bowl.

Rinse and drain the blueberries and add them to the bowl.

Slice the watermelon so that you have big round slices about an inch or so thick. Lay each slice flat.

Using the star cookie cutter, push it into the watermelon to cut out a star. Repeat until you've cut out as many stars as you can. Place the watermelon stars in the bowl.

Drizzle Honey Lime Dressing on top of the fruit. Use a spatula carefully to mix all of the fruit around until it's evenly coated in the dressing. Garnish with lime zest or additional mint, if desired.

Enjoy immediately, or store covered in the refrigerator for 2 to 3 days.
Nutrition Facts
Red, White, and Blue Berry Fruit Salad
Amount Per Serving (1 serving)
Calories 146
Calories from Fat 9
% Daily Value*
Fat 1g2%
Sodium 4mg0%
Potassium 412mg12%
Carbohydrates 37g12%
Protein 2g4%
Vitamin A 1361IU27%
Vitamin C 63mg76%
Calcium 32mg3%
Iron 1mg6%
* Percent Daily Values are based on a 2000 calorie diet.
Categories:
More Red, White, and Blue Fruit Desserts