This post may contain affiliate links. Read my disclosure policy.
Garlicky and gluten-free Cheesy Scalloped Potatoes are extra creamy and filled with loads of melty cheese! You'll love serving this flavorful scalloped potatoes recipe as a fast and easy side dish, year-round.
Creamy, Cheesy Scalloped Potatoes, Completely Gluten-Free!
I can't think of a more comforting side than a serving of cheesy potatoes. As the leaves start changing and dinners get cozier, naturally, scalloped potatoes have entered the chat.
I've also been mentally planning out my holiday menus since Labor Day (anyone else?), and these gluten-free scalloped potatoes make the cut every year. Garlicky, creamy, baked full of melted cheese. A fork glides into these soft, tender potato layers like a warm knife through butter.
This dreamy vegetable side dish is ready in under and hour, too, and most of that is hands-off time in the oven when you can be preparing the rest of the meal! It's honestly the best scalloped potatoes recipe, no contest.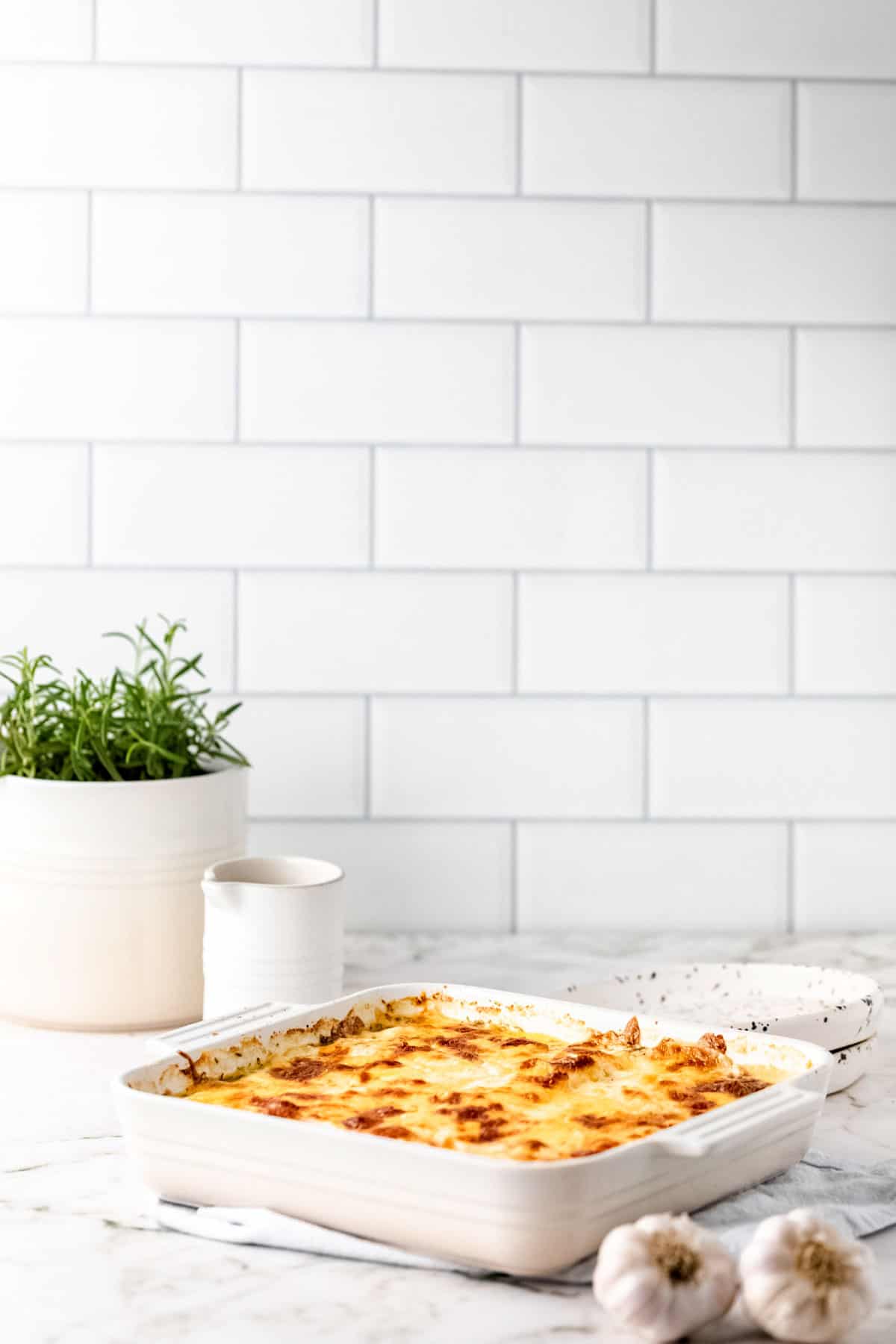 What Is the Difference Between Scalloped and Au Gratin Potatoes?
You might be thinking, well, aren't they the same thing? And the truth is, not quite. There are a few key differences between "scalloped" and "au gratin" potatoes:
Traditionally, scalloped potatoes don't include cheese. Meanwhile, au gratin potatoes involve lots of grated cheese sprinkled in between and over top of the potato layers.
Both have a cream sauce or roux. This is what gives both au gratin and scalloped potato casseroles a creamy texture.
Scalloped potatoes get their name from their shape. Scalloped potatoes are thinly sliced, while au gratin means "to grate" or "to scrape".
Au gratin refers to a crusty baked top. Gratin potatoes are often topped with breadcrumbs as well as melted cheese in order to achieve a crispy topping.
Technically speaking, my homemade scalloped potatoes are a bit of both! This recipe has layers of scallop-cut potatoes, smothered in cream sauce, and layered with grated cheese. It's the scalloped-au gratin hybrid you never knew you needed!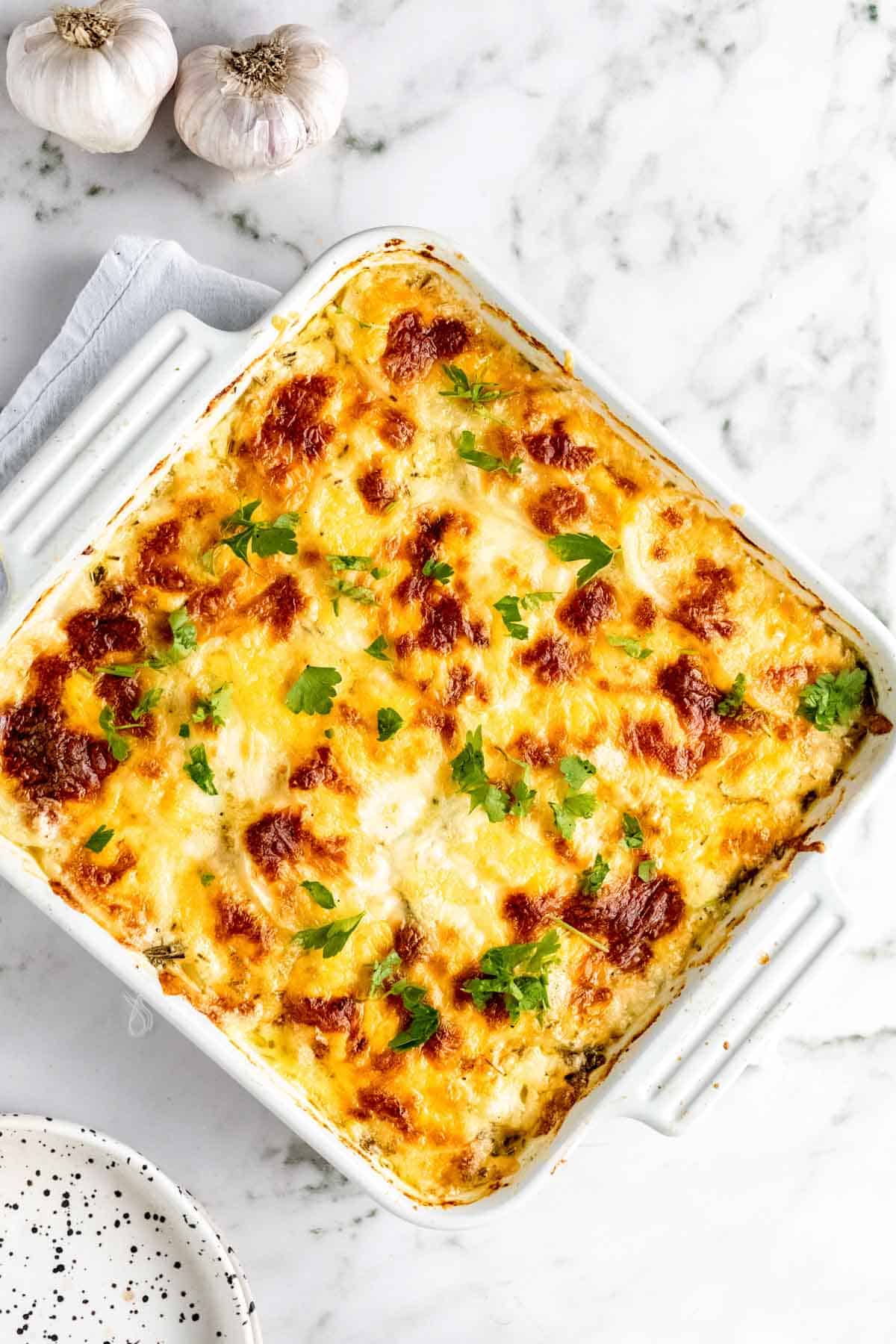 The Ingredients You'll Need
Below is an overview of the basic ingredients you'll need to make these easy potatoes. Be sure to refer to the full amounts in the recipe card!
Potatoes: Regular white potatoes, peeled and sliced into thin rounds. The best potatoes for scalloped potatoes are the starchy ones, like Yukon gold or russet potatoes. The starches meld with the sauce to help the potatoes bake up nice and creamy.
Butter: Unsalted or salted butter will both work. I prefer unsalted as I can better control the amount of overall salt in the dish. If you're using salted, adapt any added salt as needed.
Garlic: Fresh minced garlic cloves are best.
Heavy Cream: Cream gives these scalloped potatoes the most irresistible silky texture. I recommend sticking with full-fat, fresh heavy cream, or half-and-half. Low-fat or skim milk is more likely to curdle in the heat.
Seasoning: Dried rosemary, salt, and ground nutmeg.
Cheese: I layer my potatoes with a combination of shredded cheddar cheese and mozzarella. Nothing beats scooping into gluten-free scalloped potatoes with strings of melted cheese throughout!
Fresh Parsley: For garnish.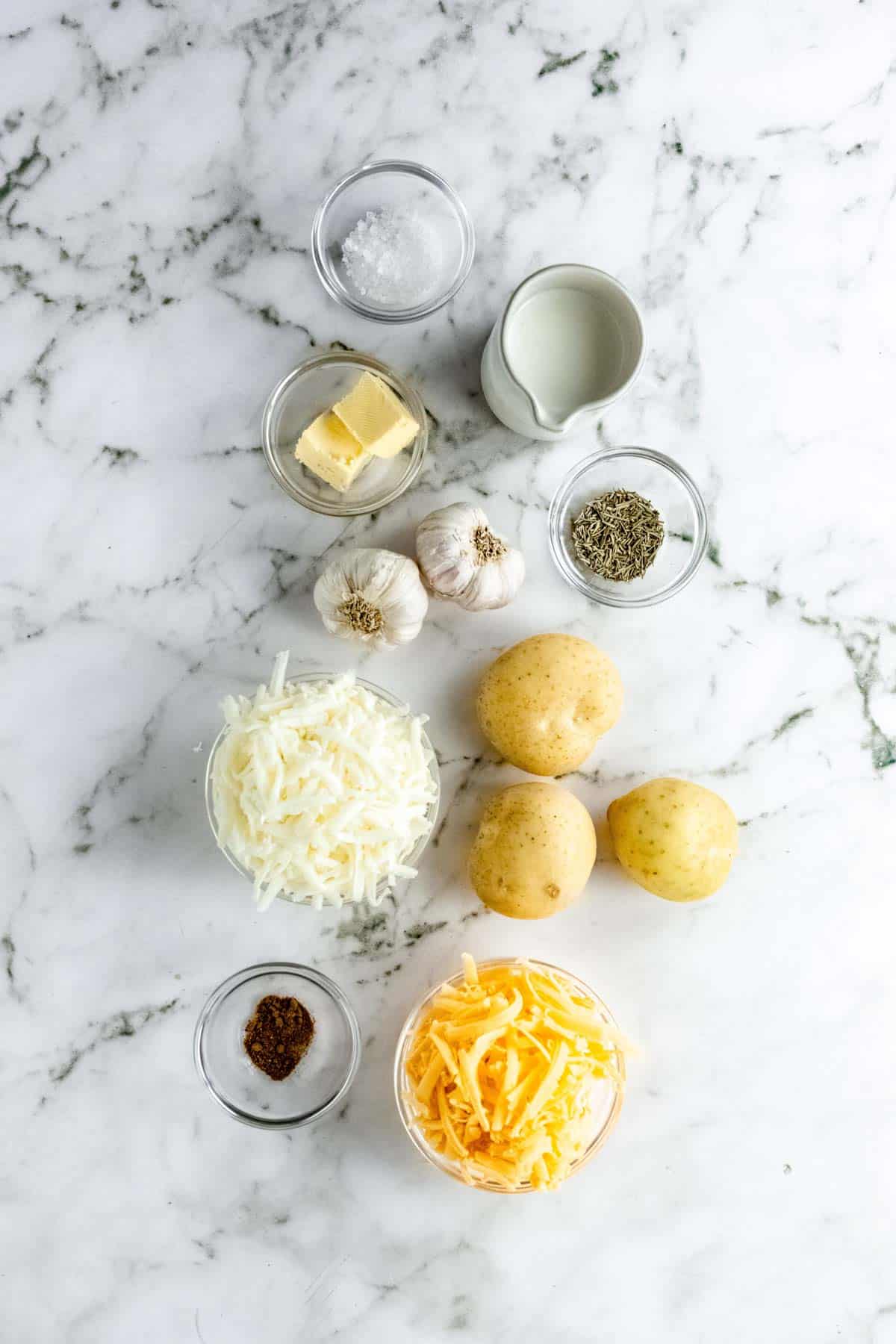 How to Make This Dish
Let the countdown to warm, garlicky, cheesy scalloped potatoes commence. Set your oven to preheat to 400°F, while you grease a 9×9 inch baking dish. Next, prepare your potatoes and cream sauce:
Prepare the Cream Sauce: Sauté the garlic with butter in a saucepan. Once the butter has melted, stir in the heavy cream and season with rosemary, salt, and nutmeg. Simmer, then add about a half-cup of shredded cheddar. Take the pan off the heat, whisking until the cheese is smooth and melted.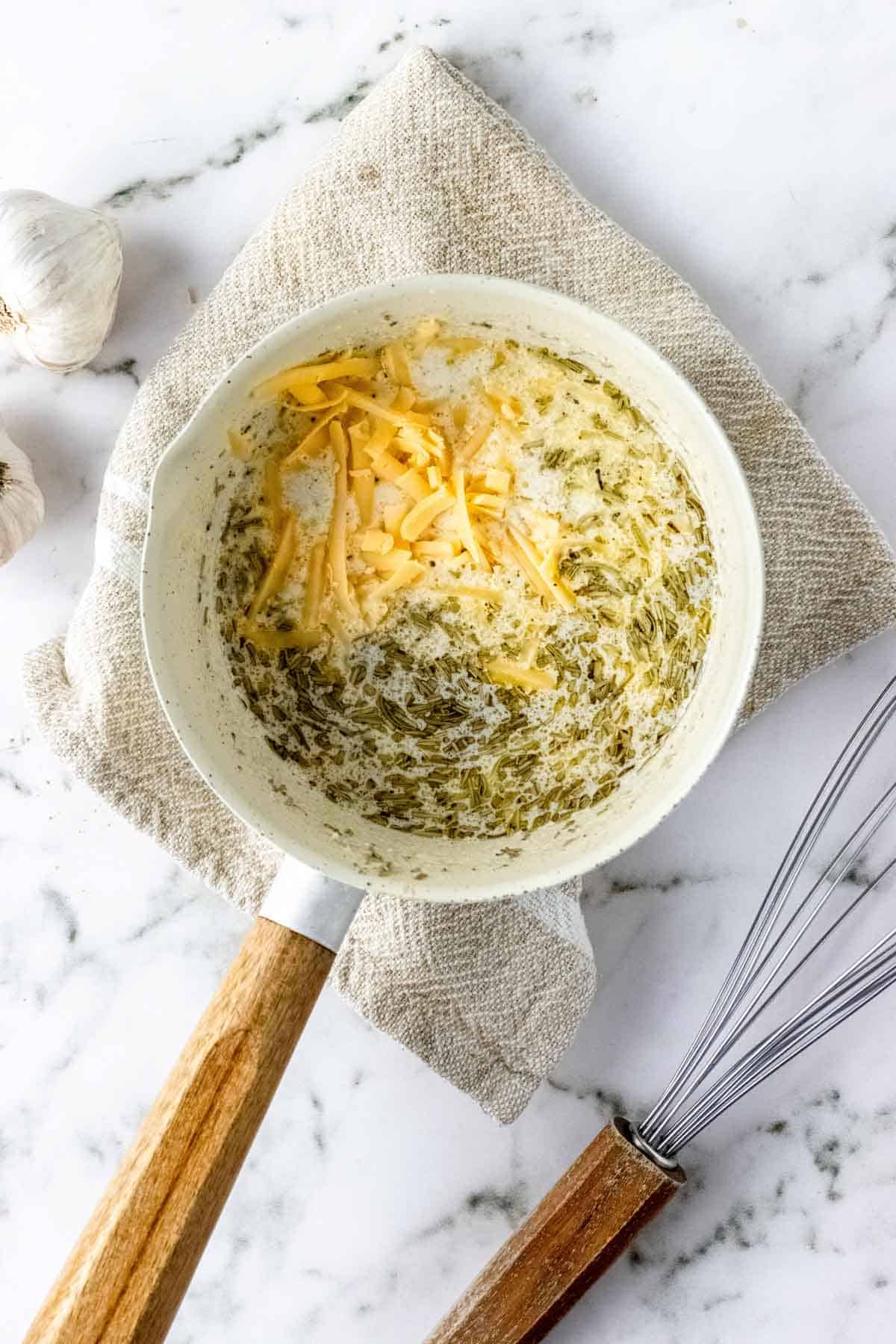 Assemble: Layer half the potato slices into the bottom of the baking dish. Pour on half the cream sauce, and layer with cheddar cheese and mozzarella. Repeat with another layer of potatoes, then cream, and finally more cheese.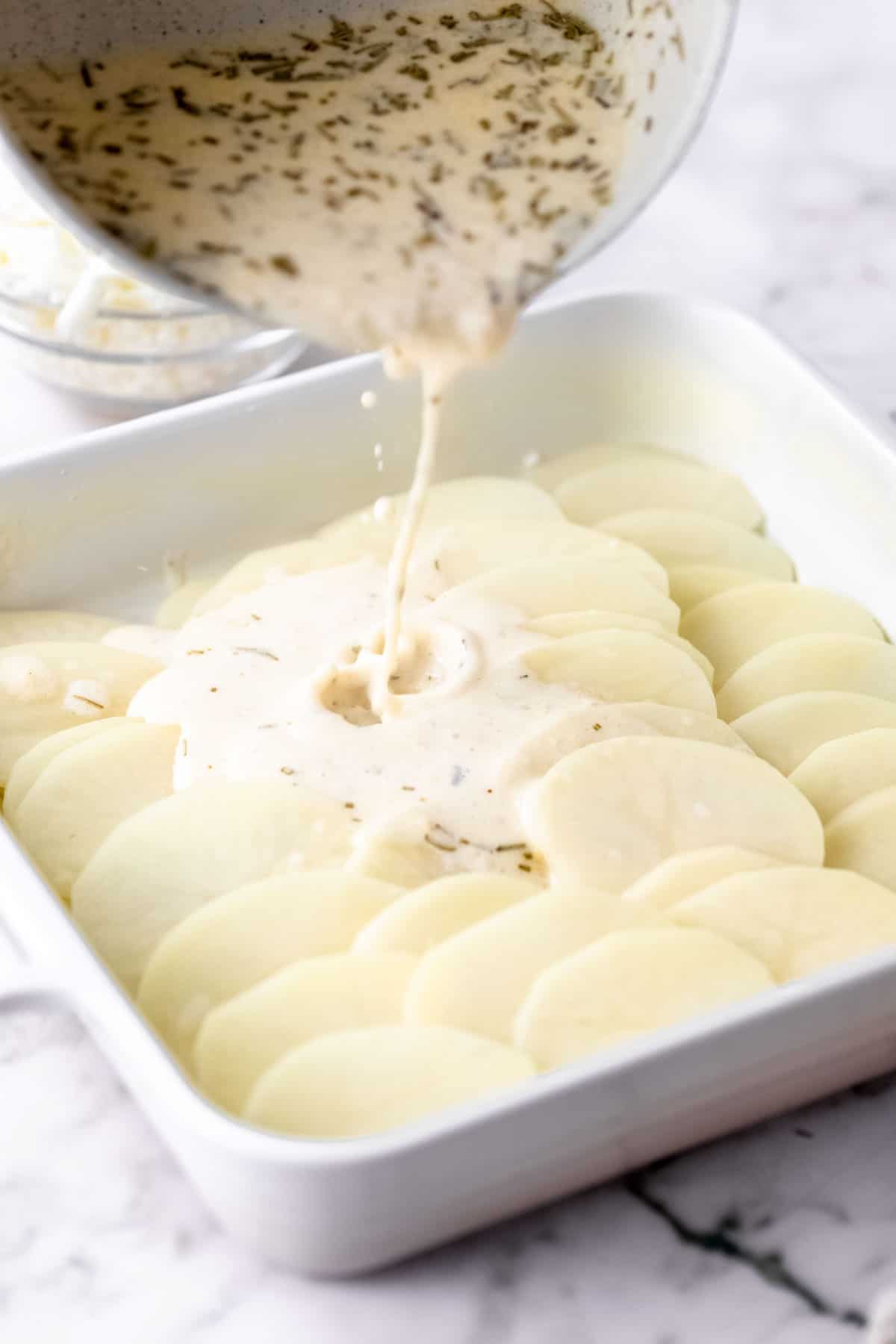 Bake: Bake for 40-45 minutes, until the potatoes are cooked through. Then garnish with fresh parsley and serve!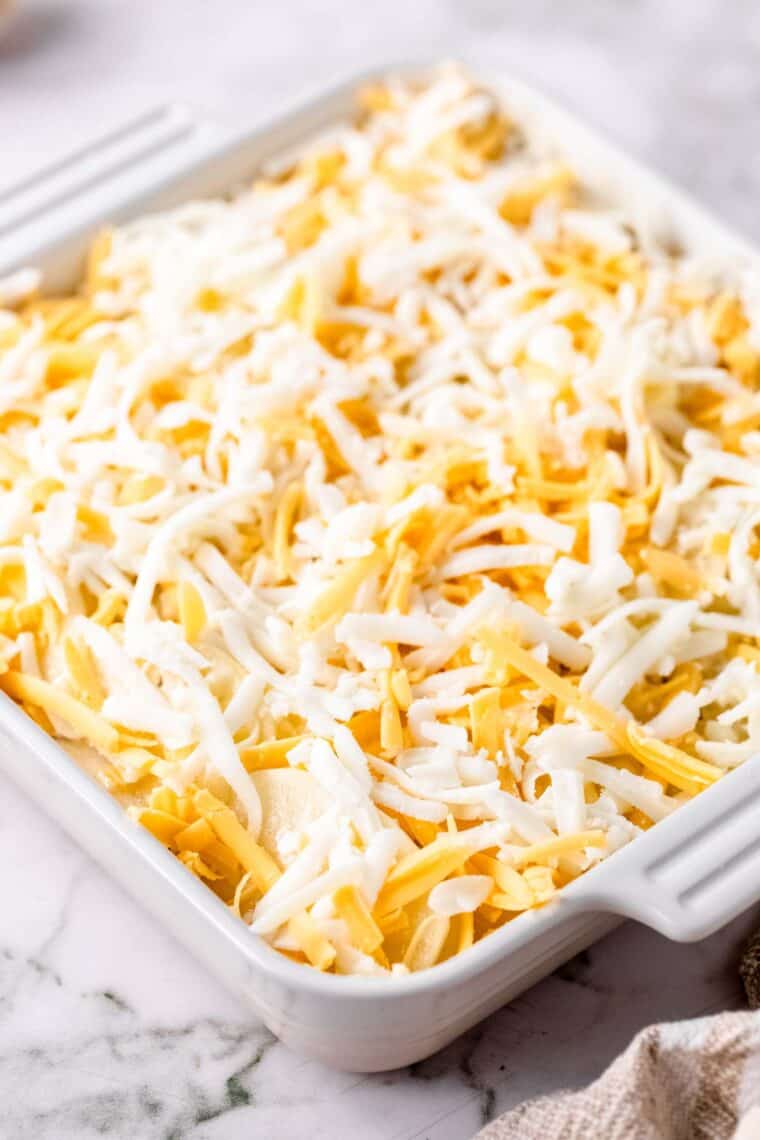 Recipe Notes
Some additional tips for the best homemade scalloped potatoes:
Don't Overheat the Cheese: Make sure to stir the cheese into the cream sauce only after the pan is off the heat. This lets the cheese melt in gradually without the risk of overheating and clumping.
Use a Mandolin. If you have one. No worries if not, but it definitely speeds up the potato slicing process!
Add Carrots: Layer thinly sliced carrots with the potatoes for a nice pop of color and an extra dose of veggies.
Use Sweet Potatoes: Sub in sweet potatoes for the potatoes in this recipe. I also have a delicious variation of Cheesy Scalloped Sweet Potatoes and Apples.
Scalloped Potatoes and Ham: You can add diced ham into this casserole as well, just be sure to use gluten-free ham as needed.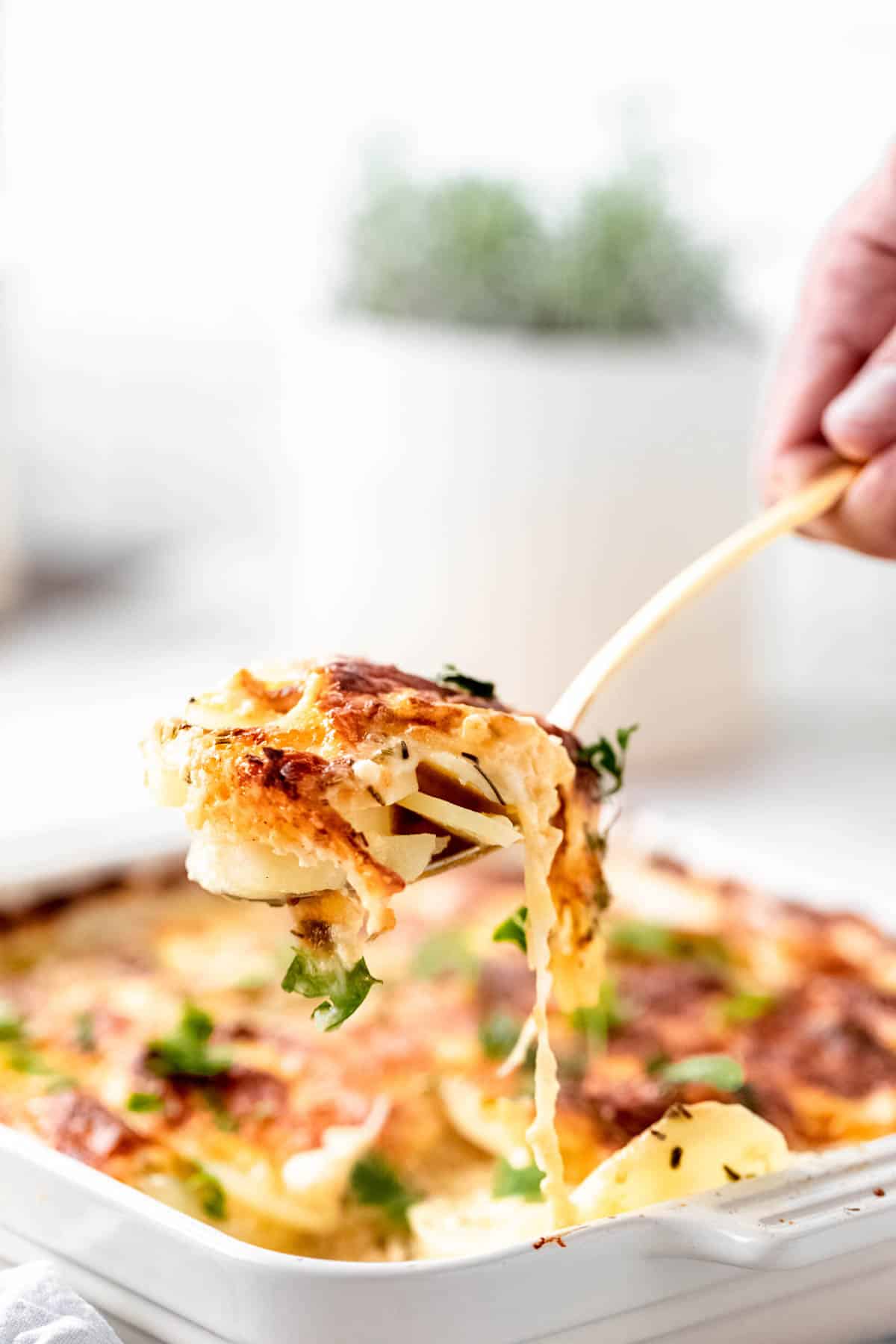 What to Serve with Scalloped Potatoes
These potatoes make a great veggie side dish to take along to potlucks, or to serve alongside holiday meals. Here are some of my favorite serving ideas: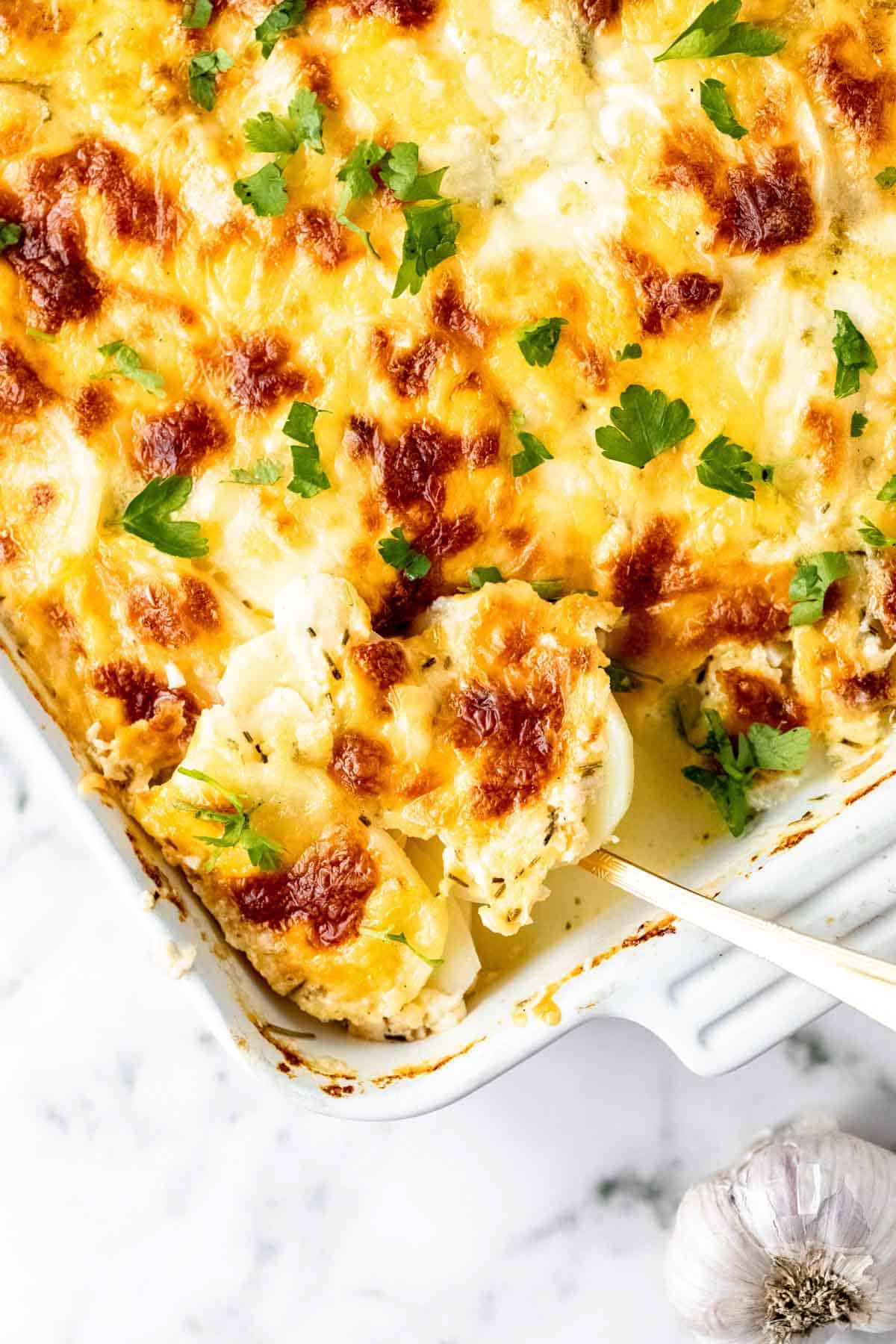 Storing and Reheating
Store your gluten-free scalloped potatoes covered or otherwise airtight in the fridge for up to 3 days.
Reheat these scalloped potatoes in the oven covered with foil, at 375ºF for 20 minutes or so, or until warmed through. Alternatively, you can also use the microwave to reheat portions (at 50% power, no foil!) if you're in a hurry.
Can I Freeze Gluten-Free Scalloped Potatoes?
Yes! Once baked and cooled, wrap these cheesy scalloped potatoes in plastic, plus a layer of foil, and stored them frozen for up to 3 months.
Thaw the casserole overnight in the fridge before reheating.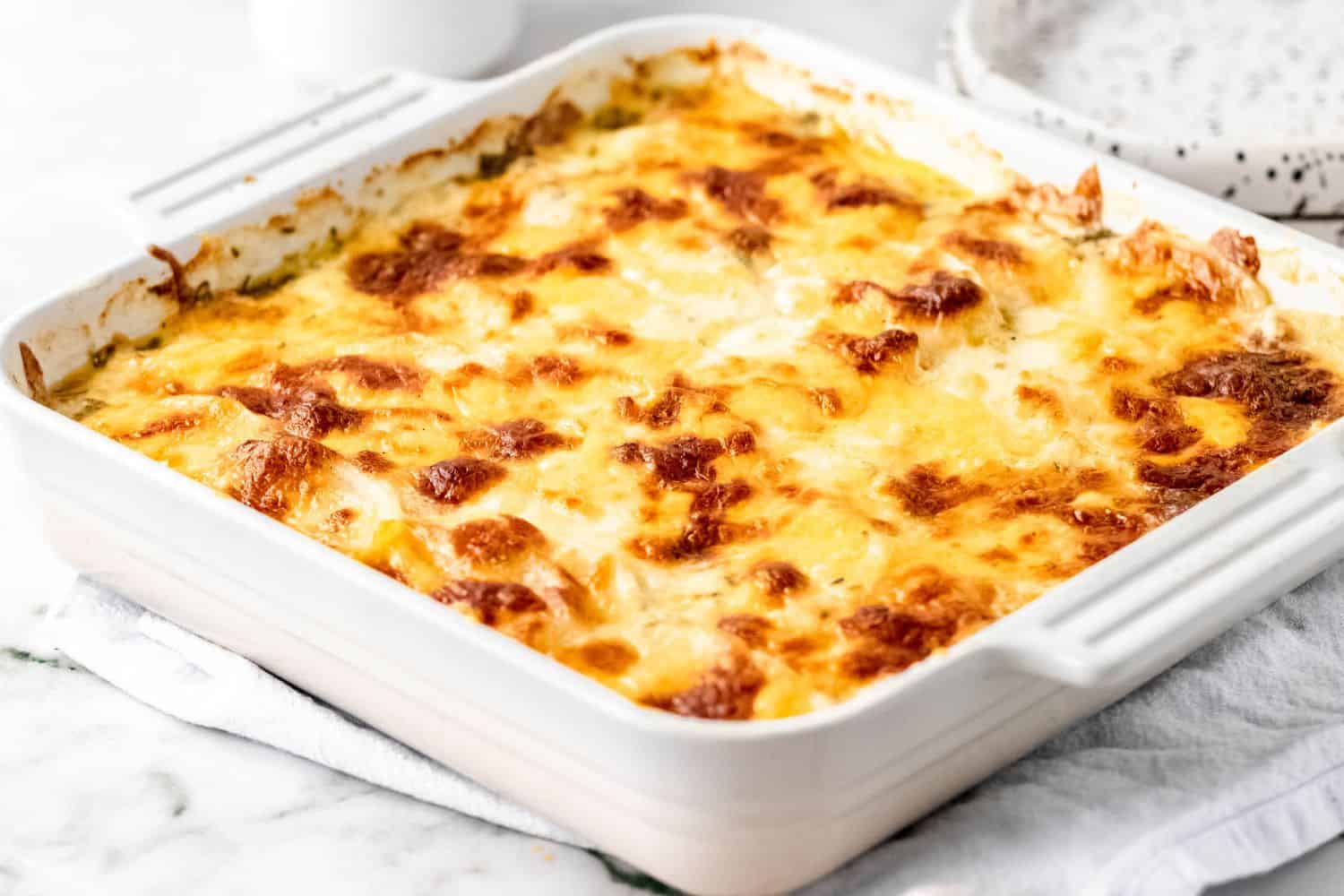 Things You'll Need
Last updated on Dec 2, 2023 7:04 pm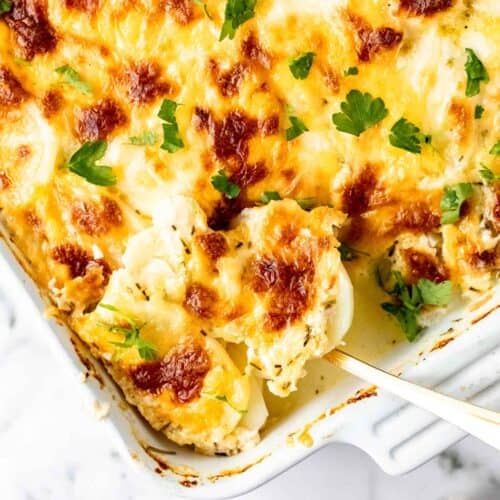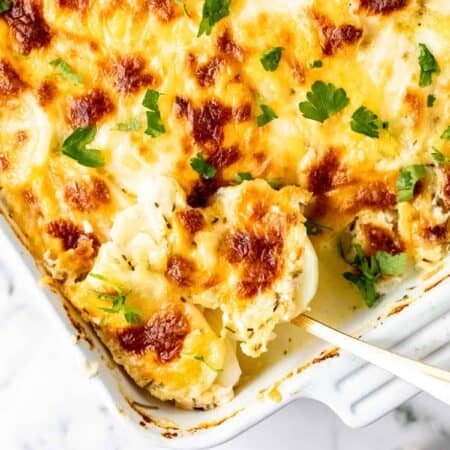 Cheesy Scalloped Potatoes
Garlicky Cheesy Scalloped Potatoes are made extra creamy, filled with loads of melty cheese! Ready in under an hour, you can serve this easy recipe for gluten-free scalloped potatoes as a side all year round.
Ingredients
3

lbs

white potatoes,

peeled and thinly sliced

3

tbsp

unsalted butter

4

garlic cloves,

minced

1½

cups

heavy cream

1

tbsp

dried rosemary

2

tsp

salt

½

tsp

nutmeg

1½

cups

cheddar cheese,

shredded

1

cup

mozzarella cheese,

shredded

Fresh parsley for topping
Instructions
Preheat the oven to 400°F and spray a 9×9 inch baking dish with non-stick cooking spray.

Add the butter and garlic to a saucepan over medium heat and allow the butter to melt.

Add the cream, rosemary, salt, and nutmeg and stir to combine.

Bring the mixture to a simmer and then add 1/2 cup of cheddar cheese. Remove from heat and whisk until the cheese has melted.

Layer half the potatoes in the baking dish and pour half the cream mixture over the potatoes.

Cover with half of the remaining cheddar cheese and half of the mozzarella cheese.

Layer the remaining potatoes over the cheese and repeat the above steps, ending with the cheese.

Bake at 400°F for 40-45 minutes or until potatoes are cooked through.

Serve immediately garnished with fresh parsley.
Nutrition Facts
Cheesy Scalloped Potatoes
Amount Per Serving
Calories 603
Calories from Fat 369
% Daily Value*
Fat 41g63%
Cholesterol 125mg42%
Sodium 1108mg46%
Potassium 1061mg30%
Carbohydrates 43g14%
Protein 17g34%
Vitamin A 1474IU29%
Vitamin C 46mg56%
Calcium 371mg37%
Iron 2mg11%
* Percent Daily Values are based on a 2000 calorie diet.
Categories:
More Gluten-Free Holiday Recipes