This post may contain affiliate links. Read my disclosure policy.
This is the easiest Gluten Free Gravy Recipe, made with sweet rice flour and chicken or turkey broth for a flavorful make-ahead holiday side dish. Perfectly smooth with no lumps!
Easy Gluten-Free Thanksgiving Gravy
Thanksgiving and the holidays mean it's time for beautiful roast birds, colorful veggie side dishes, bright cranberry sauce, and of course, gravy. But if you're gluten-free, holiday meals can be a challenge. That's why I like to make my own gluten-free versions of classics like Gluten Free Stuffing and Gluten-Free Pumpkin Pie. Since I love the creamy, savory addition of gravy to my sliced turkey and mashed potatoes, this year I had to create my own gravy recipe that doesn't use wheat flour.
The good news is that even non-gluten-free eaters will love this herby, rich and flavorful gravy. It has the thick and creamy texture you expect, but it's thickened with rice flour instead of wheat flour. You can even make this recipe ahead of time and free yourself up a bit on the big day to spend more time with loved ones.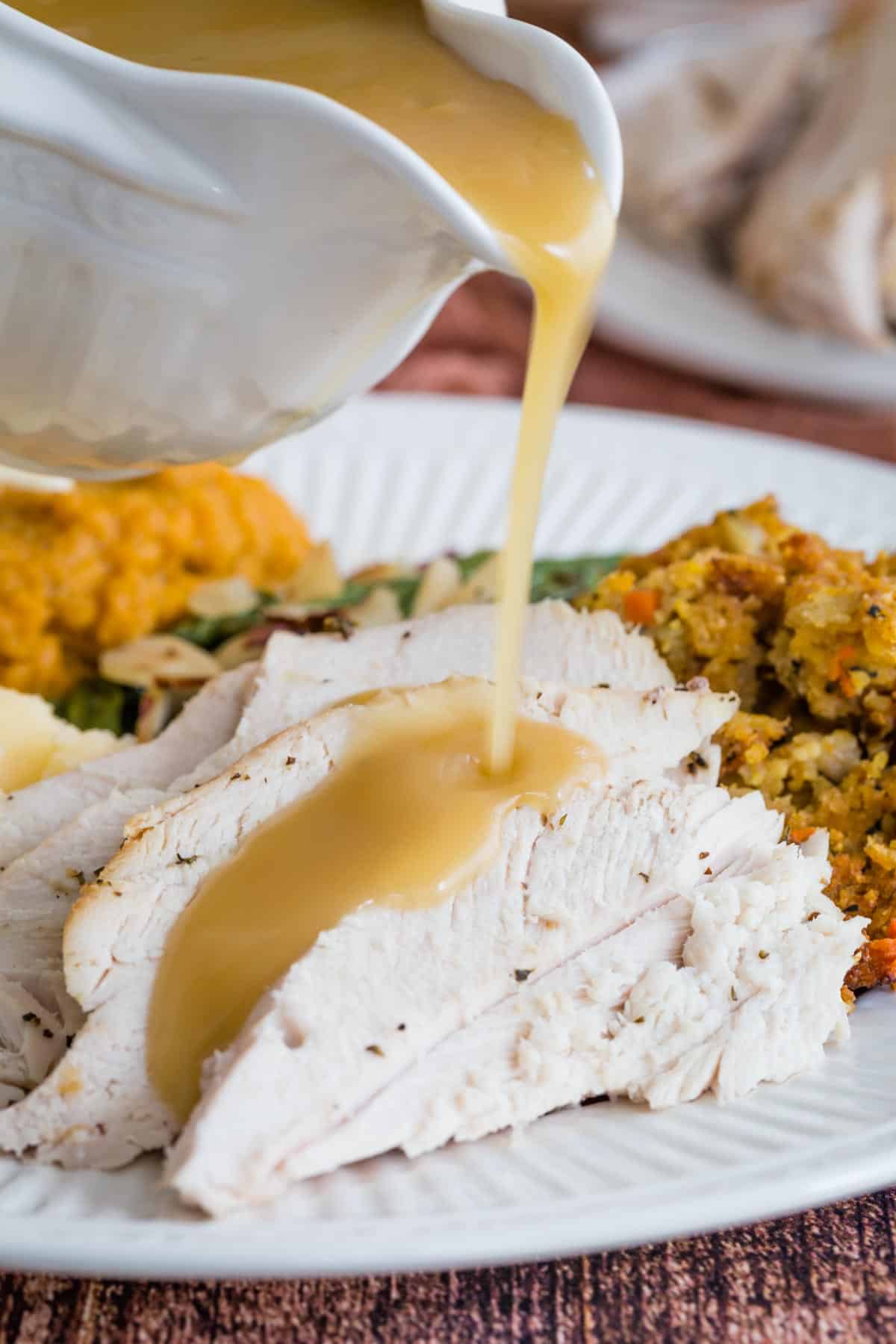 Ingredients
You'll need a short five-ingredient list to make this gravy. And the best part is that you don't even need to roast a bird or anything to build a flavorful sauce. Here's what you'll need:
Butter or olive oil. Either will work, but if you're using butter, choose unsalted.
Onion
Sweet rice flour. Look for this affordable gluten-free flour alternative in Asian markets or in the Asian section of the grocery store. I don't usually see it with the other gluten free flours, so be sure to look around for it – it is actually super affordable and great for gluten free sauces. You can substitute white rice flour or gluten free all-purpose flour if that's all you have, but the consistency will be slightly different.
Stock. You can use homemade or store-bought chicken or turkey stock. For more flavor, use up to 1 cup of pan juices from roasting a turkey or chicken.
Fresh thyme. This is optional, but adds a nice herby flavor!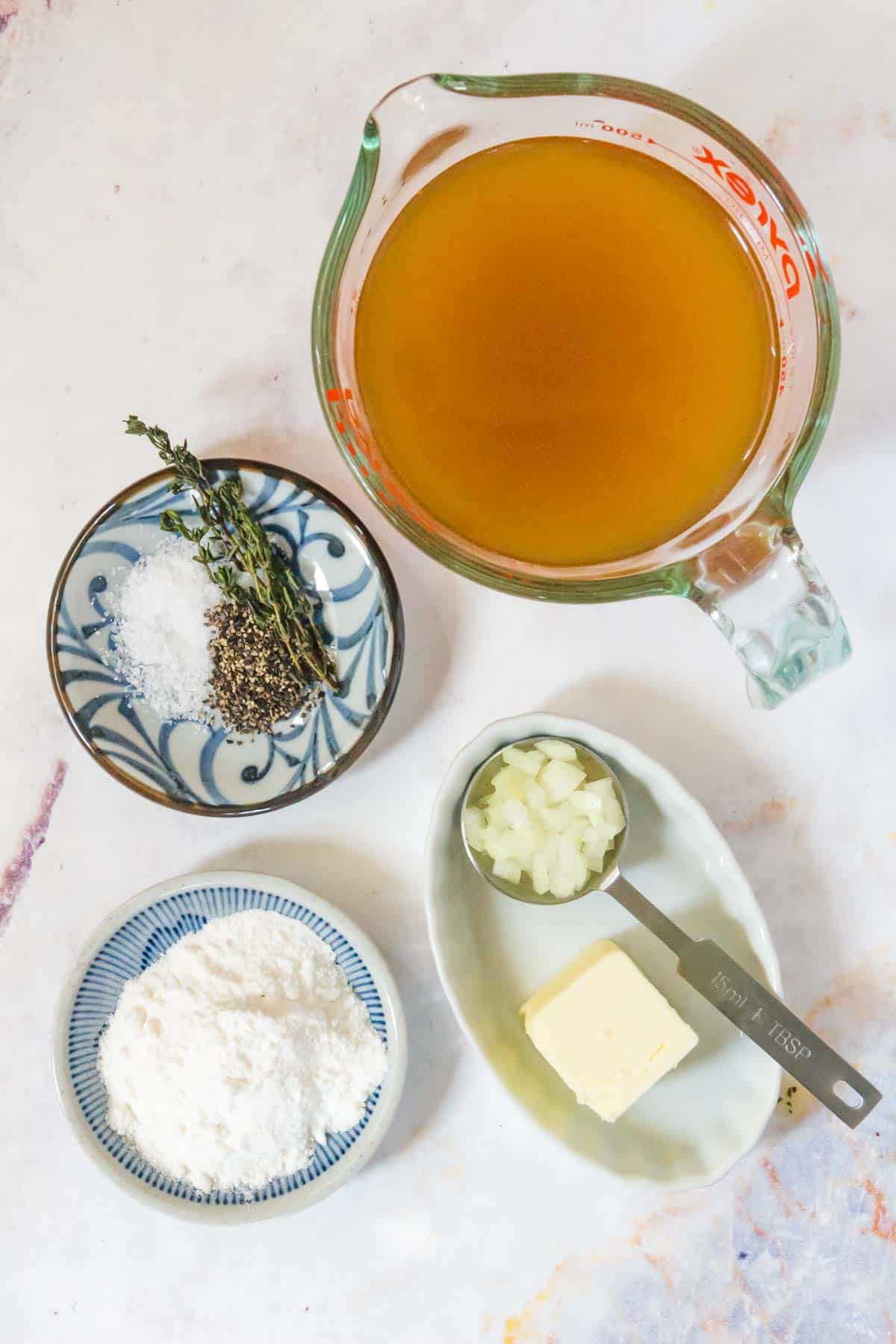 How to Make Turkey Gravy
This simple recipe comes together entirely on the stove. All you need is a saucepot. Here's how to make this easy gluten-free gravy:
Cook the onion: Melt the butter in a small saucepan. When melted, add the onion and saute until translucent.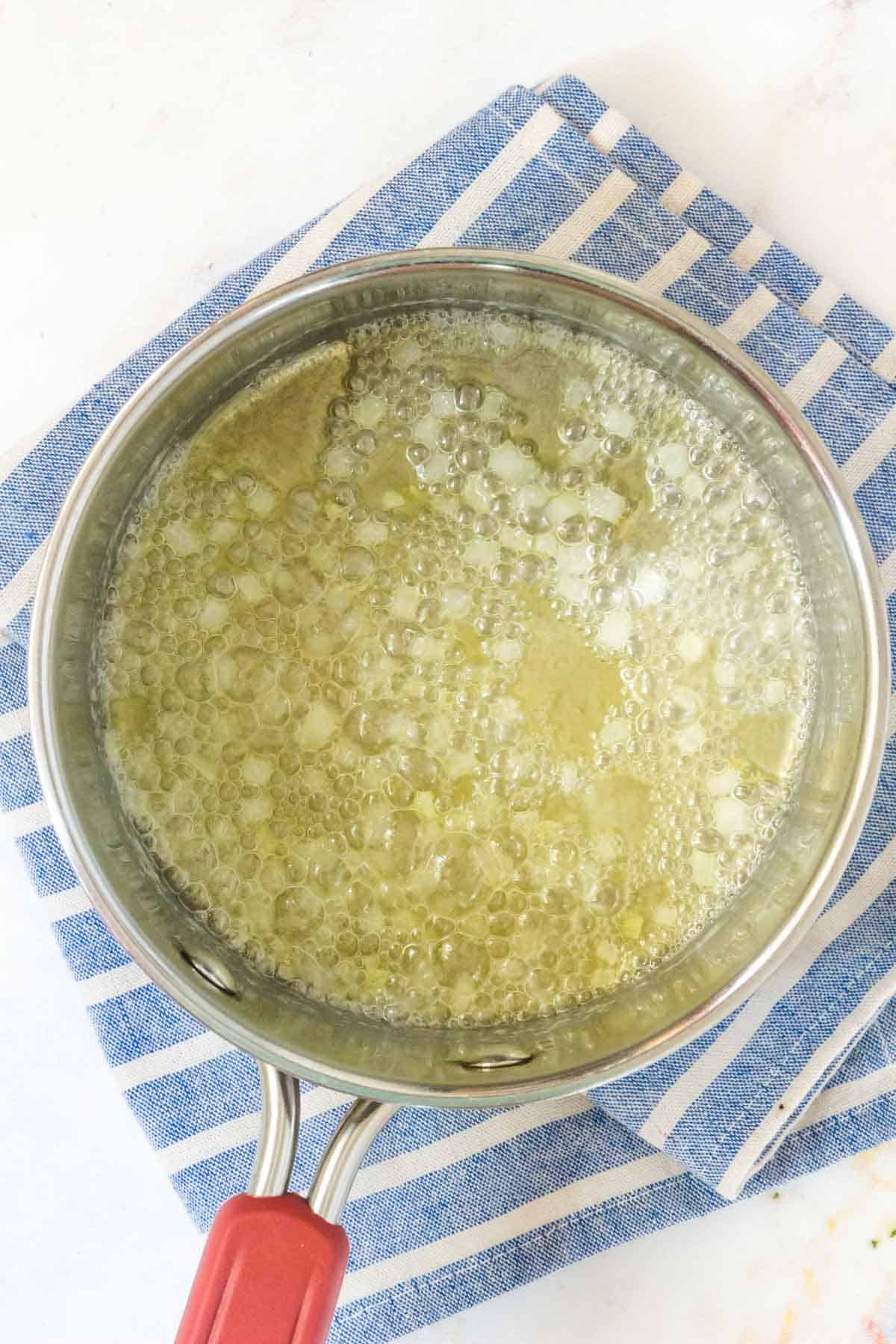 Add the flour: Sprinkle the sweet rice flour over the onions, whisking constantly until you have a thick paste. It should be light beige in color. Unlike a traditional flour roux, be careful not to let it brown too much.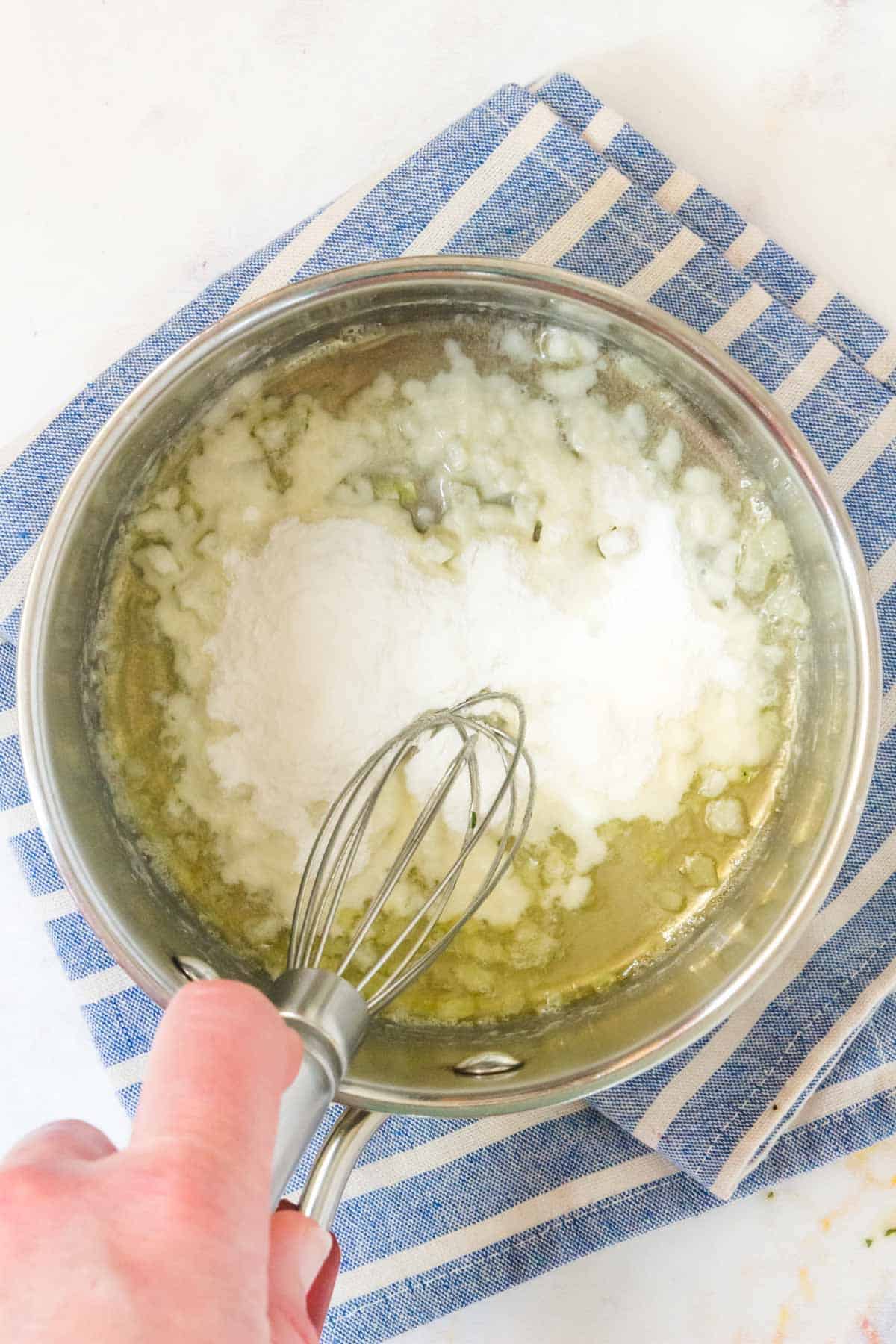 Add the stock: Lower the heat to low and whisk in a splash of the stock or pan juice. Continue to slowly add the liquids, whisking with each addition the entire time to incorporate.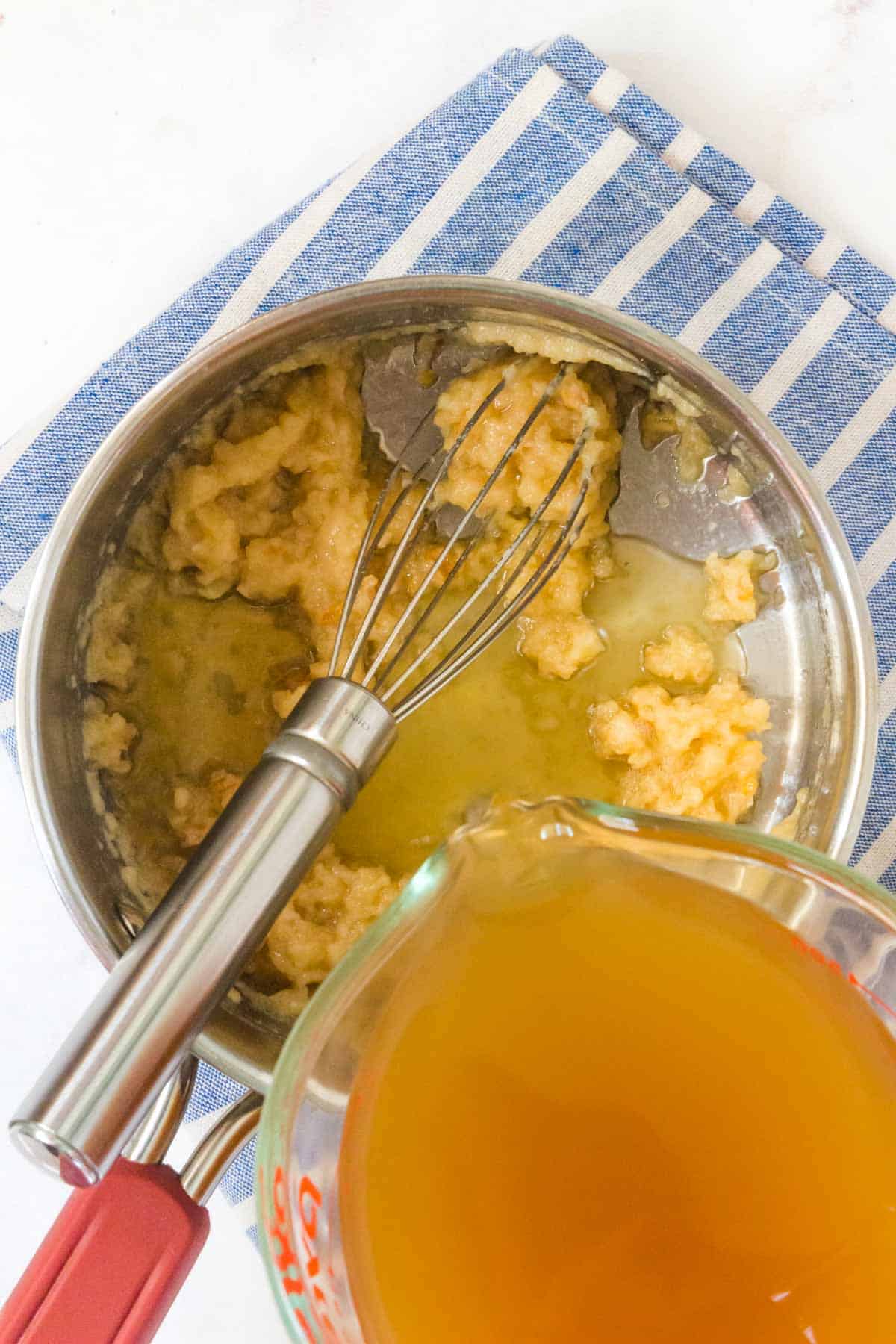 Simmer: Add the thyme sprig if you're using it. Then bring the stock to a simmer and let it cook until thickened. Season to taste with salt and pepper.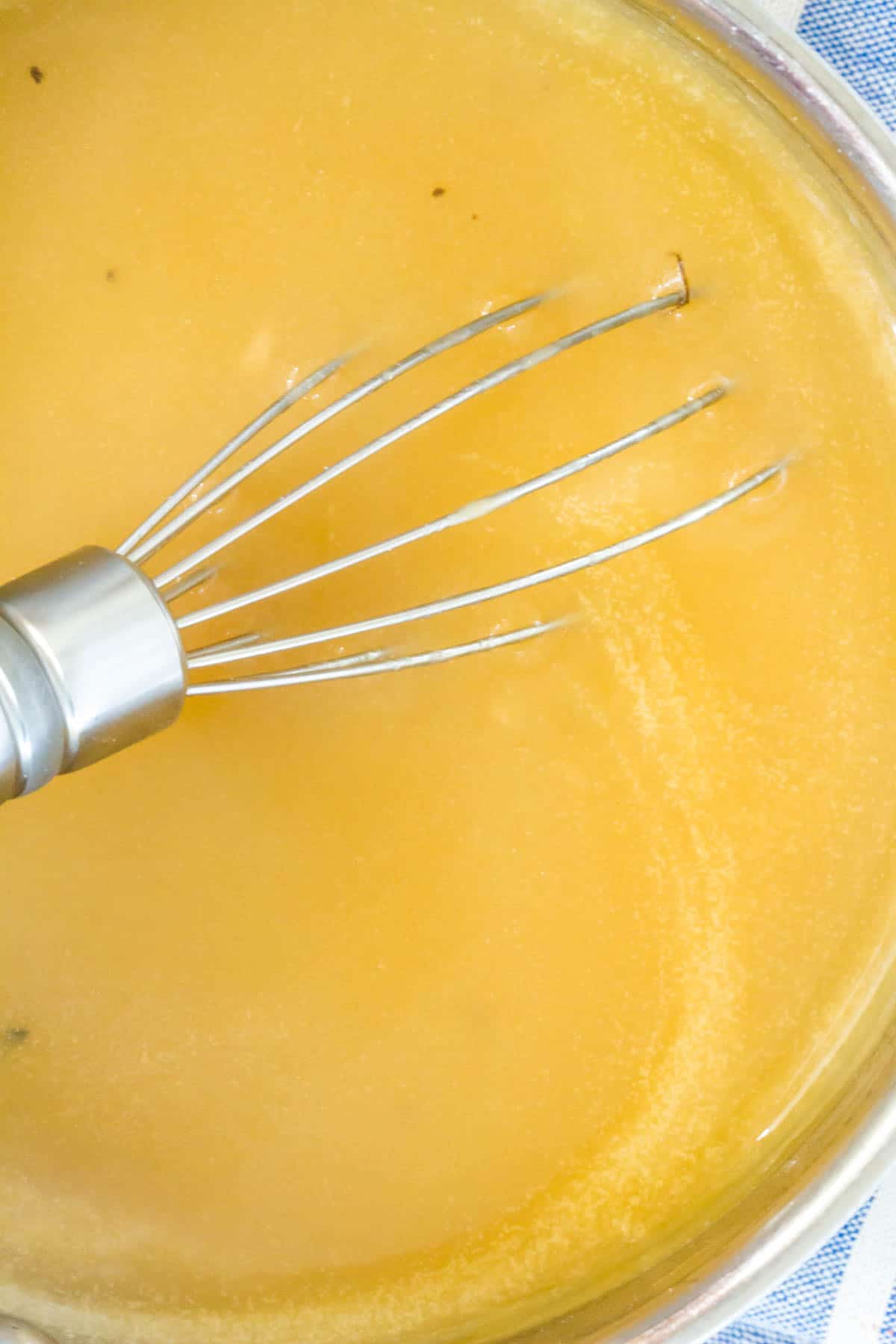 Serving Suggestions
Turkey gravy is a staple of Thanksgiving and holiday menus. Of course, it's perfect over a traditional Herb Roast Turkey or even Air Fryer Turkey Breast. But it's also great on Rosemary Balsamic Roast Chicken.
And of course, you need to serve this creamy gluten-free gravy with classic side dishes like: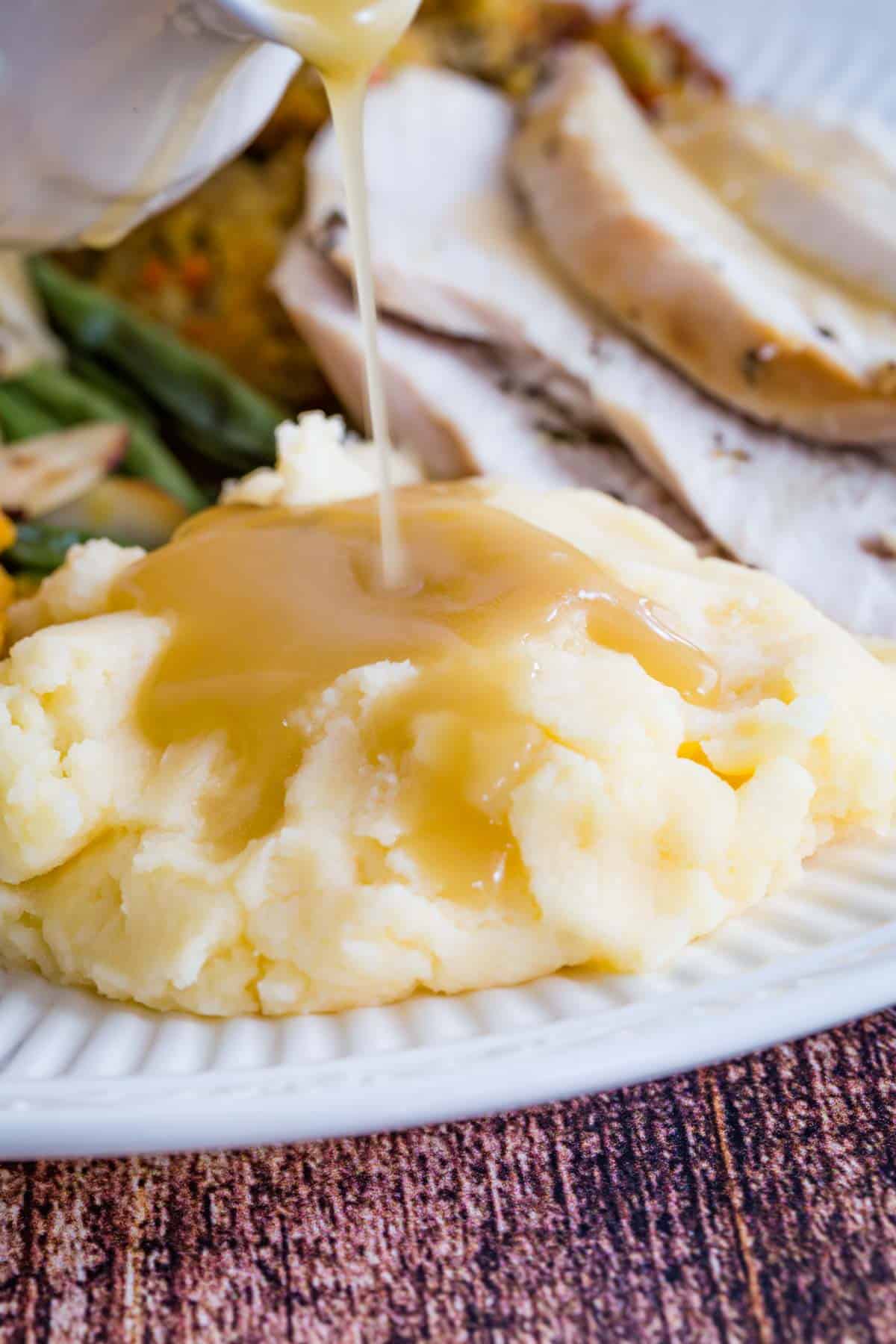 Storing Leftovers
You can easily make your gravy in advance, instead of waiting until the turkey is done by using turkey stock. Make your own or just buy low-sodium broth from the store. However, if you have time, replacing some of the stock with pan juices will make it extra flavorful.
Store gravy in an airtight container in the fridge for up to four days. Reheat the sauce in the microwave in 30-second intervals, stirring between each interval. Or reheat in a pot on the stove over medium-low heat until it's heated through.
Can I Freeze Gravy?
Yes, you can freeze gluten free gravy for up to three months. To do so, let the cooked gravy cool fully to room temperature. Then transfer the gravy to an airtight freezer container or divide it between ice cube trays. Defrost the gravy on the stove when you're ready to serve.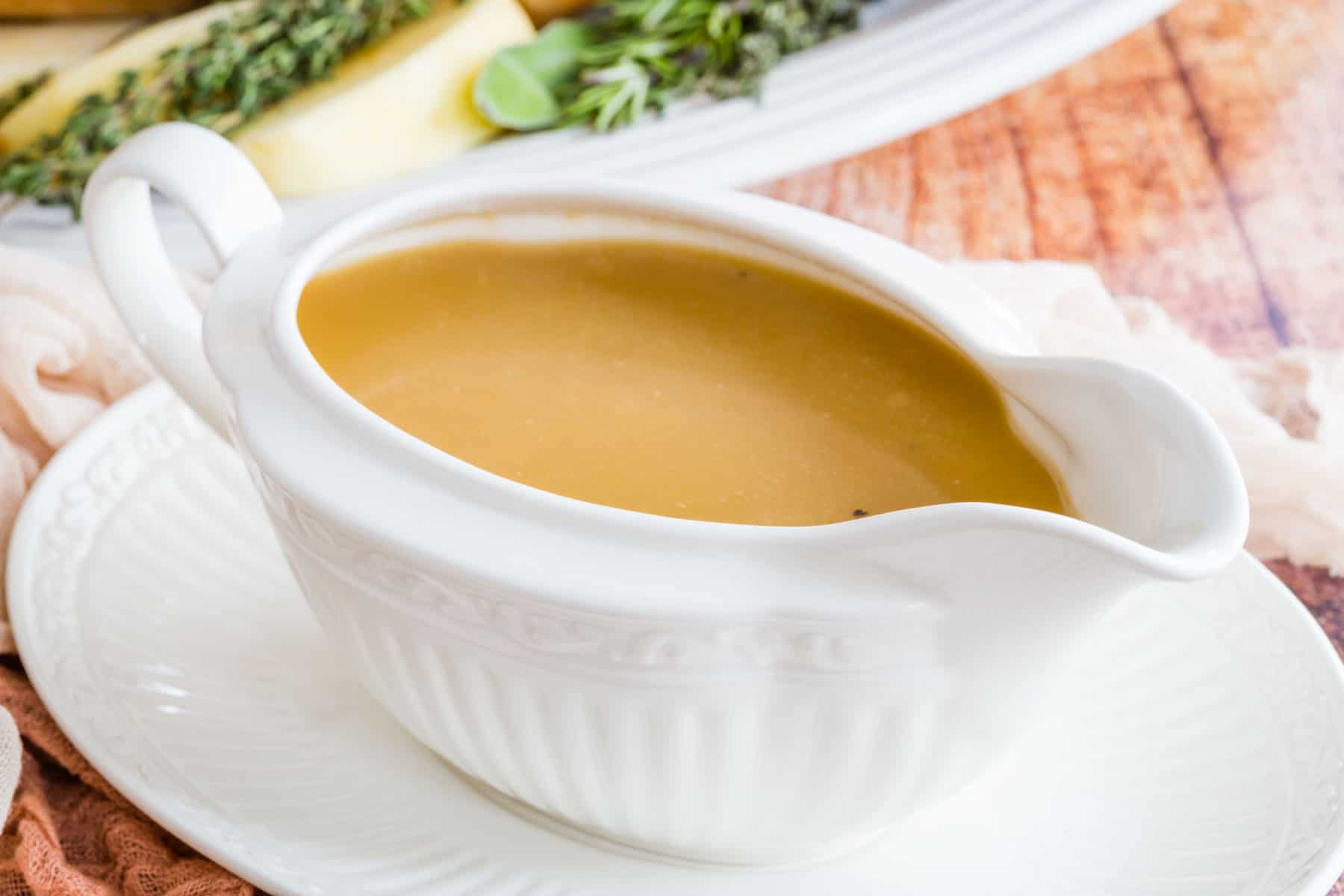 Shop the Recipe
Brianne Recommends
SWEET RICE FLOUR – this is the best thickener for rich and smooth gravy that tastes good.
TURKEY STOCK – you can make this with chicken stock or a homemade stock, but turkey stock gives you that classic Thanksgiving flour.
SMALL WHISK – I like to use a little whisk to really get into the corners of the pot so nothing sticks or burns.
GRAVY BOAT – If you love my gravy boat, I got it for my wedding and it is from Mikasa. It looks elegant, but it's not so super fragile that I'm afraid to use it.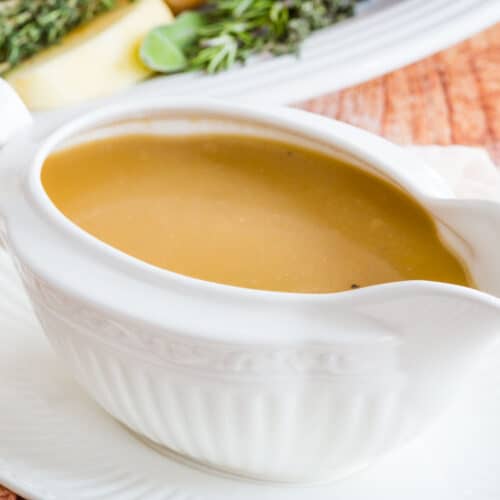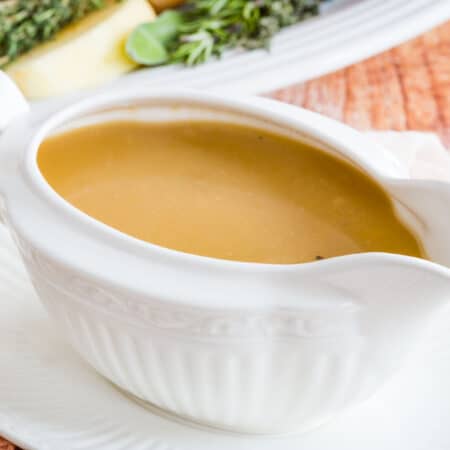 Gluten Free Gravy
This is the easiset and best Gluten-Free Gravy recipe for Thanksgiving or any holiday meal, made with pan juices, fresh herbs and onion.
Ingredients
2

Tablespoons

unsalted butter or olive oil

1

Tablespoon

minced onion

2

Tablespoons

sweet rice flour

2

cups

chicken or turkey stock,

substitute up to 1 cup of skimmed and

strained pan juices from roasting your turkey or chicken

Optional sprig of fresh thyme,

leaves removed and minced

Salt and pepper,

to taste
Instructions
In a small saucepan over medium heat, melt the butter. Add the onion and saute for 2-3 minutes until translucent.

Sprinkle the sweet rice flour over the melted butter and onions, andwhisk constantly until it forms a paste and turns light beige. You do not want to let it brown as much as a traditional roux.

Reduce heat to low and, while whisking, pour in a splash of the stock and/or pan juices and whisk until incorporated. Continue slowly adding the liquid while whisking until it is all incorporated.

Add the thyme, if using, and let simmer for 5-10 minutes, until thickened. Season to taste with salt and pepper.
Nutrition Facts
Gluten Free Gravy
Amount Per Serving
Calories 35
Calories from Fat 27
% Daily Value*
Fat 3g5%
Cholesterol 8mg3%
Sodium 235mg10%
Potassium 4mg0%
Carbohydrates 2g1%
Protein 1g2%
Vitamin A 213IU4%
Vitamin C 1mg1%
Calcium 1mg0%
Iron 1mg6%
* Percent Daily Values are based on a 2000 calorie diet.
Categories:
More Gluten-Free Sauce Recipes