This post may contain affiliate links. Read my disclosure policy.
We've made it through Back to School, the leaves are falling, the kids have picked out their costumes and before we know it, we will be clearing out the last remains of the Halloween candy. It's time to start thinking about our Thanksgiving menus. And what Thanksgiving menu is complete without stuffing? This year, try something new with Apple, Bacon and Cheddar Cheese Stuffing, made here with the new Rudi's Savory Herb Gluten-Free Stuffing.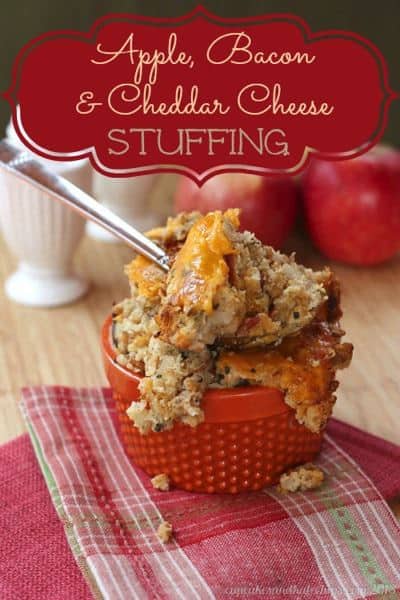 Let's talk stuffing for a minute. One recipe you will never see here is the stuffing we eat every year for Thanksgiving – my grandma's stuffing. There are a few reasons for this. The first is that there is no real recipe, and now I am the only person who knows how to make it. Not that I even really know. I kind of wing it every year. I pick up some random bags of stuffing mix – some crumbs, some cubes, maybe cornbread, maybe seasoned, maybe not. Cook up some onion and carrots, possible celery except that nobody in may family likes celery. Maybe I add some ground beef, or have grandma rolling in her grave by adding turkey sausage. I sprinkle in some seasonings, or, gasp, fresh herbs. Then I add some unknown amount of milk and chicken broth and smush it all up into a big mass of wallpaper paste, which is then transferred to a baking dish in clumps that are lightly pressed together and baked.
Which brings me to the second reason you will never see the recipe on my blog. My whole family loved grandma's stuffing. They even love my version, and tell me I am pretty close to hers. But I don't think anyone outside of our family would touch this stuff with a ten foot pole. You see, after baking it, we then cut it into cubes for serving. Thick, dense cubes. Basically, I think if you made enough, these cubes could be used to build a nuclear fallout shelter. Seriously – lead bricks. But yummy, carby, tasty lead bricks. Lead bricks that we keep coming back for. Especially the crispy end pieces. Yum!
Don't worry, no stuffing bricks here…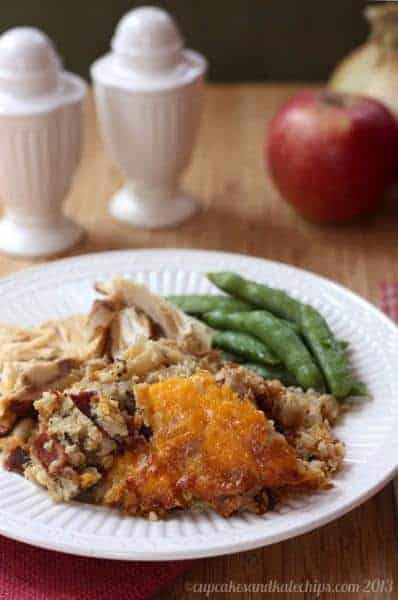 This Apple, Bacon and Cheddar Cheese Stuffing is ridiculously good. So good, in fact, that my little family of three (well, four, but Baby Smiles is still working his way through pureed fruits and veggies) devoured the entire casserole in two nights. We could not stop eating it.
It's moist and light, with so many flavors, but none of which overpower any of the others. The apples bring an element of sweetness, which is perfectly balanced by the salty, smoky bacon and the little pockets of sharp cheddar cheese. And thanks to the folks at Rudi's, this stuffing can be made gluten free using their new Savory Herb Gluten-Free Stuffing.
I was definitely impressed by the flavor and texture of the gluten-free stuffing mix. There was a rich, almost butteriness, and a wonderful flavor, while the prepared stuffing was nice and moist, it still held together and didn't get mushy or crumbly with the addition of the wet ingredients.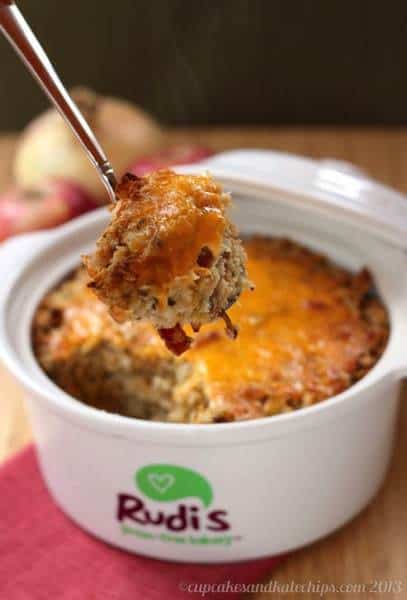 I am so excited to be helping Rudi's spread the word about this tasty new product that makes it easy to bring delicious stuffing to out gluten-free Thanksgiving dinner table. Just to tell you a little more about the product, Rudi's Gluten-Free Stuffing is an artisan inspired gluten-free stuffing that is perfect to bring to any holiday table for the whole family, gluten-free or not. Made from the bestselling Rudi's Gluten-Free Multigrain & Original breads and blended with a perfect amount of savory spices, it is a perfect match to any holiday meal. The stuffing can be prepared in about 5 minutes and is dairy, soy and, of course, gluten-free. Unlike other Rudi's Gluten-Free products, our gluten free stuffing is a limited time only program available while suppliers last for 2013 holiday season.
You can find out more about this product, plus download a coupon on Rudi's website. Plus, from November 4-15, they will be spreading the word about their new gluten-free stuffing by holding a giveaway on their Facebook page, in which they will be giving away lots of cool prizes!
Finally, as part of their promotion, you have the opportunity to with a Gluten-Free Stuffing kit valued at $90, which I teased you with on Instagram.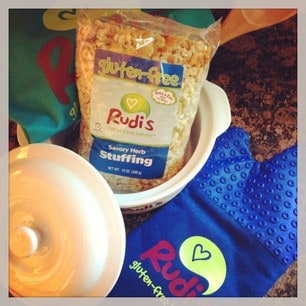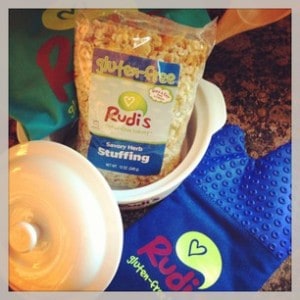 It includes the following Rudi's branded items: "Gluten-free only" casserole dish, oven mitt, apron, serving spoon, recipe card for added inspiration, and a bag of Rudi's Savory Herb Gluten-Free Stuffing.
Enter NOW using the Rafflecopter! You have till 11:59 pm on Friday, October 8th to enter.
Good luck!
Disclaimer: Rudi's provided me with the Gluten-Free Stuffing Kit, which included a sample of the Gluten Free Stuffing, and a kit to give away. No additional compensation was received. As always, all opinions are my own.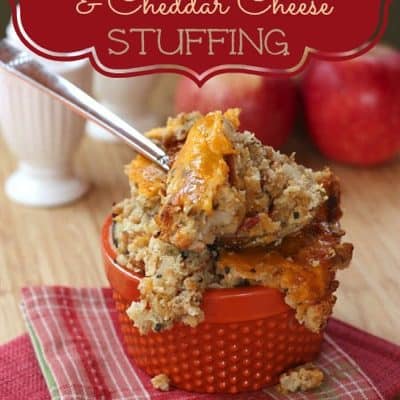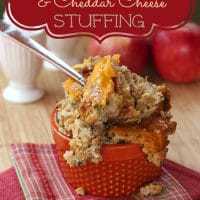 Apple, Bacon and Cheddar Cheese Stuffing
An easy gluten-free stuffing recipe that's so moist and flavorful! The sweetness of the apples is balanced by the smoky bacon and sharp cheddar cheese. Perfect for Thanksgiving!
Ingredients
6

cups

1-12oz bag of Rudi's Gluten-Free Stuffing

4

oz.

bacon

(about 5 slices)

2

Tbsp

unsalted butter

1/2

large

sweet onion

chopped

½

tsp

kosher salt

¼

tsp

black pepper

2

medium

apples

peeled and chopped into about 1/4 inch cubes

1

Tbsp

fresh sage

finely chopped

2

cups

chicken stock

or vegetable stock

1

egg

beaten

1

c

sharp cheddar cheese

about 4 oz., cut into about 1/4 inch cubes

1/2

c

sharp cheddar cheese

about 2 oz., shredded
Instructions
Preheat the oven to 400° and coat a 2-quart baking dish with oil or cooking spray.

In a large skillet over medium heat, cook the bacon until crispy. Remove from the pan to cool and drain on a paper towel. Set aside.

Leave about 2 Tbsp of the bacon grease in the pan, add the butter.

Once the butter has melted, add the onion, salt, and pepper, and cook for 3-4 minutes, or until the onion begins to soften, scraping up any of the bits that may remain from coking the bacon.

Add the apples, and cook for another minute or two.

Sitr in the sage, turn off the heat, and set aside (can be made in advance and stored in the refrigerator).

Empty the bag of Rudi's Gluten-Free stuffing mix to a large mixing bowl, and add the onion-apple mixture. Crumble in the reserved bacon. Stir to incorporate.

Add the chicken or vegetable stock, then stir in the egg.

Gently stir in the cubed cheddar cheese, and transfer the stuffing to the baking dish, pressing it down.

Sprinkle the shredded cheddar cheese over the top of the stuffing.

Cover with a lid or tented aluminum foil and bake for 30-35 minutes.

Uncover and bake for an additional 15-20 minutes, or until heated through, and the stuffing and cheese has browned.
Nutrition Facts
Apple, Bacon and Cheddar Cheese Stuffing
Amount Per Serving
Calories 654
Calories from Fat 171
% Daily Value*
Fat 19g29%
Cholesterol 43mg14%
Sodium 965mg40%
Potassium 122mg3%
Carbohydrates 99g33%
Protein 16g32%
Vitamin A 241IU5%
Vitamin C 2mg2%
Calcium 113mg11%
Iron 1mg6%
* Percent Daily Values are based on a 2000 calorie diet.
Categories:
Enjoy!
Want to round out your Thanksgiving meal?
Plus a few more dishes from my friends…