Cranberry Orange Glazed Green Beans
Disclosure: This post may contain affiliate links. Cupcakes & Kale Chips is a participant in the Amazon Services LLC Associates Program, an affiliate advertising program designed to provide a means for us to earn fees by linking to Amazon.com and affiliated sites.
Cranberry orange glazed green beans are a slightly sweet and tangy alternative to the traditional Thanksgiving green bean casserole. Step away from the canned soup and french fried onions. It's time to lighten up your green bean recipe and make a healthy holiday side dish.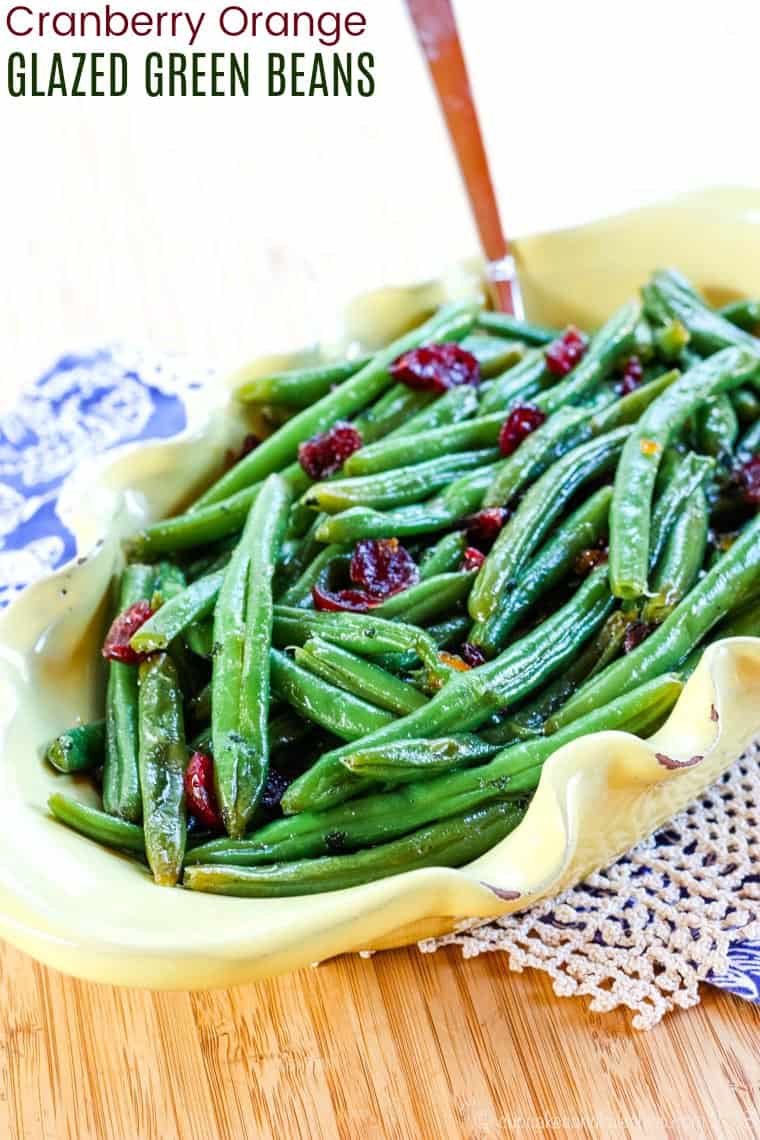 So I'm feeling pretty cruddy right now. As in, like, physically and mentally. This morning I went through all the effort to pop a nice Slow Cooker BBQ Rubbed Turkey Breast into the crockpot. Then I met a friend for a light lunch and stopped at the grocery store. When I got home, since the little guy was up from his nap. So we decided to make a run to the furniture store so that The Hubby could show me a bedroom set he saw.
Well, several bedroom sets, a few dining room tables, a couple BeautyRests, and the 7-minute TempurPedic memory foam mattress experience later, it was rapidly approaching dinnertime. Consequently, the boys were rapidly approaching meltdown city.
While I had the turkey cooking, no side dishes were ready. In addition, I was pretty hungry and not thinking clearly myself. That's the sort of thing that happens after you try to go furniture shopping with small children.
So in that foggy-headed moment, the diner up the road felt a whole lot closer and faster than getting all the way home and trying to figure out something that would cook quicker than baked sweet potatoes and Lemon Parmesan Roasted Broccoli I had planned to go with the turkey.
Yeah, not exactly. There is a room for private parties at the diner, and of course, prime dinnertime on a Saturday night, naturally there HAD to be a party going on.
Of course, the kiddo couldn't figure out if he wanted bacon or sausage with his pancakes. Consequently, this meant I couldn't look at the menu and decide what I wanted. By that time our waitress disappeared. Once we finally. got our order in, the kitchen was bogged down with cooking all of the entrees for the party, and our orders had to wait.
There's only so much "I Spy" that's gonna keep a kid calm when mom and dad just made him NOT run all over the furniture store. Now he just wants his pancaaaaaaaakkkkeeeesssssss!
Heck, I was pretty hangry myself. After all of that, my dinner wasn't even that good. Life lesson – don't order short ribs at a diner.
And, to top it all off, when we got home and I had to get the turkey out of the crockpot and into the fridge, it smelled amazing. Dinner remorse, big time.
Oh well, tomorrow we'll have turkey and maybe I'll make another batch of these green beans…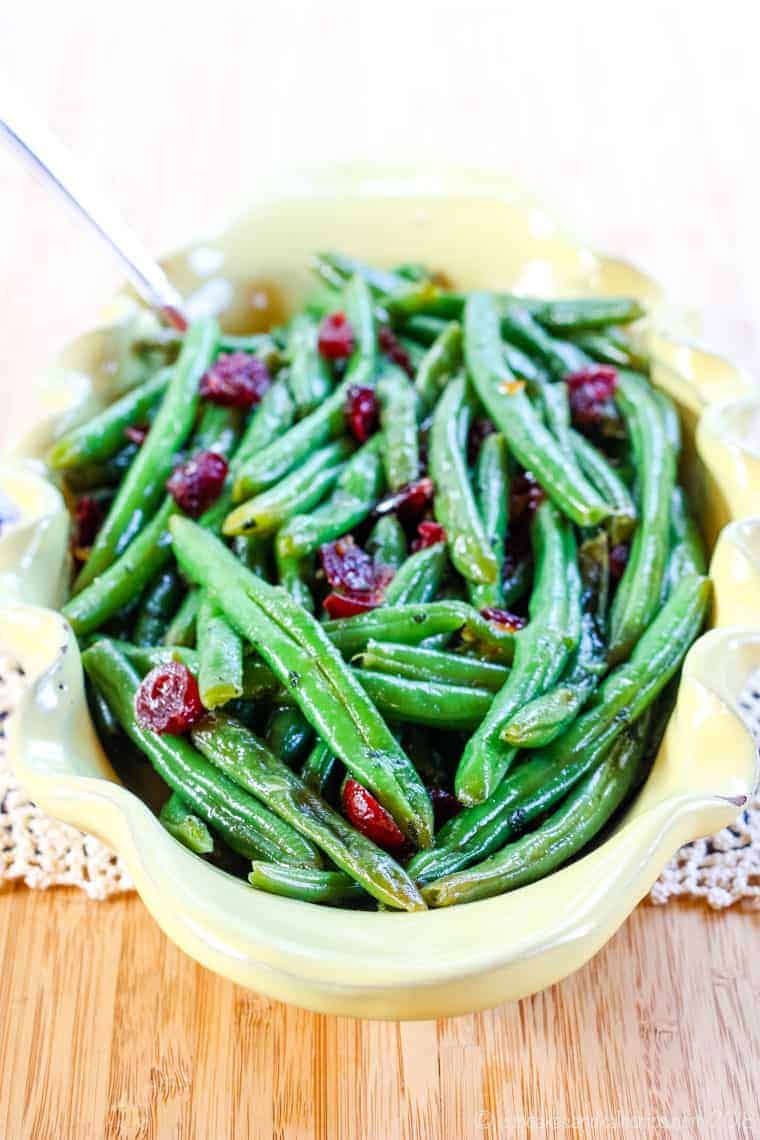 Orange Glazed Green Beans with Dried Cranberries
The orange marmalade adds a bit of sweetness to the beans, with some tart flavor from the dried cranberries. A wee bit of dijon mustard pulls it all together and balances it out with a little zing. Perfect fall flavors for a perfect vegetable side dish. My family polished off this batch of beans, so if you're making it for a big holiday meal, I'd highly suggest doubling or tripling it.
Cranberry Orange Glazed Green Beans recipe tips…
My family likes soft green beans, but I know many people like them more crisp-tender. Therefore, cook them to your preference.
I used fresh green beans and steamed them in a pot, but you can use one of those steamer bags, or even frozen beans.
You could also make Instant Pot green beans, then toss them in a pan with the glaze ingredients. In fact, I'd suspect you could just switch your Instant Pot to "Saute" mode and finish off making them right in there.
Loving this recipe, but want to change up the flavors a bit? Next time try Pineapple Pecan Glazed Green Beans!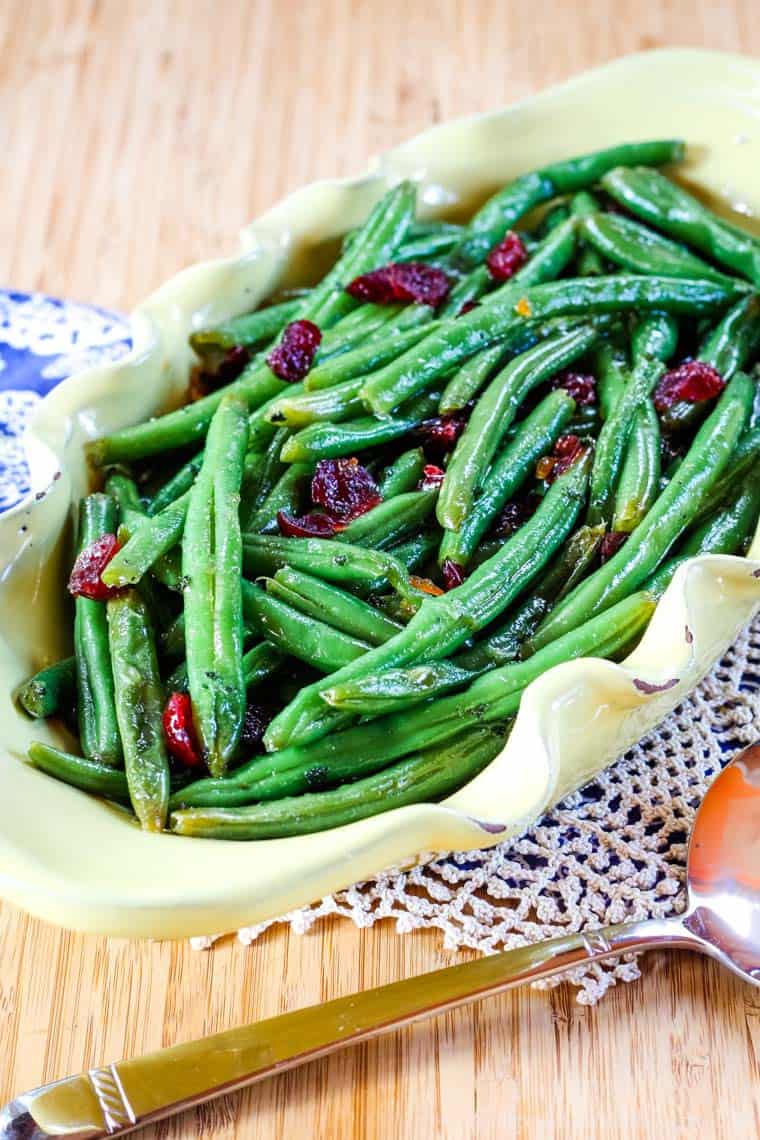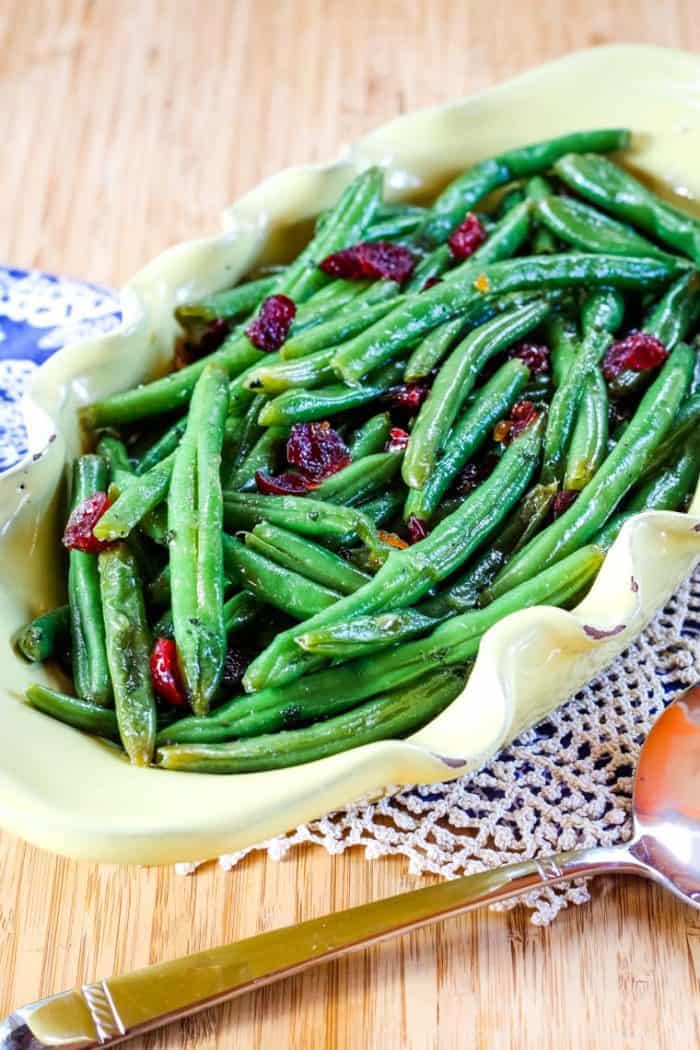 For more yumminess from me and my foodie friends, keep up with me on…
Or sign up to have Cupcakes & Kale Chips delivered straight to your Inbox!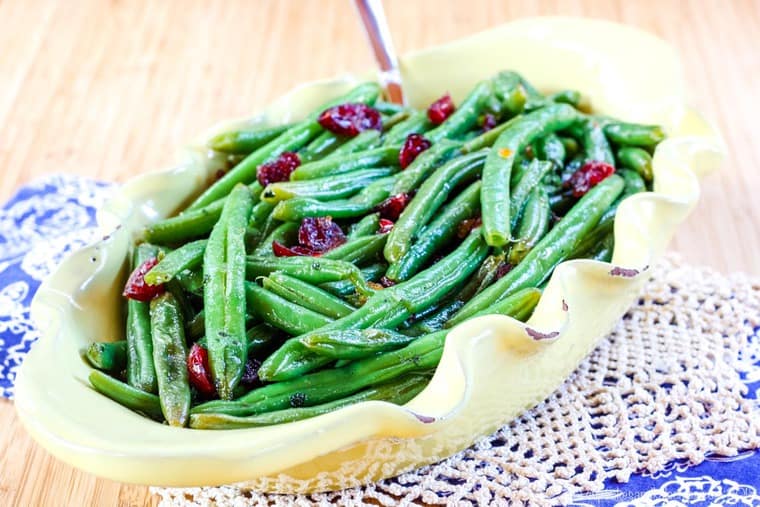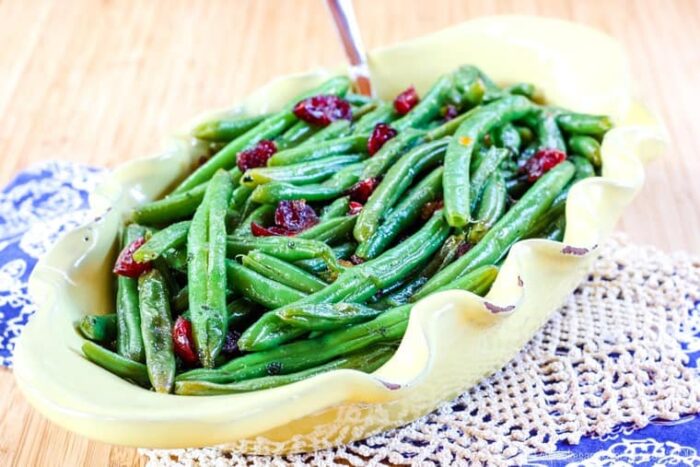 What do you need to make Cranberry Orange Glazed Green Beans?
[amazon_link asins='B01IWMO0V2,B06Y4MCKFM,B074HQHDW3,B000GV280S,B00OAEVSTY' template='ProductCarousel' store='cupkalchi-20′ marketplace='US' link_id='90186f46-e34c-11e8-a3a5-8d483249acb2′]
STEAMER BASKET – I can't live without my steamer basket. I have so many pots and pans, so I don't need another special one with a steamer insert. Since this is collapsible, it works in any size pot or pan. For a dish like this, I will use it in my deep skillet, steam the beans, drain the water, and saute them right in the same pan. If I need to steam a bunch of broccoli or cauliflower, I'll use a larger pot. I do tend to just use a little cheap version, but I am tempted to get this one with the better grip on the handle.
TONGS – I love my tongs and use them daily. You can use them to get the hot steamer basket out of the pot, grab any stray green beans, and to toss the beans in the glaze. Since they have the silicone tip, they won't scratch your pots and pans.
What else can you make with dried cranberries?
What are more green bean recipes?
Cranberry Orange Glazed Green Beans Recipe
This easy green bean recipe is a refreshing addition to Thanksgiving or Christmas dinner and they are also lovely for a Sunday meal. But you can definitely add them to a weeknight dinner since they come together super fast and easy. Once you've got your beans cooked, it literally takes about two minutes to add the other ingredients and make it all glazy good. It's the perfect vegetable side dish for any occasion.
I hope you'll leave a comment and give it a FIVE STAR rating or share a photo on this pin on Pinterest!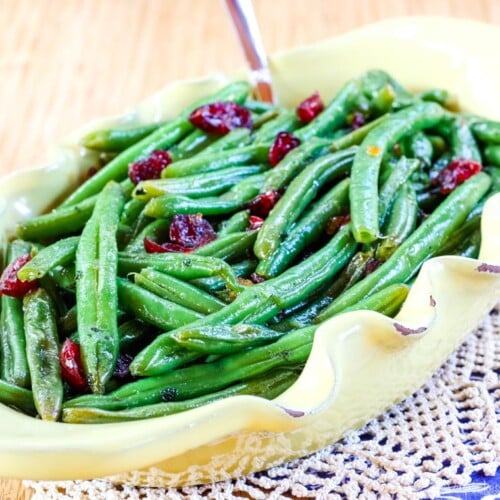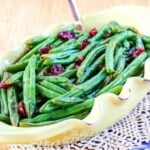 Print Recipe
Cranberry Orange Glazed Green Beans
Sweet and tart with a little zing, and perfectly easy for a holiday meal or weeknight supper.
Ingredients
1

pound

fresh green beans,

ends snipped off

1

teaspoon

olive oil

1

Tablespoon

minced fresh sage

or 1 teaspoon dried sage

2

Tablespoons

orange marmalade

1

teaspoon

Dijon mustard

1/4

cup

dried cranberries

1/2

teaspoon

kosher salt

a few grinds of black pepper
Instructions
Steam green beans to desired doneness (or cook according to package directions if using fresh green beans in a microwave bag).

Heat olive oil in a saucepan over medium heat.

Add green beans and sage, and saute for a couple of minutes to let them brown slightly.

Sitr in the marmalade, mustard, and cranberries, and season with salt and pepper.

Cook for another minute or two until the glaze thickens and coats the green beans.
Notes
This recipe is easily doubled or tripled to serve more people.
Nutrition
Calories:
92
kcal
|
Carbohydrates:
20
g
|
Protein:
2
g
|
Fat:
1
g
|
Sodium:
317
mg
|
Potassium:
239
mg
|
Fiber:
3
g
|
Sugar:
14
g
|
Vitamin A:
785
IU
|
Vitamin C:
14.4
mg
|
Calcium:
46
mg
|
Iron:
1.2
mg
Originally published on Nov 2, 2014