Cinnamon-Orange Scented Cranberry Sauce
Disclosure: This post may contain affiliate links. Cupcakes & Kale Chips is a participant in the Amazon Services LLC Associates Program, an affiliate advertising program designed to provide a means for us to earn fees by linking to Amazon.com and affiliated sites.
Cinnamon-Orange Scented Cranberry Sauce is a family favorite holiday side dish. Your kitchen will smell amazing as the sauce cooks, and it has much more flavor than canned cranberry sauce!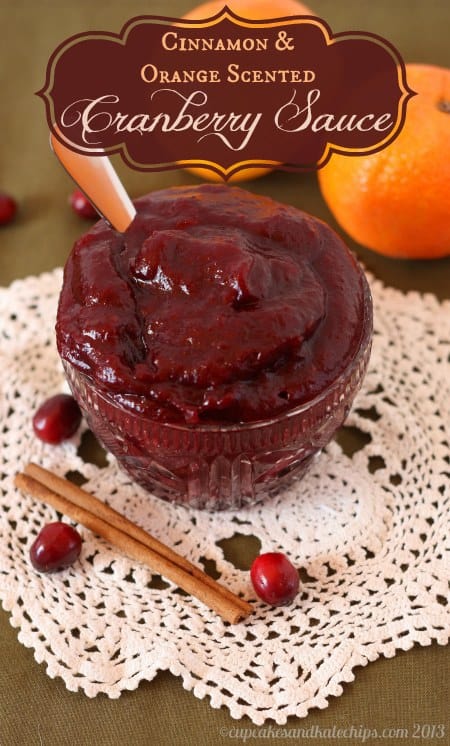 Undoubtedly every family has stories about Thanksgiving mishaps.  We certainly have our share.  Nothing epic, like setting the house on fire while deep frying a turkey, or sending someone to the hospital with salmonella poisoning from under cooked stuffing inside the bird.  But certainly memorable, as we recount the stories over the years.
Sometimes we learn from our mistakes, like the year my aunt made one of Emeril's sweet potato recipes that calls for brandy, but on Thanksgiving day, she realized the only brandy she had was a bottle of blackberry brandy.  Bleh!  Or the year my mom was going to close the dishwasher right as I was putting something in, and my finger ended up in the little hole where the latch is, slicing off a nice chunk of skin on the edge of the stainless steel, landing me in the ER, with The Hubby passing out at the sight of my blood.
Unfortunately, some of our mistakes are repeated year after year.  Until I discovered Pampered Chef baking stones, we had a habit baking our Pillsbury biscuits just a bit too long, so we always had to scrape off the blackened bottom.  And we always seem to think the turkey is done, so we have everything ready to go on the table, begin to carve the bird, and notice a lovely shade of pink.  Well done biscuits and rare turkey – not a good combination.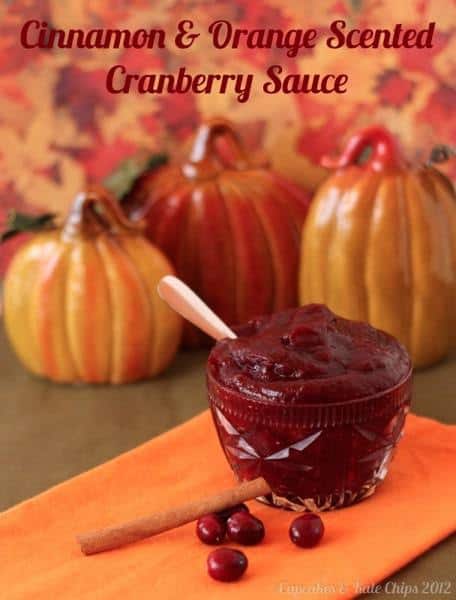 This cinnamon-orange scented cranberry sauce is usually hit or miss.
The flavor is always amazing – sweet and tart, with the brightness of the orange, and the taste of the holidays that a bit of spicy cinnamon always brings.  It is made in advance, and the flavor just gets more complex over time.  I love to smear it on my turkey instead of gravy. On Friday, I mix it with some mayo for the ubiquitous day-after-Thankgiving turkey-sandwich.  Granted, some members of my family prefer jellied cranberry sauce from a can. After all, this is the family that grew up with the jarred sauce and Pillsbury biscuits, so what do you expect, really?  It's OK, I understand – we grew up with simple tastes and a modest budget.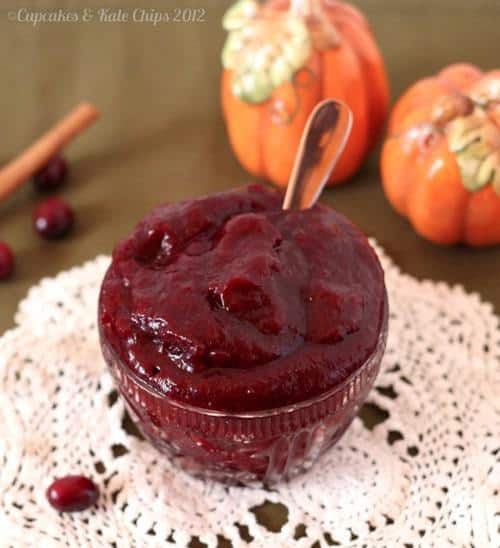 One year, I decided I wanted to come up with something a little more complex in flavor, but still with the same texture of the stuff from a can.  I'll admit, I'm a fan of the can.  Plus, the little ridges in the side when you slide it out onto the plate look kinda cool.
So the goal every time I make it is to pour it into a mold, chill it, and turn it out onto a serving platter, all sparkly, with its deep crimson color.  But sometimes I get impatient.  I think I have cooked it down enough, but then I turn it out onto the platter…
and end up scraping it onto a bowl and serving it with a spoon.  That is what happened this time around.  Totally delicious.  Totally beautiful.  But not that jiggly structure that resembles what I grew up knowing and loving.  Maybe next year.  If it works, I'll show you then.
Stay tuned next Sunday, when #SundaySupper will bring you Thanksgiving Leftovers.  I'll be sharing one way you can use some of your leftover cranberry sauce (I may have a couple more for you next week, too), and there are a ton of other amazing recipes that will give your leftovers new life.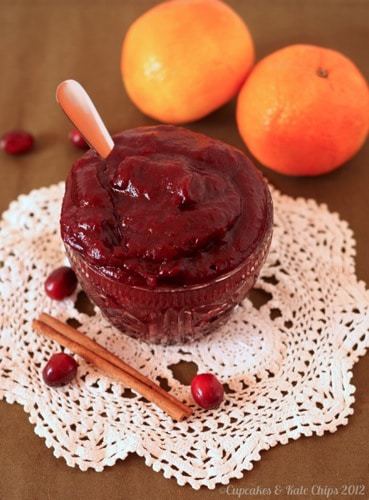 Tell me your stories of Thanksgiving mishaps!
If you ask me, this cinnamon-orange scented cranberry sauce recipe is a winner!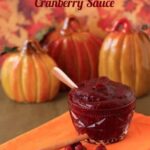 Cinnamon & Orange Scented Cranberry Sauce
Sweetness, tartness, citrus and spice for a delicious addition to your Thanksgiving menu.
Course:
Side Dish, Thanksgiving
Ingredients
Two 12 oz packages of cranberries

rinsed and drained

Zest of one orange

2

c

orange juice

preferably freshly squeezed

1

c

dark brown sugar

2

cinnamon sticks
Instructions
Combine all ingredients in a large saucepan over medium high heat.

Bring to a boil, then lower heat and allow to simmer until very thick, stirring occasionally, and using a spoon or spatula to "pop" the cranberries. As it becomes thicker, you may have to lower the heat and/or stir more constantly.

Reduce to desired thickness. If you want to be able to mold it, it should almost hold shape when you push it to the side of the pan with a spoon or spatula.

Remove from the heat and allow to cool slightly.

Strain and push the mixture through a fine mesh sieve into a bowl to remove the cinnamon sticks and cranberry skins.

If desired, pour into a mold.

Chill completely.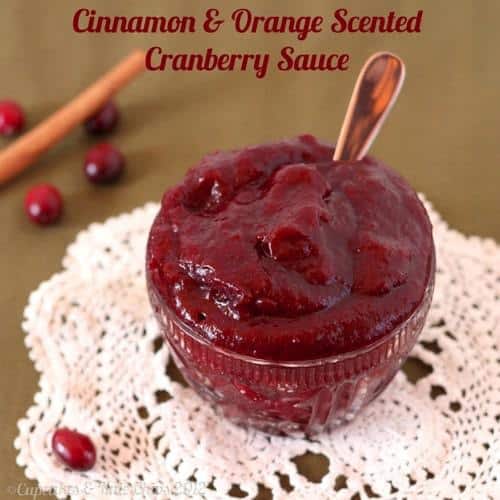 Enjoy!