This post may contain affiliate links. Read my disclosure policy.
Cinnamon Orange Cranberry Sauce takes the all-time favorite holiday side dish with sweet and tart flavors and adds a burst of citrus and warm spices. When you simmer fresh cranberries with orange juice and cinnamon sticks, it takes the classic recipe to the next level and makes your house smell amazing. Add this simple jellied cranberry sauce recipe to add to your menu of easy Thanksgiving recipes.
Undoubtedly every family has stories about Thanksgiving mishaps. We certainly have our share. There is nothing truly epic, like setting the house on fire while deep frying a turkey.
Once my aunt made a sweet potato recipe that called for brandy and she used the only brandy she had in the liquor cabinet – blackberry brandy. We have repeatedly burnt the bottoms of the biscuits. And those overdone biscuits paired nicely with an underdone turkey that had to be tossed back into the oven after it was carved.
And I did have to visit the ER once due to a freak dishwasher accident that also resulted in my husband passing out. Don't ask.
But there are a few things I can count on.
The Corn Pudding recipe we have made for decades always turns out creamy and dreamy. I pour some of my favorite pumpkin pie filling into a ramekin to make myself a crustless version of a pie that is perfect and tasty and all for me.
And this, my favorite homemade cranberry sauce recipe always tastes amazing. Plus, the way it makes your house smell as it simmers away, well, there are no words. It just the best scents of the holiday season!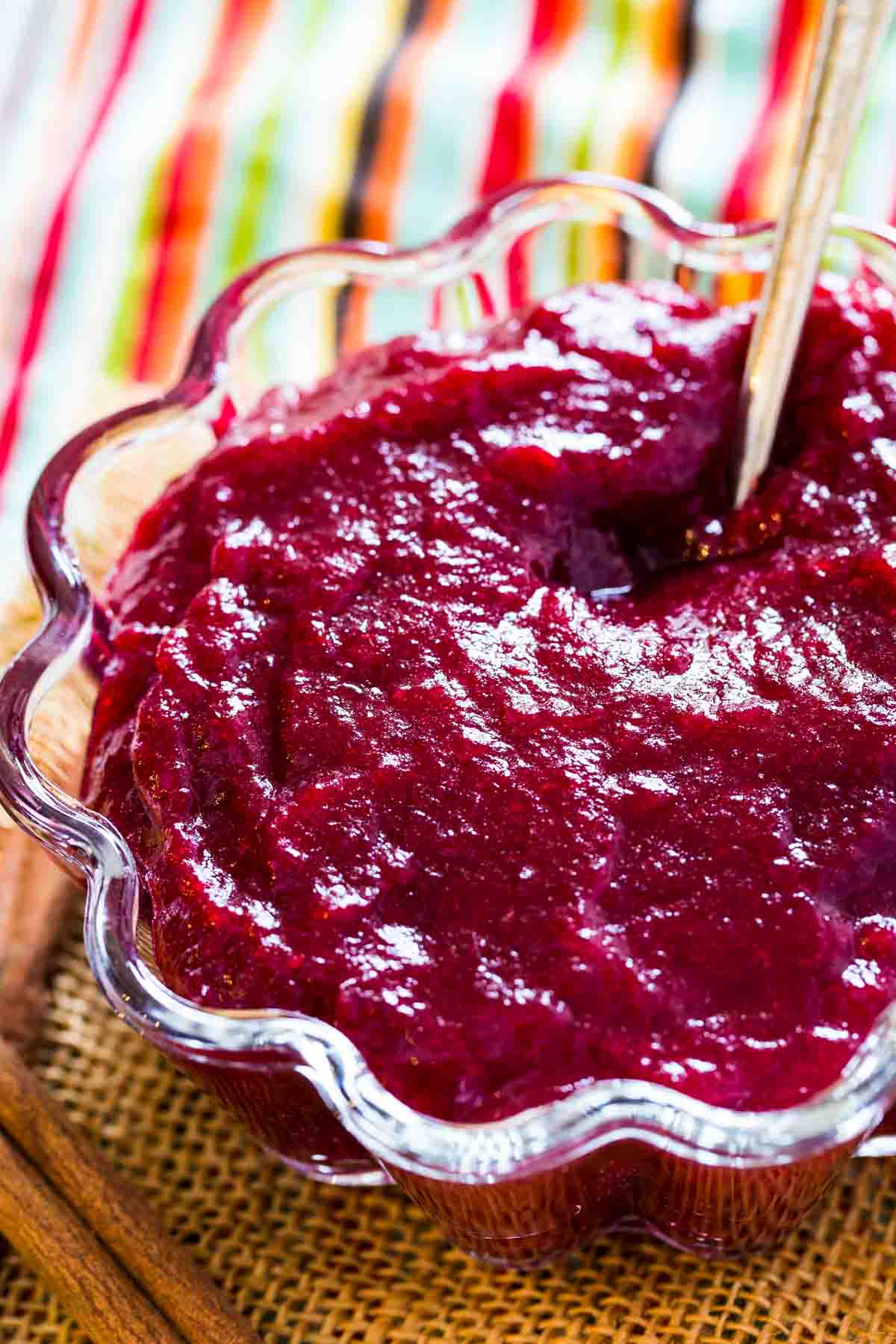 Cranberry Sauce with Orange Juice and Cinnamon
Sweet and tart, with the brightness of the orange, and the taste of the holidays that a bit of spicy cinnamon always brings, I guarantee it will be a welcome new addition to your menu. I love to smear it on my turkey instead of gravy for Thanksgiving. And if you make it for Christmas, you can use it to top a Cranberry Rubbed Prime Rib Roast.
While some people prefer the whole berry style, my family likes the jellied cranberry sauce. So this recipe is cooked for quite a while to thicken it up and then the skins are strained out. Then you end up with a smooth and sparkly sauce with a deep red crimson color infused with delicious flavors.
How do you thicken homemade cranberry sauce?
Cranberry sauce is thickened simply by cooking it to evaporate the moisture and let it release its natural pectin. You can typically cook it long enough to be a thick sauce or even to mold it. If it is not thick enough, you can always try adding gelatin or pectin, though I have not tried that in this recipe.
If you have cooked it long enough, it looks really cool if you mold it and chill it in one of those vintage Tupperware molds as I used for this Creamsicle Jello Mold.
But sometimes I get impatient. I think I have cooked it down enough, but then I turn it out onto the platter and it doesn't quite hold its shape. If that happens, just pour it into a bowl. Maybe not as pretty, but just as delicious.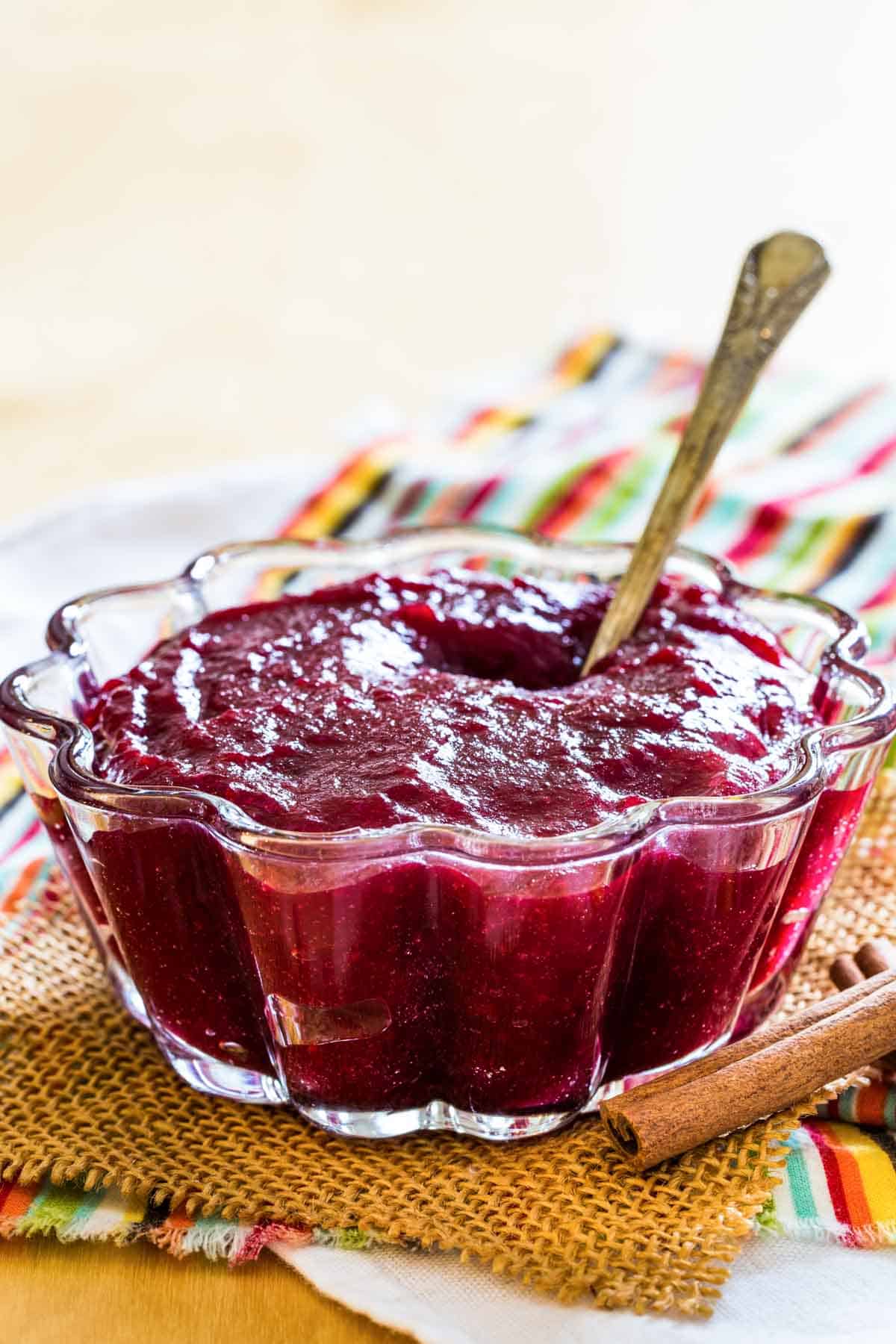 Cinnamon Orange Cranberry Sauce Recipe
Making your own homemade jellied cranberry sauce adds a special touch to your Thanksgiving menu. And when you cook cranberry sauce with orange juice and cinnamon sticks plus brown sugar, you get even more amazing holiday flavors. Plus incredible aromas fill your kitchen while it simmers. It's been a holiday mainstay in our family for years, and I hope it becomes one in your home too.
Here is a brief overview so you can see just how easy it is to make. Scroll down to the printable recipe card for the full quantities and details.
But don't skip my PRO TIPS below!
What do you add to cranberry sauce?
This easy recipe has only four ingredients that pack a punch of flavor.
How to make it
First, rinse and drain your bags of fresh cranberries. Pick out any that might be bad.
Next, add the cranberries to a pot with orange juice, orange zest, brown sugar, and cinnamon sticks.
Bring the mixture to a boil, then reduce to a simmer. While it simmers, squish the berries with the spatula so they release their juice and pectin. PRO TIP: As the mixture thickens, you'll need to stir it more frequently to keep it from sticking and burning.
Let it simmer until it achieves the desired thickness.
Finally, let it cool slightly. Transfer to a bowl, or, if desired, pour it into a mold.
Store in the refrigerator.
BRIANNE RECOMMENDS: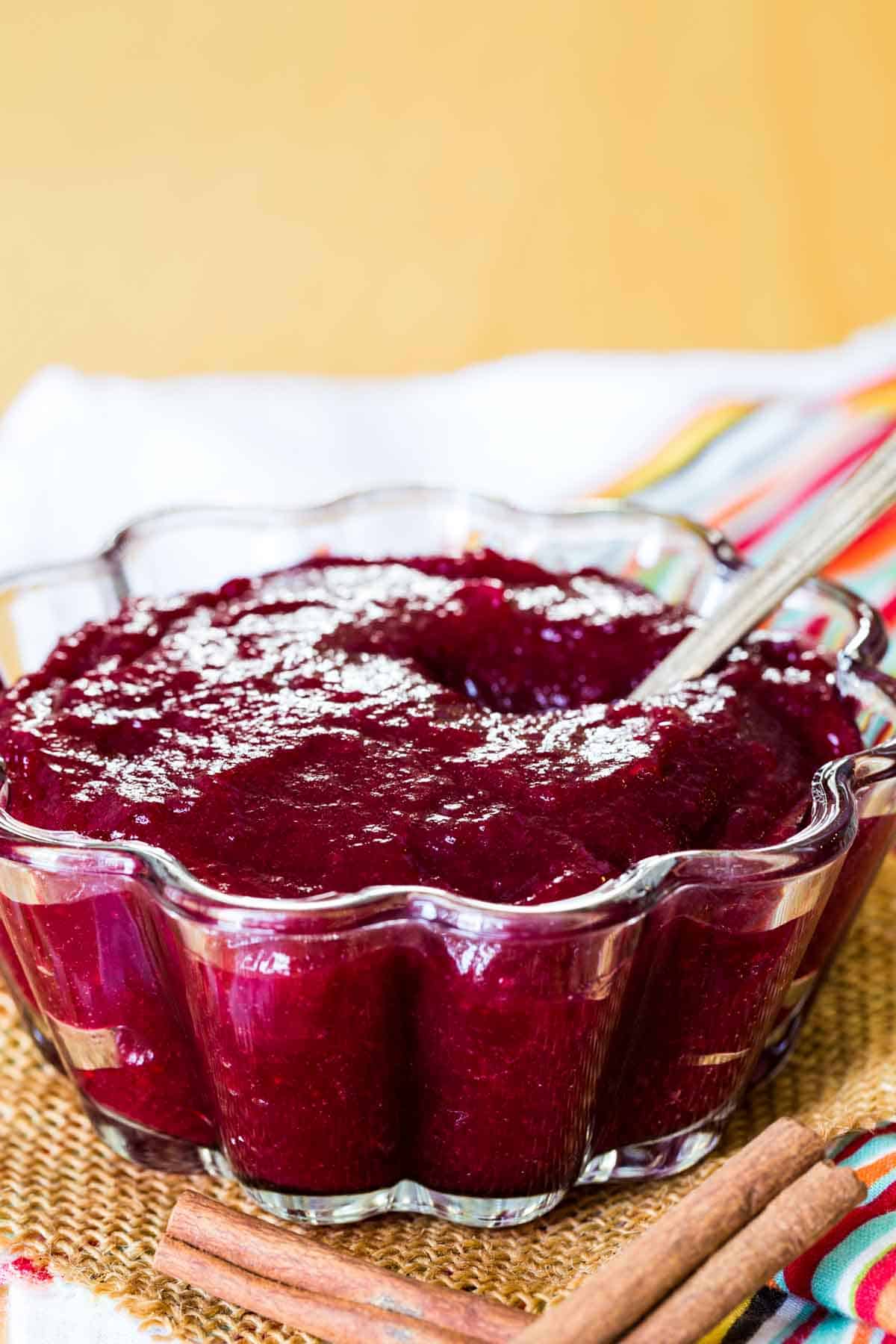 FAQs
Is cranberry sauce served hot or cold?
Most people serve cranberry sauce cold, or at least at room temperature. That is why I recommend making this dish at least a day in advance. It gets quite hot while it is cooking. So this will ensure it has plenty of time to cool before serving.
Can Cinnamon Orange Cranberry Sauce be made ahead of time?
Yes, this cranberry sauce recipe can definitely be made in advance. You can leave it in the refrigerator for at least a week. In fact, I typically make it the weekend before Thanksgiving, and we eat it with leftovers throughout Thanksgiving weekend.
Does homemade cranberry sauce need to be refrigerated?
Yes, because of the fresh and perishable ingredients, it will need to be stored in the refrigerator. If kept chilled, you can keep it for at least a week. For those that to eat it at room temperature, just pull out as much as you'll need at one time a little while before you plan to serve it.
Is cranberry sauce gluten free?
Yes, similar to nearly all other cranberry sauce products and recipes, this Cinnamon Cranberry Orange Sauce recipe is gluten free. It is made simply with fresh cranberries, fresh orange juice and orange zest, dark brown sugar, and cinnamon sticks. The thickening comes from the natural pectin in the fruit, not from any flour or starch. This gluten free cranberry sauce also happens to be vegan. If you'd like to make it paleo, use coconut sugar or maple syrup in place of the brown sugar. With the syrup, you'll just cook it longer to reduce the extra liquid.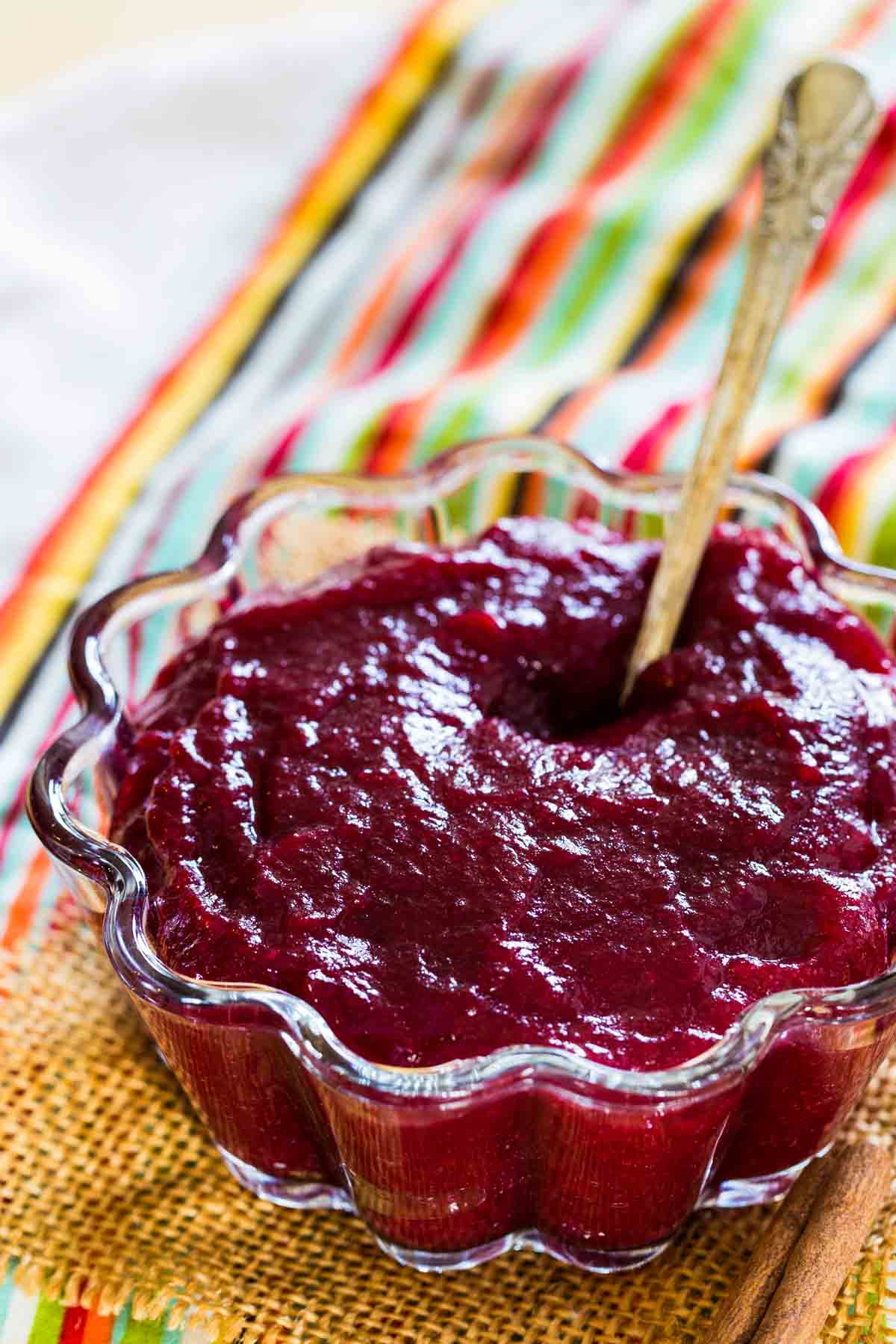 What can I make with leftover cranberry sauce?
While it's amazing mixed some mayo for the ubiquitous day-after-Thanksgiving turkey-sandwich, you can get a little more creative with your leftover cranberry sauce.
More holiday side dishes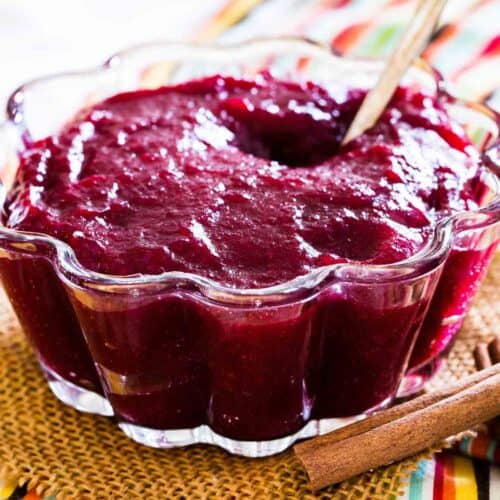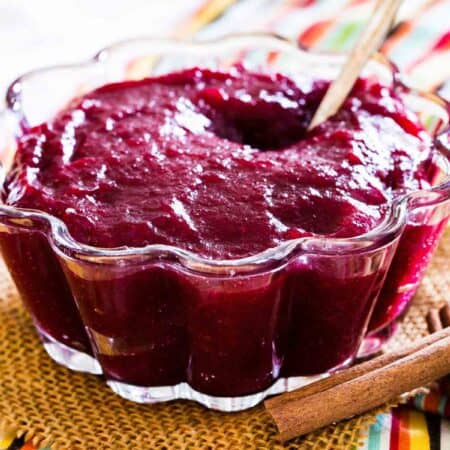 Cinnamon Orange Cranberry Sauce
Add a burst of citrus and warm spice to the classic holiday side dish recipe. Sweet, tart, and delicious!
Ingredients
Two

12 oz.

packages of fresh cranberries,

rinsed and drained

Zest of one orange

2

cups

orange juice,

preferably freshly squeezed (see Note)

1

cup

dark brown sugar

2

cinnamon sticks
Instructions
Combine all ingredients in a large saucepan over medium high heat.

Bring to a boil, then lower heat and allow to simmer until very thick, stirring occasionally, and using a spoon or spatula to "pop" the cranberries. As it becomes thicker, you may have to lower the heat and/or stir more constantly.

Reduce to desired thickness. This could take 30-40 minutes. If you want to be able to mold it, it should almost hold shape when you push it to the side of the pan with a spoon or spatula.

Remove from the heat and allow to cool slightly.

Strain and push the mixture through a fine mesh sieve into a bowl to remove the cinnamon sticks and cranberry skins.

If desired, pour into a mold.

Chill completely.
Notes
You can squeeze a few extra oranges to use all fresh juice, or use a carton of orange juice to get the full two cups.
Nutrition Facts
Cinnamon Orange Cranberry Sauce
Amount Per Serving
Calories 89
% Daily Value*
Sodium 5mg0%
Potassium 107mg3%
Carbohydrates 22g7%
Vitamin A 85IU2%
Vitamin C 20.7mg25%
Calcium 26mg3%
Iron 0.3mg2%
* Percent Daily Values are based on a 2000 calorie diet.
Enjoy!
Old photos from when this post was originally published on Nov 15, 2013