This post may contain affiliate links. Read my disclosure policy.
This is the best Gluten Free Pumpkin Pie Recipe for your holiday table, complete with a buttery homemade crust and a custardy sweet pumpkin filling, along with the perfect amount of warm spice.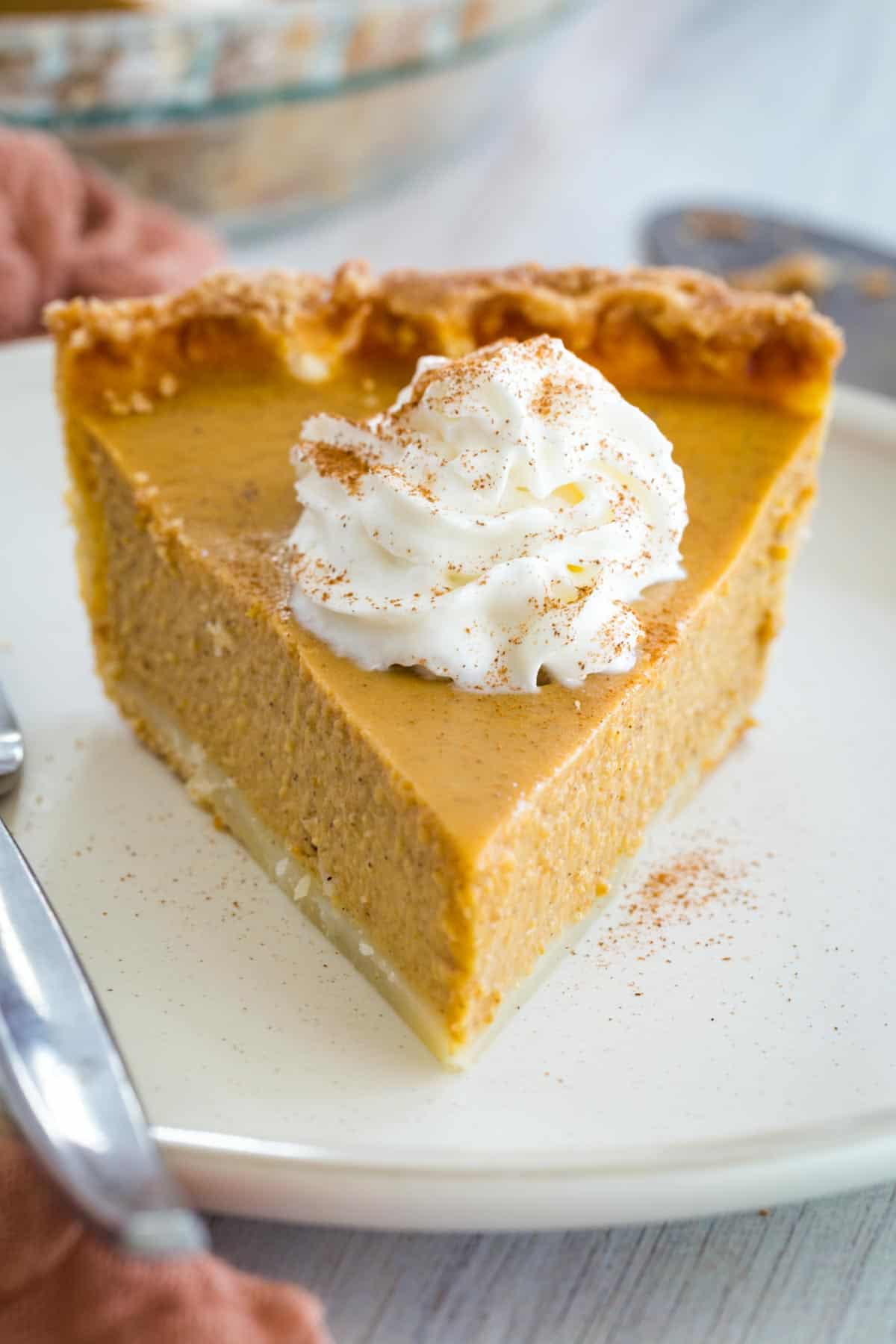 The Best Gluten Free Pumpkin Pie
It just doesn't feel like Thanksgiving without pumpkin pie. And if you're gluten-free, now you can enjoy this all-American treat along with everyone else! My version is made with my flaky and crispy gluten-free pie crust and has a custardy and firm filling that's totally wheat-free.
The best part about this recipe is that it's simple and straightforward. There's no need to pre-bake the pie crust (unless you want to, see below for details). And you won't have to worry about a cracked pie filling because there's no stretch to burst and cause those fissures. All that's missing is a generous dollop of whipped cream to top off a delicious gluten-free holiday feast.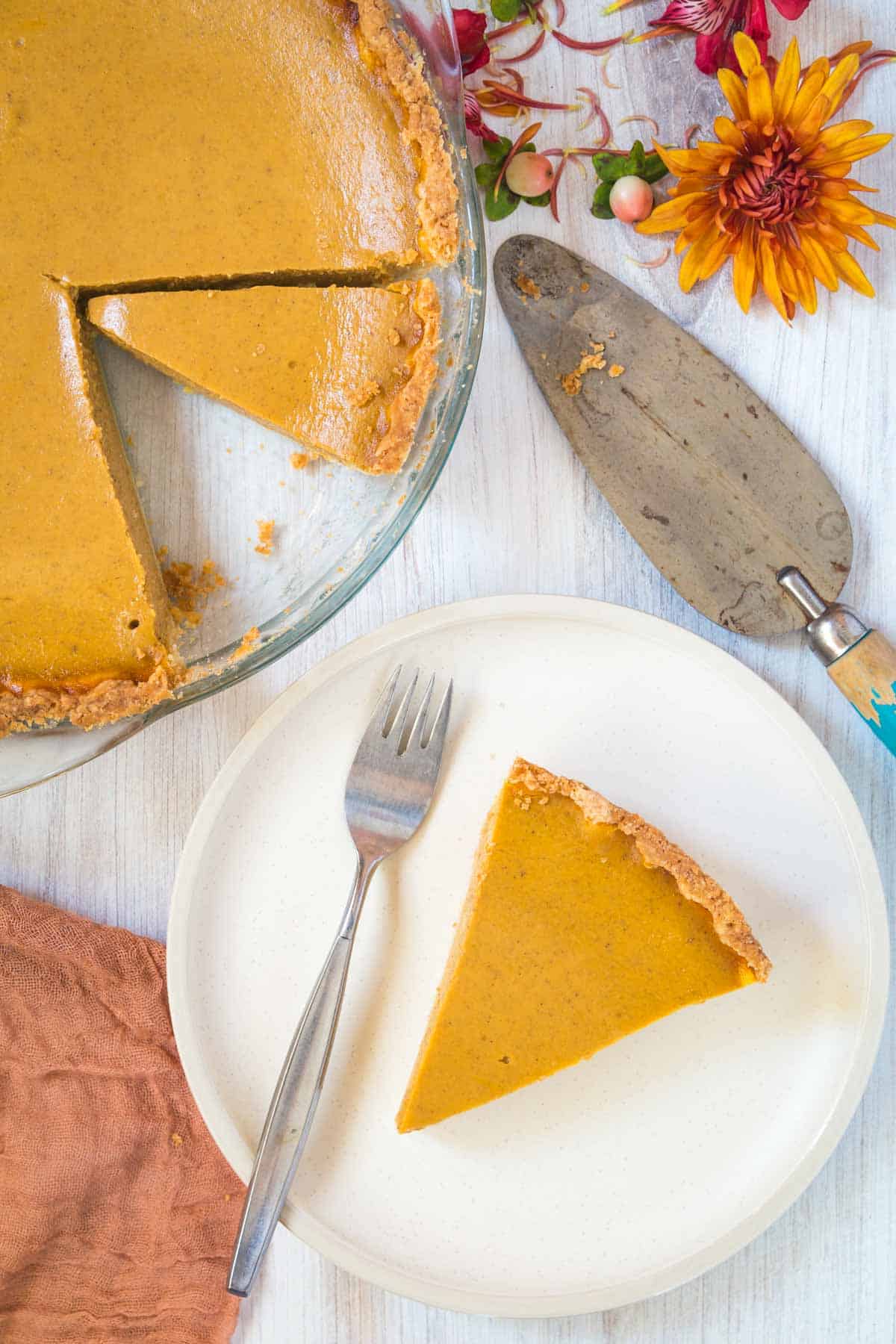 Ingredients
Here's what you need to make this easy gluten-free pumpkin pie recipe:
Gluten free pie crust. Use half of my gluten free pie crust recipe.
Canned pumpkin puree. Not pumpkin pie filling. You'll need one can for this recipe. Look for organic for the best flavor.
Light brown sugar. Measure the sugar by packing it tightly into a dry measuring cup.
Cornstarch. This thickens up the custard pie filling (and it's gluten free).
Kosher salt
Pumpkin pie spice. You can also make your own with a blend of cinnamon, nutmeg, cloves and allspice.
Eggs
Evaporated milk. This is a canned milk product that adds the rich, creaminess to your pie filling.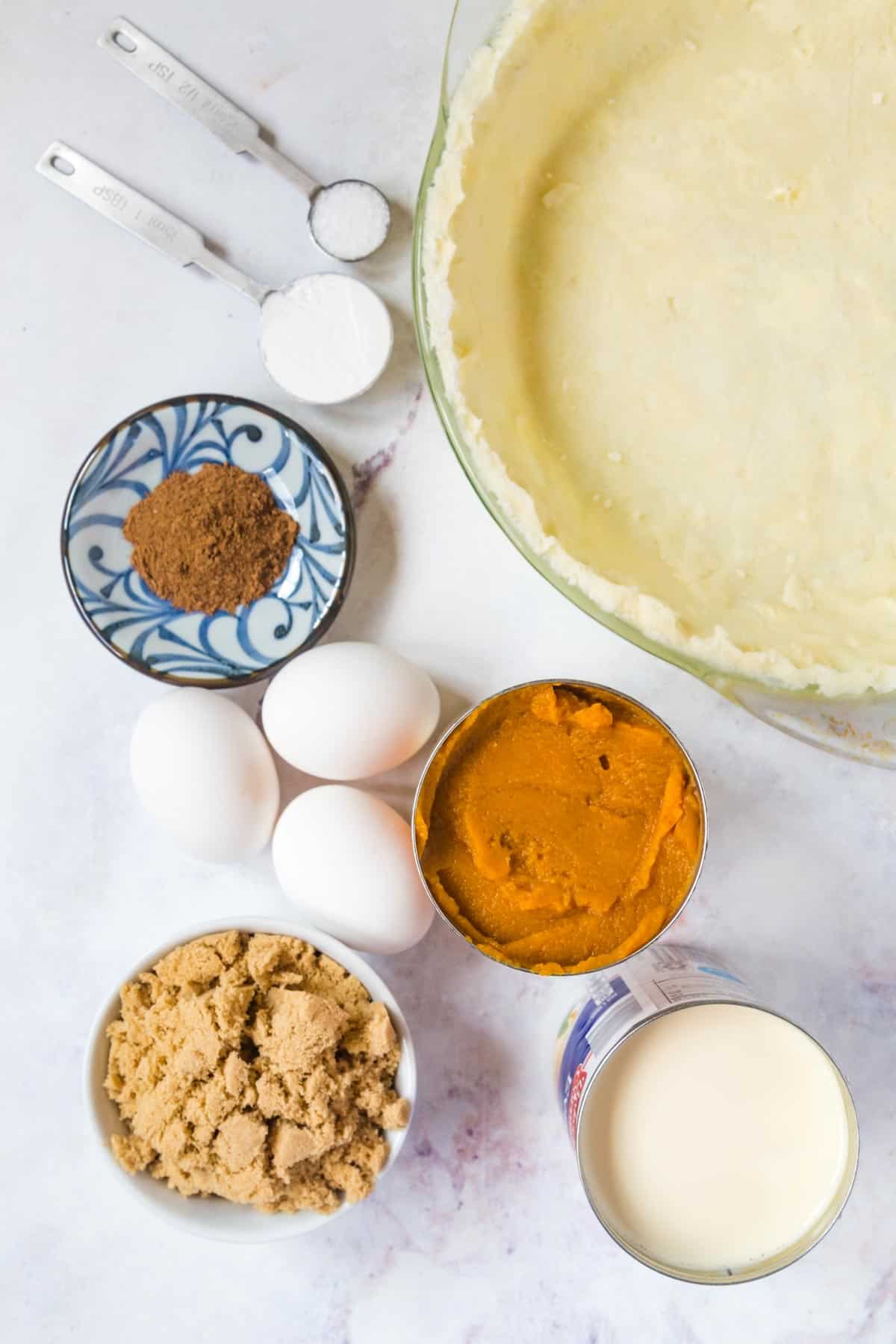 How to Make Gluten Free Pumpkin Pie
Follow these steps to make your Thanksgiving pie:
Prepare for baking: Preheat the oven to 350°F. Make the crust and roll it into a thin circle large enough to fit into your pie plate and up the sides.
Make the filling: In a mixing bowl, combine the pumpkin puree, sugar, cornstarch, salt, pumpkin pie spice, and eggs until uniform and smooth. Add the evaporated milk.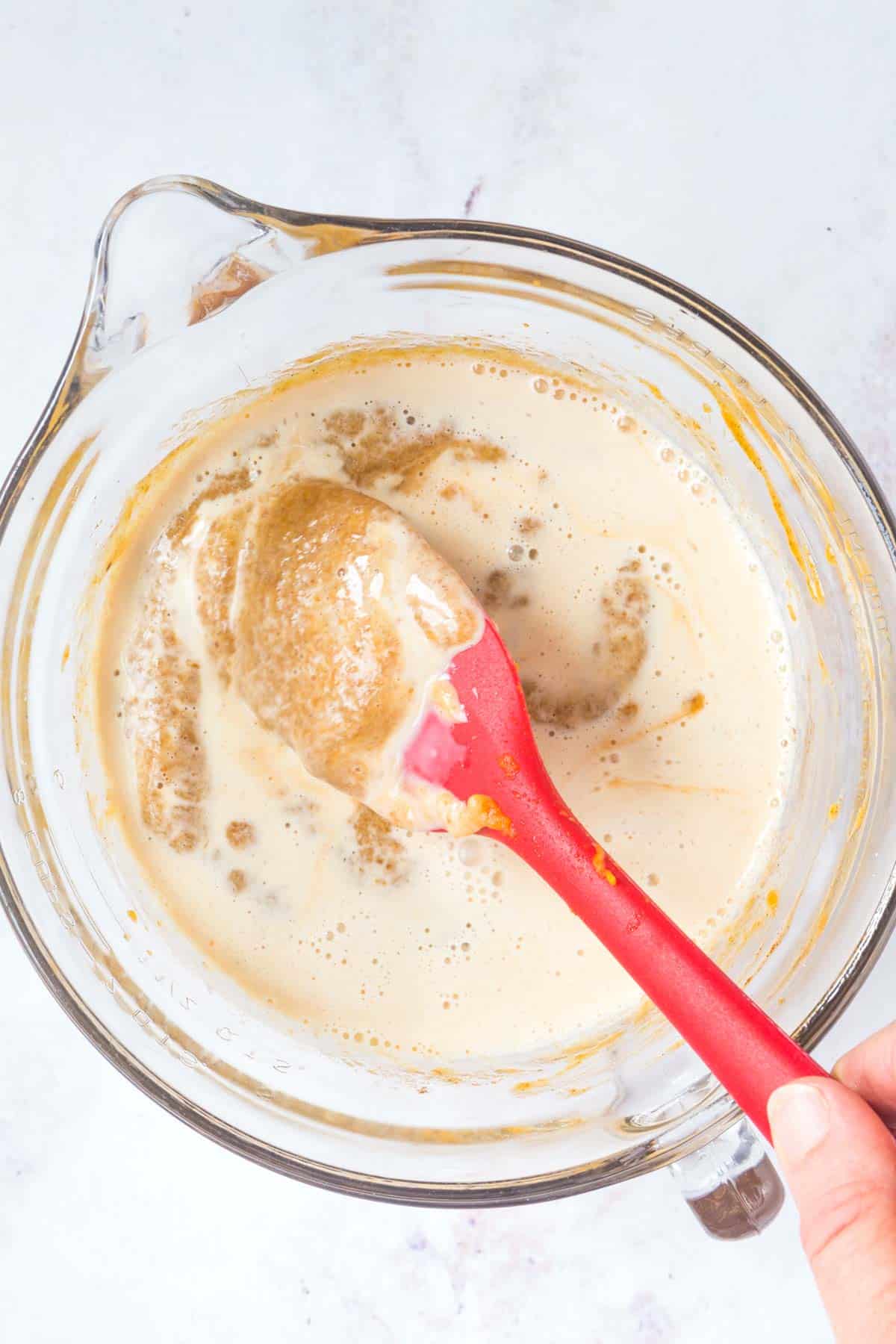 Fill the crust: Pour the pumpkin filling into the crust in the pie plate.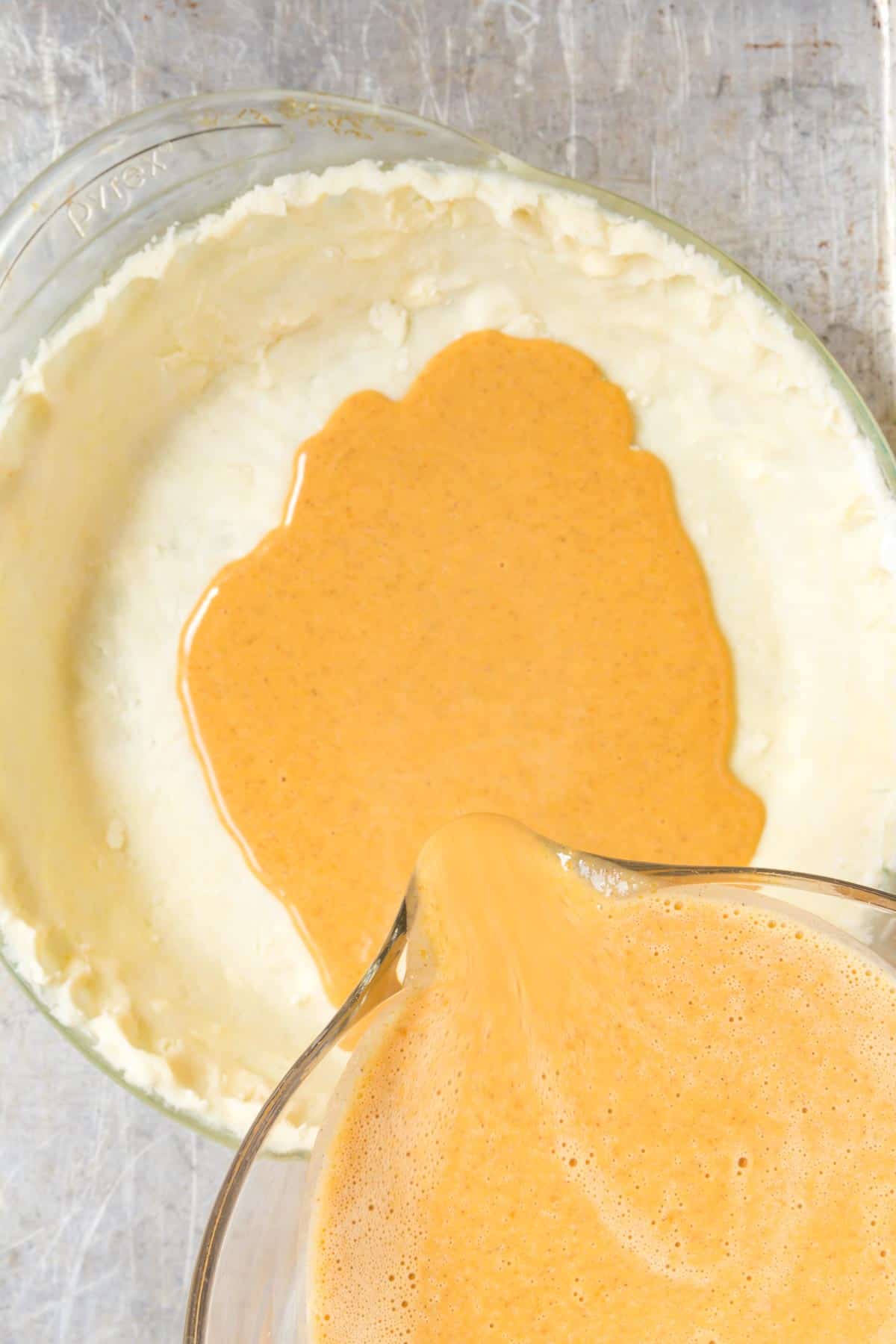 Bake: Bake the pie for 45 to 55 minutes, until the center is slightly jiggly.
Cool the pie: Let the pie cool to room temperature, then place it in the fridge for at least two hours.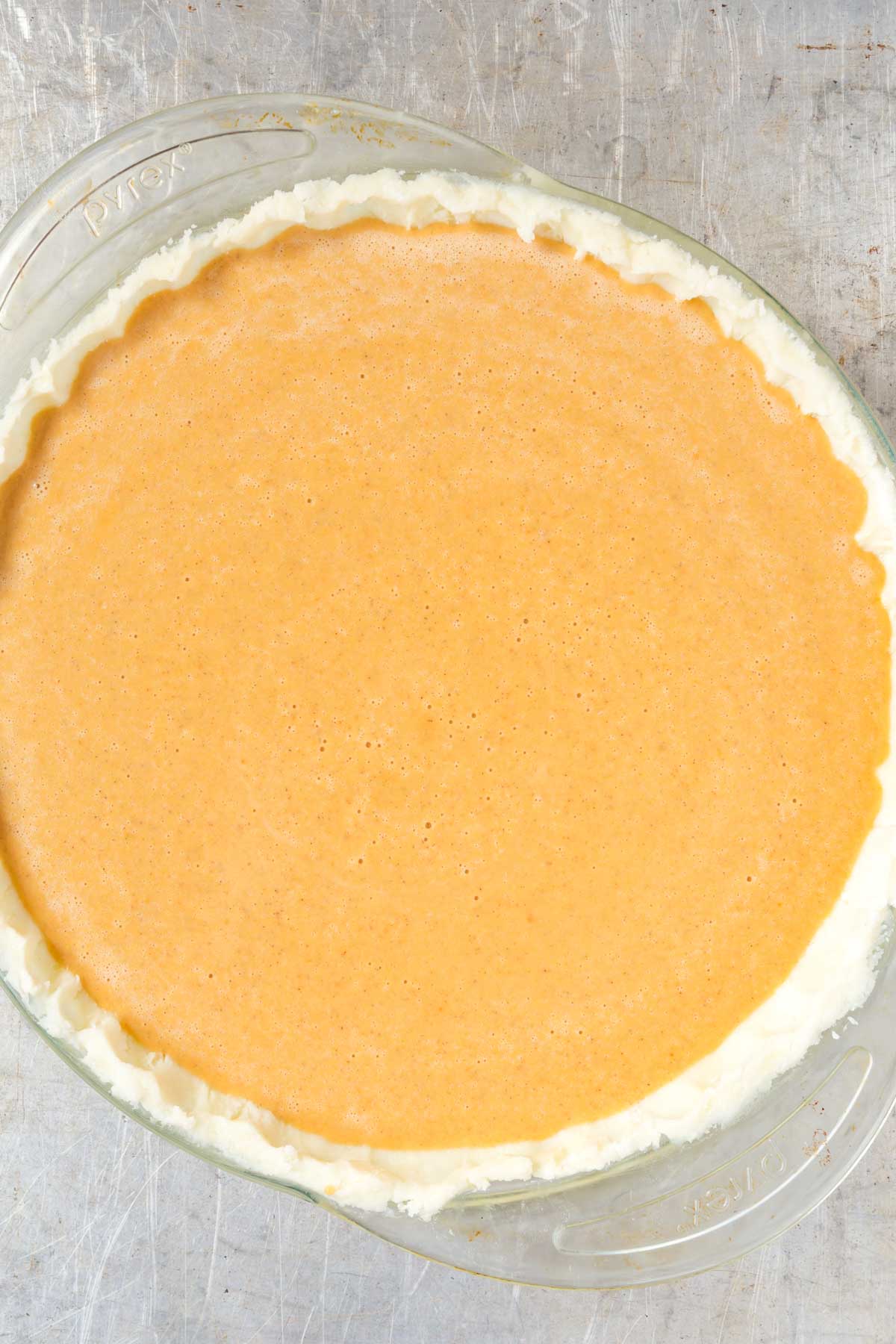 Tips for Success
Use these simple tips to make the perfect pumpkin pie with a crisp crust and a creamy center:
Remove the pie from the oven when it's soft in the center but firm halfway between the center and the crust.
If your crust starts to brown too quickly, cover the edges with alumium foil.
Let the pie cool fully before placing it in the fridge to set up.
Canned pumpkin puree is better than homeade because it has less moisture and will give you a thicker, firmer texture.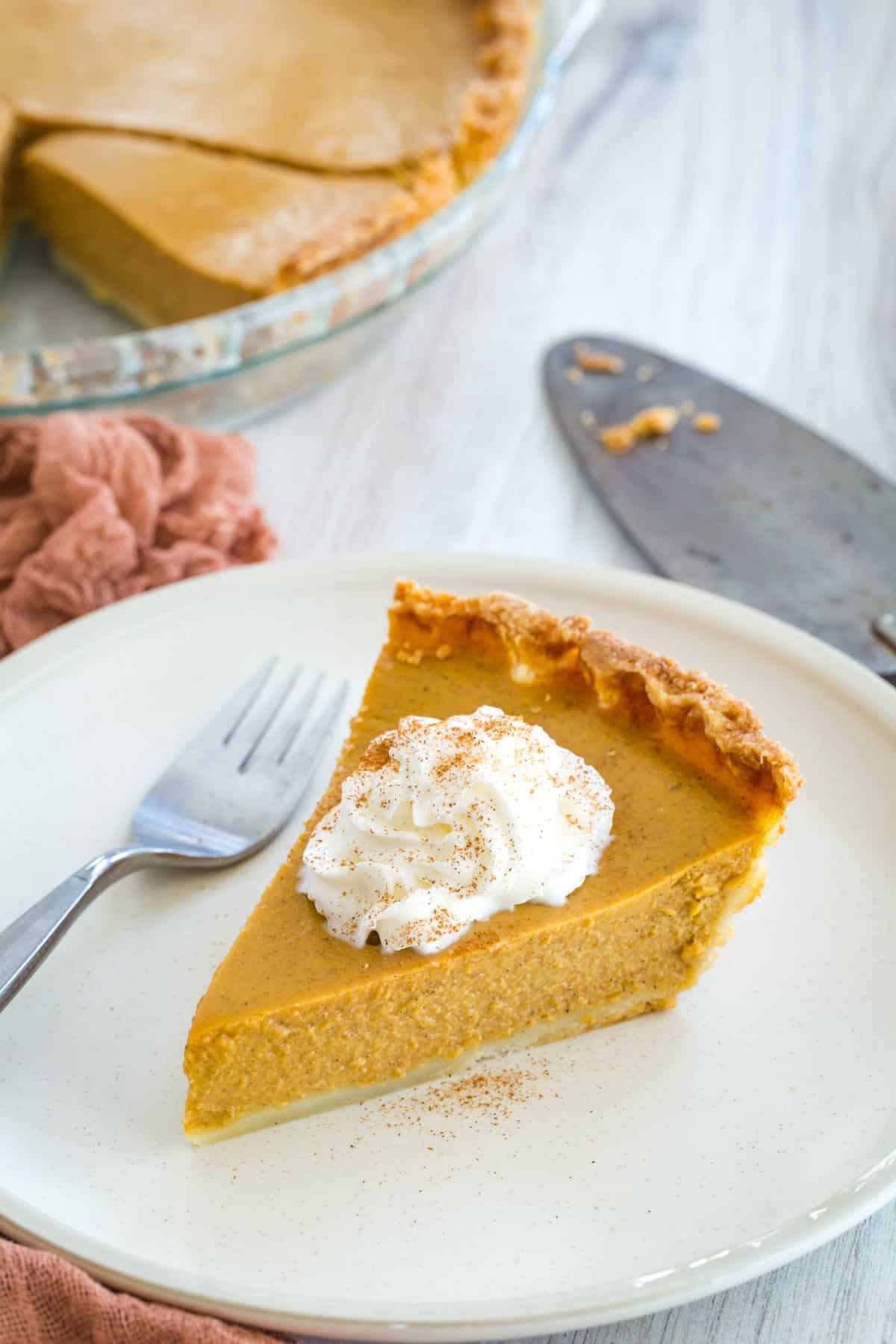 Do I Have to Pre-Bake the Crust for Pumpkin Pie?
You do not have to par-bake the crust for this pumpkin pie. However, if you want to be crispier, then follow the directions for parbaking in my pie crust recipe. But when you are baking the filled pie, be sure to check it after 30 minutes and cover the edges of the crust with foil or pie shields if they are getting too dark.
You'll also want to let the par-baked crust cool before adding the filling.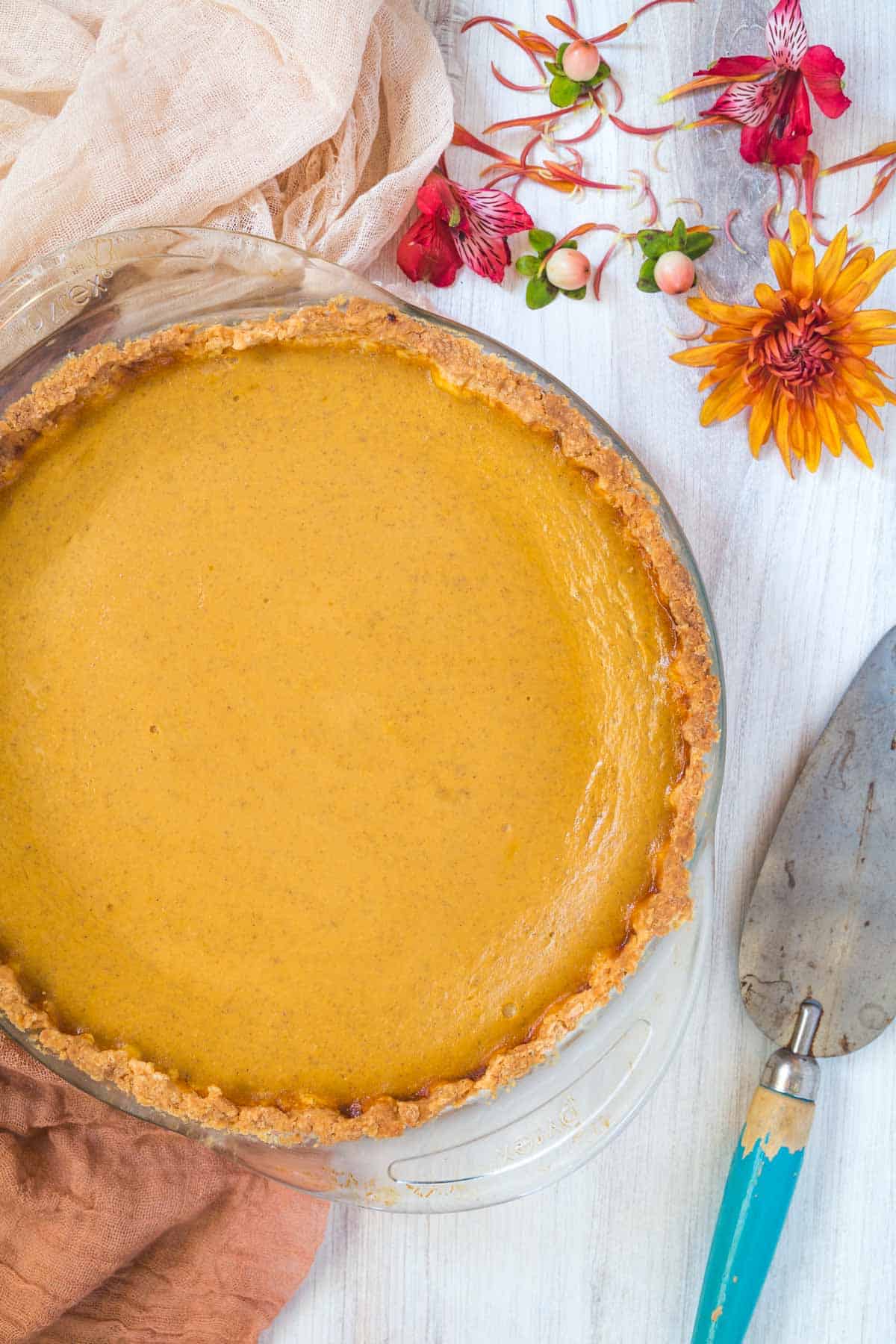 Serving Suggestions
You can serve pumpkin pie at room temperature or slightly chilled. I like to add a dollop of whipped cream on top. Vanilla ice cream is also a favorite! A mouthful of pumpkin pie, ice cream, and whipped cream is the ultimate experience!
Storing Pumpkin Pie
You can easily make your pie the day before you plan to serve it. Wrap it in plastic wrap and keep it in the fridge until you're ready to slice and serve. In fact, the pie needs at least two hours to firm up fully so it's ready for slicing.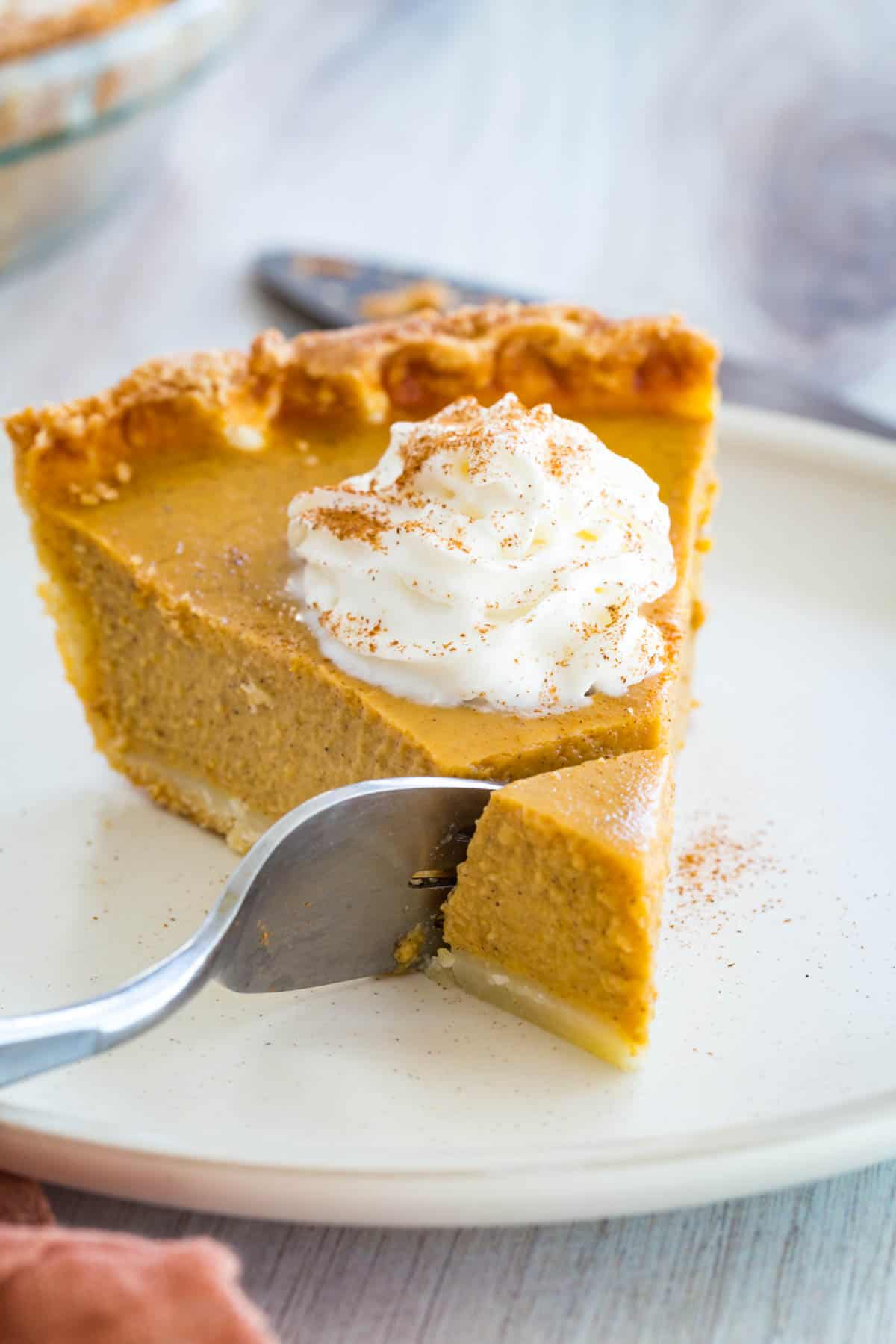 Can I Freeze Leftover Pie?
Yes, you can freeze your pie either before or after baking. If you're freezing it uncooked, assemble the pie and wrap it in several layers of plastic wrap. Place in the freezer for up to three months. Bake the pie directly from frozen, adding 10 to 15 minutes to the cooking time.
Note that if you're using a fragile pie pan, such as glass or ceramic, you should not transfer it directly from the freezer to the oven, it may crack.
To freeze the baked pie, let the pie come to room temperature before wrapping it tightly in plastic wrap and freezing for up to three months. Thaw the frozen pie in the fridge overnight and serve at room temperature.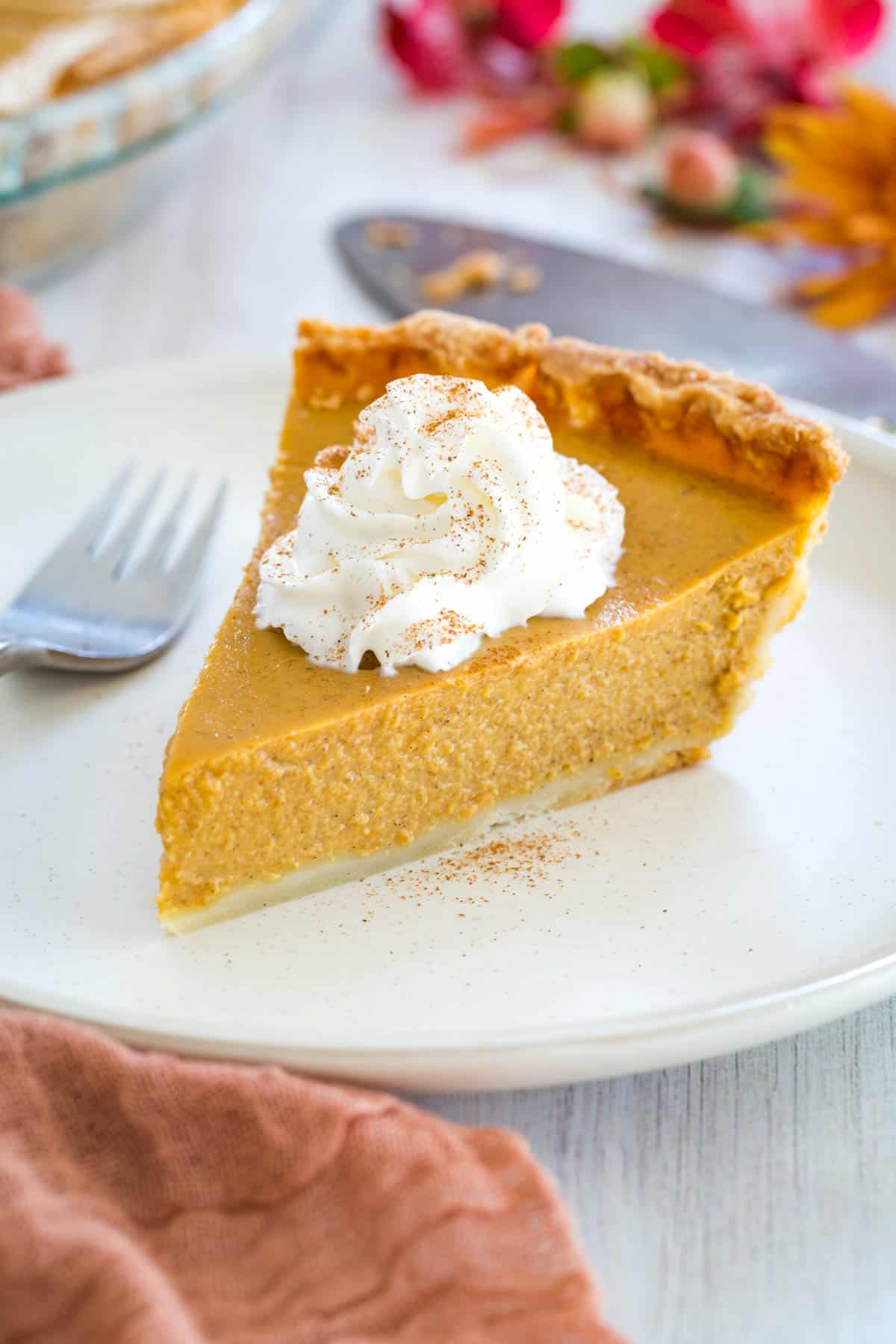 Variations
Skip the Crust: While a nice, flaky crust is wonderful, if you think the best part of the pie is the filling, then make Crustless Pumpkin Pie.
Make them Mini: You can also pour the filling into ramekins to make Mini Pumpkin Pies without Crust, kind of like little custards.
Use Your Leftovers: Any extra pie can be layered up with Greek yogurt in these Pumpkin Pie Parfaits.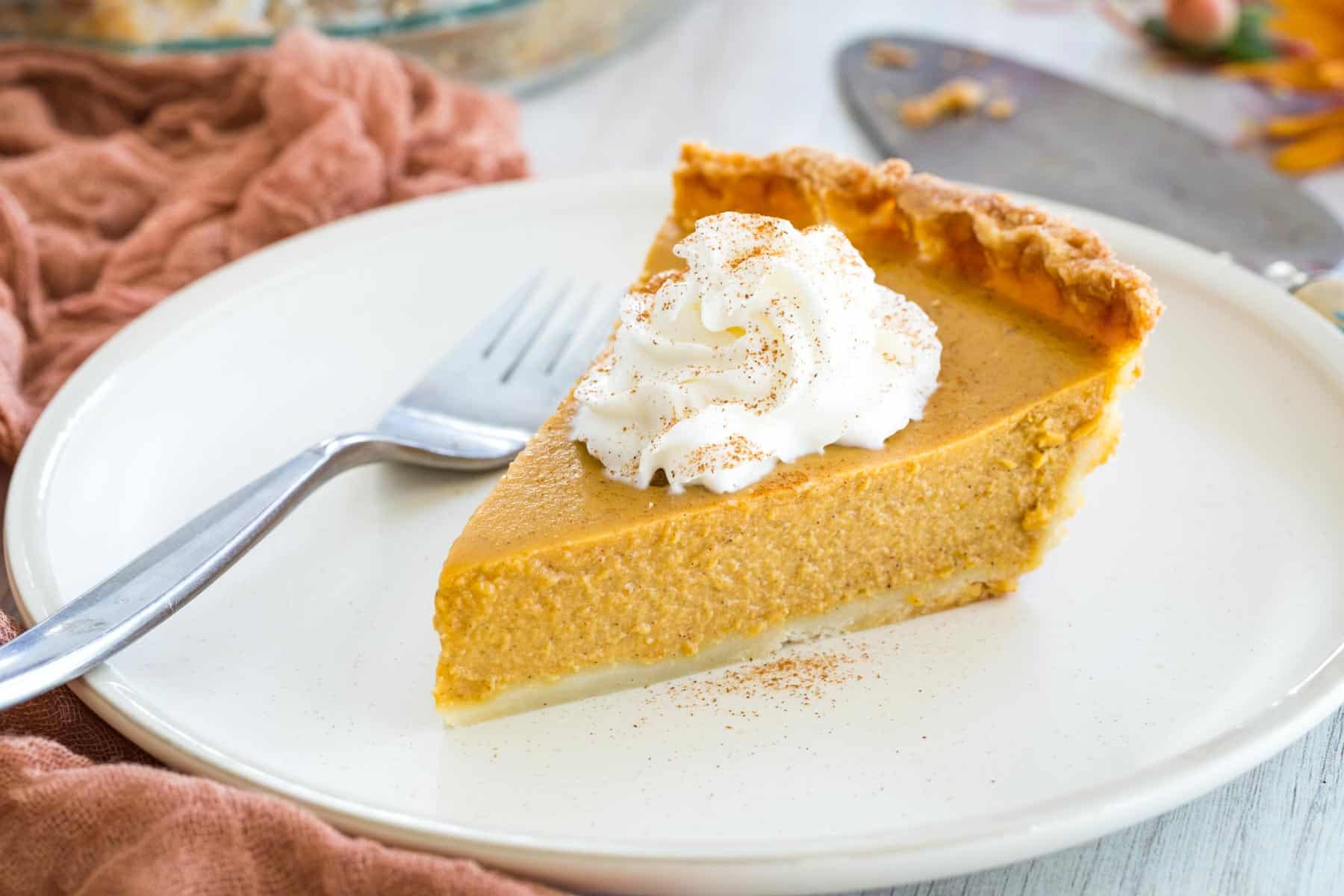 More Gluten Free Thanksgiving Menu Must-Haves
If you're planning a gluten-free Thanksgiving menu for a small group or a crowd, you'll want to include these favorite recipes: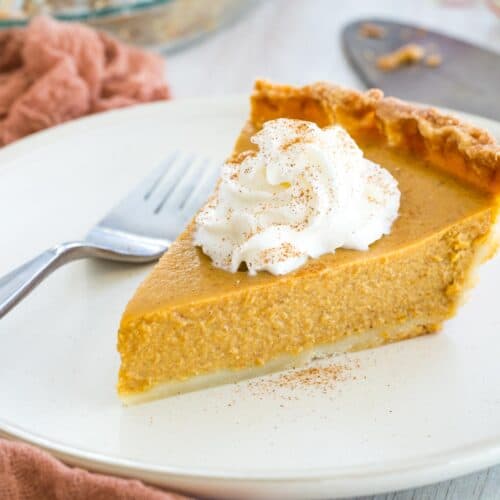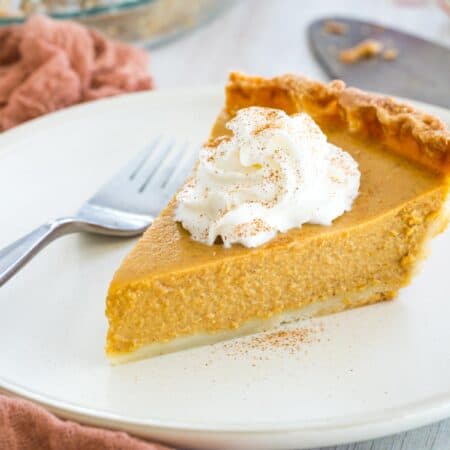 Gluten Free Pumpkin Pie
This gluten-free pumpkin pie has a flaky homemade crust and a creamy, custardy filling perfect for Thanksgiving!
Instructions
Preheat oven to 350°F. Roll out the pie crust and press it into the pie plate, as directed. Pabake if desired, see Note below.

In a large bowl, combine pumpkin, brown sugar, cornstarch, salt, pumpkin pie spice, and eggs and whisk until combined and smooth.

Add evaporated milk, and stir gently just until combined.

Pour the pumpkin pie filling into the pie crust.

Bake for 45-55 minutes, or until it is still slightly jiggly in the middle.

Remove from the oven, and let cool to room temperature.

Chill for at least two hours in the refrigerator, or until ready to serve.
Notes
However, if you want to be crispier, cover the crust with parchment paper and fill with pie weights (dried beans or rice also work well). Bake at 400°F for 15 minutes, then remove the pie weights. Prick the pie crust with a fork and bake for 5-10 more minutes before adding the filling. Be sure to check it after 30 minutes and cover the edges of the crust with foil or pie shields if they are getting too dark.
Nutrition Facts
Gluten Free Pumpkin Pie
Amount Per Serving
Calories 238
Calories from Fat 81
% Daily Value*
Fat 9g14%
Cholesterol 59mg20%
Sodium 260mg11%
Potassium 253mg7%
Carbohydrates 34g11%
Protein 6g12%
Vitamin A 6772IU135%
Vitamin C 3mg4%
Calcium 128mg13%
Iron 2mg11%
* Percent Daily Values are based on a 2000 calorie diet.
Categories:
More Gluten Free Pie Recipes