This post may contain affiliate links. Read my disclosure policy.
For a perfect combo of cool and crisp with warm and tender, you'll enjoy this healthy and hearty Roasted Brussels Sprouts Butternut Squash Salad with Maple Hot Bacon Dressing recipe.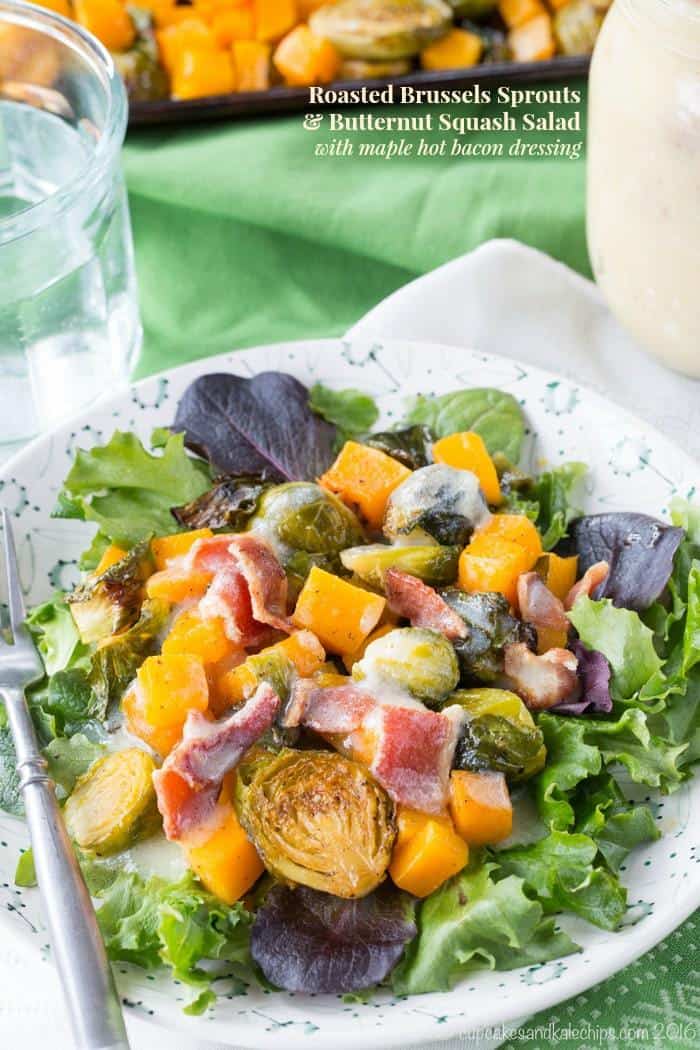 Is it absolutely essential that brothers always have to find something to fight about? Or just siblings in general? Since my sister is ten years younger than I am, and my brothers, whom I never lived with, are even younger than that, I have no real firsthand knowledge of true sibling dynamics.
Can I tell you what the major brotherly battles were over this week? The colors of their cups and plates.
Seriously people. Because apparently water tastes different whether it is coming out of the purple cup versus the orange cup. And this doesn't have to do with boys not wanting to use traditionally "girly" colors. Sometimes bo
th of them want the pink or the purple cup. I am at a loss.
I'll put the same exact fruit and waffles on the green plate and the yellow plate, and Little Dude will scream that he wanted the blue plate. If I get him the blue plate, The Bug will insist that he also needs the blue plate. The other morning, Little Dude was having such a "three-nager" fit because there was no way he could possibly eat food off of any other color plate than the one his brother had, as soon as my speed-eater Bug finished his meal, I told him to hand his plate to his little brother so that he could transfer his food onto the approved-color plate. You call that gross. I call it problem solving.
A few days ago at dinner time when I tried to give them back the color cups they had in the morning, they decided they both wanted the blue cup. We only have one blue cup. When I told The Bug that the blue cup was Little Dude's that day since he had it at breakfast, he lost his marbles. I had given him the orange cup that morning. Nine time out of ten, orange is his favorite color. But in that moment, he absolutely had to have the blue cup. I had to send him to his room to calm down before he was welcome back at the dinner table.
Because of the COLOR. OF. HIS. CUP.
I'm about to throw all of the colored plates and cups away and buy white. That way when they start demanding a specific color, I can tell them they have it because, by definition, white is the combination of ALL THE COLORS ON THE SPECTRUM.
Bam – #momwin!
But let me tell you, regardless of what color plate you put this on, it tastes amazing…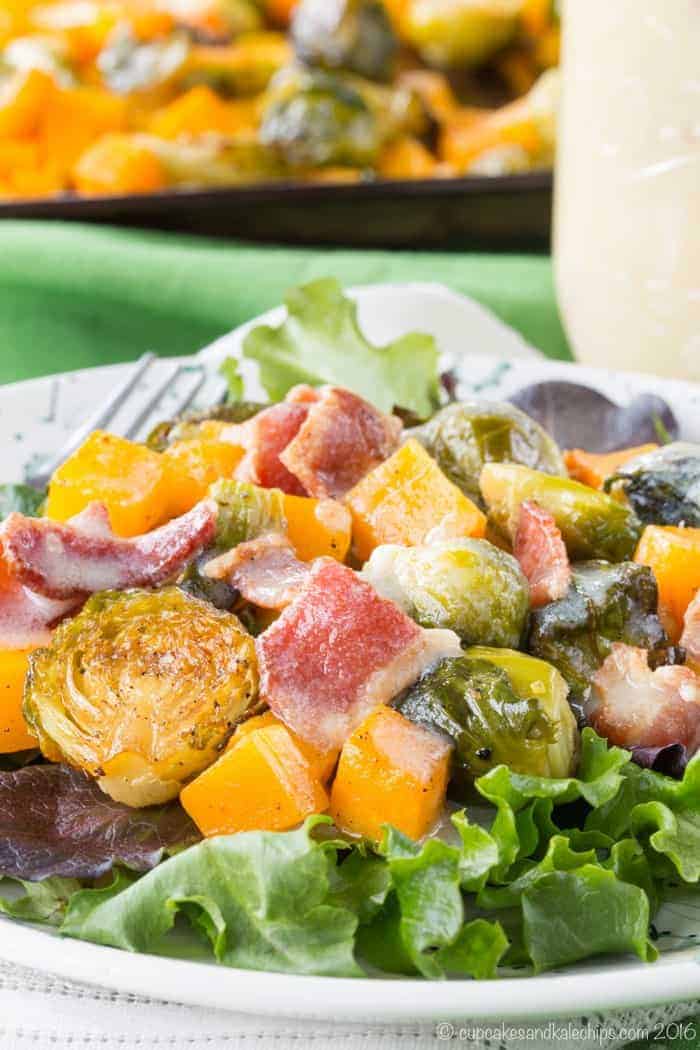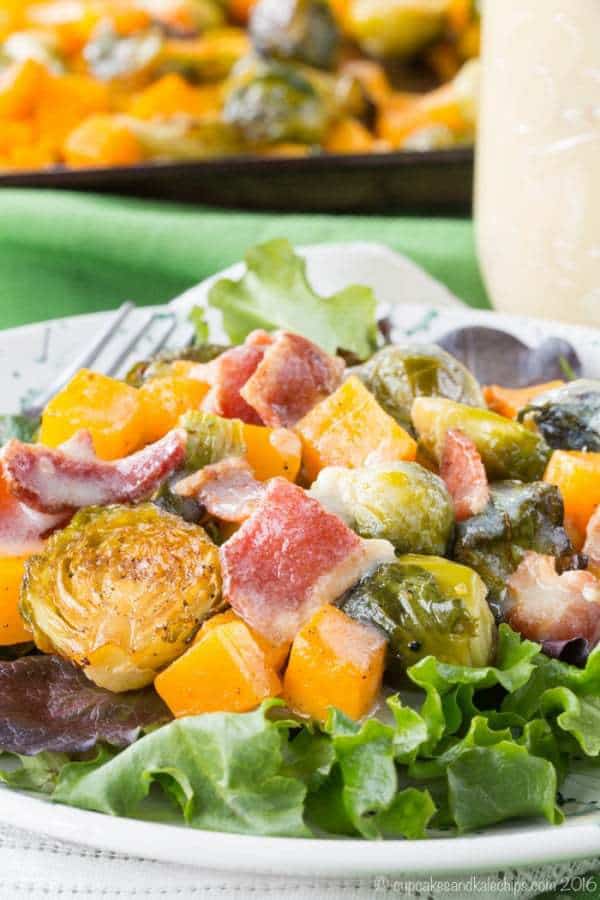 This Roasted Brussels Sprouts and Butternut Squash Salad will have you craving your leafy greens even in the winter. Remember that Maple Hot Bacon Dressing I posted the other day? So when you cook the bacon, save some of the bacon grease and then use it to, wait for it… roast the sprouts and squash. Yes people, brussels and butternuts roasted in bacon fat and maple syrup till perfectly tender and toasty. Now just try to refrain from eating it all straight off the pan, dump it on top of your plate of lettuce, then slather with that creamy, warm, sweet, tangy, smoky dressing.
I may or may not have eaten this for both lunch and dinner on the same day. And I was hoping I might be able to have it for lunch the next day, but, much to the chagrin of my anti-Brussels Hubby, the boys were devouring the bacon-y roasted Brussels sprouts almost as fast as I was. I knew they loved roasted butternut squash, but now that I know they love roasted Brussels sprouts, The Hubby doesn't have a leg to stand on with his campaign to ban them from the household. He is now outnumbered. Next step – conversion. I will make him a sprout supporter! Hot Bacon Dressing may be just the way to do it.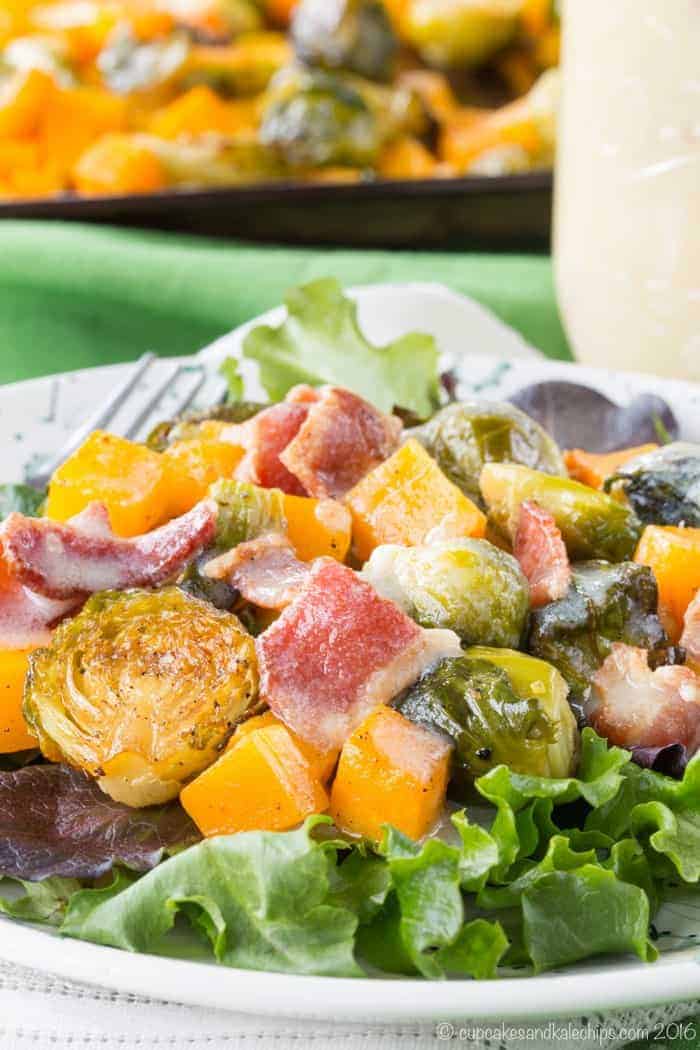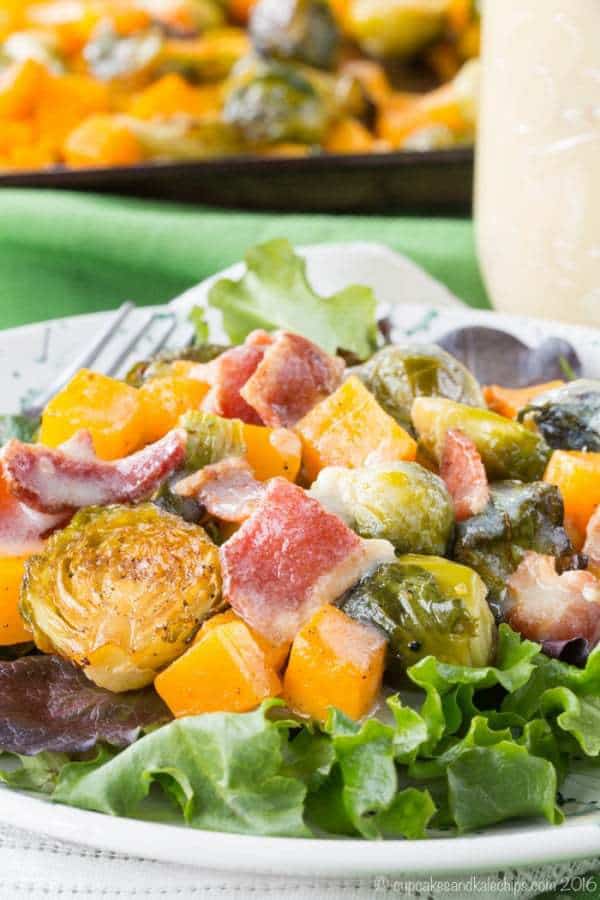 Then check out the rest of the Winter Salad recipes at the bottom of this post!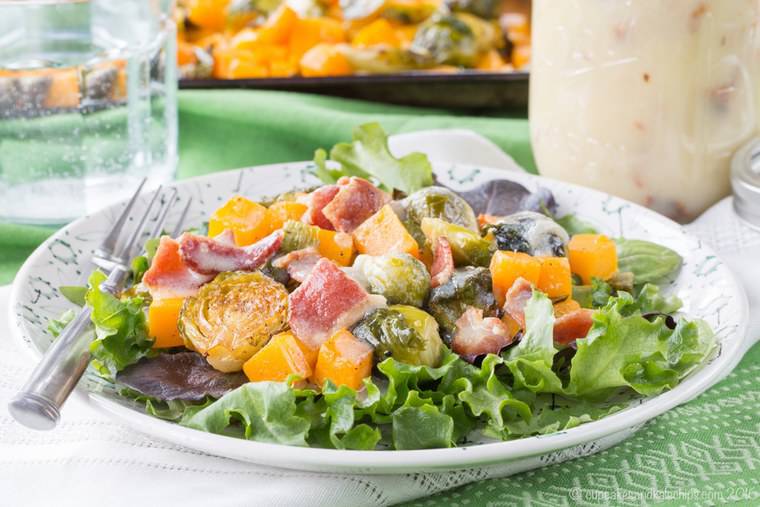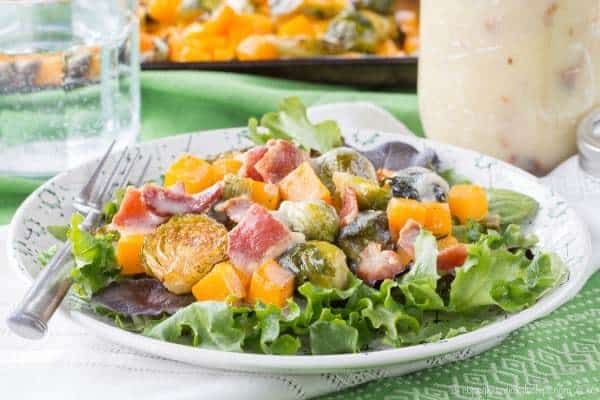 Here are some more winter salads…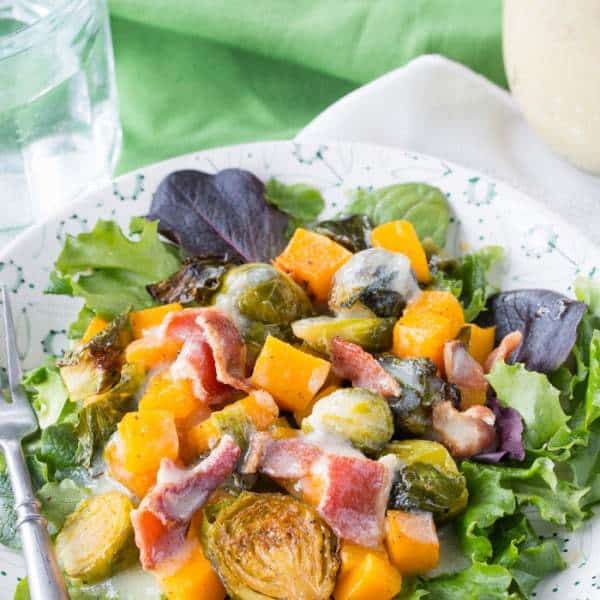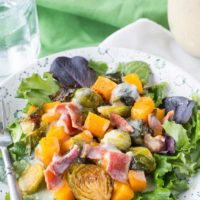 Roasted Brussels Sprouts and Butternut Squash Salad with Maple Hot Bacon Dressing
The combination of cool and crisp with warm and tender, all topped with a sweet and savory dressing will have you craving salad any time of the year.
Ingredients
For the dressing:
6

slices

bacon

I used center cut. Regular bacon or turkey bacon works as well

2

cups

water

¼

cup

real maple syrup

2

Tablespoons

cornstarch

1

egg

½

teaspoon

salt

¼

cup

cider vinegar
For the salad:
1

lb

Brussels sprouts

trimmed, larger ones cut in half

2

lb

butternut squash

peeled, seeded and cut into half inch cubes

2

Tablespoons

bacon grease

or olive oil

1

Tablespoon

maple syrup

salt and pepper

to taste

4

cups

mixed salad greens
Instructions
For the dressing:
Cook 6 slices of bacon in a large skillet. Move from pan and set aside on paper towels to drain. Reserve about 2 Tablespoons of the bacon grease in the skillet for the vegetables.

In a small saucepan, whisk together the water, syrup, cornstarch, egg, and salt.

Heat over medium low heat to a simmer, then cook, whisking frequently, until it is hot and starts to thicken. Increase the heat and allow to boil slightly to thicken completely.

Remove pan from the heat and stir in the vinegar and crumbled bacon. Serve while still warm, or reheat on the stove or in the microwave.
For the salad:
Preheat oven to 375°F. Lightly coat a baking sheet with olive oil or cooking spray.

Add the Brussels sprouts and butternut squash to the pan with the reserved bacon grease, add the maple syrup, season with salt and pepper and toss to coat evenly. Saute for a couple minutes.

Transfer the vegetables to the prepared baking sheet. Roast for 30-40 minutes, stirring once halfway through the cooking time, or until tender and golden brown.

Place 1 cup salad greens on each plate and top with the roasted Brussels sprouts and butternut squash, then pour dressing over the top.
Nutrition Facts
Roasted Brussels Sprouts and Butternut Squash Salad with Maple Hot Bacon Dressing
Amount Per Serving (1 g)
Calories 459
Calories from Fat 189
% Daily Value*
Fat 21g32%
Cholesterol 69mg23%
Sodium 592mg25%
Potassium 1456mg42%
Carbohydrates 59g20%
Protein 12g24%
Vitamin A 25475IU510%
Vitamin C 153.3mg186%
Calcium 199mg20%
Iron 3.8mg21%
* Percent Daily Values are based on a 2000 calorie diet.
Categories:
And here are all of the #SundaySupper Winter Salads…