This post may contain affiliate links. Read my disclosure policy.
Basic Roasted Butternut Squash is an easy side dish recipe when you need a vegetable to go along with your meal. Nothing fancy or complicated but it'll become a staple in your house, whether to eat on its own alongside chicken or steak, or to use in other recipes. It's always helpful to know basic kitchen techniques, like how roast butternut squash.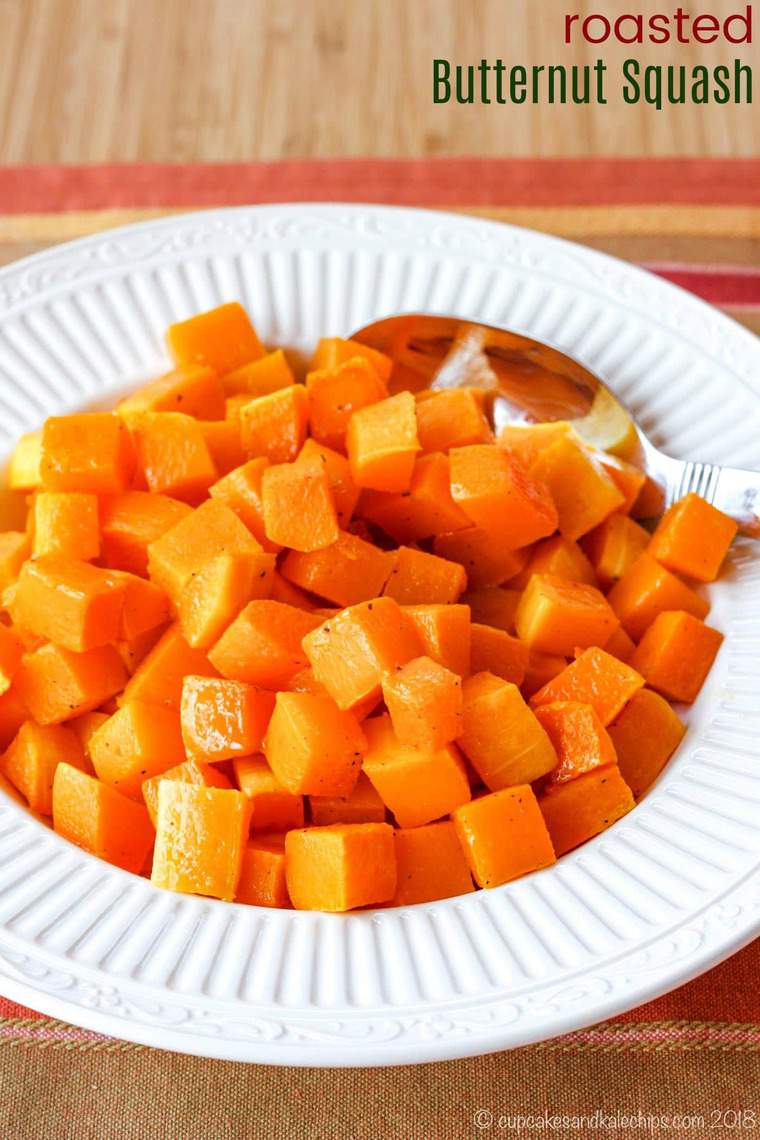 How to Roast Butternut Squash
Everyday on in the No-Fuss Food and Fun group on Facebook, I ask what people are making for dinner. Part of it is to have a community where people give each other ideas, and inspire me, as well. But part of it is also to make everyone feel better when we just aren't in the mood, just haul out the leftovers, opt for takeout because, or whatever because, you know, we all have those days. Even food bloggers. And yet, when I'm telling what I am making, I always hesitate a bit before I type something like hot dogs or frozen veggies or scrambled eggs. I don't know if it is because I am a food blogger or just your average wannabe supermom, but I don't cut myself the slack that I think everyone deserves. We are all busy, right?
In fact, I was at the grocery store on Sunday and texted The Hubby to see if he preferred pasta or pizza, totally intending to get spaghetti squash or make zucchini noodles for myself, and pick up a box of whole wheat pasta or some whole wheat pizza dough for the guys, and I was going to pull some sauce out of the freezer. Well he tells me he is craving Alfredo. I said that I don't know how to make it. Not that I couldn't make it, but I didn't want to have to research a recipe in the middle of the grocery store, figure out how to lighten it up because I didn't want something sooo heavy that particular night, then backtrack to get the rest of the ingredients in the aisles I already went through. I mean, I've made Pumpkin Cauli-Fredo and Butternut Squash Macaroni and Cheese, so I'm sure I could have made a healthier creamy sauce, but I didn't think The Hubby really wanted pureed veggies as a sauce, and I have to cut him a break every once in awhile. Plus, I really just wanted to throw something together, not steam and sauté and puree and season. Or even really think. So I…
Bought a jar of alfredo sauce! *shudder* Albeit "light" alfredo sauce, because, again, I didn't want a goopy calorie bomb. And I have to admit, it wasn't that bad!
While we all know that homemade, real food is better for our bodies, sometimes even food bloggers and wannabe health nuts need a little help from the store. Especially when The Hubby throws a random craving at you at the last possible second. And you know what? It was probably better than ordering Fettuccine Alfredo from the pizza joint down the street. Plus, I was even able to add some peas and carrots without protestations.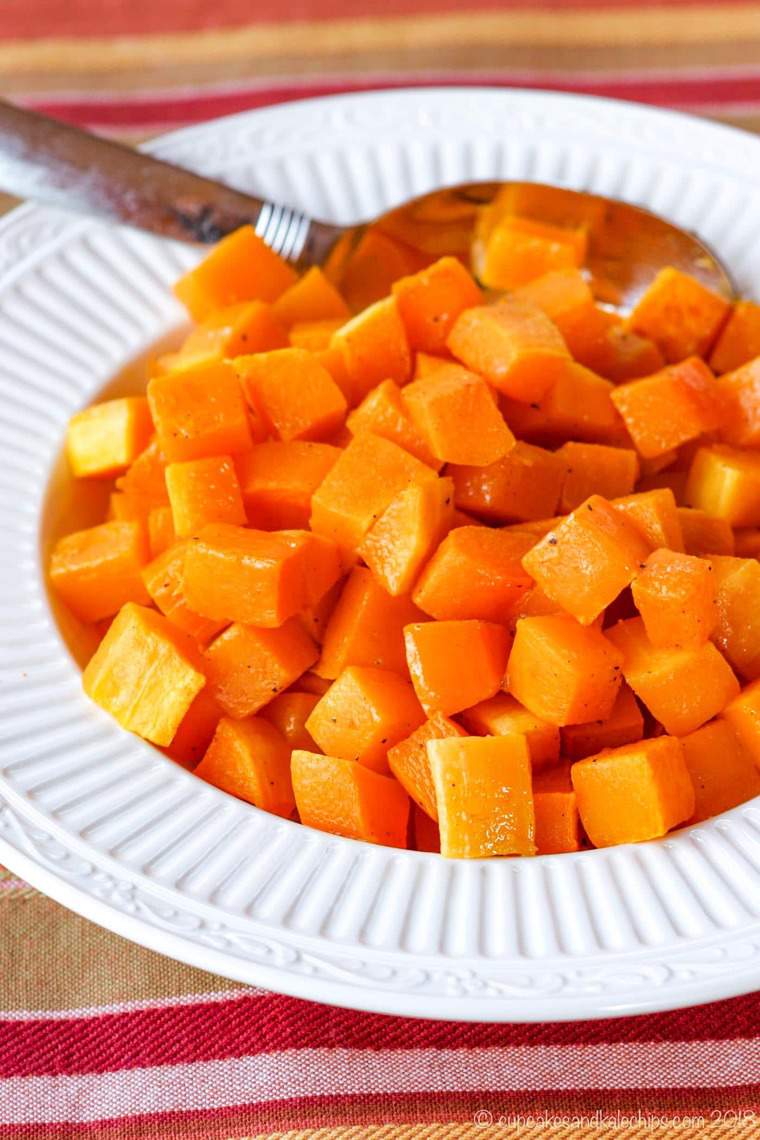 The other thing I always hesitate to do is to just give you basic recipes like this Basic Roasted Butternut Squash.
You know, the simple sides I cook all the time, because as much as I love Cauli-tots, I don't have that kind of time everyday, and I'm more likely to just make Basic Roasted Cauliflower. But, you know, I take for granted that people either know how to make those things, or there are a million resources out there.
I also feel like those of you that have been reading along for awhile have come to expect something more. Well, there will be something more. I mean, you can eat this squash just as is, because simply roasting veggies caramelizes their natural sugars and just brings out all kinds of flavors. It really does make a simple side dish for a steak or perhaps Lemon Herb Slow-Cooker Roast Chicken.
But you can also toss it in to other recipes, like Pomegranate Butternut Squash Quinoa. It's fabulous on top this Roasted Butternut Squash Pomagranate Goat Cheese Salad. I've used to make a gorgeous appetizer, these Roasted Butternut Squash Pomegranate Goat Cheese Crostini. And yes, I've even used it on top of Roasted Butternut Squash Prosciutto Pesto Pizza.
Plus, I just thought it looked pretty, and wanted to photography the orange, glistening jewels. See – win win win!!!
And for those of you that are new to my site, maybe you are one of the thousands and thousands of people who Google "roasted butternut squash", and somehow you ended up here. There are magical mystery ways I can find out this kind of information. Welcome! Go browsing. I promise, I do more than just roast veggies.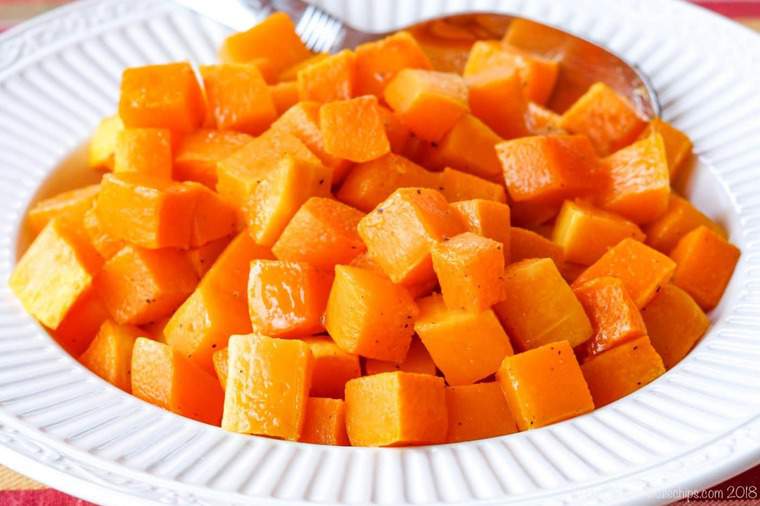 Sometimes I do get a little fancier with my roasted vegetables…
But my friends can help you with more of your basic veggie prep. Rachel Cooks shows you how to cook acorn squash. Dinners, Dishes, and Desserts gives all the tips for how to cook mushrooms. And it doesn't get simpler than Fresh Green Beans from Southern Plate.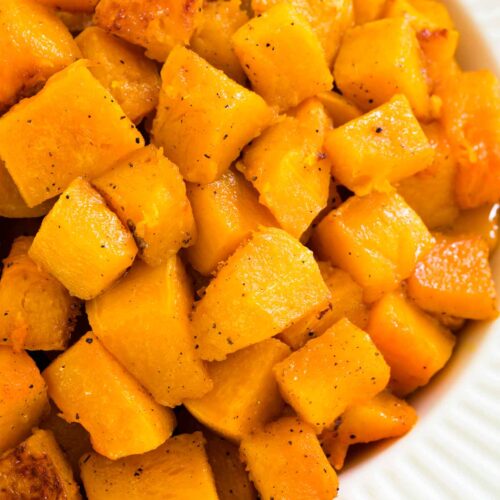 Easy Roasted Butternut Squash
Roasted Butternut Squash is a simple, healthy side dish that comes together quickly and easily in the oven. It's perfect tucked into salads, served alongside roasts, and definitely has a place on the Thanksgiving table.
Ingredients
3-4

pounds

butternut squash

1

tablespoon

olive oil,

plus ,more for coating the pan

½

teaspoon

kosher salt

¼

teaspoon

black pepper
Instructions
Preheat your oven to 450°F and lightly coat a baking sheet with olive oil by using a spritzer or pouring on a small amount (½ -1 teaspoons) on the pan and spreading it in a thin layer.

Wash and dry the squash. Slice off each end and peel the squash. Cut off the bulb end, then cut it in half and use a spoon to scrape out the seeds. Cut the squash into ½ -inch cubes.

Place the squash cubes on the baking sheet and drizzle with olive oil, then sprinkle with salt and pepper. Toss to coat and spread into a single layer.

Roast at 450°F for 20 minutes, then gently toss and again spread into a single layer.

Roast for another 10-20 minutes, or until tender and caramelized.
Nutrition Facts
Easy Roasted Butternut Squash
Amount Per Serving (1 serving)
Calories 123
Calories from Fat 27
% Daily Value*
Fat 3g5%
Sodium 203mg8%
Potassium 799mg23%
Carbohydrates 27g9%
Protein 2g4%
Vitamin A 24109IU482%
Vitamin C 48mg58%
Calcium 109mg11%
Iron 2mg11%
* Percent Daily Values are based on a 2000 calorie diet.
Categories:
Enjoy!

[simple-recipe:6456a]