This post may contain affiliate links. Read my disclosure policy.
Roasted Butternut Squash Quinoa is tossed with a simple balsamic dressing and pomegranate seeds for a colorful, flavorful, and healthy side dish. You can enjoy it hot or cold, and even add goat cheese or your favorite protein to make it a satisfying meal. A great meal prep recipe to make ahead.
Originally published December 6, 2012. Updated on January 14, 2021 with new photos and more helpful information about the recipe.
Butternut Squash Quinoa Recipe
Quinoa is a healthy gluten free whole grain packed with fiber and protein. But if your family is anything like mine, sometimes it can be a challenge to get them to eat it. Or maybe you are just stumped on what to do with it.
Quinoa is super simple to make in a pot on the stove, as instructed on most packages. But it can also be made in your Instant Pot, slow cooker, rice cooker, or even the microwave.
While it can be kind of boring on its own, it's truly a blank slate. That's why I decided to pair it with two ingredients I obsess over in the fall and winter – pomegranates and butternut squash!
Toss the quinoa, butternut squash, and pomegranate seeds together with a simple balsamic dressing and you can enjoy it as a hot side dish. Or store it in the fridge to have for lunch all week because it makes a delicious cold salad.
Enjoy the basic vegan version or sprinkle it with some goat cheese!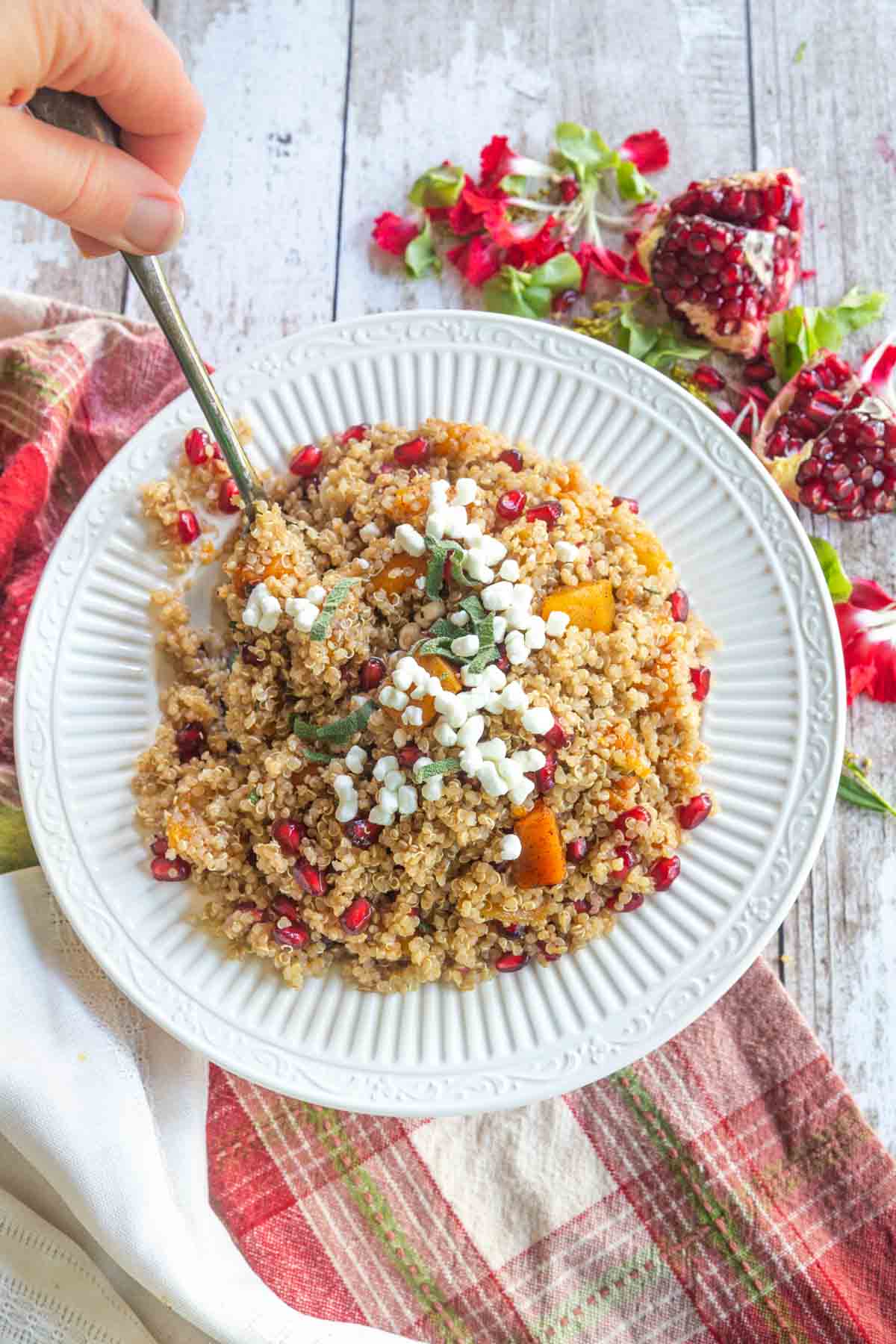 The Inspiration
This recipe was inspired by the Farro Salad with Pomegranate, Goat Cheese and Walnuts from Carrie's Experimental Kitchen. When I first saw the recipe, I fell in love with the flavors, colors, and textures she used. But with the wheat allergy, farro isn't something I can eat. So I thought I would just make the exact recipe, but sub in quinoa.
Well, I made a few other changes as well.
Making a Quinoa Salad
As I said, I turned the farro dish into a quinoa salad. I had some butternut squash, so couldn't resist throwing that in, but I chose to skip the walnuts.
And I wanted to serve it as a warm side dish, so I didn't want to stir in the goat cheese – I just sprinkled it on top at the table. But that's completely optional. It's delicious without the goat cheese if you prefer the dairy-free option.
The tangy crunch of pomegranate, the subtle sweetness of the squash against the balsamic mixed into the nutty quinoa is a flavor combination that you are going to love.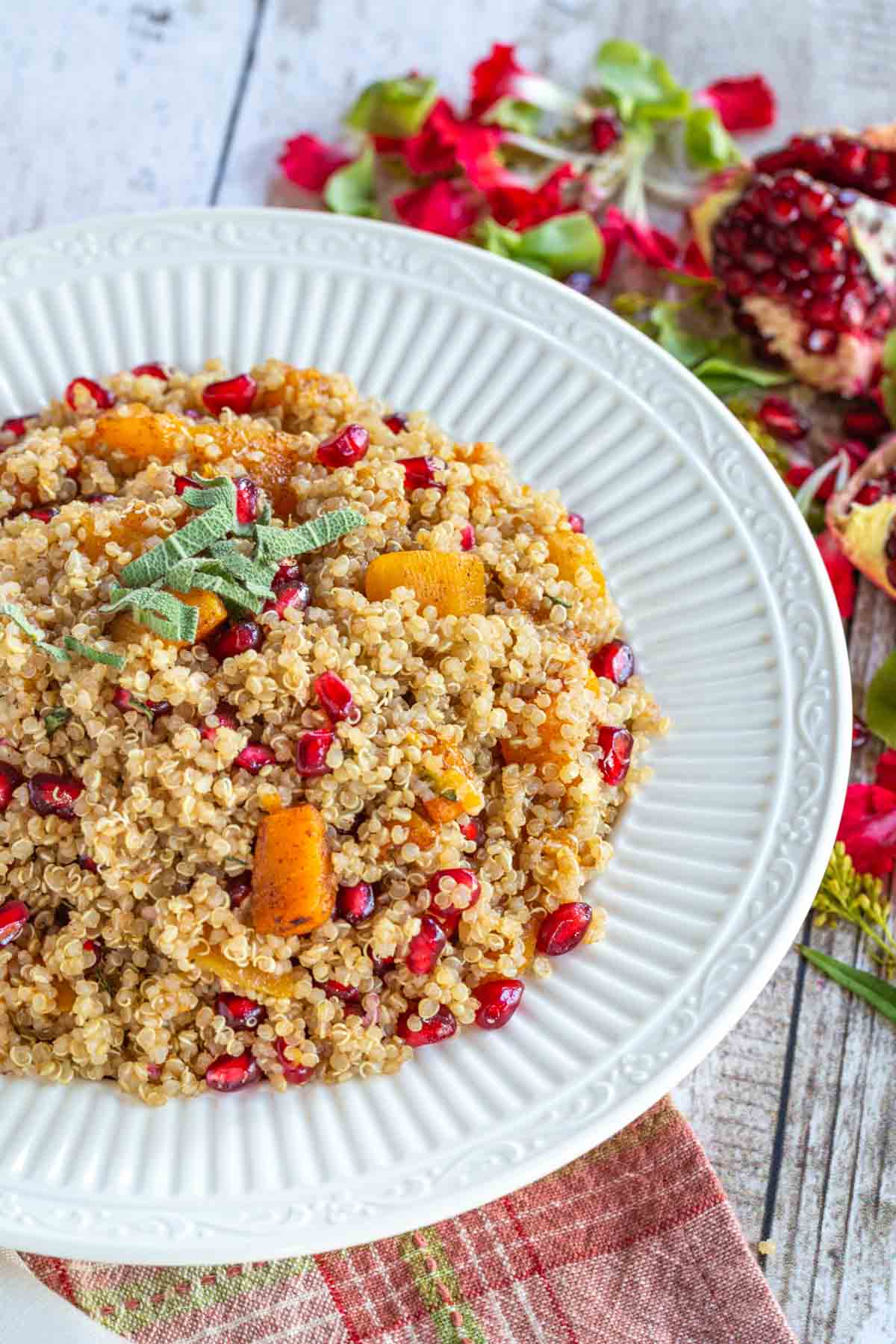 Butternut Squash Quinoa Recipe
Prep each of the components then toss everything together – it really doesn't get any easier than that! In fact, it can even be made with leftover roasted butternut squash and cooked quinoa that you made for another meal. You can enjoy it immediately or store it in the fridge to let the flavors blend and mellow.
Here is a brief overview so you can see just how easy it is to make. Scroll down to the printable recipe card for the full quantities and details.
But don't skip my PRO TIPS below!
What you'll need
INGREDIENTS
Uncooked quinoa – rinsed and drained⁠
Chicken or vegetable stock or broth⁠
Butternut squash – you can roast the butternut squash while making the recipe or use leftover roasted butternut squash
Pomegranate seeds
Balsamic vinegar⁠
Olive oil⁠
Fresh sage⁠ – while you can use dried sage, in this recipe fresh is definitely best
Salt and pepper⁠
Crumbled goat cheese⁠ – optional
EQUIPMENT
Baking sheet – for roasting the squash
Pot – for cooking the quinoa (though I do link to instructions for using a microwave, slow cooker, Instant Pot, or rice cooker)
Bowl – for mixing it al together
How to make quinoa salad
ROAST THE BUTTERNUT SQUASH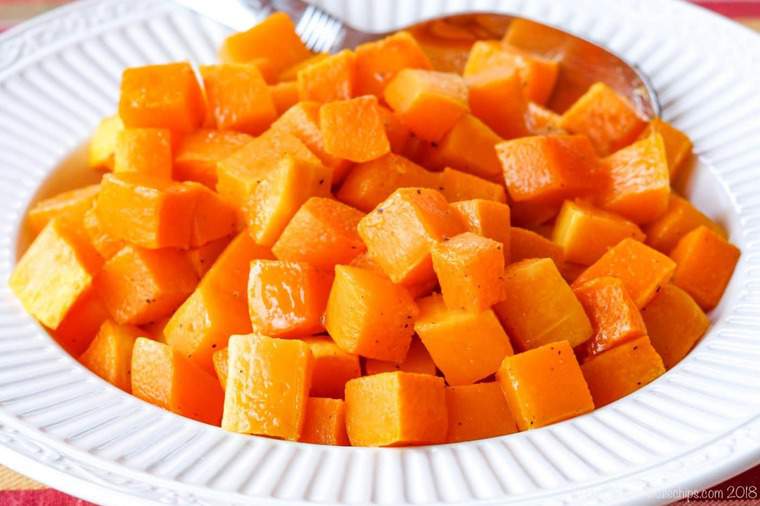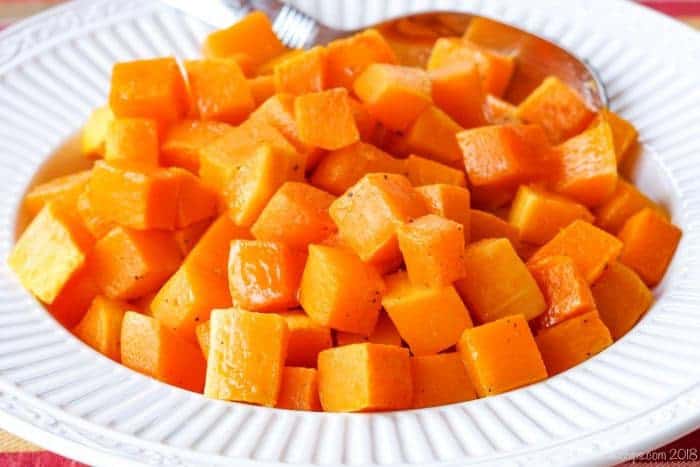 You use leftovers from a recipes like Honey Roasted Butternut Squash. Or make a quick batch of basic roasted butternut squash.
Cut the top and bottom off of the squash, and peel with a vegetable peeler. Cut the bottom bulb off, cut in half, and scrape out the seeds with a spoon, Then cut the bulb and neck into 3/4-inch cubes. You can also use pre-cut butternut squash from the grocery store.
Toss with olive oil, salt, and pepper, and spread into a single layer on an oiled baking sheet.
Roast at 400°F for 35-40 minutes, tossing once.
COOK THE QUINOA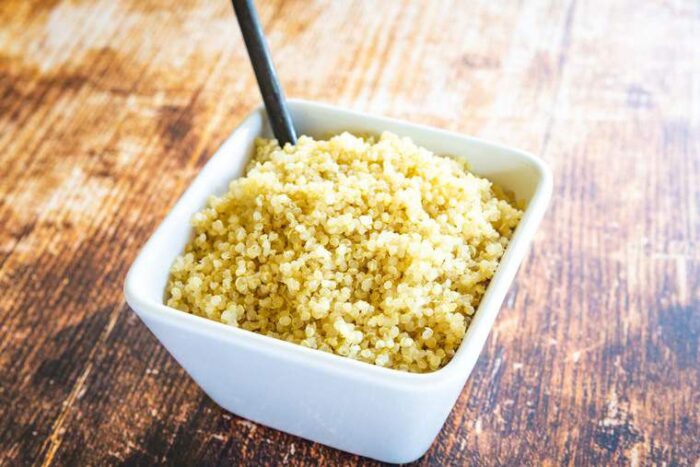 You can use any of five ways to cook quinoa (stovetop, microwave, slow cooker, Instant Pot, or rice cooker), substituting chicken or vegetable broth for the water to infuse more flavor.
REMOVE SEEDS FROM THE POMEGRANATE
You can buy containers of pomegranate seeds at the grocery store if you want to save time and effort. But seeding a pomegranate yourself is a more economical option.
There are many methods people use to remove seeds from a pomegranate. You can cut it in half and bang it with a wooden spoon. Slice into it, break it apart, and pop out the seeds. Or try this interested method to de-seed a pomegranate.
MAKE THE SALAD
Now just combine the roasted squash, cooked quinoa, pomegranate arils, balsamic vinegar, olive oil, and sage in a bowl and toss everything together. Then season to taste with salt and pepper.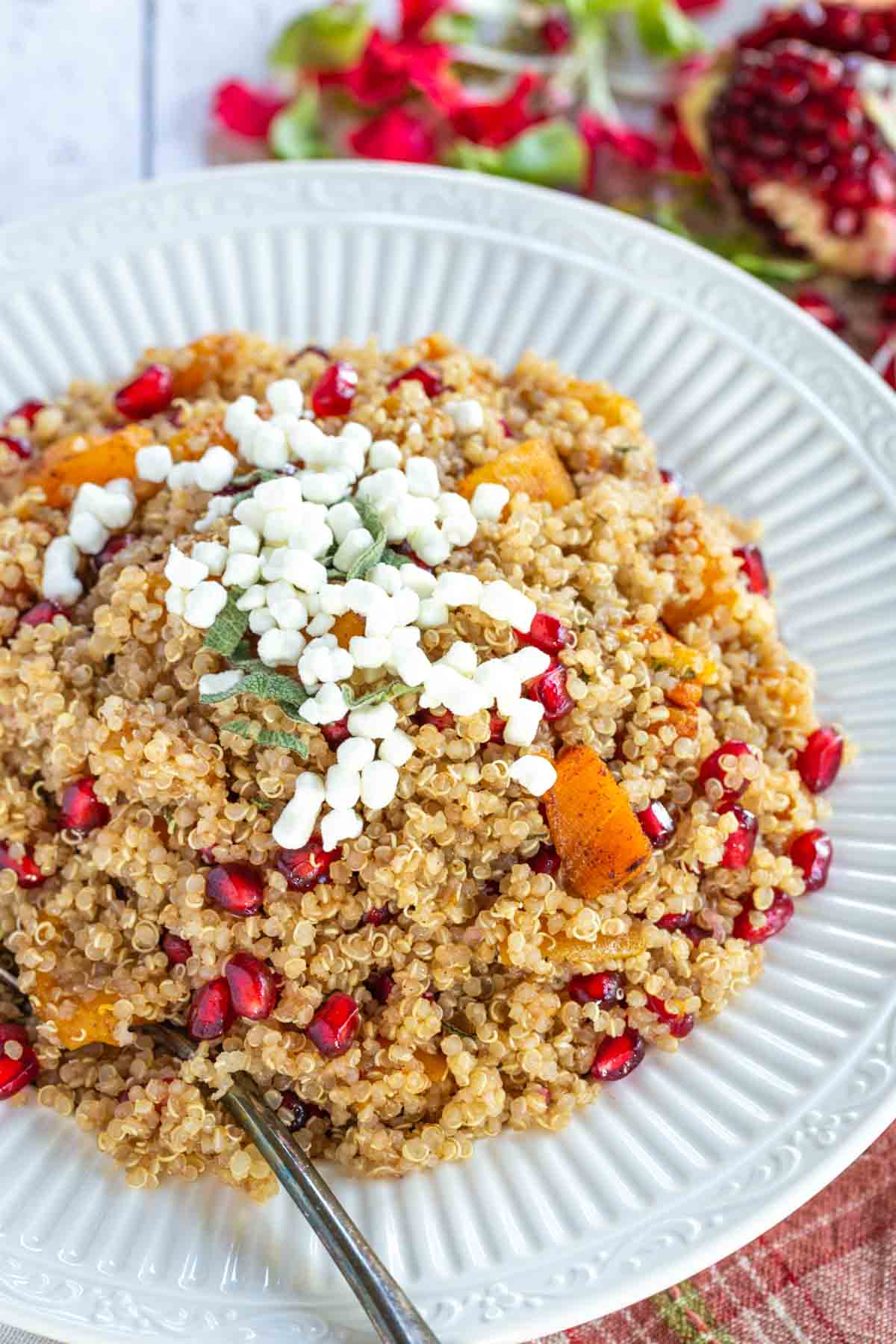 Frequently Asked Questions
Can you make it ahead?
Yes, this dish can be store in a sealed container in the refrigerator for 3 to 4 days.
Can you eat it cold?
You can enjoy it cold as a salad. It is actually quite delicious this way. The quinoa has absorbed even more of the flavor of the balsamic vinegar, and when cold it gets a little more of a chewy, nutty texture.
Can you reheat it?
Yes, you can also reheat it in the microwave or in a pot on the stove. If cooking on the stove, you may want to add a splash of broth. And be sure to stir it gently so the squash doesn't get, well, squashed.
Variations
Make it nutty: throw in a handful of toasted pecans or walnuts, or even pumpkin seeds/pepitas.
Add some protein: mix in leftover rotisserie chicken or cooked turkey, or chickpeas for a plant-based option.
Eat your greens: stir in arugula, kale, or spinach, or just spoon it over a salad.
Get cheesy: stir in goat cheese while it is warm to make it creamy. I love goat cheese sprinkled on top, especially when eating it cold, but feta would be great too.
Make it a Meal
Meal Prep Lunch
Weeknight Dinner
Holiday Meal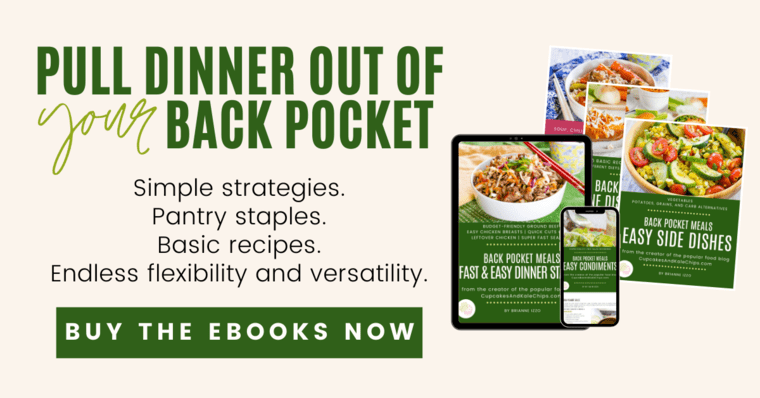 More quinoa side dishes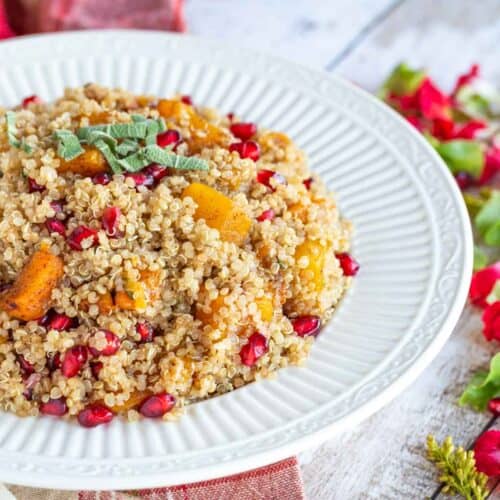 Roasted Butternut Squash Quinoa with Pomegranate
A delicious quinoa salad that makes great hot side dish or a cold salad you can make ahead for meal prep and enjoy for lunch during the week. Easy, healthy, and gluten free.
Ingredients
For the quinoa:
1-1 1/2

cups

roasted butternut squash

(see Note)

1

cup

uncooked quinoa,

rinsed and drained

2

cups

vegetable or chicken stock/broth

1

pomegranate

(seeds only, or about 1 cup)

2

Tablespoons

balsamic vinegar

1

Tablespoon

olive oil

2

teaspoon

chopped fresh sage

kosher salt and freshly ground black pepper,

to taste

Optional: 1/4 to 1/2 cup crumbled goat cheese
Instructions
If you are not using leftover roasted butternut squash, then roast the squash using the directions in the Note.

While the squash is roasting, prepare the quinoa. Combine rinsed quinoa with broth or stock in a saucepan. Bring to a boil over medium-high heat, then reduce heat and simmer with the lid on. Cook until all the liquid has been absorbed, about 10-20 minutes. Remove from heat and let sit for about 5 minutes. Fluff with a fork.

In a bowl, combine the roasted squash, cooked quinoa, and remaining ingredients.

Serve immediately, with goat cheese sprinkled on top, if desired. Or store in the refrigerator for up to 3-4 days. Enjoy it cold, or reheat in the microwave or in a pot on the stove, adding a little more broth or stock, if needed.
Notes
To roast butternut squash:
You'll need:
1 small butternut squash, peeled and cut into 3/4-inch cubes (about 2-3 cups raw cubes)
1 Tablespoon olive oil
1/2 teaspoon kosher salt
1/4 teaspoon pepper
What to do:
Preheat oven to 425°F. Spray a baking sheet with olive oil or cooking spray.
Toss the squash with the olive oil and salt, and spread in a single layer on the baking sheet.

Roast for about 35-40 minutes, or until tender, tossing after 15 minutes.
Nutrition Facts
Roasted Butternut Squash Quinoa with Pomegranate
Amount Per Serving (1 serving)
Calories 177
Calories from Fat 45
% Daily Value*
Fat 5g8%
Sodium 292mg12%
Potassium 457mg13%
Carbohydrates 30g10%
Protein 5g10%
Vitamin A 4961IU99%
Vitamin C 18mg22%
Calcium 43mg4%
Iron 2mg11%
* Percent Daily Values are based on a 2000 calorie diet.
Categories:
Enjoy!