This post may contain affiliate links. Read my disclosure policy.
Slow cooker pork tenderloin is one of the best back to school crock pot recipes in my recipe box! Come home to an easy pork dinner with tons of sweet heat flavor. Your mouth will be watering for this Slow Cooker Pork Tenderloin with Raspberry Habanero Glaze.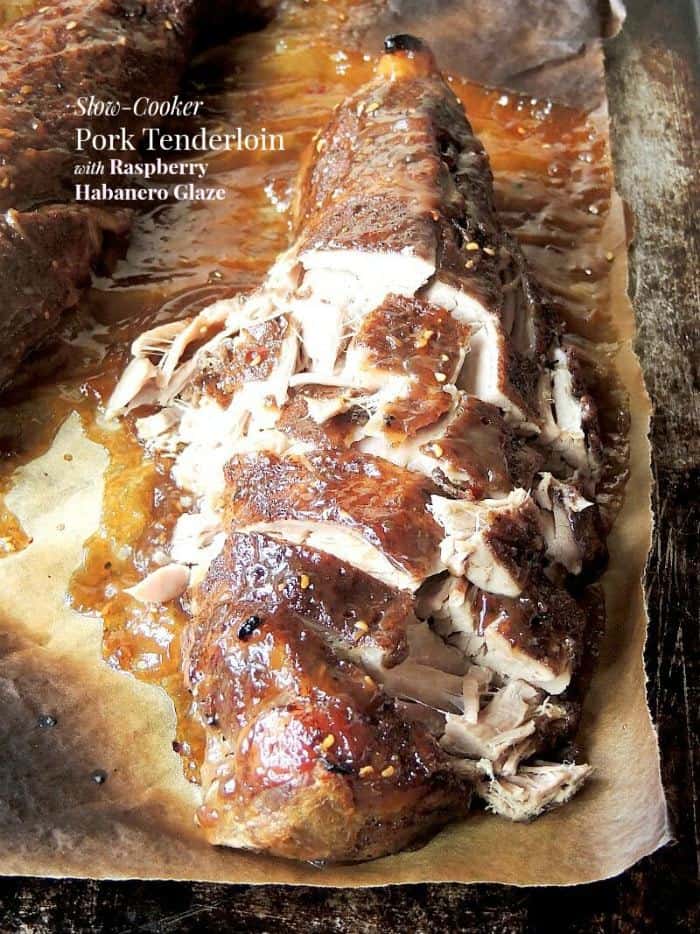 Howdy doody guys n dolls! It is Bobbi from, Bobbi's Kozy Kitchen, again 
How are you doing this fine fall day? Have you started your holiday shopping yet? Are you one of those people that is already done? Or are you postponing it until later? I am one of those people that used to say every year that I am was to start early so I could get it done and out of the way. 
PPfffttttttt! I tried that last year and do you know what happened? Oh, I finished early alright, but then I kept finding things I wanted to buy for people. So I ended up spending twice as much moolah! I decided that it was better to stress a bit before the holidays VS stressing a lot after them, when I open the mail and see the bills.
Although this year we have the G-baby, so the budget will probably will get blown because I can never seem to stop buying things for her! The baby section has a strange gravitational pull, so whenever I walk into a store, I can't help but go straight there. I need to find a shirt for her that says "My Nana spoils me"!!
But that tends to be one of my, less than enviable, personality traits. I am impatient and have a serious lack of impulse control. I want, what I want, when I want it, and I don't want to hear anything about it. Soooo I am pretty much a two year old with a bank account and a driver's license. 
A great example? I have been asking my guy, for the last month or so, to help me move a few pieces of furniture. Heavy furniture, mind you, but he always seems to have a reason we need to do it "next week".
*insert ticked off 2 year old*
Soooo I decided that I would "just show him" and moved the furniture by myself. Ummmm wellllll, good news, I got most of it moved (one piece was too tall to get through a doorway so I had no choice but to wait for him to take it apart for me). However, I learned a valuable lesson…..I am too old for this shizz! What in the ever lovin' world was I thinking? I obviously wasn't! After it was all over, my back was completely blown out, and I could barely walk!
Luckily I had already put this slow cooker pork tenderloin into the crock pot, so all I had to do was make a side of 

Cilantro Rice with Lime and Serrano

 and we were good to go!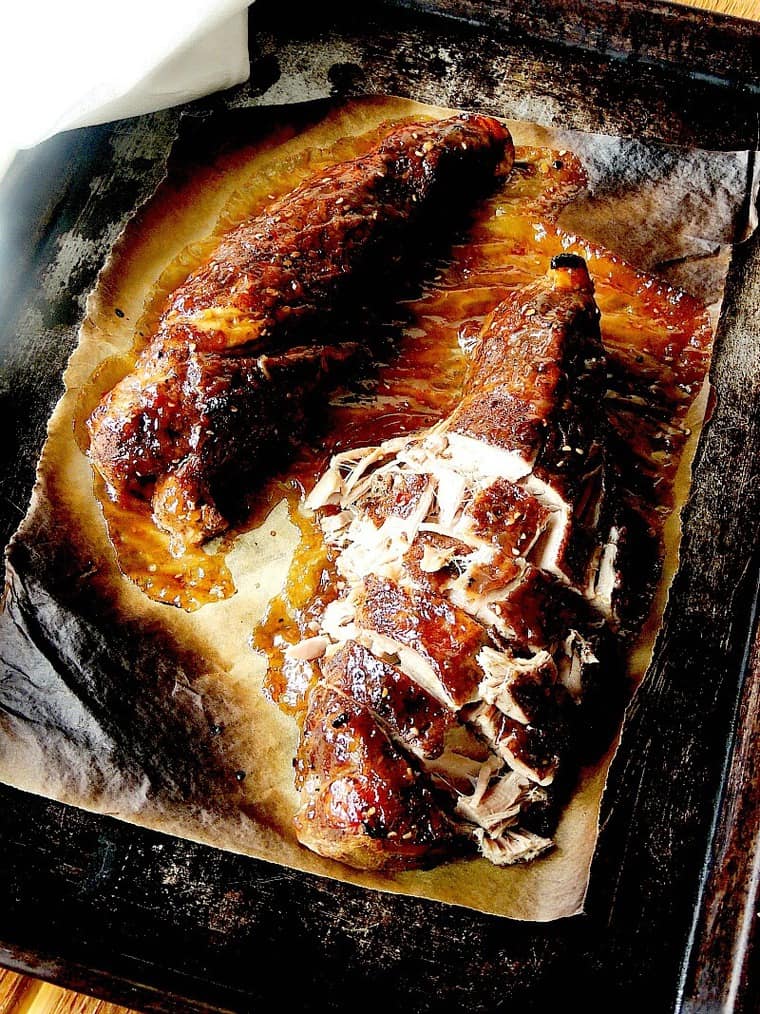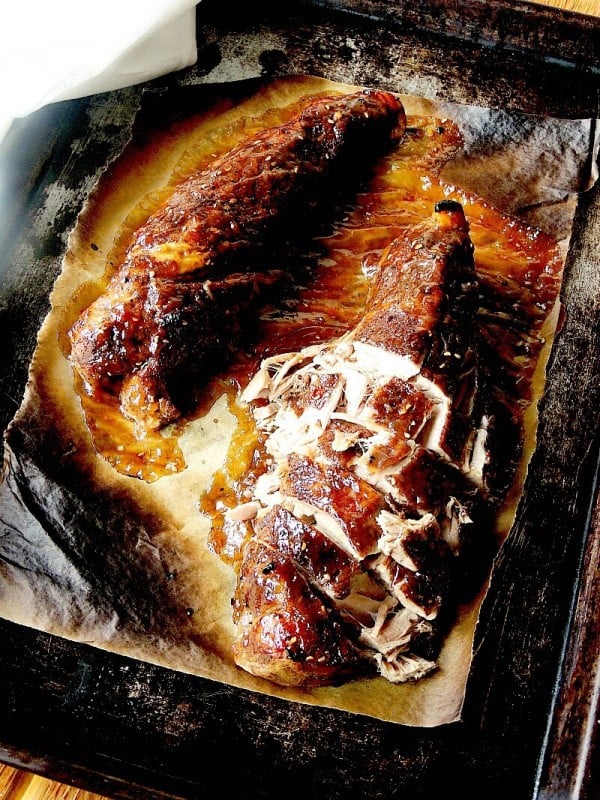 Now, this pork? Oh it put me in a gooooood mood! It was sweet, and spicy, with a bit of tang from the vinegar. Think Asia meets Mexico. Yup, that is what we have going on here. It took my mind off of my sore back, and temper tantrum, and I just sat back and enjoyed every single bite. You might be worried about the heat of the jelly, but don't be. Once it is cooked down with the other ingredients it has a mild heat.
[Tweet "Slow Cooker Pork Tenderloin with Raspberry Habanero Glaze – your kitchen will smell amazing!"]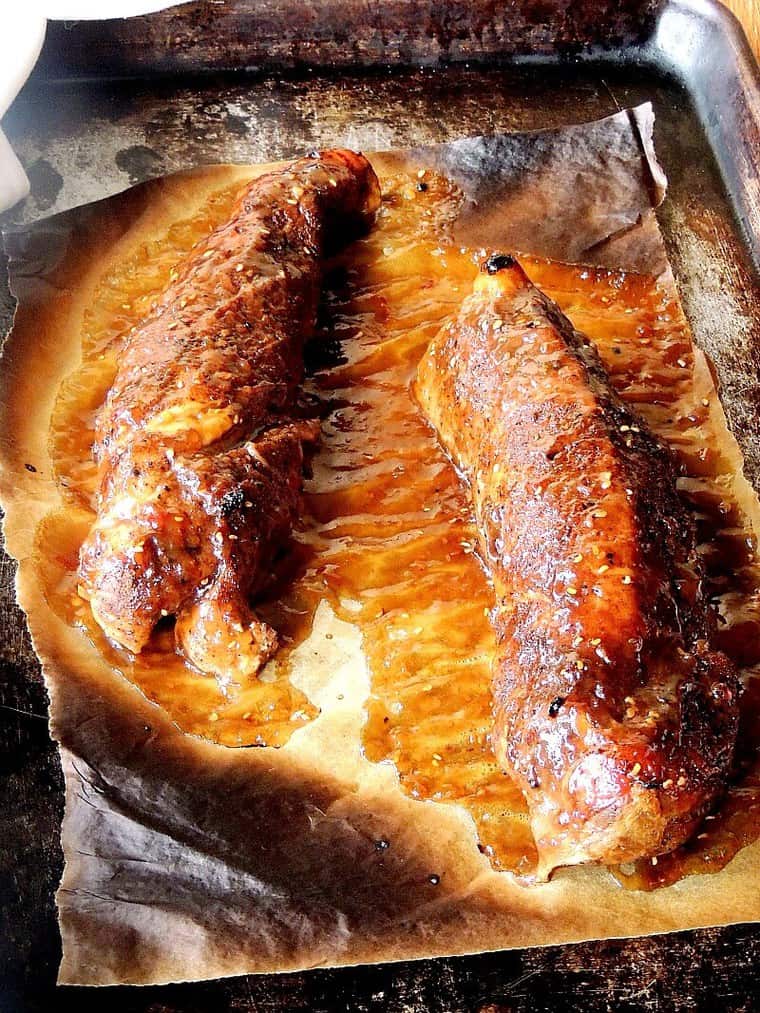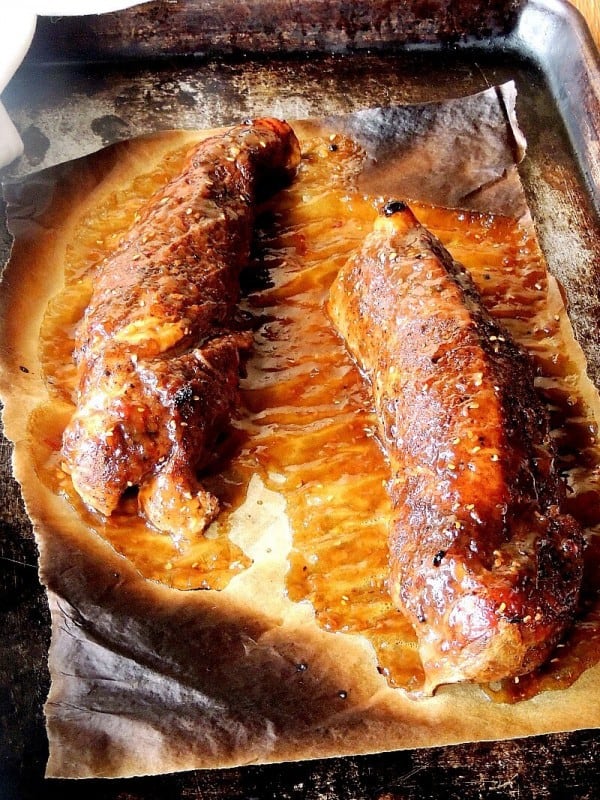 Word of warning though, be very careful when you broil the pork tenderloins. You want to go long enough to get the sauce a bit bubbly, with some crispy edges, but if you go too long *poof* dried out pork tenderloin, and I don't want you eating pork jerky for dinner! That would make me very very sad.
By the way, left over slow cooker pork tenderloin makes terrific sandwiches!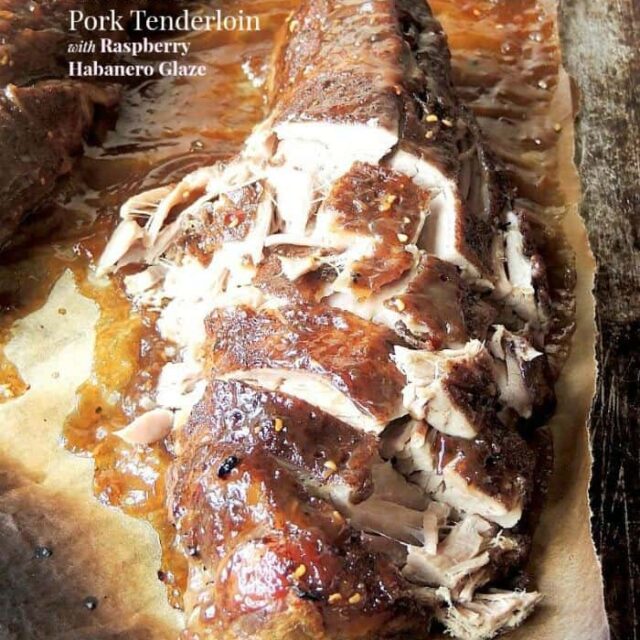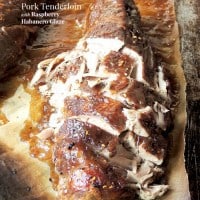 Slow Cooker Pork Tenderloin with Raspberry Habanero Glaze
A moist and tender pork dish with tons of sweet heat flavor.
Servings:
4
people (8 oz. each)
Ingredients
For the rub:
2

teaspoons

salt

1

teaspoon

Chinese 5 Spice

1

teaspoon

garlic powder

1/2

teaspoon

black pepper

1/2

teaspoon

crushed red pepper

2

pounds

pork tenderloin

1/2

cup

chicken stock
For the glaze:
1/2

cup

chicken stock

can use water but it must be cold

1/4

cup

rice vinegar

can use white vinegar

1

tablespoon

cornstarch

2

tablespoons

soy sauce

1/2

cup

raspberry habanero jelly

or any other fruit and pepper jelly
Instructions
In a small bowl, combine the salt, 5 spice powder, garlic powder, black pepper, and crushed red pepper flakes.

Rub the tenderloin with the spice mixture and place in the bottom of the slow cooker.

Pour 1/2 cup chicken stock down the edge of the slow cooker so you don't wash off the spice rub off of the tenderloin.

Cook on low for 6-8 hours, and then preheat your broiler.

While the pork is finishing up in the slow cooker and your broiler heats up, combine the cold stock or water with the cornstarch until smooth. Then pour it into a small pot along with the rice vinegar, soy sauce, and pepper jelly. Heat over medium heat and stir until mixture thickens, about 4 or 5 minutes.

Line a baking sheet with aluminum foil, or parchment paper, and spray with nonstick spray.

Carefully remove the pork from the crock pot, being careful it doesn't fall apart, and place on the lined baking sheet. Brush a generous amount of the glaze on the pork.

Put your oven rack as high as it will go, and broil the pork for 1 or 2 minutes, the turn the pan and broil another 1 or two minutes, or until bubbly and caramelized. Serve with remaining glaze on the side.
Nutrition Facts
Slow Cooker Pork Tenderloin with Raspberry Habanero Glaze
Amount Per Serving (8 oz.)
Calories 394
Calories from Fat 72
% Daily Value*
Fat 8g12%
Cholesterol 149mg50%
Sodium 1883mg78%
Potassium 1018mg29%
Carbohydrates 25g8%
Protein 49g98%
Vitamin A 75IU2%
Vitamin C 2.6mg3%
Calcium 26mg3%
Iron 3mg17%
* Percent Daily Values are based on a 2000 calorie diet.
Categories:
Some of Bobbi's best slow cooker recipes…
Slow Cooker Chicken Enchilada Quinoa 
And a few of mine…