This post may contain affiliate links. Read my disclosure policy.
Slow cooker roast chicken is perfect for a Sunday supper, elegant enough to make for company, and simple enough to become one of your favorite back to school crock pot recipes!
Intense, exotic aromas and flavors can turn a basic roast chicken into a gourmet meal, but when you make it in your slow cooker, you can enjoy something special with little work, even on busy weeknights. Fancy, flavorful food doesn't get easier than this Orange Saffron Slow Cooker Roast Chicken.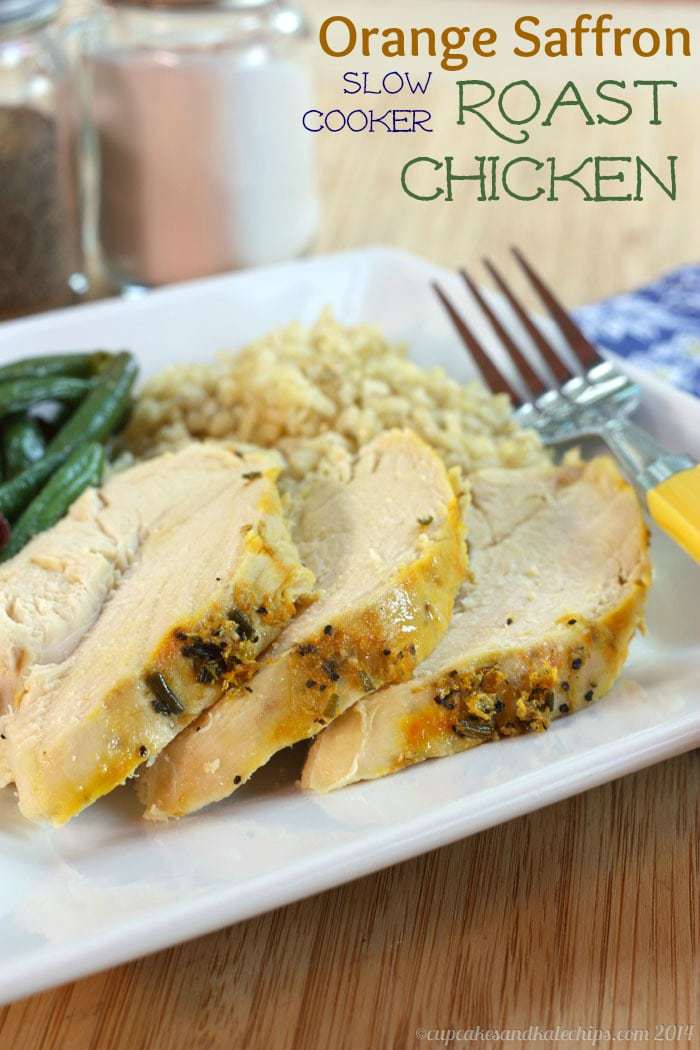 <
span id="more-8859″>
Disclosure: I am a Brand Ambassador for Hamilton Beach, and they provided me with a Set & Forget® 6 Qt. Programmable Slow Cooker to review, and one to give away to a reader. No additional compensation was received. As always, all opinions are my own.
No matter what time of year it is, or what the occasion, the slow cooker is one of my best friends in the kitchen. In the summer, I may not want to heat up the kitchen or slave over a hot grill, but I still want some pork barbecue or pasta sauce made with farm fresh veggies. Wintertime is all about comforting chilis or stews. Sometimes we need to have our taco fixins waiting for us when we get home from a busy day, and other times it's all about "roasting" a big ol' turkey breast so that we can have a wonderful Sunday dinner and leftovers all week. So when Hamilton Beach gave me the opportunity to review their new Set & Forget® 6 Qt. Programmable Slow Cooker, I jumped at the opportunity.
Why? Well first of all, they besides Manual mode where you just turn it on to Low or High and come back later, you can also program it to cook for a set length of time and then switch over to the Warm setting so that dinner is perfectly cooked waiting for you when you get home. I used this feature she I cooked the Tomato Basil Pulled Chicken that I shared just a couple of days ago. But it also has a temperature probe! I've told you before how much I love to roast a whole chicken in my slow cooker because it is just so ridiculously easy. Well this feature makes it even easier to ensure perfectly cooked bird. Truth be told, I was so excited about this chicken that I was making that I pulled it out the second it reached the target temperature when I probably should have given it 5-10 minutes to rest once it switched to the Warm setting. But it was still easier than setting it for an arbitrary time that totally depends on the size of the chicken you are cooking. I am really excited to try it with a roast.
Another feature about this slow cooker that I totally love – the lid locks down, so no rattling or buildup and dripping of excess moisture that collects around the edge. Also, it's a big slow cooker. You can make a huge vat of chili to feed an entire football team!
Or one eight and a half pound chicken will fit with no problem…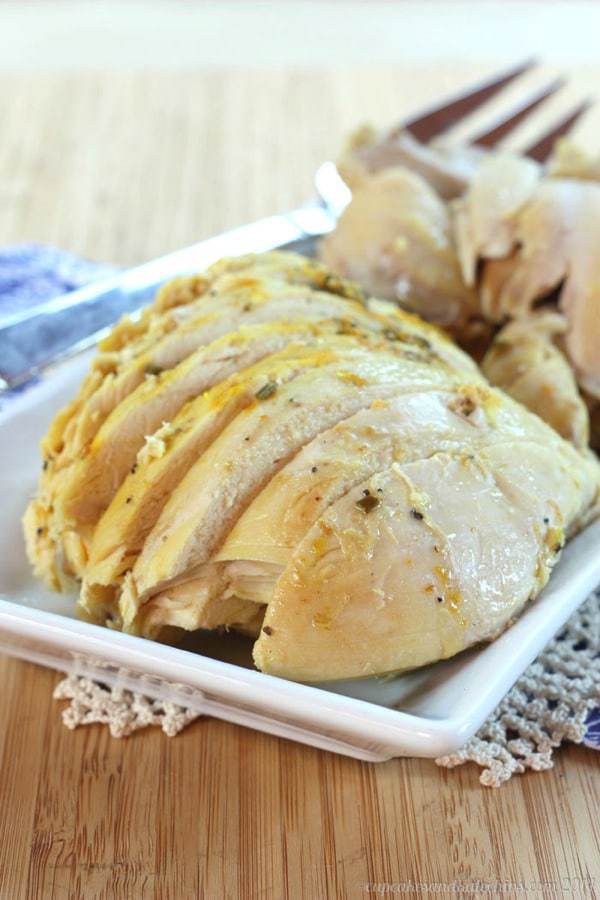 And let me tell you about this slow cooker roast chicken recipe.
Orange Saffron Slow Cooker Roast Chicken is a recipe I adapted from a fabulous recipe in [amazon_textlink asin='B00CAYIQL4′ text='Weber's Big Book of Grilling' template='ProductLink' store='cupkalchi-20′ marketplace='US' link_id='825201ec-7306-11e7-9699-6d98f1476976′].
We thoroughly enjoy that version, but it requires an overnight marinade, plus setting up the rotisserie on the grill. That's all fine and dandy, except it's not something I'm going to do when I am on my own with the boys in the middle of the week. So I took the same ingredients and tossed them into my Hamilton Beach Set & Forget® 6 Qt. Programmable Slow Cooker. I figured that the long cooking time would allow the flavors and aromas to permeate the meat and keep it juicy without requiring that marinating time.
And boy was I right! The citrus flavor totally came through the meat, even at its thickest part, and the little crusting of salt, pepper, garlic and saffron coated the outside. I guess you could have made a citrusy gravy or sauce from the juices that collected in the slow cooker, but we aren't really gravy folks, and we totally enjoyed the chicken just as-is. My boys even had seconds and thirds of the slow cooker roast chicken. I threw the leftovers in the freezer because we were heading out of town, but if we weren't, this would have made a great topping for a salad.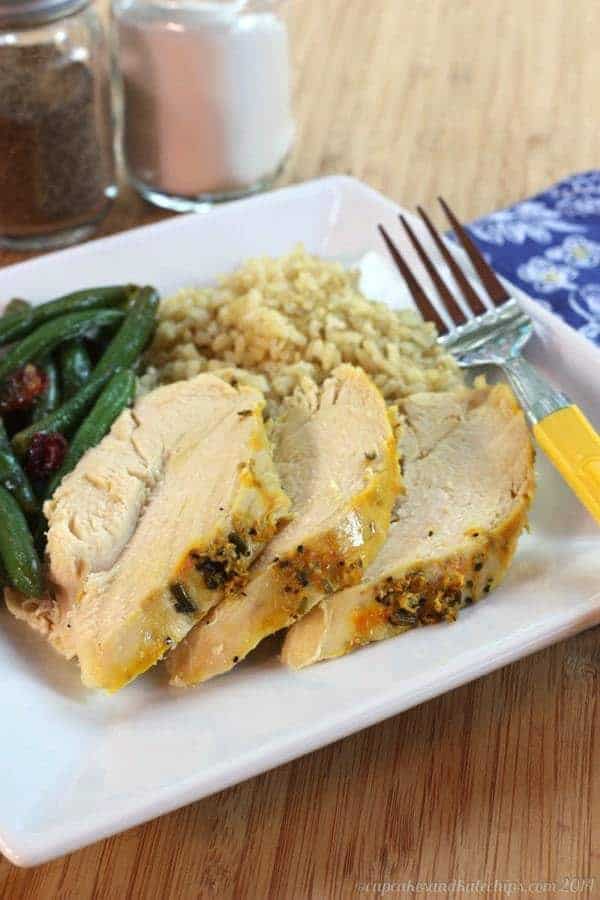 And now the fun part for YOU! It's your chance to…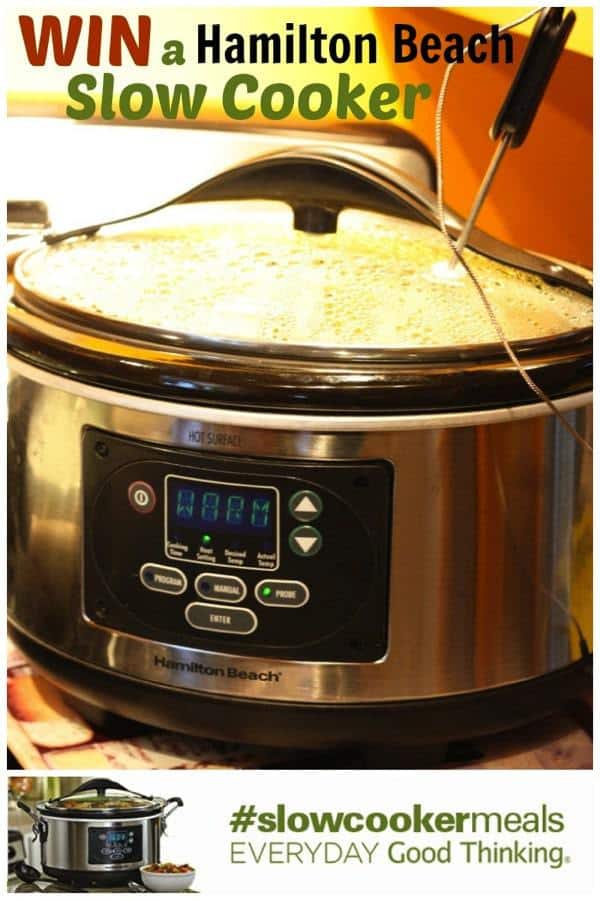 As long as you are a resident of the United States and 18 years of age or older, you can get your hands on one of these babies! You have till 11:59 pm on October 28th, 2014 to enter! Good luck!
a Rafflecopter giveaway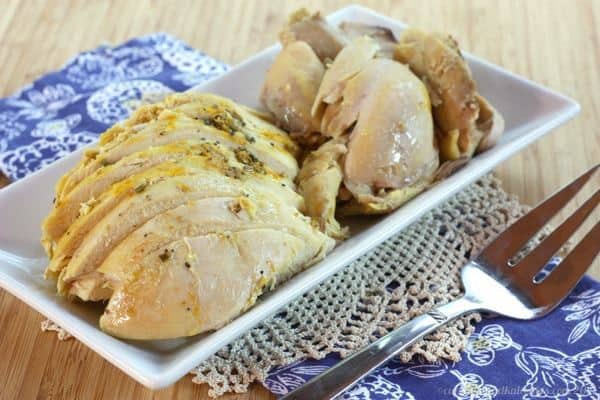 What is the first thing you'd make in your new slow cooker?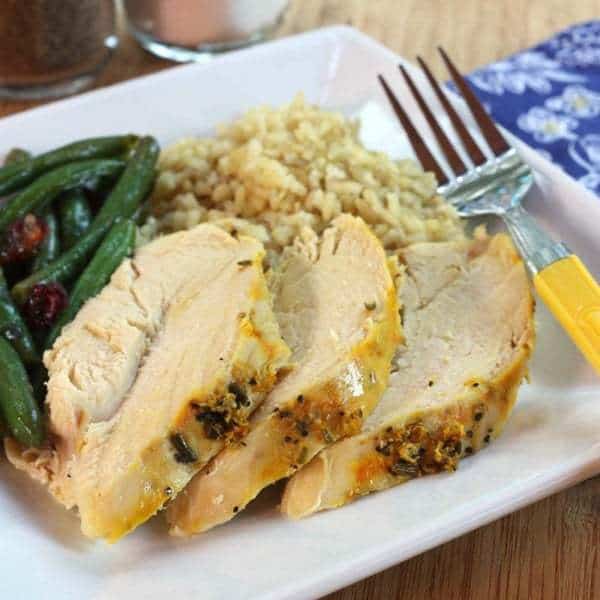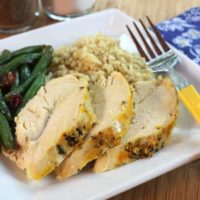 Orange Saffron Slow Cooker Roast Chicken
Intense, exotic aromas and flavors for a gourmet meal you can enjoy even on busy nights.
Ingredients
One 6-8 lb chicken

1/4

cup

olive oil

two oranges

zest of both and juice of one, plus the other one quartered and set aside

2

teaspoons

kosher salt

1

teaspoon

coarse ground black pepper

1

clove

garlic

minced or crushed

1/4

teaspoon

saffron

1

teaspoon

fresh thyme

1

teaspoon

minced fresh rosemary

1

onion

quartered

a few sprigs of fresh rosemary and thyme
Instructions
Dry the outside of your chicken and place inside the slow cooker.

In a bowl, stir together the olive oil, zest of both oranges and juice of one orange, salt, pepper, garlic, saffron, thyme and rosemary.

Separate the skin from the meat of the breast to form a pocket, and pour the mixture over the inside and outside and underneath the skin of the breast and rub all over to coat the chicken completely.

Place the remaining quartered orange, onion, and sprigs of rosemary and thyme inside and around the outside of the chicken.

Cover and cook on low for 6-8 hours, or until the breast reaches 165°F.

Remove chicken from the slow cooker, carve and serve.
Enjoy!
Want more slow cooker recipes?
Slow Cooker Tomato Veggie Sauce with Sausages
Plus a few from my friends…
And even an entire Pinterest Board!
Follow Brianne @ Cupcakes & Kale Chips's board Slow Cooker Obsession on Pinterest.