This post may contain affiliate links. Read my disclosure policy.
Whipped Cauliflower Gratin is a light and healthy vegetable side dish. This rich and creamy gluten free casserole recipe will lighten up your holiday meals, or add something delicious to a weeknight dinner.
Whipped Cauliflower Gratin with Goat Cheese and Thyme

Disclosures: Blendtec supplied the prize for this giveaway. No additional compensation was received. As always, all opinions are my own. There are affiliate links in this post, meaning that if you click and make a purchase, the cost to you is the same, but I will receive a few pennies. I use the money to help maintain this website and to bring you new recipes!
Blogs are such dynamic things. I mean, obviously it's not like a standard website that looks basically the same anytime you visit it. Every few days (or everyday for those amazing bloggers who can somehow manage that) there's a new post, story, recipe, project, roundup, link party, or something else to read, make, or do. But since they are also usually created by one or a few people, they tend to evolve based on what is going on in the life or lives of the creator. I know of people who have developed allergies or changed their diets for one reason or another and transformed a general food blog into a gluten free or low carb or vegan blog. Food bloggers who spent years posting recipes are starting to incorporate a travel component into their blogs.
But the beauty of it is that these are our blogs, so they can become whatever we want them to become.
This past year, I had a lot going on in my personal life, plus I wanted to have some varied content on my blog that might be different from my typical recipes. I also thought it would be a nice opportunity to introduce these talented ladies to me readers, and maybe they would gain some new fans in the process.
But as we move into 2016, Cupcakes & Kale Chips is evolving a bit. I can't thank these ladies enough for their help when I needed it. But I'm not going to be having regular recipe contributors next year. I have a really cool healthy recipe series with guest posters in January, I'll still have the weekly roundups, and maybe you'll see a guest appearance here and there, but for the most part, it's going to be me. I want to bring back a more personal element that I feel was lost this past year as I was trying to just hang on for dear life after a major change that I had difficulty adjusting to.
So you'll just have to follow their blogs to see all of their deliciousness (and my Facebook page, where I'll feature them regularly). I want to thank my contributors and cohosts of this giveaway. Stop by and see them:
Nancy of The Bitter Side of Sweet | Stacey of Bake.Eat.Repeat. |  Brooke & Bri of Gluten Free Anonymous
Serene of House of Yumm |Joy of The Joyful Foodie | Tammi of Momma's Meals | Linda of Brunch with Joy
Terri of Love and Confections | Bobbi of Bobbi's Kozy Kitchen | Nichole of Casa de Crews
And you can find out more ways to follow them by checking out the awesome giveaway we have going on down a little further in this post.
Now on Thursdays, instead of their recipes you'll have little old me. Maybe a recipe, maybe a fitness post, maybe just catching up on life and sharing some of my favorite things. We'll see where this goes. But one thing is for sure, you'll probably see more cauliflower recipes…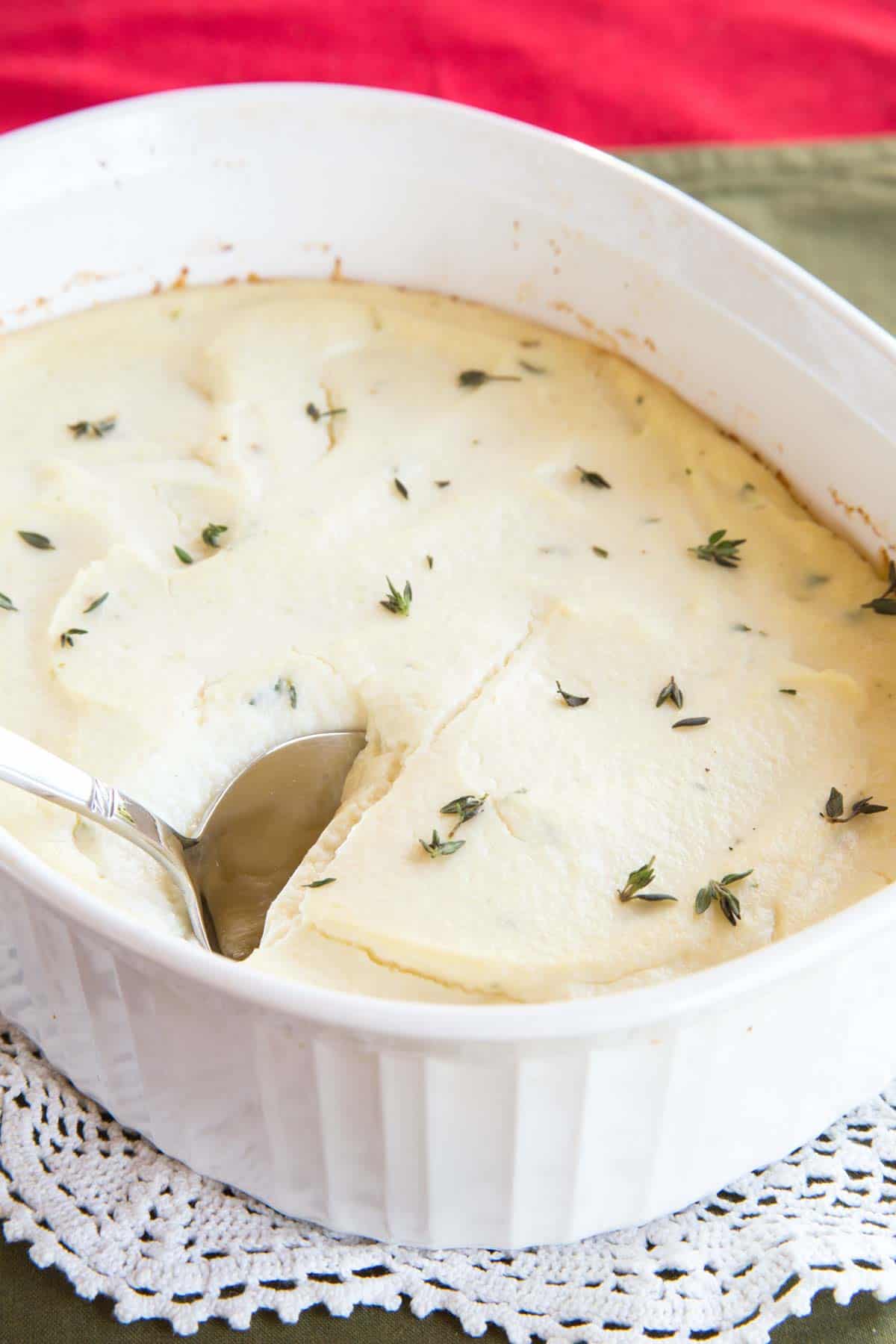 I love whipped cauliflower gratin, I love goat cheese, so naturally I had to combine the two into Whipped Cauliflower Gratin with Goat Cheese and Thyme.
And as much as I love my original version and my Horseradish Cheddar Whipped Cauliflower Gratin, this might actually be my favorite. The goat cheese adds that tangy flavor you'd expect, but it adds such a velvety texture too. And that little fresh, lemony note from the thyme is just perfect. It's actually so simple you can make it any day of the week, but it really is worthy of a special meal.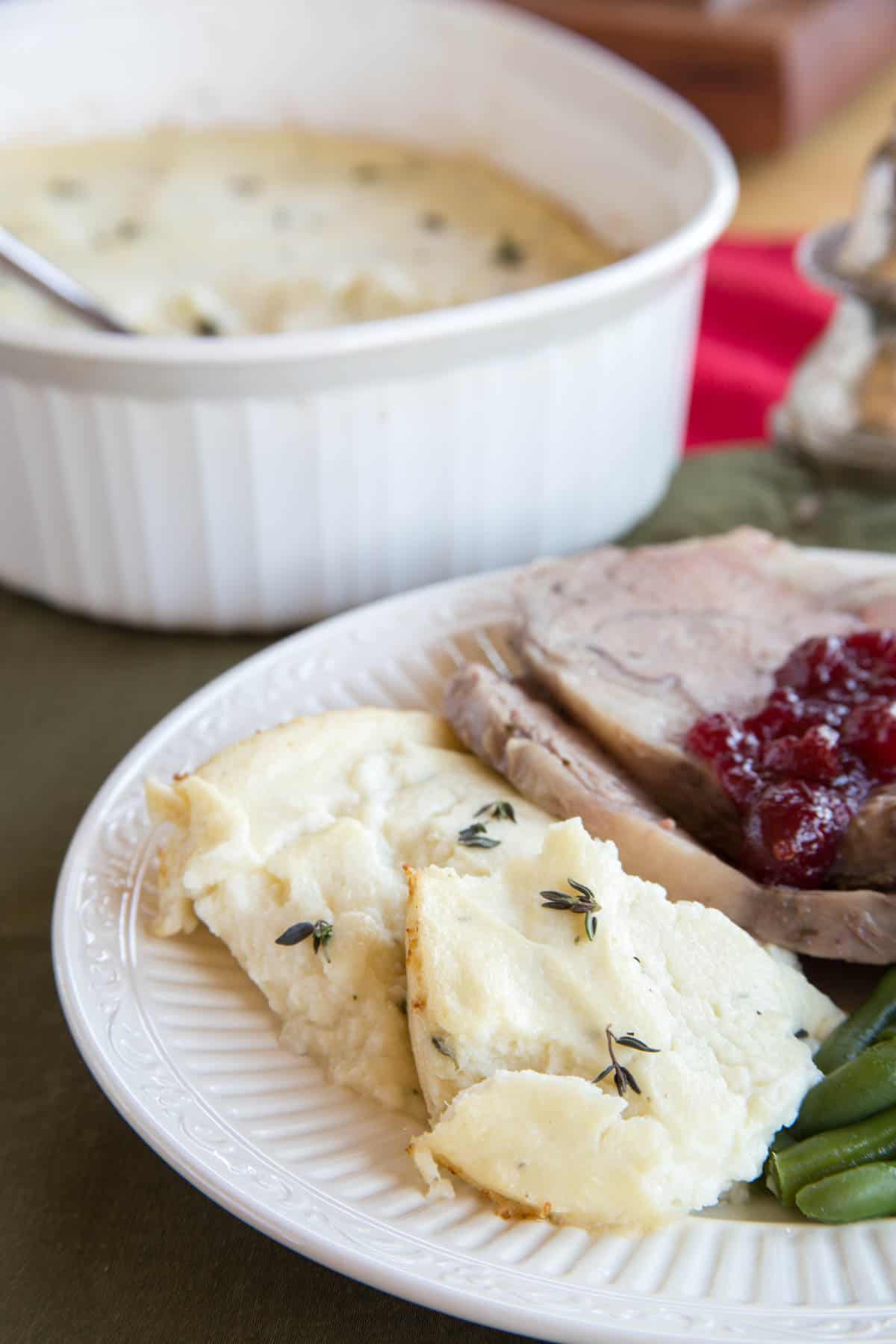 Or perhaps that velvety texture is because I made it in my Blendtec.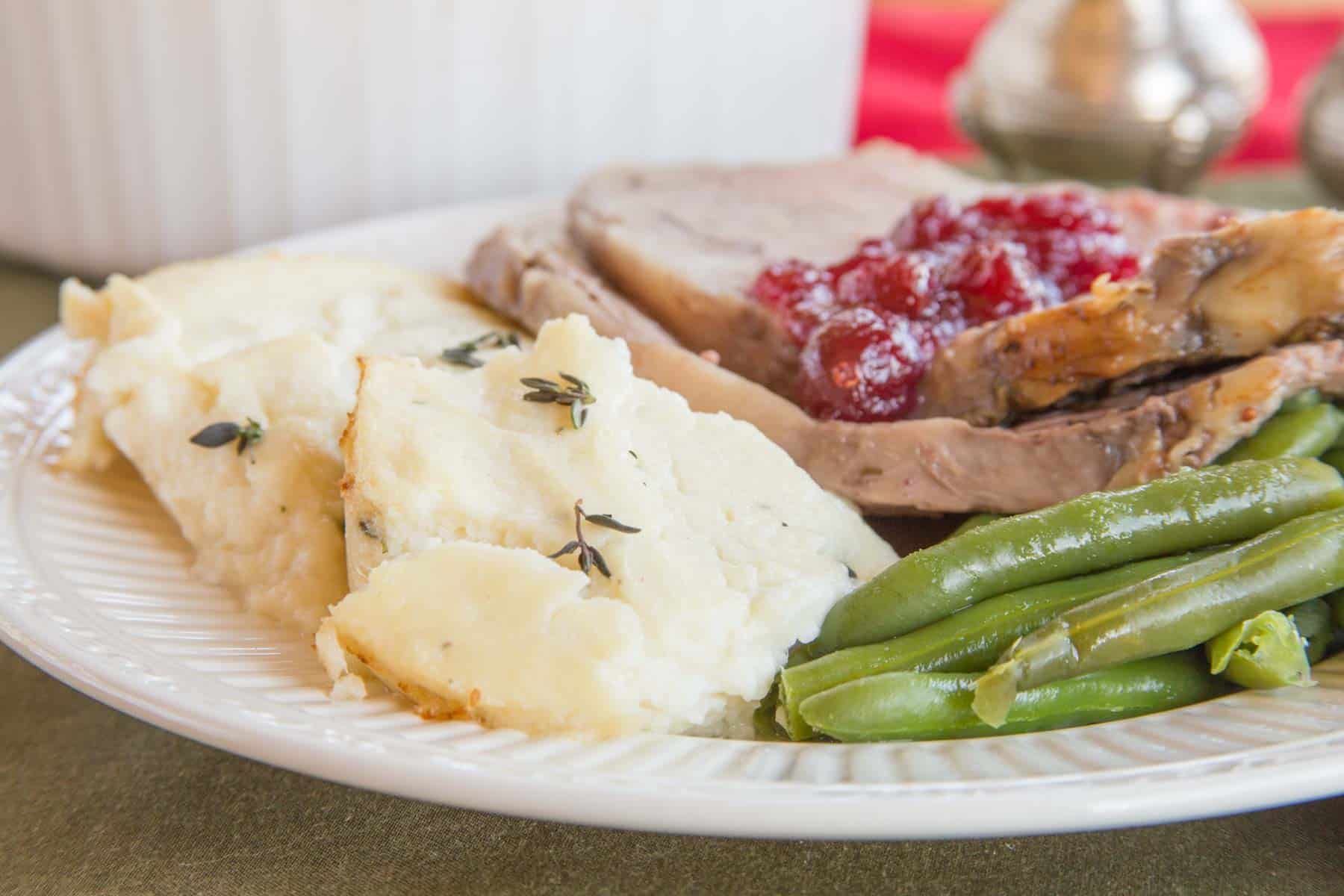 What would you make first in a new Blendtec?
Buy a Blendtec now! I also love to bake this Whipped Cauliflower Gratin with Goat Cheese and Thyme in my Corningware French White casserole dish.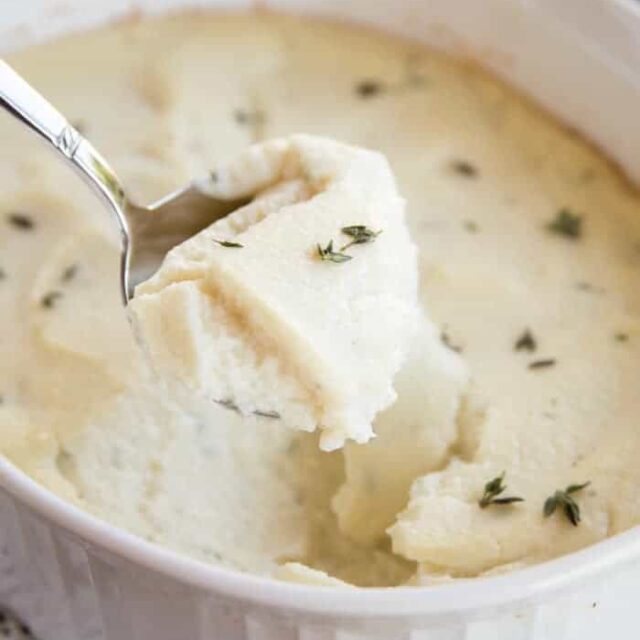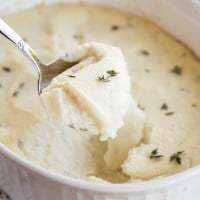 Whipped Cauliflower Gratin with Goat Cheese and Thyme
A light and healthy but still rich and creamy vegetable side dish. Gluten free and low carb too!
Ingredients
1

head

cauliflower

1/4

cup

plain Greek yogurt

1

large

egg

4

oz

goat cheese

1

teaspoon

kosher salt

1

teaspoon

minced fresh thyme

plus additional thyme leaves for sprinkling on top, if desired
Instructions
Preheat your oven to 400°F, and lightly coat a 2 quart casserole dish with oil or cooking spray.

Cut the cauliflower into large florets, discarding the tough stem, and steam over boiling water until very tender.

Drain thoroughly, and allow to cool slightly so that some of the excess moisture evaporates.

Place the cauliflower, Greek yogurt, egg, cheese, salt, and pepper into a blender or food processor, and process until smooth.

Stir in thyme.

Transfer the cauliflower to the prepared dish.

Bake for 25-30 minutes, or until heated through and browned on top. Sprinkle with additional fresh thyme leaves, if desired.
Nutrition Facts
Whipped Cauliflower Gratin with Goat Cheese and Thyme
Amount Per Serving (1 g)
Calories 139
Calories from Fat 63
% Daily Value*
Fat 7g11%
Cholesterol 60mg20%
Sodium 752mg31%
Potassium 447mg13%
Carbohydrates 7g2%
Protein 11g22%
Vitamin A 385IU8%
Vitamin C 70.1mg85%
Calcium 95mg10%
Iron 1.4mg8%
* Percent Daily Values are based on a 2000 calorie diet.
Categories:
Here are some more vegetable side dishes…
And some from my friends…