This post may contain affiliate links. Read my disclosure policy.
Cranberry Garlic Herb Crusted Prime Rib is sure to impress your family and friends. Anyone can learn how to cook a prime rib roast, and it doesn't take a lot of time or effort. When you take the best cut of beef, the right seasonings, and few best tips for holiday roasting, you can have this gorgeous recipe as the centerpiece of your holiday meal.
Looking for more ideas for your Christmas dinner? Prime rib recipes are great, but you can also try Apple Cider Dijon Marinated Tip Roast, Caprese Filet Mignon, or Individual Beef Wellington in Phyllo.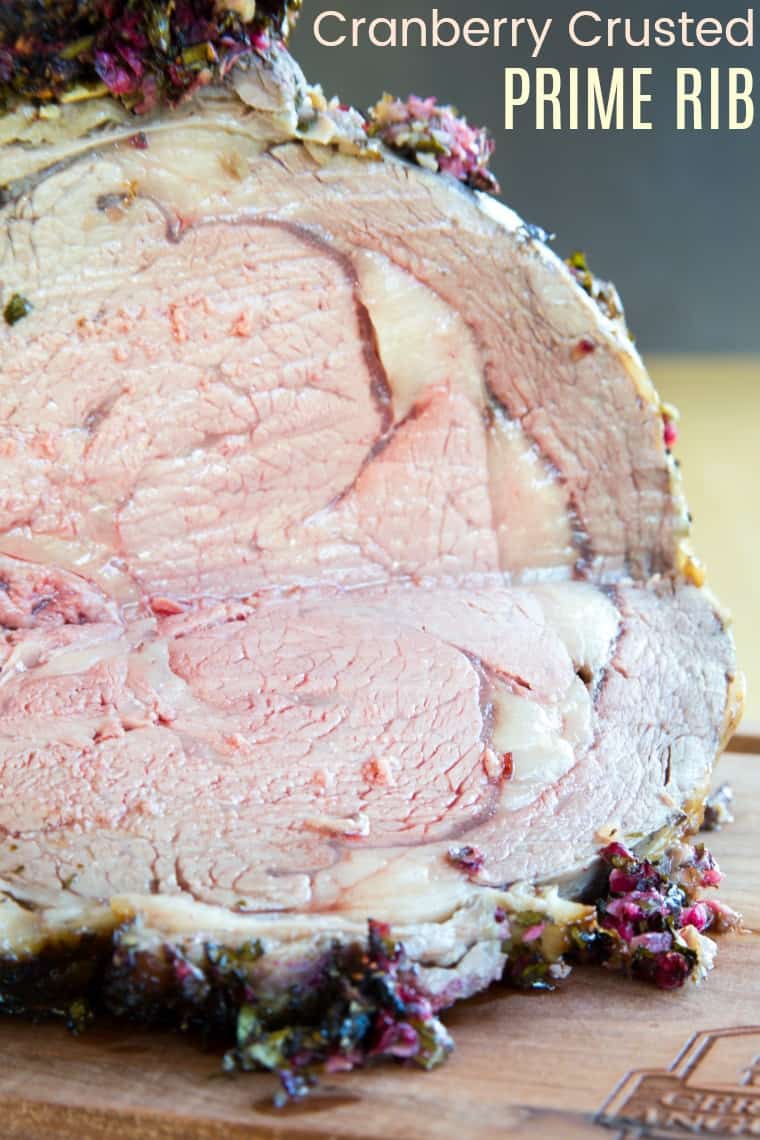 Disclosure statement: This post is sponsored by Certified Angus Beef in conjunction with a social media campaign through Sunday Supper LLC. All opinions are my own.
My recipe creation for this lil' old blog here goes in fits and spurts. I'll go for days where I'm just doing the normal cooking for my family – basic oatmeal or yogurt and fruit for breakfast, random stuff from the fridge salad for lunch, old recipes, quickie meals I just toss together, that sort of thing. On those days I'm writing, editing, promoting, but not creating new content. Somewhere mixed between those non-blog-food days I may make one of our dinners that is meant to share with all of you, or I'll randomly whip up a new energy ball or muffin recipe.
Then I have the crazy food blogger days. I just get in a mood, get in a groove, and I start working on six or seven recipes in one day. This happened last Friday. Only I had a few setbacks. The white chocolate had vanilla bean specks in it that I wasn't expecting for the recipe where I wanted it to be pure white, I forgot to sweeten the granola, and the green beans sat in the fridge a little too long and were looking pretty funky.
So when the one thing left on my list to tackle was a Certified Angus Beef® brand prime rib roast I had picked up from Giant Eagle in Frederick, MD, I was ready to put it back in the fridge and save it till another day. But I knew I could do it. I had all of the great I learned from the Certified Angus Beef® brand chefs when I visited them last month, plus I have the Roast Perfect app on my iPhone to guide me along the way.
I definitely think my kitchen failures were behind me for the day…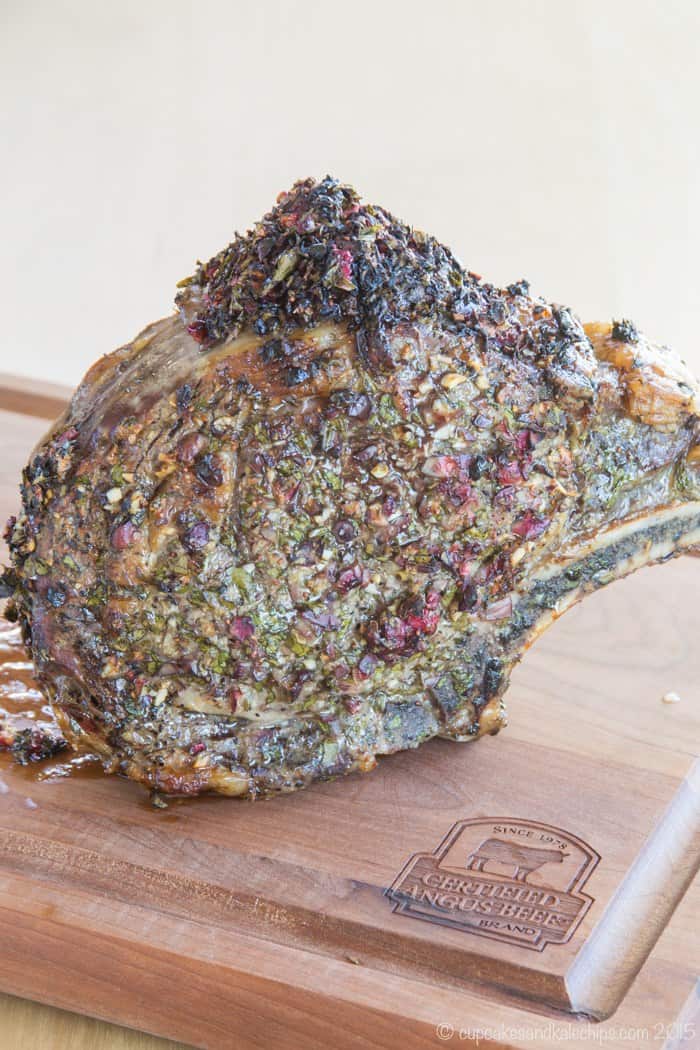 Cranberry Crusted Prime Rib Roast Recipe
Slicing into this prime rib, you'll know you are in for something special. It is so tender that the knife barely has to do any work. And the taste is just amazing. The natural marbling in the beef roast imparts tons of flavor, but the addition of the cranberry rub with its garlic and parsley not only makes this roast a beauty to behold, but it also infuses a savory, holiday element into the meat.
Then just top it with your favorite store bought or homemade cranberry sauce, like this Cinnamon Orange Cranberry Sauce and you have the ultimate holiday main dish. It is seriously melt in your mouth good.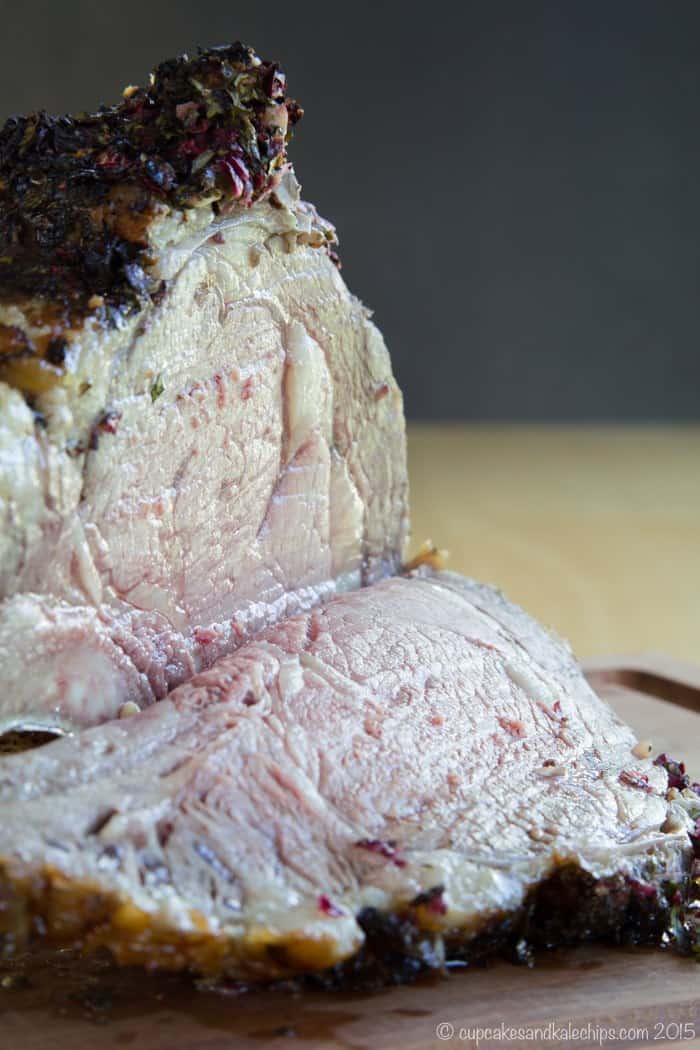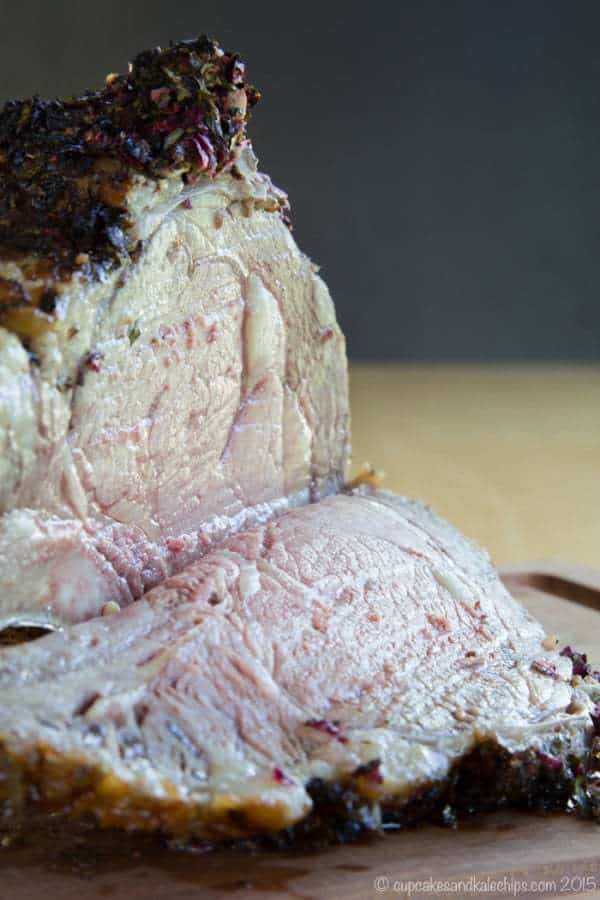 How Do You Make the Best Prime Rib using the RoastPerfect app?
Even though you haven't had the opportunity to hang out in the kitchen with these chefs, and you won't have me or them with you on Christmas Day as you get ready to pop your roast into the oven, you do have a friend by your side. The Roast Perfect app will be your instructor, your sous chef, your moral support, your cheerleader – whatever you think you need to make an incredible roast. And it's available for free in iTunes store (for iPhone and iPad) and Google Play (for Android).

Whether you need to know where to buy your Certified Angus Beef® brand roast, which cut to buy, or how much, the Roast Perfect app can help you with that. Once you are home and getting ready to prepare your roast, you can find recipes, tips from Chef Michael, and even ideas for side dishes. And at roasting time, the built in timer will tell you exactly how long to sear, roast, and rest your beef to ensure that you have the perfect holiday entree coming out of your oven.
While the boys and I thoroughly enjoyed this prime rib (as well as the leftovers in sandwiches a couple days later), I am so excited to buy a bigger roast to share with my entire family for Christmas. And I know that the Roast Perfect app will help me determine how much I'll need and how to adjust my cooking time so that it too will turn out as wonderful as this one.
You can use the RoastPerfect app to make this, or any of the best prime rib recipes!
Why is Certified Angus Beef® brand the best beef?
Marinades ad rubs add a lot of flavor, but the most important ingredient is the roast itself.
Certified Angus Beef® brand meets 10 exacting standards for quality, and the 1 in 4 Angus cattle that meet these standards produce the tastiest, most tender, and juiciest cuts of beef.

Certified Angus Beef® brand has been supporting local farmers and ranchers for nearly 40 years, and is available around the world at only the best grocery stores and steakhouses.

Make sure you find

restaurants or grocers

in your area that sell Certified Angus Beef® brand.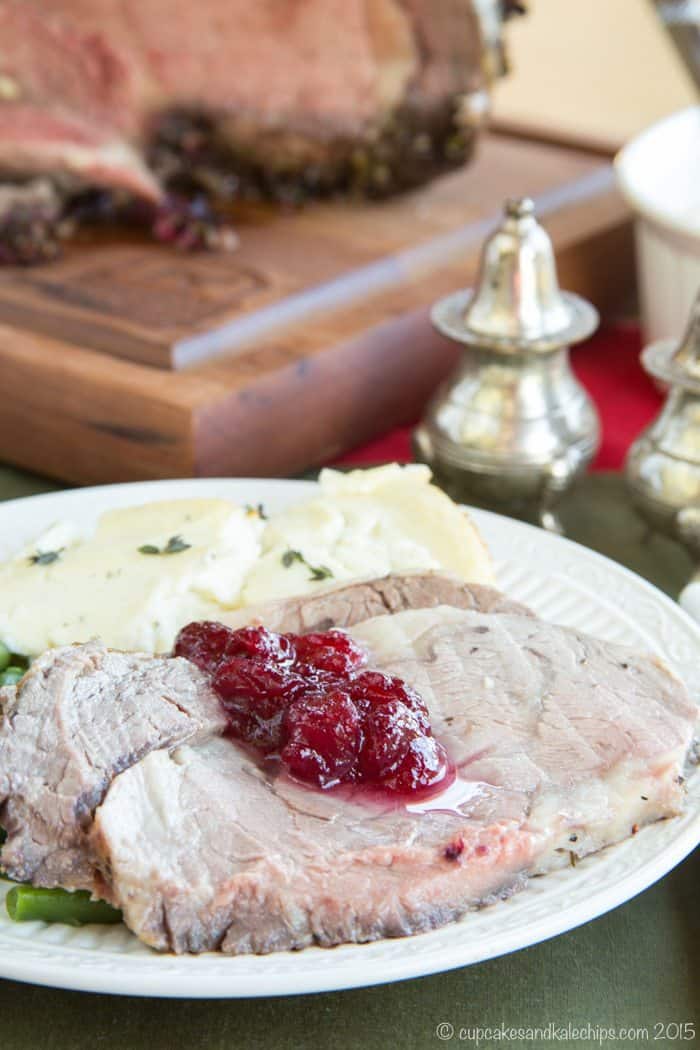 Make it a Meal
Side Dishes for Prime Rib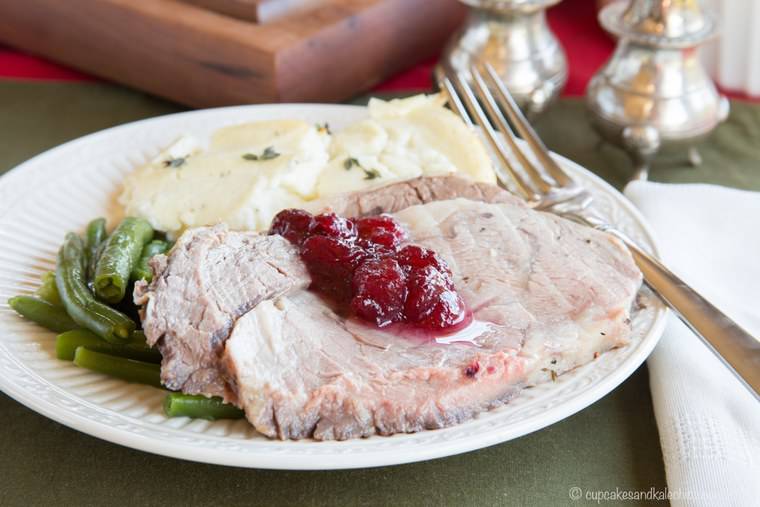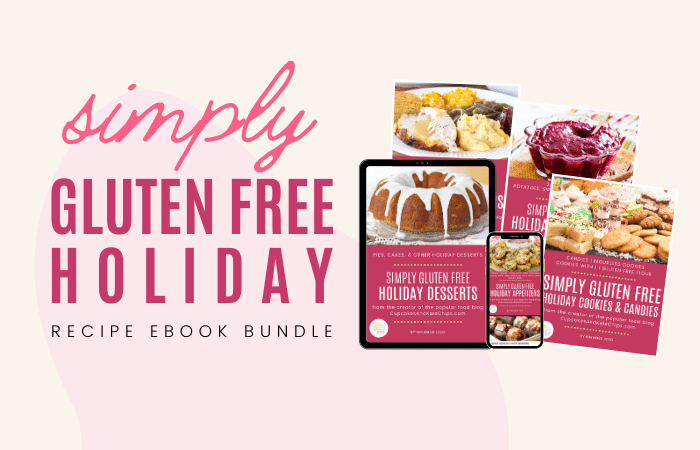 More showstopper beef recipes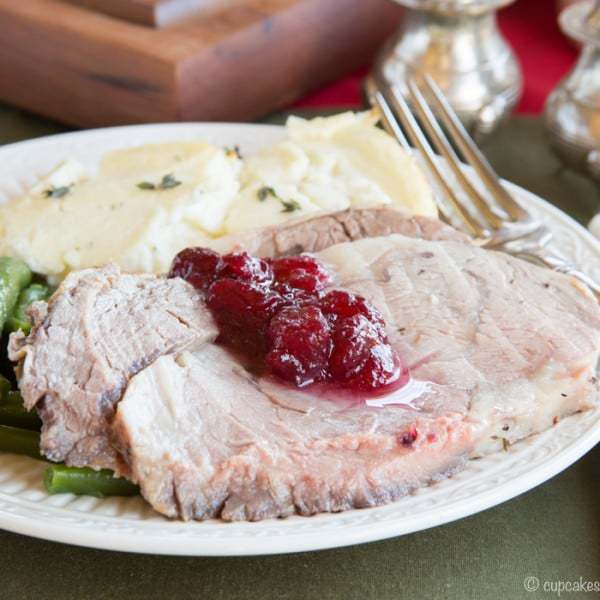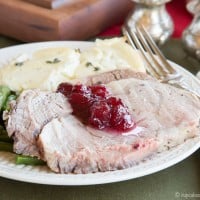 Cranberry Crusted Prime Rib Roast
A perfectly tender and flavorful beef roast to impress family and friends.
Ingredients
4

pounds

Certified Angus Beef ® prime rib roast

(or the size that you need based on our number of guests)

3

cloves

garlic

minced

Salt and pepper to taste

1

cup

chopped fresh cranberries

1/2

cup

chopped fresh parsley

1

teaspoon

lemon zest

Cranberry sauce

chutney, or relish (store-bought or homemade)
Instructions
Preheat oven to 450ºF.

Rub roast with garlic. Season roast generously with salt and pepper.

Combine cranberries, parsley and lemon zest. Press mixture firmly on to the roast. Place bone-side down on rack in shallow roasting pan.

Place beef in oven and roast 15 minutes. Turn heat down to 325ºF and continue roasting about 1 1/2 to 2 hours until cooked to medium (when thermometer placed in center of roast registers 140ºF before resting) or until desired doneness. Because roast sizes vary, figure 12-15 minutes of roasting time per pound after initial sear.

Transfer roast to cutting board; loosely tent with foil and let stand 15 to 20 minutes. Slice roast across the grain.
Nutrition Facts
Cranberry Crusted Prime Rib Roast
Amount Per Serving (4 oz)
Calories 342
Calories from Fat 270
% Daily Value*
Fat 30g46%
Cholesterol 68mg23%
Sodium 51mg2%
Potassium 268mg8%
Carbohydrates 1g0%
Protein 15g30%
Vitamin A 160IU3%
Vitamin C 3.6mg4%
Calcium 12mg1%
Iron 1.7mg9%
* Percent Daily Values are based on a 2000 calorie diet.
Categories:
Enjoy! Originally published Dec 6, 2015.