This post may contain affiliate links. Read my disclosure policy.
Beef phyllingtons are a tasty twist on beef Wellington, using phyllo dough as the exterior crust. Individual sized portions make beef phyllingtons a perfect Valentine's Day dinner.
It's a Valentine's Day #SundaySupper! So what did I make? Chocolates? Cookies? Cake? Nope! The way to MY Hubby's heart is BEEF!!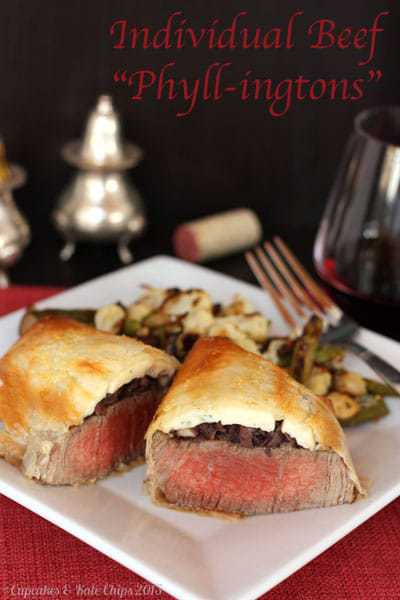 Now, he would be perfectly happy with just a plain, old flank steak or strip steak thrown on the grill. But for Valentine's Day, dinner should be more special, with Individual Beef Phyllingtons. Especially when he gets his Valentine's meal two weeks early. Such is life as the spouse of a food blogger. He also helps me with washing lots of dishes. Many of which were never eaten off of. And he had to smell this cooking in the early afternoon, since I made one to photograph in the good light, but then made him wait until dinnertime to actually eat it. Yes, I did cook it fresh. The Bug got the pre-cooked one. 😉  It's cruel, isn't it? Actually, no, when you get rewarded with this…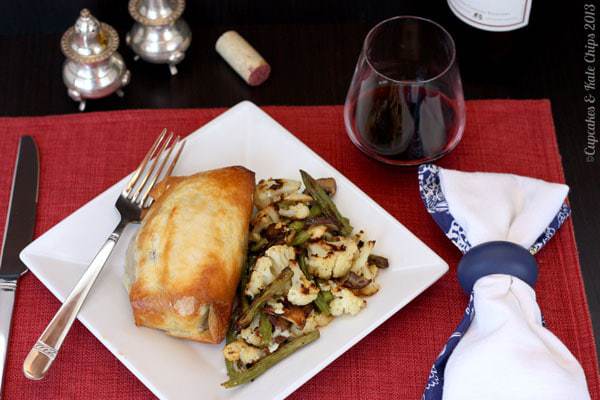 I've made this recipe a few times in the past. Once when The Hubby got a new job, and another time when The Bug was itty bitty, and I wanted to treat us to a date night in. I am so excited to finally share it with you. So it is definitely a special occasion dish, and the steps and effort are evidence that this is not any-old-Tuesday fare. But you can do parts of it in advance, then just assemble everything and bake it right at the end.
I combined elements of different versions of Beef Wellington that I have seen over the years. No pate, it's just not my thing, but I had to have the mushroom duxelle. And blue cheese was a total necessity. And really, the best filet you can get your hands on. Then, in an effort to lighten things up a bit, without totally losing that flaky crust, I went with phyllo dough in place of the traditional puff pastry. Now, to be honest, I've never had "traditional" Beef Wellington, but I am perfectly happy with this version.
I think you will adore beef phyllingtons!
You will need a knife to cut through all the layers, but the perfectly medium-rare beef will melt in your mouth. The lovely crust against the soft mushrooms, with the bite of red wine, and ooooh, the lovely tang of blue cheese that just pairs so perfectly with everything beef and mushrooms. My mouth is watering just thinking about it.
Beef phyllingtons are delicious with Blue Cheese Roasted Veggies, but I think they'd also be fabulous with some Browned Butter Whipped Butternut Squash. Or a Romaine "Wedge" with Hot Maple Bacon Dressing, or Balsamic Roast Vegetables. Possibly even some Cornmeal Crusted Asparagus. The bubbles and pretty red color make a Cranberry Sparkler Mocktail (or use sparkling wine, if you would like a cocktail) a perfect drink to the occasion.
And for dessert, what could be more romantic than some Chocolate Covered Cheesecake Strawberries?! Or maybe one of the other #SundaySupper recipes you'll find at the bottom of this post. Check out the list and be inspired to cook from your heart!
Yes, totally Bug- AND Hubby-Approved! And while I hope you love this recipe, too, really, that is all that matters!

Side note: maybe getting my 2 1/2 year old hooked on fancy foods like Beef Wellington is not such a good idea. Doesn't bode well for my wallet in the future.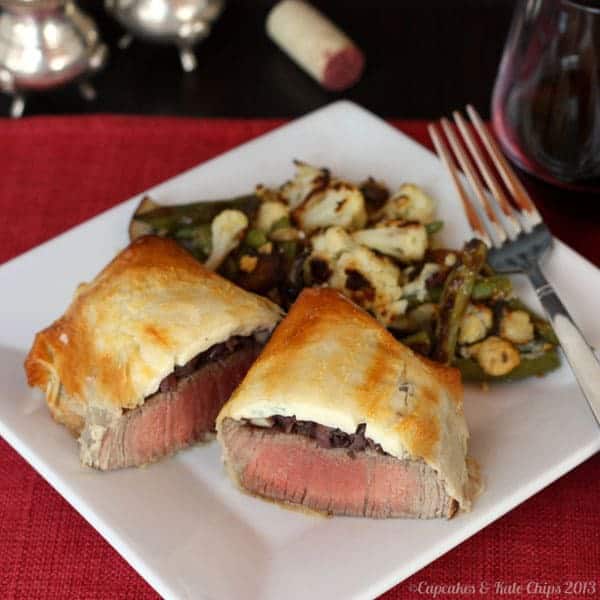 What is the food (savory or sweet) that is the way to your Valentine's heart?
This year, consider saying "I love you" with beef phyllingtons!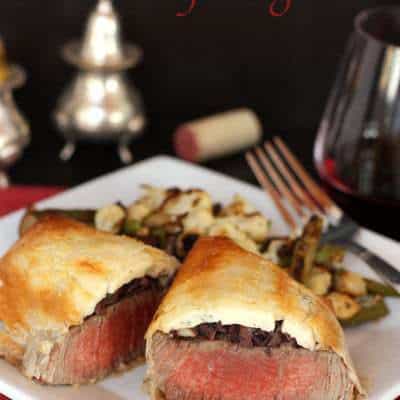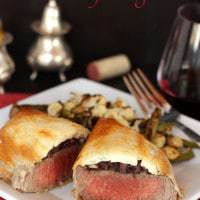 Individual Beef "Phyllingtons"
Tender filet, topped with a red wine mushroom duxelle and blue cheese, then wrapped in phyllo for a flaky crust. What better for a special occasion meal?
Ingredients
For the Mushroom Duxelle:
1

t

olive oil

half of a shallot

minced

4-5

oz

white

cremini, or baby bella mushrooms, finely diced

1/2

t

kosher salt

a few grinds pepper

1

t

chopped thyme

1/4

c

red wine
For the "Phyllingtons":
four 6 oz. filets

about 1-1 1/2 in. thick

kosher salt and freshly ground black pepper

4

oz.

blue cheese

sliced (crumbles will work too, but it is a little messier)

12

sheets phyllo dough

olive oil in a spray bottle

or cooking spray

1

egg

lightly beaten
Instructions
For the Mushroom Duxelle:
Heat the olive oil in a pan over medium heat.

Add the shallot, salt, and pepper, and saute for 2-3 minutes, or until shallot starts to become translucent.

Add the mushrooms and thyme, and cook for 5-8 minutes, until the mushrooms are soft, and most of the liquid has evaporated.

Pour in the red wine and cook until it evaporates, about 3-5 minutes.

Remove from the heat and set aside.
For the "Phyllingtons":
Preheat oven to 450°F. Coat a baking sheet with olive oil or cooking spray.

Heat a heavy pan (I used cast iron) over high heat until it is very hot.

Coat pan well with olive oil or cooking spray.

Season each side of the filets with salt and pepper.

Add the filets to the pan, and sear for 2-3 minutes on each side.*See Notes

Remove the filets from the pan and set aside.

Divide the mushroom mixture on top of each of the four filets.

Top the mushroom mixture with about 1 oz. of cheese per filet.

For each "phyllington", layer three sheets of phyllo dough, spraying olive oil or cooking spray to coat each layer.

Place a filet on top of the stack of phyllo, several inches from the edge. Wrap the dough from one side over the top, and roll it up with the seam on the bottom (cut excess phyllo, if needed), tucking the ends under.

Place the packet on the baking sheet.

Repeat with the remaining three filets.

Brush the top of each "phyllington" with the beaten egg.

Bake for 9-10 minutes, or until the crust is golden.

Allow to rest for several minutes before serving.
Notes
The Mushroom Duxelle can be prepared in advance, and you can also sear the steaks ahead of time, then assemble and bake before serving.
If you like your steaks cooked a little more than the medium rare shown here, then I would recommend thinner steaks and/or searing a little longer, as baking longer may overbrown the crust.
Categories:
Enjoy!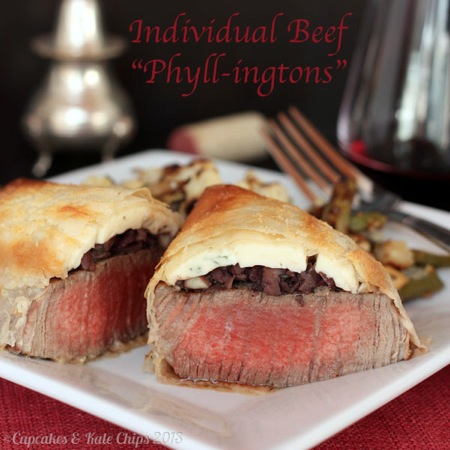 Check out what the rest of the #SundaySupper crew is serving up for Valentine's Day. Everything is so fabulous, you'll feel like you've been shot in the behind with cupid's love arrow.
#SundaySupper Valentine's Day Breakfasts, Apps & Main Dishes:
#SundaySupper Valentine's Day Sweet Eats:
#SundaySupper Valentine's Day Drinks:
#SundaySupper Valentine's Day Tablescape:  A Romantic Table For Two Please from An Appealing Plan
This recipe was shared with: Thursday's Treasures