This post may contain affiliate links. Read my disclosure policy.
Dinner on the table in less than 30 minutes with just a few ingredients? Absolutely when you use McCormick Gluten-Free Recipe Mixes to make this super easy Gluten Free Stir Fried Beef and Broccoli.
Gluten Free Stir Fried Beef and Broccoli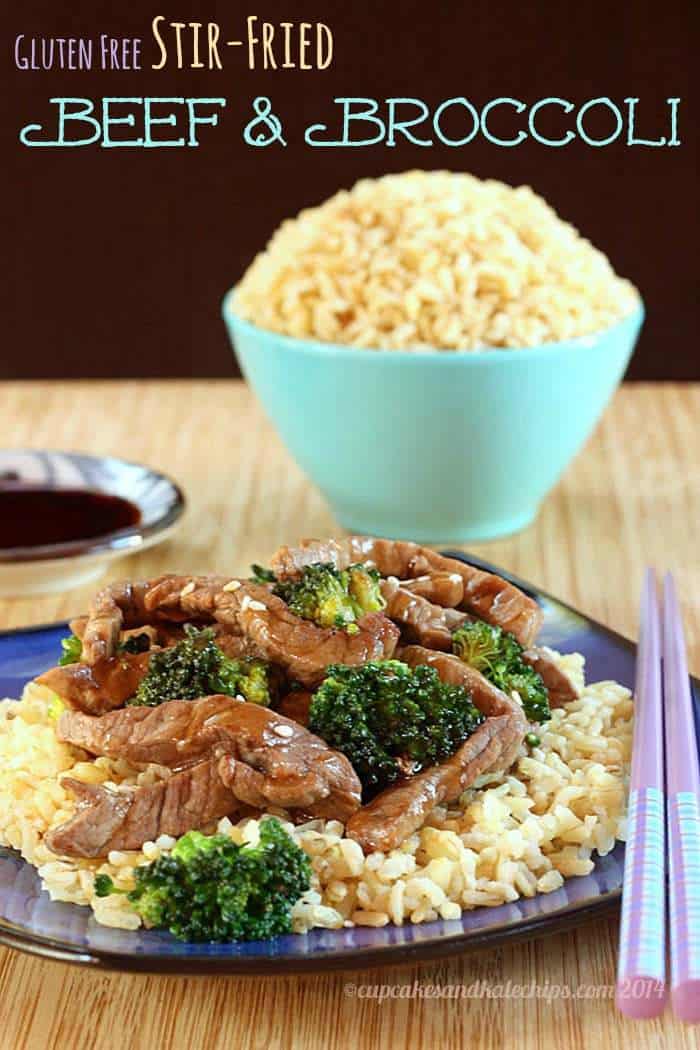 Disclosure: I was asked to participate in the McCormick Gluten-Free Recipe Mixes Launch as a member of the Healthy Aperture Blogger Network. I received free samples of McCormick Gluten-Free Recipe Mixes from McCormick mentioned in this post. I was compensated for my time. As always, all opinions are my own.
So if you've been following along lately, you know about the house selling/house buying/moving to a new state/Hubby already working in the new state saga. You may recall we had a total whirlwind of a week where I pretty much had to drag my boys in and out of the house and feed them all kinds of random junk because everybody and their brother wanted an appointment to come see our house, and all of them between the house of 4 pm and 8 pm. This was both a blessing and a curse, since we did sell our house within six days.
Well, now that the utter and complete chaos is over, we have settled into a routine of only partial chaos. While we thankfully aren't hitting up fast food joints anymore, without The Hubby or really much family nearby at all, I'm going solo during the week, all while juggling my full-time stay-at-home mom gig (which lately has involved taking care of two little boys that keep tossing their colds and ear infections and pinkeye back and forth while fighting off a weeklong virus myself), my part time work-at-home blogging gig, and all of the inspections and contractors and realtors and notarized documents and everything else involved in selling and buying a house. This means I have to get dinner on the table fast. Sure, with only two little boys to feed who are happy eating bananas or cheese sticks or crackers, I don't have to get all fancy-shmancy. But I still want something that I think is delicious, as well as something nutritious for all of us.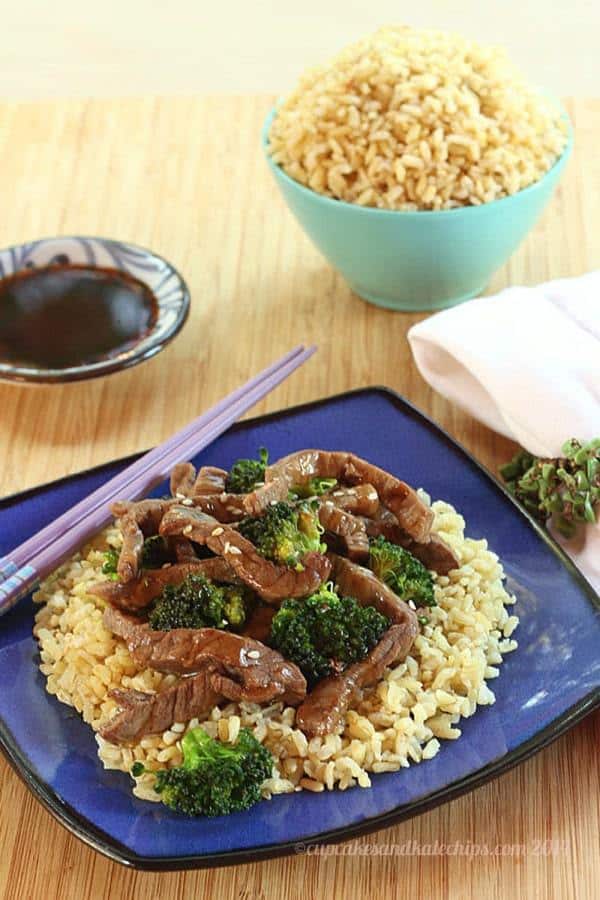 So when I had the opportunity to try out the new line of McCormick Recipe Mixes that are now available gluten-free, the timing couldn't have been better. Especially since I can make recipes that are not only easy, but healthy too, because the mixes are made with natural herbs and spices, and no artificial flavors, colors, or MSG. Plus they are certified by the National Foundation for Celiac Awareness, and they are the same price as the original mixes!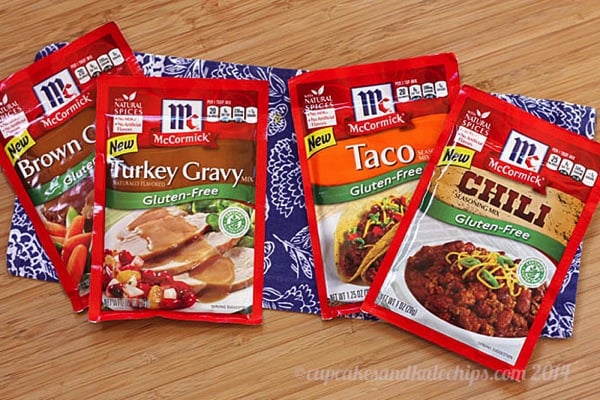 Available in four favorite varieties – Taco, Chili, Brown Gravy, and Turkey Gravy – these mixes are perfect for classic recipes, like a basic chili, traditional tacos, a simple roast turkey, or good ol' mashed potatoes and gravy. But they can also bring a ton of flavor to modern, creative and unique recipes. Come back next week to see how I took one of my family favorite recipes and added a little Mexican spice to it. But for now, how about a simple and flavorful meal from the McCormick recipe vault…
Gluten Free Stir Fried Beef and Broccoli was a total hit with The Bug, King Stuff and I. The sauce was made simply with the McCormick Gluten-Free Brown Gravy Mix and some ginger for a bit of Asian flavor, and it coated the beef and broccoli with thick, rich, saucy goodness. The Bug isn't the biggest beef fan and King Stuff isn't the biggest broccoli fan, but they both cleared their plates because the stir fry was so tasty. I love anything that gets my kiddies to eat their protein and veggies, but I also loved eating it myself. Next time I just have to make sure The Hubby is around to enjoy it with us.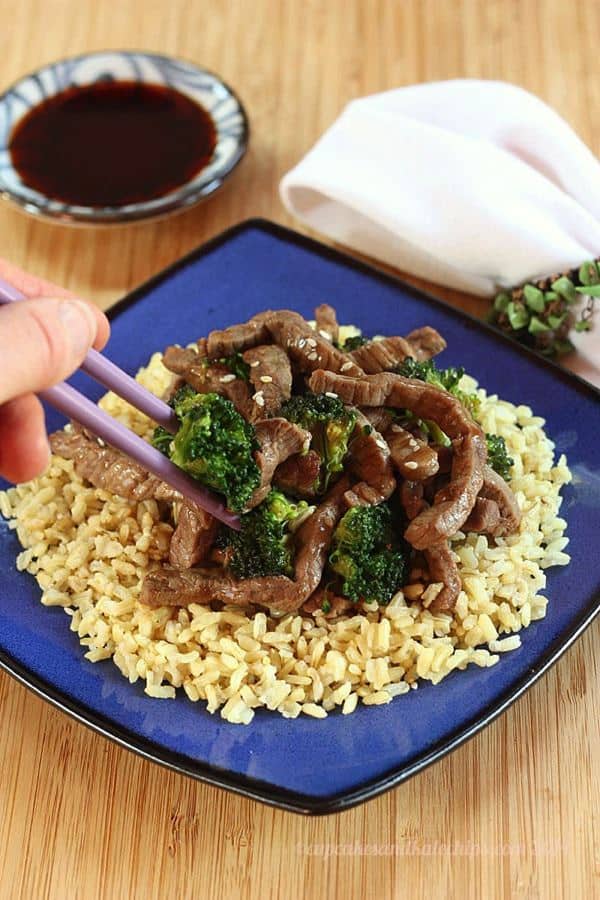 What would you make with the new McCormick Gluten-Free Recipe Mixes?
You can save this or any of my recipes and those from many of your favorite brands, blogs and website to your own personal recipe box. After creating your account, simply click 'Save Recipe' below. It will then be saved in your personal recipe box which you can access at any time, and even create meal plans and grocery lists.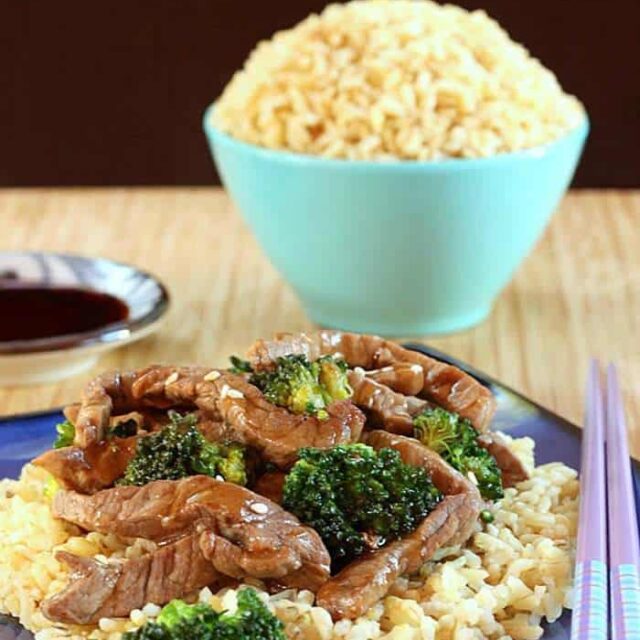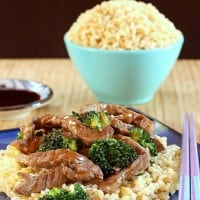 #GlutenFree Stir Fried Beef and Broccoli
Get dinner on the table in less than 30 minutes when you use McCormick Gluten-Free Recipe Mixes to make Gluten Free Stir Fried Beef and Broccoli.
Ingredients
1

package McCormick® Gluten-Free Brown Gravy Mix

1

cup

water

1/2

teaspoon

McCormick® Ginger

Ground

1

tablespoon

vegetable oil

3/4

pound

flank steak

cut into thin strips (Note: I substituted Top Round)

2

cups

broccoli florets

Brown or white rice for serving

plus optional toasted sesame seeds, chopped scallions, and gluten free soy sauce or soy sauce, if desired.
Instructions
Combine Gravy Mix, water, and ginger in a bowl, stir and set aside.

Heat the oil in a large skillet over medium heat.

Add the beef strips, and cook while stirring for 3 or 4 minutes.

Add the broccoli and gravy mixture. Bring to a boil, reduce heat to low, cover and simmer 5 to 8 minutes, or until broccoli reached desired doneness.

Serve over cooked rice, and garnish with sesame seeds or scallions, if desired. Drizzle with gluten free soy sauce or tamari if desired.
Categories:
Enjoy!
Looking for some more quick and easy (and gluten free!) dinners…
Plus here are some recipes my friends made with McCormick gluten free recipe mixes…