Gluten Free Beef Stir Fry
Disclosure: This post may contain affiliate links. Cupcakes & Kale Chips is a participant in the Amazon Services LLC Associates Program, an affiliate advertising program designed to provide a means for us to earn fees by linking to Amazon.com and affiliated sites.
Beef Stir Fry is a perfect quick and easy dinner for a busy night. It is simple to prepare, cooks fast, and when you use Certified​ ​Angus​ ​Beef​​®​ ​brand and lots of crisp tender fresh vegetables, you get a meal that is packed with protein and vitamins, with the added bonus that the whole family loves it. But many of the ingredients in a typical stir fry recipe are sneaky sources of gluten. Luckily there are a few simple swaps so you can easily make a Gluten Free Beef Stir Fry recipe!
Disclosure: I am a ​ ​Certified​ ​Angus​ ​Beef​​®​ ​brand​ ambassador ​with​ ​a​ ​social​ ​media​ ​campaign​ ​through​ ​Sunday​ ​Supper​ ​LLC.​ ​All​ ​opinions​ ​are my​ ​own.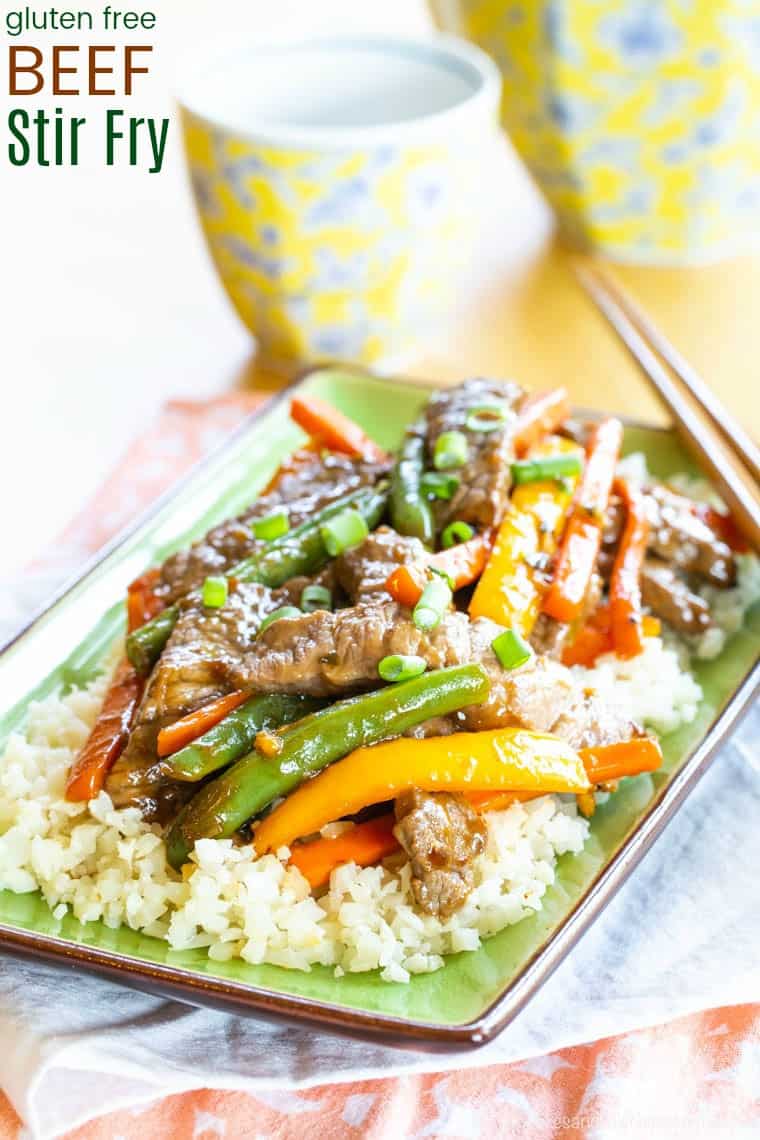 Two months into the school year and I think we are finally getting into the swing of things. You would think it would be easier with my youngest now in Kindergarten and both kids in the same school. However, there is a whole different dynamic at play now.
We used to drop off the little guy and preschool first, giving the big guy some time at home by himself. He also got home from school and had my full attention. Plus sometimes I would get him off to his after school activities before picking the little one up. Or we might even have fifteen to twenty minutes to get started on homework without a bored, attention-seeking little brother running around.
Oh wait, did I mention that my Kindergartener and Third Grader have lunch and recess at the same time? Sometimes these two seriously need a break from each other.
Luckily the big guy goes to karate only five minutes away from the house. So I can drop him off and come home with the little guy and have him help be throw together a quick dinner. But we don't have long before we have to head back and pick him up.
But that means I need fast and easy meals like this…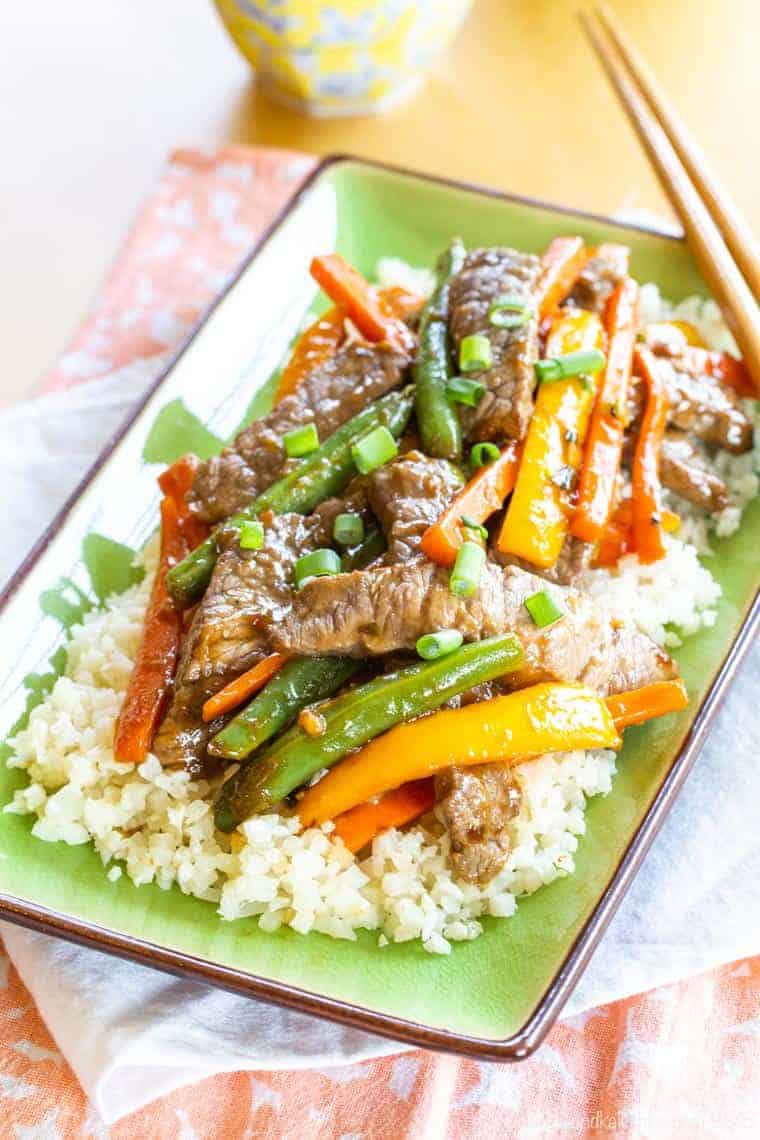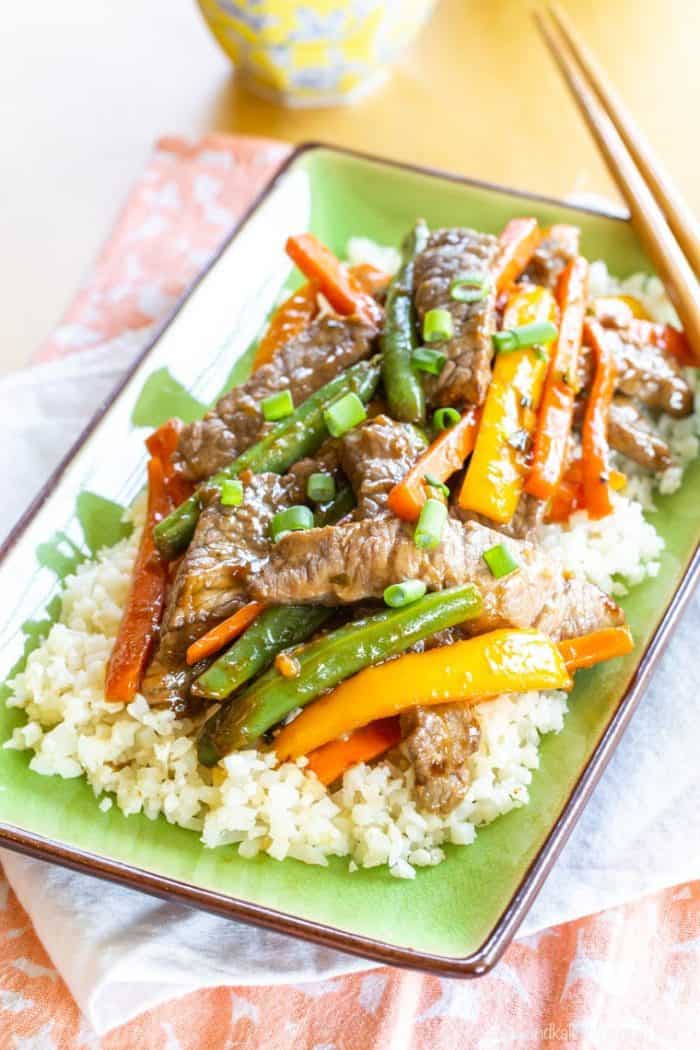 Gluten Free Beef Vegetable Stir Fry Recipe
Stir fry is a go-to for quick and easy dinner recipes. A few minutes of prep time, a few minutes of cook time, and a few ingredients that pack a flavor punch, and dinner is ready. Plus you can pack in plenty of protein and lots of nutrients, especially when you make a stir fry with beef and plenty of fresh vegetables. Keep you meal gluten free while adding fiber from whole grains by serving your stir fry over cooked brown rice or even brown rice and quinoa ramen noodles, which is my boys' favorite. And while this isn't a strictly low carb recipe, you can cut the carbs a bit and add in even more veggies by scooping it over cauliflower rice or even alongside Sesame Zucchini Noodles.
How do I make beef stir fry?
Start by cutting your steak and vegetables into strips of a similar size. Since this stir fry recipe has green beans, you'll want your ingredients cut in thin strips.
Whisk together the sauce ingredients and set a small amount aside. Marinate the steak in the remaining sauce for at least 30 minutes. You can even do this before you leave for work in the morning.
The marinade you set aside gets whisked with corn starch, which will later become your stir fry sauce.
Heat oil in a pan or wok over high heat and stir fry the steak in batches for just a couple minutes and set aside.
Stir fry the vegetables until crisp-tender, then add the sauce.
Finally, return the beef to the pan and toss to coat everything evenly with the sauce. It will take just a minute for the sauce to thicken.
Serve over rice, noodles, or cauliflower rice and enjoy immediately.
How do I make gluten free stir fry sauce?
The original recipe calls for soy sauce and plum sauce, both of which are not gluten free. Gluten free versions are available, but be sure to read labels carefully. Or you can even make your own Homemade Plum Sauce if you are sure use gluten free soy sauce in the recipe.
Duck sauce is a good gluten free substitute for plum sauce, as both have a sweet and sour flavor and thick texture.
Tamari is the most common substitute for soy sauce, as it is typically made from just soy, and not fermented with wheat like most soy sauce brands you can find in the store.
Coconut aminos is another substitute for soy sauce. It does not have as strong of a flavor, so you can consider using more, but your sauce might be a little thinner.
The gluten free stir fry sauce is thickened with cornstarch, so no substitution is needed because cornstarch is gluten free. However, some people prefer to use tapioca starch. You will likely need to double the amount to achieve the desired thickness for your sauce.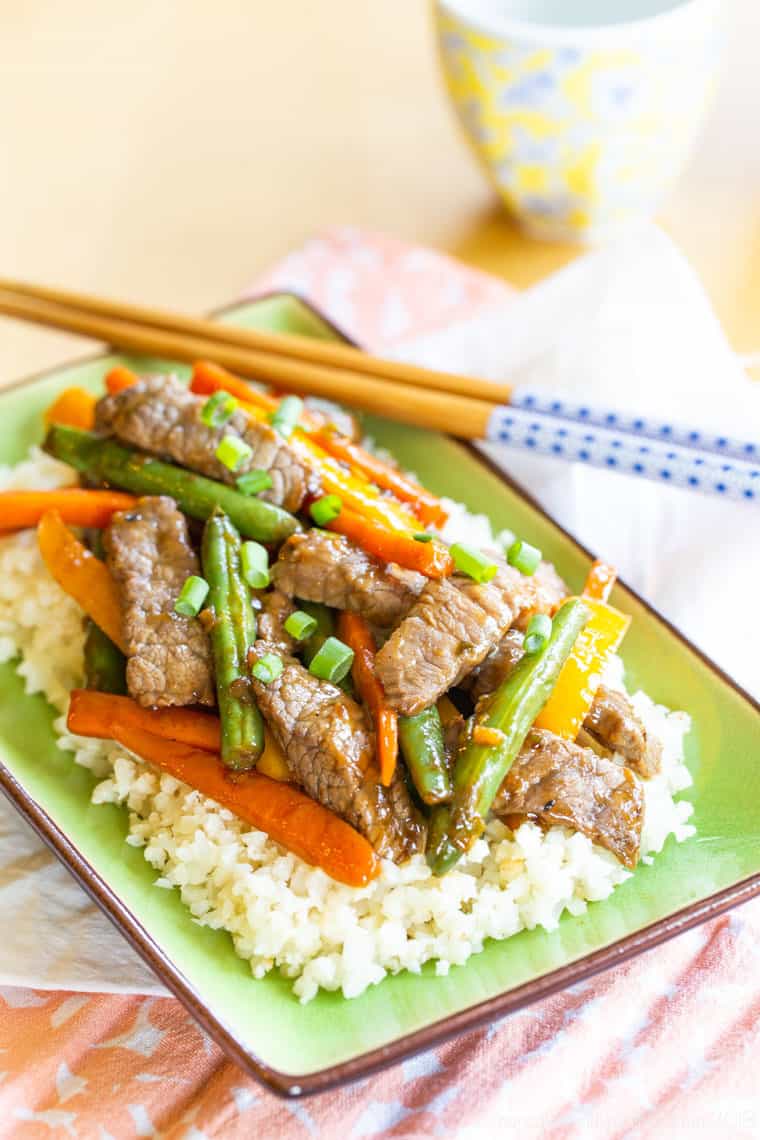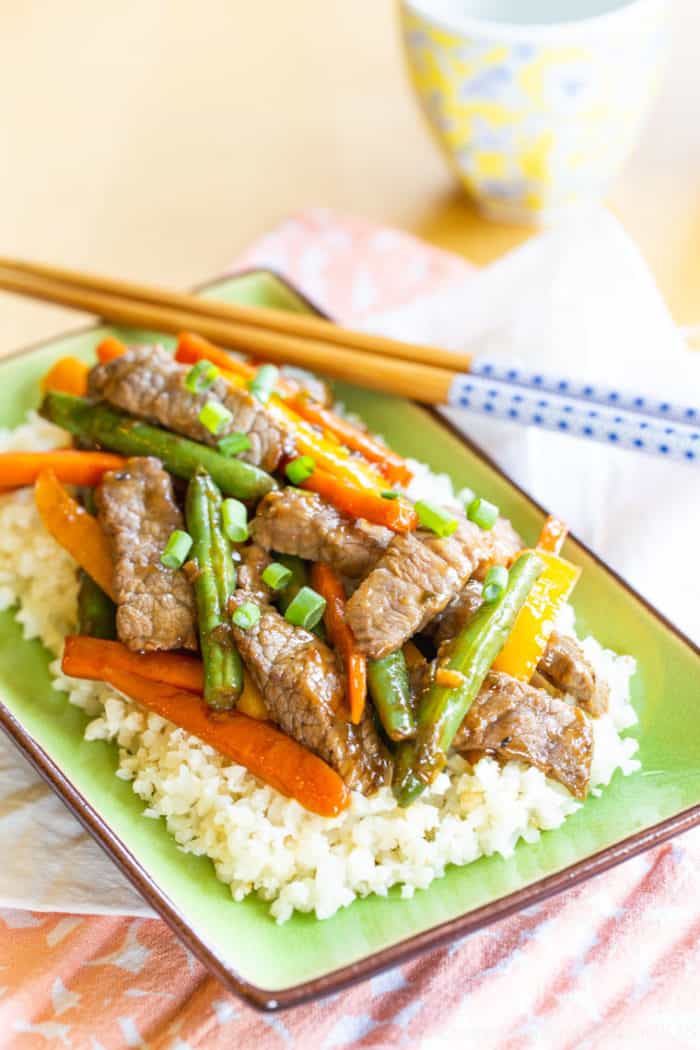 Why is Certified Angus Beef® brand the best Angus beef?
If you want to keep your stir fry beef tender, you want to stir fry it at a high temperature very quickly to avoid overcooking it. But another tip is to make sure you use the most tender beef available.
Certified Angus Beef® brand is truly a cut above even Choice and Prime steaks. That's because it must meet ten demanding quality standards. These standards ensure flavorful and juicy cuts of meat. That makes it the choice of 15,0000 of the most elite restaurants and retailers around the world. I get my Certified Angus Beef® brand from my local Weis Markets. You can use the product locator to find your local retailer.
Make sure you get more information about Certified Angus Beef® brand on their website, plus get tons of information and recipes ideas by following them on Facebook, Twitter, Pinterest, Instagram, and YouTube.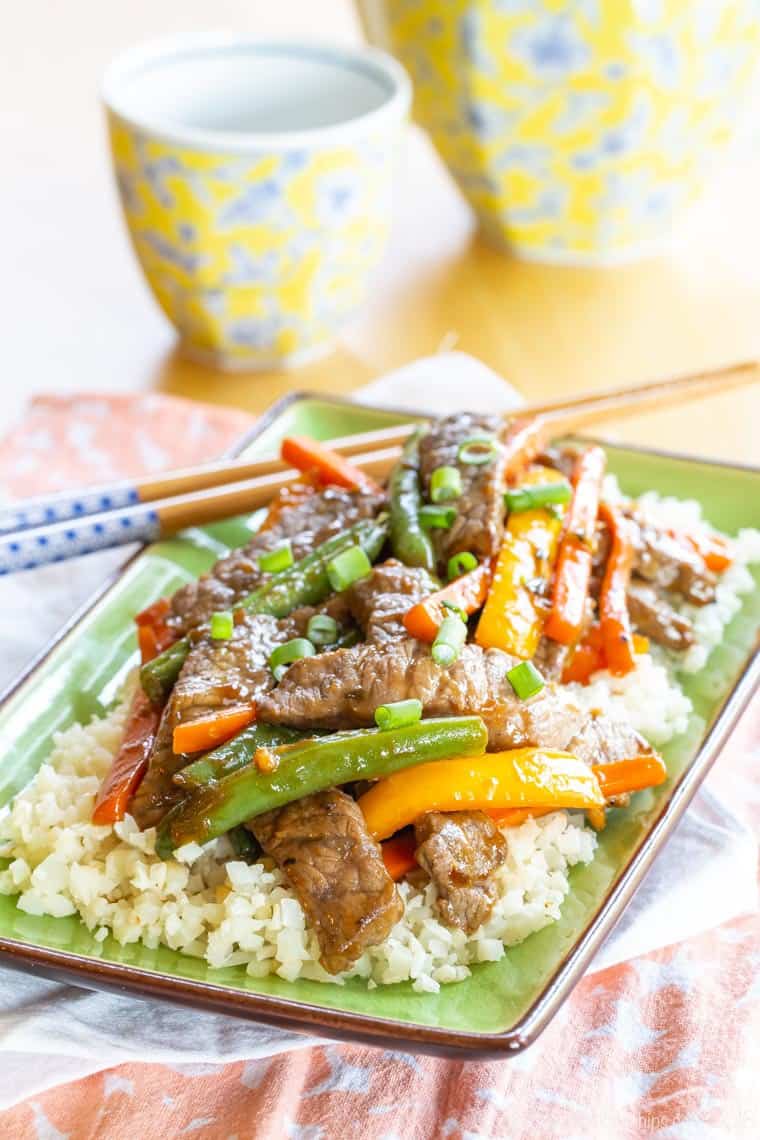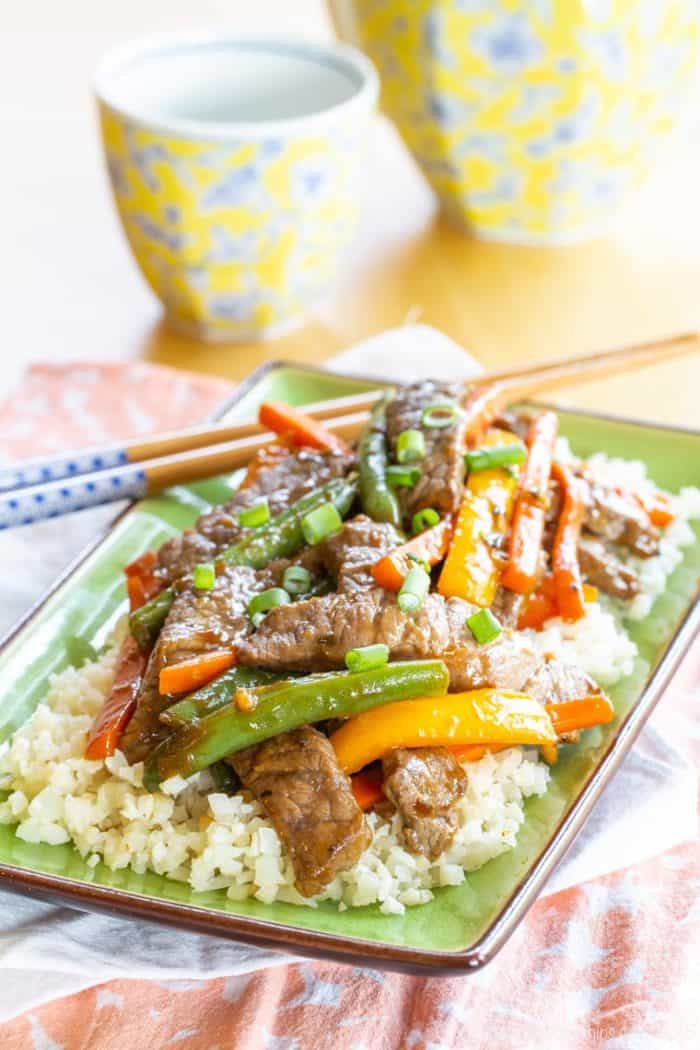 What are some other easy gluten free beef recipes?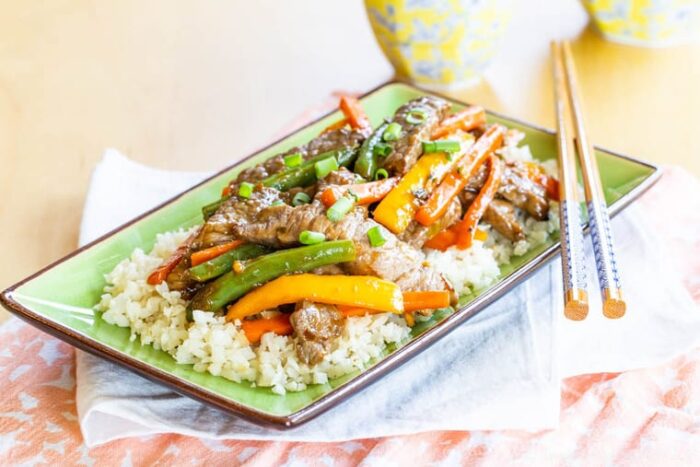 For more yumminess from me and my foodie friends, keep up with me on…
Or sign up to have Cupcakes & Kale Chips delivered straight to your Inbox!
Gluten Free Beef Stir Fry Recipe
Beef and vegetable stir fry is always a family-favorite dinner that is quick and easy. In fact it's probably even faster to make a stir fry yourself than it is to order takeout. And when you make it at home, you can use a few simple substitutions to make a gluten free stir fry sauce. This means everyone can enjoy this Asian dinner packed with flavorful steak and colorful veggies.
I hope you'll leave a comment and give it a FIVE STAR rating or share a photo on this pin on Pinterest!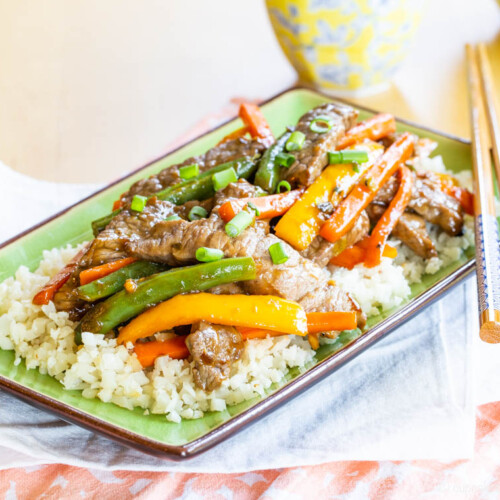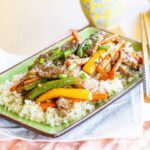 Print Recipe
Gluten Free Beef Stir Fry
A quick and easy Asian-inspired dinner recipe the family loves with strips of steak and crisp-tender veggies. A few simple substitutions make it gluten free.
Ingredients
1

pound

Certified Angus Beef® brand bottom round steak

1/4

cup

duck sauce

1/4

cup

tamari,

coconut aminos, or gluten free soy sauce

2

tablespoons

rice wine vinegar

1

teaspoon

toasted sesame oil

1

Tablespoon

minced garlic

1

Tablespoon

peeled and minced ginger

1 1/2

teaspoons

cornstarch

2

Tablespoons

canola oil

or avocado oil

2

medium carrots,

peeled and cut into 1/4 inch x 2-inch strips (about 1 cup)

1

medium yellow bell pepper,

cut into 1/4 inch x 2-inch strips (about 1 1/2 cups)

4

ounces

whole fresh green beans,

snapped into 2-inch pieces

4

green onions,

chopped (including tops)

Cooked rice,

gluten free ramen noodles, or cauliflower rice, prepared as directed.
Instructions
Cut steak across the grain into 1/4 inch x 2 inch slices and place in a plastic zipper-top storage bag.

In a small bowl, whisk together the duck sauce, tamari, rice vinegar, sesame oil, garlic and ginger.

Pour 1/4 cup into a separate small bowl and whisk in cornstarch. Set aside for later.

Pour remaining marinade over meat in the bag and marinate at least 30 minutes.

Remove beef from marinade using a slotted spoon and pat dry. Discard excess marinade.

Heat a nonstick skillet or wok over high heat. Add the oil to the pan and stir fry beef in two batches for 2 to 3 minutes, set aside.

Add carrots, bell pepper, green beans and green onions to the pan, stir-fry for 3 to 4 minutes.

Stir in reserved sauce mixture, tossing constantly for an additional 2 to 3 minutes or until vegetables are crisp-tender.

Return beef to the pan and toss to coat.

Serve immediately over rice, gluten free ramen noodles, or cauliflower rice.
Notes
Nutritional information does not include rice or noodles for serving.
Recipe slightly adapted form Certified Angus Beef® brand Beef & Garden Vegetable Stir Fry.
Nutrition
Calories:
317
kcal
|
Carbohydrates:
18
g
|
Protein:
28
g
|
Fat:
14
g
|
Saturated Fat:
2
g
|
Cholesterol:
70
mg
|
Sodium:
1002
mg
|
Potassium:
735
mg
|
Fiber:
2
g
|
Sugar:
2
g
|
Vitamin A:
5470
IU
|
Vitamin C:
63.3
mg
|
Calcium:
64
mg
|
Iron:
3.7
mg
Enjoy!