This post may contain affiliate links. Read my disclosure policy.
These easy Korean Vegetable Pancakes (Yachaejeon) are pan-fried vegetable fritters made with crispy gluten-free batter. You're going to love dunking these savory pancakes in homemade Korean dipping sauce!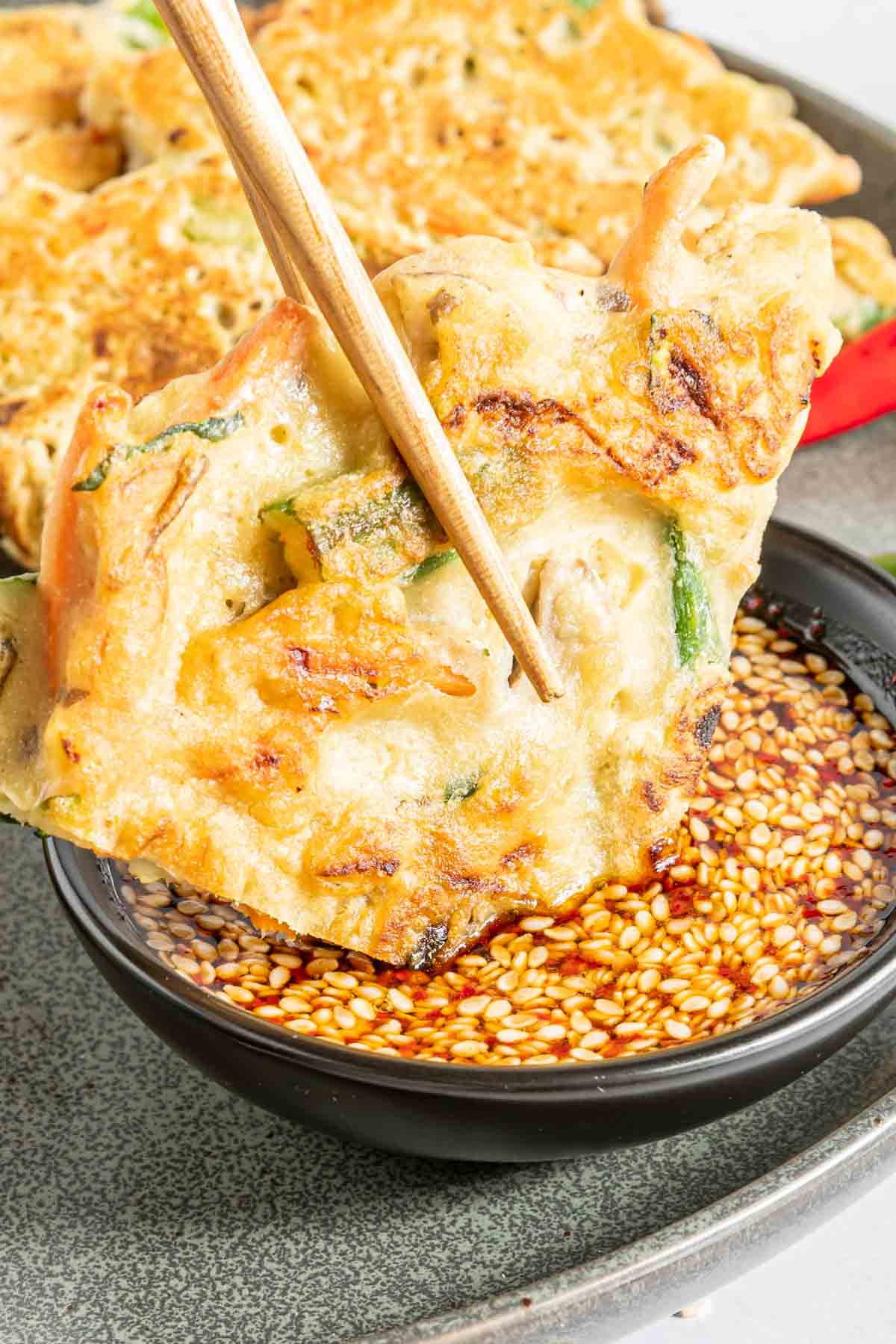 Quick and Crispy Korean Vegetable Pancakes
These crispy Korean vegetable pancakes, or Yachaejeon, are a delicious and traditional recipe that our family always devours in one sitting.
Crispy and pan-fried, Korean pancakes are a fast and easy snack, side dish, appetizer, or light meal. I make the sweet and spicy Asian-style dipping sauce from scratch, and the pancakes themselves are so simple yet so full of flavor!
This Korean pancake recipe is gluten-free, vegetarian, and vegan-friendly, and fries up in minutes on the stovetop.
What Is Yachaejeon?
In Korean, the term Yachaejeon literally translates to "vegetable pancake". These are similar to vegetable fritters, made from thinly sliced or minced vegetables that are coated in batter and pan-fried until crispy.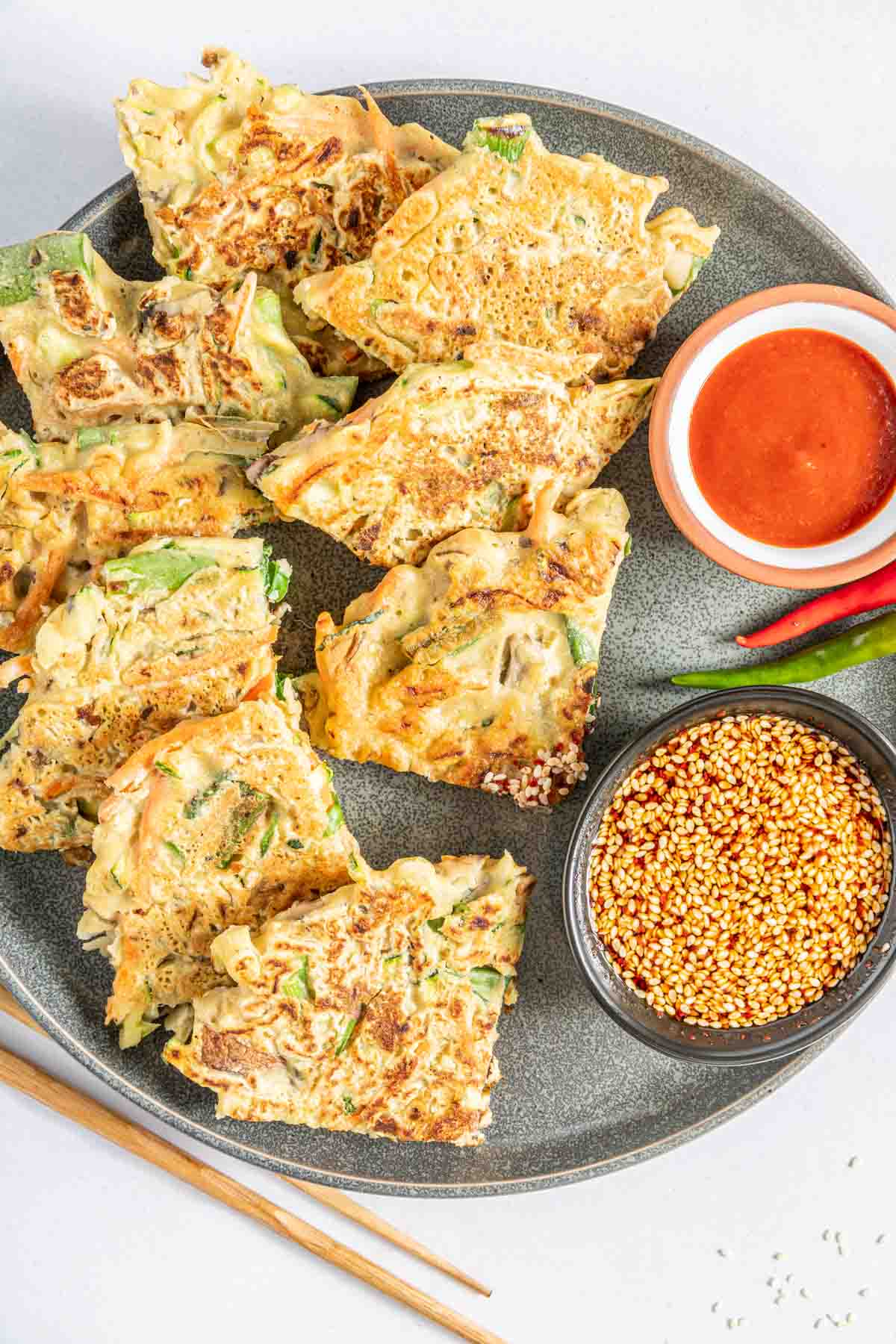 What You'll Need
The pancake batter for Korean pancakes is thicker than the batter for regular Gluten Free Pancakes, consisting of some pretty basic ingredients.
I've included the full details in the recipe card, but below is what you'll need to make the vegetable pancakes and also the homemade dipping sauce:
Vegetables: You'll need about 4 cups' worth of your choice of vegetables, cut into matchsticks or minced. I used zucchini, carrot, mushroom, and green onion for this recipe (see further down in the post for more ideas).
Garlic: I flavor my vegetable pancakes with 3 large cloves of finely minced garlic. A garlic press also works well here.
Chickpea Flour and Salt: I've found that chickpea flour works great in this vegetable pancake recipe. It's higher in protein than other gluten-free flour, while also being high in fiber, vitamins, and minerals, and it behaves similarly to wheat flour when it's cooked. You'll also need a pinch of either sea salt or kosher salt to season.
Seltzer: Or sparkling water. Make sure you buy the unflavored kind!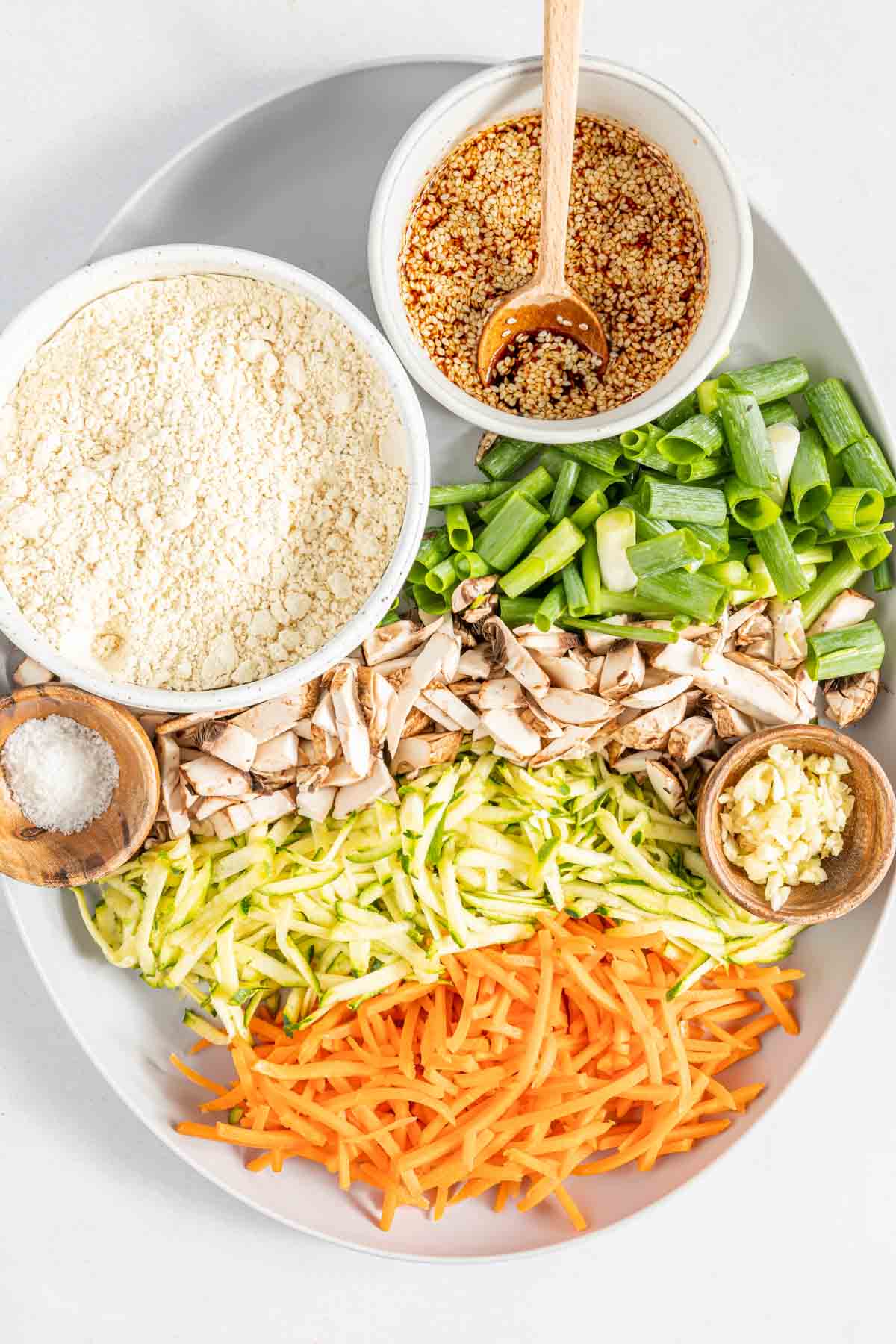 Dipping Sauce Ingredients
Soy Sauce or Tamari: Necessary to turn your sauce into an umami bomb.
Rice Wine Vinegar: This is a traditional ingredient, however, another white vinegar will also work in a pinch.
Sesame Seeds: I'll buy toasted sesame seeds, or lightly toast plain ones in a dry skillet until they're slightly browned.
Honey: For a hint of sweetness to balance the umami and heat. I love the natural sweetness that honey brings to this sauce. If you're making this recipe vegan, use maple syrup instead.
Chili Flakes: Korean vegetable pancakes call for Korean hot pepper flakes, also known as Gochugaru. Gochugaru is essential in Korean cuisine, and you'll find it in Asian supermarkets or in the spice aisle of some major grocery chains. If you're really stuck without it, substitute crushed red pepper instead.
Sesame Oil: I recommend using toasted sesame oil if you can find it, though regular sesame oil is also fine.
Shop for Gluten Free Ingredients
Last updated on September 26, 2023 1:20 am
How to Make Gluten-Free Vegetable Pancakes
These Korean vegetable pancakes are a one-bowl pancake recipe that's ready in an hour or less! Here's how easy it is to make Yachaejeon:
Make the Dipping Sauce: First, prepare the dipping sauce by whisking the ingredients together in a bowl. You can set this aside for now.
Combine the Ingredients: Next, toss the vegetables and garlic in chickpea flour and salt to coat. Add a little bit of seltzer water at a time to thin out the batter. You want to batter to be thin enough to coat and bind the vegetables, but not so thin that it spreads in the pan.
Cook: Now, you'll fry your vegetable pancakes in a large skillet coated with cooking spray. Add the vegetable pancake batter to the pan one portion at a time, spreading it out into a thin, round shape. Cook the pancakes for a few minutes per side until the outsides are golden and crispy. When the veggie pancakes are done cooking, move the finished pancakes to a wire rack to cool.
Serve: Once all your vegetable pancakes are cooked and ready, slice them into wedges. This makes them the perfect size for dipping in your homemade sauce!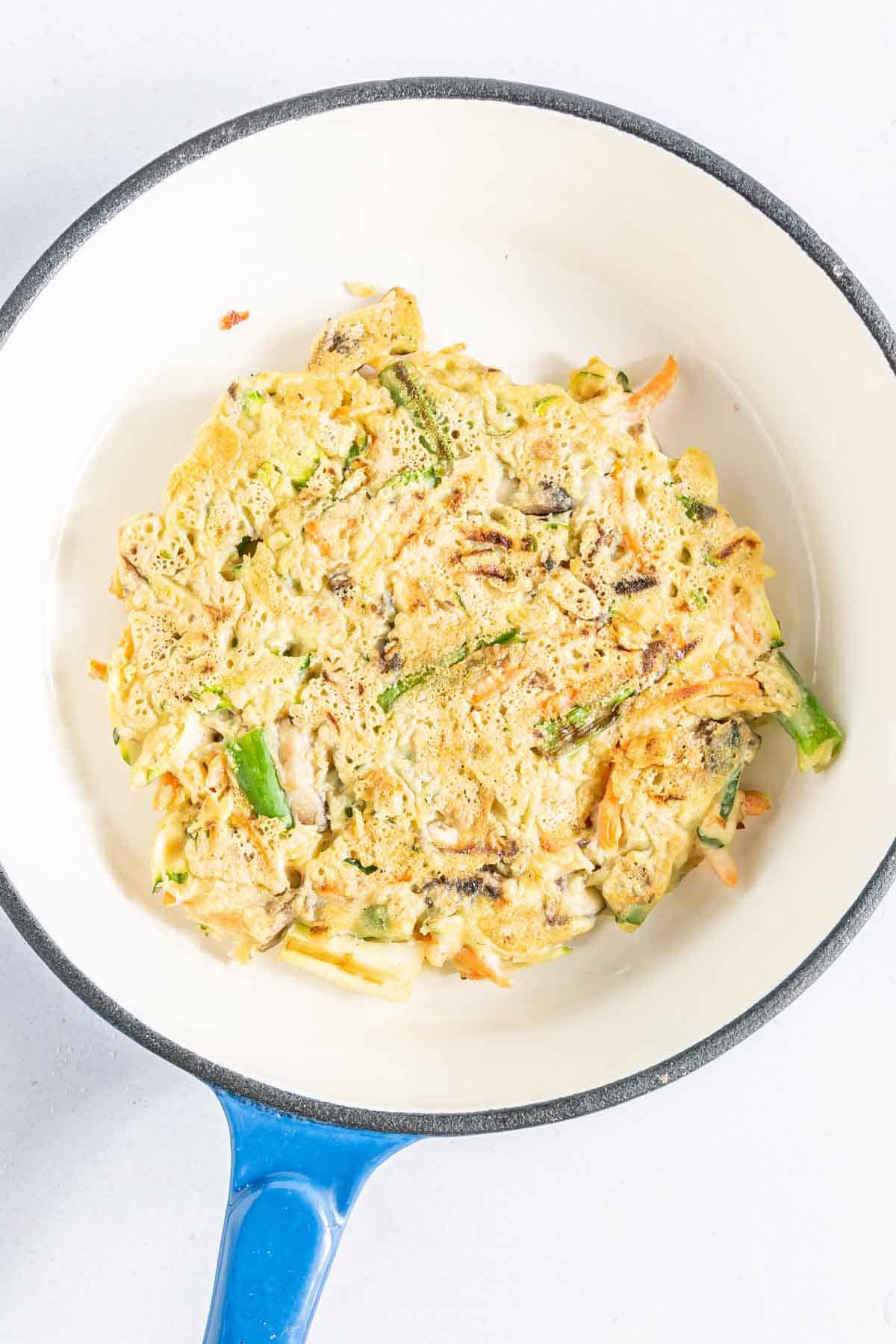 Tips for Success
These Korean vegetable pancakes are such a simple, straightforward recipe, I have no doubt you'll have success! Here are my additional tips for making perfect pancakes:
Use a non-stick pan. This makes it super easy to fry up and flip your vegetable pancakes. Whether you use non-stick or not, it's a good idea to give the pan a coating with cooking spray or oil either way.
For extra-crispy pancakes, after the pancakes are fried, you can toast them in the pan over low heat for another 2-3 minutes per side for a bit of char.
Use scissors to cut the pancakes. It's a classic hack that makes trimming your vegetable pancakes into dippable wedges so much easier!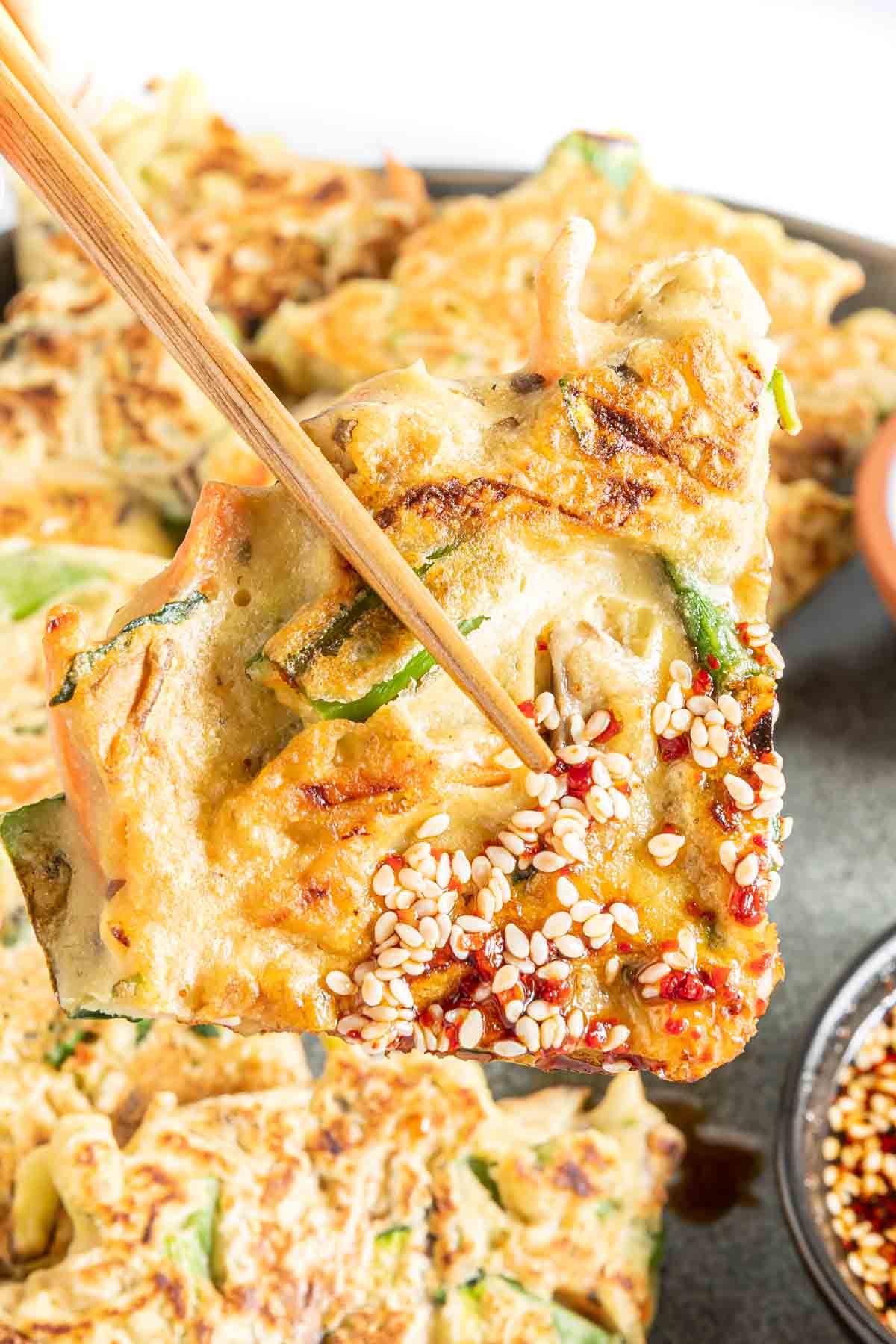 Variation Ideas
Here are more vegetables and add-ins to try in these Korean-style pancakes:
Sweet potato or regular potato
Green chilies or jalapeño
Leeks
Pea shoots or bean sprouts
Bell peppers
Kimchi (salted and fermented cabbage)
You can also try vegetable pancakes with different dipping sauces like Teriyaki Sauce, Peanut Sauce, or Bang Bang Sauce (they aren't authentically Korean, but still delicious!).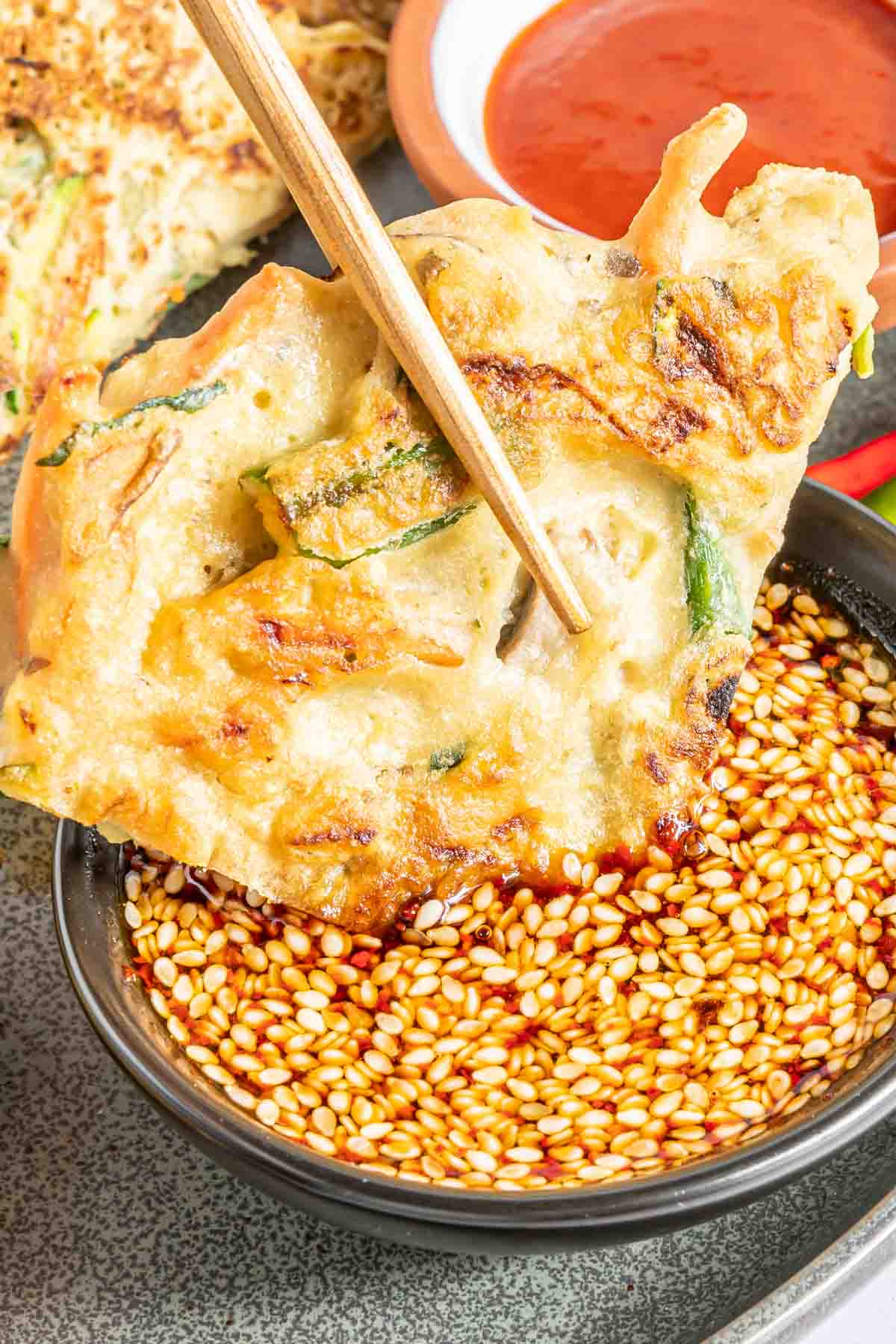 What Do You Eat With Korean Pancakes?
Korean vegetable pancakes make a tasty side dish, snack, or appetizer, and this is how they're traditionally served. Turning these pancakes into a meal is easy when we pair them with other sides like kimchi, spring rolls, or dumplings.
We also love these served next to more Asian-inspired dinner ideas:
Storing and Reheating Pancakes
Store any leftover vegetable pancakes airtight in the fridge for up to 1 week. They're easy to reheat in a skillet on the stovetop, or in the toaster oven. I don't recommend reheating vegetable pancakes in the microwave as the texture just doesn't compare!
The Korean dipping sauce for these pancakes will also stay fresh in the fridge for a few days when stored airtight.
Can I Freeze Vegetable Pancakes?
Cooked Korean pancakes can be frozen for up to 1 month. Once the pancakes have cooled completely, wrap them tightly or store them in a freezer bag to keep in the freezer. Thaw the pancakes in the fridge and then reheat them as usual.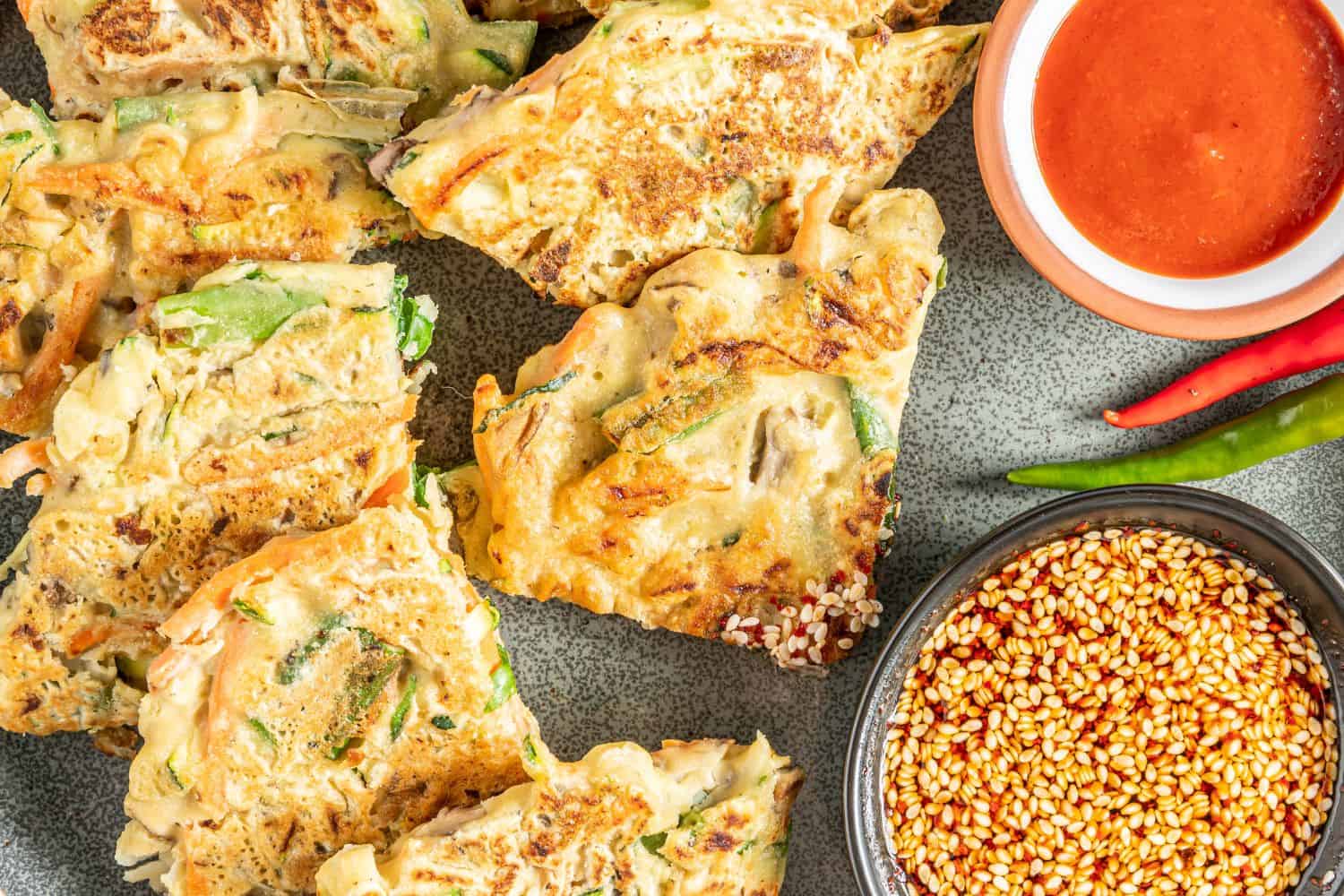 More Easy Asian Appetizers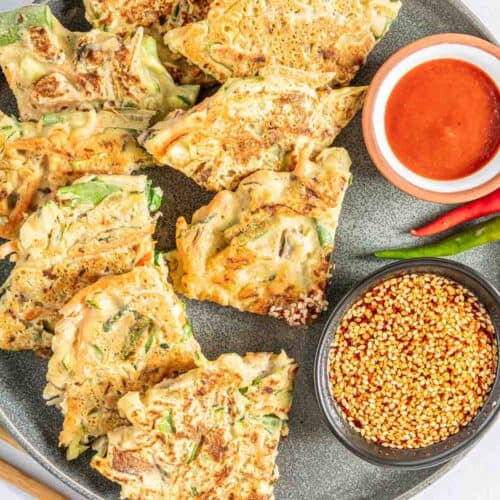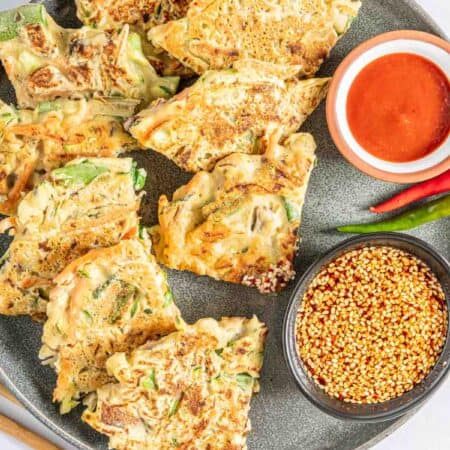 Gluten Free Vegetable Pancakes
Crispy Korean Vegetable Pancakes (Yachaejeon) are pan-fried vegetable fritters made with gluten-free batter, perfect for dunking in a spicy homemade dipping sauce. This Korean pancake recipe is vegetarian, gluten-free, and can be made vegan!
Ingredients
Dipping sauce:
3

tablespoons

gluten-free soy sauce

or tamari

2

teaspoons

rice wine vinegar

2

teaspoons

toasted sesame seeds

1

teaspoon

honey

(or maple syrup to make it vegan)

1

teaspoon

Korean hot red pepper flakes

1

teaspoon

toasted sesame oil
Pancakes:
4

cups

vegetables

, matchstick sliced or minced (we used zucchini, carrot, mushroom, and green onion)

3

garlic cloves

, finely minced or pressed

1 ½

cups

chickpea flour

½

teaspoon

sea salt

or kosher salt

10

ounces

seltzer

or sparkling water (unflavored)
Instructions
In a small bowl, whisk together the dipping sauce ingredients. Set aside.

In a large bowl, toss together the vegetables, pressed garlic, chickpea flour, and salt.

Pour in the water a bit at a time until the batter is thin enough to coat the vegetables but thick enough not to spread in the pan.

Heat a large nonstick skillet over medium-high heat. Once hot, spray with cooking spray and add 1/6th of the batter to the skillet spreading it out into a think round shape.

Cook for 4-5 minutes per side or until golden and crispy. Place on a wire cooling rack and repeat with the remaining batter.

To serve, slice the pancakes into wedges and serve with the dipping sauce.
Nutrition Facts
Gluten Free Vegetable Pancakes
Amount Per Serving
Calories 216
Calories from Fat 36
% Daily Value*
Fat 4g6%
Sodium 789mg33%
Potassium 547mg16%
Carbohydrates 36g12%
Protein 12g24%
Vitamin A 6273IU125%
Vitamin C 13mg16%
Calcium 59mg6%
Iron 3mg17%
* Percent Daily Values are based on a 2000 calorie diet.