This post may contain affiliate links. Read my disclosure policy.
These soft steamed Gluten-Free Bao Buns filled with Char Siu Pork are a fun and flavorful dinner the entire family loves! This is an easy gluten-free version of traditional Chinese steamed buns that are just as warm, fluffy, and sweet.
Soft Gluten-Free Steamed Bao Buns with Char Siu Pork
We love Asian-inspired cooking in this family, and bao buns are one of our favorites! After struggling to find store-bought gluten-free bao buns that didn't fall flat (sometimes literally), I was determined to make my own.
This recipe for traditional, Chinese-style bao buns is 100% safe for gluten-free diets, and 1000% fluffy, warm, and tasty perfection. These puff up beautifully in a bamboo steamer, like little pillows ready to be stuffed with all our most-loved bao fillings.
In this case, the filling of choice is juicy and tender Char Siu pork. This easy pork recipe is sweet and smoky, spicy, and succulent, thanks to the flavorful soy marinade and five-spice seasoning. The combination of a soft, doughy gluten-free bao bun, crispy veggies, and melt-in-your-mouth pork is to die for.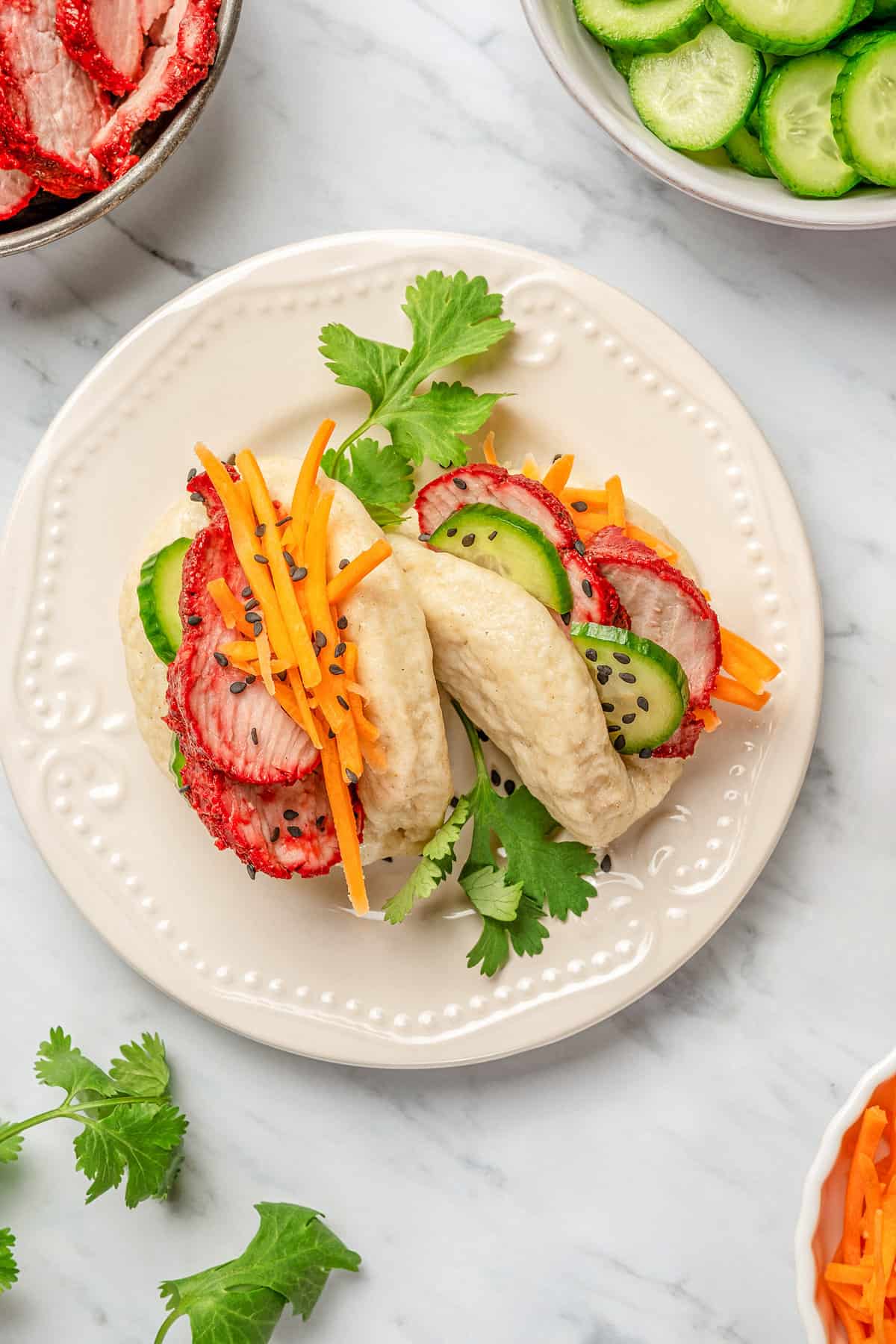 Why You'll Love This Bao Buns Recipe
Gluten-free. This recipe is gluten-free without sacrificing any of the flavor or texture you love about traditional Chinese bao buns.
Easy. You'll only need a few simple ingredients and a steamer basket to make this recipe.
Fluffy. Biting into one of these soft and fluffy buns is a real treat! Super satisfying.
Flexible. You can stuff your buns with all kinds of fillings. I used Char Siu Pork here, but you could use many other kinds of protein and even veggies. I shared some examples in the variation ideas below.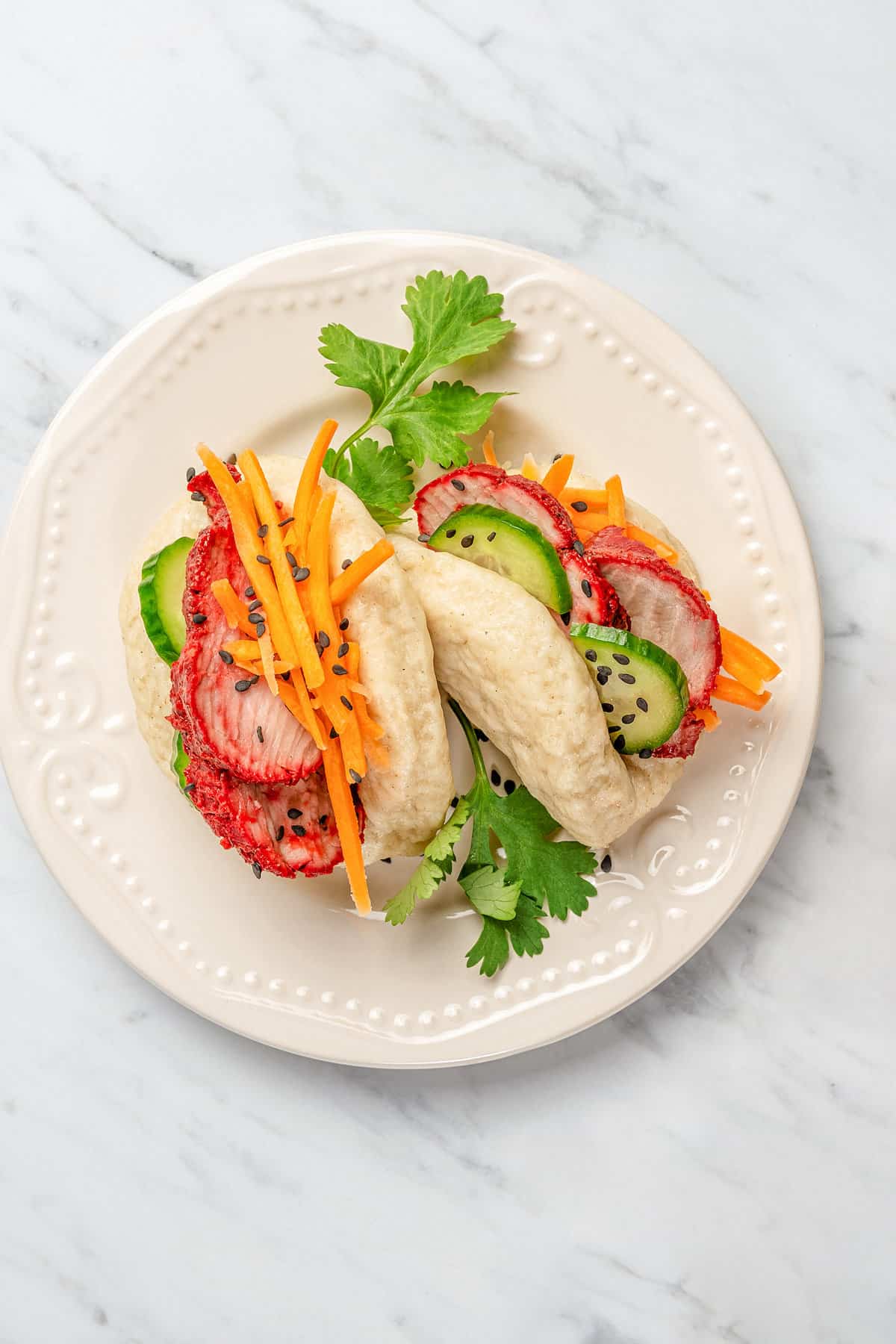 What is a Bao Bun?
Chinese bao (pronounced "bow"), also called steamed buns or baozi, are made from stuffing round, white fluffy dough buns with different kinds of savory fillings. Bao is a bit sweeter than a dumpling and is a classic appetizer or snack in Asian cooking.
Today I'm filling my gluten-free bao buns with succulent char siu pork, but you can really fill them with just about any meat or veggie combination your heart desires! Be sure to check out the section later on with filling variations.
What You'll Need
Below is an overview of the ingredients you'll need to make the Char Siu pork and gluten-free bao buns from scratch. Remember to refer to the recipe card for the full amounts and details!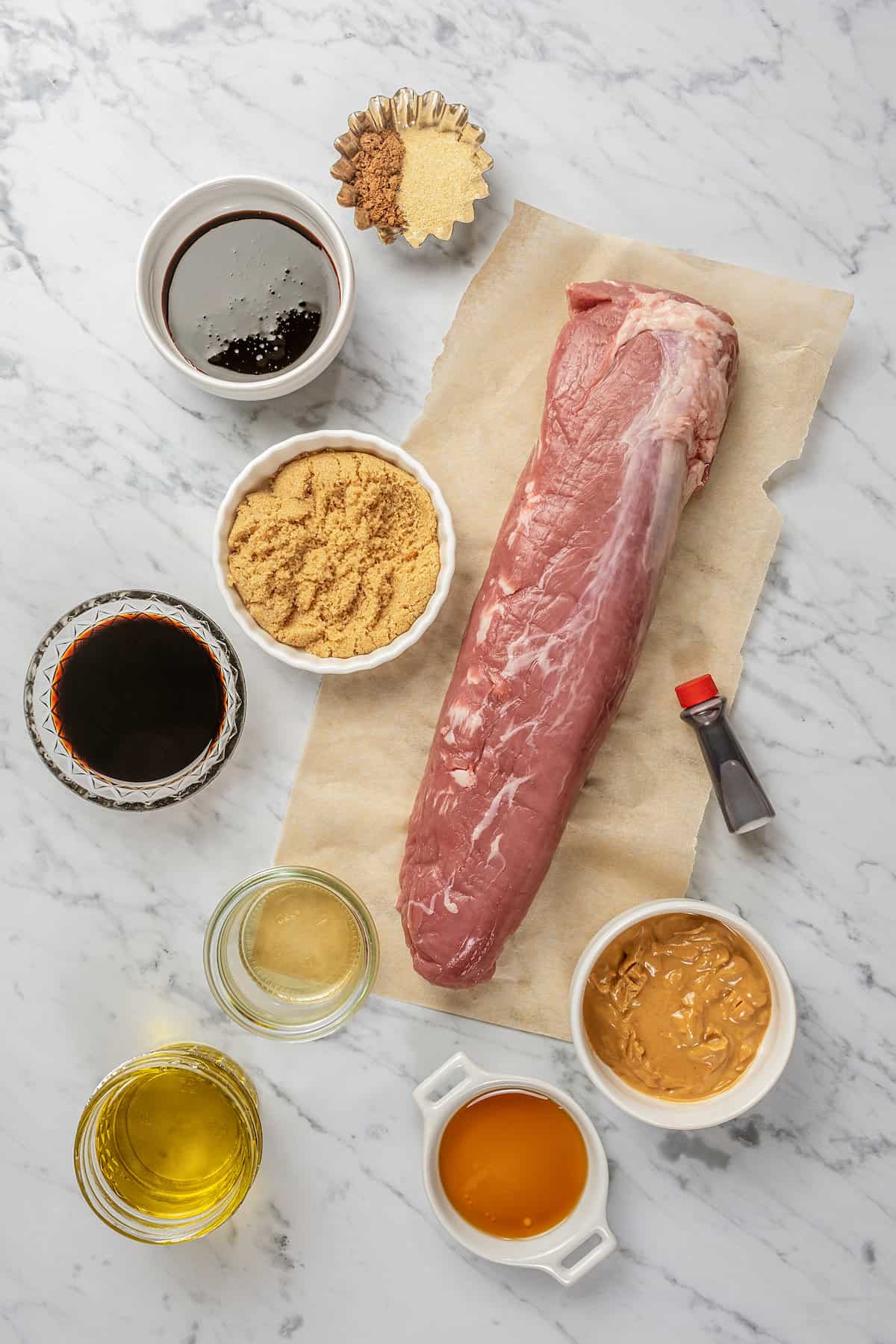 For the Char Siu Pork
Pork Tenderloin: Choose a nice-sized pork tenderloin with some marbling, for the best flavor and tenderness.
Soy Sauce: Not all soy sauce brands are gluten-free, so make sure to check the labels when shopping.
Peanut Butter: You'll want to use smooth peanut butter, and not crunchy or natural peanut butter. The latter is too oily.
Molasses and Brown Sugar: Both of these combined lend the pork an unbelievably rich, caramelized flavor alongside the spices and soy sauce.
Red Food Coloring: To give this traditional Char Siu pork its classic, distinctive red color.
Oil and Vinegar: I use apple cider vinegar along with sesame oil and a bit of olive oil to tie together the marinade. If you don't have apple cider vinegar, another white vinegar will also work. However, I don't suggest substituting the sesame oil here – the flavor is key!
Seasoning: This pork recipe packs loads of flavor thanks to Chinese five-spice and garlic powder. You'll find five-spice powder in many grocery stores, as well as Asian supermarkets.
What Is Chinese 5-Spice?
Chinese five-spice powder is a traditional spice blend consisting most often of cinnamon, cloves, fennel seed, star anise, and Sichuan peppercorns. It's known in Asian cuisine for its perfect balance of sweet, bitter, salty, sour, and pungent.
Fun fact: the five spices refer to the 5 traditional Chinese elements of earth, wood, fire, water, and metal!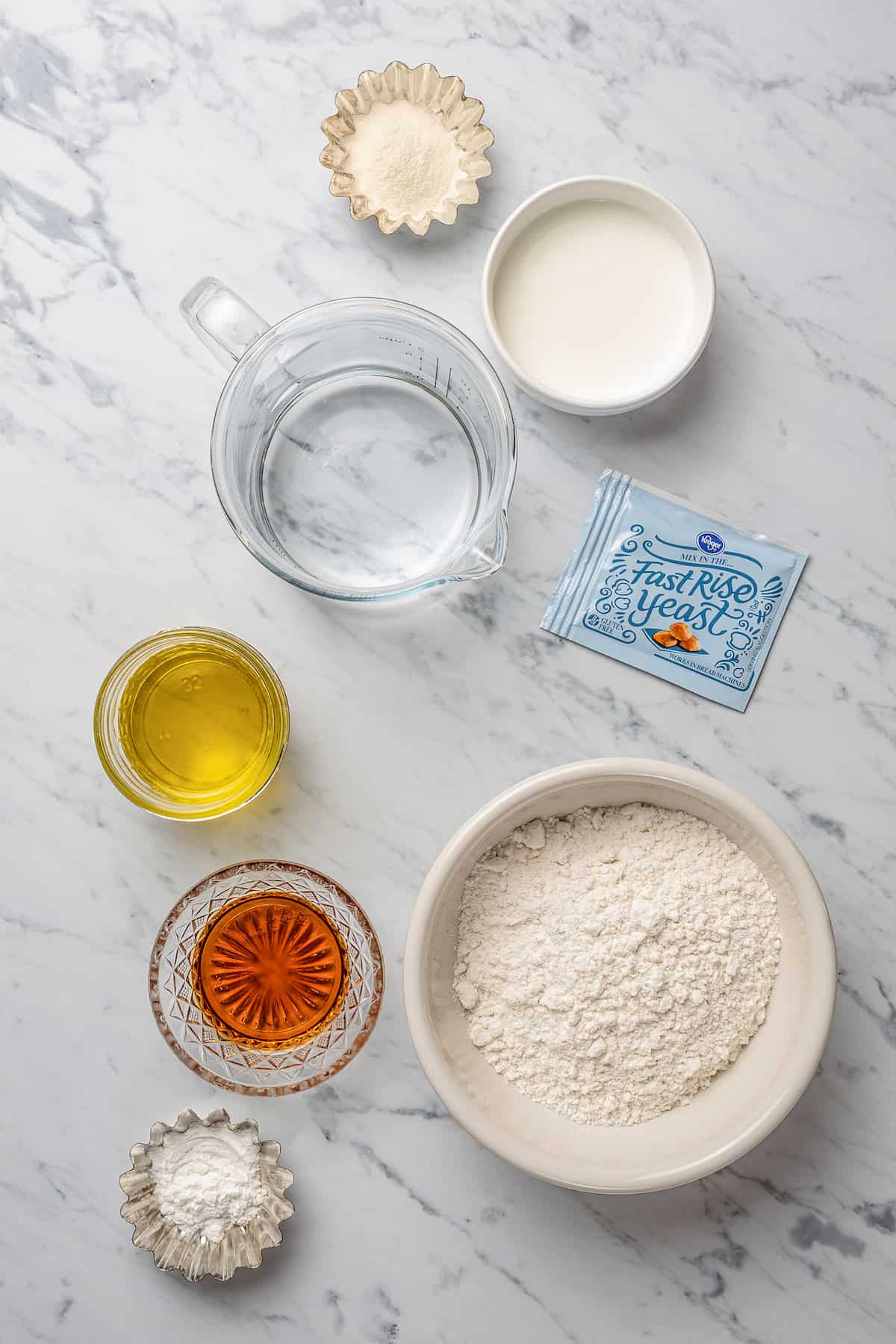 For the Steamed Bao Buns
Warm Water and Milk: Adding milk to the steamed buns makes them richer and more flavorful.
Yeast: This recipe keeps it simple with fast-rising yeast. This kind of instant yeast doesn't need to be activated separately beforehand. Be sure to check the expiration dates on the package!
Olive Oil: Oil increases the tenderness of the crumb.
Maple Syrup: For a hint of sweetness. Alternatively, you can use honey.
Gluten-Free Flour: I used King Arthur Measure-for-Measure in these gluten-free bao buns with great results.
Xanthan Gum: An additive that takes the place of gluten in gluten-free bread recipes. Xanthan gum binds the ingredients and acts as a thickener in the dough.
Baking Powder and Salt: Baking powder for fluffy, risen bao and a pinch of salt to balance and enhance the flavors.
How to Make Gluten-Free Bao Buns
Who's ready to make some homemade gluten-free bao? This recipe does take a bit of time, with resting between steps and all. But as soon as you sink your teeth into a pillowy stuffed pork bun, I promise it will be so worth it!
Making the Char Siu Pork
You'll start by preparing the filling for the bao. This Char Siu pork comes together easily in just a few steps:
Make the Marinade: Whisk together the marinade ingredients in a bowl and transfer the pork tenderloin to a large, zip-top freezer bag. Pour the marinade over the pork, then seal and refrigerate.
Prepare the Tenderloin: After 2-6 hours, your marinaded pork is ready for baking! Take it out of the freezer bag and discard any leftover marinade. Lay the tenderloin on a baking sheet and tent it with aluminum foil.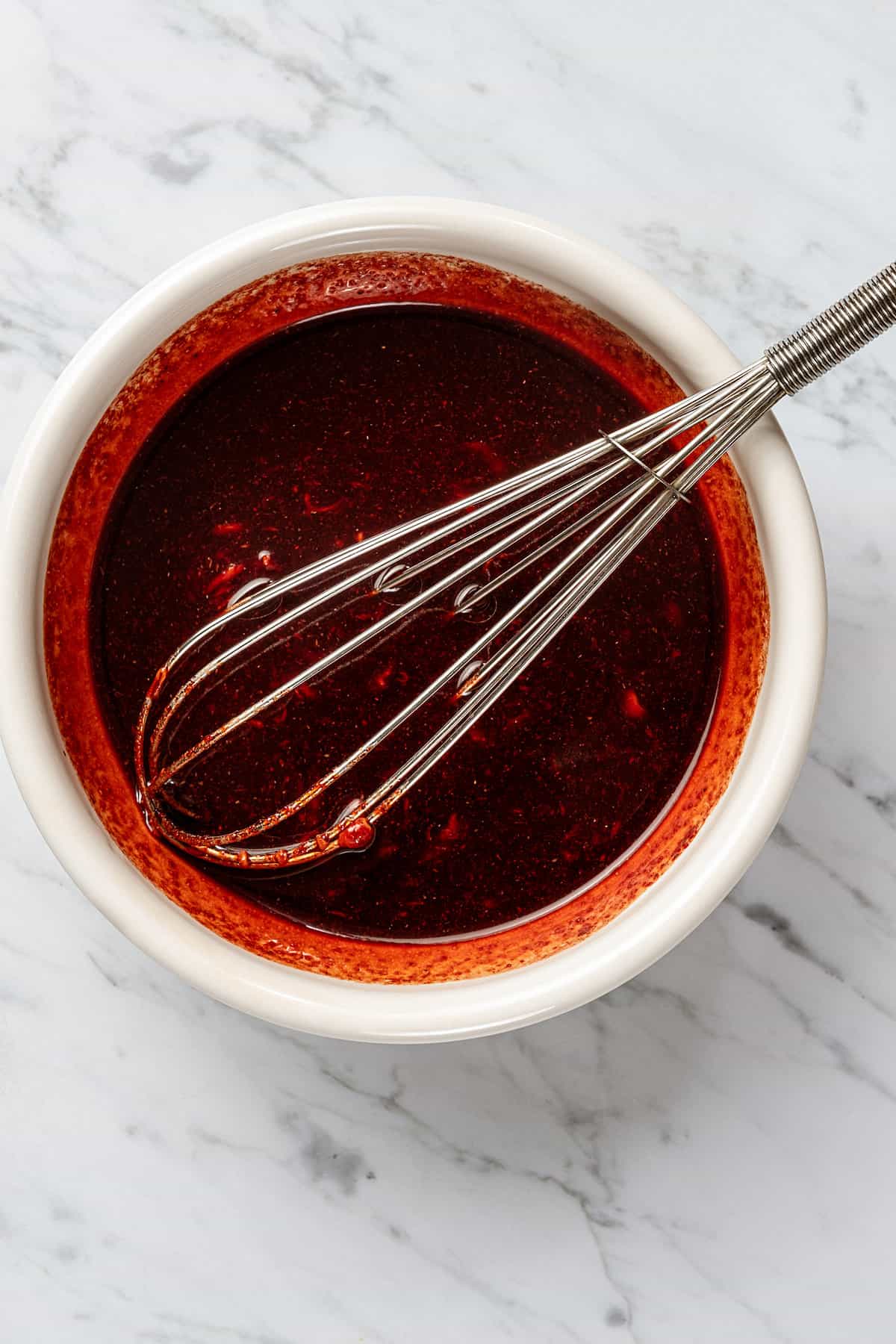 Bake: Bake at 400ºF beneath the foil for 10 minutes, then remove the foil and continue to roast the pork tenderloin for another 15-25 minutes. When it's done cooking, take the pork tenderloin out of the oven to rest. After about 10 minutes, slice the pork up thinly. You can pop the pork into the fridge while you get your steamed buns ready.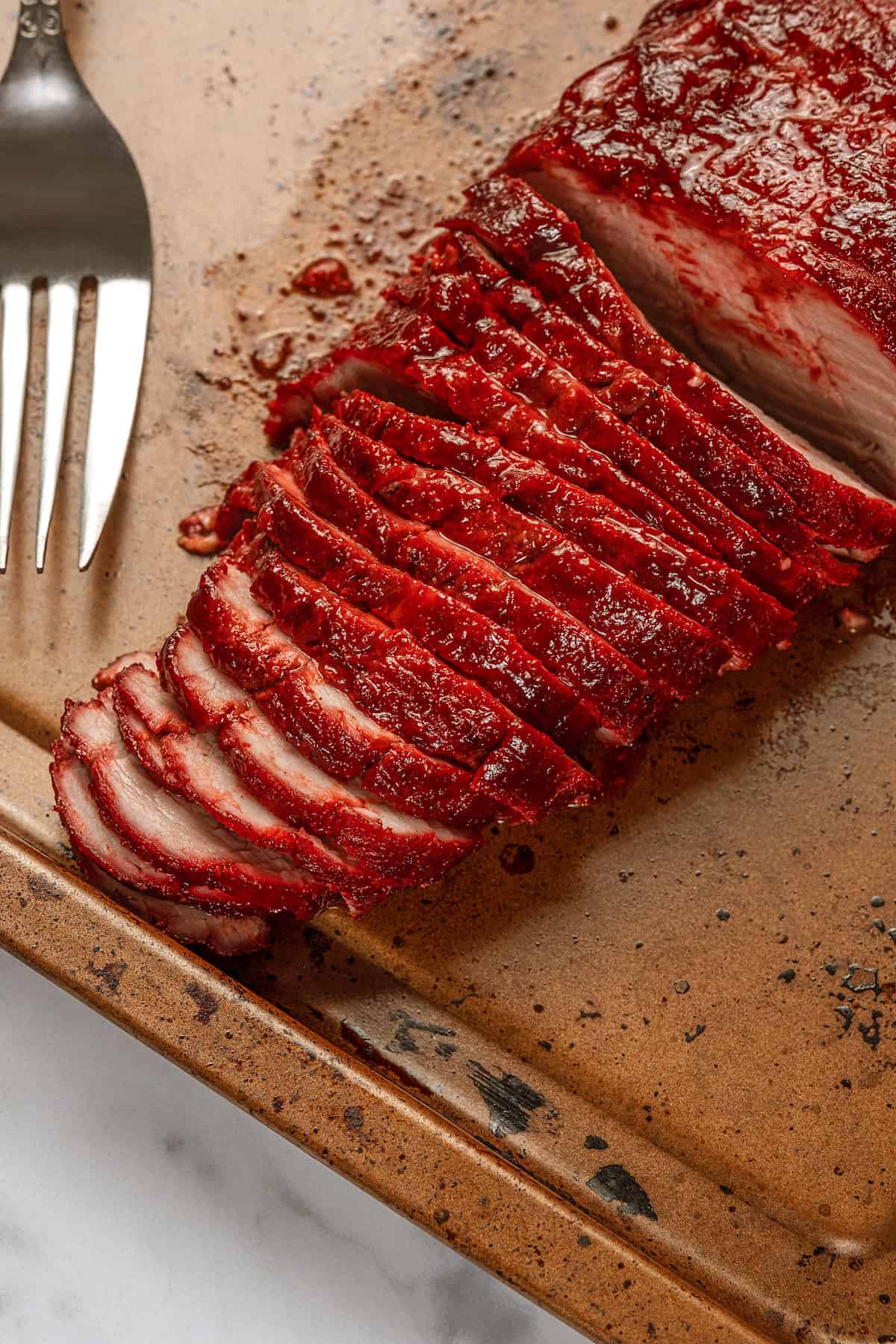 Making the Steamed Buns
Once the pork is prepped and ready, it's time to get into the steamed buns themselves. Since we're making these bao buns with fast-rising yeast, you can get straight into mixing:
Proof the Yeast: Combine warm water, milk, yeast, oil, and maple syrup, then leave the mixture to stand and proof. If the mixture isn't bubbling after 5 minutes or so, this could mean that your yeast has expired and you'll need to start again with a fresh packet.
Combine the Ingredients: In a separate bowl, mix together the flour and dry ingredients. Once the yeast mixture is ready, slowly pour the wet ingredients into the dry, and mix just until a dough forms. Then, knead the dough on a clean surface. You're after a dough that's smooth and slightly sticky.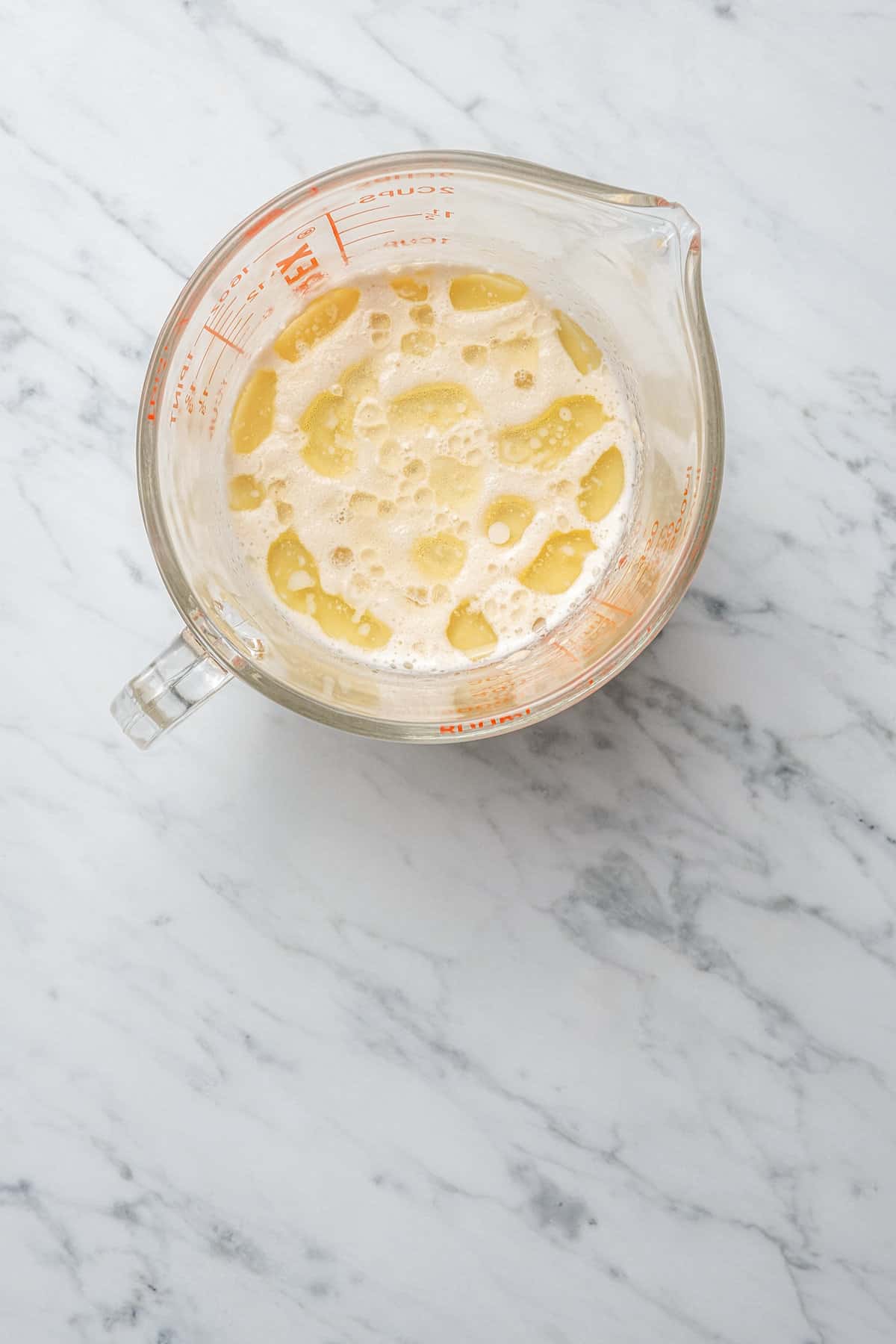 Roll Out the Dough: Leave the dough to rest for a bit, then roll it out to about a half-inch thick. Next, use a cookie cutter (or a drinking glass) to cut out 6 rounds from the dough. If you don't cut them all out the first time, gather up the dough scraps and repeat so you're left with 6 rounds in total.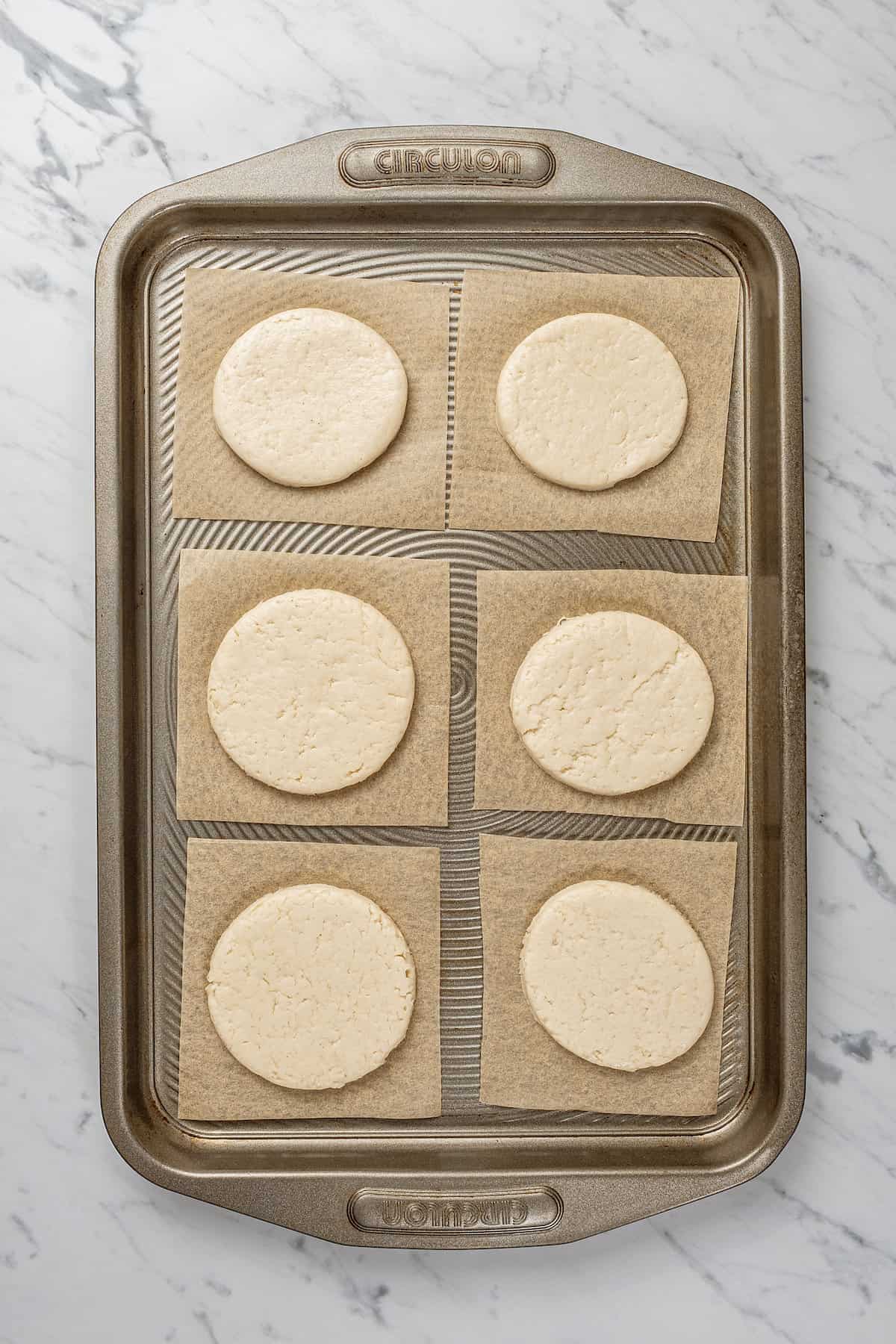 Shape and Rise: Cut out 6 rounds of parchment paper about 4"x4" in size and arrange these on a baking sheet. Top each piece of parchment with a dough round. Brush the tops with a bit of oil and then fold each round into a half-moon. Lastly, cover the baking sheet in cling wrap and leave the buns to rise until they're twice the size.
Steam: Use a bamboo steamer basket to steam the buns in batches over simmering water, about 10 to 12 minutes per batch.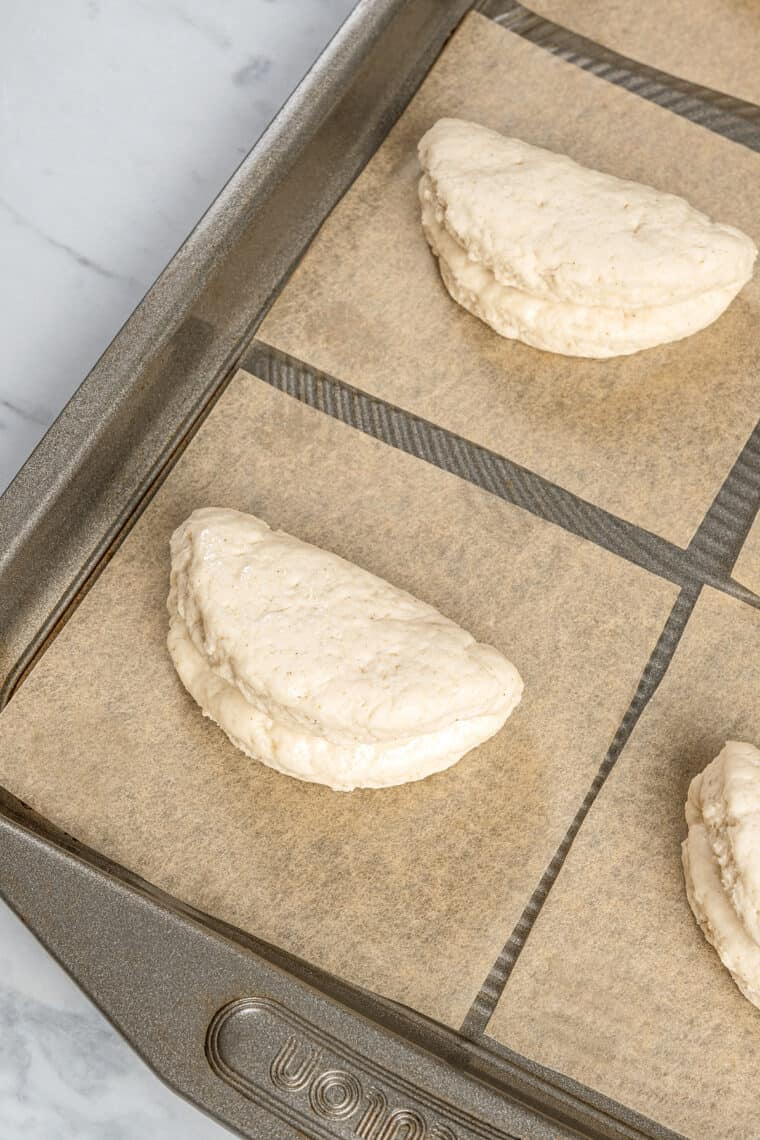 Filling the Bao Buns
Once your gluten-free bao buns are steamed and puffed up, it's time to assemble and serve your bao!
Topping Ideas
Reheat the Char Siu pork from the fridge (a quick zap in the microwave should do the trick), then layer pieces inside your bao buns along with your favorite toppings:
Sliced cucumber
Shredded carrots
Fresh chopped cilantro
Sesame seeds
Gluten-free soy sauce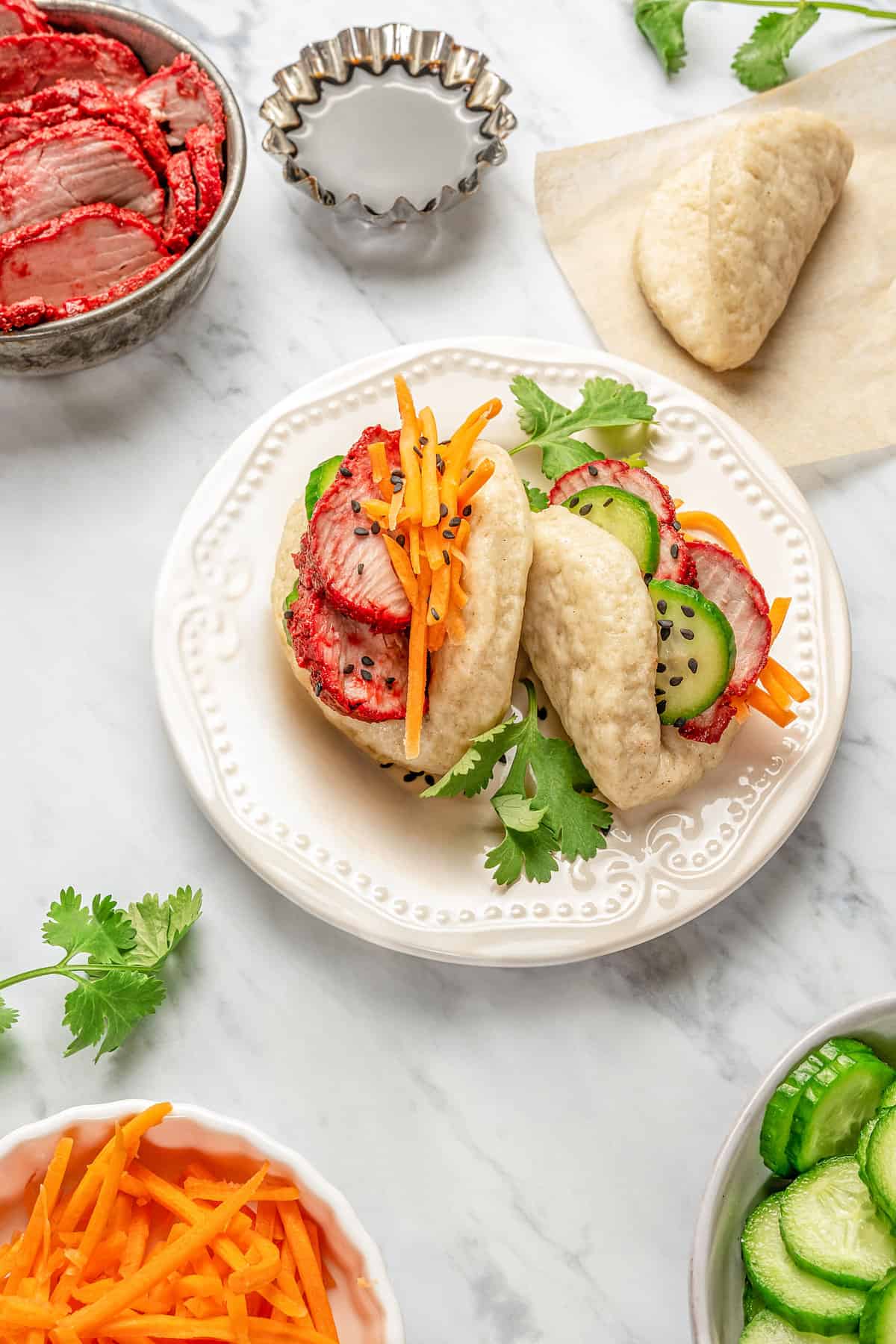 Tips for Success
Here are some additional tips for making this delicious homemade pork bao:
How do I know when the pork is done cooking? To check that your pork is done, stick a meat thermometer into the thickest part and make sure it's reached 145ºF.
Let the pork rest after baking. Don't skip this part! Resting lets the juices redistribute for irresistibly tender Char Siu pork.
When steaming the bao buns, make sure the water is at a simmer, not a boil, before you add the steamer basket over top. Boiling water can cause the buns to fall flat and mushy.
Use leftover Char Siu pork to serve with Cilantro Lime Rice or Spicy Sesame Noodles.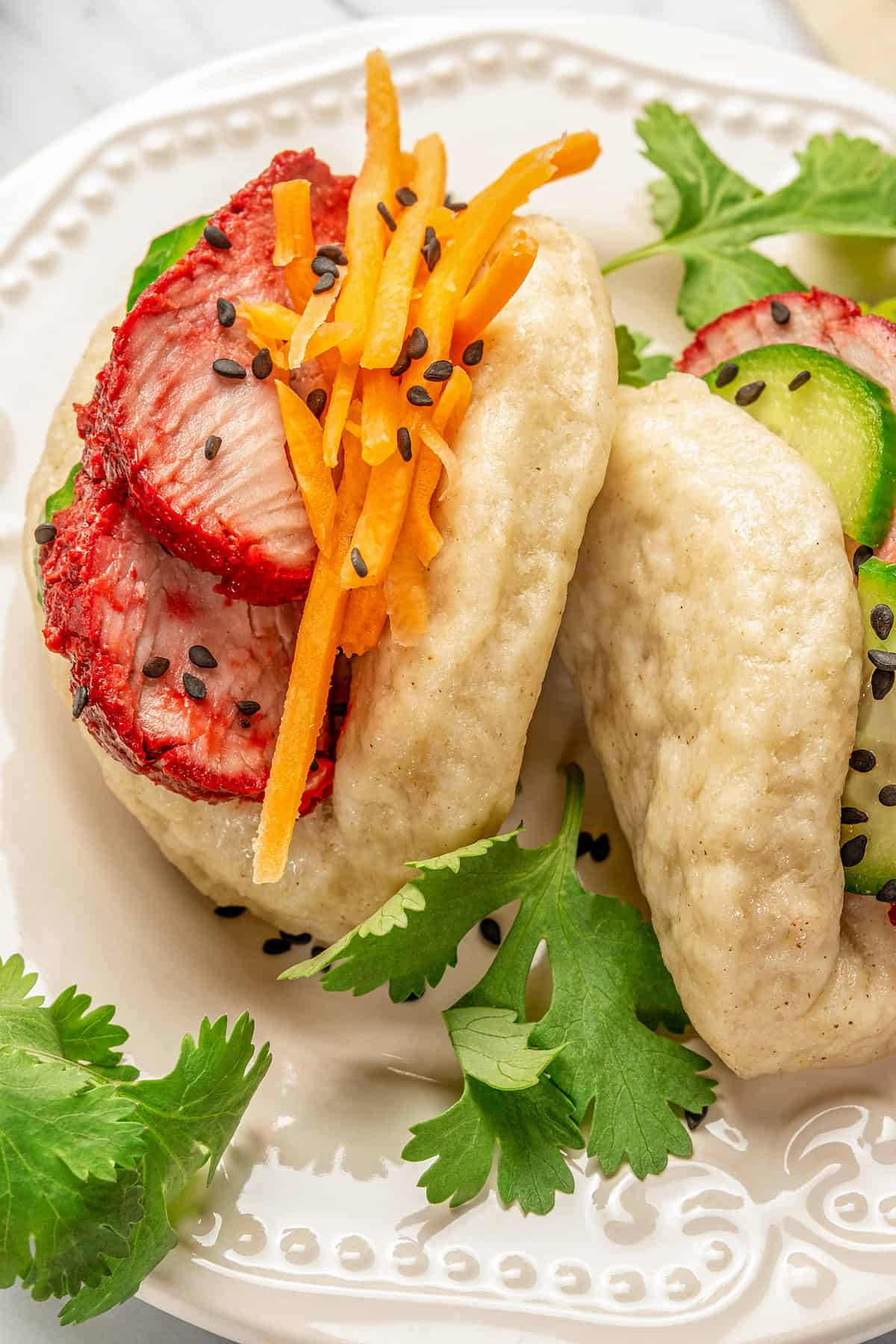 Variation Ideas
We love our bao filled with juicy Chinese pork, but that doesn't mean you can't mix it up to fill yours any way you'd like! Here are just some of the easy ways to fill these gluten-free bao buns:
Make It a Meal
These fluffy Char Siu bao make a finger-licking appetizer, or a light takeout-style meal when paired with a side of egg rolls or shrimp rice paper rolls (or, try my Beef Egg Roll in a Bowl!).
Here are some more of our favorite Asian-inspired dishes to enjoy with freshly steamed gluten-free bao buns: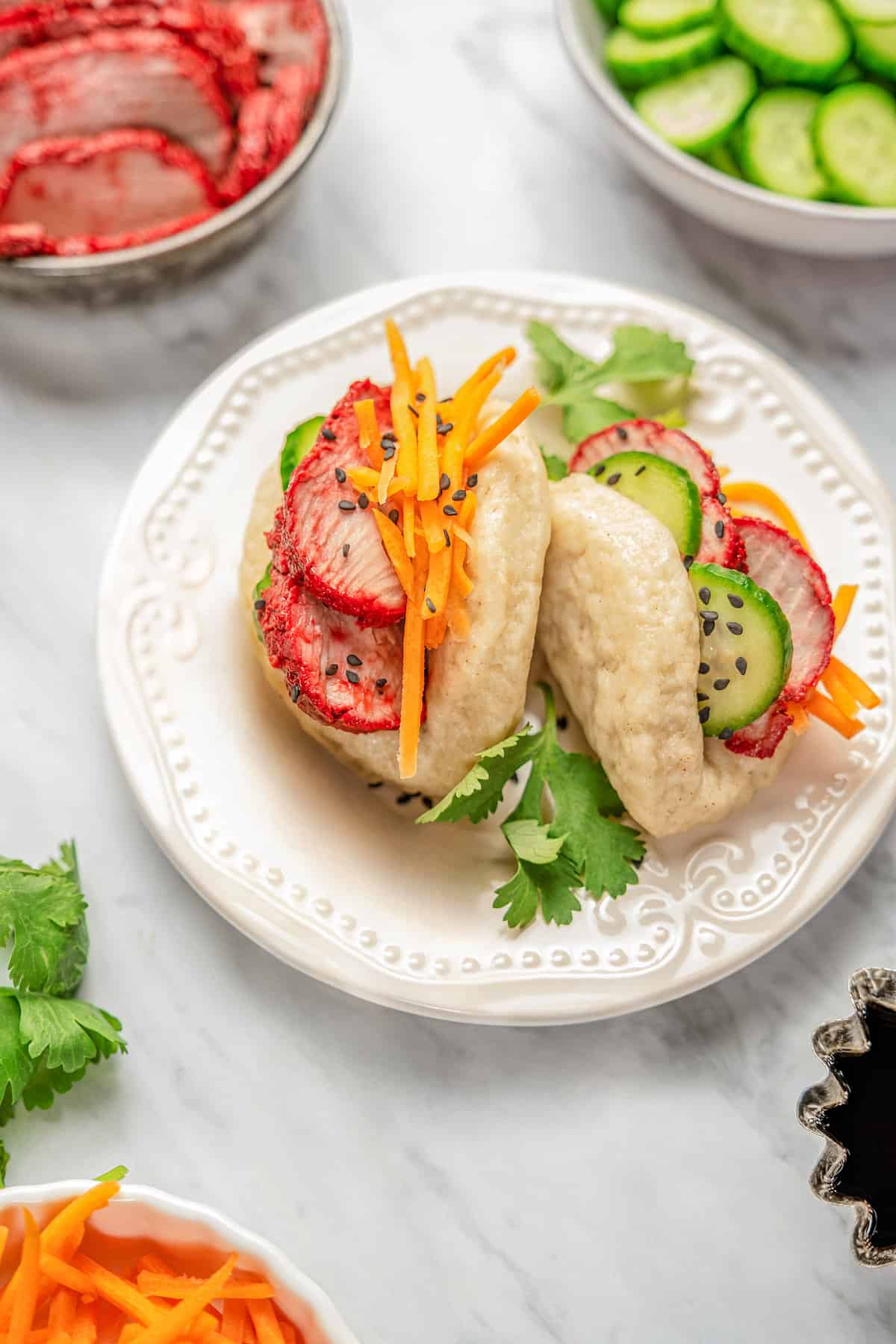 How to Store and Reheat Bao Buns
Leftover bao buns can be kept airtight in the fridge for up to 1-3 days.
I recommend reheating your bao buns in the steamer basket for a few minutes, until hot throughout. This is the best way! Alternatively, you can reheat them in the microwave wrapped in a damp paper towel to retain the moisture.
The Char Siu pork can be reheated in the microwave until warmed through.
Can I Freeze Bao Buns?
Yes! You can freeze both the Char Siu pork and the gluten-free bao buns, though I recommend freezing them separately.
To Freeze Steamed Buns: Once your bao buns are steamed and cooled, pre-freeze them in a single layer on a baking sheet (leave the pieces of parchment paper underneath). When the buns are frozen solid, transfer them to a resealable ziplock bag to freeze for up to 3 months.
To Freeze Char Siu Pork: Seal the pork in an airtight freezer container or bag, and store frozen for up to 4 months.
Reheating From Frozen: When you're ready to reheat your bao ingredients, reheat the frozen bao buns in the bamboo steamer for 5-10 minutes, or in the microwave wrapped in a damp paper towel for 30 seconds, until they're piping hot throughout. Meanwhile, defrost the pork in the microwave on low power, then pile the slices into your bao buns and serve!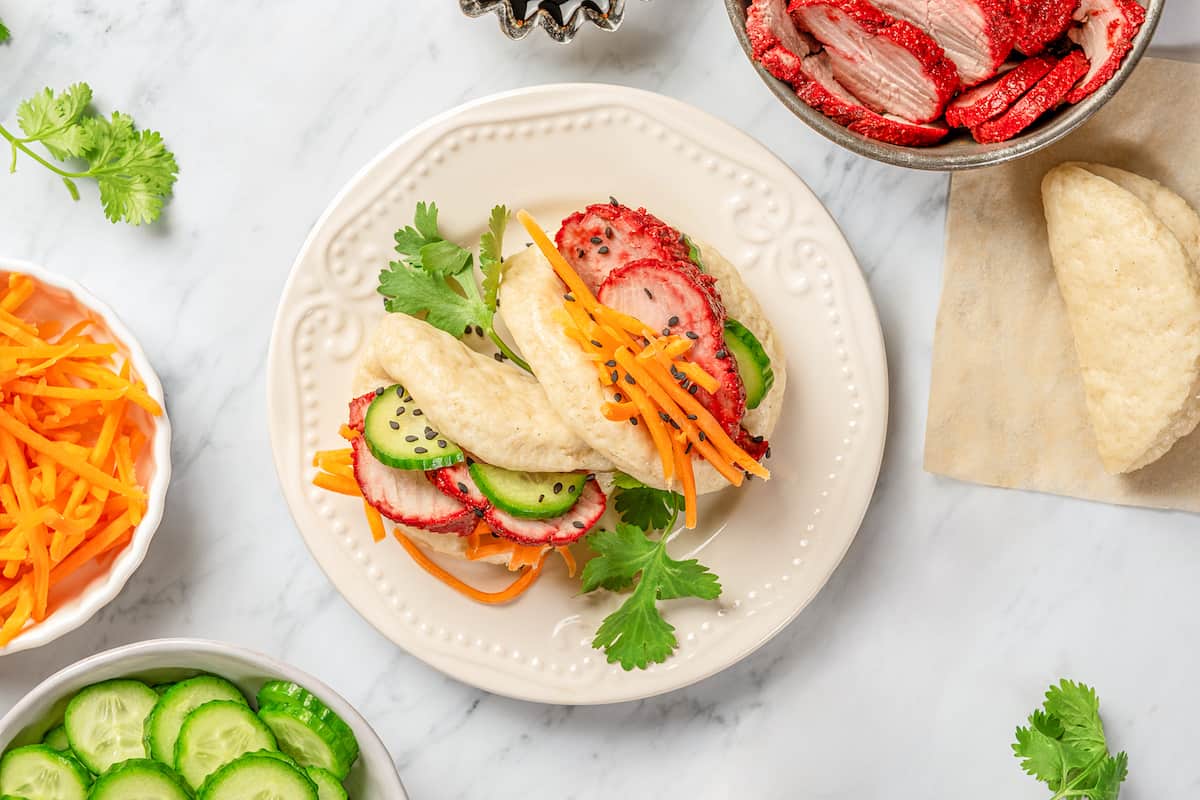 Things You'll Need
Last updated on Dec 1, 2023 2:36 pm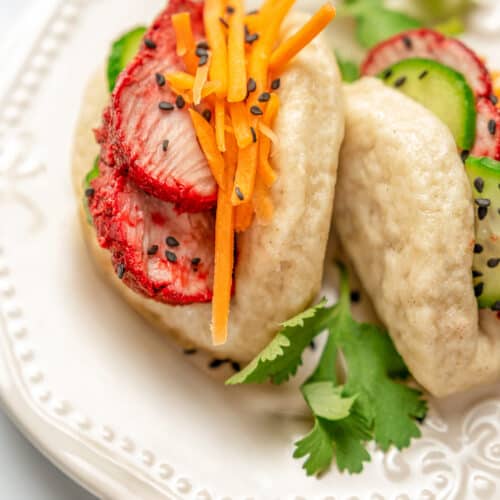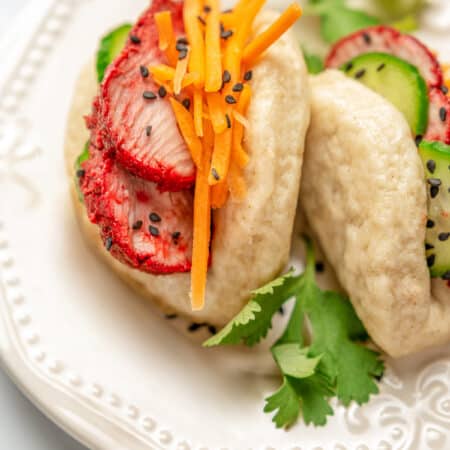 Gluten Free Bao Buns
Warm, fluffy, and sweet steamed Gluten-Free Bao Buns filled with savory Char Siu Pork are a fun and tasty, Chinese-inspired appetizer or light meal.
Ingredients
For the Char Siu Pork Filling:
1 1/2

pound

Pork Tenderloin

4

tbsp

gluten-free soy sauce

2

tbsp

smooth peanut butter

1

tbsp

molasses

1

tbsp

brown sugar

3

tsp

red food coloring

2

tsp

apple cider vinegar

2

tsp

sesame oil

1

tsp

5 spice powder

1

tsp

garlic powder

1

tsp

olive oil
For the Steamed Buns:
1/2

cup

warm water

1/4

cup

milk

2

tsp

fast rising yeast

1

tbsp

olive oil

1/2

tbsp

maple syrup

1

cup

gluten free flour,

I used King Arthur Gluten Free Measure for Measure flour

1

tsp

xanthan gum

1 1/4

tsp

baking powder

1/4

tsp

salt

Garnish with sliced cucumber, shredded carrots, cilantro, sesame seeds and gluten free soy sauce.
Instructions
To Make the Char Siu Pork Filling:
In a medium bowl, mix together soy sauce, peanut butter, molasses, brown sugar, food coloring, apple cider vinegar, sesame oil, 5 spice powder, garlic powder and oil.

Place your pork tenderloin in a large sealable freezer bag and add to the marinade. Make sure the pork is well covered and refrigerate for 2-6 hours.

When you are ready to bake your pork, preheat the oven to 400°F. Remove the pork from the bag of marinade and place it on a sheet pan or baking dish. Discard any remaining marinade.

Bake tented with aluminum foil for 10 minutes, uncover, and continue to bake for 15-25 additional minutes until the internal temperature has reached 145°.

Remove from oven and allow to rest for 10 minutes before slicing into thin pieces. Refrigerate until you have made your steamed buns.
To Make the Steamed Buns:
In a small bowl or measuring cup, combine the warm water, milk, yeast, oil, and maple syrup. Let the mixture stand for 5 minutes until bubbly to activate the yeast. If the mixture does not bubble, the yeast is no longer active and you will need to replace it before continuing.

While your yeast is proofing, in a stand mixer with a paddle attachment, mix together the gluten-free flour, xanthan gum, baking powder, and salt.

Once the yeast is finished proofing, slowly add the liquid mixture to the dry at low speed. When the dough has just come together, remove it from the bowl and knead until smooth on a clean work surface. The dough should be pliable and a bit sticky, but not stick to your hands.

Allow the dough to rest for a few minutes, then roll it out onto a clean work surface at 1/2 inch thickness.

Using a 3 1/2-inch cookie cutter or a drinking glass, cut 6 round pieces of dough. You may need to collect the scrap dough and roll it out again to get 6 rounds.

Cut out six 4-inch by 4-inch pieces of parchment paper and place them on a cookie sheet. Add 1 round of dough to each piece of parchment paper. Dab each with a little bit of oil and fold them in half to create a half-moon shape. Cover the baking sheet with plastic wrap and allow to rise for 1-2 hours or until they double in size.

Steam the buns for 10-12 minutes, you may need to do this in batches to allow them to rise in the basket.
To Serve the Bao Buns:
Reheat the Char Siu Pork and add several pieces to the buns. Garnish with sliced cucumber, shredded carrots, cilantro, sesame seeds, and gluten-free soy sauce.
Nutrition Facts
Gluten Free Bao Buns
Amount Per Serving
Calories 326
Calories from Fat 108
% Daily Value*
Fat 12g18%
Cholesterol 74mg25%
Sodium 874mg36%
Potassium 648mg19%
Carbohydrates 25g8%
Protein 30g60%
Vitamin A 14IU0%
Vitamin C 0.2mg0%
Calcium 63mg6%
Iron 3mg17%
* Percent Daily Values are based on a 2000 calorie diet.
Categories:
More Asian-Inspired Gluten-Free Recipes