This post may contain affiliate links. Read my disclosure policy.
You only need a handful of ingredients to make my favorite homemade Gluten Free Tortillas. An easy gluten free flour tortilla recipe that cooks up in minutes in the pan, ready to be filled with taco meat, layered in quesadillas, or rolled up into gluten free wraps or enchiladas.
These Soft Flour Tortillas Are Gluten-Free!
If you've been missing the texture of soft, pliable flour tortillas since going gluten free, look no further than this recipe! These are by far the best homemade tortillas, way fresher than store bought, and you wouldn't even guess that they're made with gluten free flour.
As well as gluten-free, these tortillas are naturally dairy free and vegan. Making this recipe perfect if you find yourself catering to different diets.
They're also crazy versatile. The possibilities are endless when it comes to using these soft tortillas in recipes. Make tacos, enchiladas, quesadillas, roll them into wraps, or cut them and toast them for easy gluten free tortilla chips!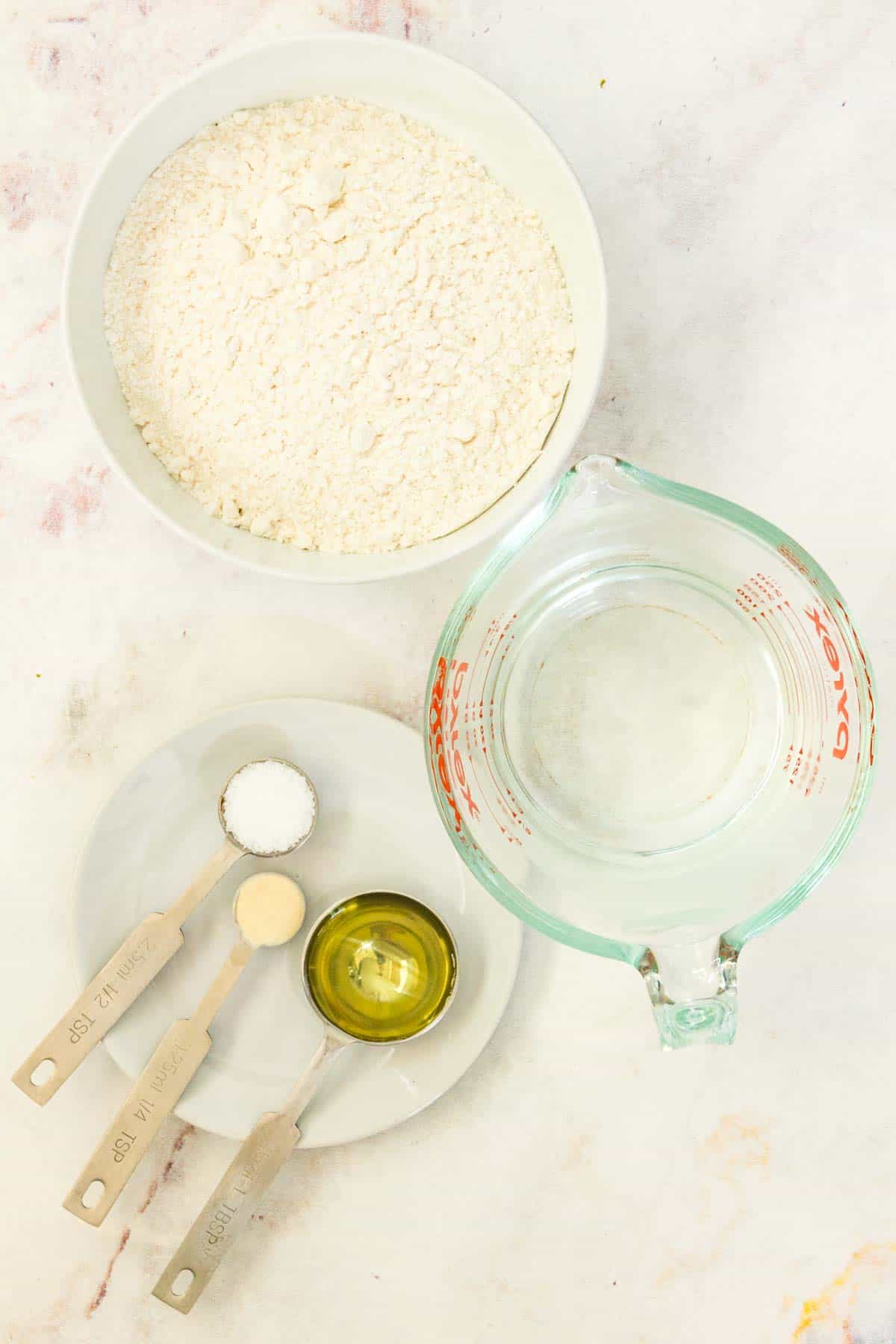 What You'll Need
You only need 5 ingredients to make the best gluten free tortilla wraps! I've included an overview here, and you can find the full ingredient amounts in the recipe card.
What Kind of Flour is Best?
The more simple the recipe, the more important the ingredients! Choose a high quality, gluten free all-purpose flour when making these tortillas. I had the best results with Bob's Red Mill Gluten Free All-Purpose Baking Flour, which doesn't come with xanthan gum already in the blend, so I added it into the recipe myself.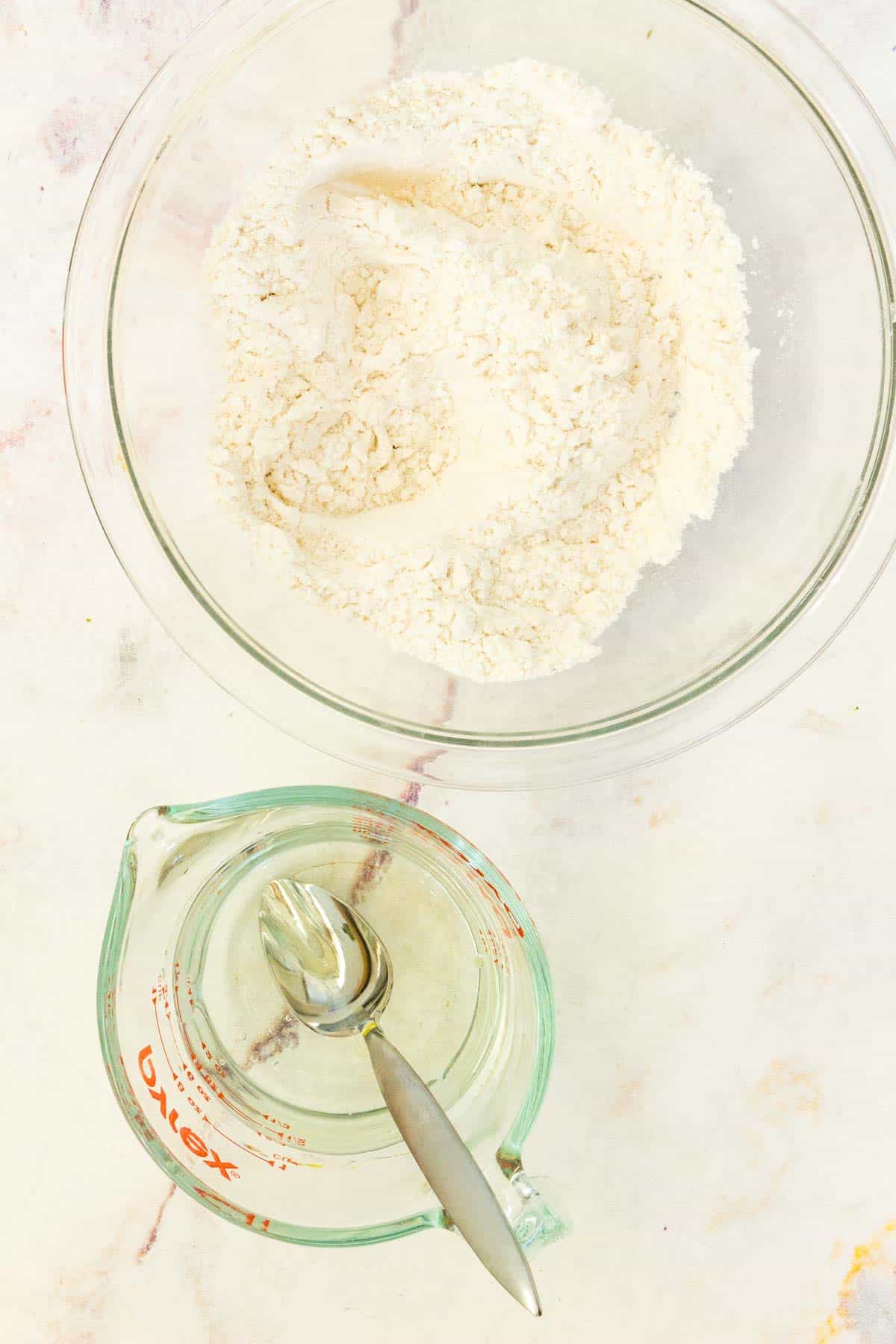 How to Make Gluten-Free Tortilla Wraps
This recipe is quick and easy, coming together in just a few steps:
Mix the Ingredients Separately: Combine the flour with the xanthan gum and salt in a mixing bowl. In a measuring cup, stir the oil into warm water, then add this to the mixing bowl.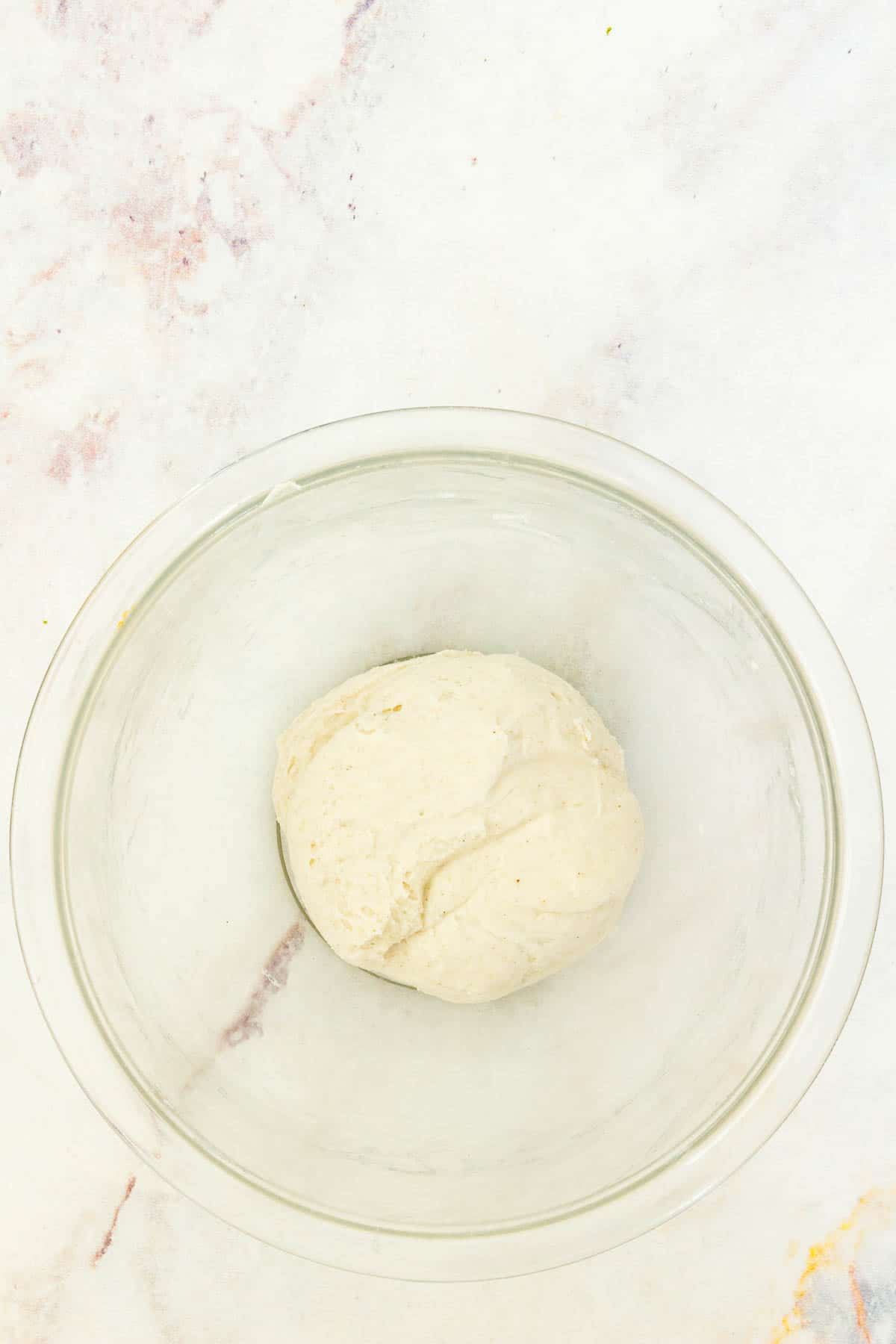 Make the Dough: Moisten the dough and then use your hands to form it into a soft, round ball. Pay attention to the texture of your dough. If your dough is too dry, add a little more water at a time until you reach a more uniform consistency.
Divide the Dough: On a clean work surface, divide your dough into golf-ball sized balls. This recipe makes about 8-10 tortillas, though if you'd like bigger wraps, you can divide your dough by 4 instead. Keep your dough balls covered with a dishcloth while you roll out your tortillas.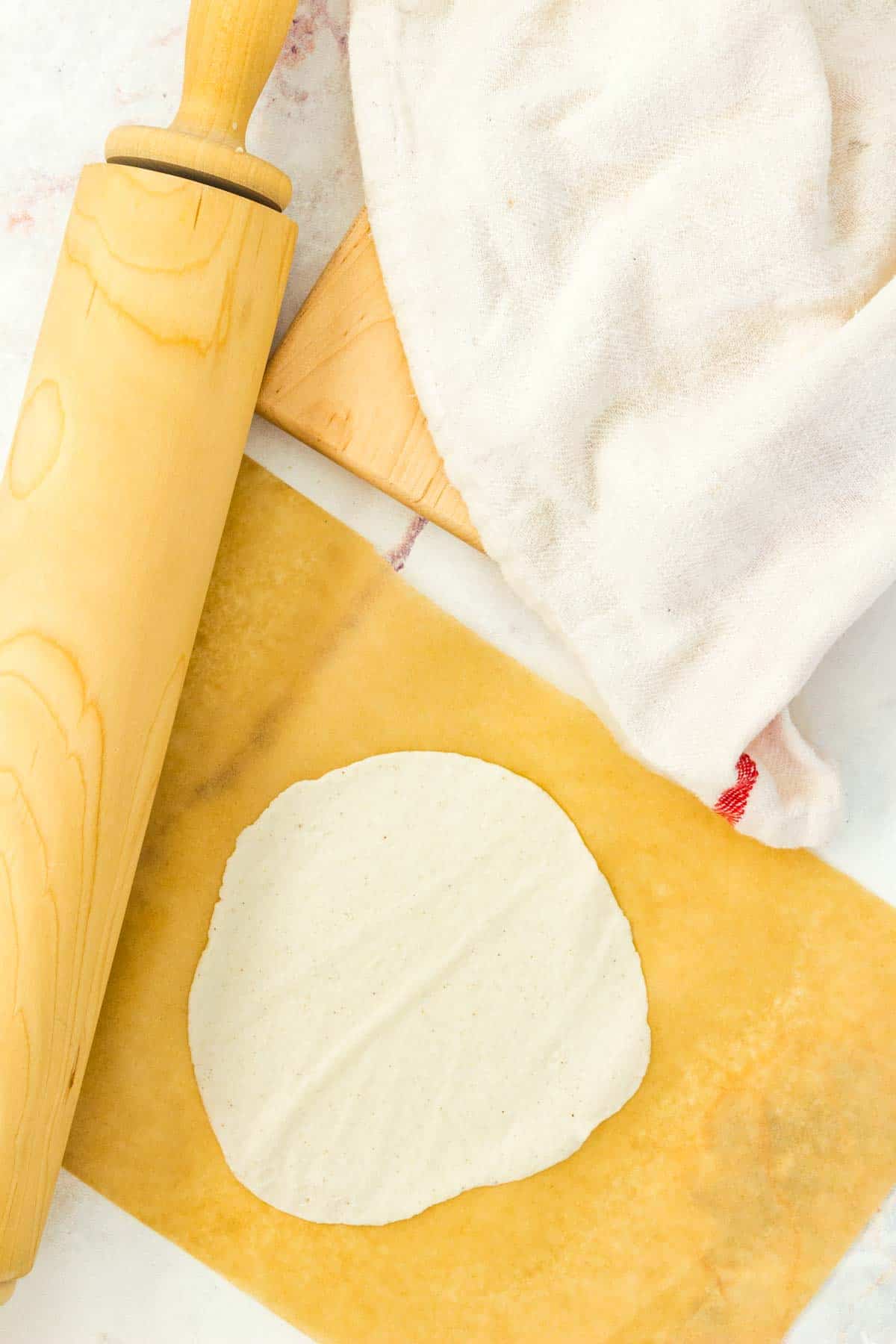 Flatten the Tortillas: Roll the dough balls one at a time between two sheets of parchment paper. I use a rolling pin, but you can also use a heavy skillet, or even a tortilla press, if you're fancy like that. Flatten the dough until it's a circle about 4-5 inches in diameter.
Cook: Add your tortillas to a hot skillet and let them cook between 30 seconds to one minute per side. Your tortillas should be browned and cooked through, but still pliable enough to roll and fold. Stack your finished gluten free tortillas on a plate beneath a towel to keep them warm. Once they're all ready, serve and enjoy! See the section later on for easy meal suggestions.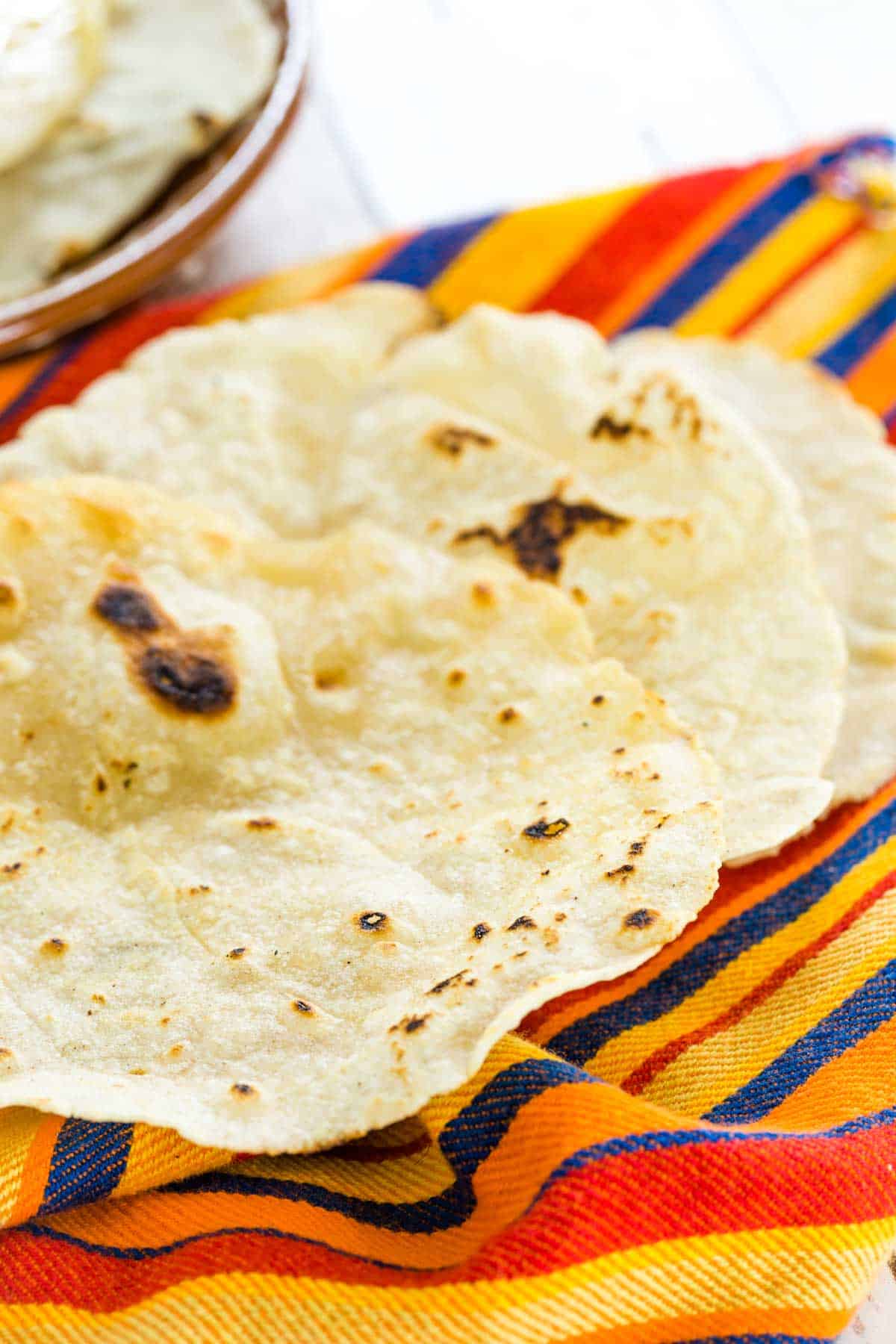 Tips for Success
Here are my foolproof tips for making the perfect gluten free tortillas: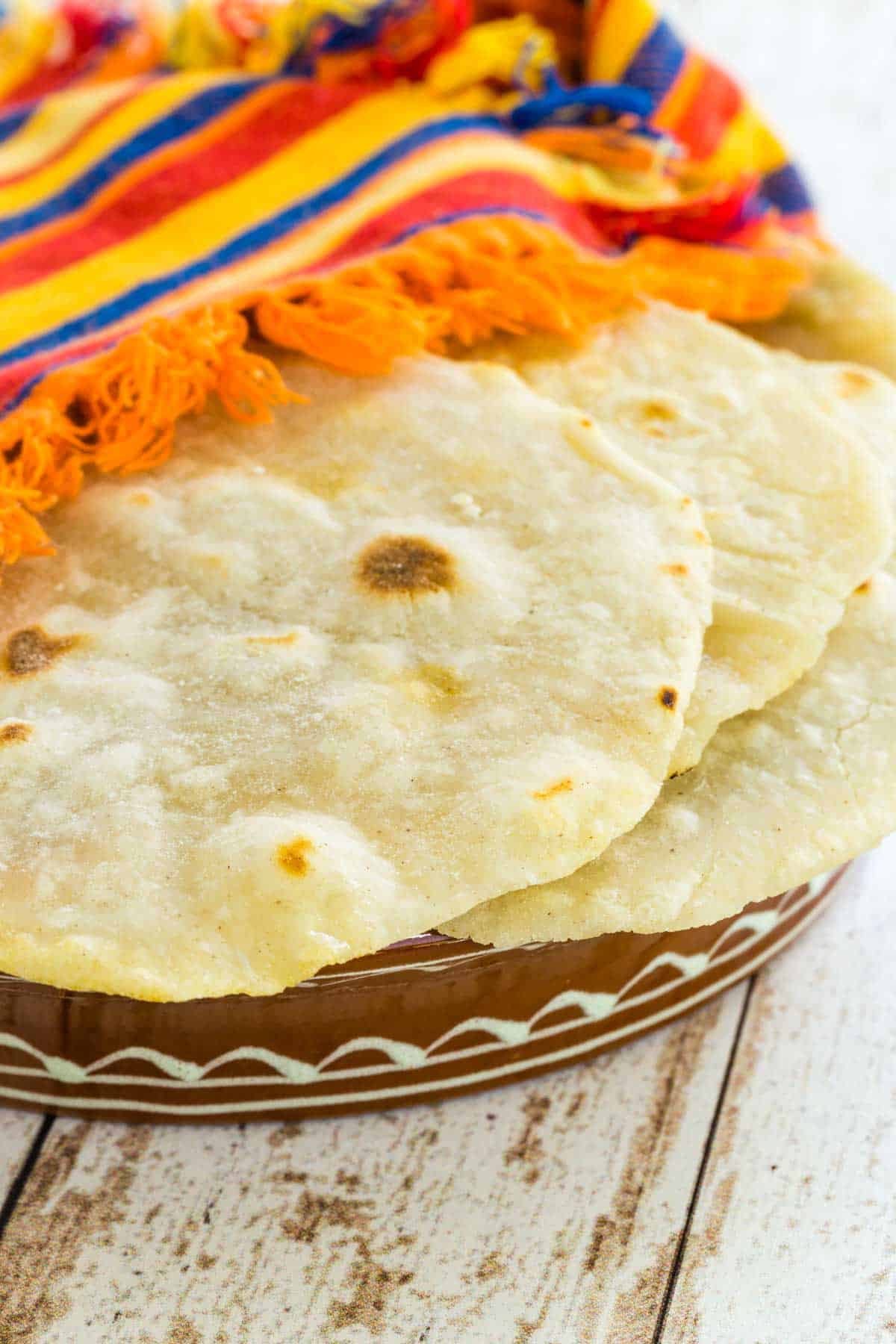 Make It a Meal
There are so many ways that you can rope these tortillas into recipes! Try out some of these easy meal ideas: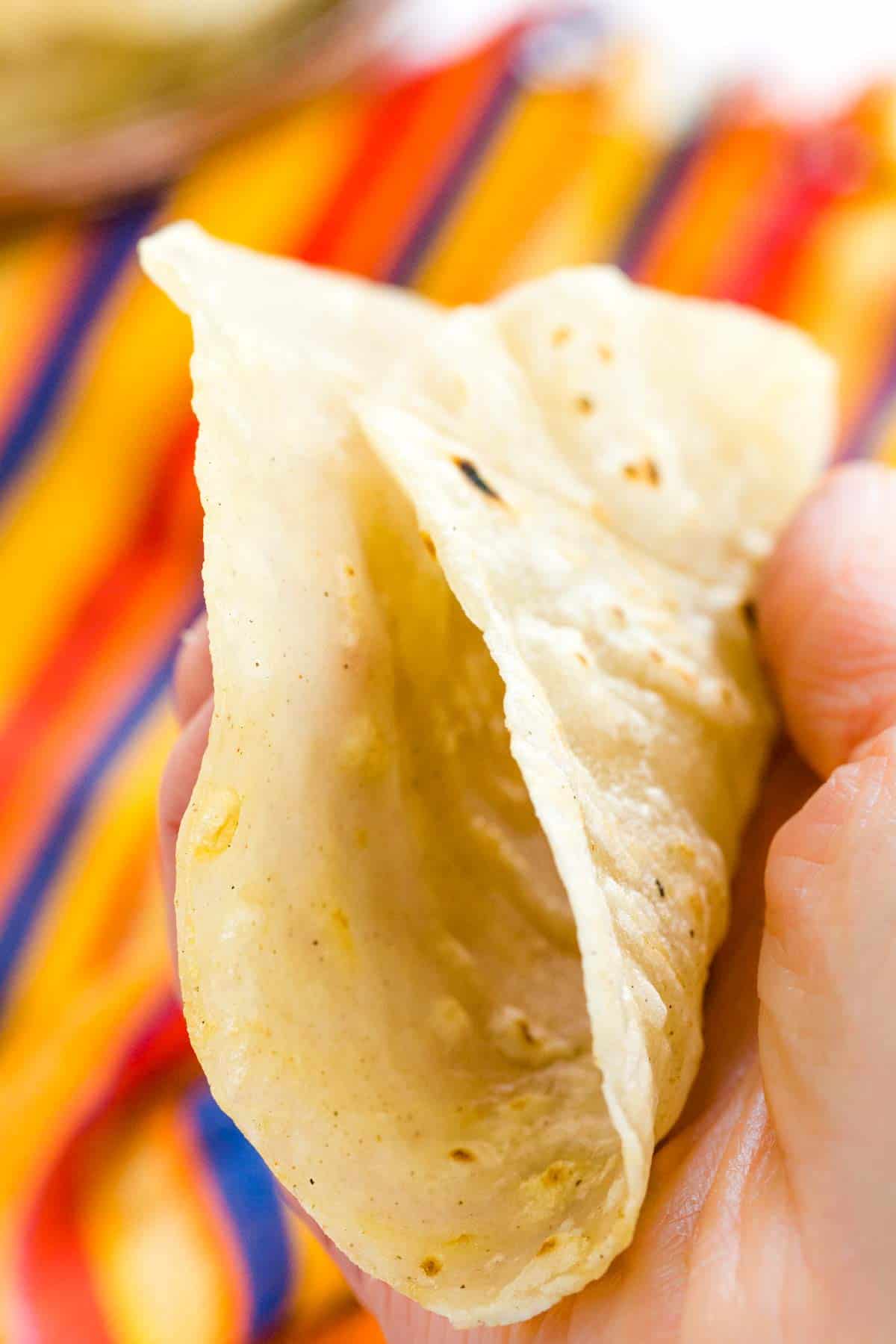 Storage and Reheating
Store any leftover gluten-free tortilla wraps in an airtight bag or container in the fridge. Reheat them in a hot skillet on the stove, or in the microwave.
If you're using the microwave method, place your cold tortilla between two damp paper towels and zap it for about 15 seconds.
Can I Freeze Homemade Tortillas?
You can most definitely freeze the tortillas after they're cooked! Wait until they've completely cooled, then simply stack and wrap them tightly in plastic wrap. Frozen tortillas will stay fresh for up to 3 months.
Defrost your gluten-free wraps in the fridge, then freshen them up with a quick reheat in a hot skillet.
Alternatively, you can also cover the frozen tortillas with a damp paper towel and then pop them in the microwave for about 30 seconds or so, until they're thawed and pliable again.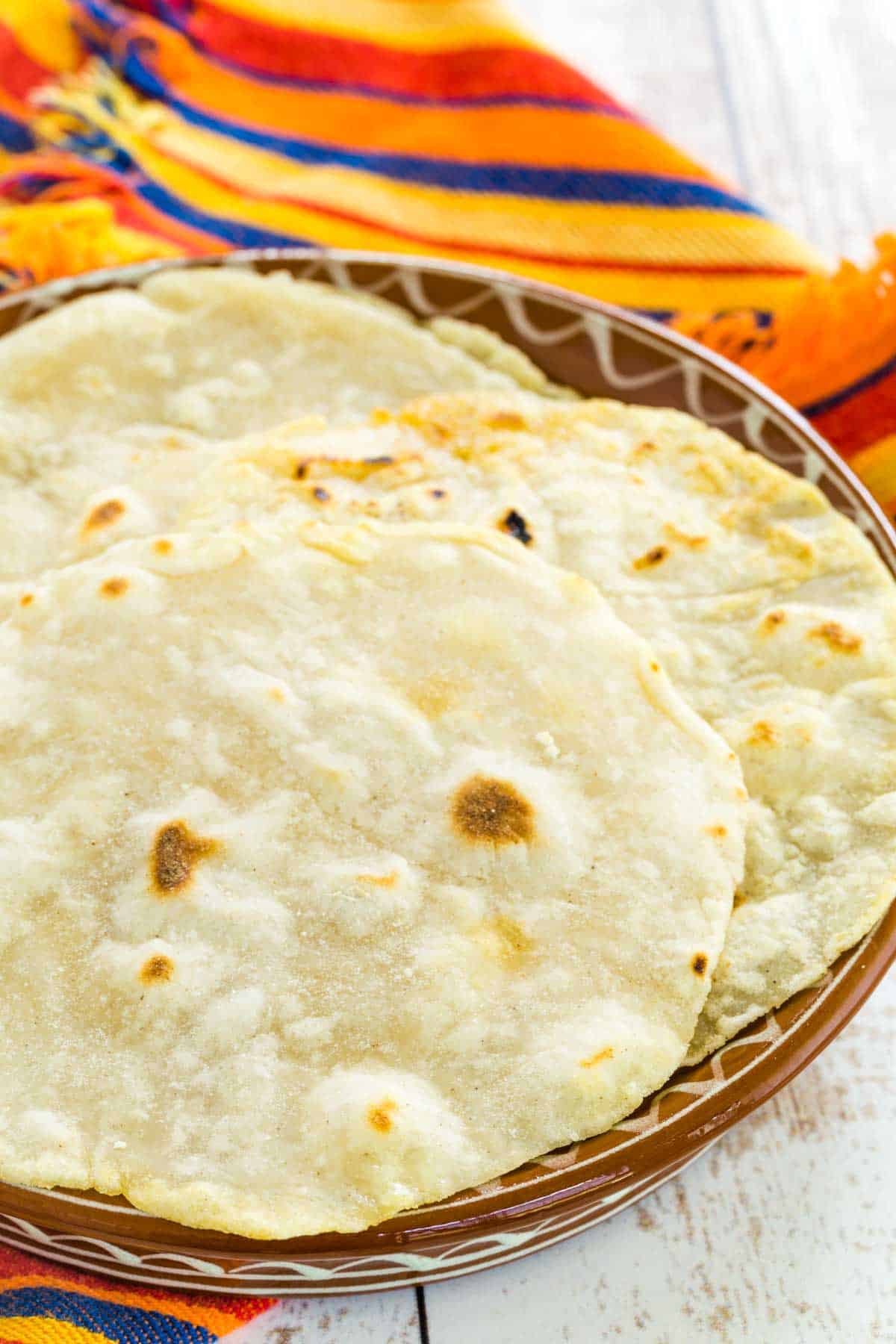 More Easy Gluten-Free Bread Recipes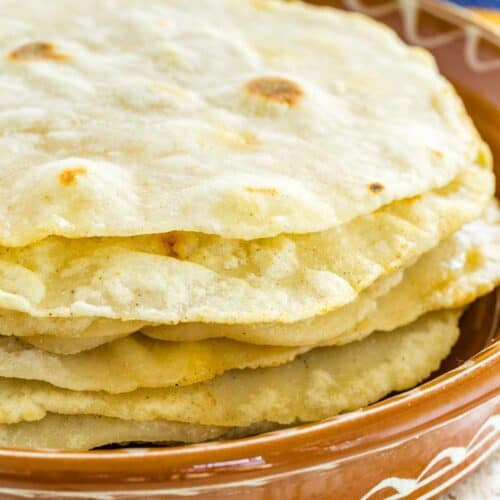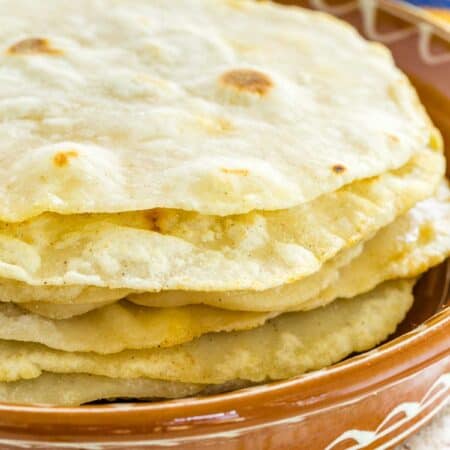 Gluten Free Tortillas
Make your own homemade Gluten Free Tortillas! An easy soft tortilla recipe that cooks up in minutes on the stovetop. Perfect for tacos, quesadillas, or rolled up into gluten free wraps.
Ingredients
1

cup

gluten free all-purpose flour

(I used Bob's Red Mill)

1/4

tsp

xanthan gum

1/2

tsp

kosher salt

1/2

cup

warm water

plus an additional 1-3 tablespoons, if needed

1

tbsp

canola oil

or avocado oil
Instructions
In a large bowl, combine the flour, xanthan gum, and salt.

In a measuring cup, combine the 1/2 cup water and oil. Pour the liquid ingredients into the mixing bowl.

Use a spatula to moisten the dough, then mix with your hands to form a soft, uniform dough ball. You may need to add more water, 1 tablespoon at a time, if the dough is too dry.

Divide the dough into 8-10 golf ball-sized balls on a plate or work surface. If you want to make larger wraps, divide it into about 4 pieces. Cover the dough balls with a dishcloth while you work.

Take one piece of dough at a time and place it between two pieces of parchment or wax paper. Lightly spraying the parchment paper with oil or cooking spray will make it easier to peel off the tortilla. Use a heavy skillet or a rolling pin to flatten the dough into a circle roughly 4 to 5 inches in diameter.

Heat a lightly greased or cast-iron skillet over medium heat. When hot, add as many tortillas as will fit comfortably and cook for 30 seconds to 1 minute per side, until browned in spots and cooked through, but still pliable. Keep cooked tortillas under a towel to keep warm. Enjoy right away.

If you want crisp tostada shells or taco shells, cook them for a little longer, about 2 minutes per side. Then let cool flat for tostada shells or fold over or place between the wells of an upside-down muffin pan to form a taco shell shape. They will get crispy as they cool.
Nutrition Facts
Gluten Free Tortillas
Amount Per Serving
Calories 66
Calories from Fat 18
% Daily Value*
Fat 2g3%
Sodium 149mg6%
Potassium 1mg0%
Carbohydrates 11g4%
Protein 2g4%
Calcium 11mg1%
Iron 1mg6%
* Percent Daily Values are based on a 2000 calorie diet.