This post may contain affiliate links. Read my disclosure policy.
Breakfast Tostada Stacks are an easy recipe made with refried beans, melted cheese, and soft fried eggs layered on top of crisp tortillas. Ready in ten minutes, you can even make this breakfast tostada recipe on busy mornings for a protein-packed way to start the day, but this vegetarian meal also makes a delicious weekend brunch or even weeknight breakfast for dinner. So versatile, by using your favorite cheese and other toppings, you can easily customize these breakfast egg tostadas to make them a favorite family meal in your house.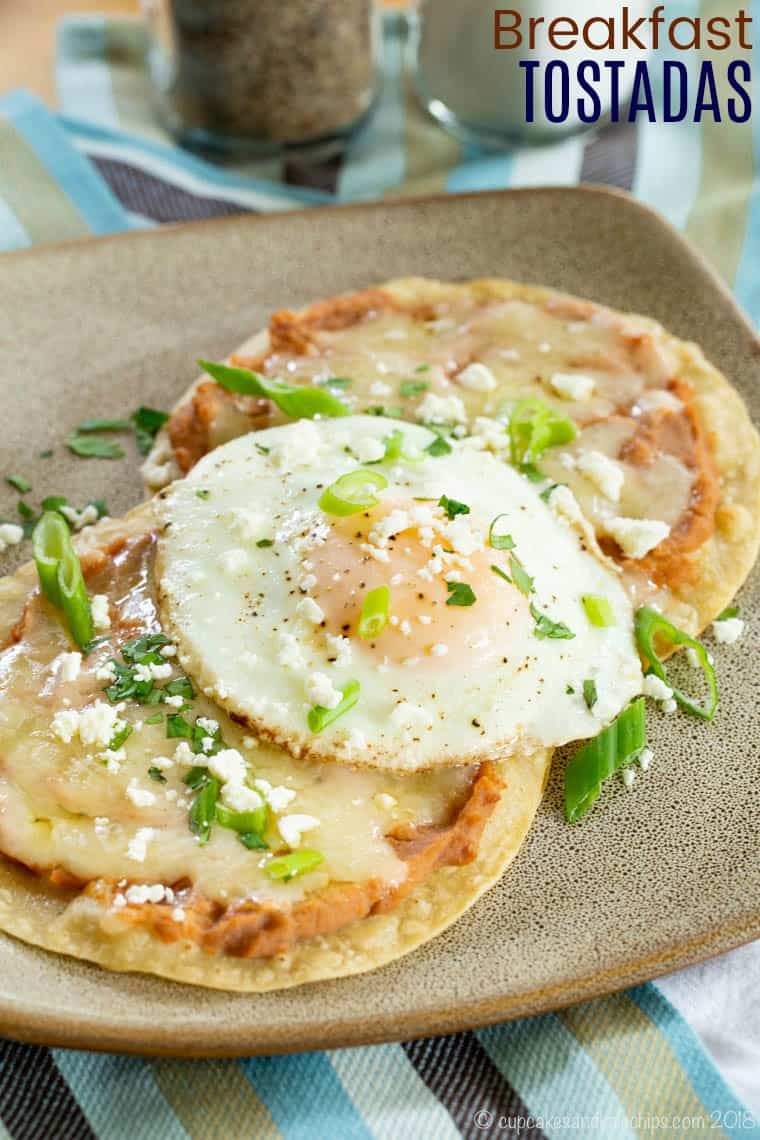 Breakfast Egg Tostadas
This week began a whole new world for me. My little guy started Kindergarten, so now I have both kids in elementary school. No more zig zagging in circles for multiple drop-offs and pick-ups means everyone (well everyone except mom) gets to sleep later and we have more free time in the morning.
That's all good except now life is all about food. Oh who am I kidding? Life has always been all about food, but now the dynamic has shifted.
The Kindergartener is no longer provided a morning snack and the 3rd grader doesn't have lunch until 1:30. I'm lucky I can keep these early risers from begging for breakfast before 7:30, so it's a long stretch until lunch.
I cannot subject the poor teachers to my human garbage disposals when they gets hangry. What's a mom to do?
Luckily for now they are given a brief morning snack time while they work, but I have to send in the snack. So I have been stocking the fridge and pantry with fruit, popcorn, cheese sticks, No-Bake Apricot Chia Energy Bars, and Funky Monkey Chocolate Peanut Butter Banana Energy Balls.
Plus I've also been making more hearty breakfast instead of just yogurt with fruit and Maple Brown Sugar Granola Clusters, adding in some cheesy eggs, Healthy Carrot Zucchini Mini Muffins, or just some toast with peanut butter.
And with that extra time, sometimes I can even make things like this…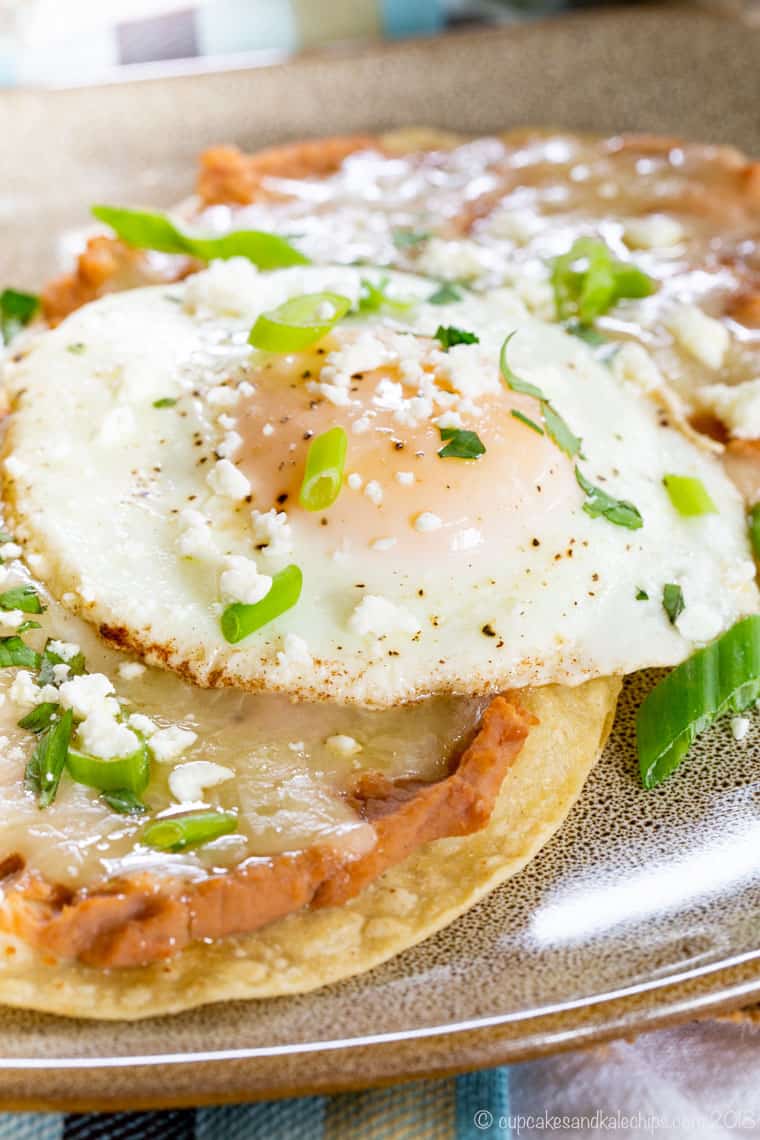 Breakfast Tostada Stacks from The Weekday Lunches & Breakfasts Cookbook
You guys, I've already raved about the first cookbook, The Weeknight Dinner Cookbook, from Mary Younkin, and clearly you all love her recipes too, based on the popularity of her blog Barefeet in the Kitchen. And let's just briefly mention that when I shared her BBQ Chicken Tostadas from that first cookbook they totally went viral (I hope all of you that have checked out that recipe also bought her book).
After making all of our crazy busy evenings easier, Mary has now helped us out through the morning and afternoon with The Weekday Lunches & Breakfasts Cookbook. Her Paprika Potato Skillet with Kielbasa and Corn was a hit with my family, and was totally quick and easy, but if you don't even have that kind of time for lunch or need to prep ahead, there are plenty of salads and sandwiches to choose from, like the Asian Chicken Chopped Salad and Hot Turkey Bagel Sandwiches, and make-0ahead options like Three Bean, Beef, and Belle Pepper Soup that you can pack in a thermos and Southwest Pasta Salad.
The same goes for breakfast. You can make Maple Cinnamon Granola Parfaits or Cheesy Bacon and Spinach Egg Cups in advance, have Slow Cooker Raisin Nut Oatmeal cooking overnight, or make Fancy Breakfast Toasts on busy mornings. You can even treat the family to Cheesy Egg French Bread Breakfast Pizzas or Grandma's Waffles on the weekend without taking much time before you head out to soccer games or just a day of fun.
[amazon_link asins='1624144985,1624142478′ template='ProductGrid' store='cupkalchi-20′ marketplace='US' link_id='baea42b0-b1e2-11e8-861e-97bfff795895′]
I hope you'll pick up these books ASAP. They certainly have made my life easier and more delicious, and I'm sure they will do the same for you!
Breakfast Tostada recipe tips…
If you can't find tostada shells, you can use corn tortillas to make soft tacos like these Salsa Egg Tacos. You can also lightly brush the tortillas with oil or spray with cooking spray and crisp them up in a 350°F oven for 3-5 minutes per side to make your own tostada shells.
Open up a can of your favorite refried beans (or make your own refried beans if you like) and smear on the tortillas. You can choose vegetarian beans if you want to keep this meatless. No need to even heat them up because they will warm up in the oven. Then just top with shredded pepper Jack or Colby Jack cheese (or cheddar, if that's what you like) and pop the breakfast tostadas in the oven until the cheese melts.
During that time, cook up a few fried eggs. I love Mary's tip of adding a tablespoon of water and covering to cook the yolk as runny or firm as you like it and to help keep it form sticking in the pan. You can keep the cooked eggs under foil while you make the rest of the eggs.
If you don't like fried eggs, I'm sure these tostadas would also be great with scrambled or poached eggs.
Remove from the oven, add the toppings, and enjoy.
[amazon_link asins='B01GCX80DW,B004VREE6Y,B017XKP8WY,B0088LR592,B00MDW9TG4′ template='ProductCarousel' store='cupkalchi-20′ marketplace='US' link_id='a5a1a74f-b1e2-11e8-b977-c56f77a4dd44′]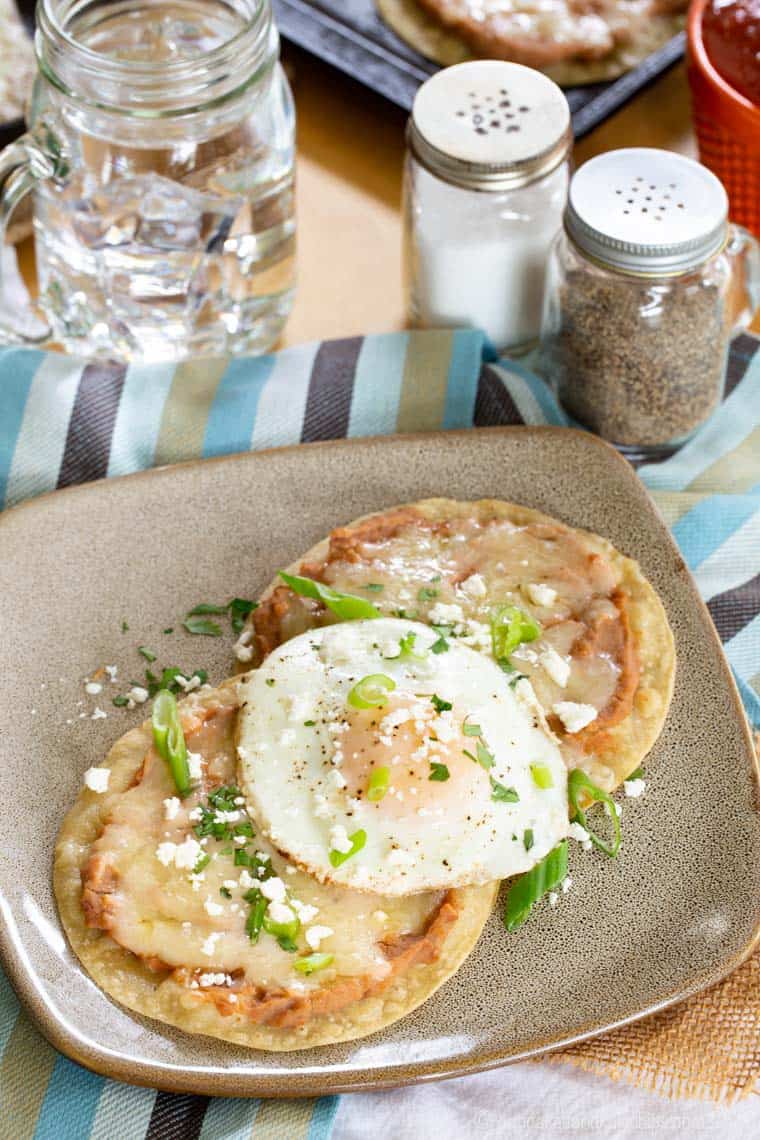 What do you serve with Breakfast Tostadas?
If you are following Mary's recipe, after the tostadas come out of the oven, top with a fried egg, some Cotija cheese, cilantro, and green onion. If you can't find Cotija cheese, crumbled feta or queso fresco are a good substitution, but really you can use any cheese you like.
However, you could also have fun with it. Open a jar or your favorite salsa and some guac or make Mango Avocado Salsa and Kid-Friendly Guacamole.
If you are serving these tostadas for brinner, they would be great with Browned Butter Cauliflower Rice or Chili Lime Corn, or Mexican Pepper Jack Baked Cauli-Tots would also be a great side dish.
You could even add a little meat with Chili Lime Steak Bites or Roasted Sausage with Sweet Potatoes and Peppers.
Or bake those tostadas, prepare some eggs, and put out bowls and plates of all your favorite taco toppings and have a party!
If you like this Breakfast Tostada recipe, here are some more egg recipes for breakfast, brunch, or brinner…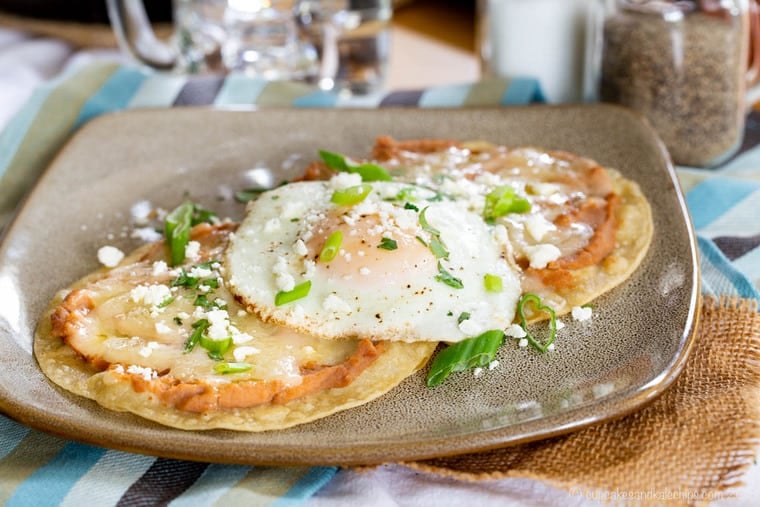 Breakfast Tostada Recipe
This Tex-Mex breakfast is sure to be a family favorite. You can make these breakfast egg and bean tostadas in just a few minutes, and it packs in plenty of fiber and protein which is just what you need to fuel the day. But this meatless meal also makes a great weekend brunch or weeknight brinner. Plus it is naturally gluten free, and you can certainly choose dairy-free cheese, if needed, making it totally customizable for everyone.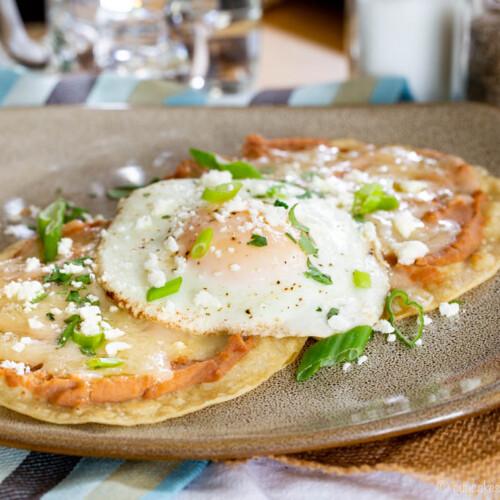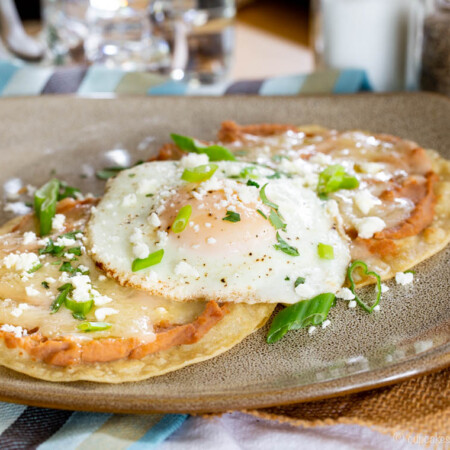 Breakfast Tostada Stacks
Ready in ten minutes, this easy recipe made with refried beans, melted cheese, and soft fried eggs layered on top of crisp tortillas is perfect for breakfast, brunch, or brinner.
Servings:
3
servings (two tortillas plus one egg)
Ingredients
6

crispy

tostada shells

16

oz.

can of refried beans

1

cup

shredded Colby Jack

or pepper Jack cheese

1

Tablespoon

butter,

divided

3

eggs

Salt and pepper

2

Tablespoons

water,

divided

1

green onion,

thinly sliced

1

Taplespoon

fresh cilantro,

minced

2

Tablespoons

Cotija cheese,

crumbled (or use feta or queso fresco)
Instructions
Preheat the oven to 350°F.

Place the tostada shells on a large baking sheet. Stir the beans until smooth and then divide onto each of the tostada shells. Spread the beans across the shells with a spatula.

Sprinkle the shredded cheese over each tostada. Bake until the cheese melts, about 5-8 minutes.

While the tostadas are baking, melt 1/2 Tablespoon of butter in a large nonstick skillet over medium-low heat. When the butter begins to foam, tilt the pan to coat the bottom with butter.

Add 2 eggs to the skillet. When the edges of the eggs turn white, season them lightly with salt and pepper. Add 1 Tablespoon of water to the pan and cover it with a lid. Remove the eggs from the heat when they are still soft and runny. Slide the cooked eggs onto a plate and tent them with foil.

Drain any liquid from the pan and ass 1/2 Tablespoon of butter to the hot skillet. Repeat the steps with the remaining egg.

When the cheese on the tostadas has melted, place 3 of them on plates and stack another tostada on top. Place an egg on top of each stack and sprinkle with onion, cilantro, and Cotija cheese, if desired.
Nutrition Facts
Breakfast Tostada Stacks
Amount Per Serving
Calories 411
Calories from Fat 216
% Daily Value*
Fat 24g37%
Cholesterol 225mg75%
Sodium 1371mg57%
Potassium 116mg3%
Carbohydrates 19g6%
Protein 24g48%
Vitamin A 1025IU21%
Vitamin C 0.7mg1%
Calcium 432mg43%
Iron 2.5mg14%
* Percent Daily Values are based on a 2000 calorie diet.
Categories:
Enjoy these Breakfast Tostadas!