This post may contain affiliate links. Read my disclosure policy.
I can't think of a better way to kickstart the day than with a make-it-yourself Gluten Free Breakfast Sandwich. This easy breakfast idea brings together crispy bacon, protein-rich baked eggs, and melted cheese between two fluffy homemade English muffins. Customizable to your heart's content!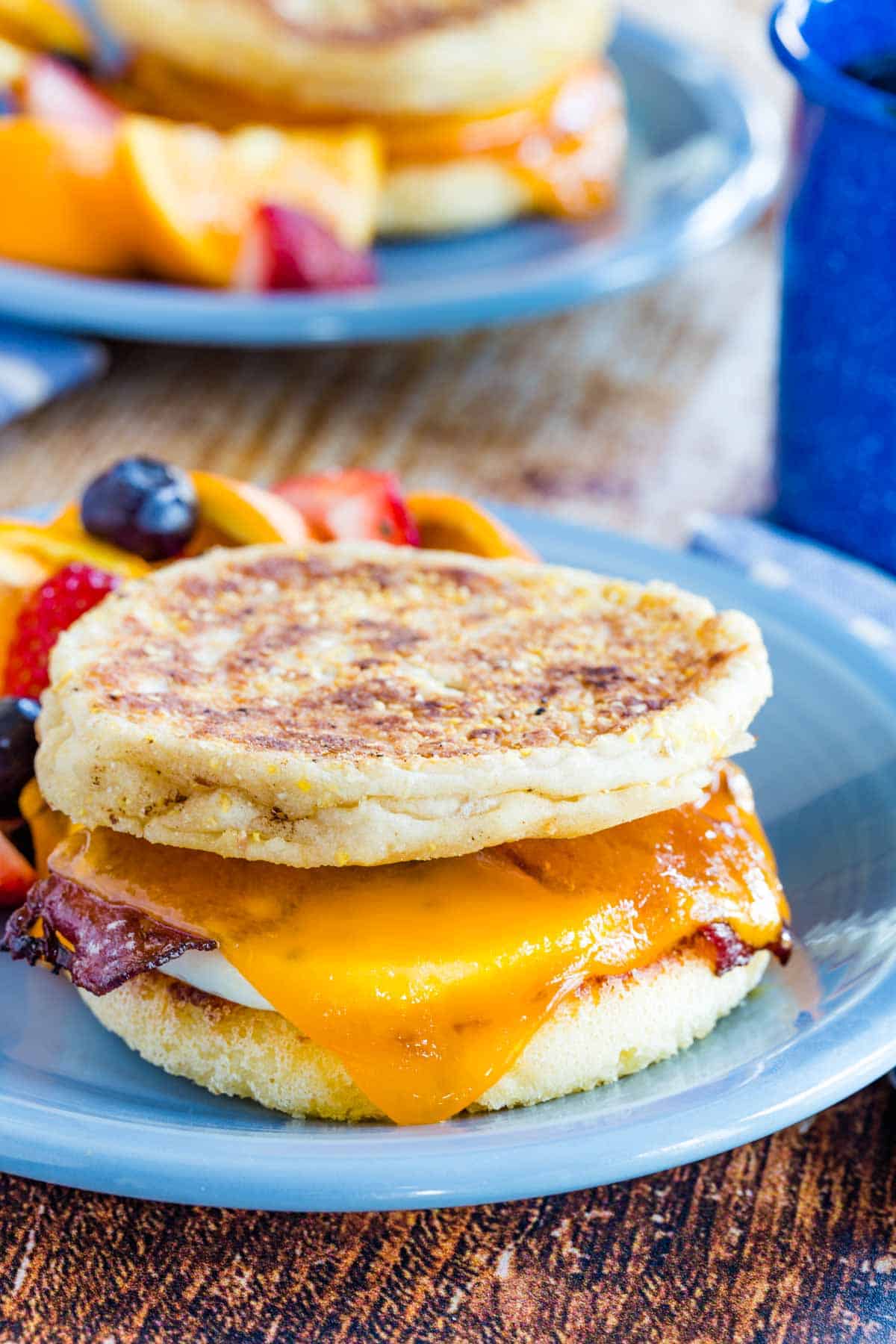 Easy Bacon Egg and Cheese Breakfast Sandwiches
These homemade gluten free breakfast sandwiches are easy, cheesy, and totally ready to brighten up your breakfast game. It's one of my favorite breakfast sandwich recipes because it's so simple. Just a hearty baked egg and strips of bacon, stuffed between two gluten-free English muffins with melty cheddar cheese.
The kids love these, so much so that they insist my homemade version is even better than a McDonald's Egg McMuffin! High praise, if you ask me.
You can have these breakfast sandwiches on the table in 30 minutes, which makes them perfect for weekend brunches and family breakfasts. Plus, if you make a big batch, you can store them as frozen breakfast sandwiches for a protein-filled breakfast on the go. You really can't go wrong!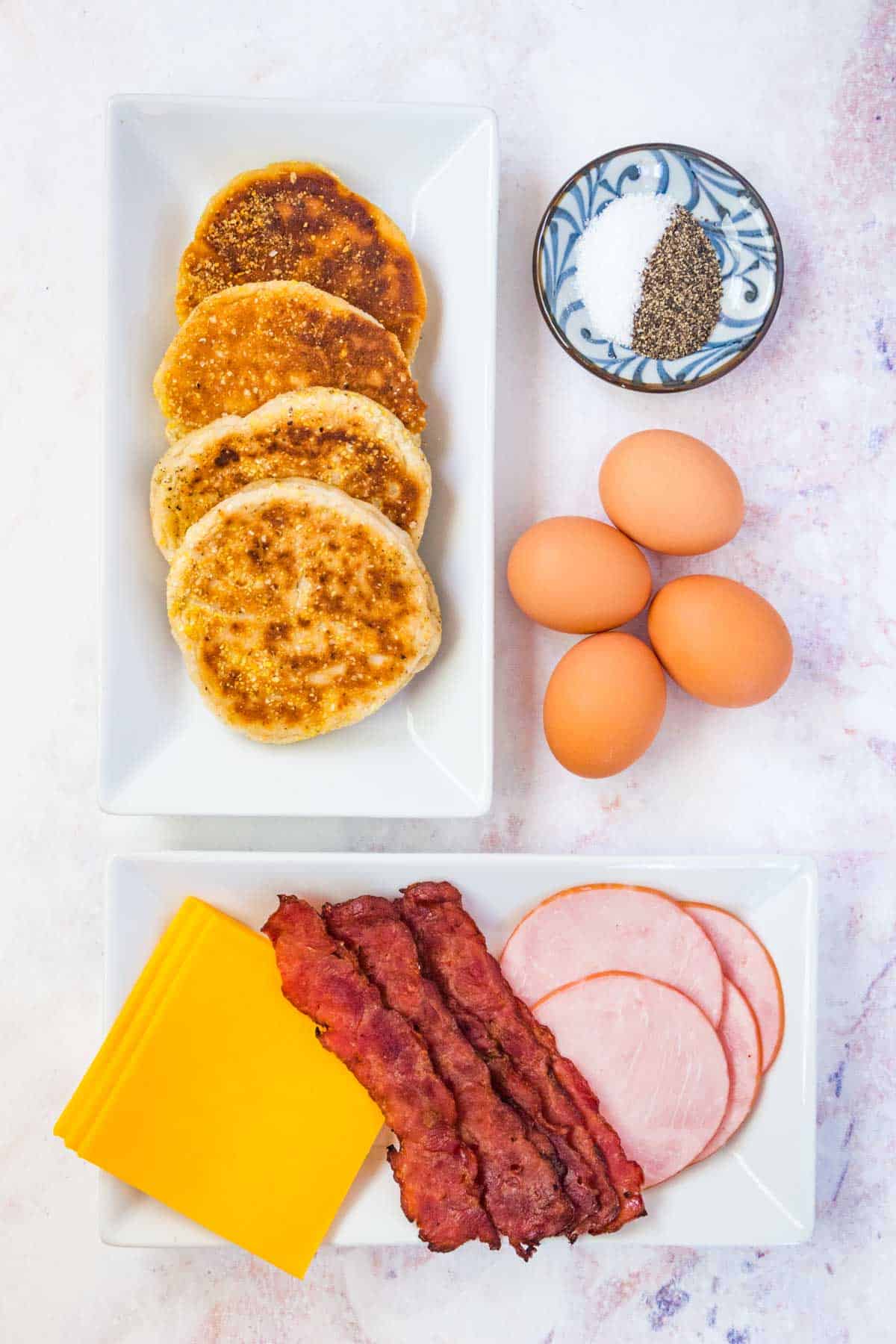 What You'll Need
As I said, it's hard to go wrong with a classic and simple bacon, egg, and cheese breakfast sandwich. Even though I've basically just listed about all of the ingredients, here's a full overview what you'll need (please refer to the recipe card for the full amounts):
Nonstick Cooking Spray: Since we'll be baking the eggs for these sandwiches, you'll need cooking spray to coat the muffin tins or ramekins that the eggs will cook in.
Eggs: You'll need 4 large eggs to make 4 breakfast sandwiches. Of course, the eggs and other ingredients in this recipe can be scaled up or down as needed, depending on how many sandwiches you're making.
Seasoning: Salt and pepper to season the eggs. You can also customize your eggs with any seasonings you prefer. I've included some ideas in the variations section later on.
Gluten Free English Muffins: Since we're making gluten free breakfast sandwiches, this calls for Gluten Free English Muffins. Other good choices are bagels, biscuits or gluten-free bread slices. You can use regular bread options if you're not making this recipe gluten free.
Bacon or Ham: Cooked crispy bacon does the trick, otherwise Canadian bacon comes precut in convenient circles. You can use deli ham or thicker cut ham, too. Pro tip: If you're making these around the holidays, this is a great opportunity to use up that leftover holiday ham!
Cheese: I use good old fashioned cheddar cheese to melt over these breakfast sandwiches. American, Colby Jack, or Swiss are great options too.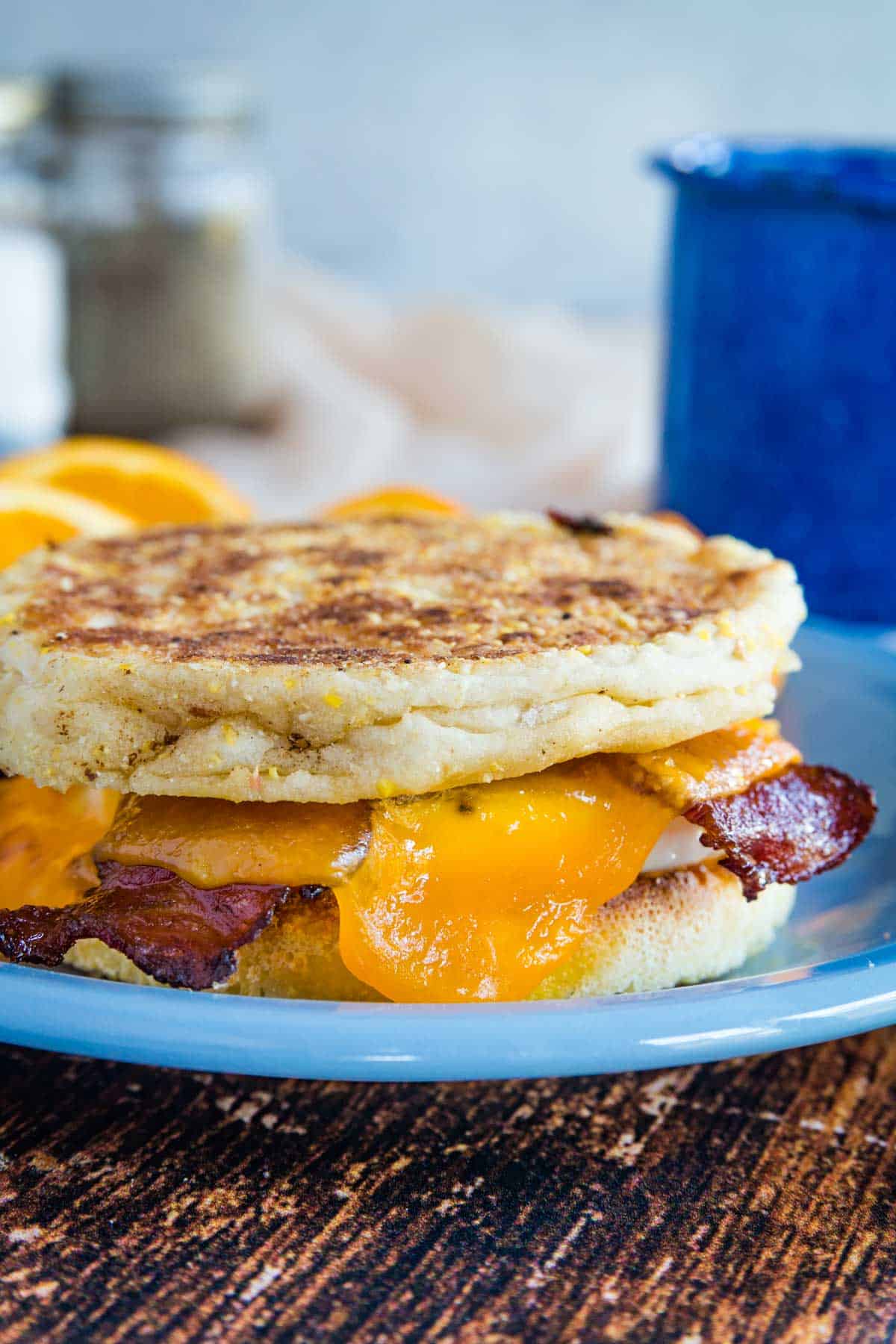 How to Make English Muffin Breakfast Sandwiches
I love baking the eggs for my gluten free breakfast sandwiches, so I've gone ahead and included the method in this recipe. It's super quick and convenient, and the eggs come out perfectly round! Of course, if you'd prefer your eggs cooked a different way, go ahead and prepare them however you like. Baked, fried, scrambled eggs – anything goes here.
But if you're on board for eggs baked in the oven, let's begin:
Prepare the baking tools. First thing's first. Set the oven to preheat to 350°F while you coat a muffin tin with cooking spray for the eggs. You can also use oven-safe ramekins. If you do, I suggest placing the ramekins onto a baking sheet to make them easier to transport to and from the oven.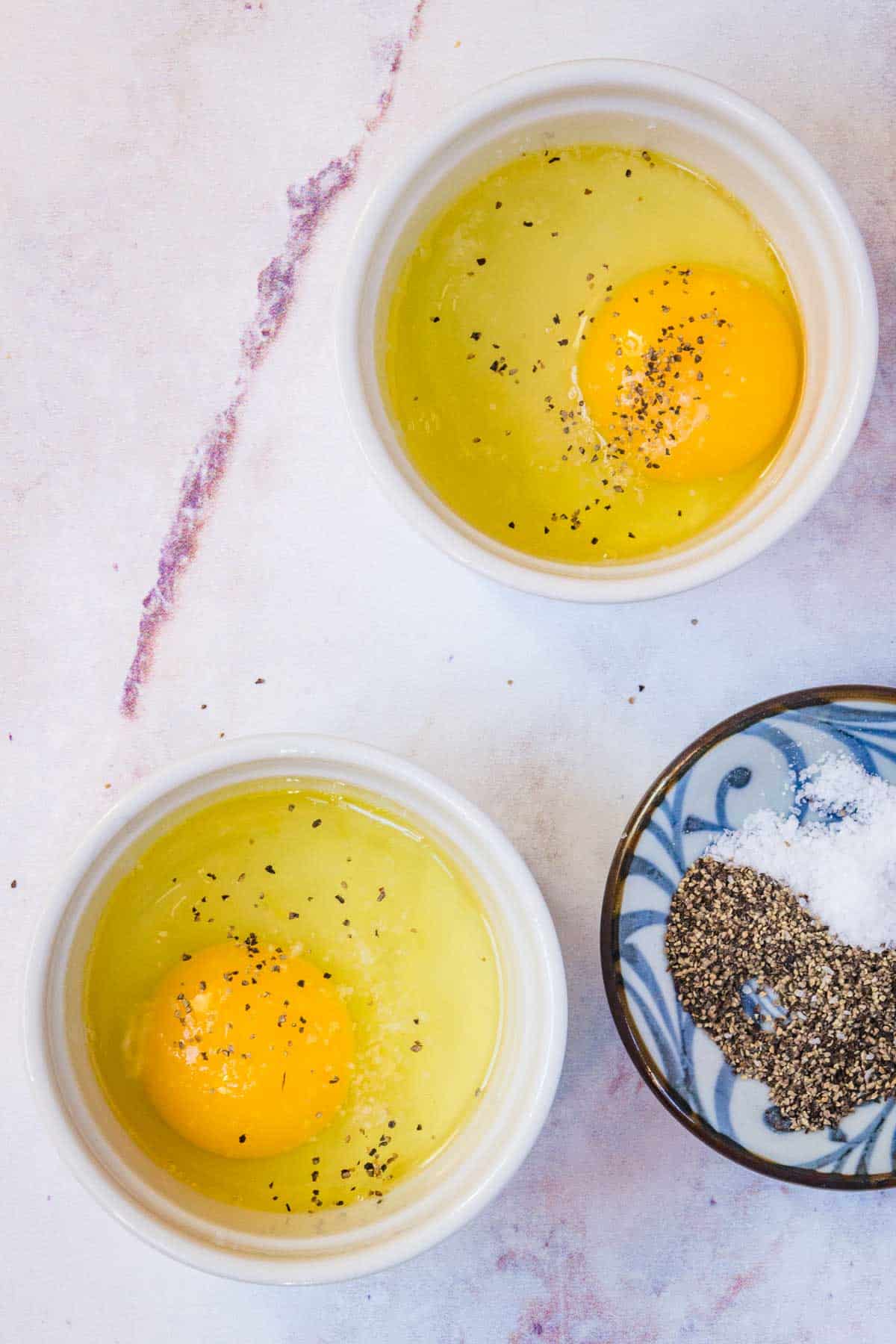 Bake the eggs: Once your tools are prepped, crack an egg into each muffin well or ramekin. Season with salt and pepper to taste. Next, bake the eggs in the oven until the yolks are set to your liking. Baking times can range between 14-18 minutes in the muffin pan, and 8-12 minutes in the ramekins. The longer you leave your eggs in the oven, the more cooked the yolks will be.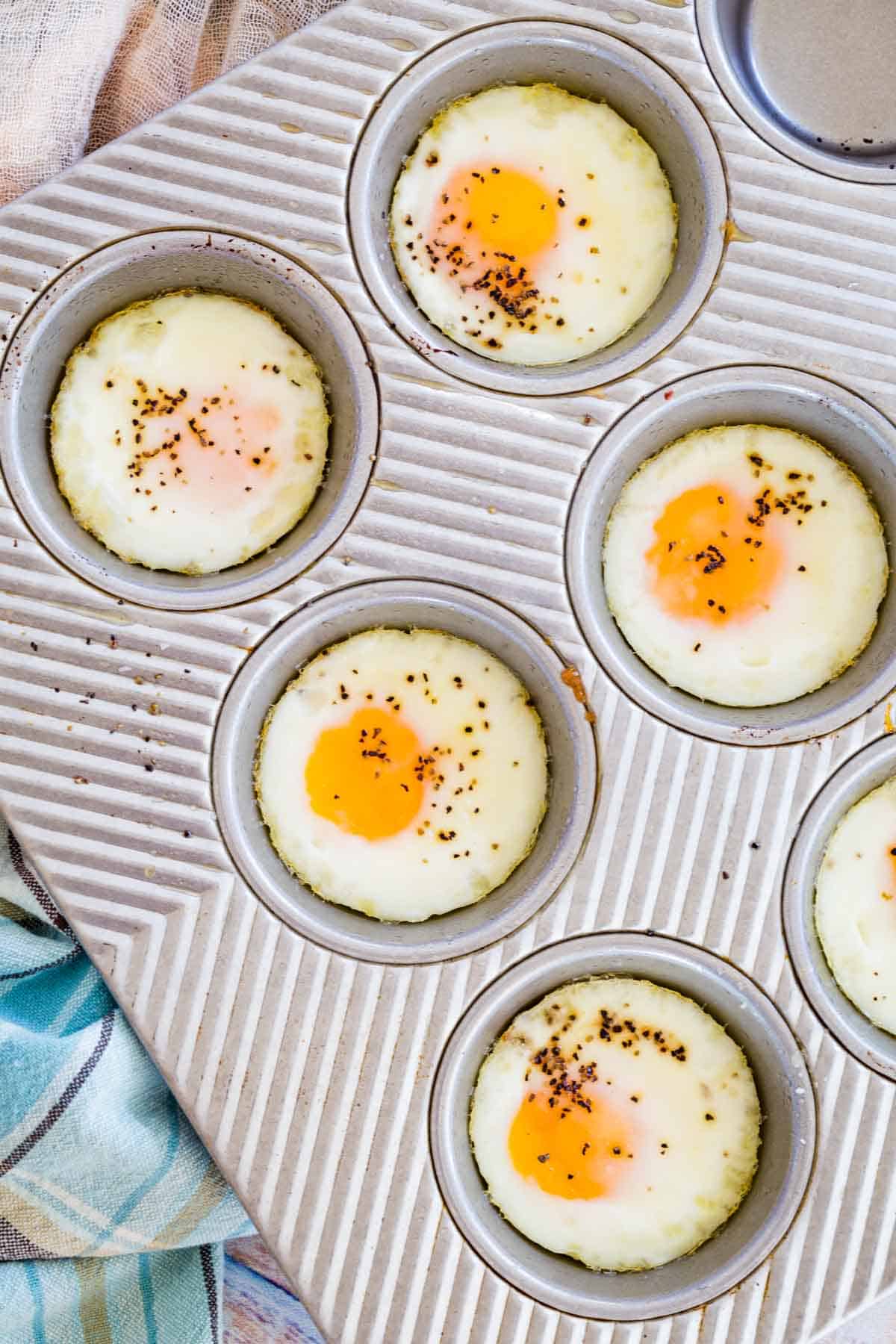 Prepare the English Muffins: While the eggs are baking away, slice open your English muffins to get them ready for assembling by laying them out on a baking sheet. Once the eggs are out of the oven, I like to pop the English muffins in under the broiler for a couple of minutes to toast them up a bit. Be sure to keep a close eye so they don't burn (if your broiler is anything like mine, she's a fickle mistress).
Assemble the Sandwiches: Once your English muffins are warmed and golden, take them out and set the tops aside for now. Top the other halves with a freshly baked egg, followed by the slices of bacon and finally a slice of cheese. Then, back under the broiler they go, until the cheese is all melty and delicious. Lastly, place the tops on your sandwiches, and enjoy!
Tips for Success
Keep an Eye While Toasting: As mentioned, I wouldn't leave your English muffins unattended beneath the broiler. Not all broilers and ovens are the same, and the bread can darken quicker than expected! Another option is to toast the muffins using a regular toaster instead.
Double the Batch: While you're in the business of making these gluten free breakfast sandwiches, why not make a few more? These sandwiches are freezer-friendly and perfect for on-the-go breakfasts.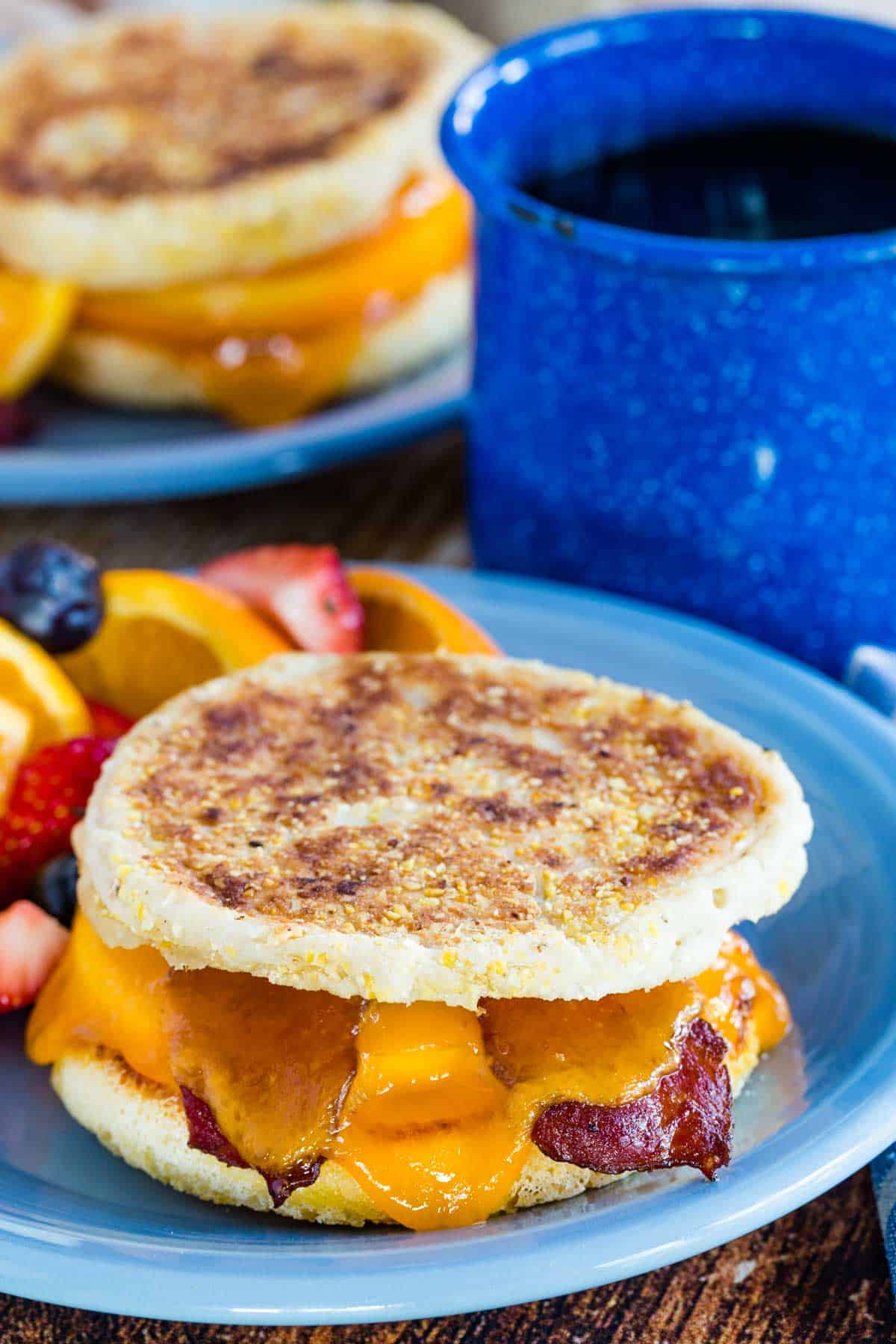 Variation Ideas
You can customize your homemade breakfast sandwiches to your heart's content. There really is no right way to serve these, and the variation and topping possibilities are plenty. Here are some ideas to try:
Vegetarian Breakfast Sandwich: This one's easy! Just ditch the bacon or ham. Try replacing it with Garlic Roasted Mushrooms, sauteed spinach, or caramelized onions instead.
Bagel Breakfast Sandwich: I have awesome recipes for Gluten Free Plain Bagels and Gluten Free Everything Bagels that I love to use in place of English muffins sometimes.
Other "Bun" Options: For something especially flaky and indulgent, make a croissant breakfast sandwich instead or use a couple of Almond Flour Pancakes as your "bun". You can even make Breakfast Tostadas on tortillas instead.
Make it Healthy: For a healthier breakfast sandwich, make these with only the egg whites (you'll need a couple extra eggs in this case), leaner turkey bacon, and skip the cheese (swap in lettuce instead).
Protein: In place of bacon and ham, you can sub in sausage patties for a homemade riff on a Sausage McGriddle. 
Hashbrowns: For something extra loaded, place crispy potato hashbrowns inside the sandwich.
Avocado: Slice or mash up avocado to fill your sandwich or give it a smear of Avocado Crema. For an extra Tex-Mex kick, try throwing in some pico de gallo and sliced jalapenos.
Seasoning: With so many seasoning options out there, you don't need to stick to just salt and pepper. Try sprinkling your eggs with paprika, nutmeg, cayenne pepper, or Cajun spice, and dried herbs like dill, basil, and thyme.
Cheese: Swap out the cheddar for another kind of cheese like Havarti, Pepper Jack, Monterey Jack, or Gouda. Or try my homemade Gluten Free Cheese Sauce!
Veggies: These sandwiches are great topped with sauteed or roasted red peppers, sliced tomatoes, grilled zucchini, roasted mushrooms, or even Air Fryer Asparagus. You can even chop up the cooked veggies and bake them right into the eggs.
Condiments and Sauces: Drizzle your sandwich toppings with hot sauce, ketchup, aioli, or other easy homemade condiments like Hollandaise Sauce, Buffalo Ranch Dressing, Creamy Maple Dijon Dressing, and Spicy Green Sauce.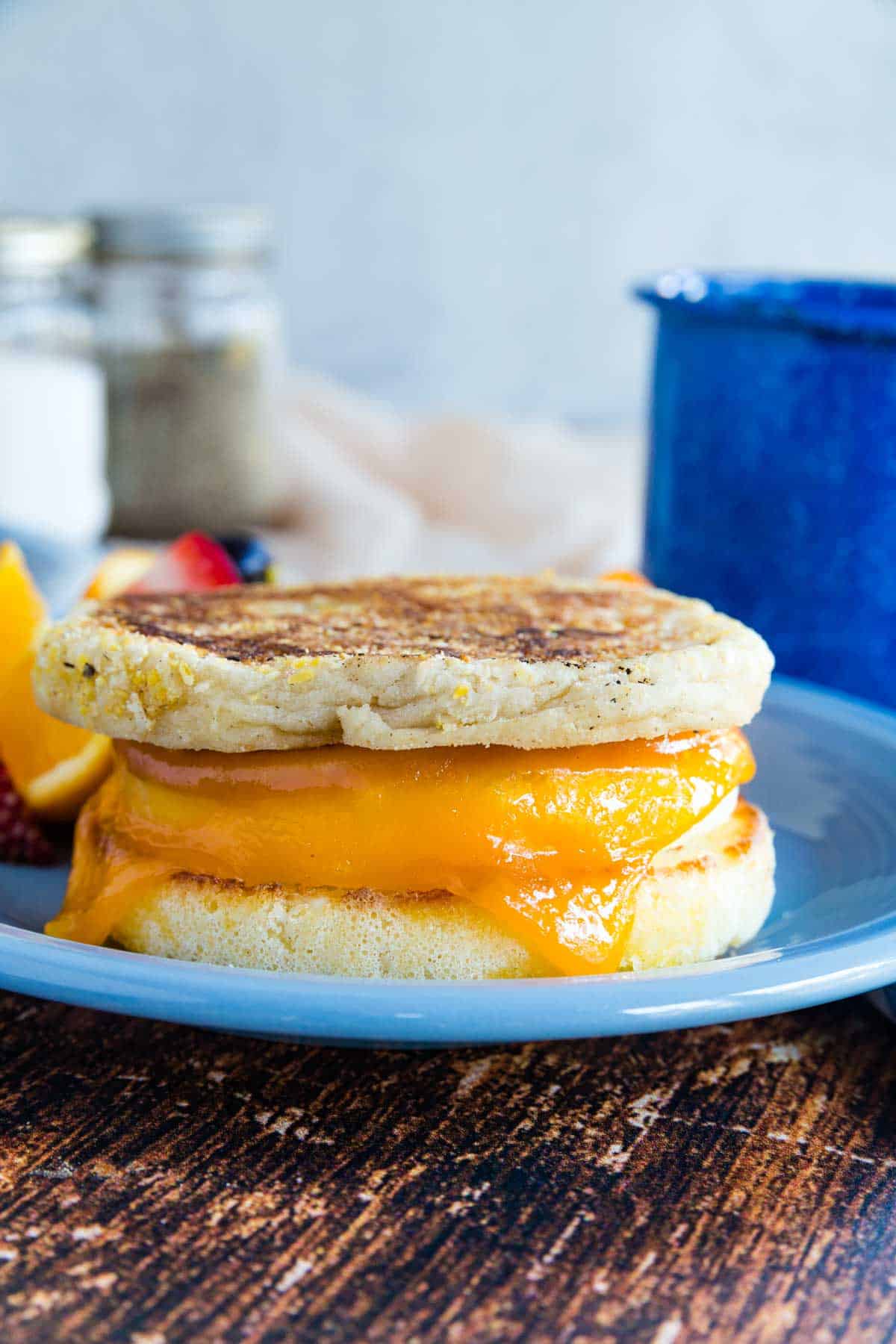 Make It a Meal
These gluten free breakfast sandwiches are a year-round love affair in our household. Whether it's a weekend brunch, holiday, or just your average breakfast-for-dinner, we never seem to run out of occasions to enjoy these.
If you're planning a brunch, serve these breakfast sandwiches with an Easy Green Salad, Gluten-Free Cinnamon Rolls, Fruit Salad, and healthy Maple Cinnamon Blueberry Smoothies alongside fresh juice and mimosas. And never forget the coffee!
Looking for more casual morning breakfast vibes? Serve up your breakfast sandwiches with a side of fresh cut fruit and Hash Brown Potatoes, or this Easy Cheesy Hashbrown Casserole (that's also gluten free!).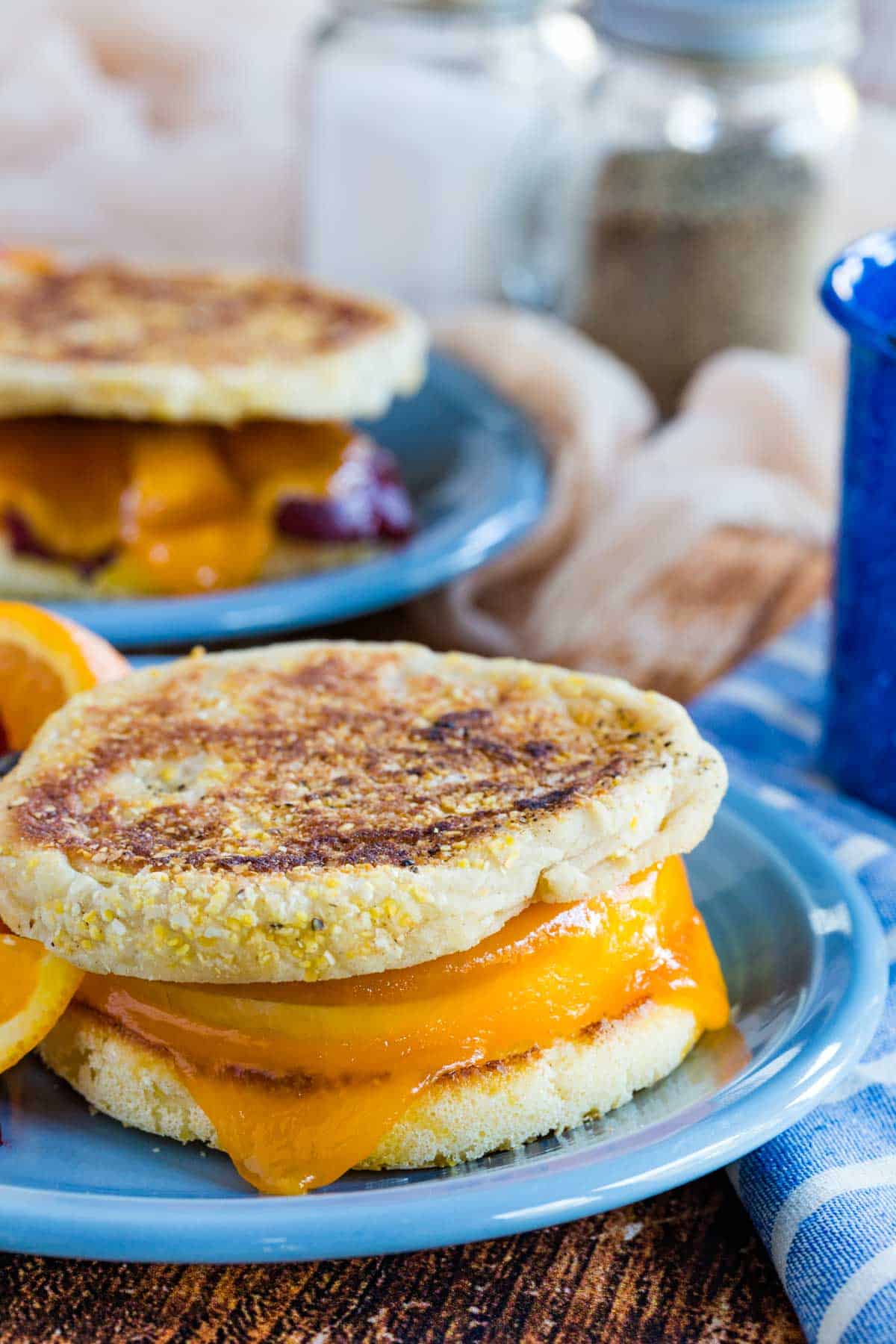 Storing and Reheating Leftovers
Leftover breakfast sandwiches can be wrapped individually or stored airtight in the fridge for up to one week. These sandwiches are quick to reheat in the microwave, for 30 seconds or so or until warmed through. You can also place them back into the oven or toaster oven to warm up again.
Can I Freeze These?
Yes! The cherry on top of this easy breakfast sandwich recipe is that it holds up well in the freezer. This means that if you prepare a larger batch, you can store them frozen for easy grab-and-go breakfasts.
To freeze, wait until the sandwiches and contents have cooled completely. Then, simply wrap the assembled breakfast sandwiches in parchment paper and pop them into a freezer bag to store. To help protest against freezer burn, you can also wrap them in a second layer of foil. They'll keep frozen for up to 3 months.
Whenever you're craving a hearty breakfast to-go, just microwave a breakfast sandwich in the parchment paper (minus any foil) straight from frozen. Alternatively, you can let the sandwiches thaw in the fridge overnight, for easy reheating the following day.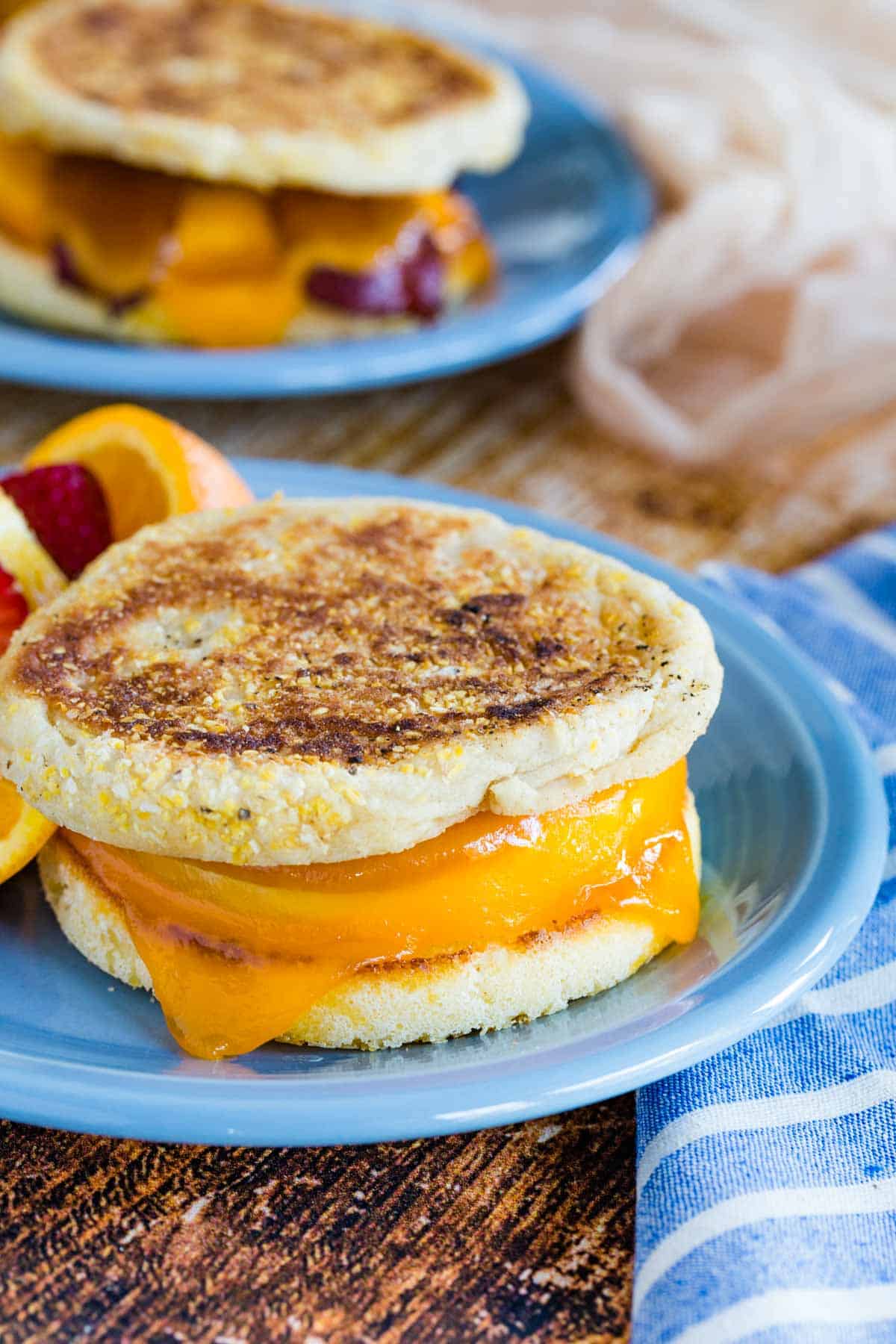 More Make-Ahead Gluten-Free Breakfast Recipes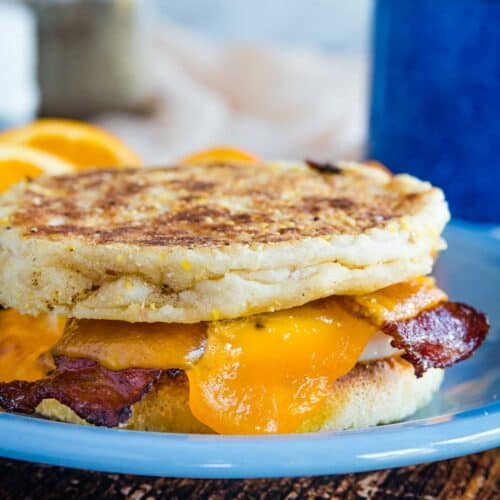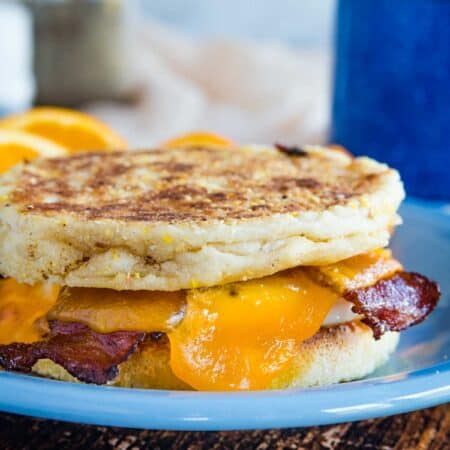 Gluten Free Breakfast Sandwiches
Kickstart the day with a homemade Gluten Free Breakfast Sandwich! This easy breakfast idea brings together crispy bacon, protein-rich baked eggs, and melted cheese between two fluffy homemade English muffins.
Ingredients
nonstick cooking spray

4

large

eggs

salt and pepper

to taste

4

gluten free English muffins

(see note)

8

slices

of bacon

or ham

4

slices

of cheddar cheese
Instructions
Preheat your oven to 350°F and coat a muffin pan or 6 ramekins with nonstick cooking spray. If you are using the ramekins, place them on a baking sheet to make it easier to transfer them to the oven.

Carefully crack one egg into each well in the muffin pan or ramekin and sprinkle each with salt and pepper.

Bake in the oven until the yolks are as set as you like them, about 14-18 minutes for the muffin pan or 8-12 minutes for the ramekins. (Alternatively, you can scramble your eggs or cook them your preferred way.)

Meanwhile, slice open your English muffins (or bagels) and place them cut side up on a baking sheet. Once the eggs are out of the oven, turn the oven on to broil and toast the English muffins under the broiler for 2-3 minutes until golden.

Remove the English muffins from the oven and set the tops aside. Place one egg on each English muffin bottom, top with two slices of bacon or ham (or one of each), and a piece of cheese. Return to the broiler for another minute or two to melt the cheese.

Place the tops on the sandwiches and enjoy.
Nutrition Facts
Gluten Free Breakfast Sandwiches
Amount Per Serving
Calories 458
Calories from Fat 261
% Daily Value*
Fat 29g45%
Cholesterol 232mg77%
Sodium 738mg31%
Potassium 244mg7%
Carbohydrates 28g9%
Protein 20g40%
Vitamin A 457IU9%
Vitamin C 0.1mg0%
Calcium 180mg18%
Iron 2mg11%
* Percent Daily Values are based on a 2000 calorie diet.
Categories: