This post may contain affiliate links. Read my disclosure policy.
Greek yogurt buffalo ranch dressing is one of my favorite easy gluten-free salad dressing recipes! Looking for a little kick to liven up those salads or veggies, but don't want to pack on the calories or head to the store? The grab a few basic ingredients in your kitchen and whip up this Pantry Greek Yogurt Buffalo Ranch Dressing or Dip.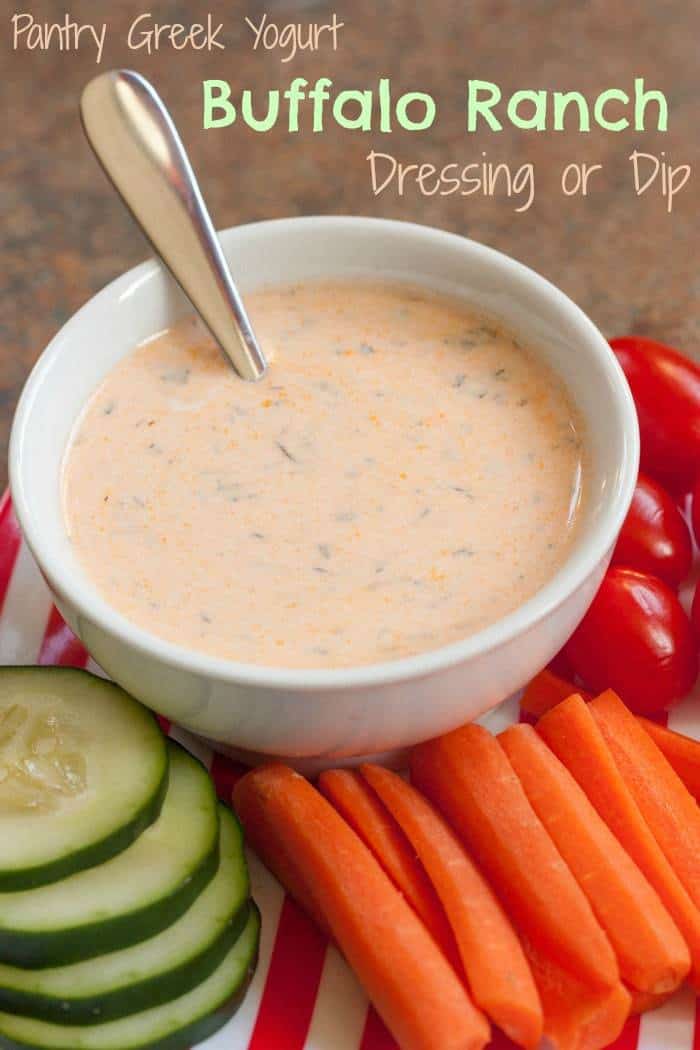 My husband is a wannabe-"Prepper". You know, those people who have a three years supply of freeze dried food, water purifiers, multiple generators, several ways of making fire, and a defense arsenal in their fortified basements, you know, just in case. In case of what, I'm not sure, but after watching some of those reality shows, he now makes sure we have a stock of canned beans and veggies, bottled water, and the like. We have a year's supply of batteries, flashlights, a generator, full gas tanks, all that sort of thing. When some sort of potential emergency strikes, he goes into full-on disaster preparedness mode. It's a good thing, despite the occasional over-preparedness, but I suppose I'd rather be over-prepared than under.
So what's prompting me to tell you this? Well, as we speak (or as I write), I'm keeping vigil over a frozen pipe. We came home from visiting my mom for the weekend and all was well in the house, until we tried to use the bathroom sink in the basement. All of the other faucets in the house are working fine – showers, sinks, even the shower in the same basement as the non-functioing sink. We are thinking that the issue is that the sink is on a wall against the foundation, with only frozen earth behind it.
Upon this discovery, we put a space heater in the bathroom, put empty buckets under the sink to catch the few drips we have detected at the connections, filled buckets and coolers and pots and pitchers should we discover a burst pipe and have to turn off the water supply to the house (since that's the only valve), and just to be sure, once I do go to bed, we may just turn off the water overnight anyway.
Might I remind you we live in Maryland, not Minnesota. I shouldn't be dealing with this nonsense. But alas, here I am, writing about disaster preparedness and Ranch dip, staying up way later than I should, since I'm not prepared like he is and didn't have a Tuesday blog post written before we left for mom's, keeping watch over my pipes while the rest of my family sleeps.
In some ways, though, I do try to be prepared. My version of being a "Prepper" is to always have ingredients on hand to make something like this…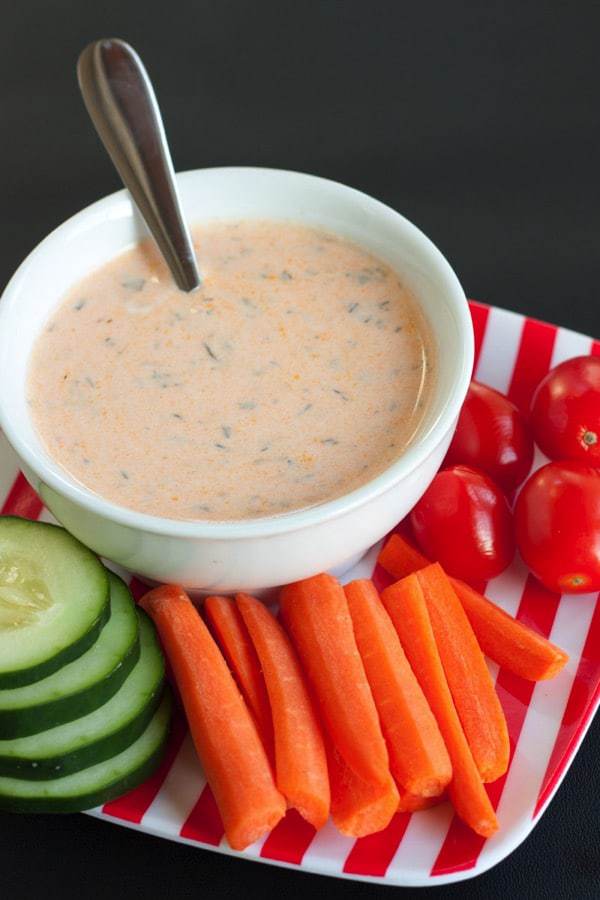 Pantry Greek Yogurt Buffalo Ranch Dressing or Dip is a super easy and yummy way to jazz up your veggies.
When I made my Pantry Greek Yogurt Ranch Dip, I told you all about my kids and their dipping, and how I just didn't want to worry about whether I had things like fresh chives and dill or lemons or buttermilk. Same holds true here, but since I am obsessed with all things Buffalo, it was inevitable I add a little kick to my Ranch. It's a perfect healthy party dip, or drizzle it over a salad with grilled chicken and lots of veggies.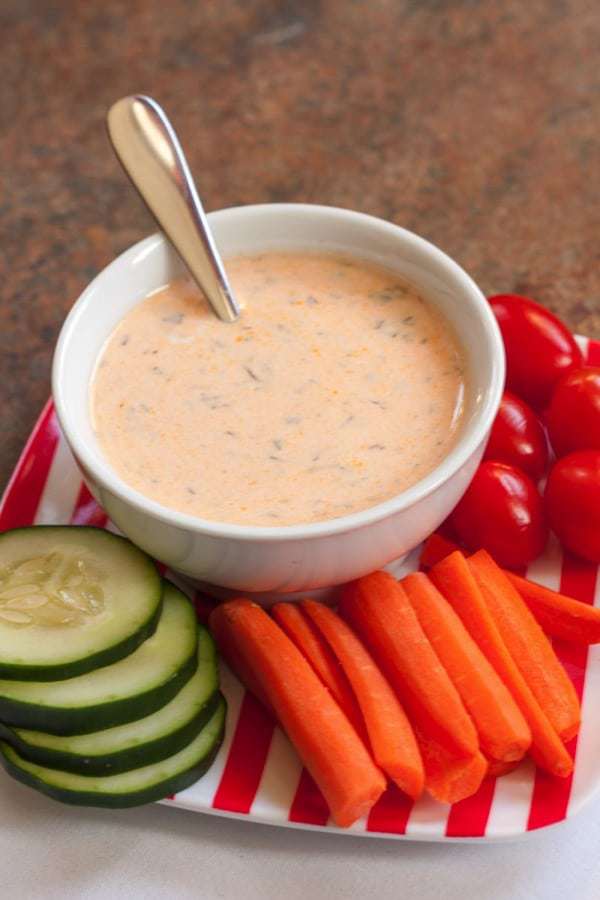 And whether it's a blizzard, hurricane, frozen pipes, or a last-minute party invitation, you'll be prepared for some snacking if you keep this recipe handy!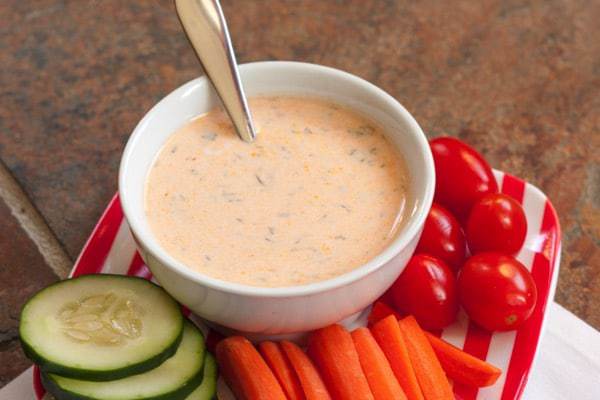 Are you a "prepper" type, or do you just fly by the seat of your pants if something comes up?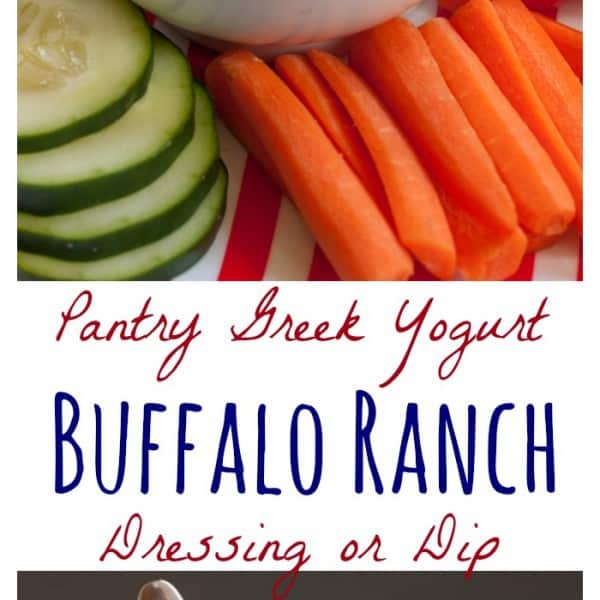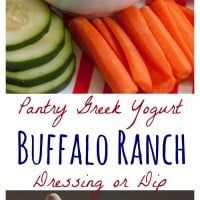 Greek Yogurt Buffalo Ranch Dressing or Dip
A healthy way to add a little kick to your salads or veggies. Recipe yields 1 cup of dressing or dip.
Instructions
Combine all of the ingredients in a bowl and mix until thoroughly combined.

If possible, let sit in the refrigerator for at least a couple hours to allow the flavors to develop.

Stir again before serving.
Nutrition Facts
Greek Yogurt Buffalo Ranch Dressing or Dip
Amount Per Serving (1 tbsp)
Calories 19
Calories from Fat 9
% Daily Value*
Fat 1g2%
Sodium 121mg5%
Potassium 2mg0%
Protein 1g2%
Vitamin A 10IU0%
Vitamin C 1.2mg1%
Calcium 17mg2%
* Percent Daily Values are based on a 2000 calorie diet.
Are you Buffalo-obsessed like me? I hope so, because I've got more than just the Greek yogurt Buffalo ranch salad dressing recipe for you!
And here are some more from my friends…