This post may contain affiliate links. Read my disclosure policy.
Baked sweet potato fries, with herbs de Provence seasoning. A tasty, easy-to-make side dish that, believe it or not, even picky eating kids will devour!
Why are toddlers given minds of their own when they clearly don't know how to use them?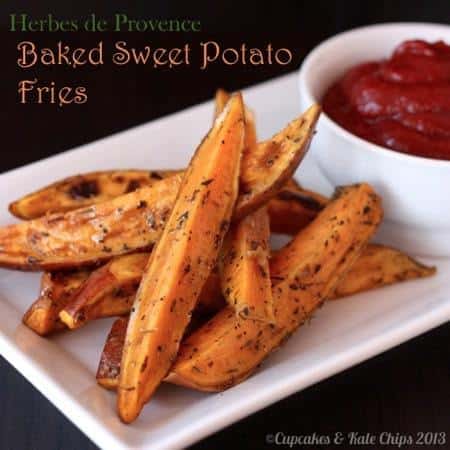 You've all seen the pictures – The Bug devouring quinoa burgers, butternut squash soup, sesame noodles, chicken & broccoli grilled cheese. He had some dislikes (spinach, green beans, steak unless it is cut up really teeny tiny), but pretty much he tore into anything put in front of him. Scallops! What 2-year-old goes nuts over scallops?! Well, if you've read the last couple of "What's in the Lunchbox Wednesday" posts, you'll see that a lot of what I sent is coming home. Granted, some of it seems like some strange concoctions on my part, but I typically only send in the weird concoctions if I have tested them out on him at home at least once, and gotten a positive response.
But lately, lunch isn't eaten at school and is a battle at home. He doesn't want to sit and eat at dinner time even though he hasn't had a bite in over 6 hours, he "doesn't like" pasta, broccoli, eggs, ketchup, mustard, and other things that, just two weeks ago, he would dive right into. Last night, it was an utter meltdown to get him into the chair, but then he tucked right into the burgers I made.
The only meal that seems to go over without a hitch is breakfast, and I suspect that is because it is usually yogurt or oatmeal sweetened with fruit and maybe a bit of honey, or a yummy granola bar. And of course, he won't turn his nose up at snacks, even when those snacks are fruit or cheese, so it isn't like he is looking for cookies and ice cream. I know this is perfectly normal, but that doesn't mean I am not getting frustrated.
Then, beyond the food issues, every want or need is expressed as a demand, immediately followed by a "NNOOOOWW!!" Everything from watching a show to having a drink of water (which just 10 minutes ago had to go in the refrigerator NNNOOOOWWWW!!!) to having a snack (after supposedly not being hungry for dinner). This is going to bode well when I am in the middle of feeding or changing a newborn. Ugh! I hope this phase ends quickly, and that my insistence that he stop and ask for things in a nice, polite manner will catch on.
Well, one thing I know I can always get him to eat is a sweet potato. If I make baked sweet potatoes, he eats an entire one, then asks for more.
These baked sweet potato fries went right down the hatch.
They are basically just a variation on my Italian Herb Oven Fries, but you put the words "Herbes de Provence" on the front, and they sound all fancy pants. And Herbes de Provence – just a mixture of dried herbs. No biggie. But they add a lovely flavor against the natural sweetness of the sweet potato, that is enhanced through the caramelization in the oven. Put on your best French accent and you can convince anyone you are serving a gourmet meal!
Not only are these yummy with homemade ketchup, but they were also quite good with Creamy Cranberry Dijon Dipping Sauce. They also make a great side for French Onion Meatballs.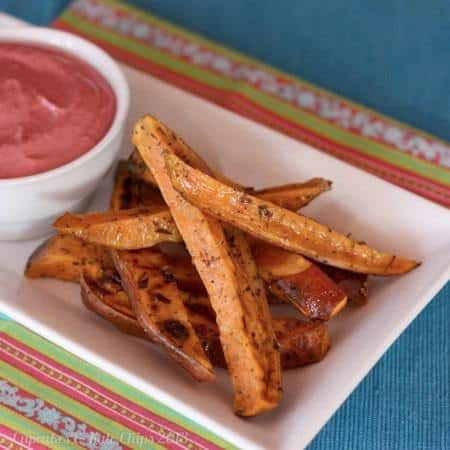 Any good tips for dealing with this I-want-what-I-want-when-I-want-it stage?
Enjoy the baked sweet potato fries and don't worry about it, right? 😉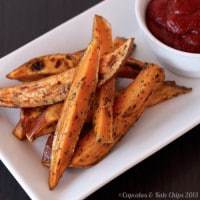 Herbes de Provence Baked Sweet Potato Fries
Crispy sweet potato fries from your oven, flavored with olive oil and dried herbs.
Ingredients
About 1 lb sweet potatoes

1

T

olive oil

plus more for pan

1

t

kosher salt

freshly ground pepper

1

t

Herbes de Provence

or a mixture of dried thyme, basil, savory, lavender, and/or fennel, or other dried herbs
Instructions
Cut potatoes into about ½ in. wide and 3-4 in. long "fries".

Preheat oven to 450°F, and coat a baking sheet with olive oil or cooking spray.

Toss the potatoes in the olive oil, salt & pepper, and herbs, and lay on the baking sheet in a single layer.

Bake for 10 minutes, flip the fries, and bake for about another 10-15 minutes, or until golden and crispy.
Categories:
Want more sweet potato recipes to love?
Jambalaya Stuffed Baked Sweet Potatoes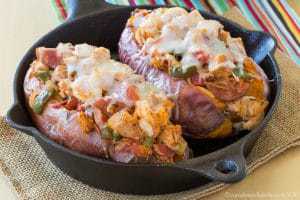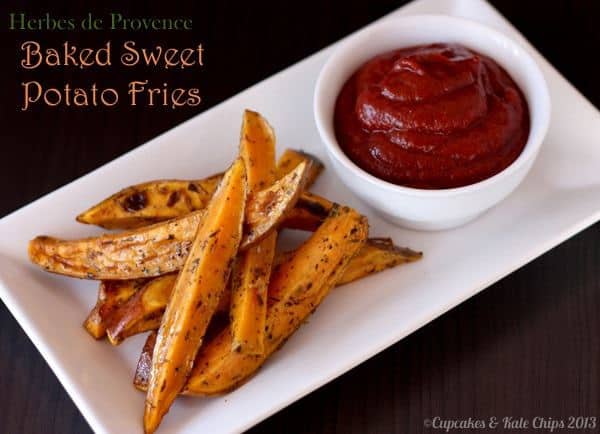 This recipe was shared with: Thursday's Treasures