This post may contain affiliate links. Read my disclosure policy.
Black bean quinoa burgers are a great gluten free Cinco de Mayo food option, or a quick and easy vegetarian dinner any time of the year. Mexican spices kick up the flavor of this delicious dish!
The theme for this week's #SundaySupper is Kids in the Kitchen, so I have Mexican Black Bean Quinoa Burgers with Homemade Guacamole for you.
I was excited about this theme, as it is such a great way to get kids to try new things, and a great activity to do together for both fun and learning. Though I must admit, it does present a challenge for me. I enjoy trying to get The Bug in the kitchen with me. But he has the attention span of, well, a very active two-year old boy, and his other nickname is Mr. Grabby-pants. He wants to grab and touch and examine EVERYTHING. So when I am working with knives or hot surfaces, it is a bit more of a challenge to have him "help" me. Though I keep trying, because I really think he has an interest. He loves to play in his little kitchen and cook for me. Every time we go anywhere that has a play kitchen, he is ready to whip up a meal. And you have seen the photos – he loves food.
So for this #SundaySupper, I wanted to find a recipe that he could definitely help with, and that he would love. Mexican food is his absolute favorite, especially guacamole. Another new favorite are burgers. Well, he wants to grab everything, and he also wants to taste test any food item he sees, so raw meat was not an option. But then I saw these Black Bean & Quinoa Veggie Burgers from The Foodie Physician, and I knew they would be perfect. We could make those with some homemade guac, and he could help with all of the mixing and mashing. I also thought it would be great to share this week because maybe not all kids love quinoa or black beans, but put it in burger form, and the little ones may be more willing to try these new foods.
So I got everything prepped in advance – an important thing when you have the kids cooking with you.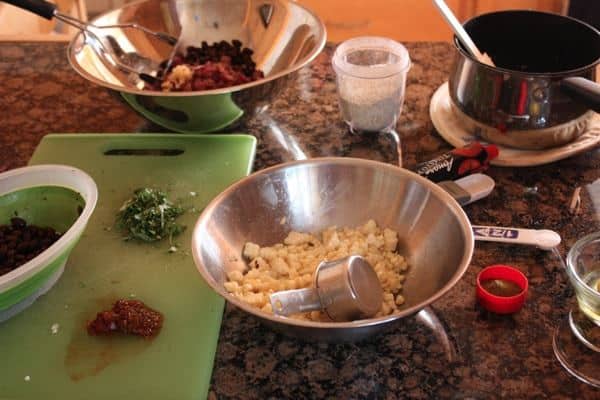 Then I brought him in the kitchen with me. Well, one thing about cooking with kids is that you sometimes just have to go with the flow.
The Bug started helping me mash up the beans for the black bean quinoa burgers.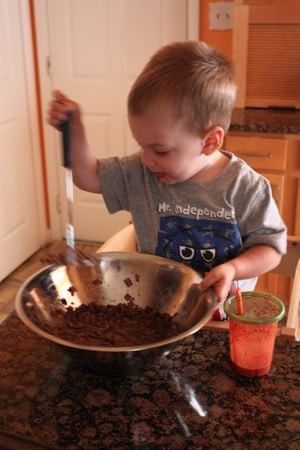 But then he just wanted to eat the extra corn (I had grilled up two ears)…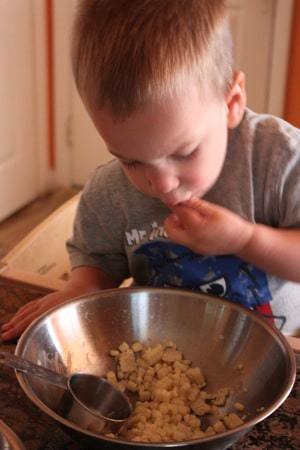 Then we attempted the guacamole…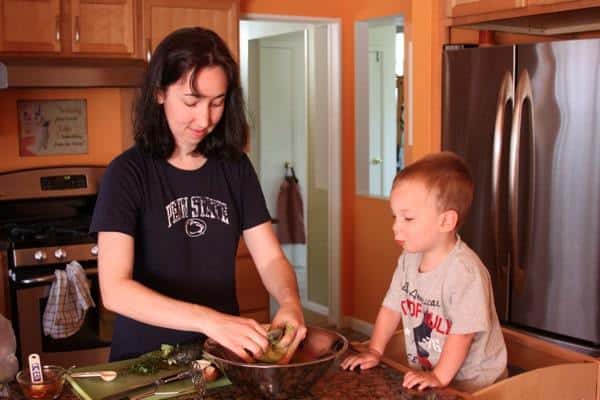 But the avocados were a bit hard, so I ended up doing the mashing.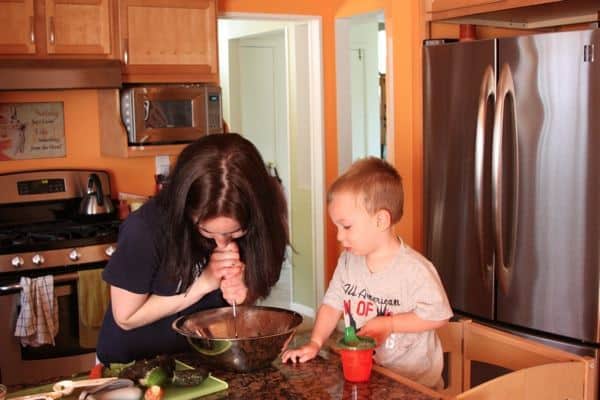 But then we tasted it, and my little guac-freak wouldn't swallow it. Clearly the avocados were not ripe enough. Yuck! So the entire batch went in the trash, and I ran out to the store to get some new avocados. Oh well! What are you gonna do? We tried. And the second batch was MUCH better. But I had to make it myself because we were all getting hungry.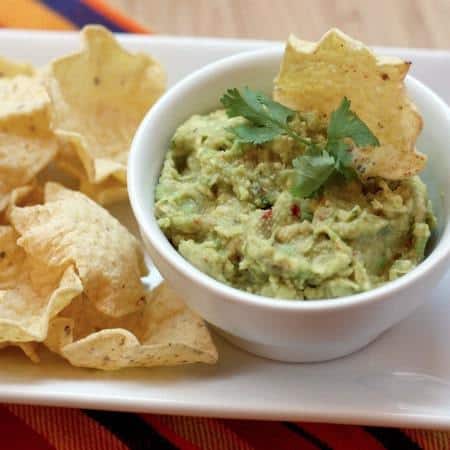 While the original recipe from The Foodie Physician sounded fabulous, I did make a few tweaks and additions to the black bean quinoa burgers.
To cook the corn, I threw it on the grill, along with the onions, instead of sautéing in a pan (this is some of the prep work I did in advance). Since the garlic would not be cooked with the onions, I actually used the jarred stuff. You can use fresh cloves, but you may want to mash them up a bit so that you don't end up with raw garlic chunks in your burger. Then I added a bit of lime and cilantro to the yogurt sauce. We served it with the homemade guacamole, instead of sliced avocado, and some grilled pineapple. The guac we made was a bit more kid-friendly than your typical recipe. It doesn't have any raw onion or jalapeno, and gets just a bit of heat from a little of the chipotle in adobo that is also used in the black bean quinoa burgers.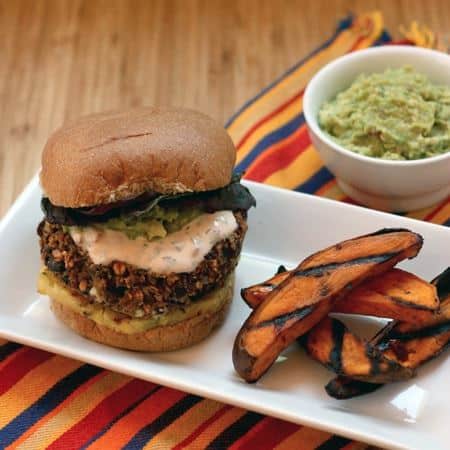 For more Mexican flavors, serve the black bean quinoa burgers with Grilled Chipotle Lime Sweet Potato Wedges.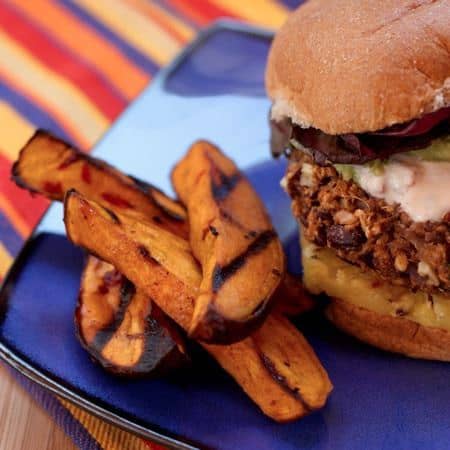 And you have a delicious, healthy meal that my little spicy foodie was crazy about.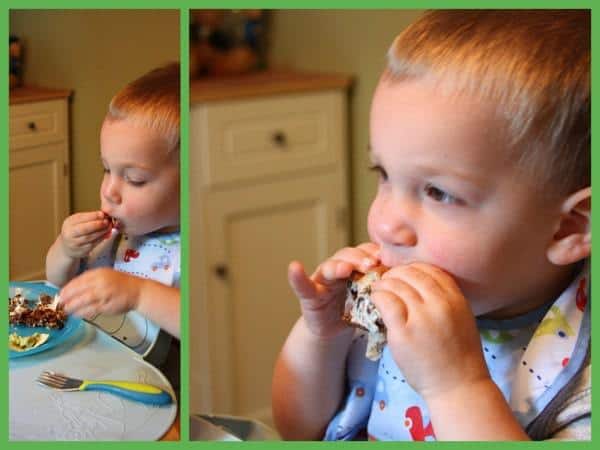 Mommy and Daddy liked it, too. There were so many flavors going on. A little kick from the chipotle, but not too much. Cooled by the yogurt sauce and the creamy guacamole, with a little zip from the lime in both of these condiments. Then the pineapple added a little sweetness and juiciness. So tasty, and definitely very filling. Actually, the next time I make these black bean quinoa burgers, I will probably cut the recipe in half to make 4 burgers out of it, because I think that would be enough for the three of us.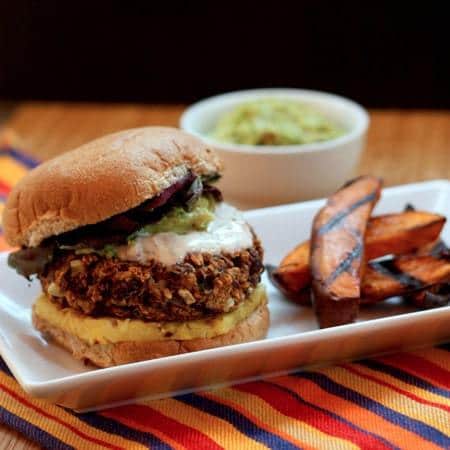 So what do the other #SundaySupper participants like to cook with their kids or for the kids of their friends and family? Check out the other awesome recipes below.
What do you like to cook with your kids, or what did you cook with your mom or dad when you were a kid?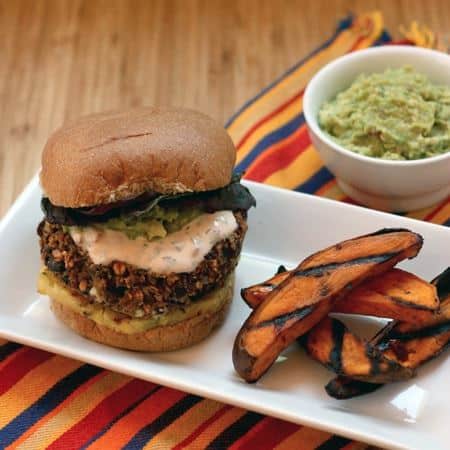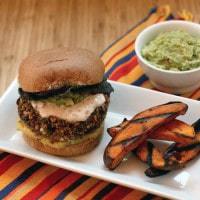 Mexican Black Bean & Quinoa Burgers with Homemade Guacamole are packed with fiber, protein, and tons of flavor, with a bit of spice.
Ingredients
For the burger patties:
1/2

c

uncooked quinoa

1

small red onion

sliced 1/2 in. think, keeping the rings together

1

ear of fresh corn

or 2/3 c cooked corn

1 1/2

t

minced garlic from a jar

or 3 cloves of garlic, very finely minced

2

cans black beans

15.5 oz each, rinsed and drained

2

T

tomato paste

1

large egg

1/4

c

chopped cilantro

1

T

minced chipotles in adobo

1 ½

teaspoons

ground cumin

1

c

oatmeal

not instant, ground into crumbs
For the yogurt sauce:
1/2

c

fat free Greek yogurt

1

t

minced chipotles in adobo + ½ teaspoon adobo sauce from the can

Juice of a lime

1

T

chopped cilantro

1

honey

1/4

t

salt
For the guacamole:
2

avocados

juice of half of a lime

1

clove

garlic

1

t

minced chipotles in adobo

1/2

t

cilantro

1/2

t

kosher salt

or to taste
For assembling the burgers:
6-8

slices

of pineapple

about 1/4 in. thick

salt & pepper

lettuce

6-8

whole wheat rolls
Instructions
For the burger patties:
Place the quinoa in a small pot and add 1 c of water.

Bring the water to a boil then reduce heat to medium-low and cover.

Cook 10-15 minutes, or until the water is absorbed and quinoa is cooked.

Remove from heat and set aside.

Preheat your grill to medium high, and grill the onion slices and ear of corn for about 10 minutes, or until softened, and there are some grill marks on both, flipping the onions once, and turning the corn occasionally.

Remove the corn and onion from the grill. Cut the corn from the cob and chop the onion, and set both aside.

Combine approximately 1½ cans of black beans, the onion, and garlic in a large bowl, and using a potato masher or fork, mash together until the mixture is combined and pasty.

Stir in the remaining beans, tomato paste, egg, corn, cilantro, chipotles, cumin, and salt.

Add the cooked quinoa and ground oats, and stir until evenly distributed.

Form the mixture into 6-8 equal patties, pressing the mixture together well.

Place the patties on a baking sheet, cover them with plastic wrap and refrigerate for at least a few hours or overnight.

Preheat your grill to medium high, and cook on a sheet of aluminum foil for about 10 minutes per side, or until browned and crispy.
For the yogurt sauce:
Combine all of the ingredients in a bowl, and stir until well combined.

Store in the refrigerator.
For the guacamole:
Cut the avocados in half, remove the pit, and scrape the flesh into a bowl (or use a mortar & pestle of molcajete).

Squeeze the lime juice over the avocados to prevent browning.

Add the remaining ingredients, and mash together to desired consistency.

Store in the refrigerator.
For assembling the burgers:
While grilling the burgers, grill the pineapple for about 3-5 minutes per side, or until soft, sprinkling lightly with salt and pepper.

Place a slice of pineapple on a bun, top with a burger, the yogurt sauce, guacamole, and lettuce.
Notes
The original recipe calls for making 6 burgers. These burgers are quite large, so you could probably make 8, or halve the recipe and make 4.
Categories:
Enjoy!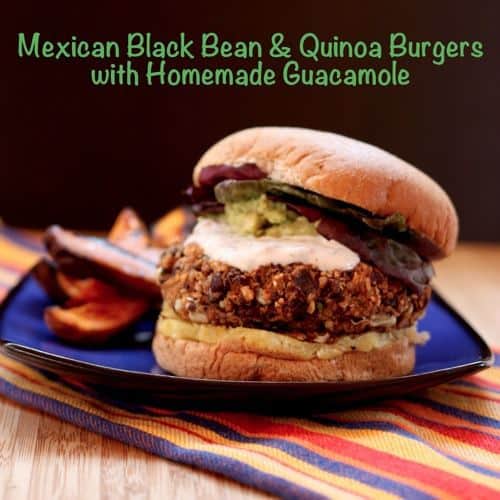 Besides the black bean quinoa burgers, Here is what else is cooking up for #SundaySupper with Kids in the Kitchen:
Start your day:
Healthy Snackers:
Main Squeeze:
Sweet Treats:
I submitted this recipe to Spicie Foodie as


This recipe was shared with: Amee's Savory Dish Fit and Fabulous Fridays #40, Gooseberry Patch Rounding Up Favorite Meatless Meals!