This post may contain affiliate links. Read my disclosure policy.
A sweet, juicy blend of mangoes, strawberries, blackberries, blueberries, and raspberries (or whatever combination of berries you love) in a light, citrusy Greek yogurt "dressing" with just a bit of texture from some toasted pecans (or even some nut-free granola if you have an allergy), you couldn't ask for more from breakfast, snack, or even a healthy dessert than this seasonal and fresh Mango Berry Crunch Fruit Salad.
Mango Berry Crunch Fruit Salad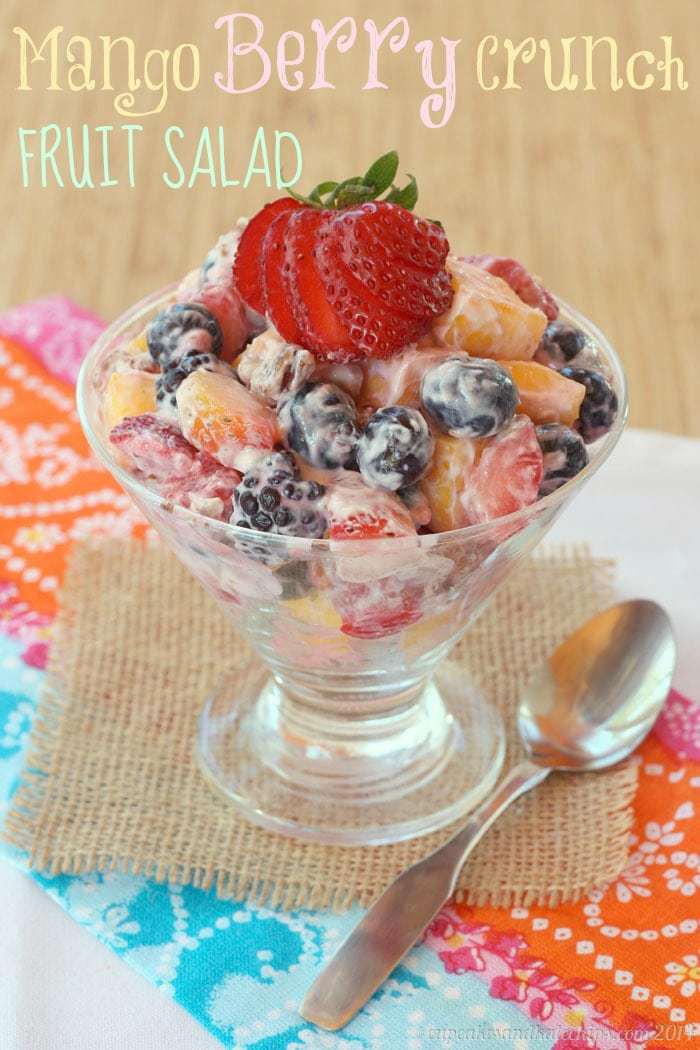 I think most of you know that I am a stay-at-home mom. Well, technically I'm trying to transition myself to being a work-at-home mom with this blogging gig. So that means my days are typically running around trying to get my kids where they need to be, whether it a school or down for a nap or outside for some fresh air and exercise), feed my kids what they need (which, for my kids, is a lot and often), keep my house in some semblance of order (this is where I fail), and somewhere in between that squeeze in my cooking, baking, photographing, editing, writing, social media, and all of the stuff that goes on in order to get these recipes out there to the masses. And a workout, so that I can consume what I create. So yeah, I pretty much go non-stop. I'm not whining AT ALL. I know there are a lot of people that do as much or more than I do. Hats off to all of us.
One person who didn't realize how much the daily grind entails – The Hubby. I mean, he does a lot, is supportive, doesn't really nag me, so I can't complain. But that doesn't mean he really, fully gets it.
Till now.
I spent the weekend in Miami at the BlogHer Food Conference. Hopefully I'll be telling you more about that tomorrow, but The Hubby was home with the boys. And his mom. And a family friend. So yeah, he wasn't alone, like I am most days. I was learning, meeting, networking, and mayyyybe a little eating and drinking.
By the time I got home on Sunday, I don't know who was more exhausted. It's kind of comforting to be back in the routine, despite the fact that I have spent the last 45 minutes listening to a choir of overtired, screaming children. And despite any job-related frustrations The Hubby might have, I think he is happy to be back in an office where he can close the door and let phone calls go to voicemail. That way he is ready to enter the chaotic world of two little boys when he walks through the door in the evening. But it's good to change up the routine every once in awhile.
Here's something else I had to change up. Fruit salad…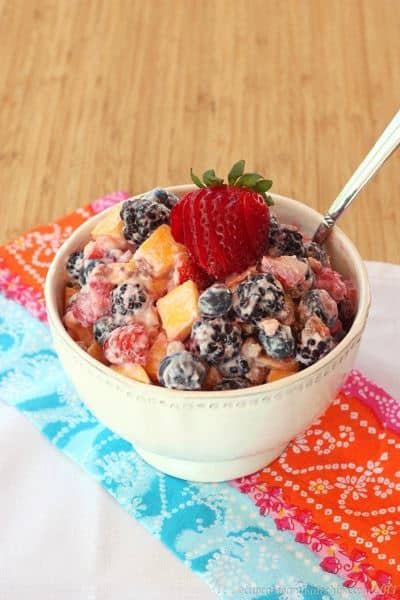 I've been making Waldorf Fruit Salad for years, and it actually started as a Christmas thing, which is perfect, since in winter, the only fruit I can get that is decent are the combination of ingredients in that salad – bananas, apples, grapes, oranges. But I knew it was time to make a variation perfect for spring and summer – filled with berries and mangoes, but still creamy from a lightly sweetened Greek yogurt "dressing". I love the bit of crunch from some toasted pecans, but you could also go with walnuts or almonds, or even some crunchy granola, nut-free, if that is a concern for you.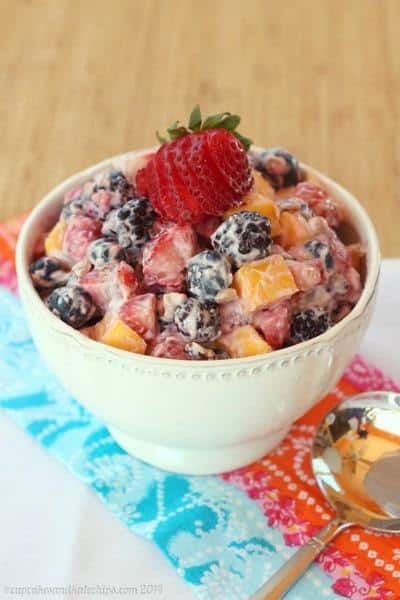 Summer in a bowl! The Bug and I were fighting for the last spoonful!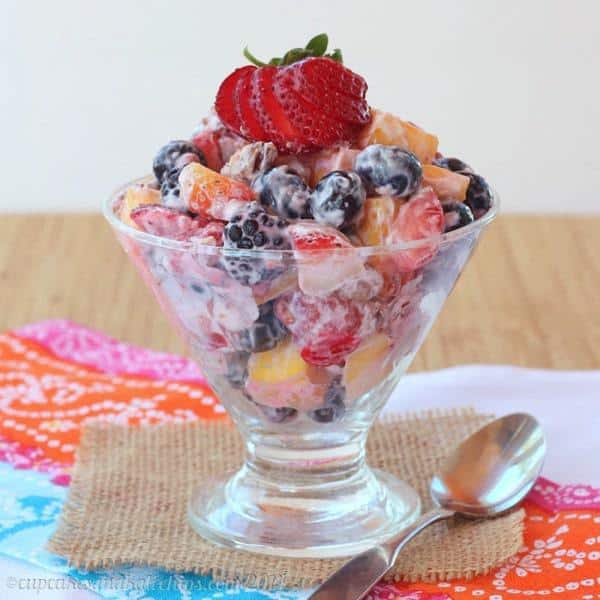 What's more exhausting – your "normal" life or when you change up your routine?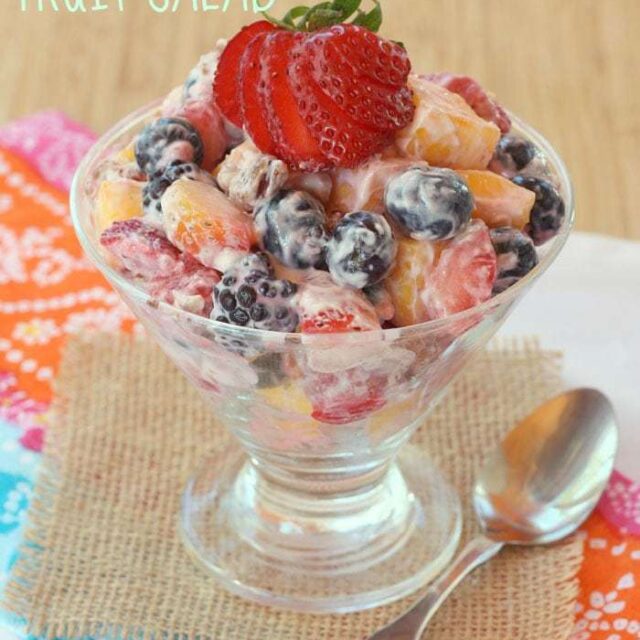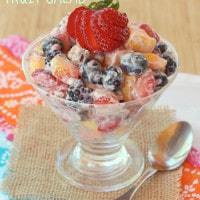 Mango Berry Crunch Fruit Salad
A sweet, juicy blend of summer fruit in a light, citrusy Greek yogurt "dressing", with the crunch of toasted pecans.
Ingredients
1/2

cup

plain Greek yogurt

1

Tablespoon

orange marmalade

honey would work, as well

1

mango

peeled and chopped

4

cups

berries

I used one cup each of chopped strawberries, blueberries, raspberries and blackberries

1/2

cup

pecans

lightly toasted (or your favorite nut, or even granola, nut-free if that is a concern)
Instructions
In a large bowl, combine the Greek yogurt and orange marmalade, and stir until smooth.

Add the mango, berries, and pecans, and toss to coat.
Categories:
Enjoy!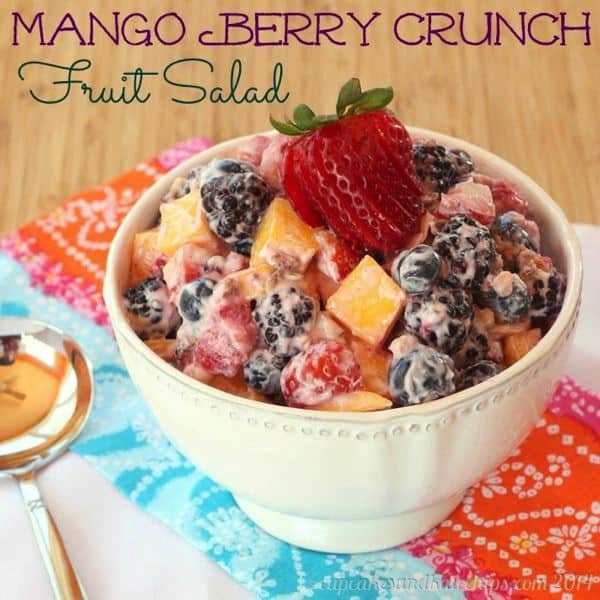 Want some more of my favorite Greek yogurt recipes?
And here are some from my friends…