This post may contain affiliate links. Read my disclosure policy.
Volcano burgers start with a patty of lean ground beef, perfectly seasoned, then stuffed with blue cheese and homemade Worcestershire ketchup.
Valentine's Day is this week, and if I were a good food blogger, I'd be bringing you something red-velvety and whipped creamy and oozing with chocolate. But I guess I'm not a good food blogger, because instead I am bringing you something meaty and juicy and oozing with cheese. Sorry…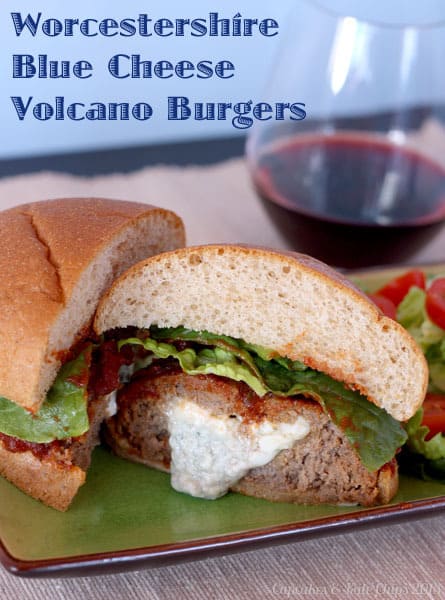 Or not sorry, actually. Because these Worcestershire Blue Cheese Volcano Burgers were incredibly delicious. I had to bribe The Hubby and The Bug with dessert to keep them from eating the last burger, so that I could take photos the next day. Random side note – these were slightly pinker when we ate them, but I had to rely on my microwave to show you the melty goodness in the photos. I flavored them with my Worcestershire Ketchup, and packed them full of blue cheese. Top them with more ketchup, and it gives an amazing, intense steakhouse flavor in one awesome patty.
I have to tell you, I have a burger problem. You see, I try to make burgers with leaner meat, packing them with flavor and moisture, but no breadcrumbs for binding (ahem, wheat allergy). And cheese, because personally I'd rather keep the grease factor down and the goo factor up. So, lots of cheese on the inside of the burger. Then, when I put it on the grill or in a pan, it falls apart or explodes, and while they are fabulous-tasting, I can't really deem them blog-worthy. Can you see the instructions now? Wrap the raw meat around the cheese. Throw on the grill. CAREFULLY flip, then scrape all of the cheesy burger mush onto a bun and enjoy. Then clean your grill.
This is why you don't see burgers on my blog. I have this awesome one flavored with Balsamic Ketchup and stuffed with a tomato-mozzarella caprese mixture. But I need summertime and fresh tomatoes and, well, warmer weather, because those babies just scream out to be cooked on the grill, in order to work on them some more. Someday I'll be satisfied with just putting cheese on top of the burger.
But look at these volcano burgers! Success!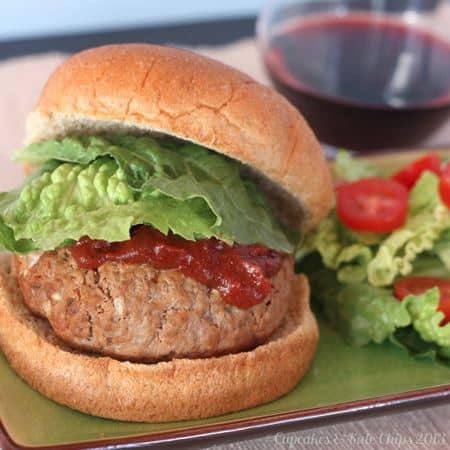 Well, sort of. There is a reason I called them volcano burgers, as you may have seen on Instagram.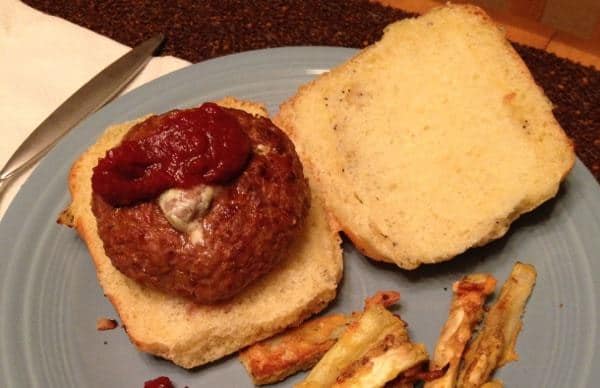 But my broiler method works! If you want to make these on the grill, I recommend stuffing them with a little less cheese, or just grill the patties and melt the blue cheese (or whatever cheese you choose) on top. But really, don't you want to sink your teeth into this?!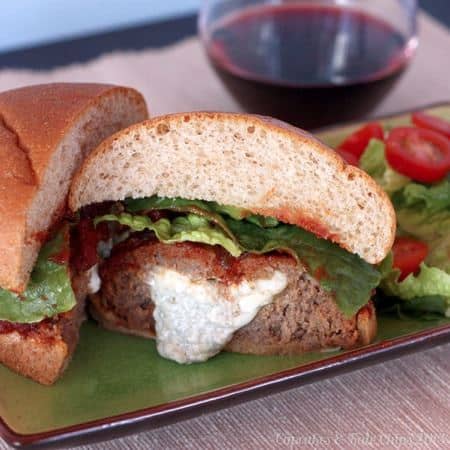 If you had to choose – oozing with chocolate OR oozing with cheese?
I choose oozing volcano burgers, nearly every time.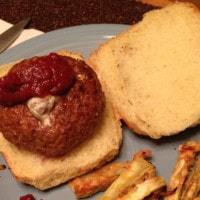 Worcestershire Blue Cheese Volcano Burgers
Steakhouse flavor in a burger, oozing with a gooey blue cheese center.
Ingredients
1

t

olive oil

small shallot

minced

1

t

kosher salt

pepper

1 1/4

lb

ground beef

I used 90% lean

1/4

c

Worcestershire Ketchup

1

c

about 4 oz. crumbled blue cheese

Buns

lettuce, tomato, additional Worcestershire Ketchup for serving
Instructions
If you have combined oven/broiler, preheat oven to 450°F. If your broiler is separate, preheat your broiler.

Heat a small pan over medium heat.

Add olive oil, shallot, salt and pepper.

Cook for several minutes, until shallot is soft and begins to get golden in color. Set aside.

Place the beef into a medium bowl, and add the cooked shallots and ketchup.

Mix gently until well-combined, but do not over mix.

Divide the meat into four equal balls.

Flatten on ball in your hand, and place 1/4 blue cheese in the center. Wrap the meat around the cheese and press to seal and shape into a patty. Place patty onto your broiler pan.

Repeat with the remaining three portions of meat and cheese.

If you have the boiler/oven combo, switch the oven from 450°F to Broil.

Place the boiler pan under the broiler, ad broil for 8-10 minutes, without flipping, until cooked as desired.

Serve on buns, with lettuce, tomato, and additional Worcestershire Ketchup, as desired.
Notes
If you want to grill your burgers, I would recommend stuff with less cheese and topping the remainder, or just topping with cheese.
Enjoy!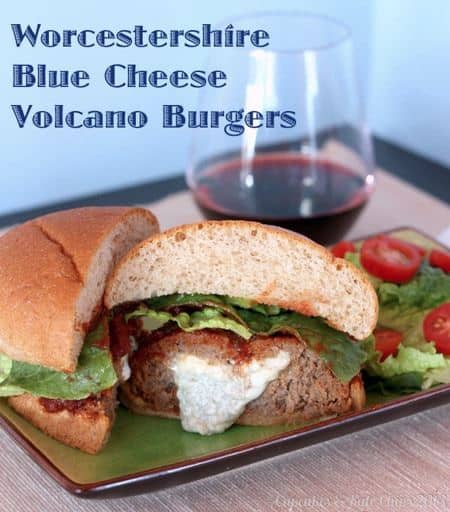 This recipe was shared with: Thursday's Treasures, Weekend Potluck #55