This post may contain affiliate links. Read my disclosure policy.
Lighten up your next barbecue with this Healthy Blue Cheese Bacon Potato Salad! Swap the mayo for Greek yogurt, add just enough sharp blue cheese and salty bacon for flavor, and you get an easy summer side dish that'll disappear fast.
Creamy Potato Salad with Bacon
Potatoes get a bad rap. Perhaps that's because most of the time we eat them fried, covered with cheese, or mashed with copious (admittedly delicious) amounts of butter and cream.
Away from all the bad influences, however, one medium-sized potato has only 110 calories, zero fat, more potassium than a banana, two grams of fiber, and half your daily value of vitamin C! All this to say: potatoes can definitely be part of a healthy diet.
Which is a good thing, because everyone in my family goes nuts over potato salad. This healthier, no-mayo potato salad recipe uses plain Greek yogurt in place of mayonnaise, amped up with just the right amount of blue cheese and lean bacon for flavor. I've honestly never had a potato salad hit the palate in so many ways in just one bite!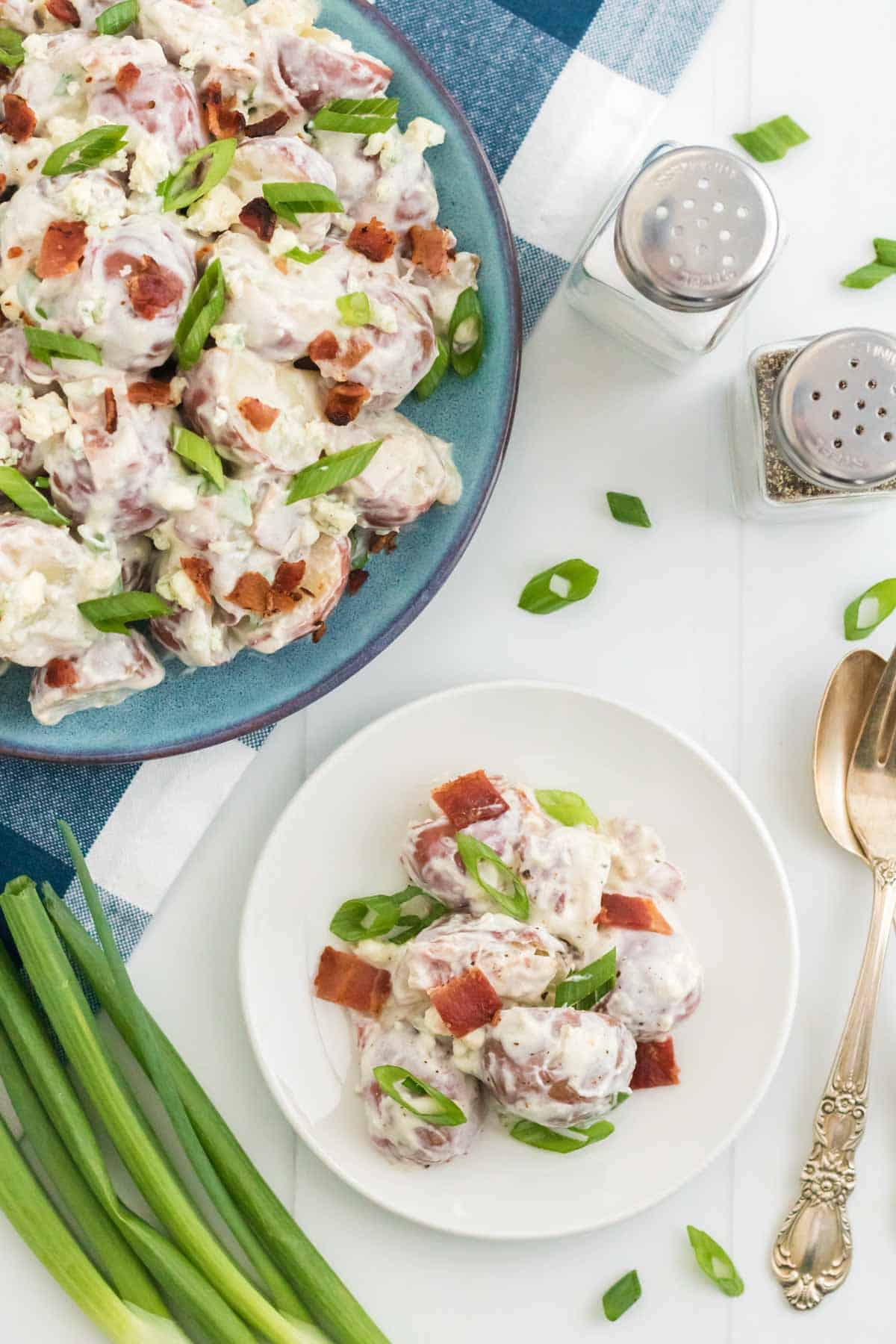 What You'll Need
Here's everything you need to make this amazing, healthy potato salad! The creaminess and tang from the yogurt, combined with the sharp bite of blue cheese and smoky lean bacon is truly next level. Find full amounts for each ingredient further down in the recipe card!
Potatoes: For this recipe, I use small red potatoes and quarter them. When it comes to potato salads, I recommend using varieties of red, white or Yukon Gold potatoes, as Russetts will fall apart when cooked.
Bacon: I opted for center cut bacon. This is a leaner cut, with the fat trimmed off.
Greek Yogurt: This recipe substitutes fat free or low fat Greek yogurt in place of mayonnaise, for a lighter, no-mayo dressing. You can use full fat Greek yogurt if you prefer!
Apple Cider Vinegar: I like apple cider vinegar for the sweetness and acidity it brings to the dressing. Alternatively, you can use another kind like balsamic vinegar or wine vinegar.
Seasoning: Dry mustard and cayenne pepper, for flavor and a bit of kick.
Scallion: Substitute chopped scallion with chives or diced onions if needed.
Blue Cheese: Regular fat blue cheese or low fat, crumbled.
Salt & Pepper
What Kind of Bacon is Best?
Any bacon you like! My lightened-up bacon potato salad uses center cut bacon, since it's a lean version of regular bacon that has the fat trimmed off. You can use another variety like smoked bacon or even turkey bacon as well, thin or thick cut – though I find thin cut bacon is best as it sticks nicely to the potatoes!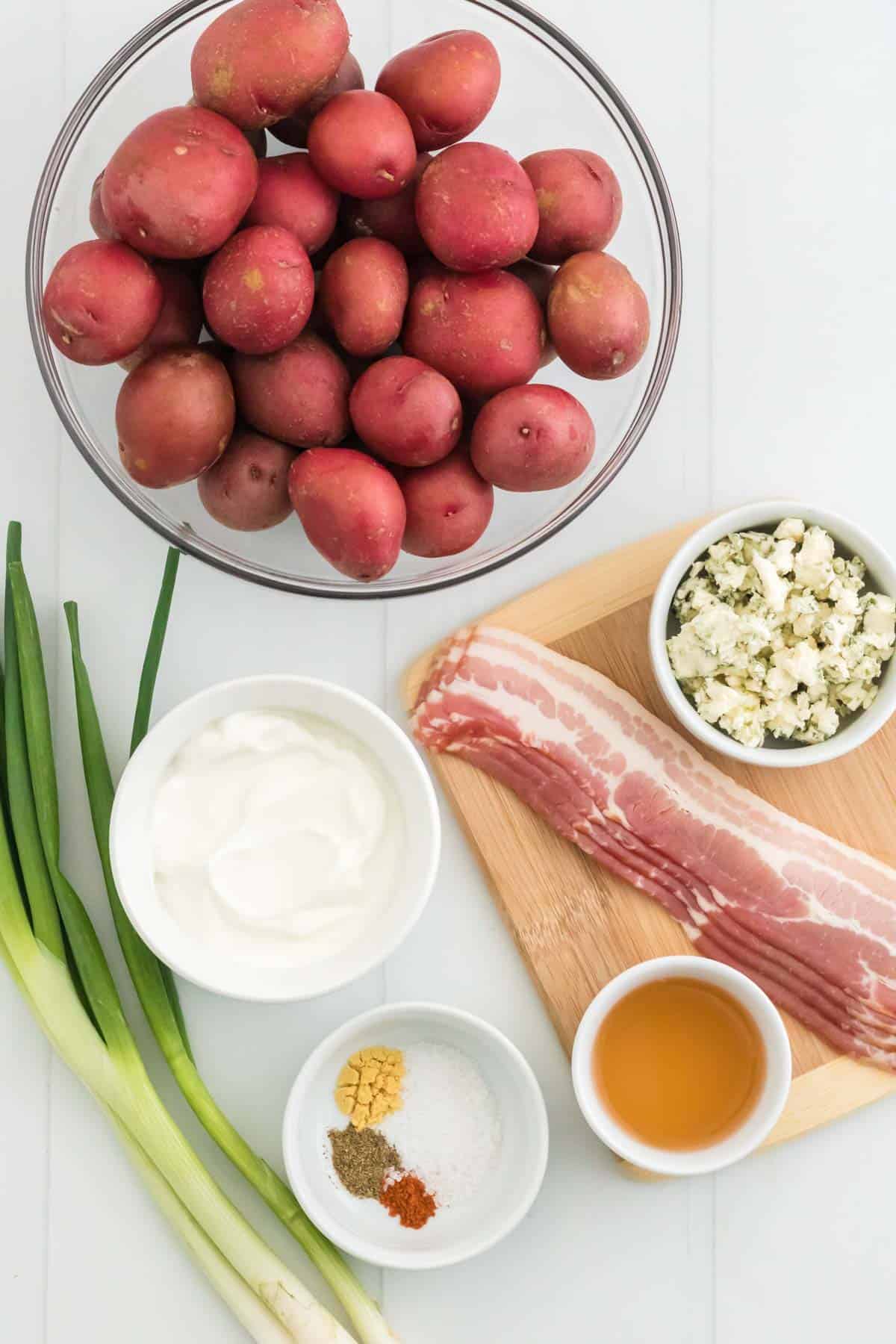 How to Make Blue Cheese Bacon Potato Salad
This lightened-up potato salad with bacon is easy to pull together in just four steps:
Cook the Potatoes: First, boil the potatoes in water until they're fork-tender. Drain and leave them to cool. It's important that the potatoes cool completely, so that the dressing doesn't melt and slide off!
Cook the Bacon: Crisp the bacon up in a skillet, drain any grease, and then chop or crumble it.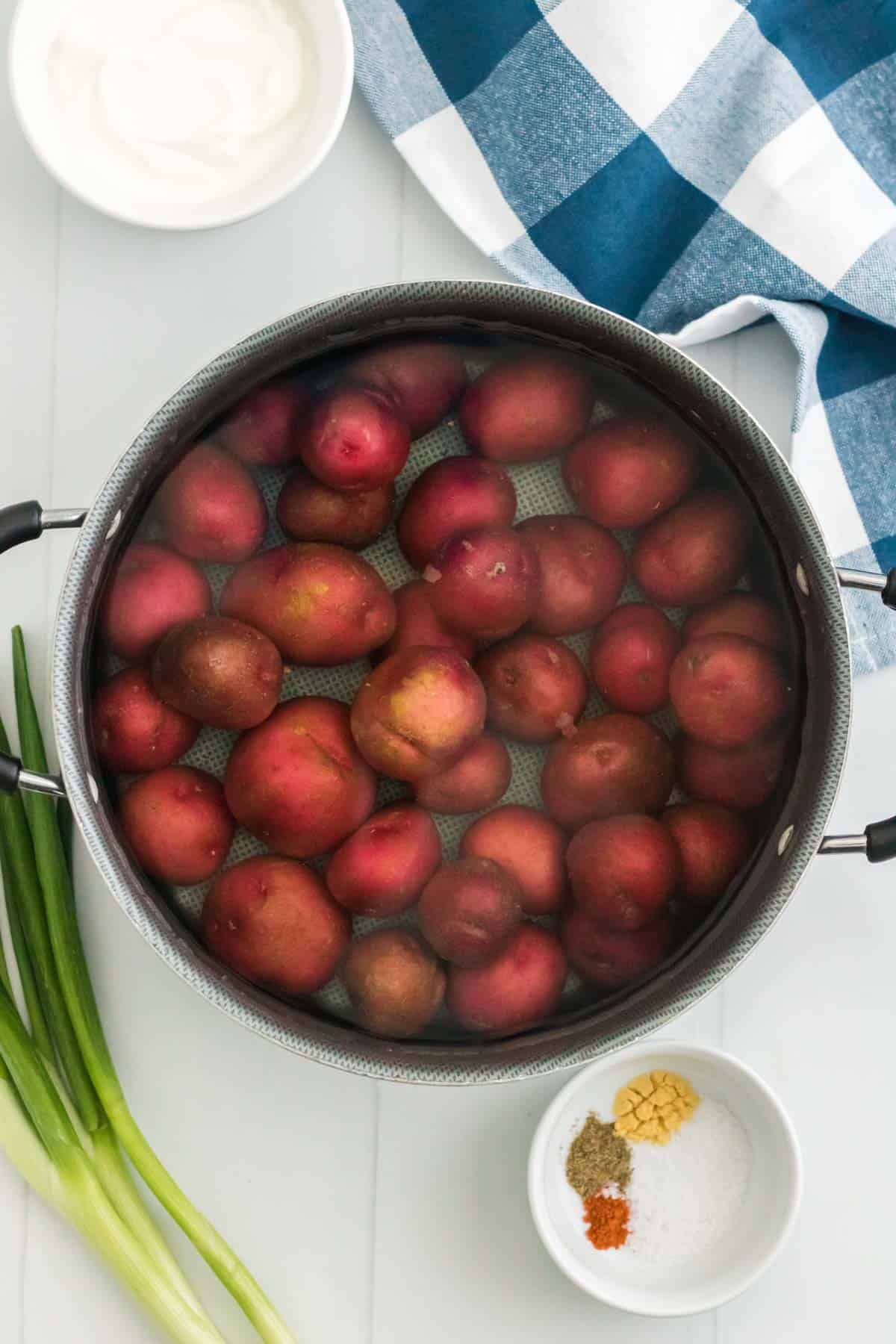 Make the Dressing: In another bowl, whisk together the ingredients for the Greek yogurt dressing. You can also chop up the scallions while you're at it.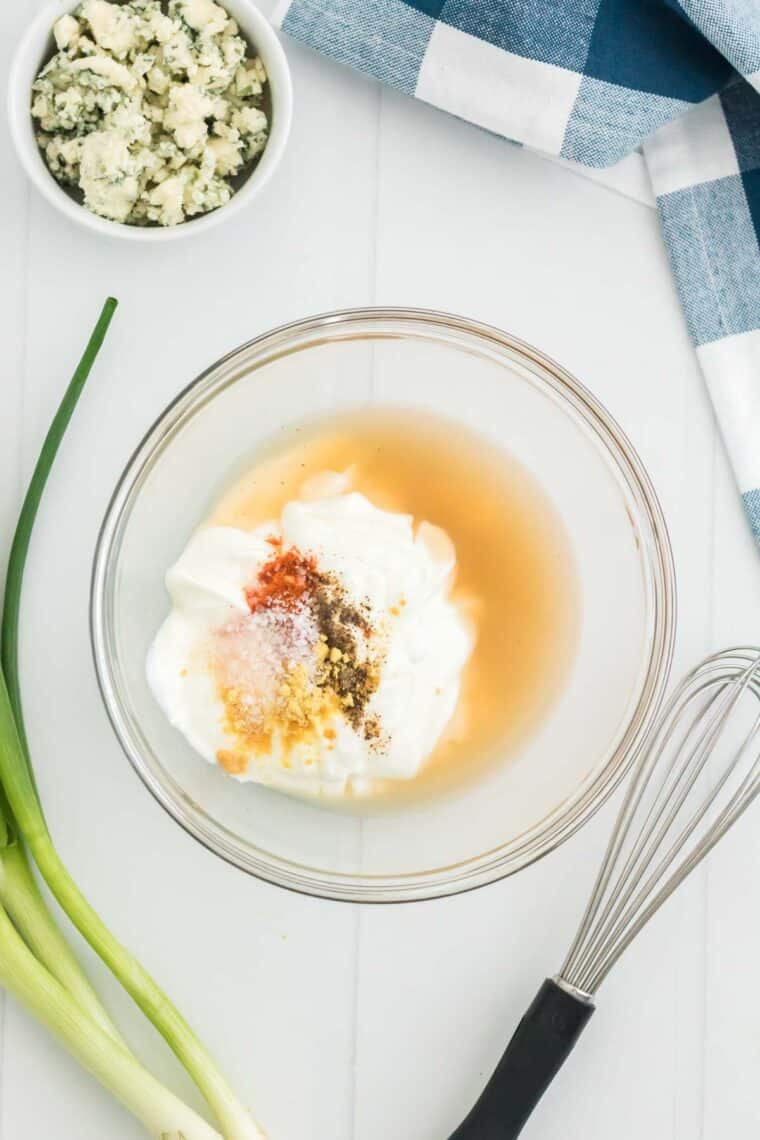 Toss and Serve: Fold the bacon bits into the dressing, followed by your crumbled blue cheese and scallions. Finally, combine and toss the potatoes with the dressing, and serve!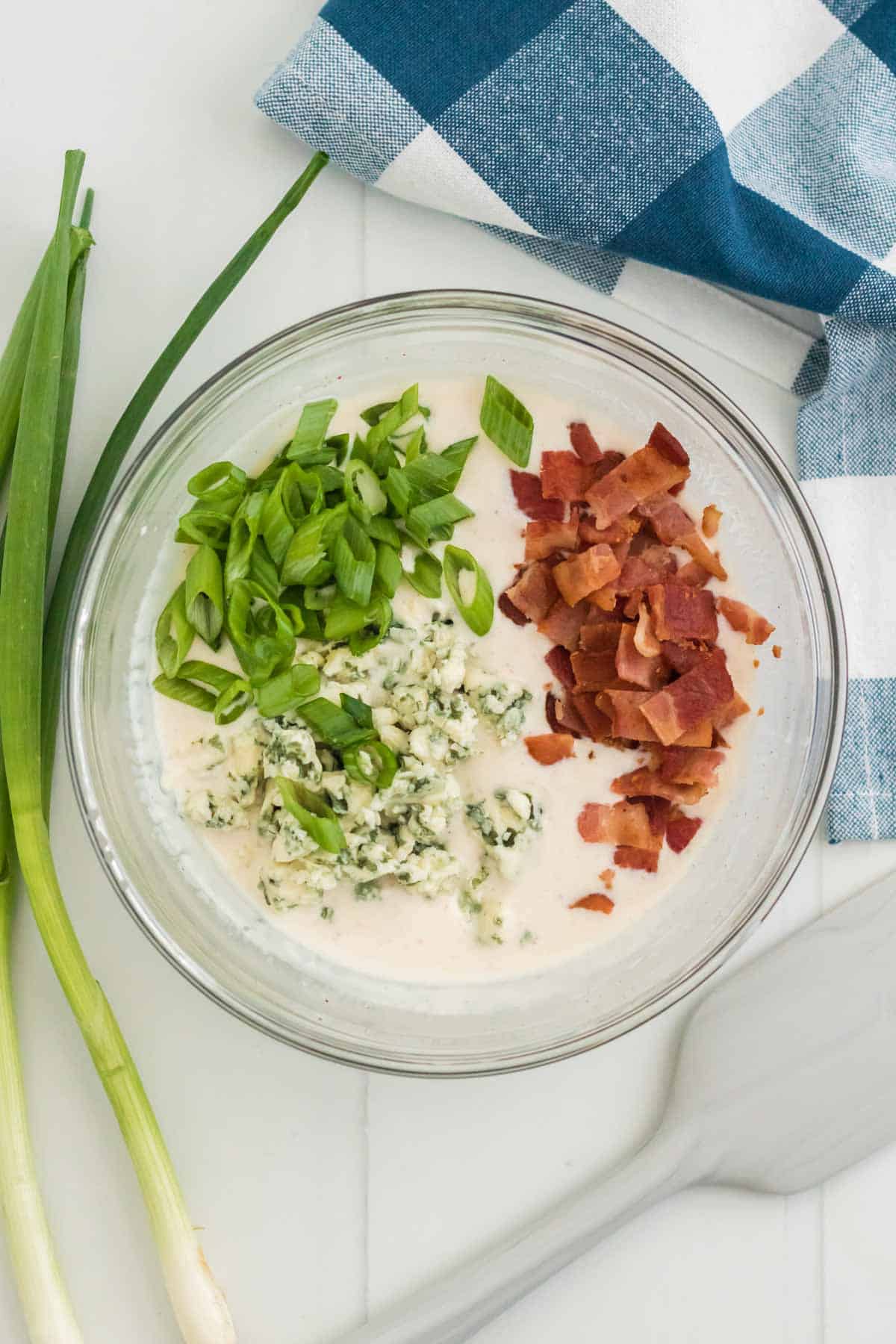 Helpful Tips
Some extra guidance to make your potato salad a roaring success for your next cookout: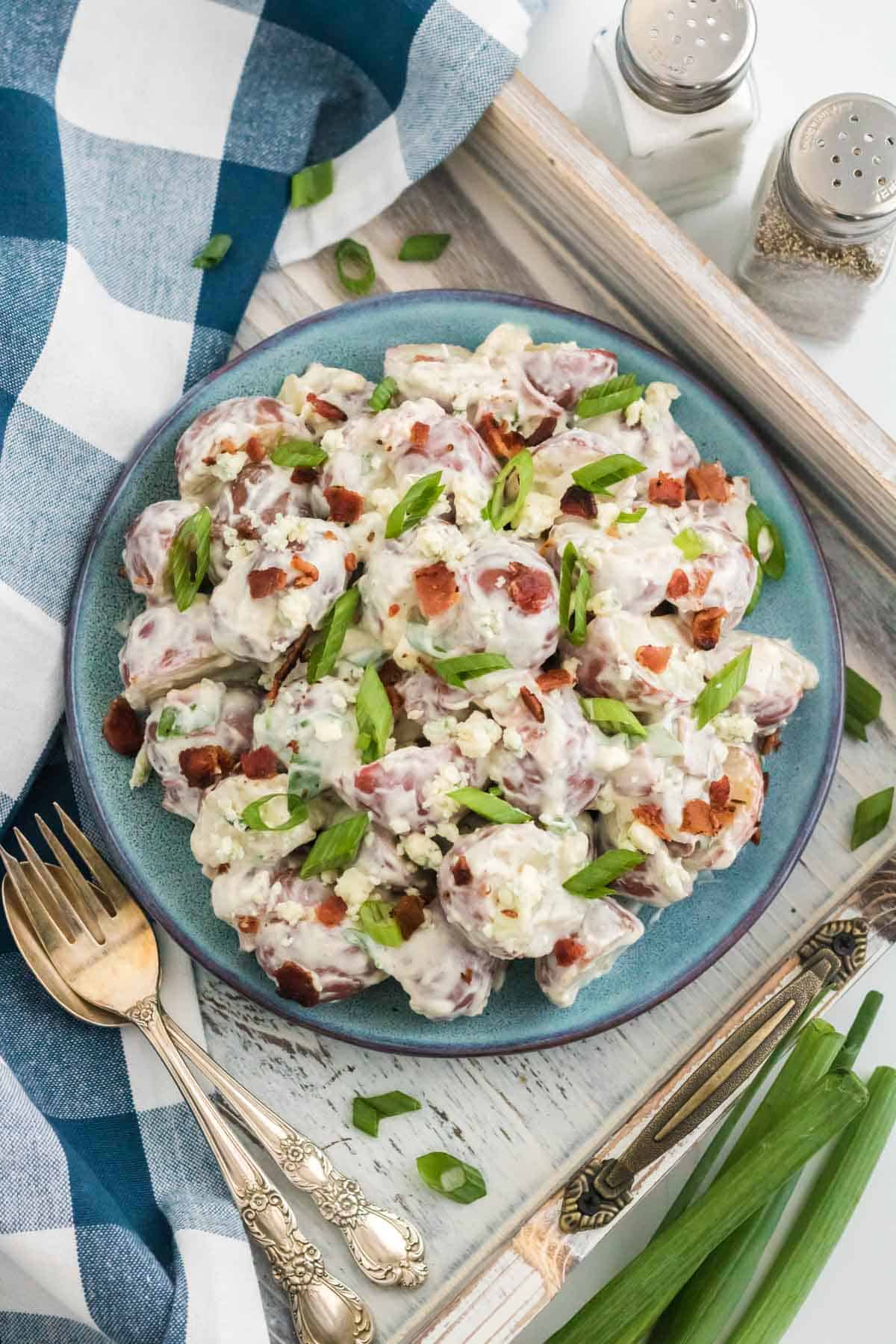 Variation Ideas
A potato salad is such a versatile add-on to any meal! You can swap out and add in ingredients to suit your family's unique taste. Here are some ideas: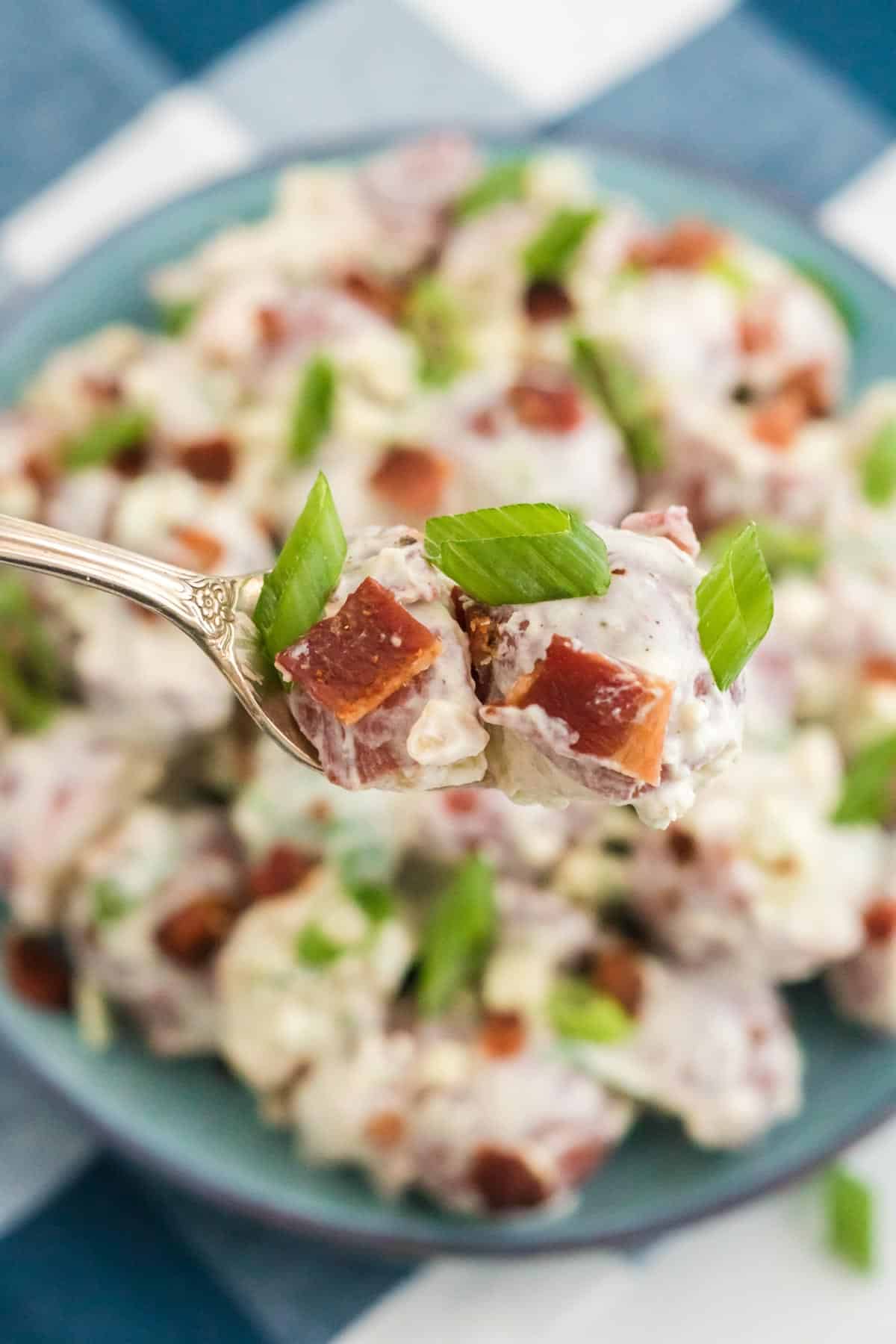 Make It a Meal
Potato salads are so synonymous with summer, that's immediately where my mind goes when I think of serving suggestions! And it goes so well with a nice, lean filet, some roasted asparagus, and a nice Cabernet. A perfect summertime meal.
I love to bring this healthier take on a classic bacon potato salad along to potlucks, too. And 4th of July barbecues. Not only is it tasty and healthy, but the red potatoes, white dressing, and blue cheese matches the theme, too! Serve it next to other favorite grilling recipes:
For more simple sides to complete the barbecue menu, enjoy your potato salad alongside the following: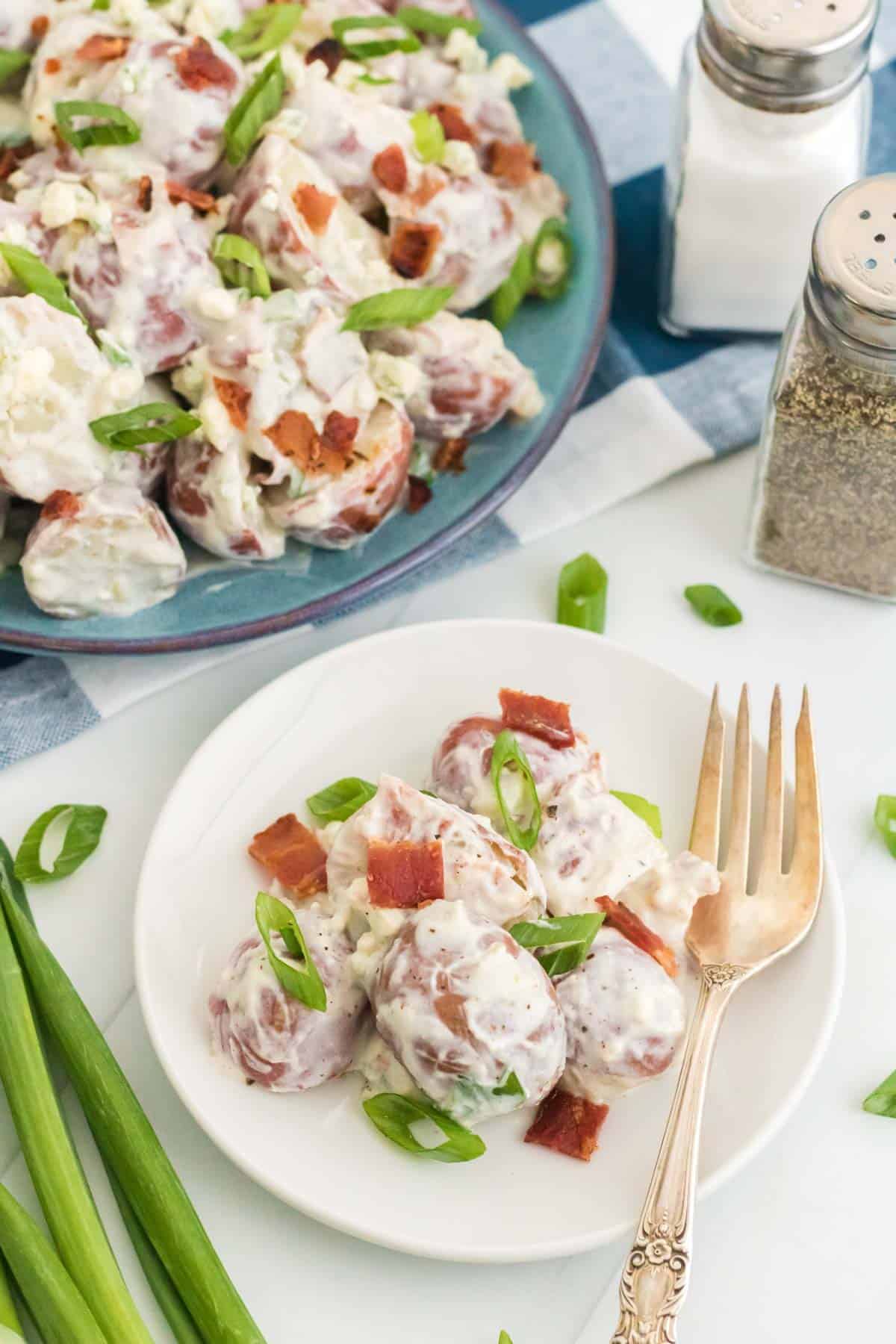 Storage Instructions
Leftover potato salad keeps well in the fridge for up to one week. In fact, the flavors only get better with time! Store potato salad airtight and serve it either right from the fridge or let it come to room temperature.
Can I Freeze Potato Salad?
Technically, yes. However, freezing potato salad should be a last resort. Even though this recipe doesn't contain mayo, it still contains dairy – and as a result, is not ideal for freezing. Potato salad that's been frozen and thawed just doesn't have the same taste and creamy texture as it does when it's fresh!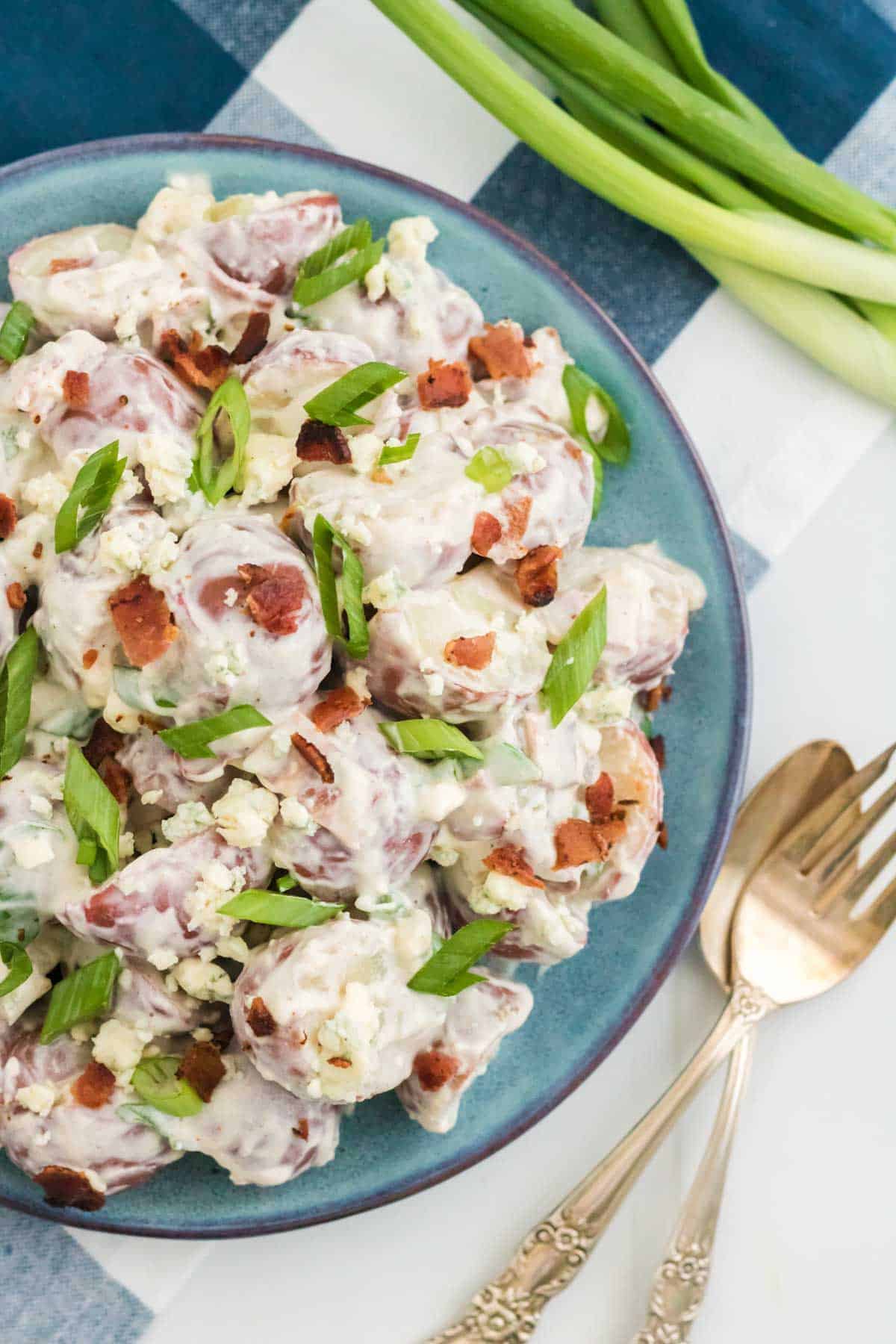 More Healthy Sides to Try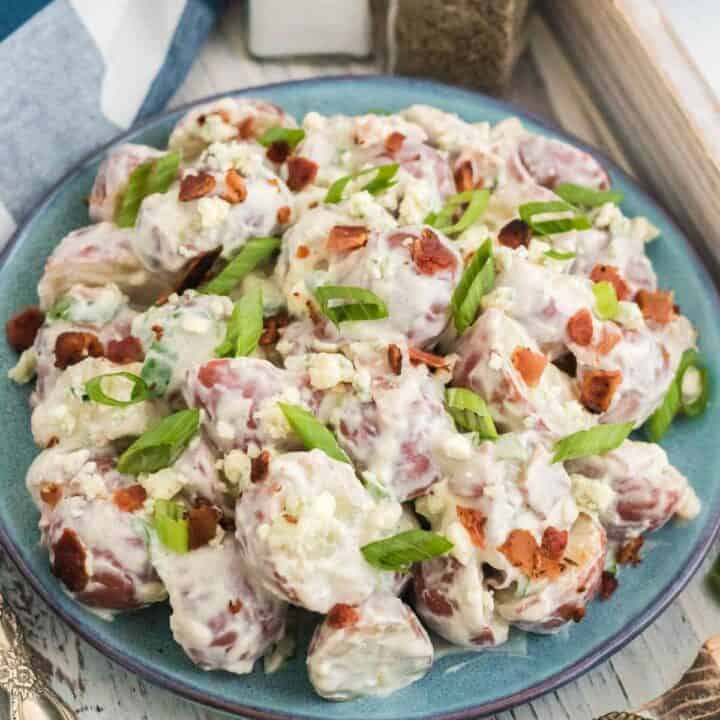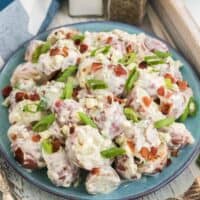 Healthy Blue Cheese Bacon Potato Salad
Lighten up your next barbecue with this Healthy Blue Cheese Bacon Potato Salad! Swap the mayo for Greek yogurt, add just enough sharp blue cheese and salty bacon for flavor, and you get an easy summer side dish that'll disappear fast.
Ingredients
2

lbs.

red potatoes

small sized, quartered

3-4

slices

bacon

(center cut)

1/2

cup

plain Greek yogurt

fat free or low fat

3

Tablespoons

apple cider vinegar

1/4

teaspoon

dry mustard

1

pinch

cayenne pepper

1/2

teaspoon

kosher salt

black pepper

freshly ground, to taste

1

Tablsppoon

chopped scallions

1/2

cup

crumbled blue cheese,
Instructions
Place the potatoes in a pot and cover with cold water.

Bring to a boil and cook until fork tender, about 12-15 minutes.

Drain the potatoes, place in a bowl, and cool completely.

Cook the bacon in a pan until crispy, and drain well on a paper towel.

Crumble the bacon and set aside.

In a small bowl, combine the Greek yogurt, cider vinegar, dry mustard, cayenne pepper, salt, and black pepper, and stir until well-mixed.

Gently fold in the reserved bacon, blue cheese, and scallions.

Pour the Greek yogurt mixture over the potatoes, and toss gently.
Notes
If you are preparing the potato salad in advance, you can add just 2 T of cider vinegar to the Greek yogurt mixture, then add the remaining 1 T just before serving to moisten it.
Nutrition Facts
Healthy Blue Cheese Bacon Potato Salad
Amount Per Serving
Calories 271
Calories from Fat 72
% Daily Value*
Fat 8g12%
Cholesterol 20mg7%
Sodium 639mg27%
Potassium 1119mg32%
Carbohydrates 38g13%
Protein 13g26%
Vitamin A 189IU4%
Vitamin C 20mg24%
Calcium 148mg15%
Iron 2mg11%
* Percent Daily Values are based on a 2000 calorie diet.
Categories: