Buffalo, Blue Cheese, and Bacon Hot Dogs
Disclosure: This post may contain affiliate links. Cupcakes & Kale Chips is a participant in the Amazon Services LLC Associates Program, an affiliate advertising program designed to provide a means for us to earn fees by linking to Amazon.com and affiliated sites.
It's Grill Power Time! Add a little kick and a trifecta of amazing ingredients, and the cleaner wiener from Applegate becomes Top Dog. Your barbecue will never be the same when you serve Buffalo, Blue Cheese, and Bacon Hot Dogs.
Buffalo, Blue Cheese, and Bacon Hot Dogs

Disclaimer: I received a free You Grill Girl kit from Applegate to sample their products, as well as one to giveaway to a reader. I was under no obligation to write this post, and no additional compensation was received. As always, all opinions are my own.
The Bug has had a love/hate relationship with riding a bicycle. I had heard great things about those balance bikes, the ones without pedals, so he got one for his second birthday and wanted no part of it. Put him on a tricycle, and he took the Fred Flintstone approach, versus using pedals. He was happy as a clam, but really?!
Finally we just bit the bullet for his fourth birthday last year and got him a two-wheeler with training wheels, hoping we could just work with him on it. There was a trike-a-thon coming up at his preschool, so we thought that would be incentive to get on the bike and start pedaling. Not so much. Well, until the day of the trike-a-thon when he took off in that parking lot and zoomed past all of the other kids. Who was he?
But then life got crazy with the hubby getting the new job out of state, leaving us super busy with getting the house ready to sell, and then me home alone with two boys for several months, so it was hard to keep consistently working with him, and the times we did get to take him out on the bike, he was still tentative.
Now we are in this perfect bike-riding neighborhood. We are on a fairly quiet cul de sac, there are trails connecting us to the park and pool, the sidewalks are in good shape, and there are just a few gently rolling hills. We did laps around the cul de sac a few times and he was seeming very comfortable, so my mom and I brought him for a ride around the "big block". It is a little over a mile, and he did awesome. I was actually running to keep up with him, which was totally new territory. That is, until we were about half a block from home, he was going down a sloped curb to cross the street and he took a little tumble that shook him to the core for some reason, and the few time i tried to take him out after then, it was sheer terror every time we came near a "downhill" which was really nothing resembling a hill, but he was still scared. There were tears and tantrums and screams. It upset me as much as him. I didn't know what to do for him.
Well, except bribe him with television. I took him out on his bike and told him he could go at his pace around our block. On the first lap, when the slight decline started, he panicked, got off the bike, and walked it to the level surface again. But he was willing to do another lap, so as soon as we go to the downhill, I told him that as long as he stayed on the bike, no matter how slow he went or how many times he hit the brake, I'd let him watch a show. Worked like a charm!
So as we got ready to come to my mom's I knew I had to bring the bike, since she has a flat neighborhood. It was just the place to help work on his confidence. Now I can't saw how he will do the next time he has to go down a hill, but for now I'm just going to delight in the fact that for two days in a row, he is happily cruising the 'hood on his bike like a five year old should. Pure bliss for mama and her kiddo.
Something I used to have a love/hate relationship with – hot dogs. As a kid I liked them provided they were smothered with ketchup and most definitely not on a bun. Then I didn't like them. Then I was pregnant with the Little Dude and I HAD to have them but was still kind of weirded out by some of the stuff in so many hot dogs out there. But then I discovered the cleaner wiener from Applegate Natural All-Beef Hot Dogs, made from nothing more than grass-fed beef, water, salt and spices. Real food, people. In a hot dog! And let me tell you, they are crisp on the outside, and the flavor is just amazing. It tastes like meat, because that's what it is. Crisped up on the grill, or in a grill pan when I can't get outside to cook, and there's not much better. And I love that I can feel good about giving my guys hot dogs!
So when Applegate offered to send me their Your Grill Girl kit featuring their hot dogs, I was super excited to get to tell my readers how much I love them, and to be able to give you an opportunity to with a kit of your own. Scroll on down to find out all you can win.
Of course there's also a recipe, and seriously guys, no love/hate relationship here. It's pure LOVE…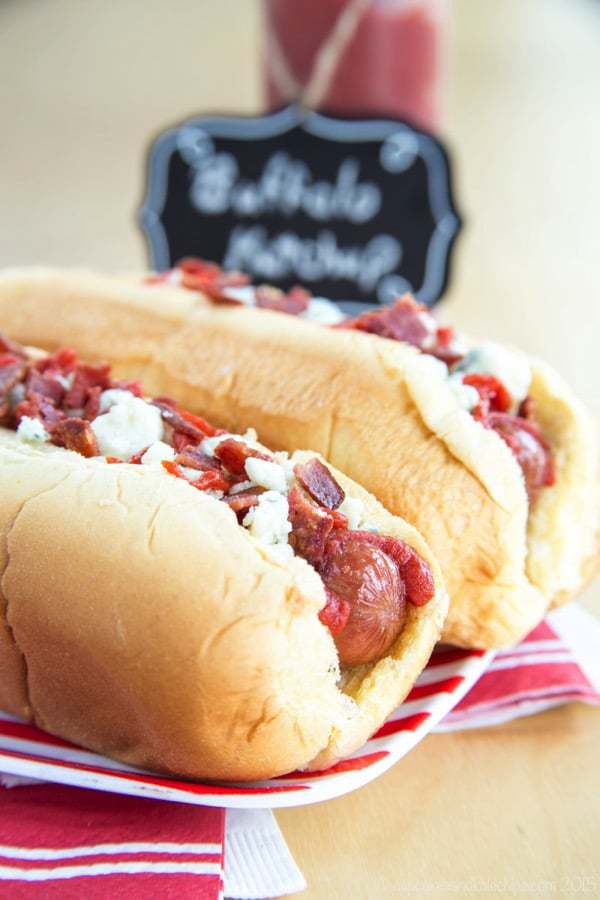 Holy hot dog, people, it's Buffalo, Blue Cheese, and Bacon Hot Dogs! As if these dogs weren't delicious enough on their own, I went there. Yes, bacon, blue cheese, and, wait for it… homemade Buffalo Ketchup! Your favorite condiment total given a spicy kick. I honestly don't have much more I can say – I mean, you have smoky, salty, bacon goodness, and creamy, tangy blue cheese, and yes, that ketchup. On top of a hot dog. In a soft bun (though I'll be honest, I went bunless because of my wheat allergic, and was still totally a happy camper!)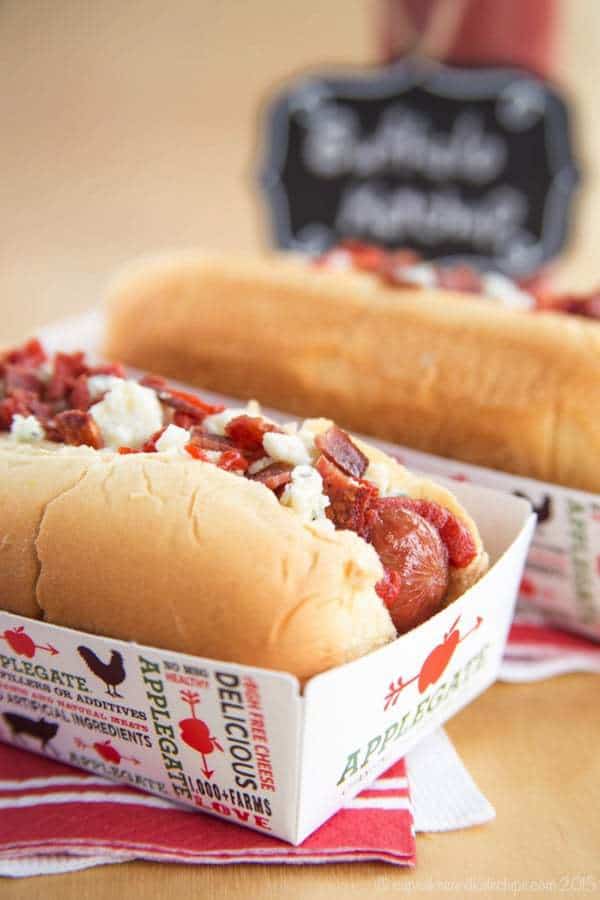 Have you tried Applegate hot dogs yet?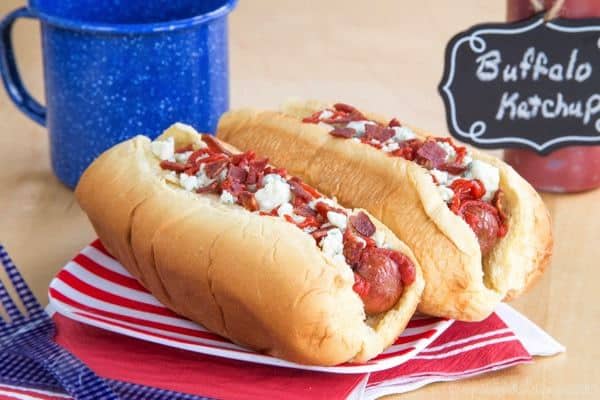 Make sure you head over to Instagram and Twitter and show Applegate #whatsinyourhotdog.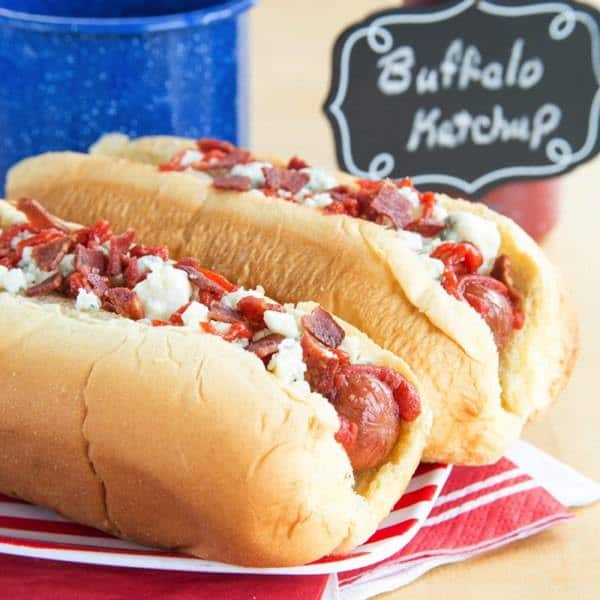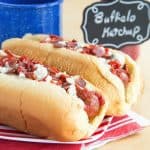 Print Recipe
Buffalo, Blue Cheese, and Bacon Hot Dogs
Add a little kick and a ton of flavor to the classic hot dog. Your barbecue will never be the same!
Ingredients
8

Applegate Natural All-Beef Hot Dogs

8

hot dog buns

Buffalo Ketchup

see below

8

Tablespoons

crumbled blue cheese

4

slices

bacon

cooked and crumbled
Instructions
Grill hot dogs to desired doneness and place in a bun.

Top each with a drizzle of Buffalo Ketchup, about 1 Tablespoon blue cheese, and about half a slice of crumbled bacon.
For the Buffalo Ketchup:
Combine all ingredients in a bowl and mix well.
Nutrition
Serving:
1
hot dog
|
Calories:
355
kcal
|
Carbohydrates:
27
g
|
Protein:
13
g
|
Fat:
21
g
|
Saturated Fat:
8
g
|
Cholesterol:
37
mg
|
Sodium:
1356
mg
|
Potassium:
378
mg
|
Fiber:
1
g
|
Sugar:
6
g
|
Vitamin A:
390
IU
|
Vitamin C:
10.8
mg
|
Calcium:
123
mg
|
Iron:
2.9
mg
Need some more fancy pants ketchup for your dogs?
And here are some more classy condiments from my friends…