This post may contain affiliate links. Read my disclosure policy.
Buffalo Deviled Eggs with Blue Cheese is an even spicier twist on the classic party appetizer. No summer picnic menu is complete without a deviled egg recipe, and this one adds your favorite buffalo wings flavors with plenty of hot sauce and blue cheese. Plus this gluten free appetizer recipe is lighter with Greek yogurt instead of mayo. These healthy snacks are high protein, low carb, and gluten free.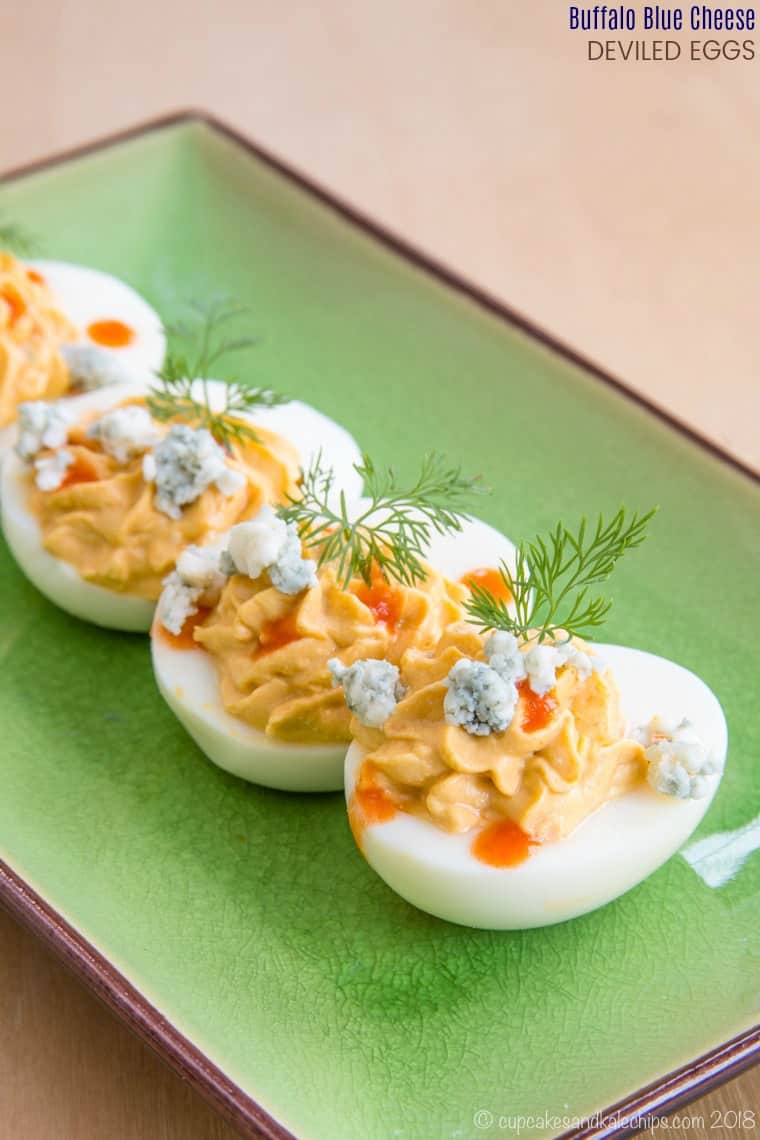 For as long as I have known him, my grandfather has always been a patient, calm man. Not that he doesn't get angry or upset or riled. In fact, he gets annoyed fairly easily. But even when he is going on and on about other people's nonsense, he is still calm. He just kind of throws his hands up in the air. But I will tell you about one thing that always seemed to irk him. Up until, oh, about six months ago, I would not touch a hard boiled egg.
COULD. NOT. STAND. THEM. Now I'm not one to go through things with a fine tooth comb to pick out stuff I don't like. I guess because there really isn't that much that I absolutely loathe. Canned tuna, raw onions, and, until recently, hard boiled eggs pretty much topped that short list. Like, to the point that I would pick my way through the massive pile of whiteness that is my mom's potato salad in order to remove any speck of hard boiled egg that was distributed through there.
Why, you ask, would this random food aversion work my grandfather's last nerve? One word – tradition. You see, as part of our Byzantine Catholic tradition, ever year on Holy Saturday we brought our Eater basket to the church to be blessed. This basket was filled with the staples of our holiday meal, each of which had a different symbolic meaning – ham, kielbasa, Easter cheese, paska, butter, and, of course, hard boiled eggs. We'd usually leave one or two in their shells, but one was peeled. This was our annual "blessed egg".
Every year we would head to my grandparent's house right after Easter mass, and everyone would go to work slicing meat and bread and that "blessed egg". It would be cut into little pieces so that there was enough for everyone to have a piece of that one egg, and my grandpa would walk around the house and go up to everyone with that plate, telling them to take their piece of "blessed egg". And every single year I would refuse to take a piece. Maybe couple of times I attempted to choke it down or swallow it like it was a pill, but most of the time I just passed. And then I'd get that calm, stern look of disapproval from my grandfather. "But Grandpa, I'll eat blessed ham and blessed kielbasa and blessed bread with blessed butter! I just don't like hard boiled egg. You know I'll even pick the pieces out of the potato salad mom made!" It didn't matter. He was disappointed. I didn't like disappointing him, but I just couldn't bring myself to do it.
Suddenly, I think when I was pregnant, I decided to try them again. I couldn't be outdone by my kid, who will just devour them. And you know what? SO. GOOD. Who am I? I don't even know myself anymore? And of course now, after all of those years of refusing the blessed egg, we haven't gotten to spend Easter together since I started eating them. Go figure.
But whatever – low calorie and cost, high protein and nutrition. I'm not gonna question it. And as if I didn't already love hard boiled eggs enough already, I had to go and add three of my favorite ingredients – Greek yogurt, hot sauce, and blue cheeeeeeesseeee – to make these super amazing Buffalo Blue Cheese Deviled Eggs.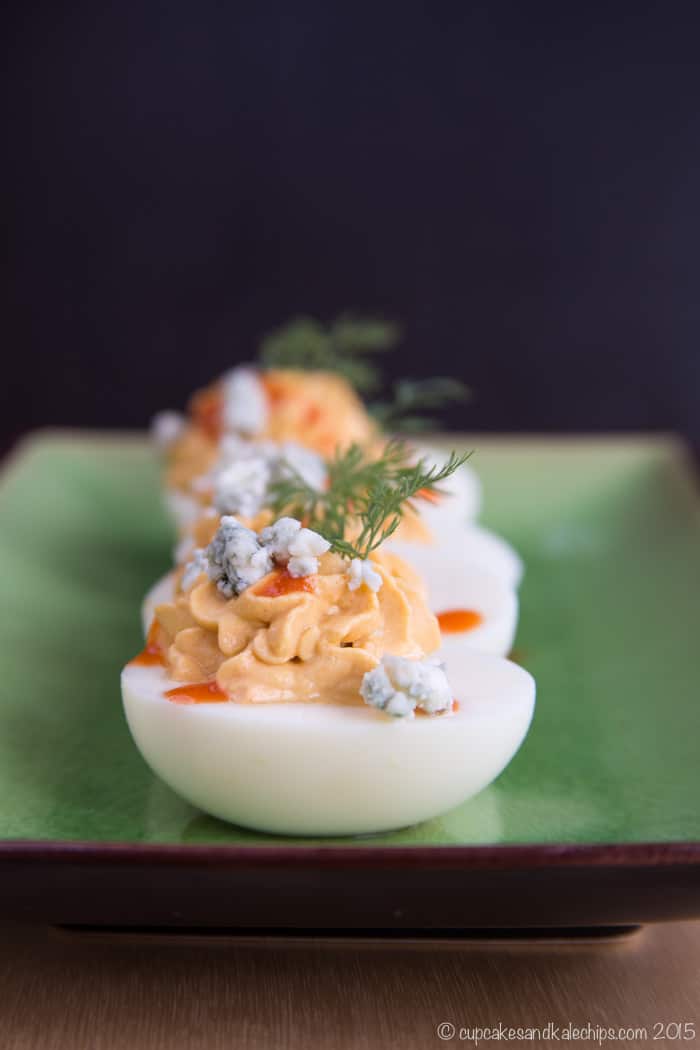 How to Make Buffalo Deviled Eggs with Blue Cheese
Just like classic deviled eggs, you'll start with basic hard boiled eggs, cool, and scoop out the yolks. The yolks get mashed with Greek yogurt, dry mustard, hot sauce, and blue cheese, and the filling is then scooped or piped back into the halved egg whites.
Just like with classic Greek Yogurt Deviled Eggs without Mayo, these are a bit healthier. They have just the right amount of kick since they had the Greek yogurt and blue cheese to cool them off a bit. I actually think that other than being lower in fat and calories and higher in protein, the yogurt was probably an even better choice than mayo for that reason as well. It was all I could do to now eat each and every one myself!
Buffalo Blue Cheese Deviled Eggs Recipe Tips:
You can make the hard boiled eggs using your favorite method. I either put the eggs into a pot of cold water, bring it to a boil over medium heat, then cover, remove from the heat and let the eggs sit in the hot water for 15 minutes. But lately I've been using my Instant Pot and these directions from Skinnytaste.
When it comes to hot sauce, I always use Frank's Red Hot. The amount in the recipe gives the perfect level of spice, but if you want less, you can sub some of the liquid with apple cider vinegar. If you want more, drizzle extra on top.
I like to pipe the filling back into the eggs to make it look pretty, but you can just spoon it in, use a small scoop, or put all the filling in a heavy duty plastic bag, cut off the corner, and use that to fill the eggs.
These deviled eggs will keep in the fridge for a couple days.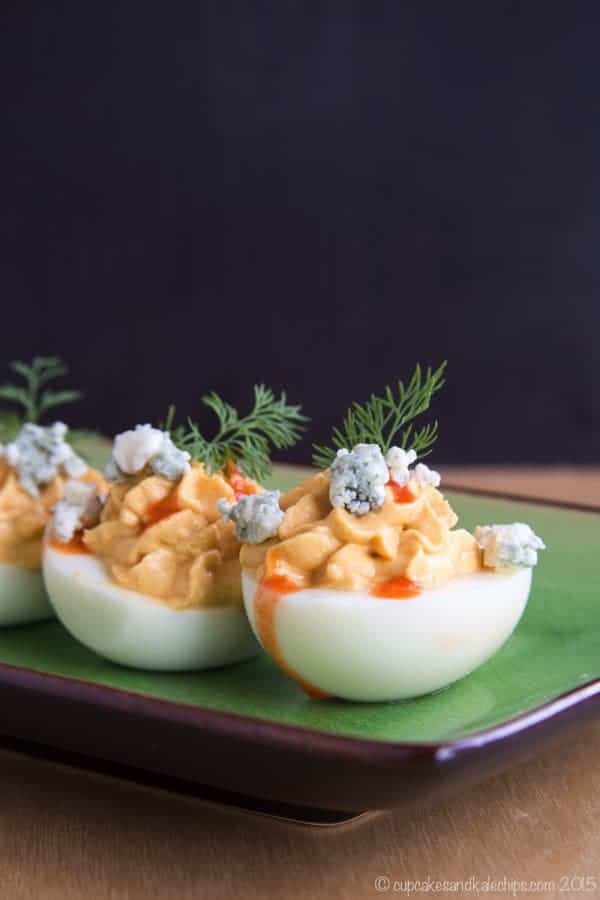 If you like this Buffalo Blue Cheese Deviled Eggs recipe, you might also like these…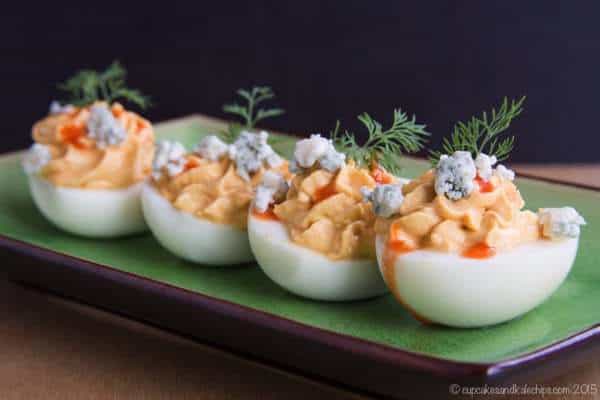 For more yumminess from me and my foodie friends, keep up with me on…
Or sign up to have Cupcakes & Kale Chips delivered straight to your Inbox!
Buffalo Blue Cheese Deviled Eggs
You'll never want plain old deviled eggs again after you make these Buffalo deviled eggs. Sure, you get a bit of mustardy kick in the classic recipe, but these really bring up the spice level, though it is kept under control with Greek yogurt and tangy blue cheese. You don't have to put extra hot sauce and blue cheese on top, but it does give them an extra punch of flavor! They will be the hit of your next picnic, party, or barbecue.
If you love them as much as I do, I hope you'll leave a comment and give it a FIVE STAR rating or share a photo on this pin on Pinterest!
Buffalo Blue Cheese Deviled Eggs

A spicy twist on the classic protein-packed appetizer or snack, lighted up with Greek yogurt.

Ingredients

6

hard boiled eggs

3

Tablespoons

plain Greek yogurt

1/4

teaspoon

dry mustard

2

Tablespoons

hot sauce

(I use Frank's Red Hot) or less if you prefer, but add apple cider vinegar for a total of 2 Tablespoons of liquid, plus additional for garnish, if desired

1/4

cup

crumbled blue cheese

plus additional for garnish, if desired

salt and pepper,

to taste

fresh parsley or dill

for garnish, if desired

Instructions

Cut each hard boiled egg in half and place the yolks in a small bowl, and the whites on a serving plate.

Add the Greek yogurt, dry mustard, hot sauce (and vinegar, if using), and blue cheese, and mash together with a fork, stirring until smooth. Season to taste with salt and pepper.

Fill the egg white halves with the yolk mixture. Garnish with additional hot sauce and blue cheese, and sprigs of parsley or dill, if desired.

Store in the refrigerator until ready to serve.

Nutrition Facts

Buffalo Blue Cheese Deviled Eggs

Amount Per Serving (2 deviled egg halves)

Calories 103

Calories from Fat 63

% Daily Value*

Fat 7g11%

Cholesterol 191mg64%

Sodium 258mg11%

Potassium 83mg2%

Carbohydrates 1g0%

Protein 8g16%

Vitamin A 305IU6%

Vitamin C 3.2mg4%

Calcium 63mg6%

Iron 0.6mg3%

* Percent Daily Values are based on a 2000 calorie diet.

Here are a few more of my recipes you can make with holiday leftovers…

And here is the Easter and Passover Leftovers #SundaySupper Menu…

Appetizers

Breakfast and Brunch

Main Dishes

Soups and Salads

Desserts