This post may contain affiliate links. Read my disclosure policy.
Anyone can make this simple and scrumptious Gluten Free Avocado Toast! Made with gluten-free bread topped with mashed seasoned avo and a hard boiled egg, this easy recipe makes for a filling and healthy breakfast, lunch, or snack. Customize it any way you like!
Easy Avocado Toast with Hard-Boiled Eggs
I remember when it seemed like every millennial brunch spot, every breakfast table, every cooking segment on TV suddenly had their own variation of avocado toast. Instagram practically imploded with posts capturing every version of avocado on toast under the sun. It was a phenomenon. We were obsessed.
From that obsession came the joke that if this generation would stop spending $16 a weekend on avocado toast, everyone could retire with a house in the Hills. I'm not so sure about the economics of that one. But if there's one way to get my daily/weekly/monthly avocado toast fix on a budget, it's to make it myself!
This is the easiest recipe for the most scrumptious gluten-free avocado toast, and the last one you'll ever need. I top mine with hard boiled eggs and Everything bagel seasoning! It's a hearty, healthy, and filling breakfast (or brunch, or snack) that you can make in less than 10 minutes.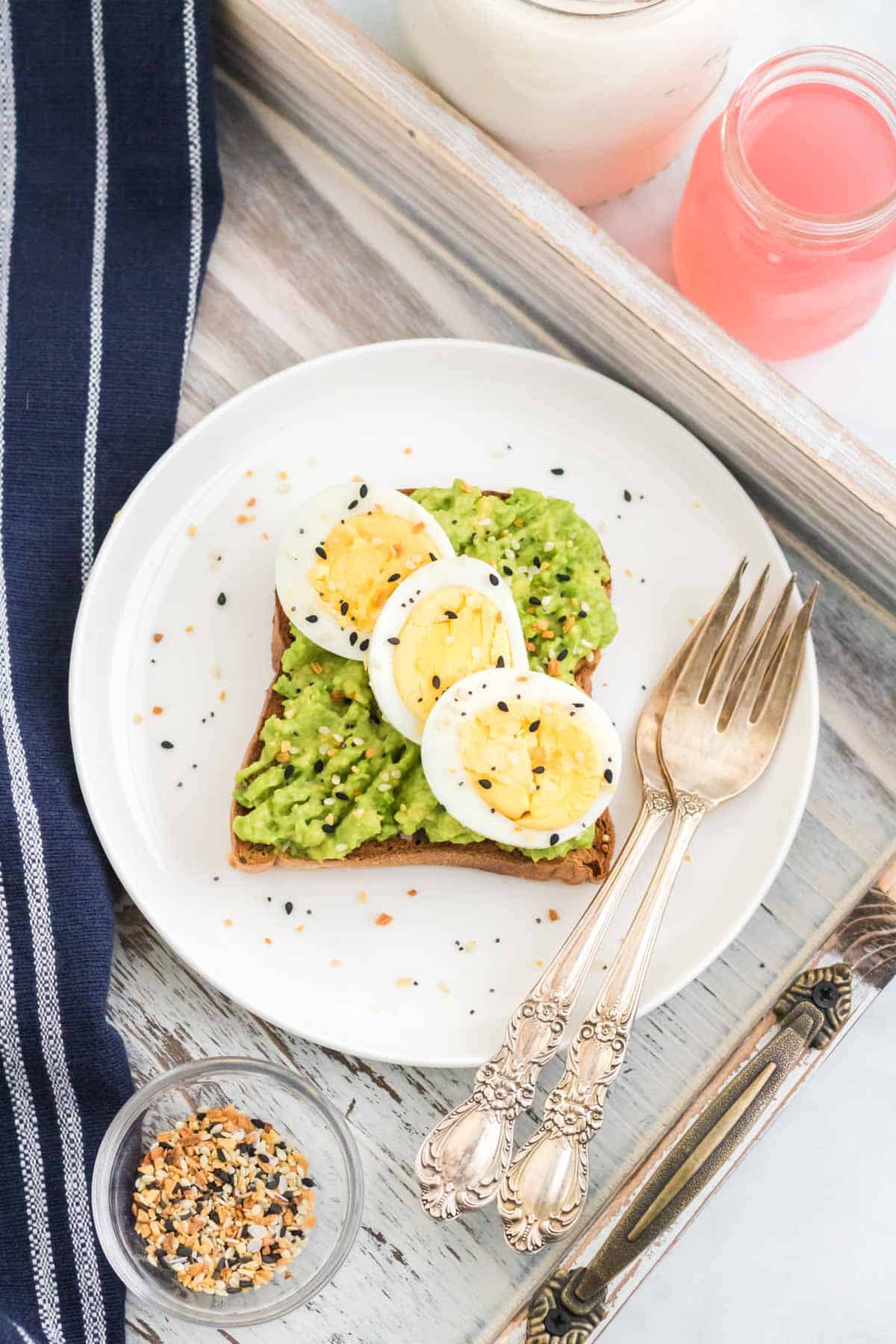 What You'll Need
Here's what you'll need to make this easy gluten-free avocado toast with eggs:
Gluten Free Bread: I use my homemade Gluten-Free Sandwich Bread, otherwise choose your favorite gluten-free bread brand. Here are some brands of gluten free bread that I've tried.
Avocado: Pick a ripe one! Ripe avocados will yield to light pressure without being "mushy". Generally, they'll also be darker, but this could vary depending on the type of avo, so it's better to go by feel.
Fresh Lemon Juice: Optional, but lemon juice adds a nice acidity to the creamy avocado. It also helps to keep it from browning too quickly!
Hard Boiled Eggs: Cook your hard boiled eggs to your desired doneness. If needed, have a helpful guide for How to Make Hard Boiled Eggs.
Everything Bagel Seasoning: Many grocery stores carry premixed Everything Bagel seasoning. You can also blend your own by mixing poppy seeds, sesame seeds, garlic flakes, and onion flakes.
Salt & Pepper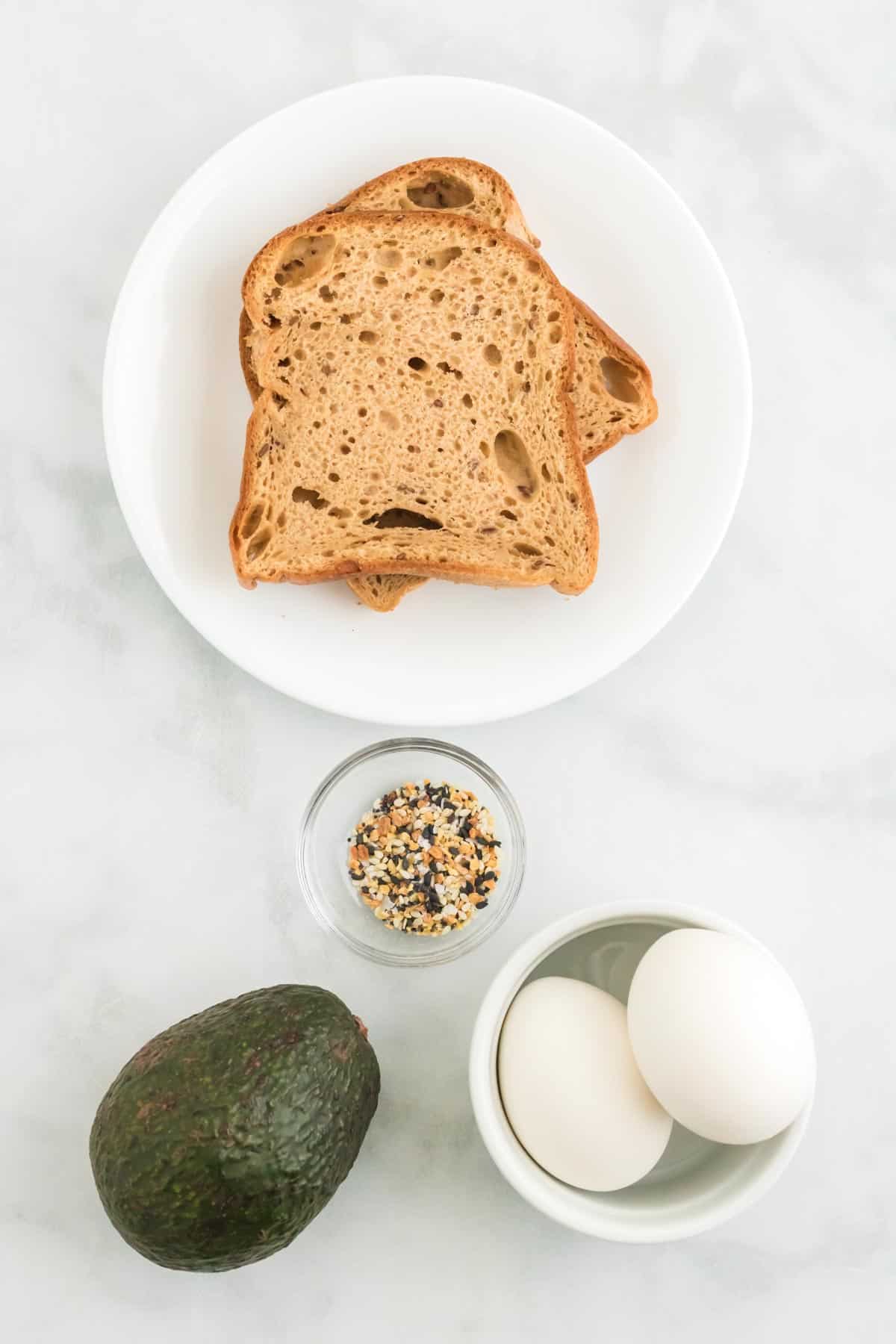 How to Make Gluten-Free Avocado Toast
These avocado toast slices come together quickly and easily in 10 minutes or less.
Toast the Bread: Pop your bread into the toaster. Straightforward enough!
Mash the Avocado: While your bread toasts, halve your avocado and scoop out the flesh into a bowl. Season the avocado with salt and pepper (plus a squeeze of lemon if you'd like) and then use a fork to mash it all together.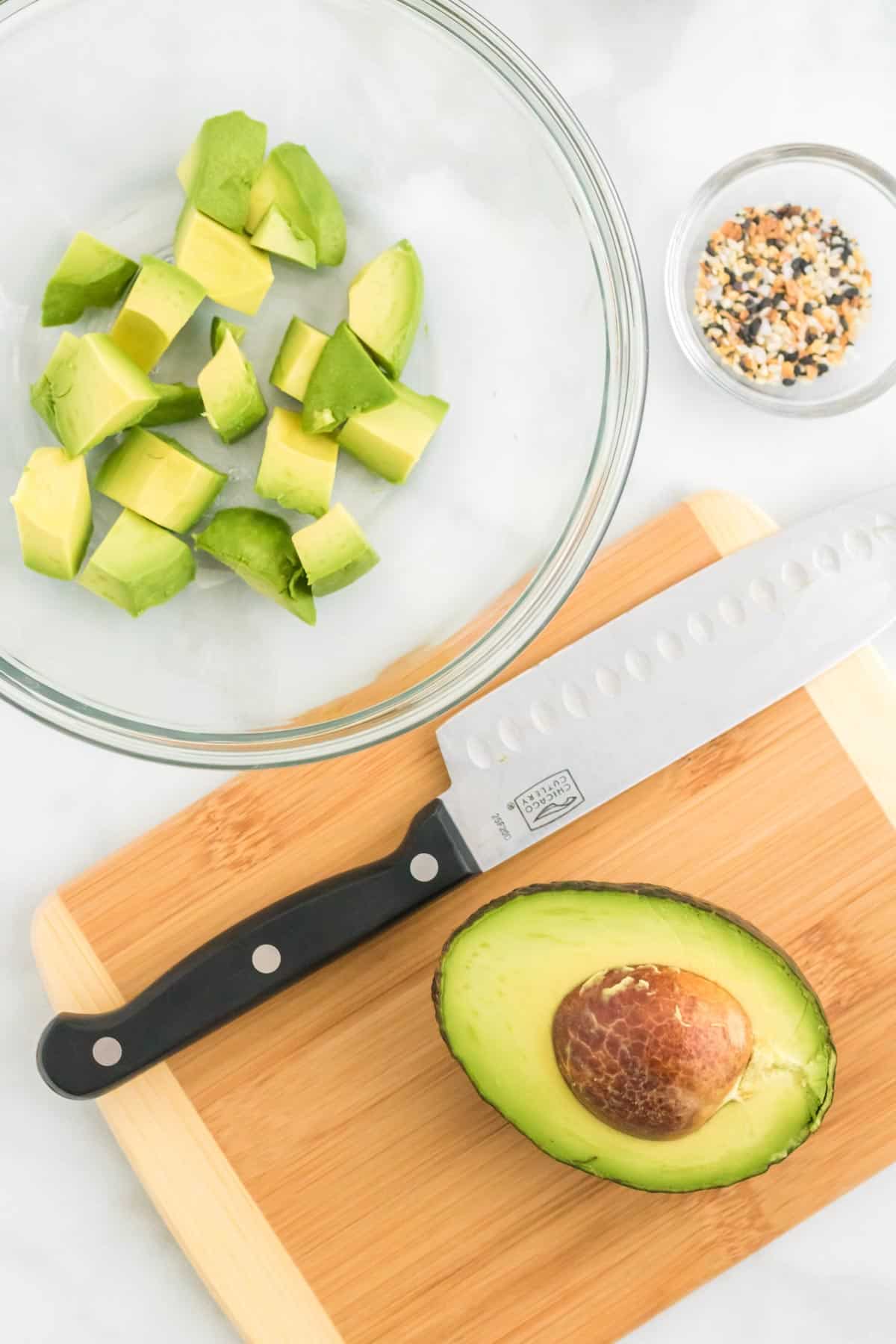 Assemble: Slice the hard boiled eggs and set them aside. Next, spread the mashed avo over the slices of toast. Top with the eggs. Give your creation a generous sprinkle of Everything bagel seasoning. Then enjoy!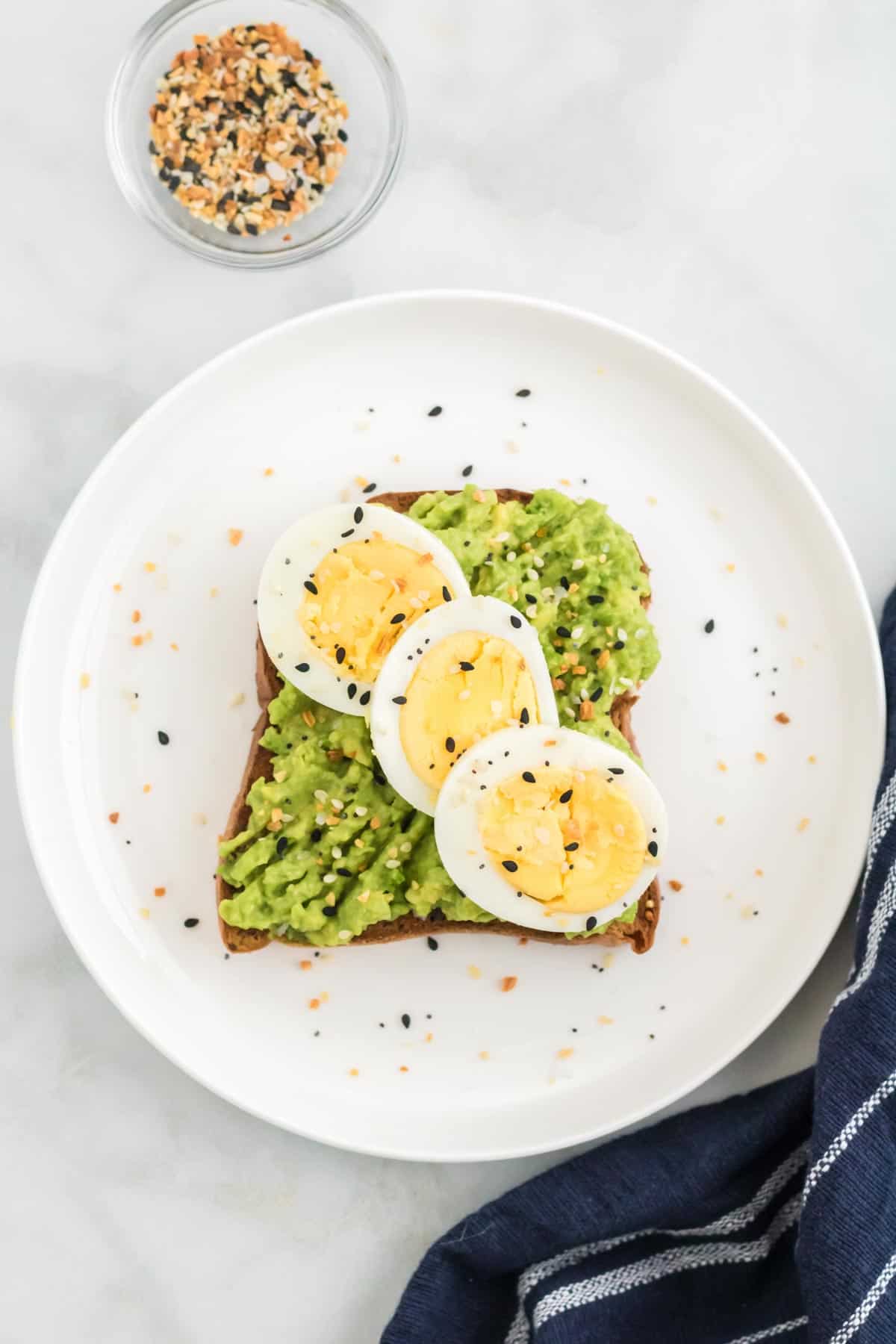 Tips & Tricks
Don't Forget to Toast the Bread: Seems obvious given that we're making avocado toast. But don't skip the toasting part! Crisping up the bread makes it sturdier, and keeps it from becoming soggy too quickly.
Mash First, Then Spread: Always mash the avo separately, and not directly onto the toast. Smashing your avo over the toast can flatten the bread and cause tears. Also, to prevent the bread from becoming soggy, only spread the avo over right before you plan to serve it.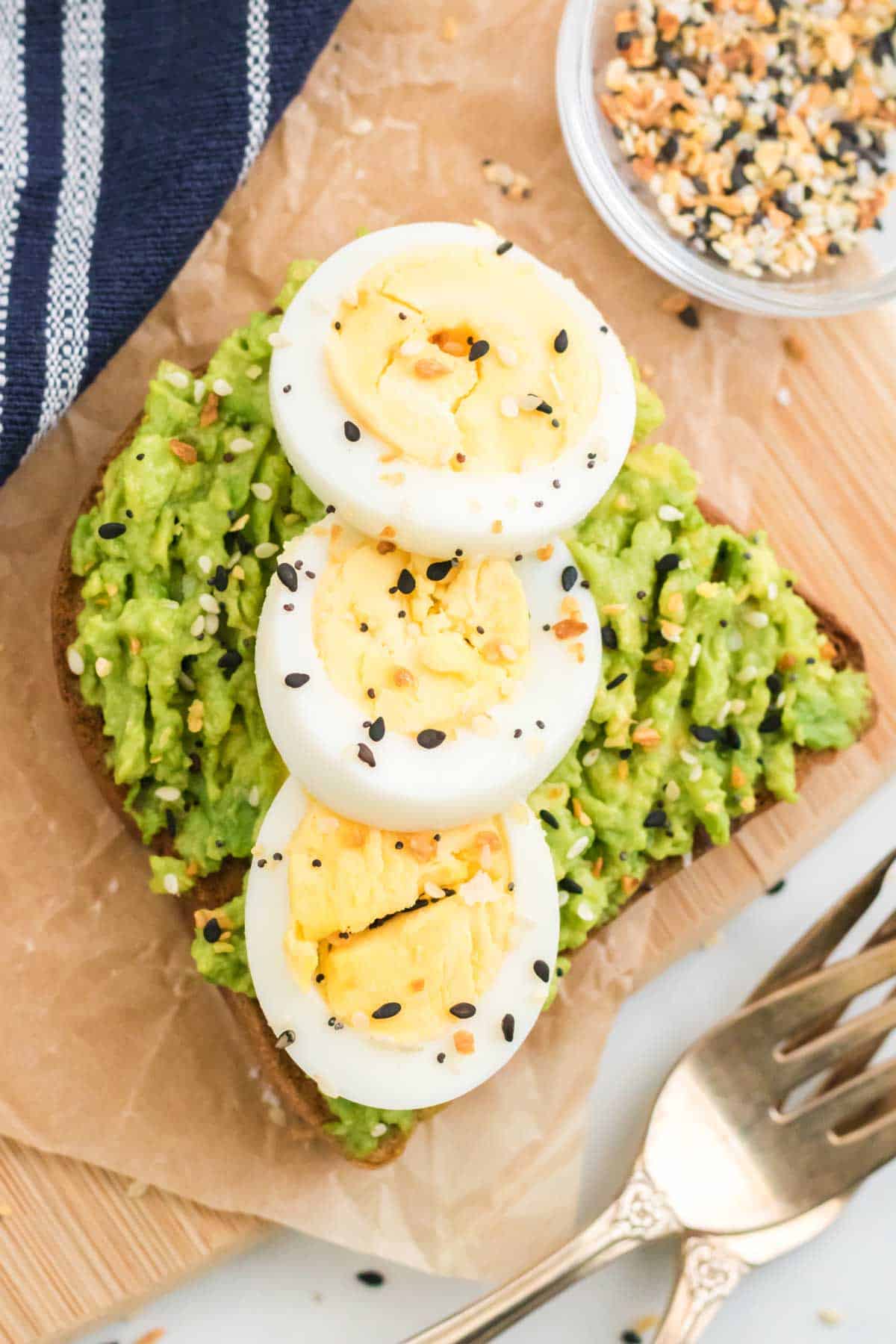 Variation Ideas
Avocado toast is the ultimate blank (green?) canvas for so many possibilities! Here are some easy ways to make it your own:
Different Bread: You can make this avocado breakfast recipe using any bread you desire, gluten-free or not! Instead of sandwich bread, try toasting Gluten Free English Muffins or Gluten Free Bagels.
Add Protein: Turn this vegetarian version into something more meaty by adding smoky bacon (check out 5 ways to cook bacon) or ham, Pulled Pork, poached salmon, or shrimp over top.
Top with Veggies: Change up the toppings and make avocado toast with cherry tomatoes, salad greens or spinach, thinly sliced onions, sweet corn, Roasted Asparagus, or Mango Avocado Salsa.
Add Cheese: Make avocado toast with goat cheese, bleu cheese, shaved parmesan, asiago, mozzarella, or cream cheese.
Different Eggs: Instead of hard boiled eggs, top your avocado toast with scrambled eggs, baked eggs, fried eggs, or sunny-side-up.
Eggs Benedict-Style: Swap out the hard boiled eggs for poached eggs and drizzle your toast with Homemade Hollandaise Sauce for a quick variation of homemade Eggs Benedict!
Herbs & Seasonings: Use different seasonings over your avocado toast! Try fresh herbs like basil, dill, and chives, or sprinkle on some crushed red pepper or cayenne for a bit of kick.
Dressings & Sauces: Give your avocado toast a drizzle with olive oil and balsamic vinegar, Sriracha, or hot sauce, or try a homemade dressing. Avocado pairs nicely with my Spicy Peruvian Green Sauce, Jalapeno Ranch Dressing, or Creamy Southwestern Dressing.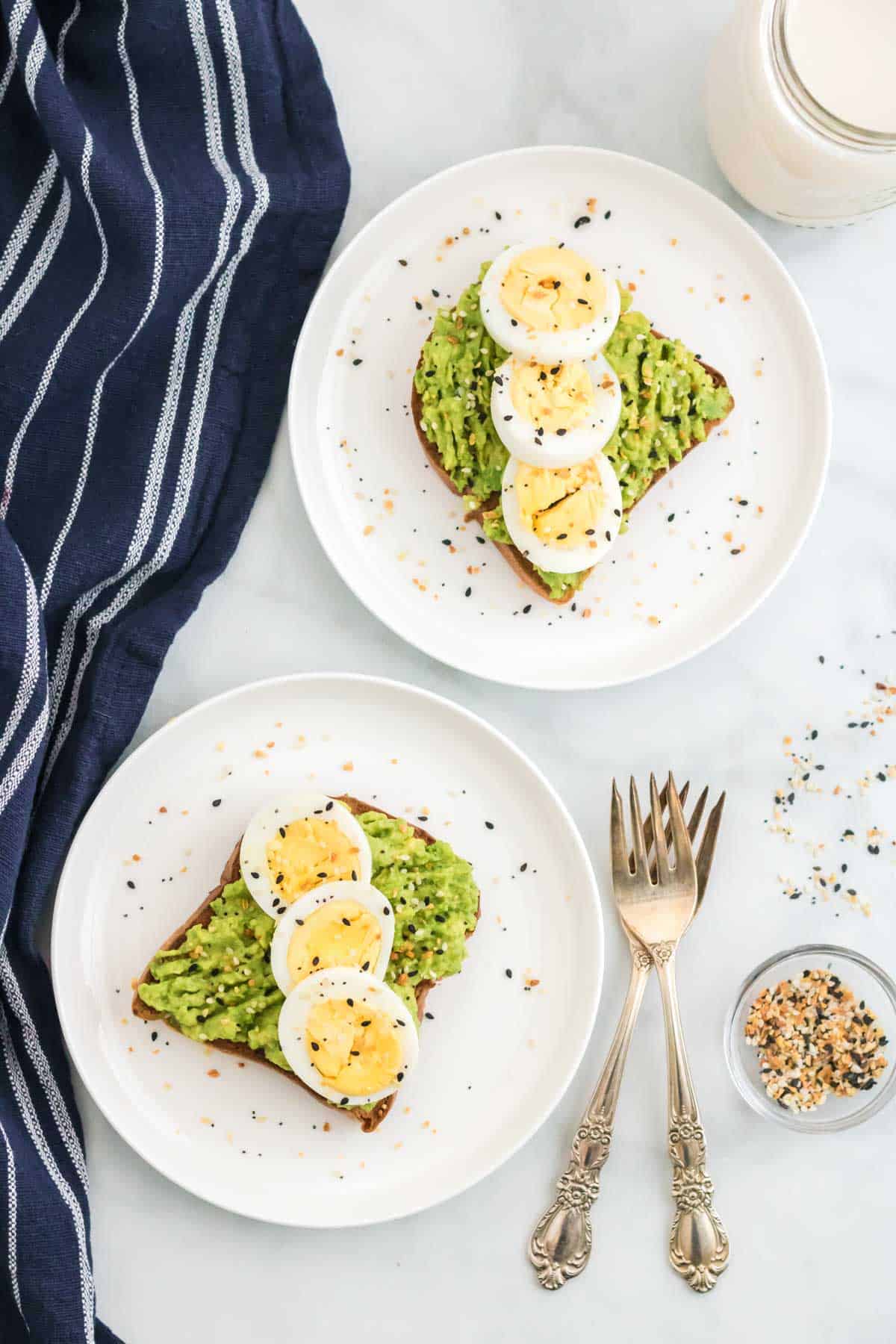 Make it a Meal
Avocado toast is a meal in itself! It's so hearty and filling, it's hard not to be full after a slice. Whenever I'm keen for something more, I love to pair it with a Strawberry Banana Coconut Milk Smoothie or Mango Pineapple Tropical Smoothie Bowl.
If you're planning a breakfast or brunch spread, here are some healthy side dishes to round out a meal: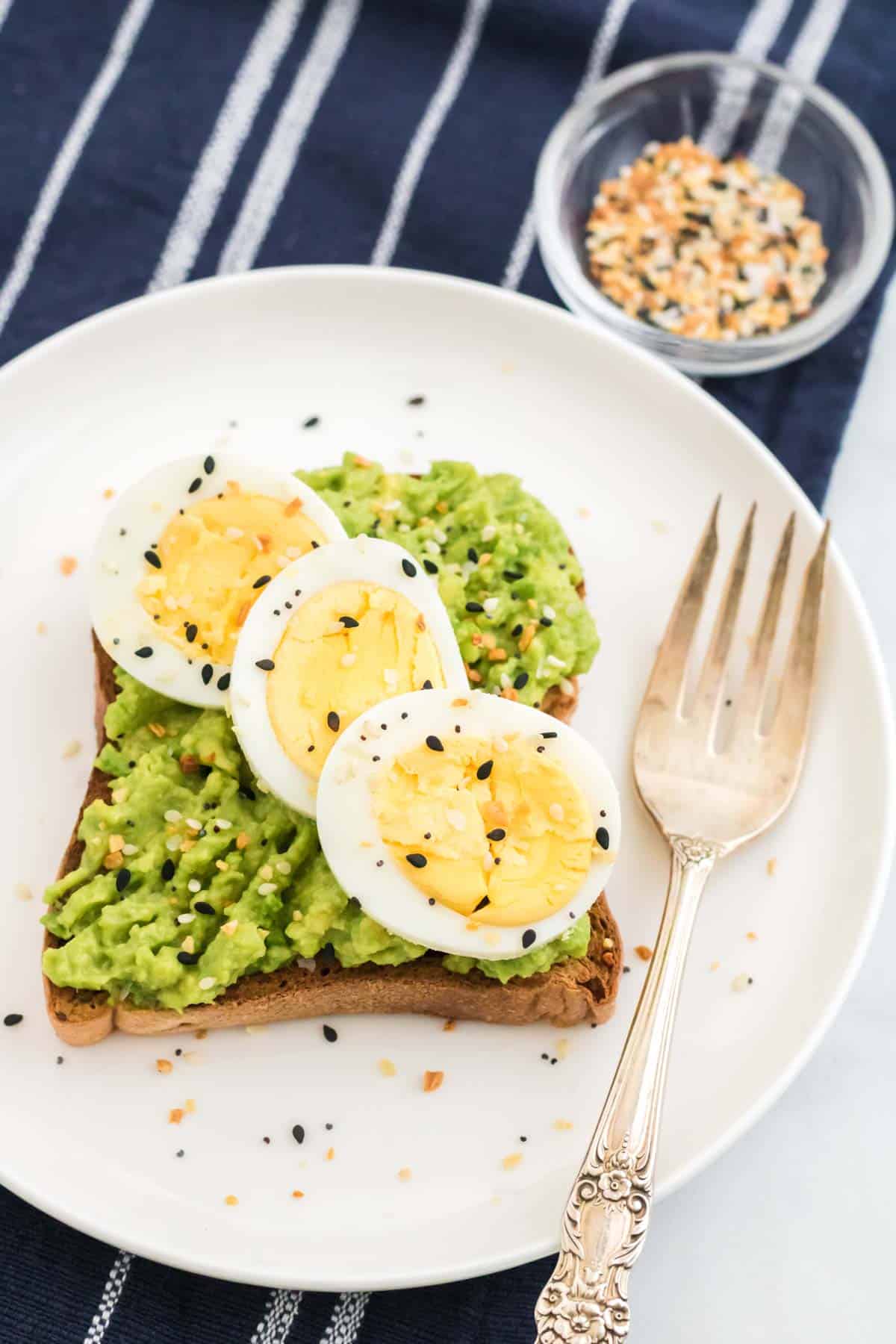 Can I Prep This in Advance?
I wouldn't recommend making avocado toast in advance. Avocado isn't a happy camper after it's been out of its shell for too long! Avo tends to turn brown quickly and doesn't keep well, even in the fridge. Even the toast will go stale and soggy if you make it ahead. So, to confirm: when it comes to avocado toast, fresh is best!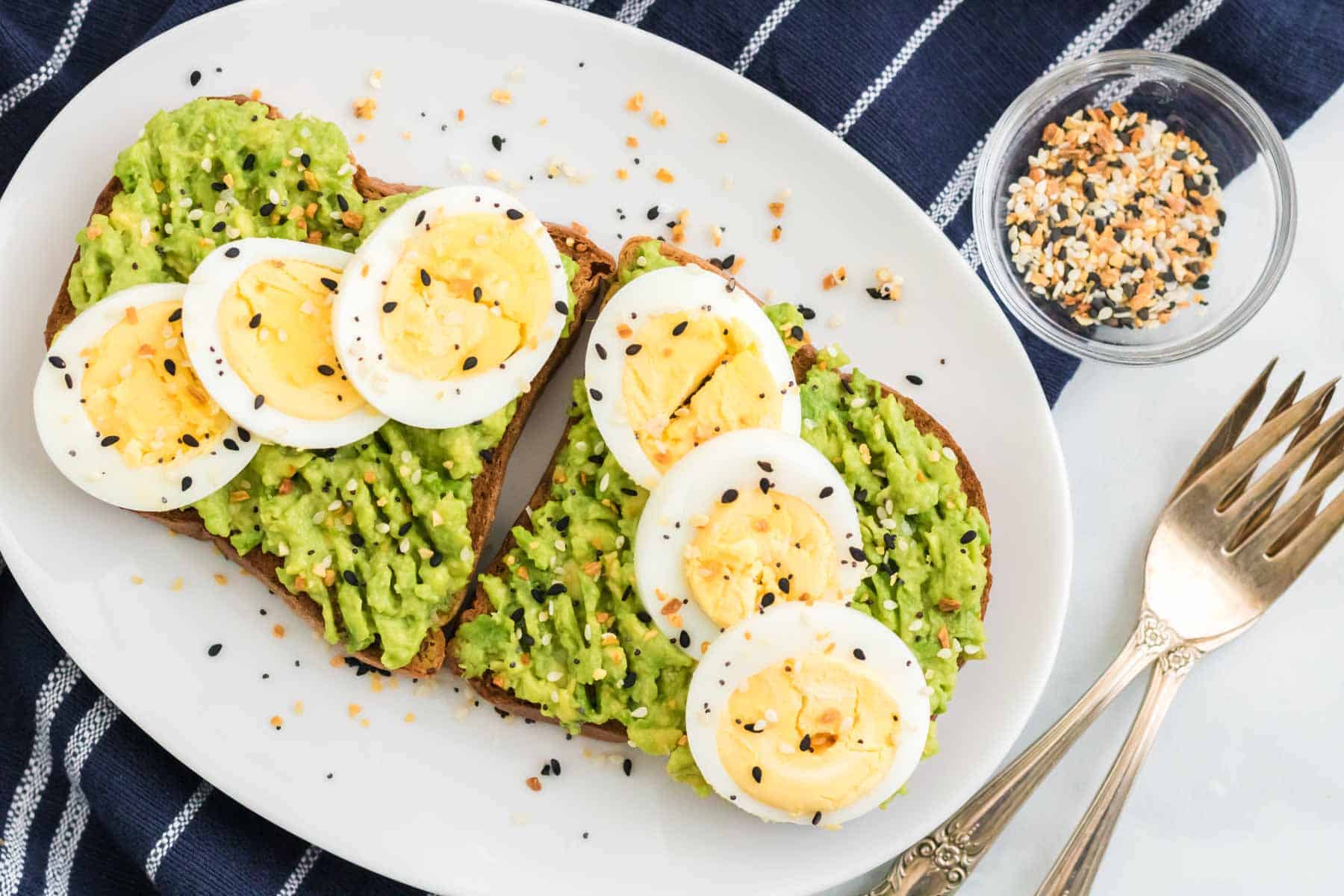 More Healthy Breakfast Ideas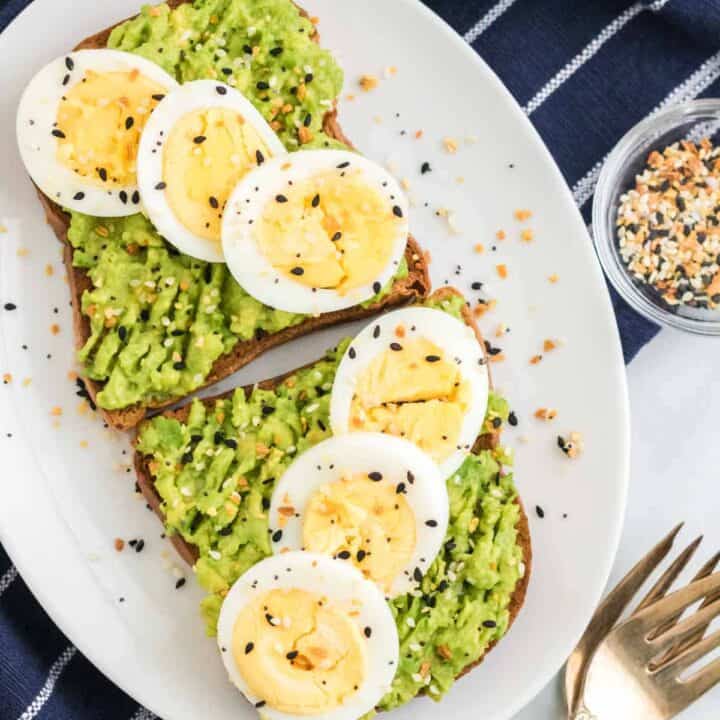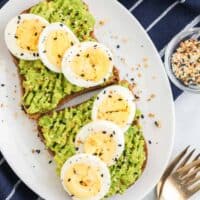 Gluten Free Avocado Toast
An easy Avocado Toast recipe made with gluten-free bread, mashed avo and a hard boiled egg! A healthy breakfast or brunch idea to customize any way you like!
Ingredients
2

slices

gluten free bread

1

avocado

salt and pepper

to taste

1

tsp

fresh lemon juice

(optional)

2

hard boiled eggs
Instructions
Toast the bread to the desired doneness.

While it is toasting, cut the avocado in half, remove the pit, and scoop into a bowl. Mash with a fork and season to taste with salt and pepper, if desired. You can also add a bit of lemon juice, if you like to help keep the avocado from turning brown and to brighten the flavor.

Slice the hard boiled eggs.

Spread the mashed avocado on the toasted bread and lay egg slices on top. Sprinkle with as much Everything Bagel seasoning as you like. Enjoy right away.
Nutrition Facts
Gluten Free Avocado Toast
Amount Per Serving
Calories 332
Calories from Fat 198
% Daily Value*
Fat 22g34%
Cholesterol 193mg64%
Sodium 185mg8%
Potassium 553mg16%
Carbohydrates 24g8%
Protein 10g20%
Vitamin A 482IU10%
Vitamin C 11mg13%
Calcium 75mg8%
Iron 1mg6%
* Percent Daily Values are based on a 2000 calorie diet.
Categories: