This post may contain affiliate links. Read my disclosure policy.
Creamy, tangy and bright with the flavors of salsa, chili powder and cumin, this Creamy Southwestern Salad Dressing hits all the right notes! Meet your new favorite salad topper!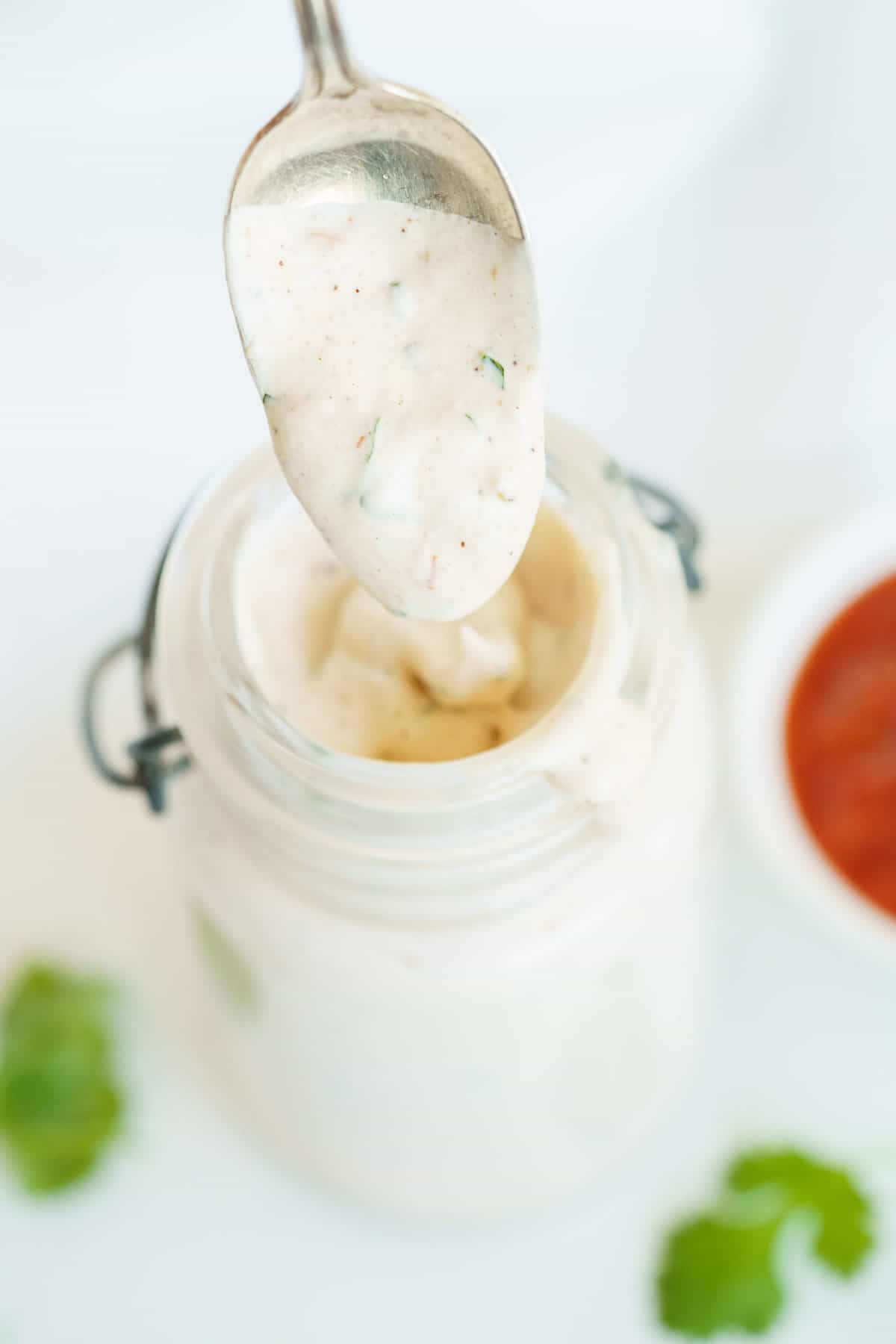 Homemade Southwestern Salad Dressing
If you like ranch dressing, I think you'll love this creamy Southwestern salad dressing! It's a lot like a good homemade ranch, but with a bit of heat and the juicy tomato flavor of salsa.
This dressing is super yummy on a colorful veggie salad, or a nice grilled chicken salad, or to add a little zippy flavor to a Cobb Salad with Lobster. I also think it goes wonderfully with some grilled corn! Swap out the Aji sauce on my Grilled Street Corn for a new flavor combo!
The nice thing about this dressing is that you can make it as spicy as you like, or use mild salsa and it will hardly have any heat at all; just lots of flavor.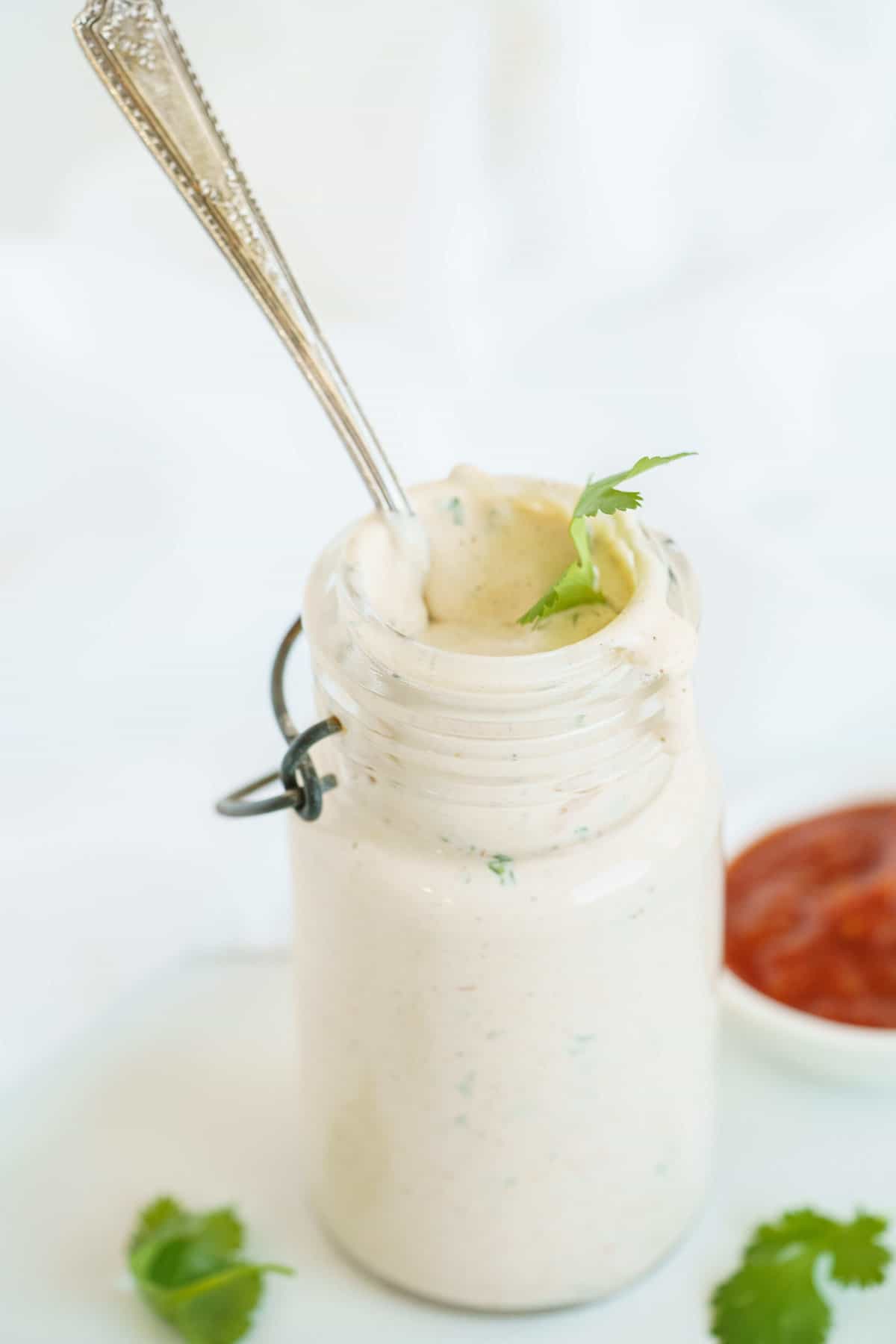 What Makes this Recipe "Southwestern?"
Okay, so Southwestern food is really diverse and beautiful, and of course, there's a lot more to it than just this salad dressing! It's a collection of recipes, techniques, and ingredients that have become part of the culture of the Southwestern United States. Mexican cuisine, cowboy cookery, and Native American influences all combine to make this colorful cooking style.
I love being inspired by some of my favorite flavors of these styles of cooking to create something I can quickly and easily enjoy in my own kitchen using items I can find in my pantry or the local grocery store. It might not be the most authentic, but it's a simple and accessible way to enjoy the tastes that I find so delicious and comforting.
This dressing uses some common Southwestern ingredients like chili powder, cumin, and salsa to create a flavorful dish with a nice hit of acid and spiciness. It's a treat for your tastebuds!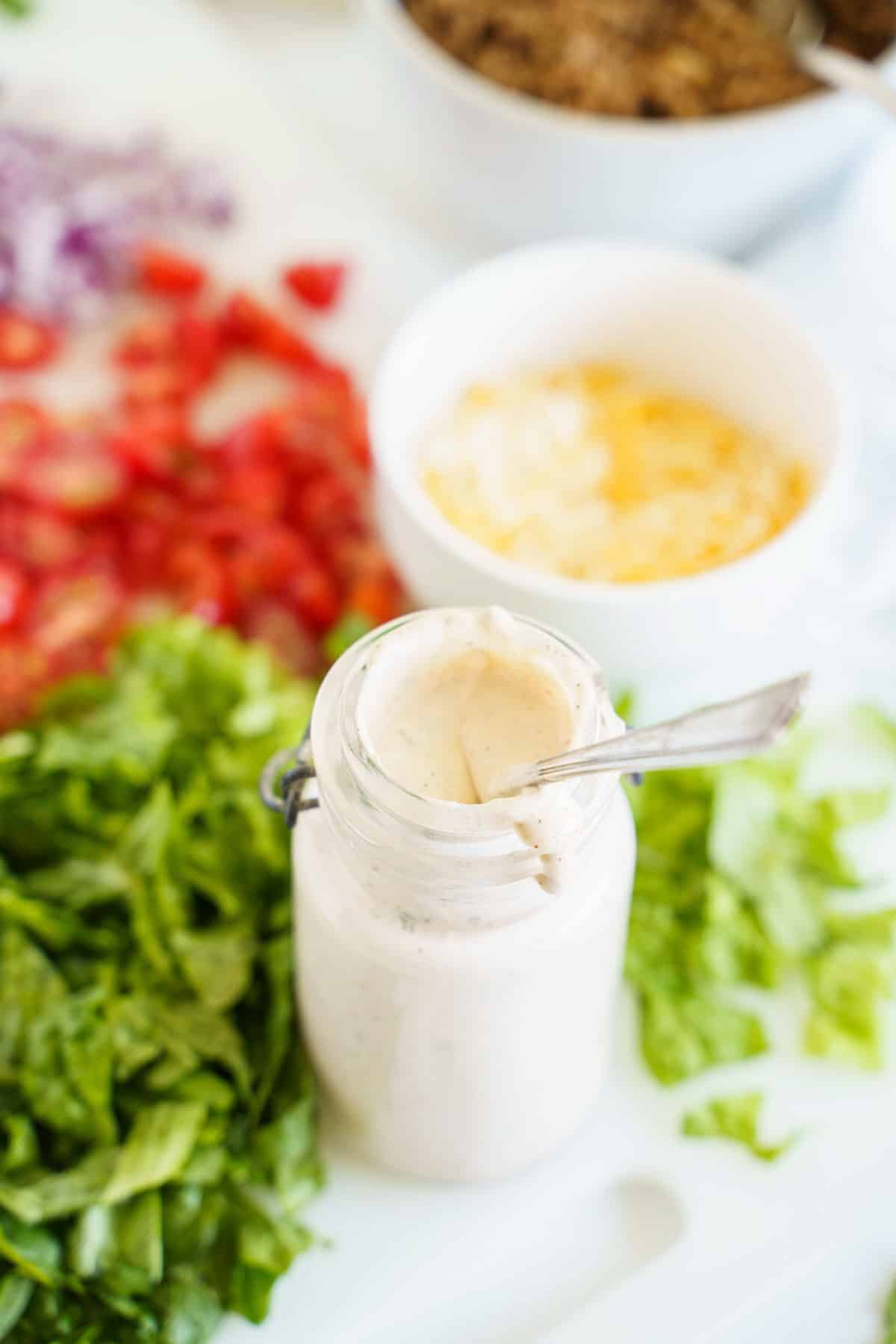 What You'll Need
I use a blend of mayonnaise and heavy whipping cream as the base for my creamy dressing. The texture and flavor is to die for!
Mayonnaise: You'll need half a cup of your favorite mayonnaise. Keto-friendly is fine!
Cream: Half a cup of heavy whipping cream adds richness and a lovely mouthfeel to this zesty dressing. Don't have cream? Try using some yogurt, though you might need a little milk to thin it out.
Salsa: This is a great way to use up that last bit of salsa in the jar! You only need two tablespoons. I prefer no-sugar-added salsa.
Garlic & Onion Powder: Half a teaspoon of each.
Chili Powder & Cumin: Just ¼ teaspoon of each gives this dressing a classic taco taste.
Salt & Pepper
Cilantro: I used two tablespoons of minced fresh cilantro, but you can certainly omit this if you don't care for cilantro!
Pro Tip
Want to lighten it up?
Swap the mayo and Greek yogurt for 3/4 cup plain Greek yogurt, 2 Tablespoons of olive oil, and 2 Tablespoons of apple cider vinegar. It will have a slightly more tangy flavor, but it'll have fewer calories and more protein. Add a little more oil and vinegar if you want to thin it out, use less if you want to thicker, more like a dip.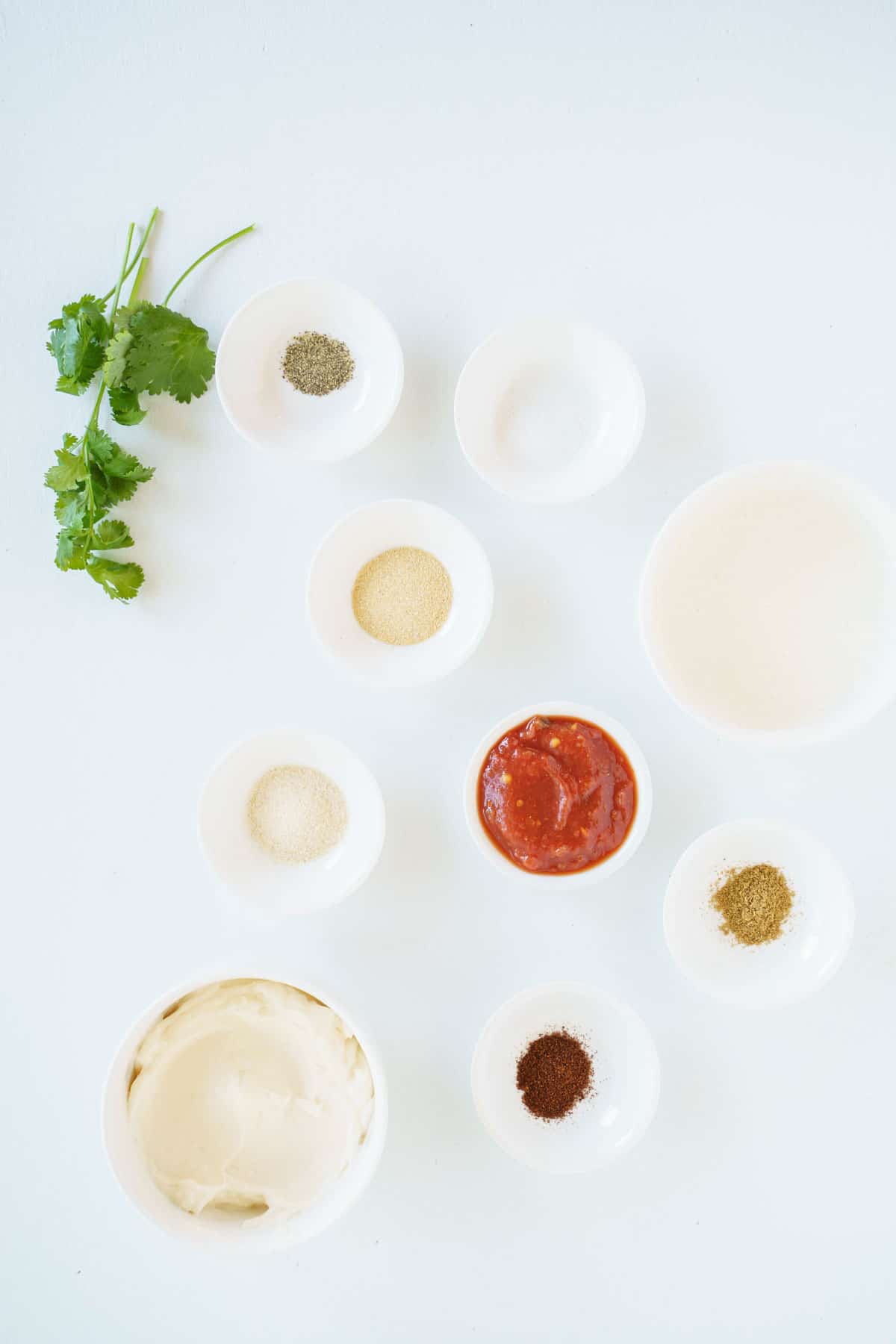 How to Make Southwestern Salad Dressing
It's super easy to make this one, guys! And it's so flavorful that I recommend making double the spice mixture and saving half. Then, the next time you want to make the dressing, half the work will be done already!
Measure Ingredients: Measure all of your ingredients into a bowl.
Combine: Whisk or stir the ingredients together well.
Store: Using a spatula, scrape the salad dressing into your container of choice.
Tips for Success
This salad dressing is nice and simple in the realm of homemade condiments. Here are a few extra tips to keep in mind for guaranteed success:
Add Some Heat: If you'd like a spicier salad dressing, feel free to use a hot salsa, or add a pinch of cayenne pepper. You can also finely chop up a small amount of jalapeno, to taste. Careful though, they can be very spicy!
Make It Creamier: You can try substituting some (or all) of the heavy cream with sour cream or even Greek yogurt; this will make a tangier and thicker dressing, more like a dip.
Lighten it Up: Skip the mayo and heavy cream in favor of plain Greek yogurt plus a little olive oil to keep the richness and some apple cider vinegar to thin it out to your desired consistency.
Change It Up: You can also use different salsas for a different flavor in your dressing; mango salsa, salsa with roasted red peppers, and other varieties are fun to try out!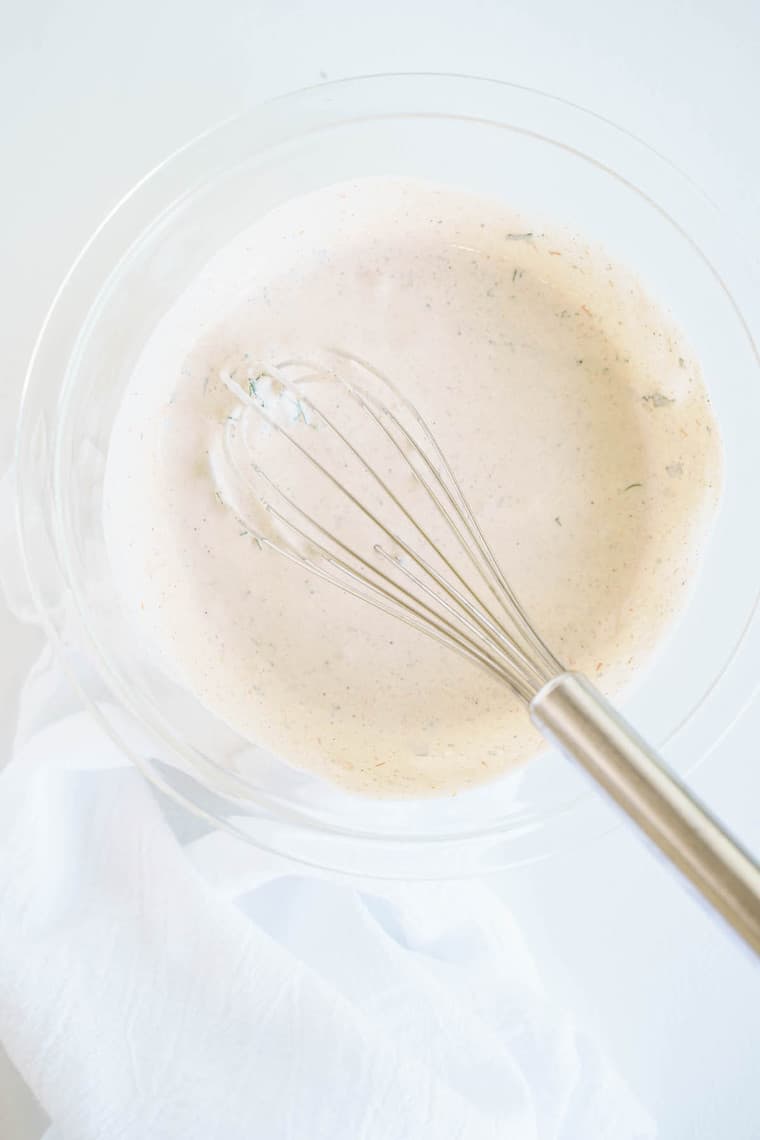 How to Use this Dressing
This savory Southwestern salad dressing tastes good on just about everything! I like to drizzle it over salads, of course, and especially taco salad! But here are some other great ideas!
Use as a topping for tacos or burrito bowls
Drizzle over scrambled eggs
Serve as a dipping sauce with quesadillas or taquitos
Make a Tex-mex pasta salad
Dip chicken nuggets in it
Marinate chicken in it before cooking
Dress up a turkey wrap
Try These Recipes with the Dressing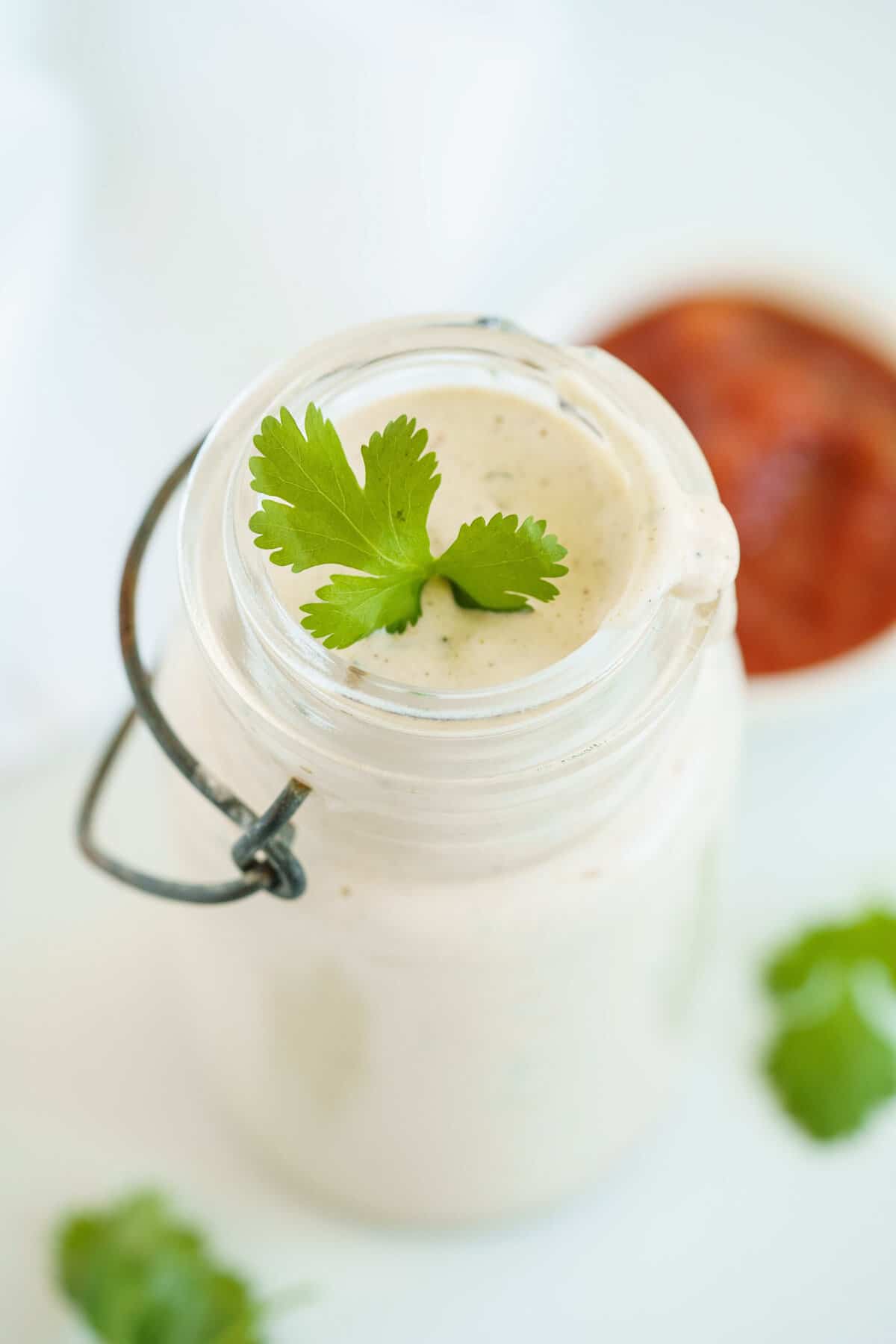 How to Store Salad Dressing
Keep your salad dressing fresh and tasty by storing it in the fridge. I recommend using a glass bottle or jar with a tight-fitting lid. I also love the Salad Dressing Shaker from Oxo because you can mix it up right in the container – no need to dirty any extra dishes.
Salad dressing usually lasts for up to five days, but if you notice any change in texture, flavor, color, etc. discard it right away.
Last updated on January 31, 2023 12:05 pm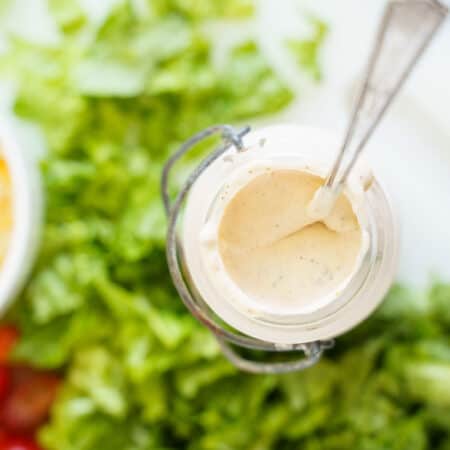 Creamy Southwestern Dressing
Creamy, tangy and bright with the flavors of salsa, chili powder and cumin, this Creamy Southwestern Salad Dressing hits all the right notes! Meet your new favorite salad topper!
Ingredients
1/2

cup

mayonnaise

(see Note*)

1/2

cup

heavy whipping cream

(see Note*)

2

tablespoons

salsa

(no-sugar-added to make it low carb and keto)

1/2

teaspoon

garlic powder

1/2

teaspoon

onion powder

1/4

teaspoon

chili powder

1/4

teaspoon

cumin

1/8

teaspoon

salt

1/8

teaspoon

black pepper

2

tablespoons

minced fresh cilantro
Instructions
Whisk together all ingredients in a bowl.

Store in an airtight container in the fridge for up to 5 days.
Notes
Use this Southwestern Salad Dressing on tacos made with Instant Pot Ground Beef Taco Meat, Keto Taco Salad, Burrito Bowls, etc.
*Want to lighten up this recipe? Use 3/4 cup of plain Greek yogurt, 2 Tablespoons of olive oil, and 2 Tablespoons of apple cider vinegar instead of the mayonnaise and heavy cream.
Nutrition Facts
Creamy Southwestern Dressing
Amount Per Serving (2 Tablespoons (approximately))
Calories 150
Calories from Fat 144
% Daily Value*
Fat 16g25%
Cholesterol 26mg9%
Sodium 161mg7%
Potassium 29mg1%
Carbohydrates 1g0%
Protein 1g2%
Vitamin A 279IU6%
Vitamin C 1mg1%
Calcium 12mg1%
Iron 1mg6%
* Percent Daily Values are based on a 2000 calorie diet.
Categories:
More Salad Dressing Recipes to Try
Need another kind of salad dressing for the dish you have in mind? Try one of these!