3-Ingredient Cranberry Balsamic Salad Dressing
Disclosure: This post may contain affiliate links. Cupcakes & Kale Chips is a participant in the Amazon Services LLC Associates Program, an affiliate advertising program designed to provide a means for us to earn fees by linking to Amazon.com and affiliated sites.
Cranberry balsamic salad dressing, made with 3 simple ingredients, is a perfect use for left over cranberry sauce. The day after Thanksgiving is a perfect time to try this recipe!
It's one of my favorite easy gluten-free salad dressing recipes!
I hope you are all having a relaxing day, enjoying time with family and/or friends, and feasting on amazing food! I have so much to be thankful for. The Hubby is incredibly patient and supportive, despite pregnancy hormones making me more moody and lazy than usual, and even more emotional. The Bug is just way too cute, way too funny, and way too smart, and this totally outweighs when he is way too cranky. Baby #2 is growing well, and all appears to be going well, and we are so blessed to even be expecting a #2.
My family always makes me smile, and I am to really missing spending Thanksgiving with them. But I am also thankful to be spending a holiday just with The Hubby and The Bug for the first time ever. We are enjoying our time together, and enjoying not busting my pregnant, sick butt. My friends are OK with it when I fall off the face of the Earth, and then when we do see each other (which is not often enough since we are all so busy), we pick up like we see each other everyday.
I am also thankful I have this blog as an awesome hobby and creative outlet, and that you all read, and follow along, and chat with me on Facebook and Twitter. You have no idea how happy I am to have my foodie friends. So, as I said, I may be a little grumpy right now, but all in all, life is good!
Every once in awhile, a little game of "You know you're a food blogger when…" pops up on social media. Well, I have one right now. You know you're a food blogger when you make one of your favorite holiday recipes at least a week before the actual holiday. Even when you aren't going to be making it for the actual holiday that particular year. Just so you can post it, then come up with awesome ways to use the leftovers, so you can share those on your blog. Yeah, that clearly happened here this year. But truthfully, as I told you the other day, there are usually some leftovers of my Cinnamon Orange Cranberry Sauce.
The first thing I made with leftover cranberry sauce was cranberry balsamic salad dressing, which I think I had for lunch almost everyday.
I love the strong, tart flavor of this dressing, especially when you pair it with either a creamy cheese, like goat cheese, or contrast the sweetness against a salty cheese, like feta. I didn't make any salads with blue cheese this week, but I am sure that would be amazing, as well. Oooh, and I think some Brie, too. Check out the recipe below.
And now, without further adieu, since you should be eating and playing football and watching football and watching the parade and maybe, possibly even going for a walk to burn off some of those calories…
Here is my list of suggestions to use leftover cranberry sauce:
Make this super easy salad dressing.
Pour the dressing over a fabulous, seasonal salad (I'll share the details of this one next week, but I think you can see what is in there).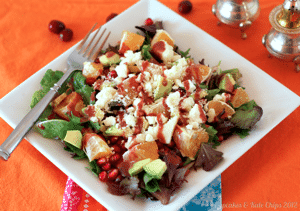 Use this dressing to marinate some chicken (oh, and I will also be sharing this delicious quinoa recipe soon). By the way, the color on this chicken is kinda sad because I just threw it in a pan. I am dying to try this on the grill.
Spread it on one slice of bread and spread dijon mustard on another slice. Add havarti cheese (or your fave cheese, but havarti is so amazingly melty), to make fancy pants grilled cheese.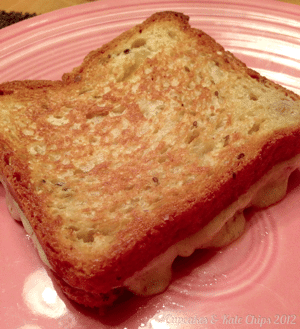 Do the above, adding leftover chicken (I used the chicken I had marinated in the dressing) to make paninis.
Mix cranberry sauce and mayo, slather on some cinnamon raisin or whole wheat toast, and turkey for my fave turkey sammie (though I am thinking I need to start adding some brie)
Stir some cranberry sauce into applesauce. The Bug was digging this combo this week.
Haven't tried this yet, but swirl it into oatmeal that is sweetened with a bit of maple syrup.
What are you most thankful for this year?
Here's the simple, quick, 3-ingredient cranberry balsamic salad dressing recipe.
Print Recipe
3-Ingredient Cranberry Balsamic Salad Dressing
Cranberry balsamic salad dressing, made with 3 simple ingredients, is a perfect use for left over cranberry sauce after Thanksgiving.
Ingredients
1/4

c

cranberry sauce

4

tablespoons

1/4 c balsamic vinegar

2

ounces

1/4 c olive oil

salt & pepper

to taste
Instructions
Combine all ingredients in a bowl, jar, or blender/Magic Bullet container, and whisk, shake, or blend until well-combined.
Enjoy!