This post may contain affiliate links. Read my disclosure policy.
Creamy Balsamic Dressing is just as rich and delicious as what you get in restaurants or from a bottle, but this healthy salad dressing recipe is lightened-up with Greek yogurt. Just because it is homemade doesn't mean it isn't easy. You can shake up this smooth balsamic vinaigrette in just a few minutes with only five ingredients. And without any extra thickeners or preservatives, you know it is good-for-you and made with gluten free ingredients!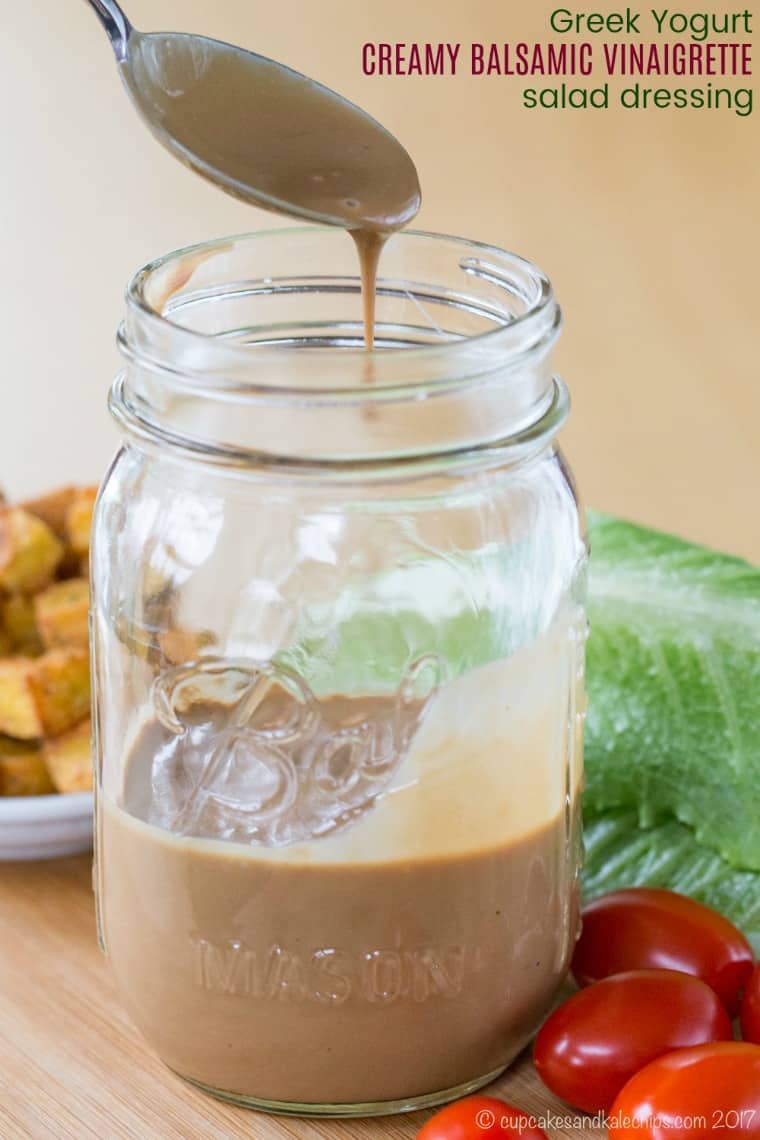 This post was originally published on November 7, 2013. Updated with new photos on May 1, 2017 and video added on May 29, 2018.
I'm sure most of us want to have healthy eating habits and to pass those habits onto our kids. But let's be real – life gets crazy and your good intentions can get derailed. Work is stressing you out. The kids have homework and activities and playdates. And cheesecake ice cream exists.
While I like to think I love an overall healthy lifestyle, I go through those periods too. Like back when I first started making my own healthy salad dressing recipes.
I had just gotten through a fairly painful pregnancy that included a diagnosis of gestational diabetes. Once my little guy was born, all I wanted to do was sit around and eat all the sweets that I had to give up due to my very strict diet for the last 10 weeks of my pregnancy.
I had been giving myself all sorts of excuses. But I needed some strategies for getting back on track.
By getting out of bed to exercise a few times a week and going for walks, I was motivated to make better food choices. I cut down nighttime sugar binges by enjoying a chocolate peanut butter banana smoothie instead of dessert.
And I would make sure I grabbed fresh produce at the store and took five minutes to make a batch of balsamic vinaigrette to keep in the fridge. This made it easier and more enticing to make a nice salad for lunch.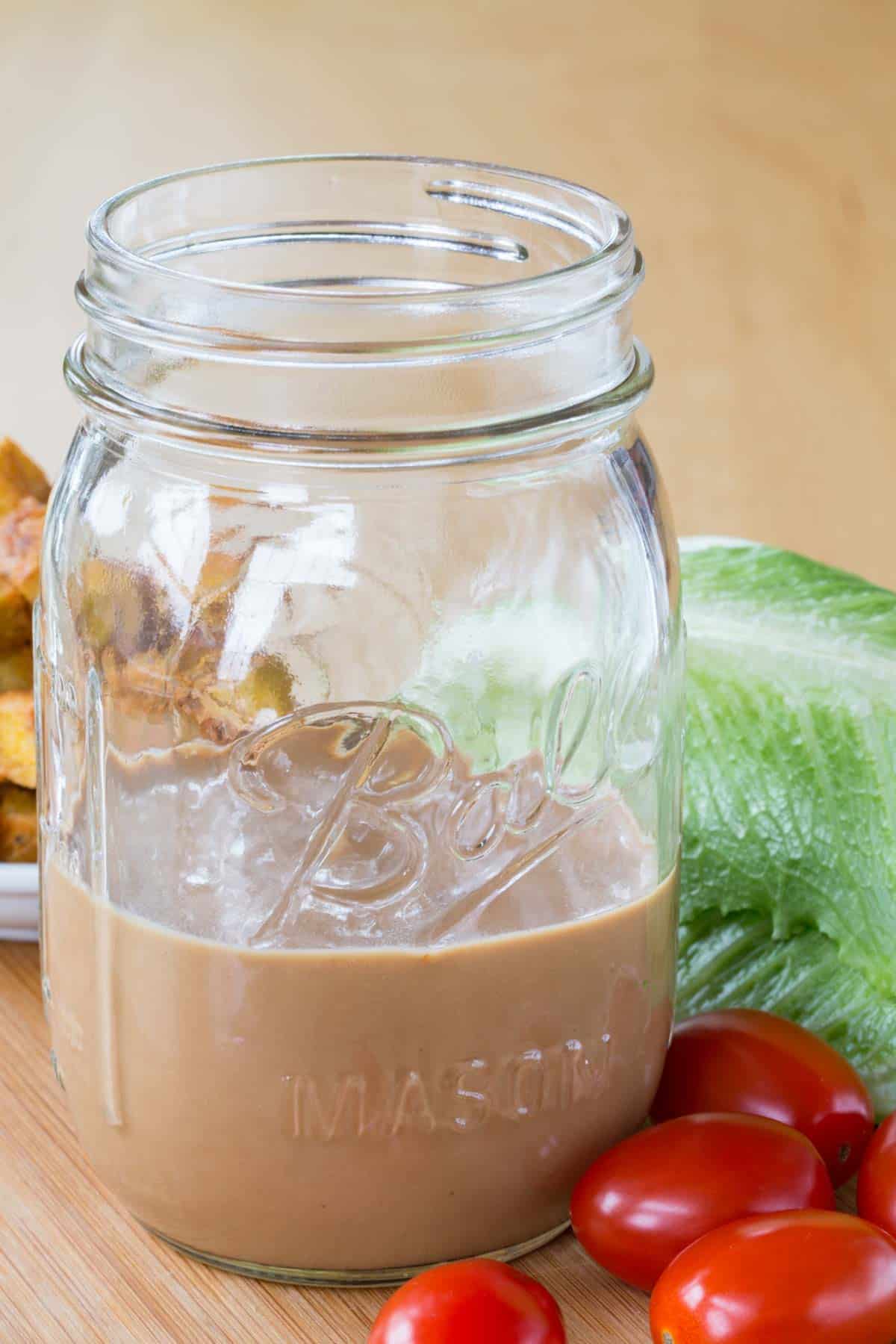 How to Make Healthy Salad Dressing with Balsamic Vinegar
The Greek yogurt and just a bit of olive oil give this healthy homemade salad dressing the rich smoothness of those heavier creamy dressings you get in restaurants or in the grocery store. But it has no preservatives or other funky ingredients, and fewer calories. So it's definitely good for you, especially if it gets you to eat more fresh vegetables! This creamy balsamic dressing is sure to become a kitchen staple.
What is balsamic vinaigrette dressing made of?
You only need five ingredients:
Combine all of the ingredients, season with salt and pepper, and shake or stir it up in a bowl or Mason jar.
I actually love using this salad dressing shaker! It's one of my favorite kitchen gadgets. I make a batch of homemade salad dressing at least once a week.
Is there egg in balsamic vinaigrette?
A basic balsamic vinaigrette contains oil, vinegar, mustard, and seasonings, so there is no egg in it. However, to make a creamy balsamic dressing, many recipes do contain an egg or egg yolk. This can be a concern for people with an egg allergy or who are concerned about eating raw eggs due to salmonella. So this recipe uses Greek yogurt for that creamy texture instead of egg. Therefore, it does not contain any eggs.
Do you have to refrigerate balsamic vinaigrette dressing?
Because this recipe contains dairy, you do have to store it in the refrigerator. So while you can whisk it together in a bowl, I recommend using the shaker I mentioned or a mason jar. Shake up that dressing and keep it in the fridge to use for several days.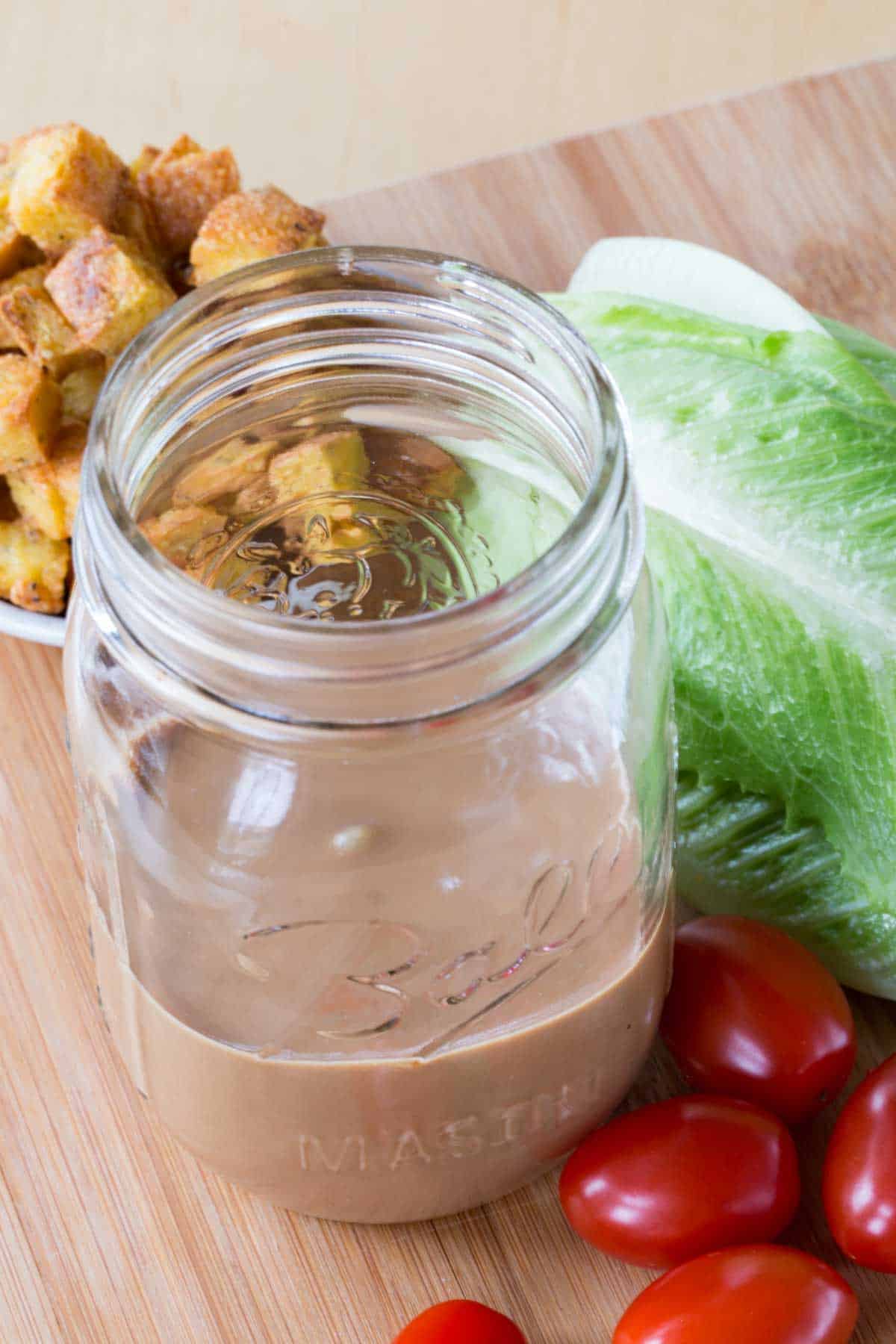 What do you serve with creamy balsamic dressing?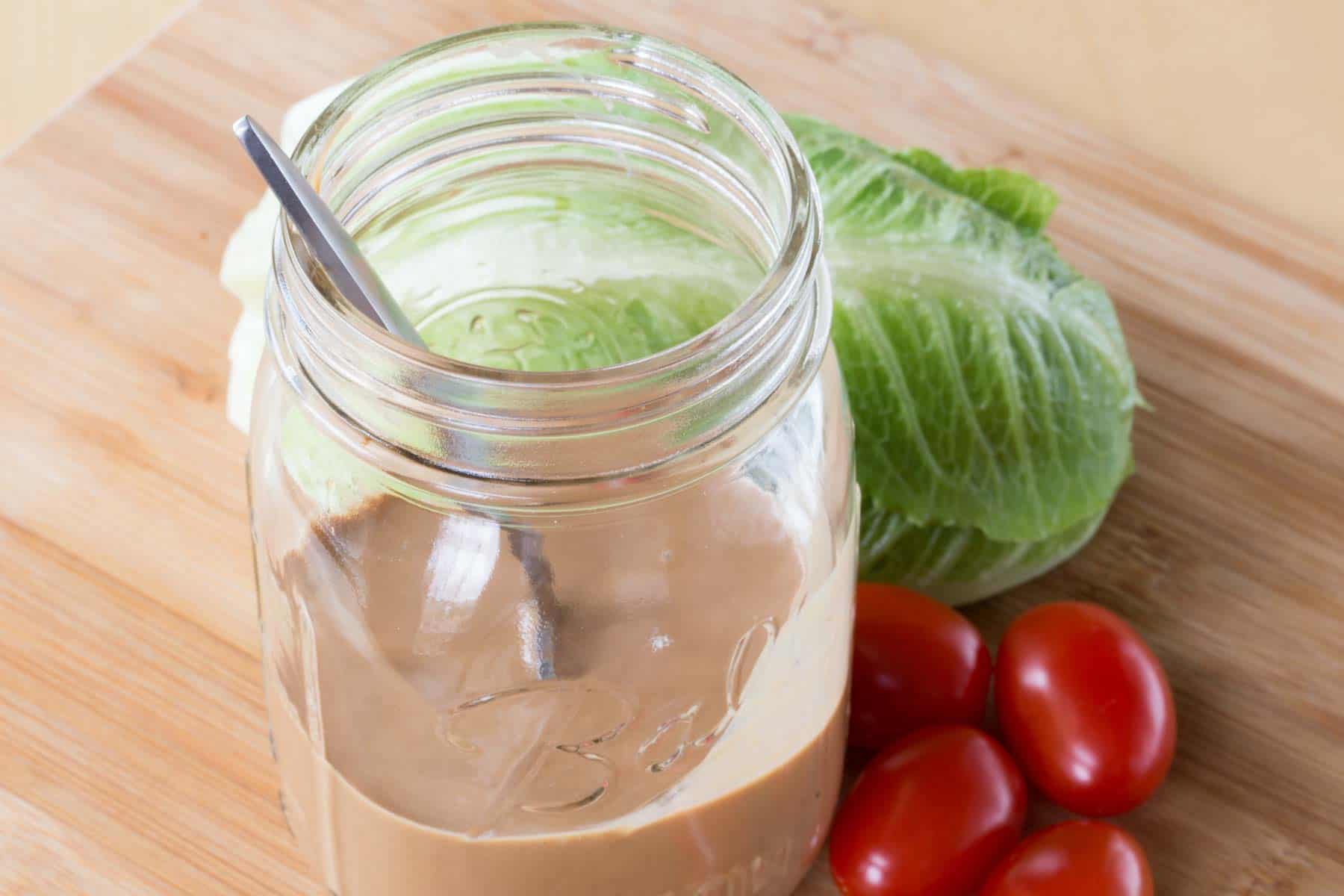 What else can you make with balsamic vinegar?
Looking for some more healthy salad dressing recipes?
Creamy Balsamic Vinaigrette Recipe
Shake it up in seconds and get ready to pour this healthy salad dressing over all your favorite salads. It even makes a delicious dip for veggies. This Greek yogurt dressing is rich and creamy, with the tangy sweetness of balsamic vinegar, making it the perfect complement for Mediterranean salads or a basic tossed side salad with Romaine, spinach, or mixed greens
Creamy Greek Yogurt Balsamic Vinaigrette Salad Dressing
Just five ingredients and a few seconds to have a tasty and creamy homemade salad dressing to drizzle over your favorite greens.
Ingredients
1/2

cup

plain Greek yogurt

1/4

cup

balsamic vinegar

2

Tablespoons

olive oil

1

Tablespoon

Dijon mustard

1

Tablespoon

honey

salt & pepper

to taste
Instructions
Combine all ingredients in a bowl or jar and shake or whisk until combined and smooth. Adjust seasoning with salt and pepper.
Nutrition Facts
Creamy Greek Yogurt Balsamic Vinaigrette Salad Dressing
Amount Per Serving (2 Tablespoons)
Calories 57
Calories from Fat 27
% Daily Value*
Fat 3g5%
Sodium 29mg1%
Potassium 8mg0%
Carbohydrates 4g1%
Protein 1g2%
Vitamin A 10IU0%
Calcium 19mg2%
Iron 0.1mg1%
* Percent Daily Values are based on a 2000 calorie diet.
Categories: