This post may contain affiliate links. Read my disclosure policy.
With minimal prep work and only 10 minutes of cooking time, crispy Air Fryer Chicken Nuggets are an easy gluten-free dinner, 100% kid-approved! This recipe for tasty and healthy nuggets isn't just as good as fast food, it's so much better!
Healthy Homemade Chicken Nuggets
My homemade chicken nuggets are one of my best air fryer recipes. It's a family favorite, and we love having these easy and delicious, wholesome nuggets for weeknight meals or even as a snack. The recipe takes literal minutes in the air fryer! The result is the most flavorful and crispy gluten-free chicken nuggets that are, IMO, so much better than the fast food variety.
This recipe marinates the chicken in a Greek yogurt mixture, for chicken bites that are deliciously tender and juicy. Coated in gluten-free flour that's been seasoned to perfection, and air fried until golden and crispy, I'm convinced these are the best ever homemade chicken nuggets!
You can easily marinate the chicken pieces in advance, cook them when ready, and then serve them with homemade Honey BBQ Sauce or Homemade Ketchup for an easy, fuss-free dinner.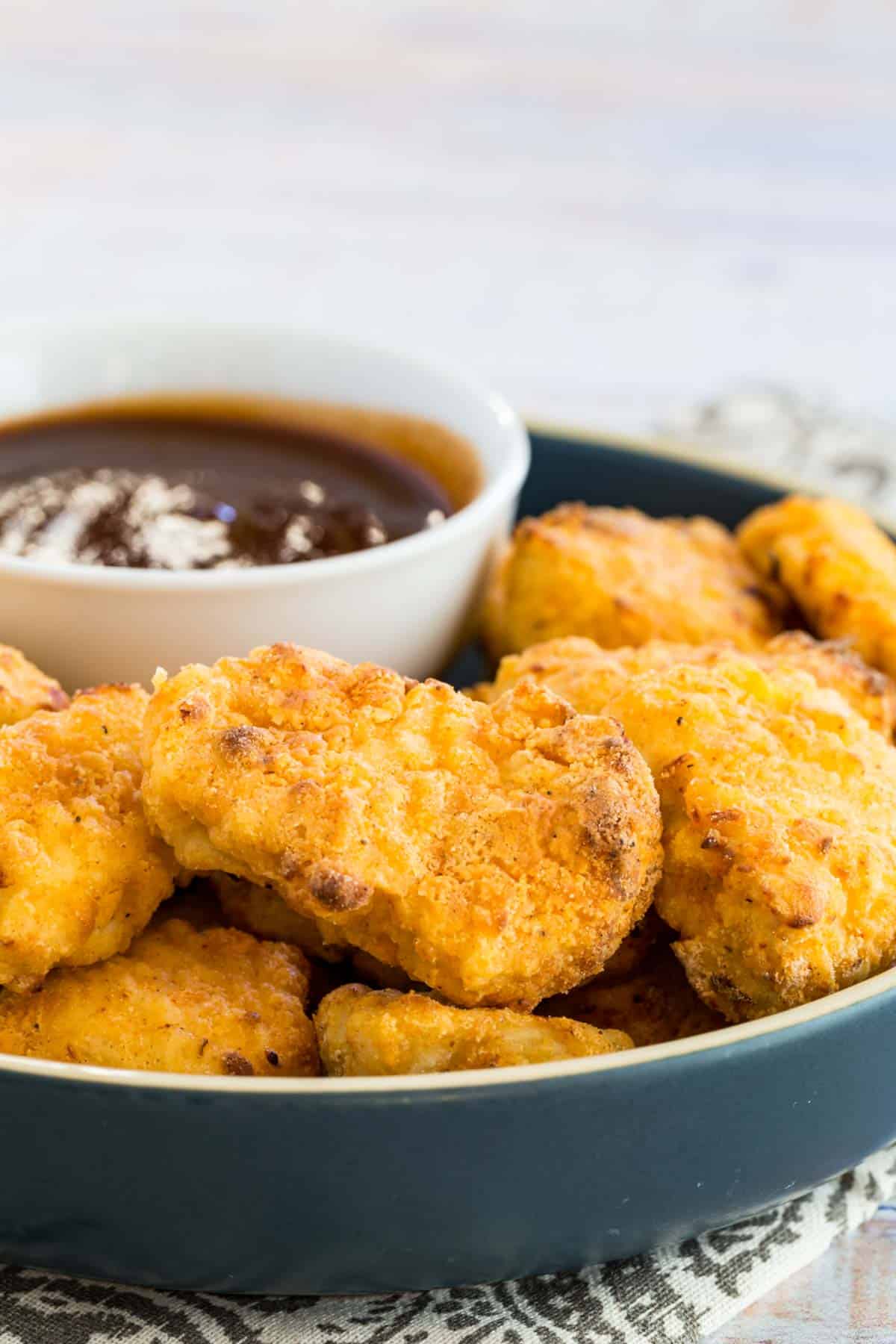 Why Should I Air Fry Chicken Nuggets?
This is by far my favorite method for cooking homemade chicken nuggets. Here are the reasons air frying is just so great for this recipe:
Healthier chicken nuggets. Preparing your homemade chicken nuggets in an air fryer allows for the best, crispy nuggets with much less grease than deep frying.
Easy meals, any time. Air fryer nuggets are easy to prep, and crisp up perfectly in a matter of minutes for a quick and easy dinner.
Loved by the whole family. Everyones loves this recipe. Chicken nuggets are a kid-friendly favorite, and the healthier ingredients are loved by adults as well!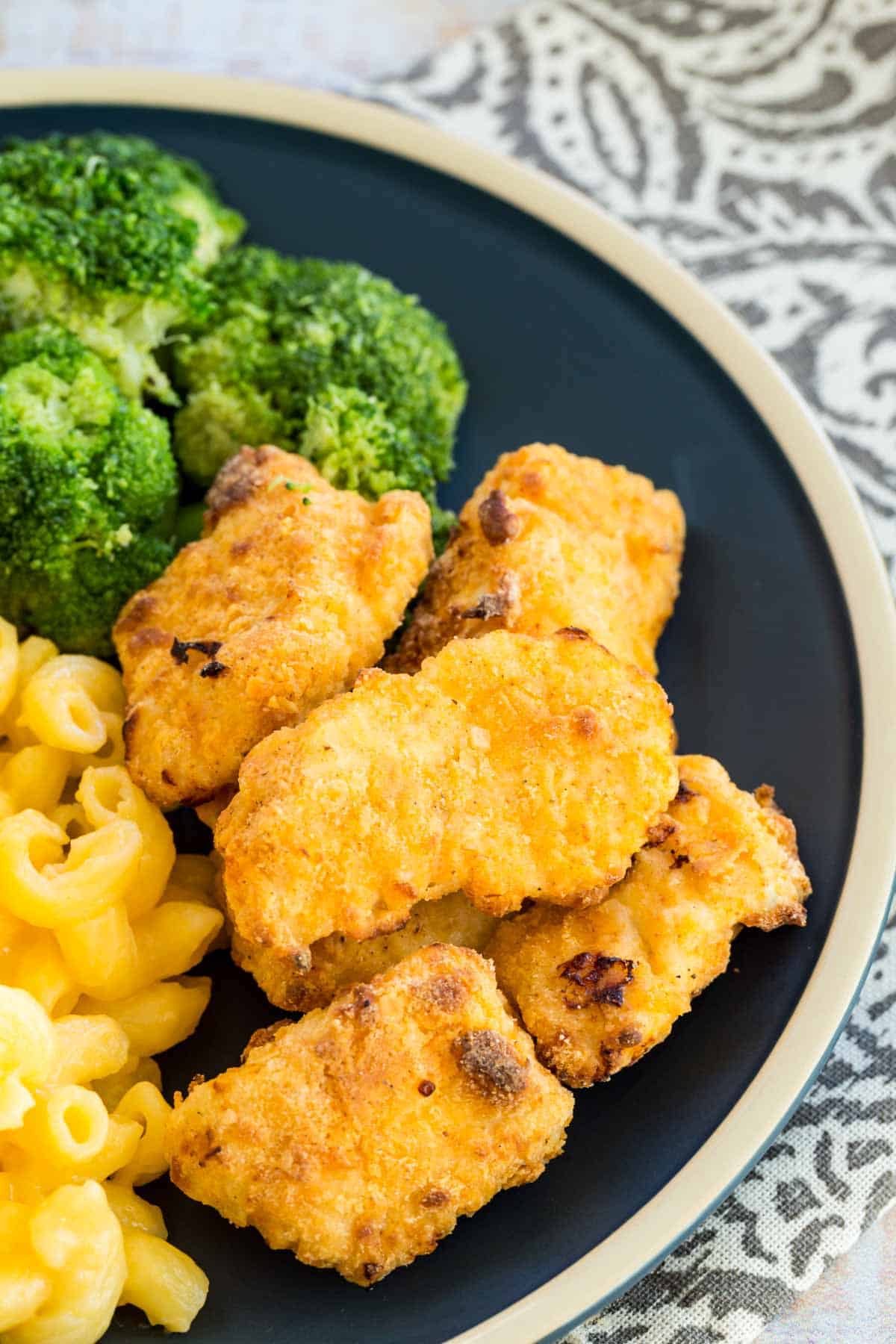 What You'll Need
Chicken Breasts: Boneless, skinless chicken breasts, cut into bite-sized chunks.
Greek Yogurt: I marinate the chicken pieces in a mixture of plain Greek yogurt and milk. The lactic acid really helps tenderize the meat for nuggets that are crispy on the outside and juicy on the inside.
Milk: Combined with the Greek yogurt for the marinade.
Flour: Gluten free, all-purpose or 1-to-1 flour.
Seasoning Spices: Smoked paprika, garlic powder, and onion powder are added to the flour for a flavorful chicken coating.
Egg: Dipping the marinated chicken into an egg wash before tossing in flour helps with an even coating.
Salt & Pepper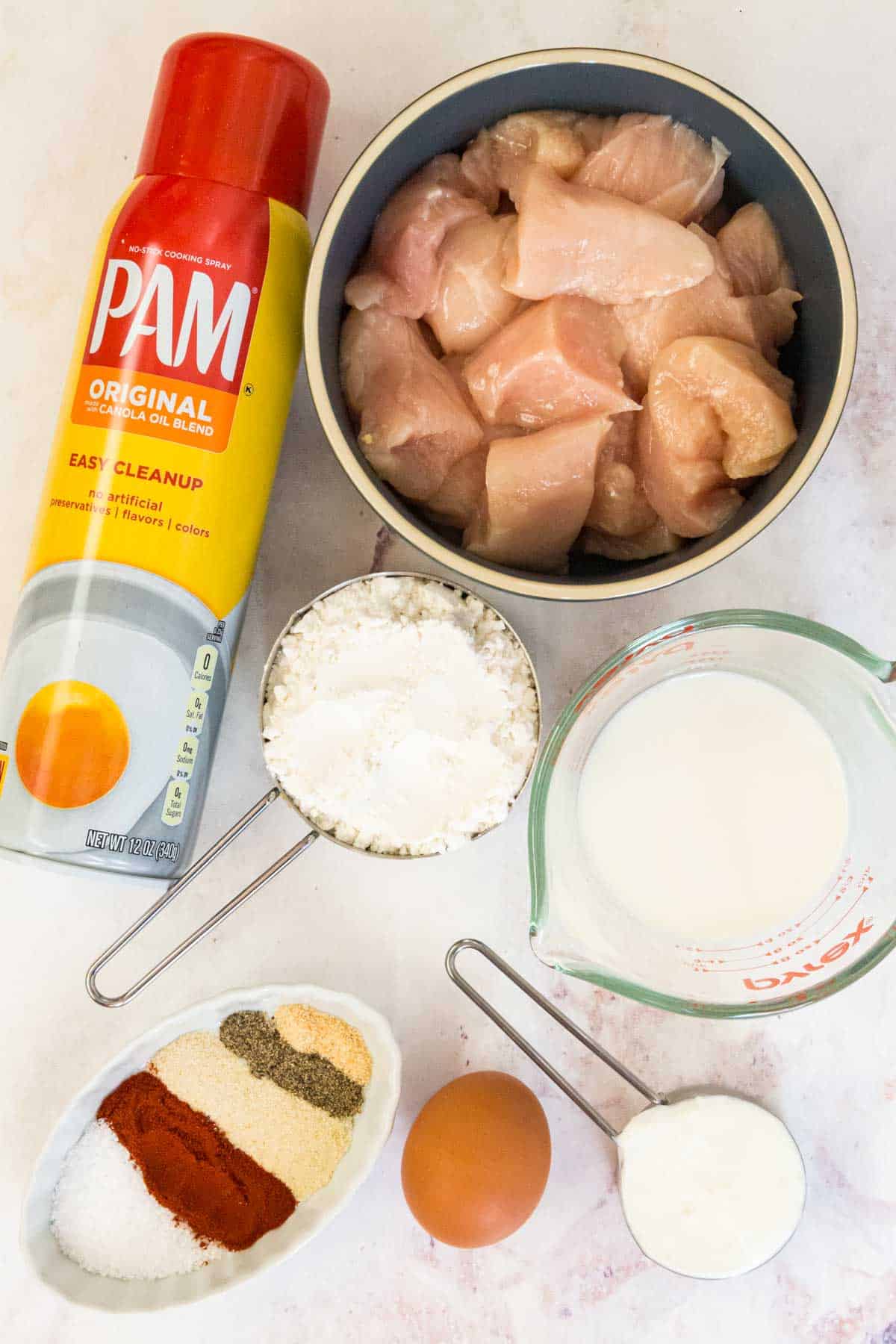 How to Make Gluten Free Chicken Nuggets in the Air Fryer
Making chicken nuggets in the air fryer is the easiest way to achieve the most tender and juicy, crispy nuggets! Here are the steps for this simple air fryer recipe:
Marinade the Chicken: Marinade the chunks of chicken breast in a mixture of milk and Greek yogurt for about half an hour in the fridge.
Prep the Chicken: Mix together the gluten-free flour and seasoning spices in a shallow dish. In a separate bowl, beat the egg, then add the marinated chicken into the egg wash and roll to coat.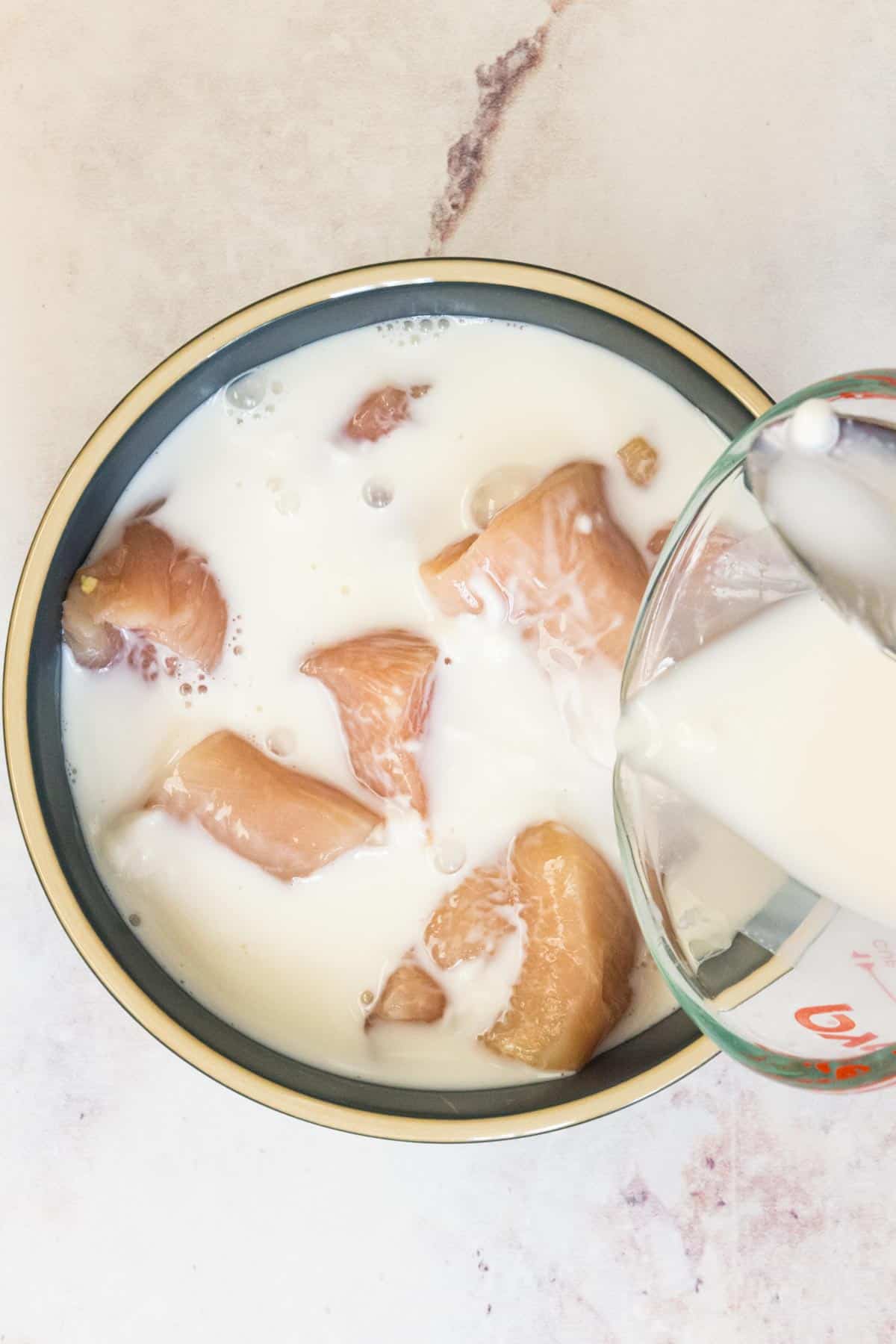 Coat the Chicken: Transfer the chicken to the flour mixture, then place the coated pieces onto a baking sheet, spaced out in a single layer. Spray both sides of the chicken pieces with oil.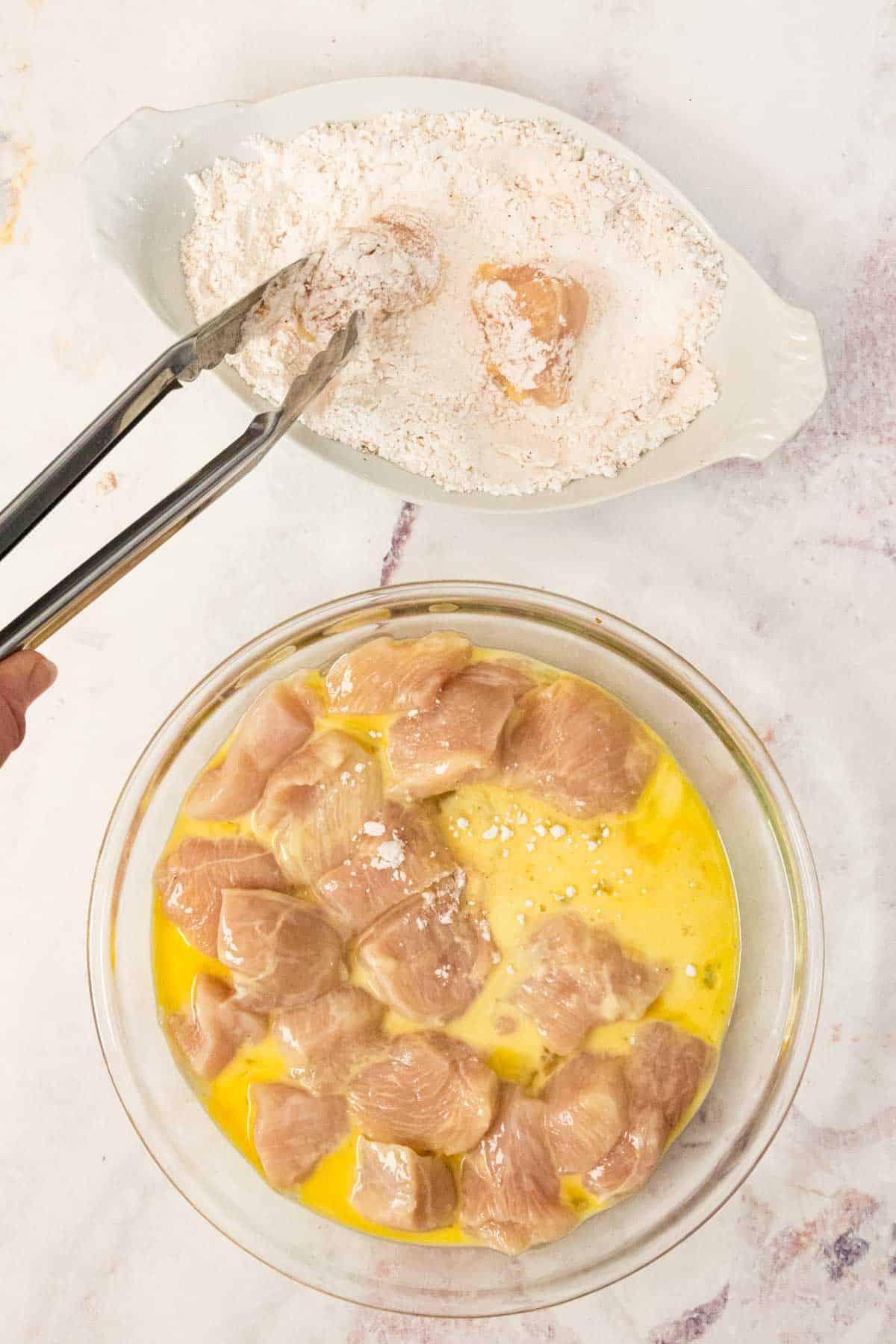 Cook the Chicken: Place the chicken nuggets into the basket of a preheated air fryer and cook the chicken at 360°F for about 4 minutes. Flip and then spray the nuggets with cooking oil, and cook for another 4 minutes.
Give a Final Fry: Increase the temperature to 400°F during the last 2 minutes of cooking time, to really get your homemade nuggets nice and crispy. The overall cooking time will depend on your fryer and size of the nuggets, etc. but use a meat thermometer if you have one to check the internal temperature reaches 165°F.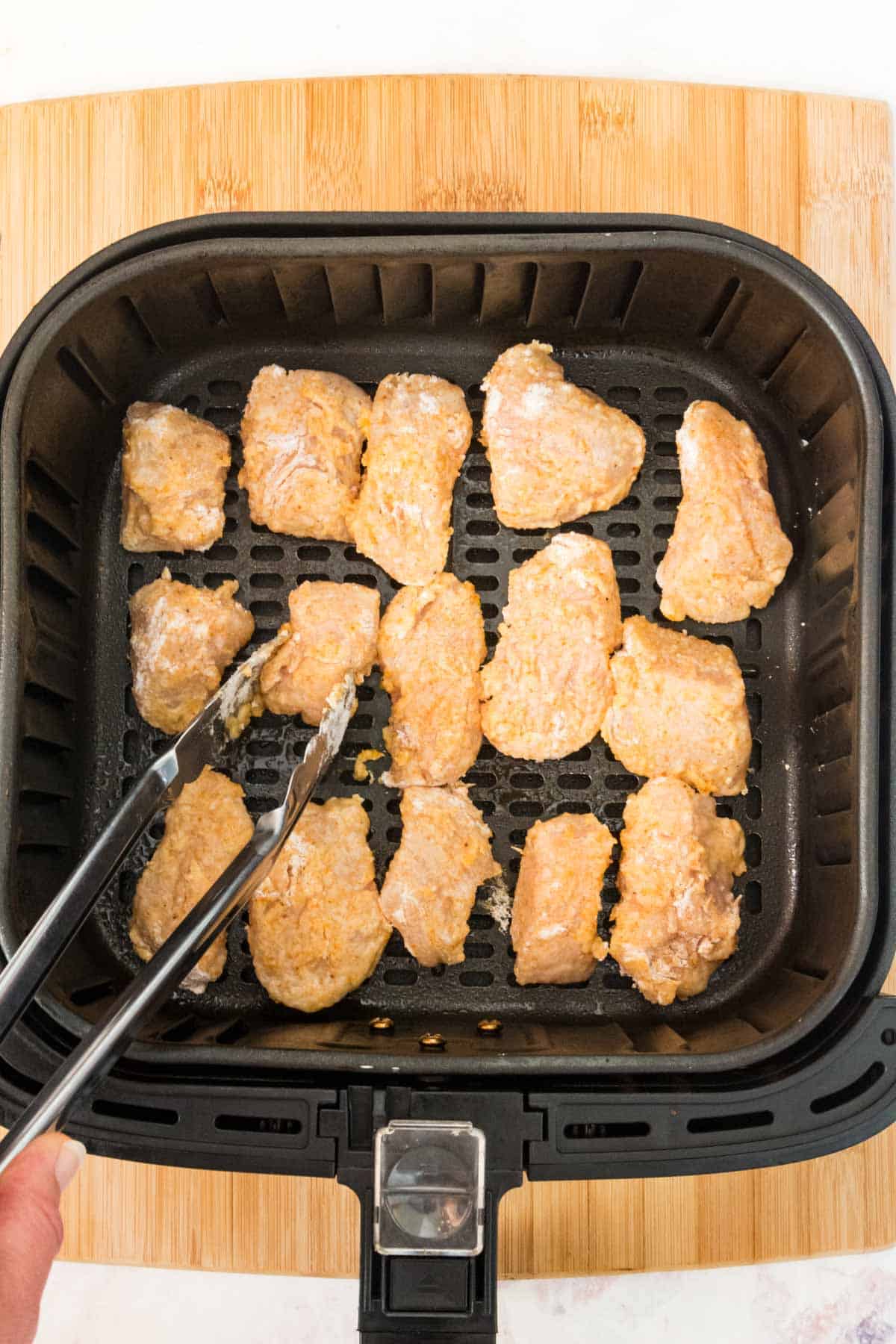 Serve: Remove your batches of nuggets from the air fryer and serve as a main or side. See my serving suggestions below for ideas!
Can I Bake Them Instead?
No air fryer? This chicken recipe can be adapted to the oven instead. Simply prepare the chicken nuggets as usual, then place them in a single layer on a baking sheet and bake at 400°F for about 15-20 minutes, flipping halfway through.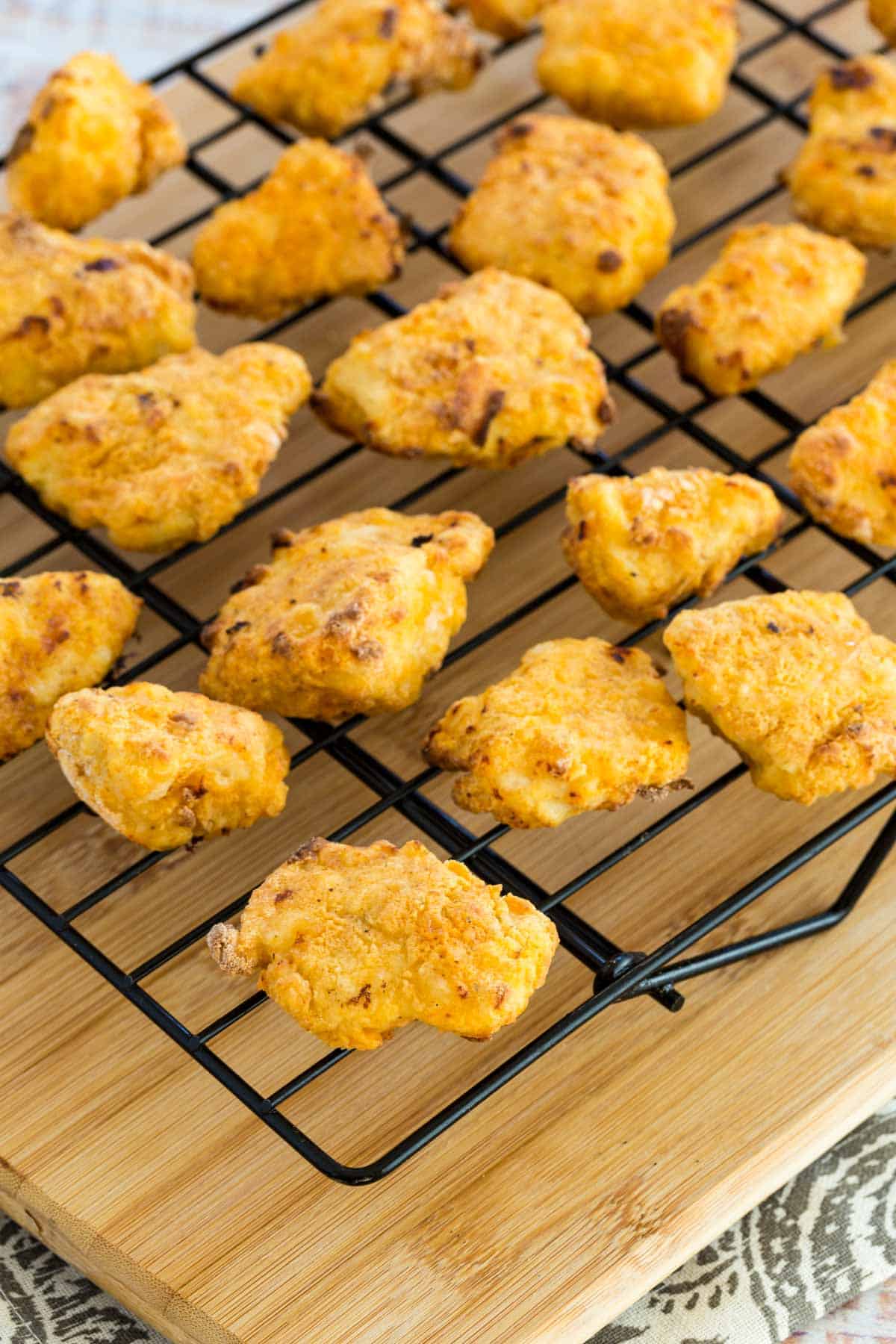 Tips for Success
For Best Results when Cooking: Cook the air fryer nuggets in two batches if needed, making sure each batch is cooked in a single layer with little overlapping.
Season the Flour Mixture: You can get creative when it comes to boosting the flavor of your flour coating! Mix a teaspoon of cayenne pepper or chili powder into the flour mixture for spicy chicken nuggets.
Cut Equal Sized Chunks: Chicken nuggets will air fry more evenly when they're similar in shape and size.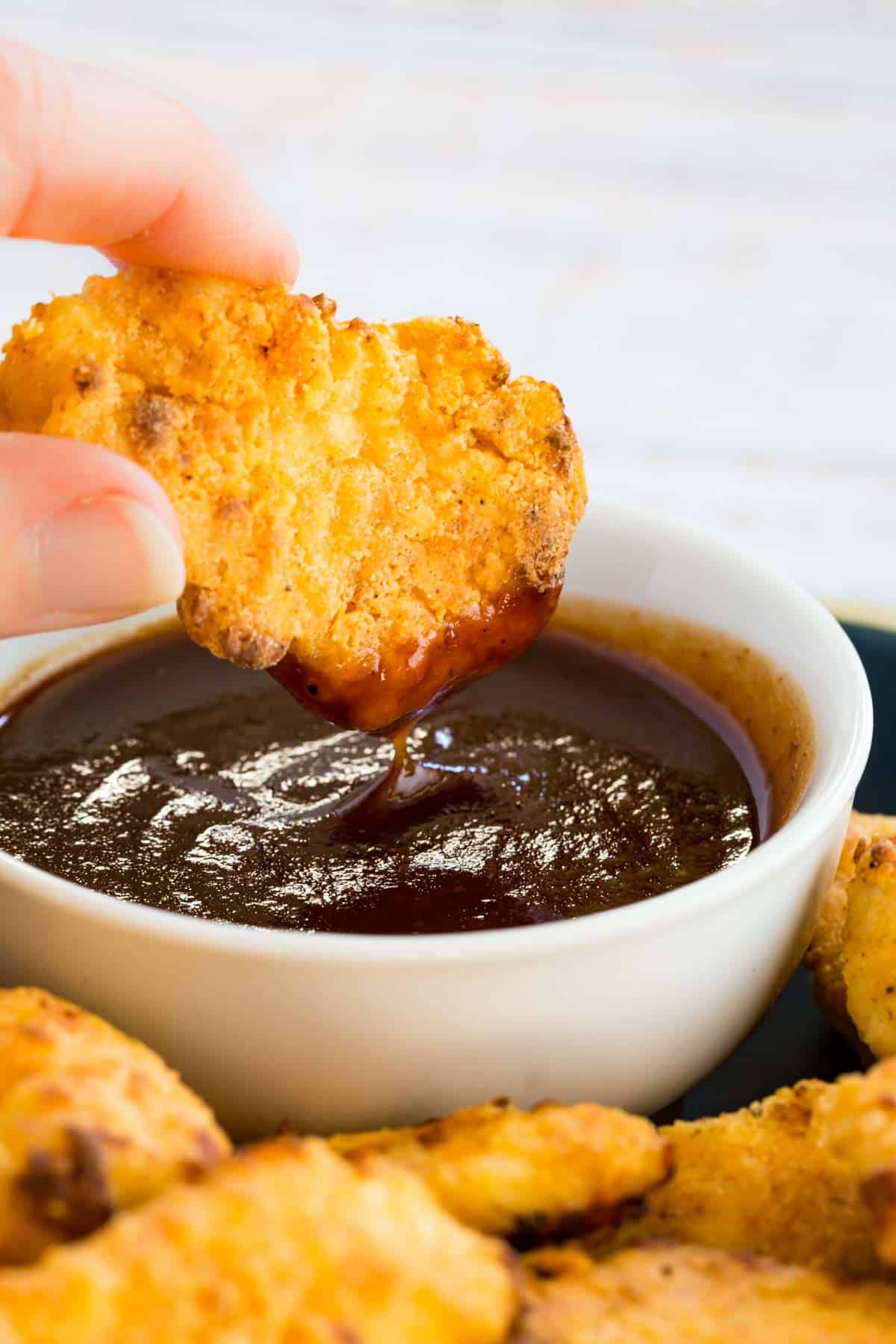 Serving Suggestions
Chicken nuggets are such a classic recipe, with endless ways to enjoy them! Serve these air fryer chicken nuggets for dinner, as a kid-friendly lunch, or after school snack.
When it comes to dipping, you can easily prepare your own tasty sauces right at home, too. Here are some of my family's favorite homemade dipping sauces:
Depending on the type of meal, you can accompany your homemade nuggets with so many great and tasty side dishes: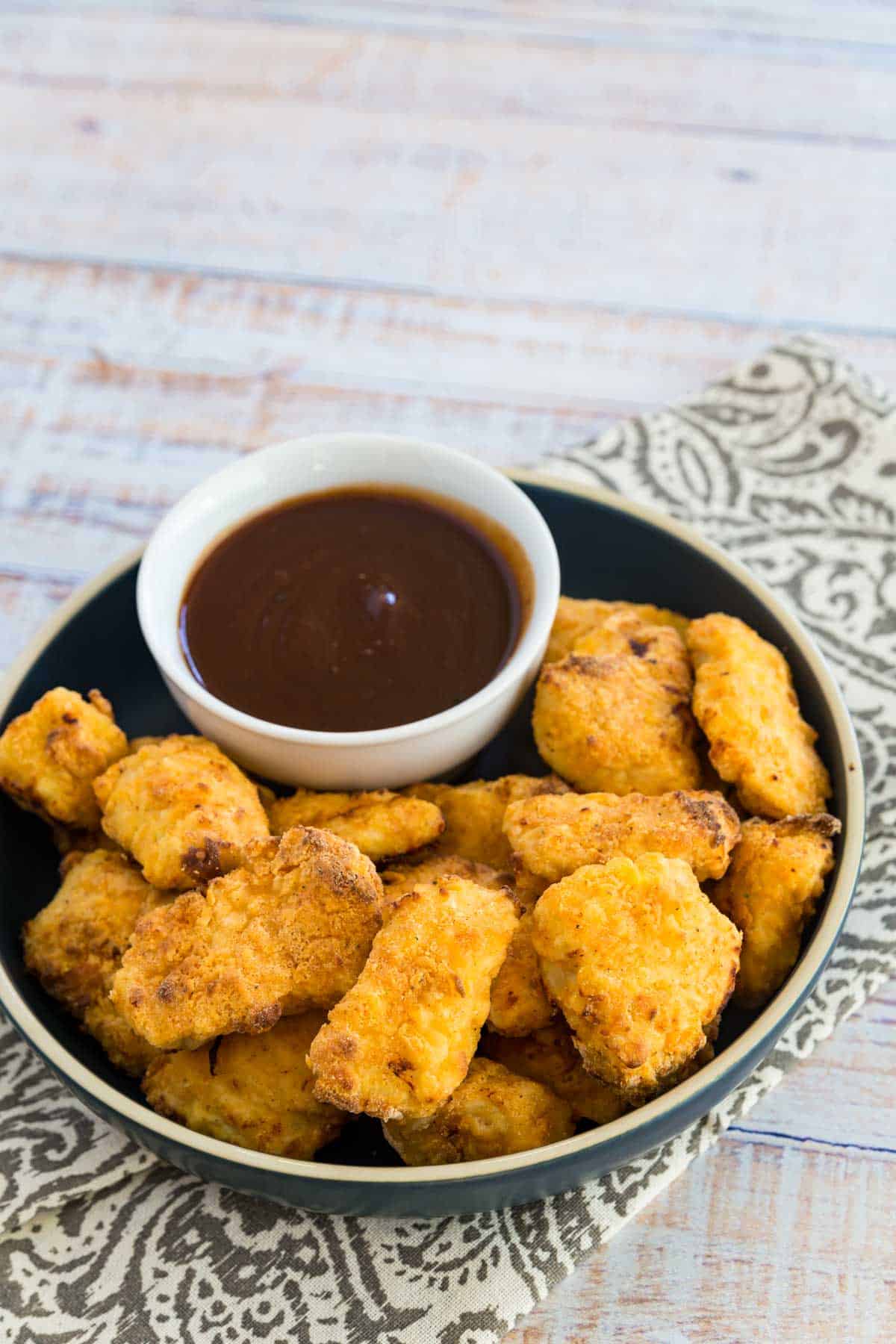 How to Store and Reheat Leftovers
Once they're completely cooled, store leftover chicken nuggets airtight in the fridge for 2-3 days.
Reheat chicken nuggets easily in the air fryer to return them to a beautiful and golden, crispy state. Just a few minutes at 400°F, until heated through, will do the trick.
You can also reheat these nuggets in a 400 degree oven for a few minutes until they're crisped up and warm again.
Freeze These for Longer Storage!
After cooking, allow the nuggets to cool completely and then store them airtight in the freezer for up to 3 months. Thaw the frozen chicken nuggets in the fridge, then follow the reheating directions above until they're warmed through!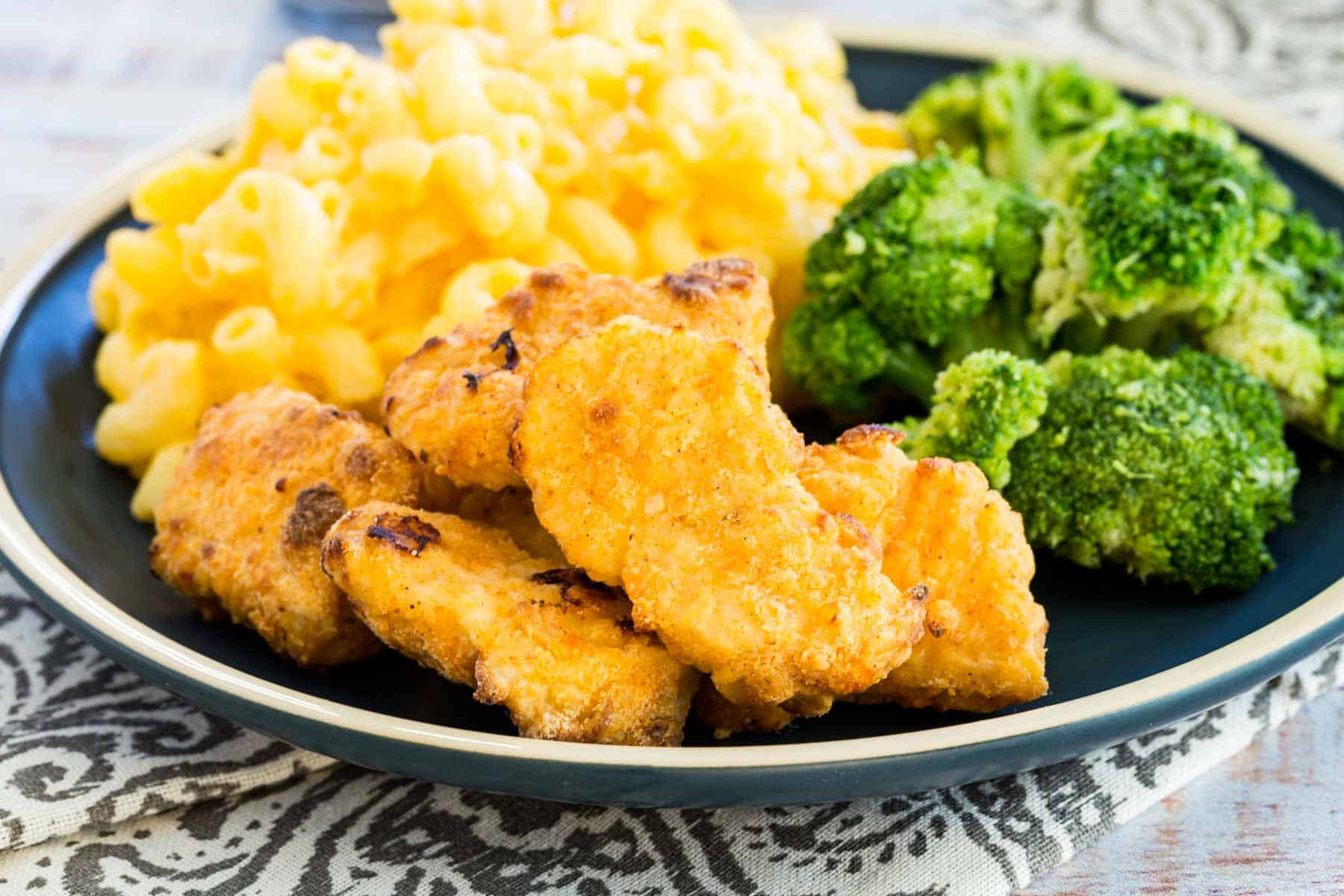 My Favorite Air Fryer
I use and recommend the COSORI Air Fryer Max XL. It is large enough to fit plenty of food inside, so you can give the chicken nuggets plenty of space and you still can get them all done in two batches. And I like the basket models because it is easy to shake everything around part of the way through the cooking time so that it all cooks evenly.
More Air Fryer Dishes to Try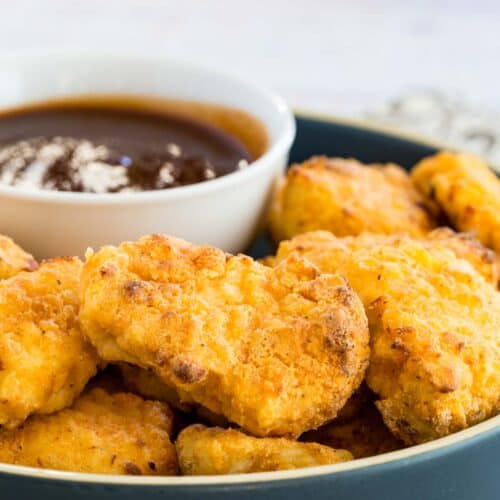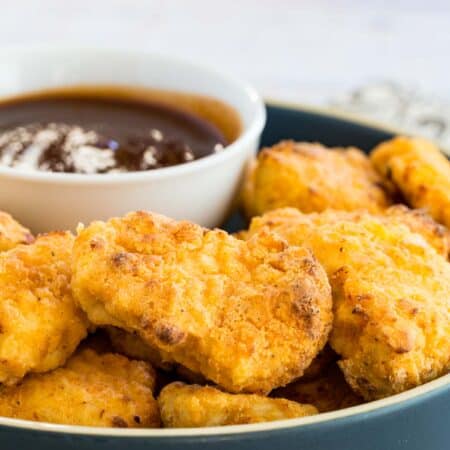 Gluten Free Air Fryer Chicken Nuggets
With only 10 minutes of cooking time and minimal prep, crispy Air Fryer Chicken Nuggets are an easy, gluten-free and healthy meal idea for the whole family!
Ingredients
1

lb

boneless, skinless chicken breasts

cut into 1-1 ½ inch chunks

1/2

cup

milk

1/4

cup

plain Greek yogurt

3/4

cup

gluten free all-purpose flour

or 1-to-1 flour

1

tsp

Kosher salt

1/4

tsp

ground black pepper

1

tsp

smoked paprika

1/4

tsp

garlic powder

1/2

tsp

onion powder

1

egg

cooking oil

(Oil in a mister bottle for spraying or cooking spray)
Instructions
Stir the ½ cup milk and Greek yogurt together in a bowl or ziplock bag. Add the chicken pieces and marinate in the refrigerator for 20-30 minutes.

Add gluten free flour, salt, pepper, paprika, garlic powder, and onion powder to a shallow bowl or dish and stir together. Set aside.

In a separate bowl, lightly beat the egg. Remove chicken from the marinade and add to the bowl with the egg mixture and mix around to coat the chicken completely

Remove a piece of chicken from the egg mixture and let any excess drip off, then coat in flour mixture. Place on a baking sheet. Repeat with the remaining chicken, spreading them out in a single layer separated so they don't stick together. Spray the tops of the chicken thoroughly with oil or cooking spray. Flip and spray them again.

Preheat air fryer to 360°F. Once it is preheated, coat the basket with cooking spray. Place the chicken pieces in the bottom of the air fryer basket. Cook them in two batches if necessary.

Cook in the air fryer at 360°F for 4 minutes. Open the air fryer, flip chicken pieces, and spray the tops again with cooking spray. Cook in the air fryer at 360°F for another 4 minutes

Increase air fryer temperature to 400°F and cook for 2 more minutes, or until crispy and cooked through to an internal temperature of 165°F. (Exact cooking time will vary depending on your air fryer, the size of your chicken nuggets, etc.)
Nutrition Facts
Gluten Free Air Fryer Chicken Nuggets
Amount Per Serving
Calories 249
Calories from Fat 54
% Daily Value*
Fat 6g9%
Cholesterol 117mg39%
Sodium 749mg31%
Potassium 494mg14%
Carbohydrates 19g6%
Protein 30g60%
Vitamin A 379IU8%
Vitamin C 1mg1%
Calcium 82mg8%
Iron 2mg11%
* Percent Daily Values are based on a 2000 calorie diet.
Categories: