This post may contain affiliate links. Read my disclosure policy.
This Easy Falafel recipe brings the taste of the Mediterranean into your kitchen with only six ingredients. Healthier than the usual street food because it's made in your air fryer, plus it is naturally gluten free and vegan without any special ingredients.
What makes this recipe so simple? Well, besides the fact that you aren't working with a pot full of hot oil? First, it starts with canned chickpeas. And you don't even need a food processor. Everything is mashed up in a plastic baggie, making cleanup a breeze.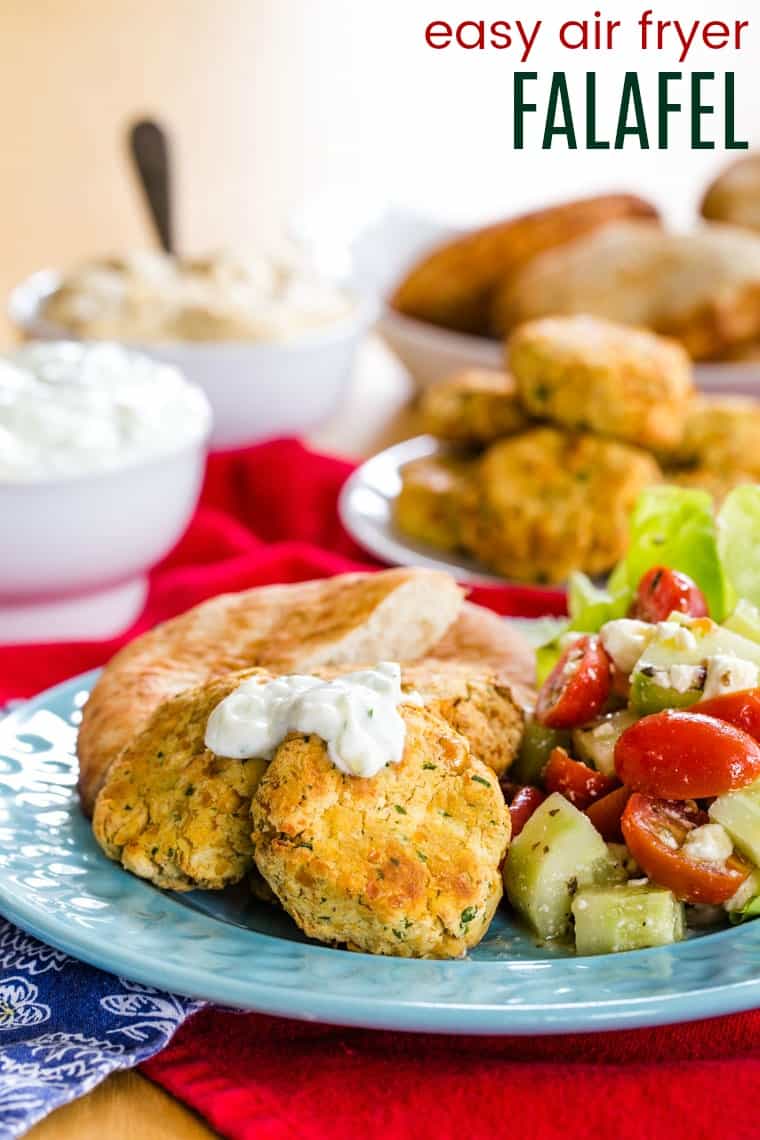 SO. MANY. DISHES.
I know as a food blogger I have the unique situation of frequently cooking seven dishes in one day. So that means lots of pots and pans and such. Not to mention all the little bowls to hold different ingredients if I am shooting a video. And plating these dishes for photos requires even more dishes.
Then we have to, you know, eat at some point. So, ahem, more dishes.
But I have many days where I'm not cooking for the blog. And even then the dishes certainly pile up. What is it with these kids and them wanting three meals a day plus snacks? Seriously.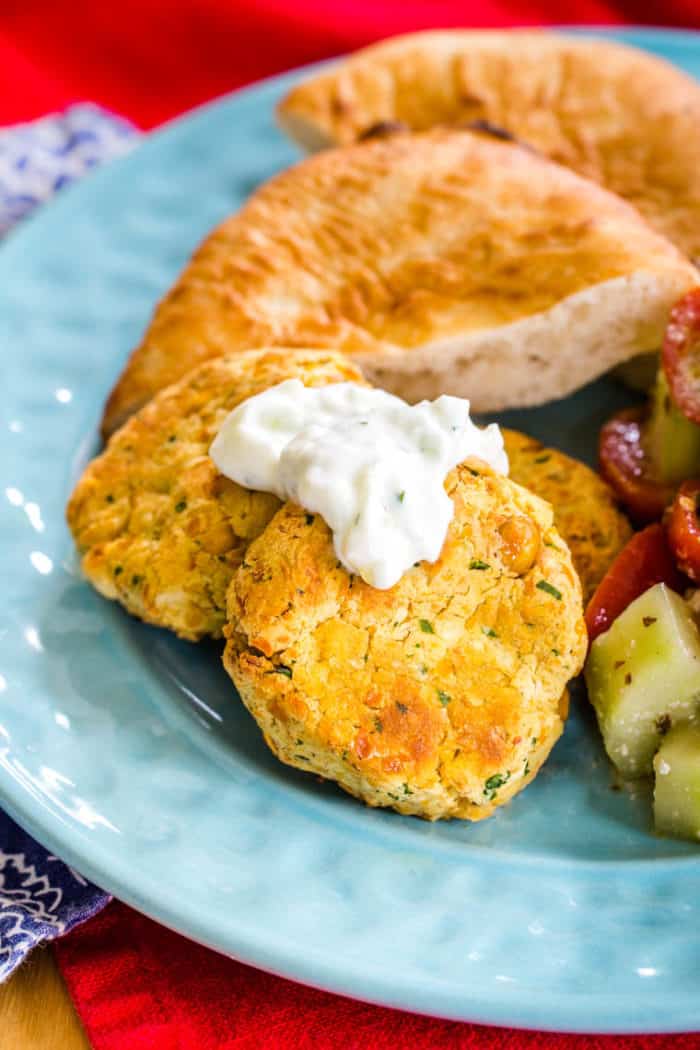 That's why the Healthy Eating One-Pot Cookbook by Lauren Keating from the blog Healthy Delicious is such a genius concept.
This cookbook is filled with 101 meals that can all be prepared in one cooking vessel. That's right, she doesn't just limit is to a pot. There are recipes for your Instant Pot, sheet pan dinners, skillet meals, and dishes to cook in a Dutch oven.
That means simple, wholesome meals that are easy to make and even easier to clean up. It's the perfect solution for busy families.
The book starts with a chapter on making healthy choices, plus some pantry and refrigerator staples to make healthy eating easy. Then it dives right into the recipes. There is a chapter for breakfast, as well as desserts and snacks. Plus there are several chapters on main dishes, covering vegetarian dishes, chicken, meat, and seafood.
This means everyone can find recipes their families will enjoy. In fact, I think Lauren's Sheet Pan BBQ Chicken is going to become a regular staple in my house. My kids were devouring the accompanying Mango Salad.
For my gluten free readers, you will have to skip or do some swaps for the Apple Cinnamon Buns, pasta dishes, and some sauces thickened with flour.
But there are still plenty of recipes to choose from, like Sheet Pan Bacon and Eggs, Shrimp and Sausage Paella, and Taco Casserole! And, of course, this gluten free falafel.
Air Fryer Falafel
Falafel is delicious for a vegetarian dinner. But since it is typically fried, it's not usually all that healthy. Which is really a shame since its main ingredient, chickpeas, are such a great source of fiber and protein. Plus not everyone is comfortable with frying in hot oil at home.
That's where the air fryer comes in.
If you haven't picked up an air fryer yet, I highly suggest it. My kids love that we can have French fries and sweet potato fries fairly often. I can make crispy "roasted" cauliflower starting with a bag of frozen veggies without turning on my oven. And even chicken fingers and zucchini fritters are totally guilt-free.
I have the Cosori 5.8 Quart Air Fryer and I love that its size means I can cook enough for my family of four at once. I was even able to cook all sixteen falafel in this air fryer in one batch.
What are the ingredients for falafel?
Falafel is made from chickpeas, usually combined with onions, garlic, parsley, or other seasonings for flavor. Some recipes call for all-purpose or chickpea flour to bind the falafel. However, this recipe is simply made from canned chickpeas that are mashed and formed into patties before cooking.
All you need to make this air fryer falafel is:
Canned chickpeas
Onion
Garlic
Fresh parsley
Cumin
Olive oil
How do you make Falafel in your air fryer?
Drain your canned chickpeas.
Combine chickpeas, grated onion and garlic, parsley, cumin, and olive oil in a large plastic storage bag, and seal.
Mash the contents of the bag into a thick paste.
Form the mixture into balls and flatten into patties.
Coat the falafel with olive oil cooking spray.
Preheat your air fryer to 370°F according to the instructions.
Fry for six minutes per side.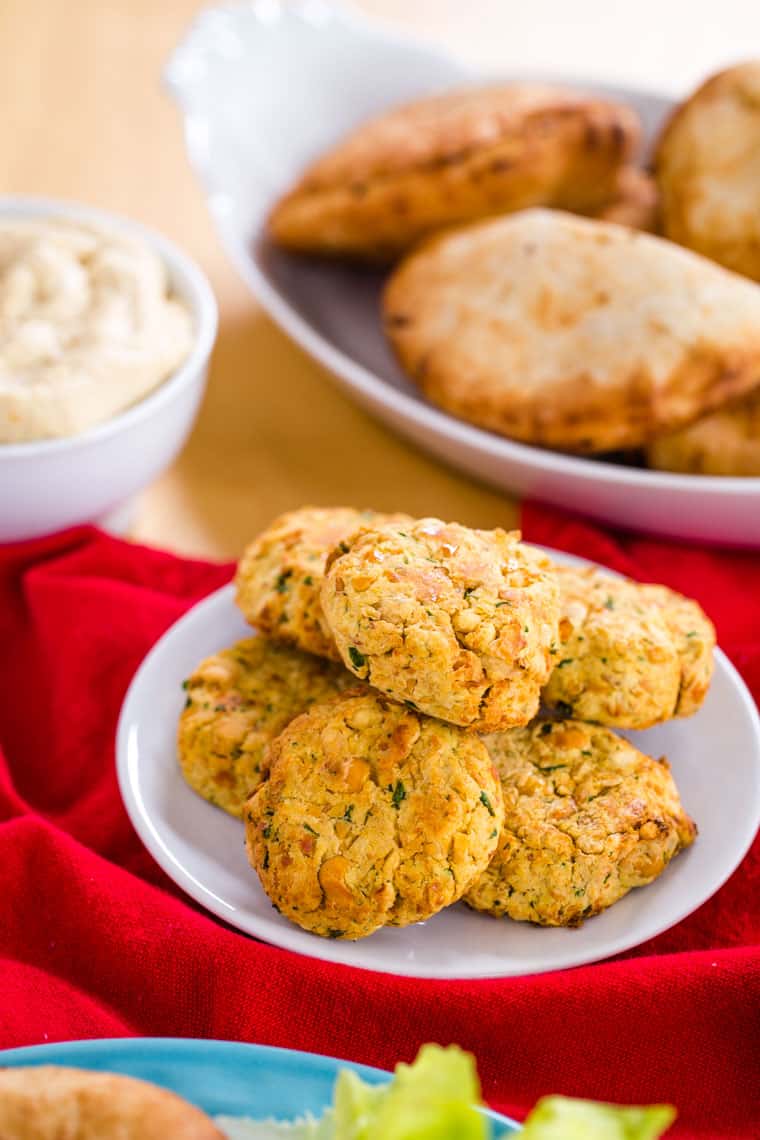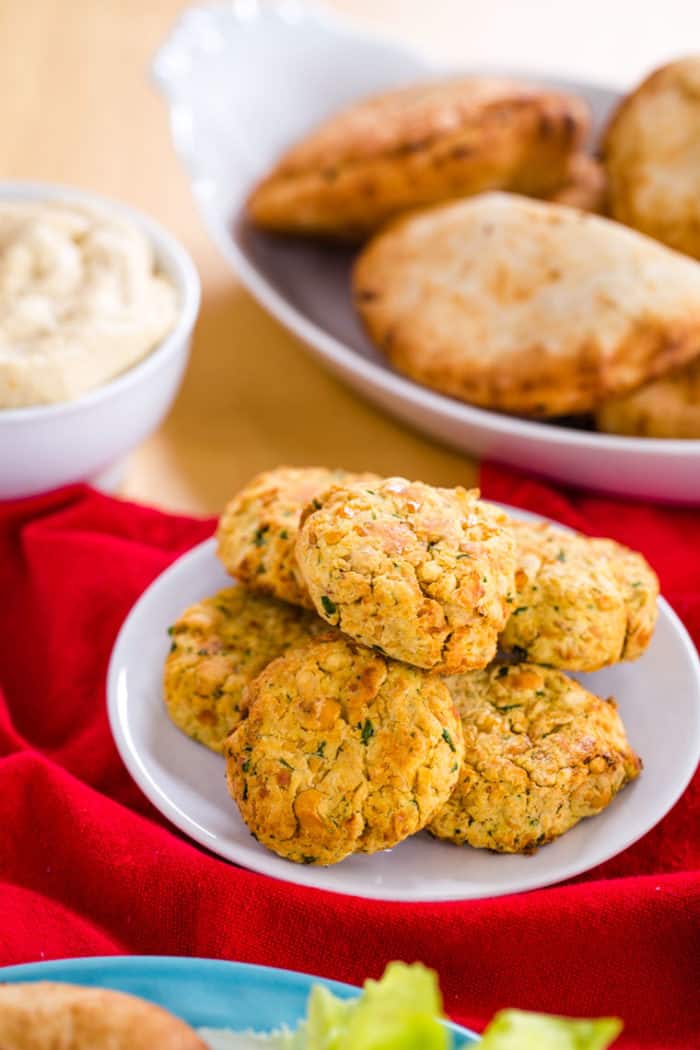 Does falafel have gluten?
If you are buying or ordering falafel, you'll need to check if it contains wheat flour. But if you are making it at home, there are plenty of recipes that just use chickpea flour. Or, even better, ones like this that just use mashed canned chickpeas. No special ingredients are needed to make this gluten free falafel recipe!
Of course, if you are avoiding gluten you won't want to have your falafel on a traditional pita.
What sauce is good with falafel?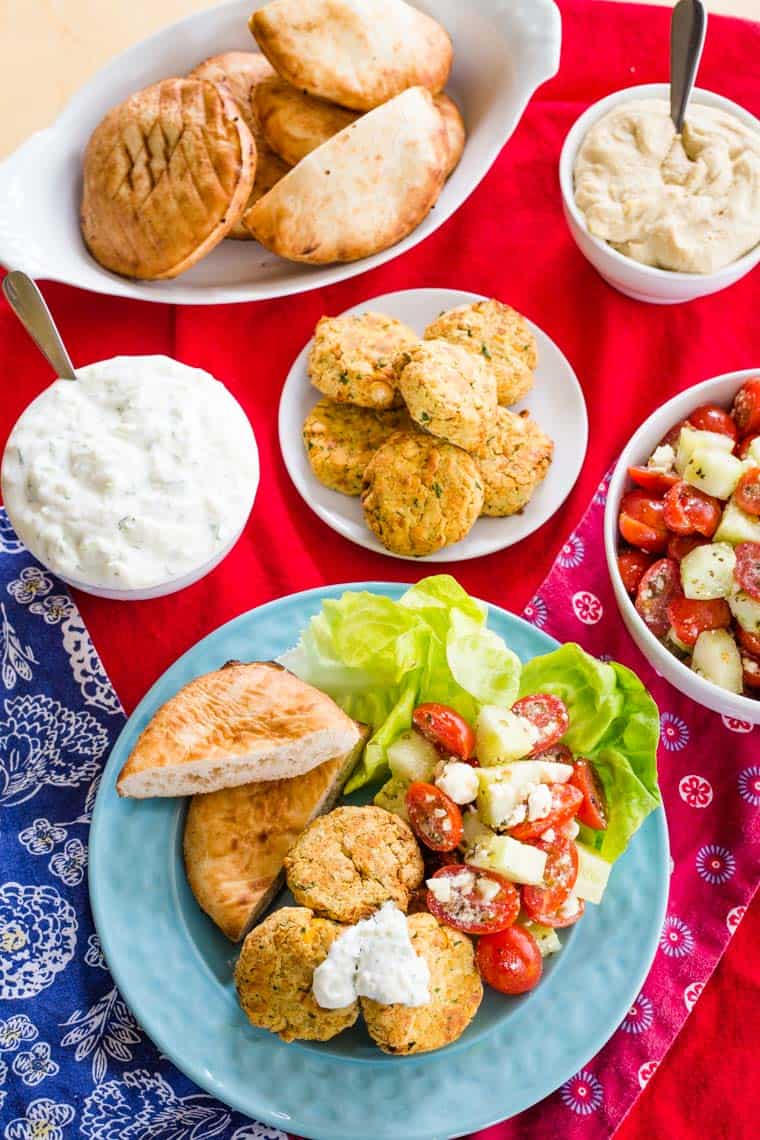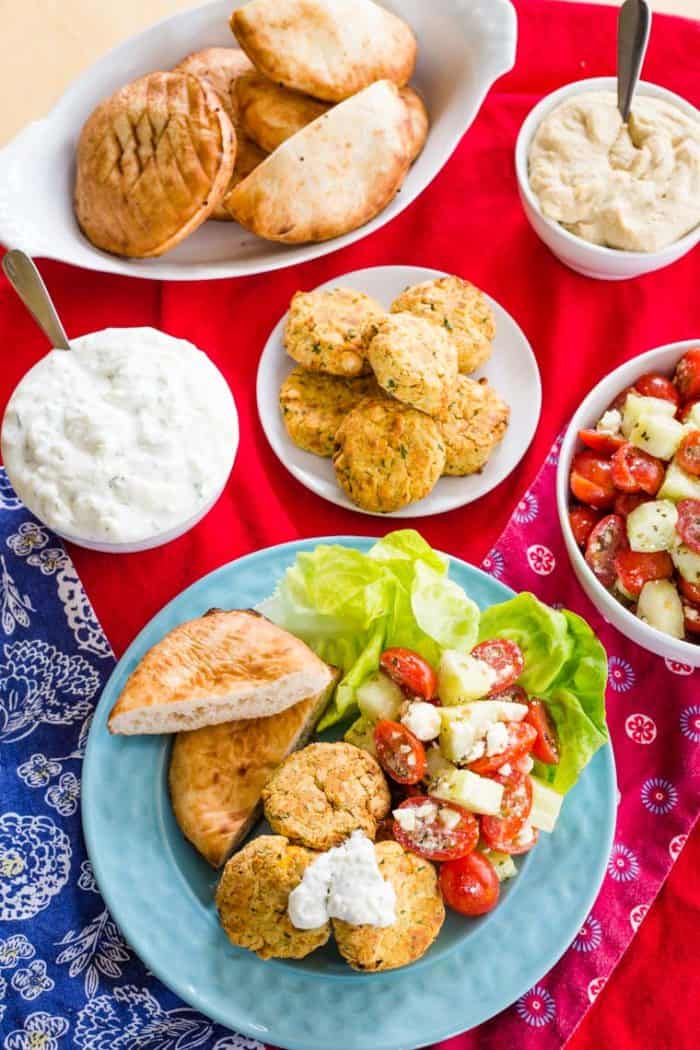 For more yumminess from me and my foodie friends, keep up with me on…
Or sign up to have Cupcakes & Kale Chips delivered straight to your Inbox!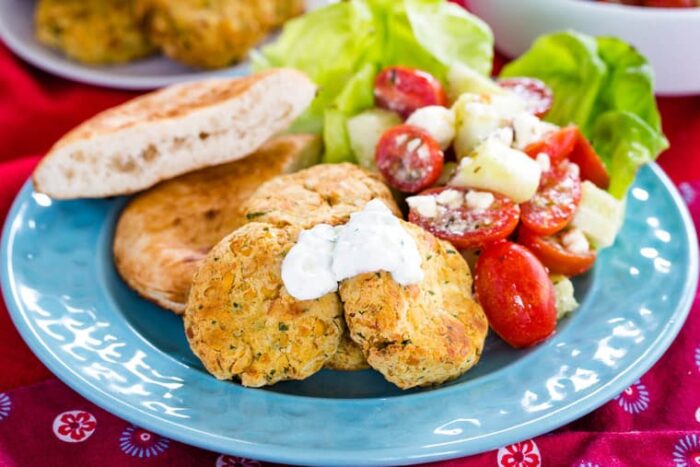 What else can you make with canned chickpeas?
Looking for more healthy Mediterranean dishes?
Easy Falafel Recipe
Forget frying in hot oil and use your air fryer to make healthy gluten free falafel. You only need six ingredients, and cleanup is a breeze making it quick and easy to make even on busy weeknights. Perfect for a Meatless Monday dinner or even an appetizer or snack.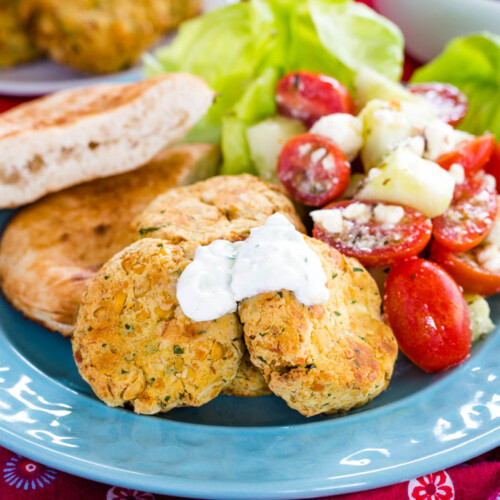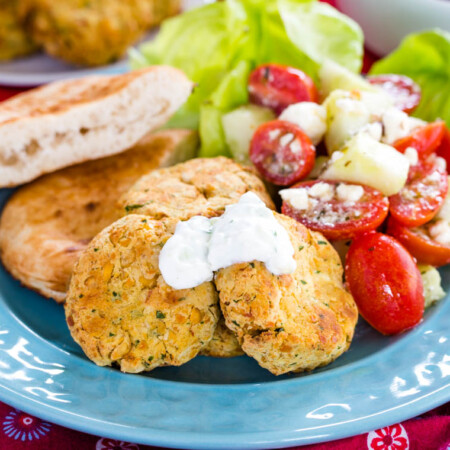 Easy Falafel
A healthier version of the Mediterranean street food is made in your air fryer with only six ingredients! Plus it's gluten free and vegan. Serve them on a salad or tucked into pita.
Ingredients
Two

15 oz.

cans chickpeas,

drained

1

onion,

grated

2

garlic cloves,

grated

1/4

cup

fresh parsley,

chopped

1

teaspoon

ground cumin

1

teaspoon

extra virgin olive oil

Olive oil cooking spray for preparing the falafel
Instructions
In a large resealable plastic bag, combine the chickpeas, onion, garlic, parsley, and cumin. Seal the bag and massage the contents with your hands to mash the chickpeas and combine everything into a thick paste.

Form the mixture into 16 tablespoon-size balls. Place them on your work surface and flatten slightly. Coat with olive oil cooking spray.

Working in batches as needed, place the patties into your air fryer's basket in a single layer. Fry at 370°F for 6 minutes per side.

Stuff into a pita with tomato and cucumber, or serve with hummus or tzatziki for dipping or serve on top of a salad with crumbled feta and Greek dressing,
Nutrition Facts
Easy Falafel
Amount Per Serving (4 falafel)
Calories 212
Calories from Fat 45
% Daily Value*
Fat 5g8%
Sodium 595mg25%
Potassium 376mg11%
Carbohydrates 32g11%
Protein 11g22%
Vitamin A 350IU7%
Vitamin C 7.7mg9%
Calcium 93mg9%
Iron 3.2mg18%
* Percent Daily Values are based on a 2000 calorie diet.
Categories:
Enjoy!