This post may contain affiliate links. Read my disclosure policy.
Ants on a Log is one of the all-time favorite kids snacks. And it can be healthy and super fun when you make them their own version of a charcuterie board. Inspired by the classic recipe, this kid-friendly snackplatter will be one of their favorite easy fruit and veggie snack ideas. Get the kiddos to help out in the kitchen and eat their vegetables!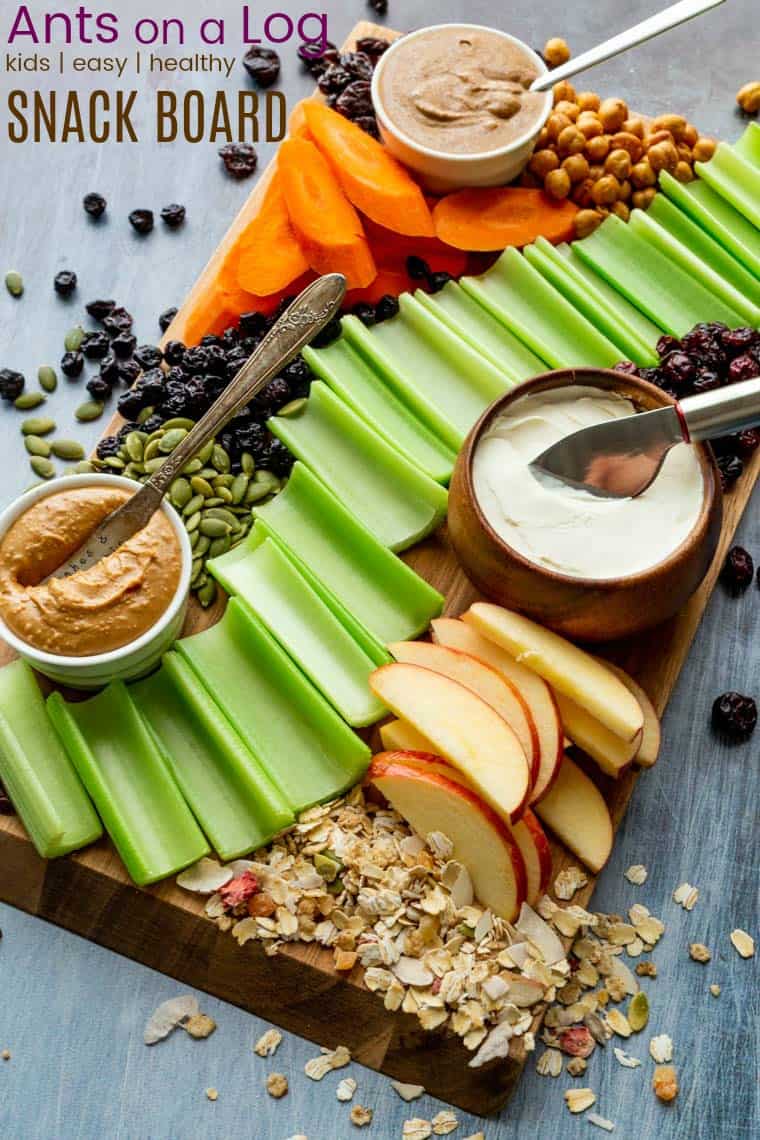 I missed the boat. As a kid, I pretty much wouldn't touch fruit and vegetables. Unless it was a banana, canned corn (which is technically a grain, not a veggie), or canned carrots drowned in pancake syrup, I wasn't touching it.
Raisins? No way. When my mom made our Ukrainian Easter Bread, I picked them all out.
I wasn't even that big of a fan of peanut butter. Craziness, I know.
That means I totally missed out on ants on a log, and really missed out on all of the yummy flavors and nutritional benefits for kids when they eat fruit and veggies.
So if you struggle with picky eaters, maybe the strategy is to make it fun!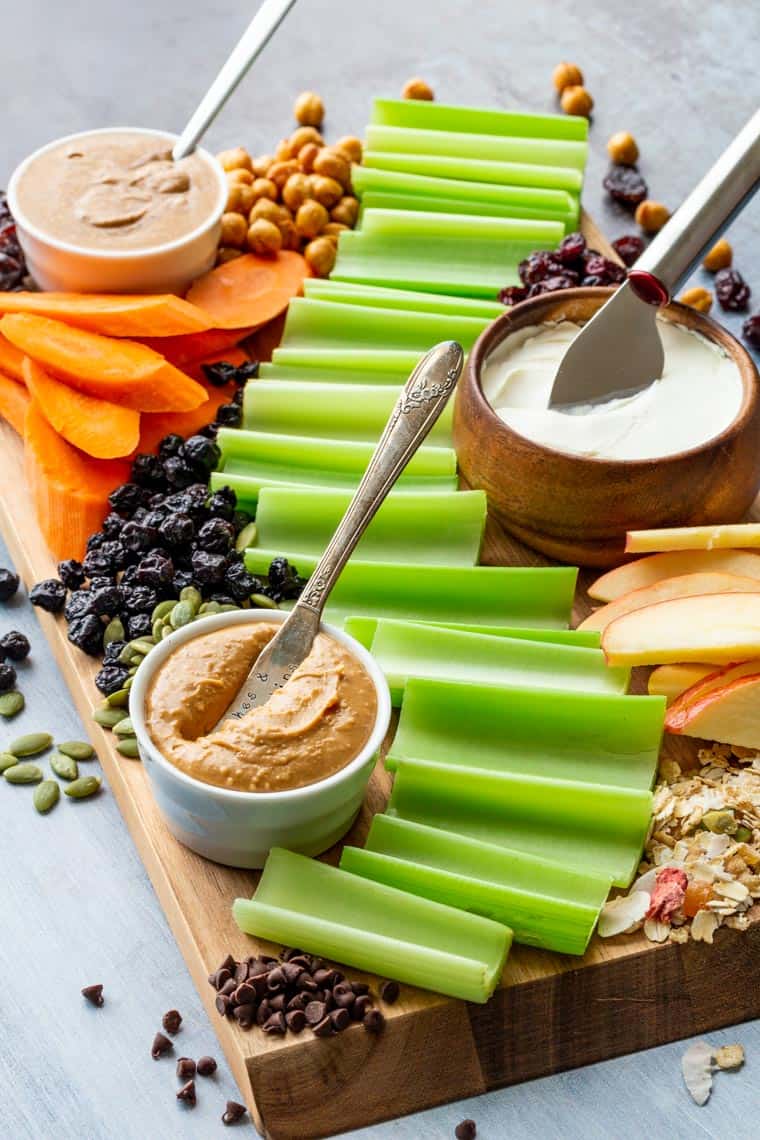 Kid-Friendly Veggie Platter
While the kids may not love the idea of digging into a veggie platter, who doesn't love a cheese board? Lots of crackers and cheese and dips and other good stuff to pick from. And you get to eat with your hands. Every kid loves that!
So why not combine the two and take inspiration from a classic kids snack?
What is Ants on a Log?
Traditionally, Ants on a Log is made by spreading peanut butter into celery sticks, then sticking raisins in the peanut butter. The piece of celery becomes the log with a line of raisin ants marching down it.
People began putting fillings in celery in the early 1900s, with peanut butter rising in popularity in the 1960s. However, it's not clear where this specific combination originated. Some attribute it to the Girl Scouts.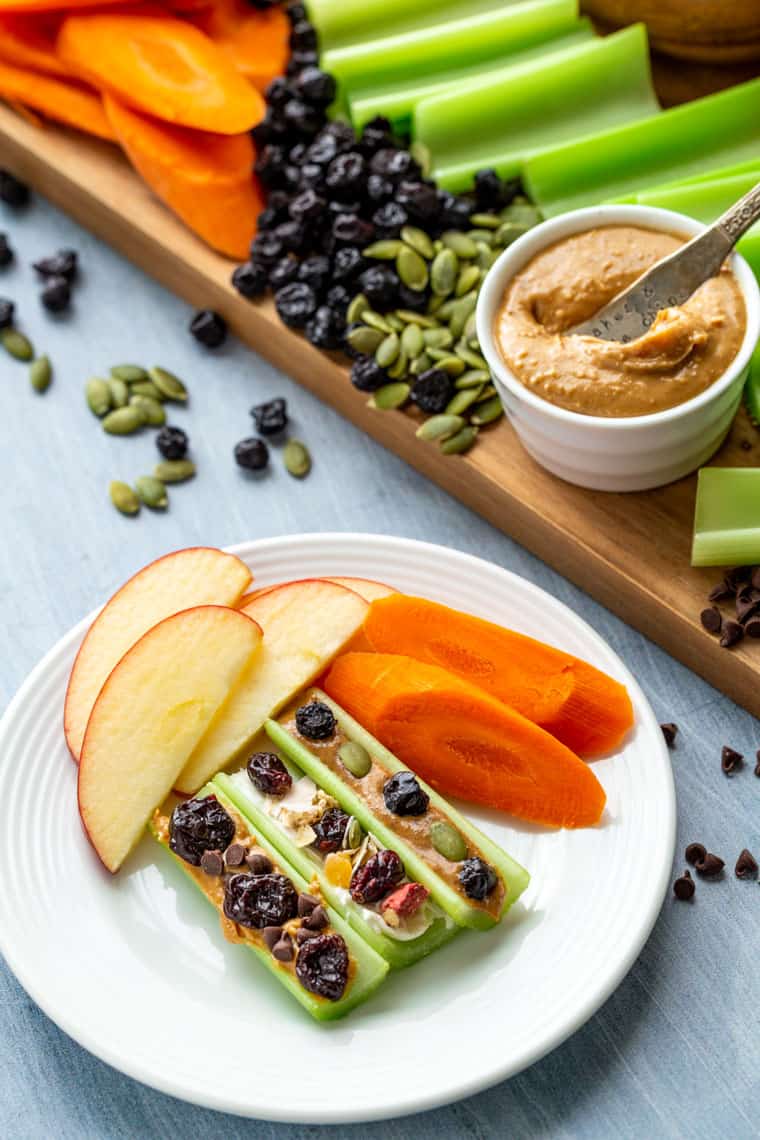 Ants on a Log Kids Snack Idea
Combine a simple veggie platter and a classic snack recipe into one fun platter for the kids to munch on. Set it out at a party, after a day at the pool, or as an after-school snack, and let them dig in knowing that they are getting healthy fruit and vegetables!
What else can you put on a kid-friendly fruit and veggie platter?
In recent years, there has been a rise in gourmet ants on a log with non-traditional fillings. This allows you to customize to your tastes and preferences, as well as any allergies. Depending on your choice of toppings, you can make your platter gluten free, dairy free, even peanut and nut free.
You can even turn this snack platter into a meal with more hearty fillings.
Fresh fruit and veggies
Celery
Carrots
Cucumbers
Apple slices
Pear slices
Spreads
Toppings
Dried fruit like raisins, dried cranberries, chopped apricots or dates, etc.
Nuts and seeds
Granola or museli
Mini chocolate chips
Roasted chickpeas

How to Make Ants on a Log Kids Snacks and Veggie Platter
Get a large cutting board or serving platter.
Cut fruit and veggies into slices or planks that can be used for adding toppings, and arrange decoratively on the platter.
Fill small bowls with spreads and add small spoons or mini spreading knives. Place bowls around the fruit and vegetable slices.
Fill spaces on the board with smile piles of desired toppings.
Set it out on a table and let everyone make their own custom combos.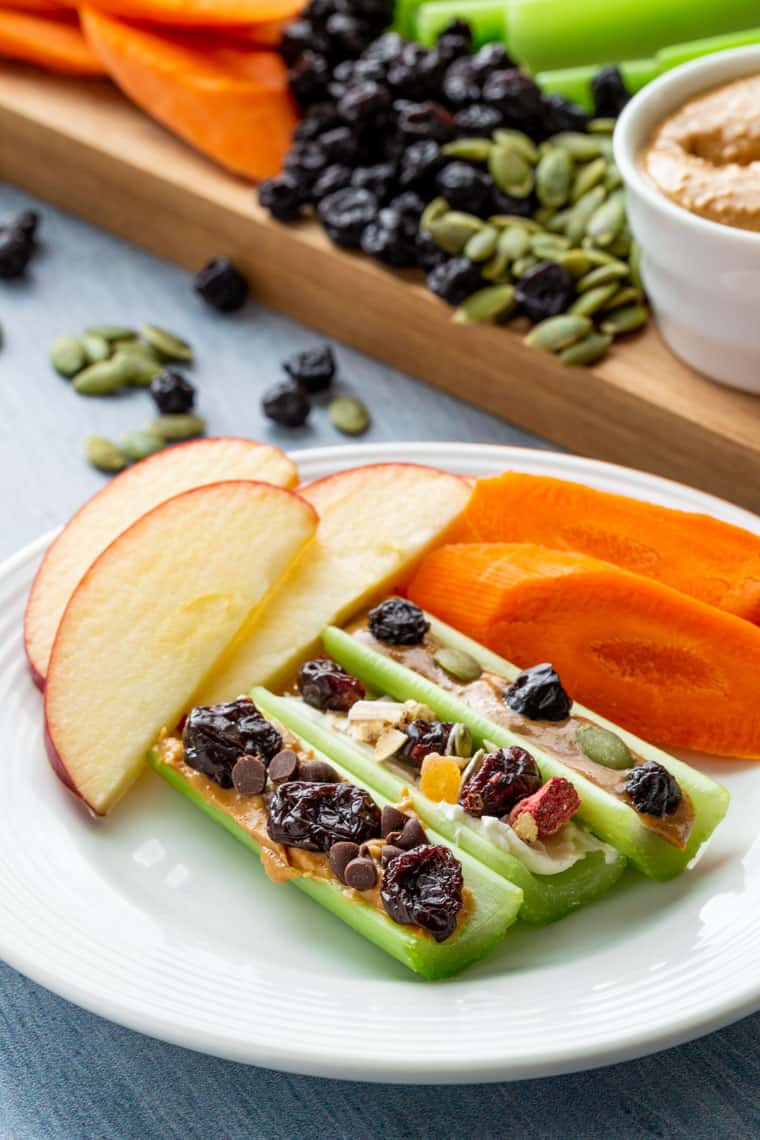 Special diets
Gluten free – if you add granola to the platter, just me sure it is gluten free or if you've made it yourself you used certified gluten free oats.
Nut free – use sunflower seed butter and stick to dried fruit, nut-free granola, pumpkin seeds, and roasted chickpeas for toppings.
Dairy free or vegan – just stick to nut butters and skip the cream cheese or use a vegan cream cheese.
Low carb – use celery and mini bell peppers, and replace the dried fruit with some fresh blueberries, raspberries, or chopped strawberries.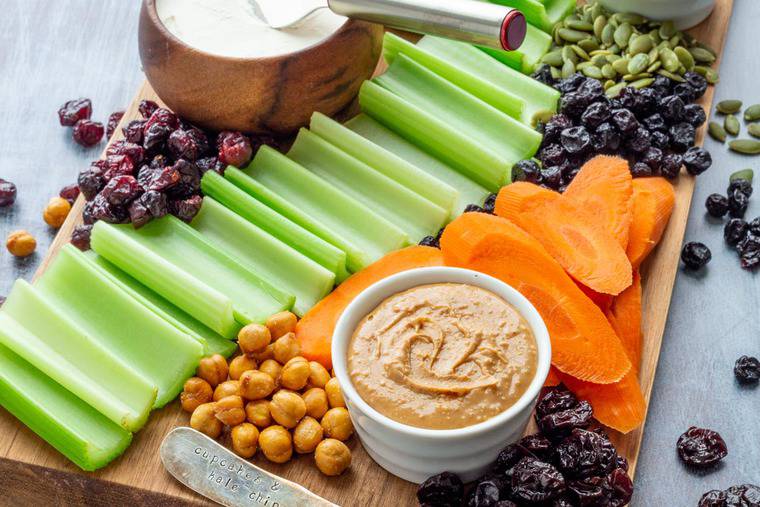 More healthy kid snack ideas to add to the fruit and veggie platter
And maybe a few of these no-bake energy bars and balls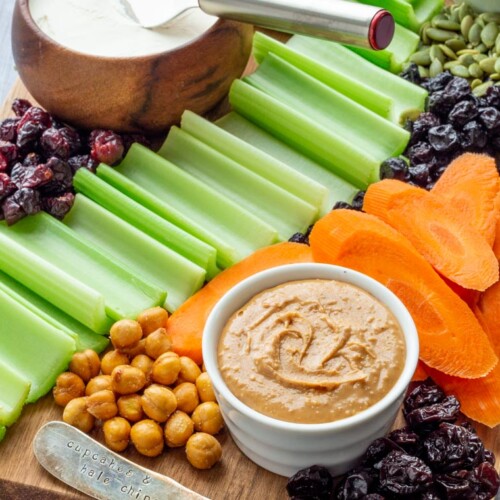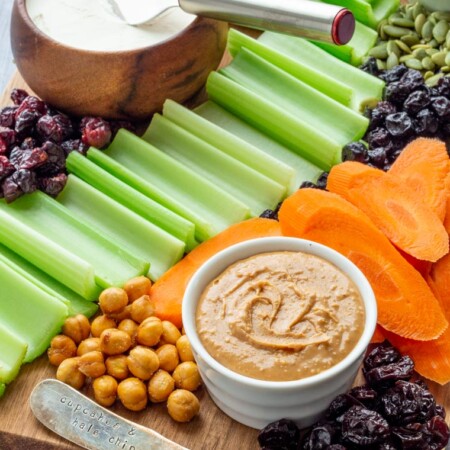 Ants on a Log Kids Snacks and Veggie Platter
This kid-friendly version of a cheese board is an easy and healthy snack idea you can totally customize. It's a fun way to get the kids in the kitchen and eating vegetables!
Ingredients
Fruits and vegetables (choose any or all):
celery sticks

carrot

cut into planks

cucumber slices

apple slices

pear slices
Spreads (choose any or all):
Peanut butter, almond butter, or other nut butters

Sunflower seed butter or other seed butters

Cream cheese or other cheese spreads

Hummus

Tuna or chicken salad
Toppings (choose any or all):
Dried fruit

such as raisins, dried cranberries, chopped dried apricots or dates, etc.

Nuts or seeds

Mini chocolate chips

Granola or museli
Instructions
Arrange fruits and vegetables on a large cutting board or platter.

Place toppings in small bowls and add spoons, knives, or spreaders. Put on the board or platter between the fruits and vegetables.

Fill any spaces on the board or platter with desired toppings.
Nutrition Facts
Ants on a Log Kids Snacks and Veggie Platter
Amount Per Serving (1 celery stick with 1/2 Tablespoon peanut butter and 1 teaspoon raisins)
Calories 64
Calories from Fat 36
% Daily Value*
Fat 4g6%
Sodium 45mg2%
Potassium 52mg1%
Carbohydrates 6g2%
Protein 2g4%
* Percent Daily Values are based on a 2000 calorie diet.
Categories:
Enjoy!