This post may contain affiliate links. Read my disclosure policy.
Rich and savory homemade Balsamic BBQ Sauce takes just minutes to make, and you'll be all set to slather your favorite meat, seafood, and vegetables. With tangy and subtly sweet balsamic vinegar to jazz up your basic barbecue sauce recipe, add a bit of sassy Italian-inspired flavor to your favorite barbeque or grilled dishes.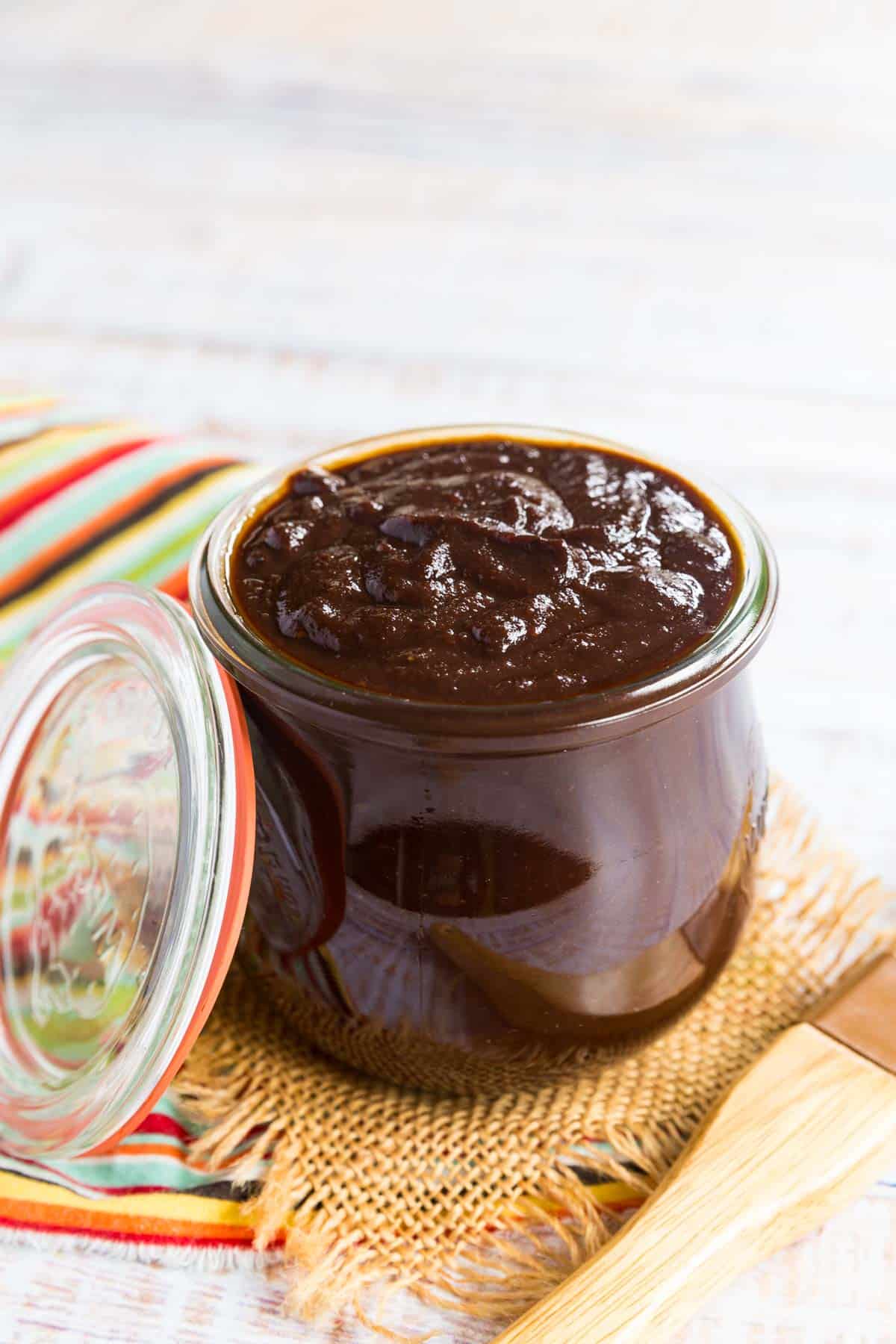 Homemade Balsamic BBQ Sauce
Something with barbecue sauce is on our dinner menu at least once a week. Whether my husband has tossed some ribs on the smoker, I've tossed some chicken in the crockpot, or there's a little dollop added into BBQ Ranch Dressing to drizzle on our salads, it might just be the most popular condiment in my house.
While we always have a selection of sauces to choose from, sometimes I want to change it up from the same old sauces I can get in the grocery store. And one of my favorite ingredients to add to a different flavor to something we already love is balsamic vinegar. It's bold and tangy, but with a fruity element that brings an extra something to savory dishes.
I've already added it to my favorite Creamy Balsamic Dressing when I am craving a salad and even made Balsamic Ketchup which is great with burgers and fries.
So of course, I knew it would be the perfect addition to add some zing to our favorite sauce! It's become our favorite dip when I make my Air Fryer Prosciutto-Wrapped Chicken Tenders!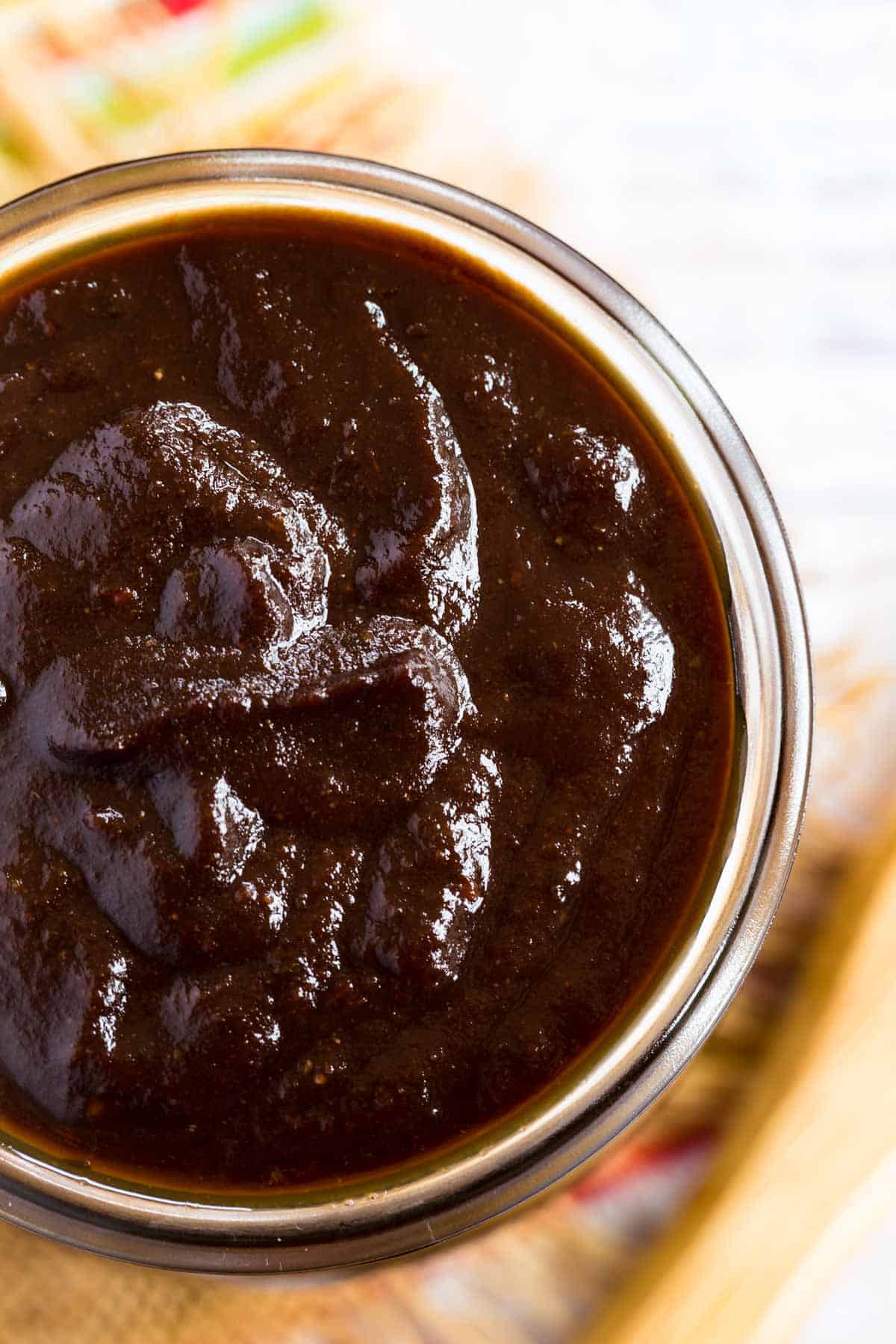 Is there vinegar in BBQ sauce?
While most of us think of barbecue sauce as thick and smooth with a tomato base, it likely started out as just a mixture of vinegar, salt, and pepper. Its purpose was to tenderize barbecued meats. In fact, East Carolina BBQ sauce is still a thin, vinegar-based sauce for mopping meat while it cooks.
However, even as ingredients like ketchup, tomato paste, molasses, brown sugar, mustard, different kinds of spices, or some combination of these were added, the vinegar remained. This is partially due to its tenderizing properties. But it also helps to thin out the thick sauce bases, balance the sweetness, and add that characteristic tangy flavor.
Can you use balsamic vinegar in bbq sauce?
Apple cider vinegar and white vinegar are most commonly used in any barbecue sauce recipe. However, replacing some of it with balsamic vinegar is an easy way to bring a unique flavor profile. Balsamic BBQ Sauce still has that rich, smooth texture and sweet, tangy flavor everyone loves. But it changes things up just a bit to give those tastebuds a happy surprise.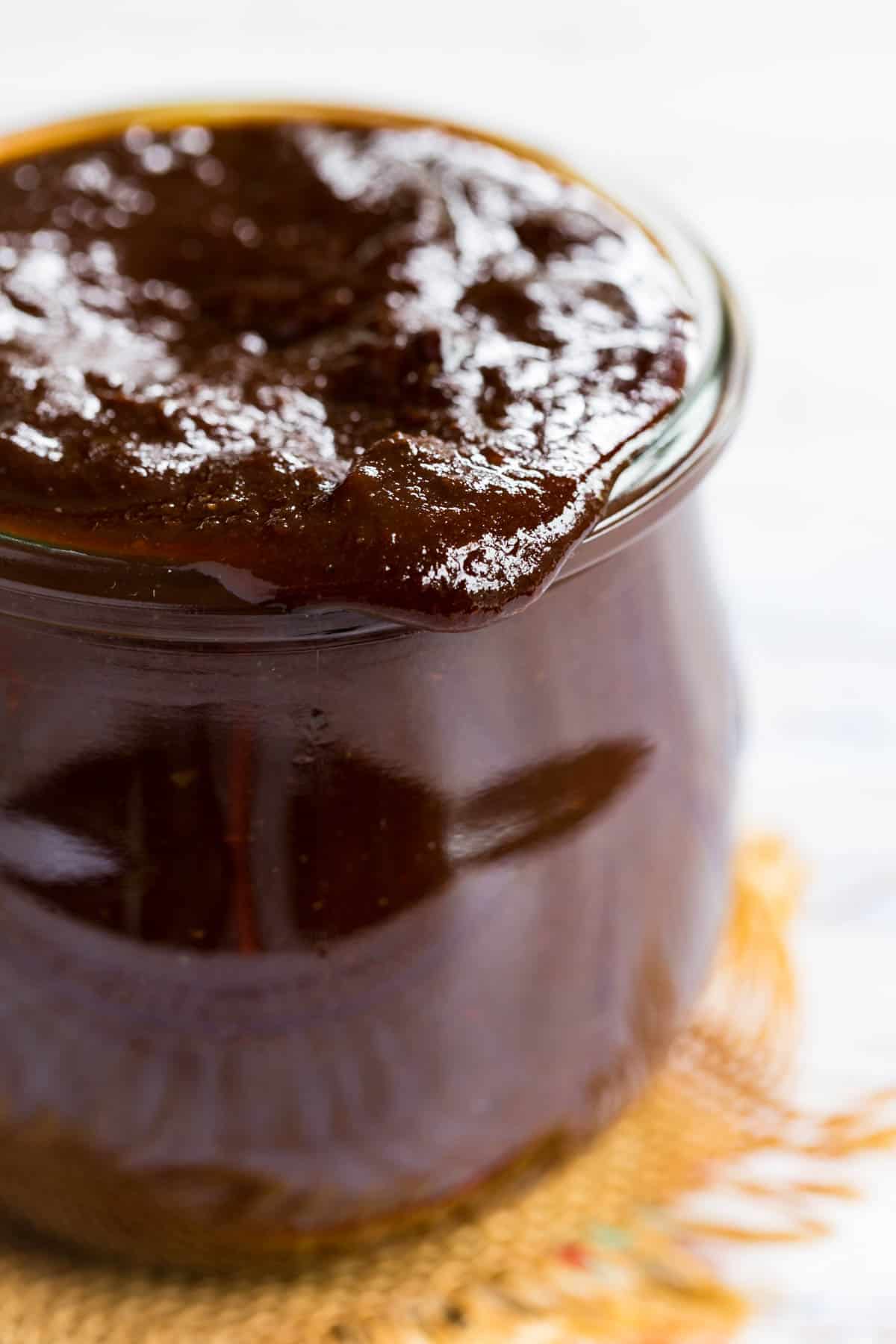 Ingredients
While pulling a bottle of barbecue sauce out of the pantry might be the easiest way to sauce up your meals, you are usually limited to only certain flavors and styles.
Tomato paste: You'll need one small can.
Balsamic vinegar: Use a good quality, and be sure it is gluten free, if that is a concern for you. Some lower quality balsamic vinegars have added colorings that may not be gluten free.
Apple cider vinegar: While you still want enough vinegar for the right level of tangy flavor, using all balsamic vinegar can be a bit too harsh. So this recipe still uses some apple cider vinegar.
Water: To get just the right consistency.
Molasses: For that smoky sweetness. You can use brown sugar if you prefer, and to make it a bit sweeter.
Dry mustard powder: Adds a bit of sharpness.
Dried oregano and basil: For a little extra Italian-inspired flavor.
Garlic powder: Gotta have a hint of garlic in your BBQ sauce.
Salt and pepper: Always essential.
Variations
Prefer a sweeter sauce? Add 1/4 cup brown sugar.
Too tangy? Replace 1/4 cup of the balsamic vinegar with an additional 1/4 cup of water.
Need some heat? Toss in a pinch of red pepper flakes.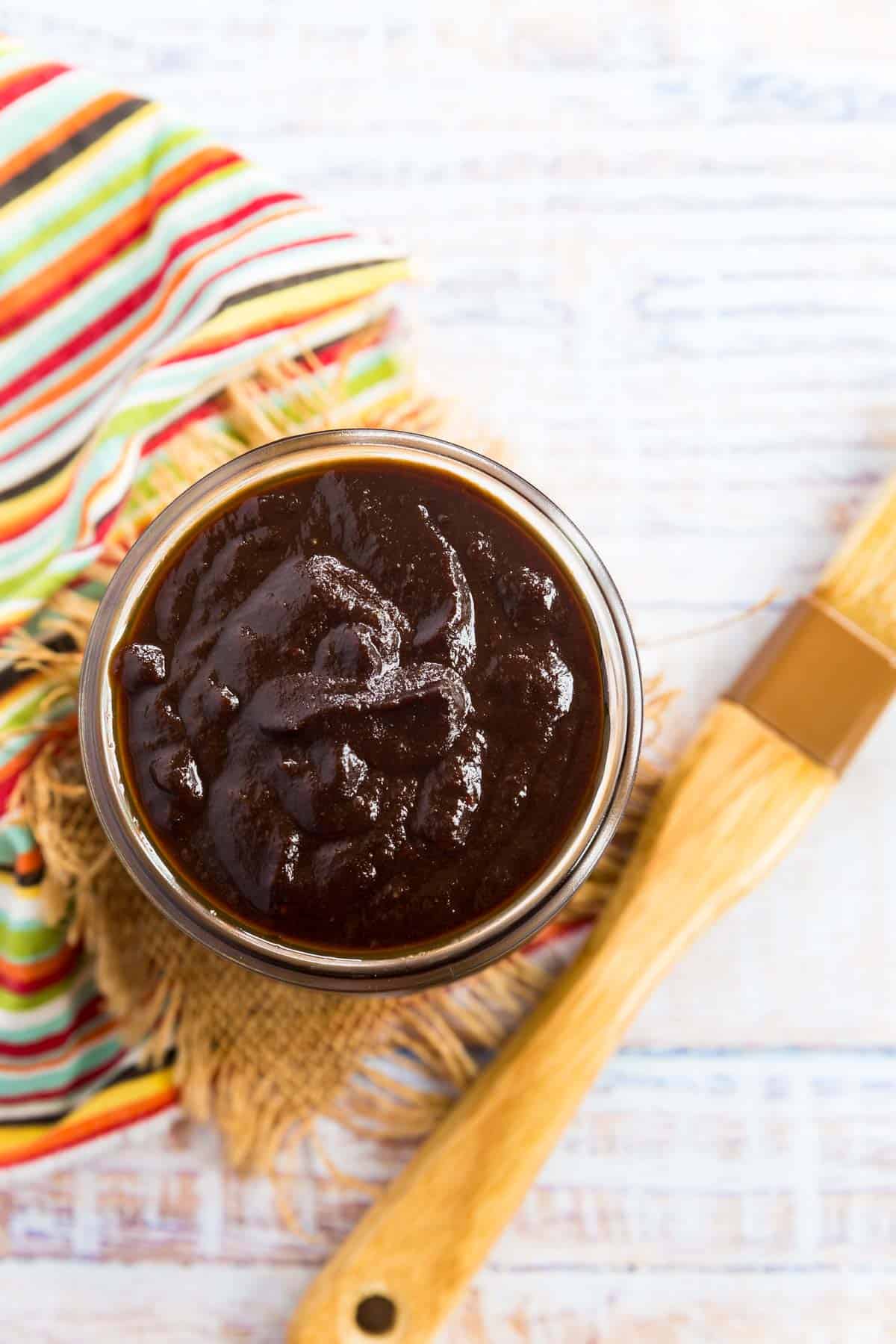 How to Make Balsamic BBQ Sauce
Combine the ingredients: Whisk everything together in a small saucepan.
Heat and simmer: While stirring, bring to a slow boil then reduce heat and simmer for 5-10 minutes, or until thickened to your desired consistency.
Use or store: Use right away or cool to save for using later.
How to Store Your Barbecue Sauce
Let the balsamic BBQ sauce cool to room temperature. Transfer to an airtight container or glass jar, seal and refrigerate. It will keep for 1-2 weeks.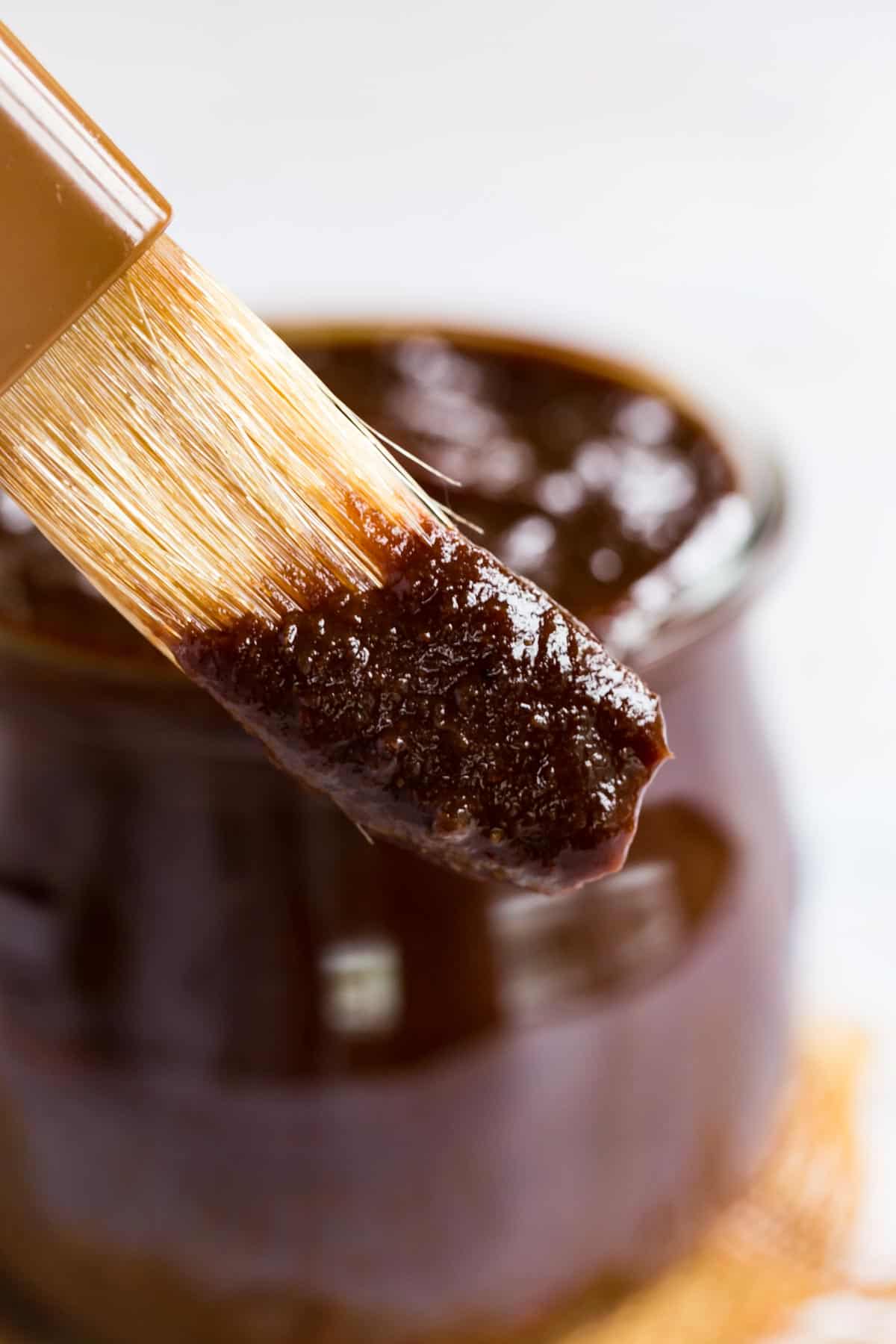 Make it a Meal – Serving Suggestions for Balsamic Barbecue Sauce
Try these saucy recipes using this Balsamic BBQ Sauce instead of your usual bottled stuff!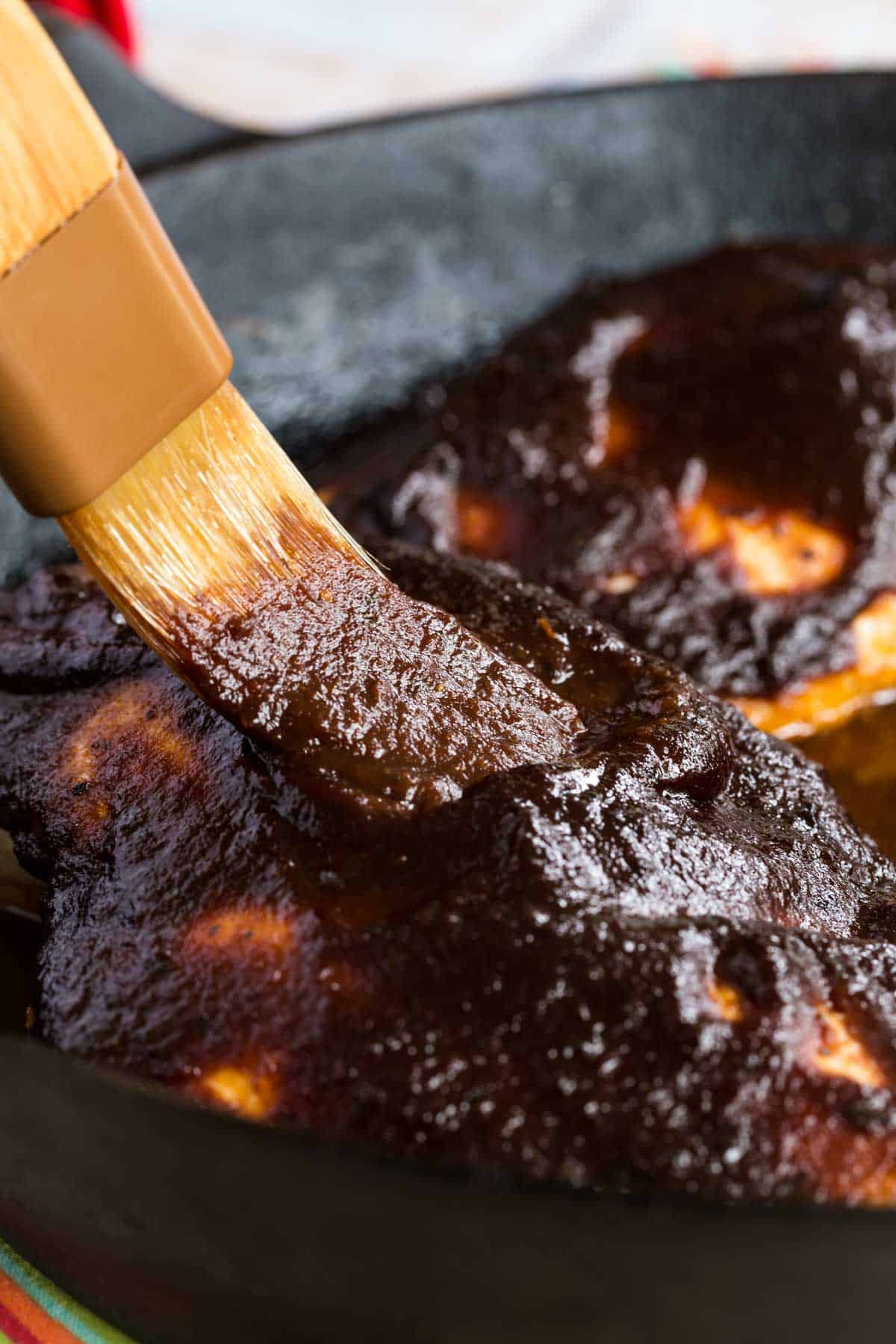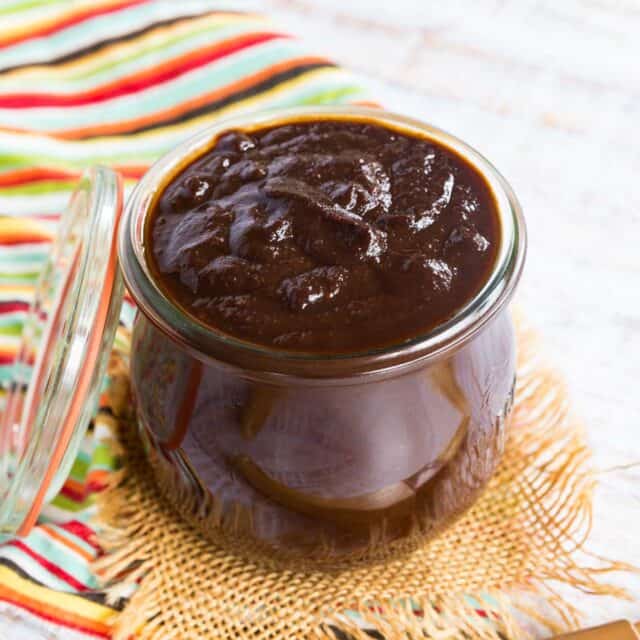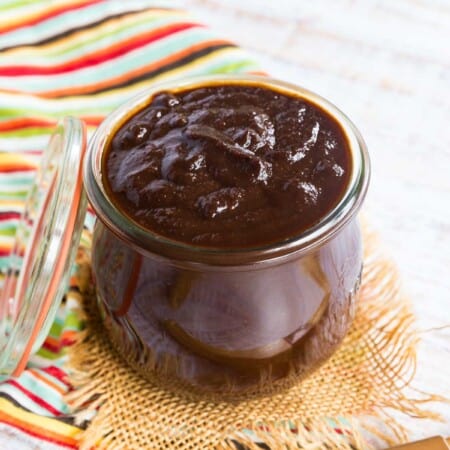 Balsamic BBQ Sauce
This rich and savory homemade Balsamic BBQ Sauce takes just minutes to make, and you'll be all set to slather your favorite meat, seafood, and vegetables. Tangy and subtly sweet, add a bit of sassy Italian-inspired flavor to your basic barbecue sauce.
Ingredients
6

oz.

can of tomato paste

3/4

cup

balsamic vinegar

(see Note 1)

1/4

cup

apple cider vinegar

1/4

cup

water

2

Tablespoons

molasses

2

teaspoons

dry mustard powder

1

teaspoon

kosher salt

1

teaspoon

dried oregano

1/2

teaspoon

dried basil

1/4

teaspoon

garlic powder

1/8

teaspoon

black pepper
Instructions
Combine all of the ingredients in a medium saucepan and whisk togther until smooth.

Place over medium heat and bring to a slow boil, stirring frequently, then reduce heat and simmer 5-10 minutes until slightly thickened to the desired consistency.

Use immediately, or cool and transfer to a jar or airtight container and refrigerate for up to 1-2 weeks.
Notes
If you don't want as tangy or strong of a balsamic flavor, reduce the balsamic vinegar to 1/2 cup and increase the water to 1/2 cup.
You can replace the molasses with brown sugar or add an additional 1/4 cup brown sugar if you prefer a sweeter sauce.
Nutrition Facts
Balsamic BBQ Sauce
Amount Per Serving (2 Tablespoons (approximately))
Calories 29
Calories from Fat 9
% Daily Value*
Fat 1g2%
Sodium 233mg10%
Potassium 166mg5%
Carbohydrates 6g2%
Protein 1g2%
Vitamin A 165IU3%
Vitamin C 2mg2%
Calcium 16mg2%
Iron 1mg6%
* Percent Daily Values are based on a 2000 calorie diet.
Categories:
More homemade condiments