BBQ Shrimp, Broccoli & Cheesy Quinoa Bowls
It starts off as one day a week and soon becomes a way of life.  And today for #WeekdaySupper, I've got BBQ Shrimp, Broccoli & Cheesy Quinoa Bowls.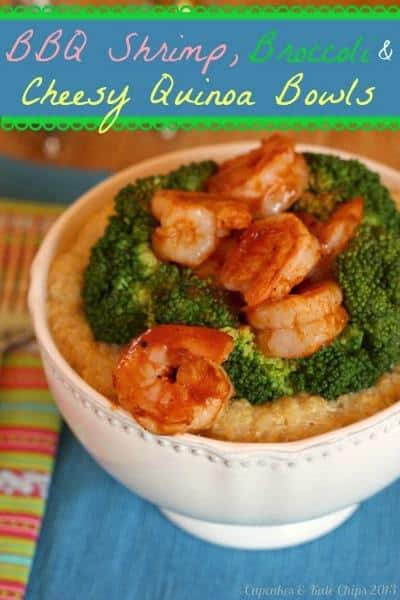 Every night, as we are coming to the dinner table, The Bug asks me what we are having.  So I will say, "Salmon and rice and sugar snap peas", or "Eggs with spinach and cheese and tomatoes, and toast", or "Steak with sweet potatoes and carrots", or "Salads with chicken and berries and cheese and pecans", or "BBQ shrimp, and broccoli, and cheesy quinoa."  Clearly we usually have multicomponent meals.  Not necessarily complex, so don't think I am superhuman or bragging or anything (the rice is made in a rice cooker, the sweet potatoes are just thrown in the oven, and sometimes our veggies are frozen and cooked in the microwave), but definitely include more than a single item, and always have components that he loves.
So what do you think his response is?  "Mmmm."  Nope.  "Sounds good, let's eat!"  Nah.  "Gee, thanks mom, for all of your hard work, and, in between taking care of my brother and I, playing with us, bathing us, keeping our clothes clean, you manage to put together a delicious and healthy meal that I (usually) love."  I don't think so.  (OK, he is three.  Maybe that last one is a little beyond what I should expect.)
"And what else??"
Seriously kid?!  I give up.  Here's some Spaghetti-Os.  Not really.  I am definitely of the "one meal for the whole family" school of thought, and I think that is part of the reason why he likes a pretty diverse array of foods.  Though I get the feeling he spoiled me, and Smiles is gonna be one of those kids who only eats white food.
But no plain white food in this meal.  Yet it is still super simple and perfect for crazy weeknights.  Just cook up the quinoa and stir in some Greek yogurt and cheese.  While the quinoa is cooking, steam or roast a few broccoli florets (heck, nuke one of those frozen steamer bags.  I don't care), and quickly saute a few shrimp and toss them in your favorite barbecue sauce.  Dump it all in a bowl, and voila!  You've got a fancy shmancy dinner…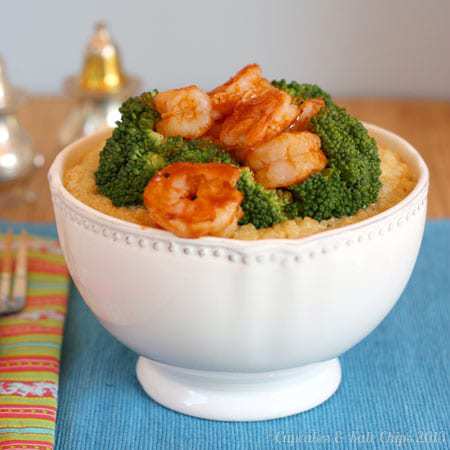 That your kids totally won't appreciate.
But you will, and maybe even your significant other.  The Hubby has always turned up his nose at quinoa, but make it a little creamy and cheesy, and he has second helpings.  The Bug, while still admittedly not the biggest quinoa fan (he has texture issues – won't eat couscous either) will eat some, and he devours the shrimp and broccoli.
And after he devours it, do I get a "Thanks, Mom!", "Yum.", or "I'm full."  Forget it.
"What's for snack?"  Ugh!
#SundaySupper has expanded to #WeekdaySupper, where every Monday through Friday we bring you meals that are simple enough to make any night of the week, and are suited to busy families. You can see what's cooking up this week at the bottom of this post. And don't forget about the #SundaySupper and #WeekdaySupper Pinterest boards!
And what you need for a #WeekdaySupper is something that is not only easy, but also versatile.  Take this recipe as a starting point and change it to your preferences.  Don't like shrimp?  Have it with chicken, or, like we did the other night, some turkey kielbasa or other sausage.  Vegetarian?  Use tofu.  Bored with plain steamed broccoli?  Roast it.  Nuke a freezer bag.  All out of broccoli?  Throw on another veggie.  Or don't.  I won't tell.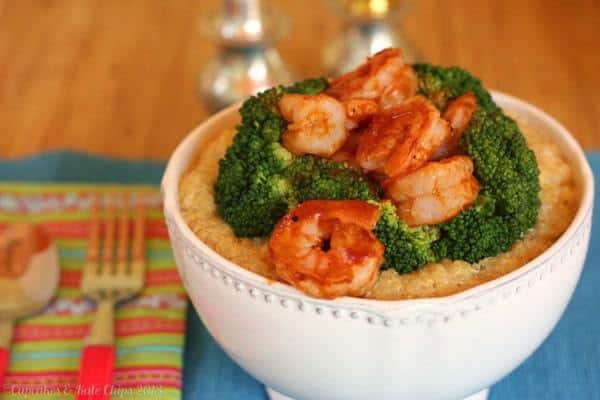 What are some of your favorite go-to dinners for a busy weeknight?
BBQ Shrimp, Broccoli & Cheesy Quinoa Bowls
A simple and versatile but satisfying dinner that comes together quickly for busy weeknights.
Ingredients
For the Cheesy Quinoa
1 c uncooked quinoa, rinsed and drained
2 c chicken or vegetable broth or stock
salt & pepper
1 t dry mustard
1/2 c plain Greek yogurt
1/2 c (about 2 oz.) shredded cheddar cheese (I use Cabot 50% Light Sharp Cheddar) - sometimes I use up to 1 c (about 4 oz. depending on how cheesy I want it)
For the Shrimp & Broccoli
1-1 1/2 lbs shrimp, peeled and deveined
Olive oil spray or nonstick cooking spray (or about 1 t oil)
1/4 c of your favorite barbecue sauce, plus additional for serving, if desired
About 1 lb broccoli, cooked as desired (steamed, roasted, etc.)
Directions
For the Cheesy Quinoa:
Combine quinoa, broth, a pinch of salt & pepper, and dry mustard in a pot, and cook according to package directions.
When quinoa is fully cooked, stir in Greek yogurt and cheese.
For the Shrimp & Broccoli:
While the quinoa is cooking, prepare broccoli as desired, and heat a pan over medium heat.
Coat with olive oil spray or nonstick cooking spray (or 1 t oil).
Add the shrimp to the pan, and cook about 2 minutes per side, or until shrimp is pink and nearly cooked through.
Pour the barbecue sauce over the shrimp and toss to coat. Cook for another minute or two, until shrimp is cooked through.
For the Bowls:
Divide quinoa between four bowls.
Top with broccoli and shrimp, and additional barbecue sauce, if desired.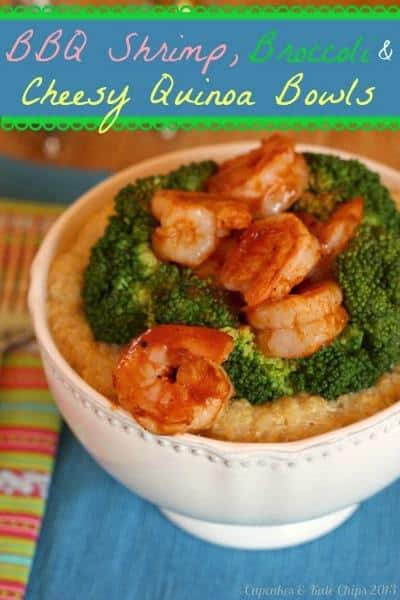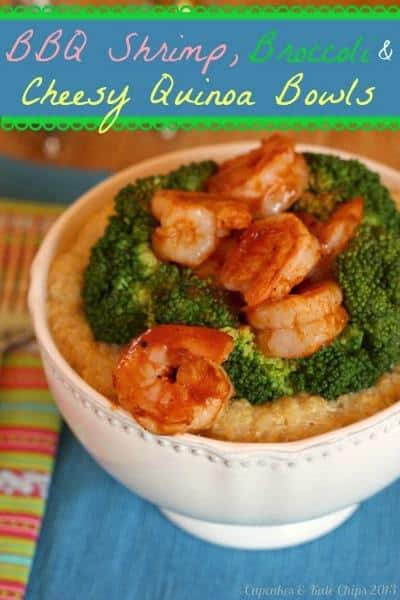 Loading nutrition data...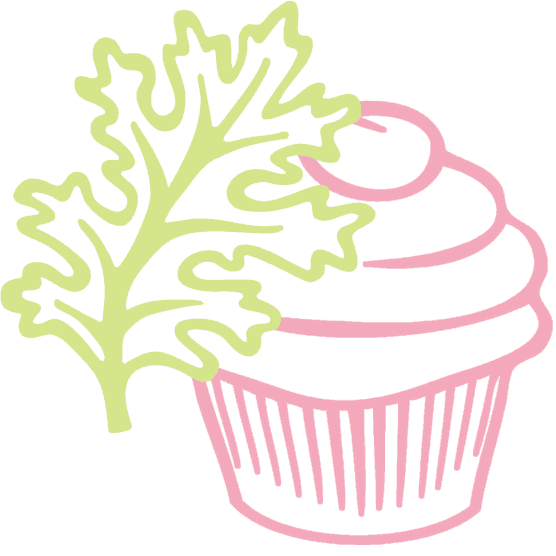 LOVE THIS RECIPE?
Give it a 5 STAR rating and share your photos on Instagram with the hashtag #CKCrecipes!
Enjoy!
Make sure you check out what's cooking up for #WeekdaySupper this week:
Monday – Country Girl In The Village – Skillet Fajitas
Tuesday – Cupcakes & Kale Chips – BBQ Shrimp, Broccoli & Cheesy Quinoa Bowls
Wednesday – Supper For A Steal – Grilled Chicken and Garden Vegetable Pasta
Thursday – Foxes Love Lemons – Flank Steak Tostadas
Friday – The Urban Mrs – Chinese Chicken Salad
And I've got a few other recipes for you that are perfect for busy weeknights: