This post may contain affiliate links. Read my disclosure policy.
With the busy back-to-school season upon us, we all need meals that get us in and out of the grocery store and the kitchen fast. That is why you are going to love my friend Shawn's new cookbook Express Lane Meals. Read on to find out why I love it, and get a sneak peek at one of the recipes. Your family will flip for these super simple and comforting, slightly spicy and creamy delicious Home-Style Shrimp Bowls.
Home-Style Shrimp Bowls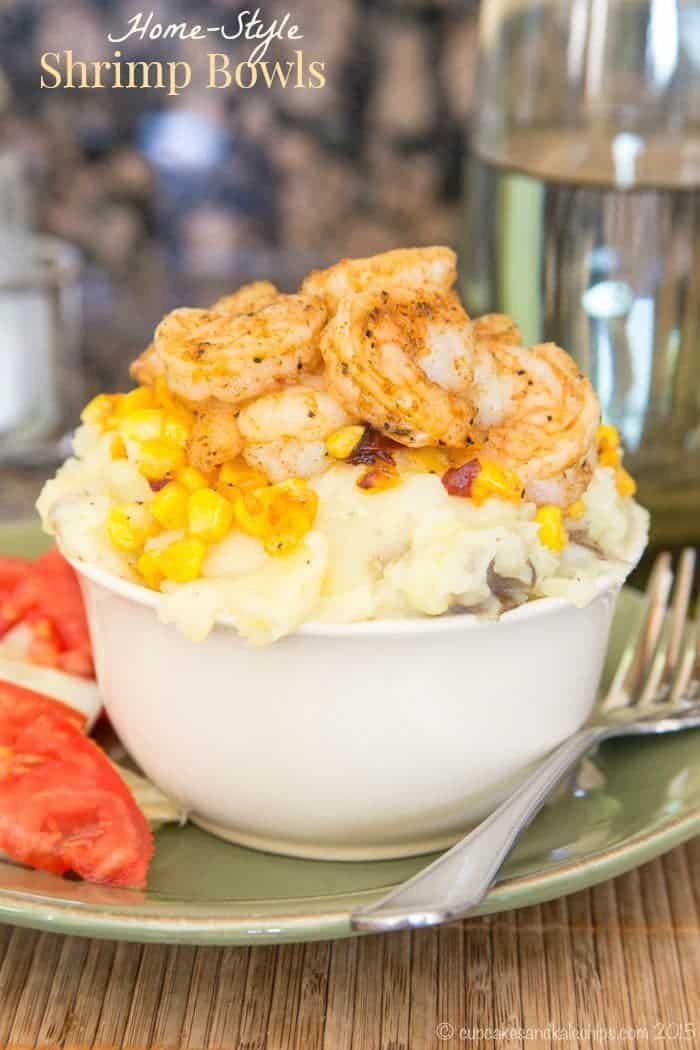 My grocery shopping routine has been, well, anything but routine this summer. Between travel, visiting my mom, days at the pool, and, unfortunately, way too many bouts with illness this summer, the whole weekly menu planning and shopping has gone out the window. Obviously I'd like to go once a week, maybe with another quick stop if I run out of milk or realize I forgot something, but lately I feel like I go every couple of days, and then don't go at all for two weeks. We'll have a few good meals, and then I start scraping stuff together or going out. I know this isn't good for my time management, my waistline, or my wallet, but it is what it is right now, I suppose, and I'll get back on track when school starts.
But when you are in crazy busy mode, have nothing in the house but pantry staples, and need to quickly run into the grocery store while your kid is at karate across the street (not that I know anything about that), my friend Shawn Syphus of the blog I Wash… Your Dry has just the solution you need in her new cookbook…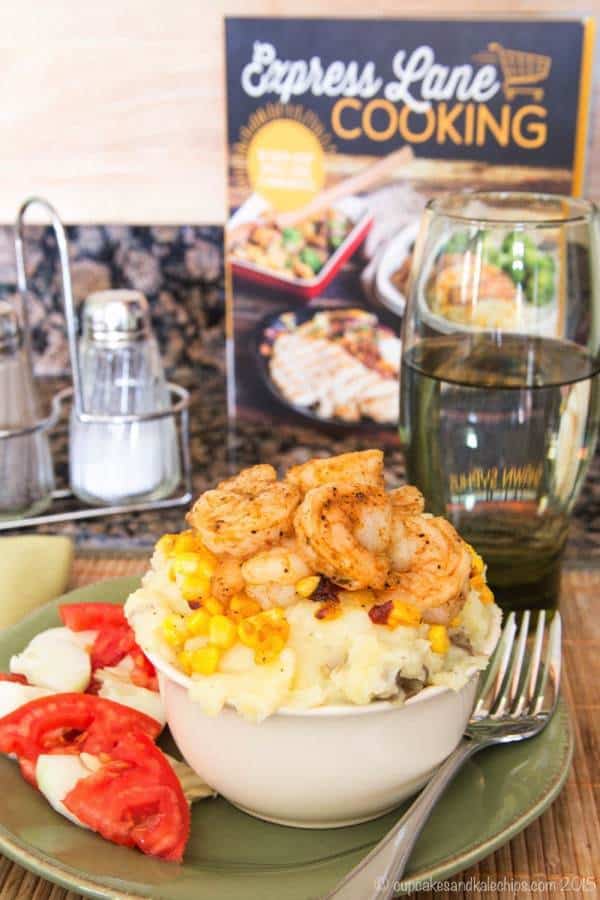 Express Lane Cooking is, in a word, brilliant. The concept is that she gives you five main ingredients, and by combining those plus a few items that you probably have on hand, you can create three different meals. And if you are worried about whether you will have all of the other ingredients in your pantry, Shawn helps you out with that by starting the book with details about how she stocks her kitchen so that she is always ready to create quick, easy, and delicious meals for her big, busy family. From chicken breasts and steak to seafood and meatless options, there is a huge variety in these eighty recipes, plus flavors vary from Asian and Southwestern to Greek and Italian, with lighter meals and a good helping of classic American comfort. There's even five-ingredient desserts!
Oh, and with gorgeous photos (that Shawn took herself!) of each and every recipe, you'll be drooling as you turn the pages planning what you want to make first and second and third and…
And for my gluten free readers, you may wonder if this cookbook is even worthwhile for you, since so many "general" cookbooks rely to heavily on preparations that are not amenable to a gluten free diet. I can assure you that you will find a ton of options here. The Cheesy Potato Crusted Chicken, Grilled Pork Chops with a Sweet Pan-Roasted Hash, and Cilantro Lime Chimichurri Steak Rolls are just a few examples of the dishes that can be made as-written, and there are many others that may just require a simple swap, for example using a gluten free soy sauce or tamari, gluten free pasta, or ground oats in place of bread crumbs. I'm dying to try the Grilled Tenderloin Steaks over Creamy Spinach Sauce by just subbing rice flour or cornstarch for the small amount of flour in the feta cream sauce.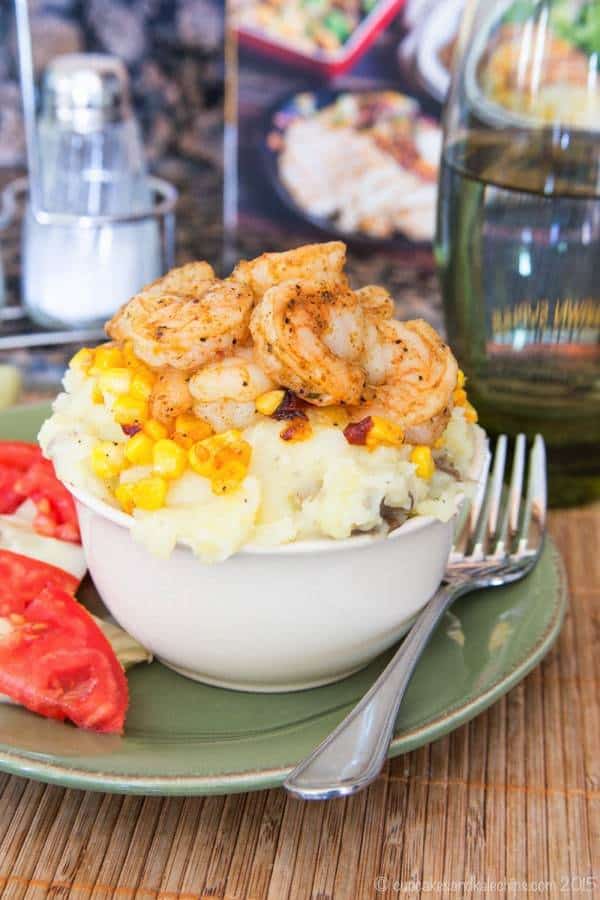 I was visiting my parents and while I was away for the weekend and they were watching the boys, I asked them to flip through the book and pick out a recipe they wanted me to make for them when I got back. As per the premise of the book, I did a quick run to the grocery store to grab what I needed, came home, and quickly whipped up this dish. And what a hit it was. The chipotles added just a subtle smoky spiciness to the shrimp and that flavor plus the crisp corn was the perfect balance to the pillow of creamy and comforting mashed potatoes on which they rested. Everyone from my mom and stepfather to my boys went back for seconds. Well, I do have the only to year old in America who doesn't like matched potatoes, so he just proceeded to eat about a pound of shrimp.
I think this is also a great base recipe for so many variations. Change up the corn for peas and carrots or swap the shrimp for chicken, depending on what your family likes. I also loved the flavor and simplicity of the shrimp and think piling them on top of a salad with some homemade Ranch Dressing would be a great lighter meal. And if you make it as-is, just buy double the shrimp and potatoes and use the rest of the container of half and half to make Spicy Shrimp, Corn and Potato Bisque later in the week!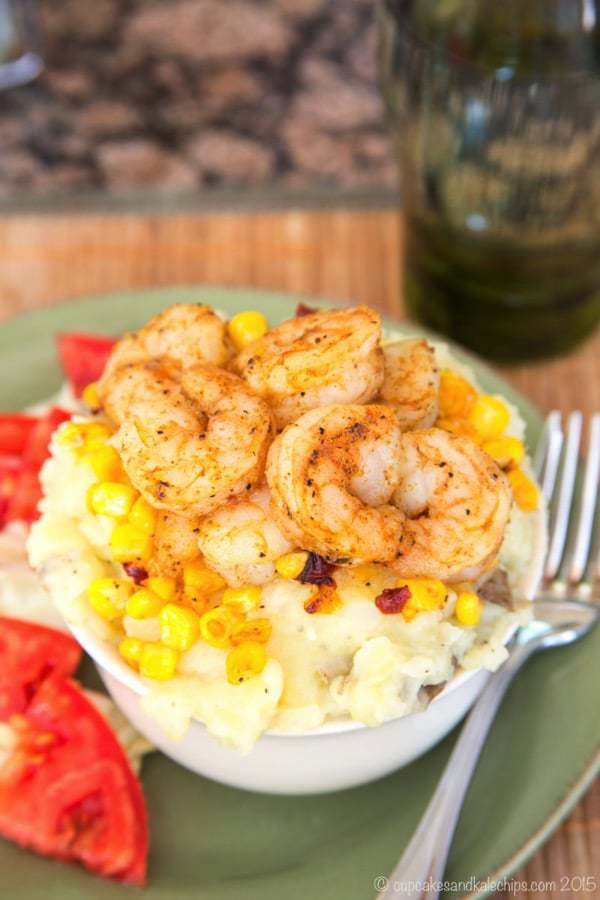 Have I convinced you yet that you absolutely must add Express Lane Meals to your cookbook collection? Well you can purchase it here.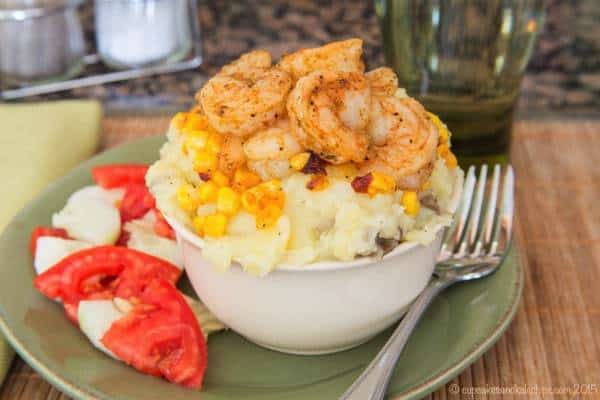 Are you a once a week shopper, or do you pick up a few items here and there?
For a simple change, try these bowls with Chili Lime Shrimp on top!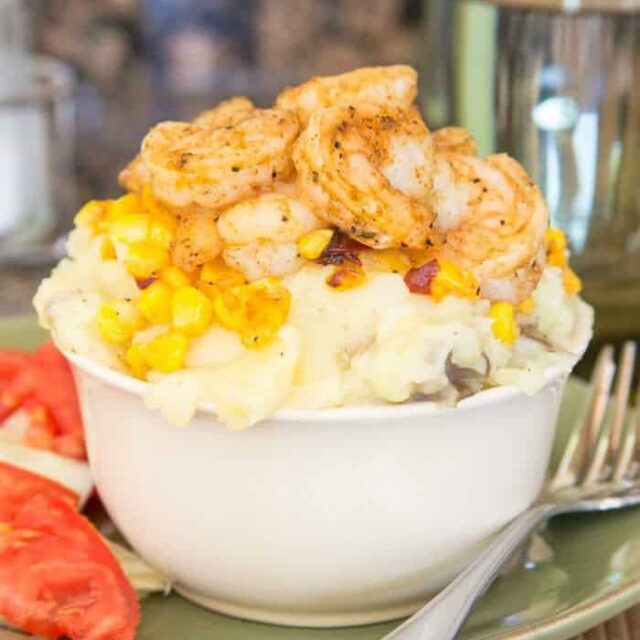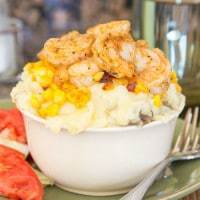 Home-Style Shrimp Bowls
Quick and easy comfort food - spicy shrimp and corn on top of a bowl of creamy mashed potatoes.
Ingredients
2

pounds

creamer potatoes

1

cup

half and half

6

Tablespoons

butter

divided

1 1/4

teaspoons

garlic powder

divided

1/2

teaspoon

salt

1/4

teaspoon

black pepper

1

pound

medium shrimp

peeled and deveined

1

Tablespoon

olive oil

1

teaspoon

cumin

1

teaspoon

adobo sauce

from canned chipotle chiles in adobo sauce

Salt and pepper

2

cups

frozen corn

thawed

1/2

Tablespoon

chipotle chiles in adobo sauce

minced
Instructions
Preheat the oven to 400°F.

Place the potatoes in a large pot of water and bring to a boil. Cook until the potatoes are fork-tender, about 12 minutes, then drain and return to the pot. Add the half and half, 3 Tablespoons of butter, 1/4 teaspoon garlic powder, 1/2 teaspoon salt, and 1/4 teaspoon black pepper. Then use a potato masher to mash to our desired consistency, and keep warm.

Place the shrimp in a large bowl and add the olive oil, cumin, 1 teaspoon garlic powder, adobo sauce and salt and pepper. Coat the shrimp in the mixture and then place on a parchment-lined baking sheet and bake for 6 to 8 minutes, until fully cooked.

Meanwhile, heat a large skillet over the stove and add the remaining 3 Tablespoons of butter. Toss in the corn and chipotle chiles, stirring to cook through and char slightly, seasoning with salt and pepper to taste. Divide the mashed potatoes among 4 bowl, and top with the spicy corn and roasted shrimp.
Nutrition Facts
Home-Style Shrimp Bowls
Amount Per Serving (0.25 pound shrimp)
Calories 638
Calories from Fat 270
% Daily Value*
Fat 30g46%
Cholesterol 353mg118%
Sodium 1611mg67%
Potassium 1386mg40%
Carbohydrates 62g21%
Protein 32g64%
Vitamin A 770IU15%
Vitamin C 55.8mg68%
Calcium 268mg27%
Iron 5.1mg28%
* Percent Daily Values are based on a 2000 calorie diet.
Categories:
Here are a few of my favorite quick and easy dinner recipes…
And a few from my friends…