This post may contain affiliate links. Read my disclosure policy.
Bourbon BBQ Sauce is so easy to make but adds a restaurant-quality flavor to your favorite barbecue or grilled dishes. Smoky and sweet, this rich and thick barbeque sauce is the perfect addition to this year's grilling season!
Easy Homemade Bourbon BBQ Sauce
A couple of years ago, my husband got one of those pellet smokers. He has been blending custom rubs and mastering the art of smoking perfect ribs, brisket, and chicken.
After he works his low and slow magic to make perfectly tender meats, we then just fall back on pulling a bottle of barbecue sauce out of the fridge. I've made a few homemade bbq sauce recipes in the past, and never found one I loved as much as my trusty bottle of Stubb's.
However, I felt his masterpieces deserved something a little more special. So I started playing around with my own sauce recipes. But I do have some criteria.
Why this Recipe Works
No chopping and sauteeing: If I can just open a bottle and have something that tastes amazing, I don't want to spend a ton of time and effort to make it myself. So let's take out those extra steps.
No bits and pieces: This kind of goes along with the last one, but I don't want chunks of onions and peppers in my bbq sauce. It should be smooth, and honestly, I've made some with green peppers in it, and they just make it taste bitter and strange.
No ketchup: I want to control the sweetness and spices myself. Starting with tomato paste means I do have to add a couple of extra ingredients to get the right flavor and texture, but I think it is worth it. Plus, I prefer getting a little flavor with my sweetness in the form of brown sugar, molasses, honey, or maple syrup versus the blandness of plain sugar or *gasp* corn syrup.
As I experimented, I found that I could start with my own homemade ketchup recipe. By adding a few more ingredients and simmering it till it becomes thick, I could totally customize my own, dare I say, gourmet barbeque sauces. I started with Balsamic BBQ Sauce, and then created this one.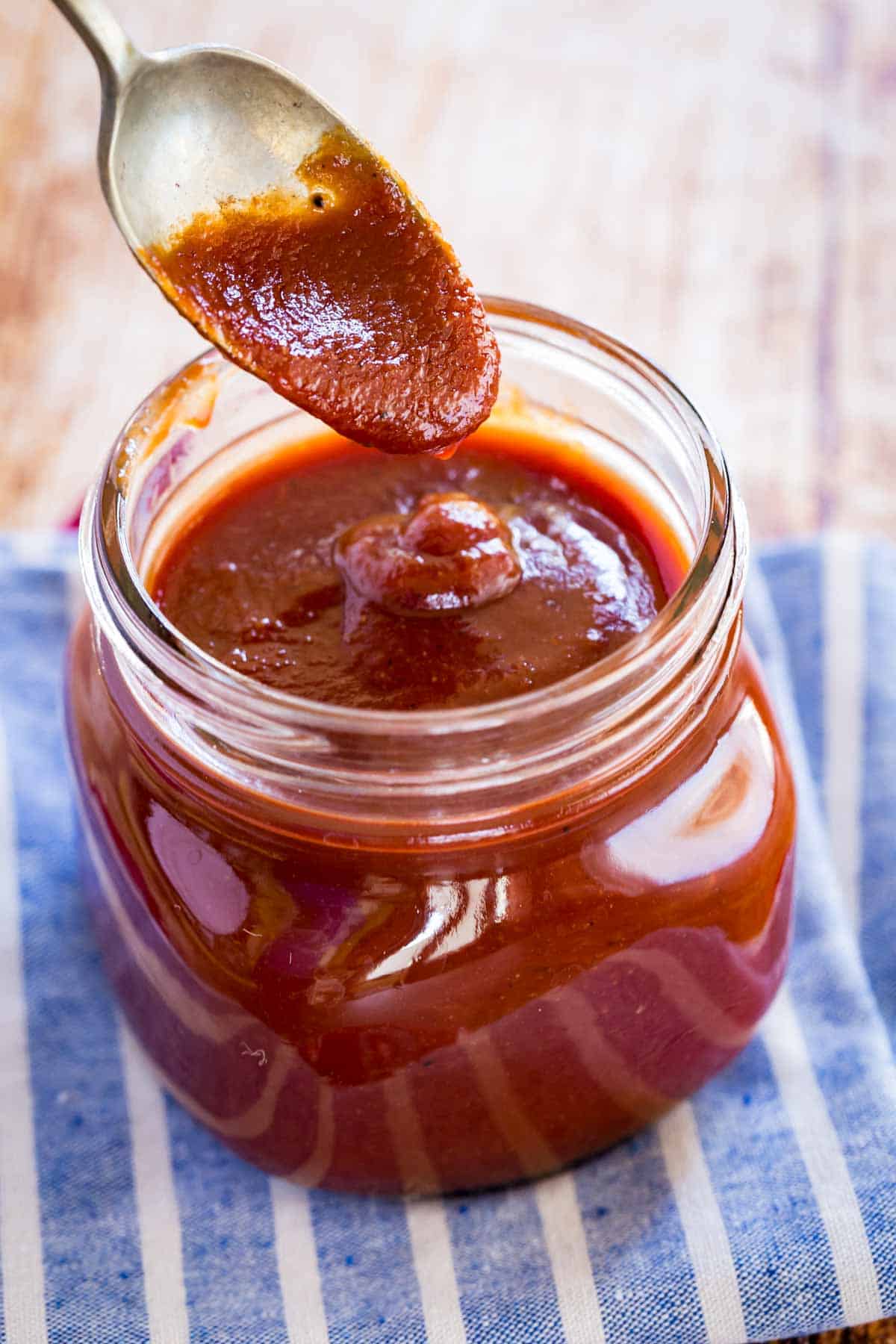 Is there alcohol in Bourbon BBQ Sauce?
While there obviously is alcohol in the bourbon added to the recipe, because it is brought to a boil and simmered for at least 10 minutes, a majority of the alcohol evaporates. So you will cook off most of it.
Given the amount of bourbon relative to the entire batch of sauce and that it is boiled to remove much of it, I feel comfortable letting my kids drizzle a couple of tablespoons of sauce on their meal. However, if you are highly sensitive to even residual alcohol, I'd recommend discussing this with a medical professional.
Is bourbon gluten free?
Most bourbons are gluten free and are considered safe for those with celiac disease. Even if wheat, barley, or rye are used in the mash, the distillation process removes the gluten from the bourbon. Do be aware of some that add gluten-containing flavoring after the distillation process.
Many common brands are considered gluten free, including Jim Beam, Buffalo Trace, Makers Mark, Knob Creek, Bulleit, and Four Roses. I like to use Henry McKenna in cooking because it is quite good for its affordable price, making it a great value.
However, everyone reacts differently. If you find that you have symptoms after having bourbon, you may want to avoid it and discuss it with your doctor.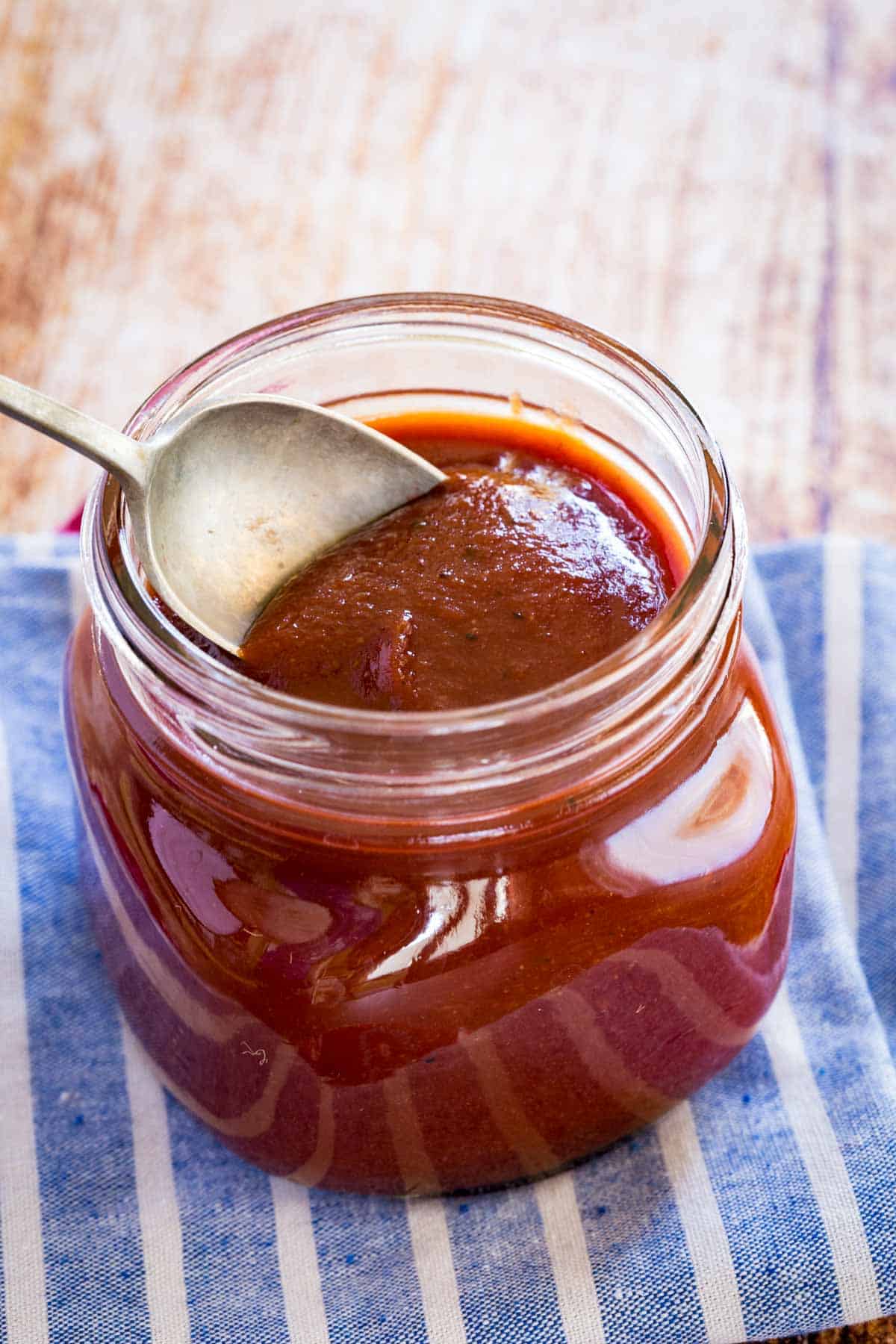 Ingredients
It may seem like a long list of ingredients, but that doesn't mean this is a time-consuming or difficult recipe. In fact, you probably have most of them in your pantry.
Tomato paste: By using tomato sauce instead of ketchup, you have complete control over the flavors and sweetness.
Apple cider vinegar: This is what gives barbeque sauce its unmistakable tang.
Bourbon: The key ingredient. Gotta have it for that deep, smoky flavor.
Worcestershire sauce: Helps add some umami and gives it a simmered-all-day taste.
Molasses: Adds some sweetness and complements the flavor of the bourbon.
Hot sauce: Don't worry, it's just a little, so it's not spicy.
Liquid smoke: This is optional, but it enhances the smokiness.
Brown sugar: A little more sweetness.
Seasonings: Salt, dry mustard, onion powder, garlic powder, dried oregano, cumin, and black pepper all add to this savory sauce to make it extra bold and tasty.
Variations
Try whiskey: While similar in flavor, you can always use whiskey instead of bourbon if that's what you have or if you'd prefer to make a Jack Daniels Sauce.
Swap the sweetener: Turn this recipe into a Honey or Maple Bourbon BBQ Sauce by replace the molasses and/or born sugar with honey or real maple syrup.
Cut the carbs: Use 1/2 cup Swerve Brown Sweetener and a tablespoon or two of yacon syrup.
Spice it up: Add more hot sauce or even try tossing in some jalapenos if you need more heat.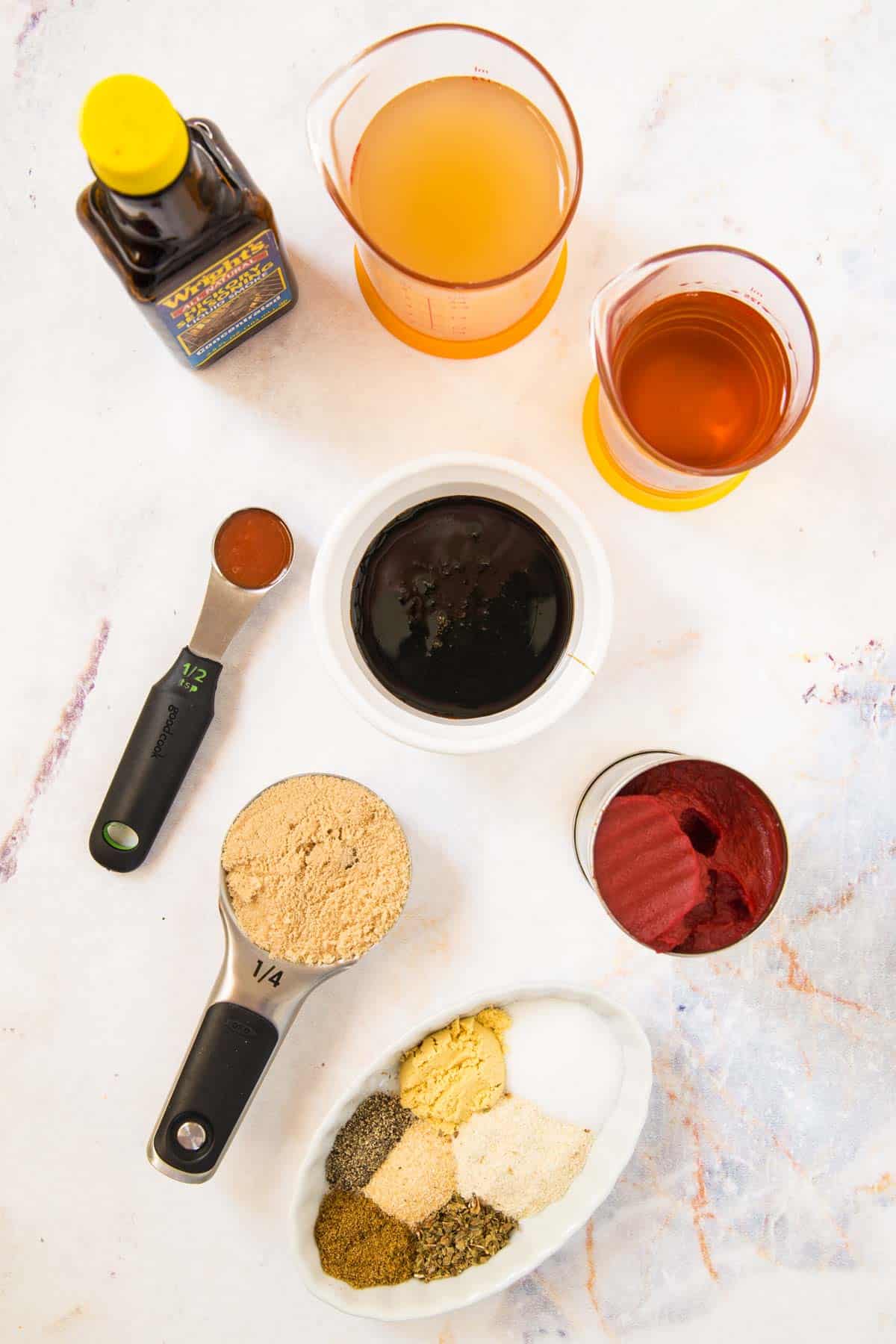 How to Make Bourbon BBQ Sauce
The full quantities and directions are in the recipe card, but it really doesn't get any easier than this.
Combine the ingredients: Whisk everything together in a small saucepan.
Heat and simmer: While stirring, bring to a boil, then reduce heat and simmer for 10-15 minutes until the foaming subsides and it thickens.
Use or store: Use right away or cool to room temperature to save for using later.
How Long Will Barbecue Sauce Last?
Transfer to an airtight container or glass jar, seal and refrigerate, and it will keep for 1-2 weeks.
What to Make with Bourbon BBQ Sauce
Feel free to use this in place of bottle barbecue sauce in any of your favorite bbq recipes like these: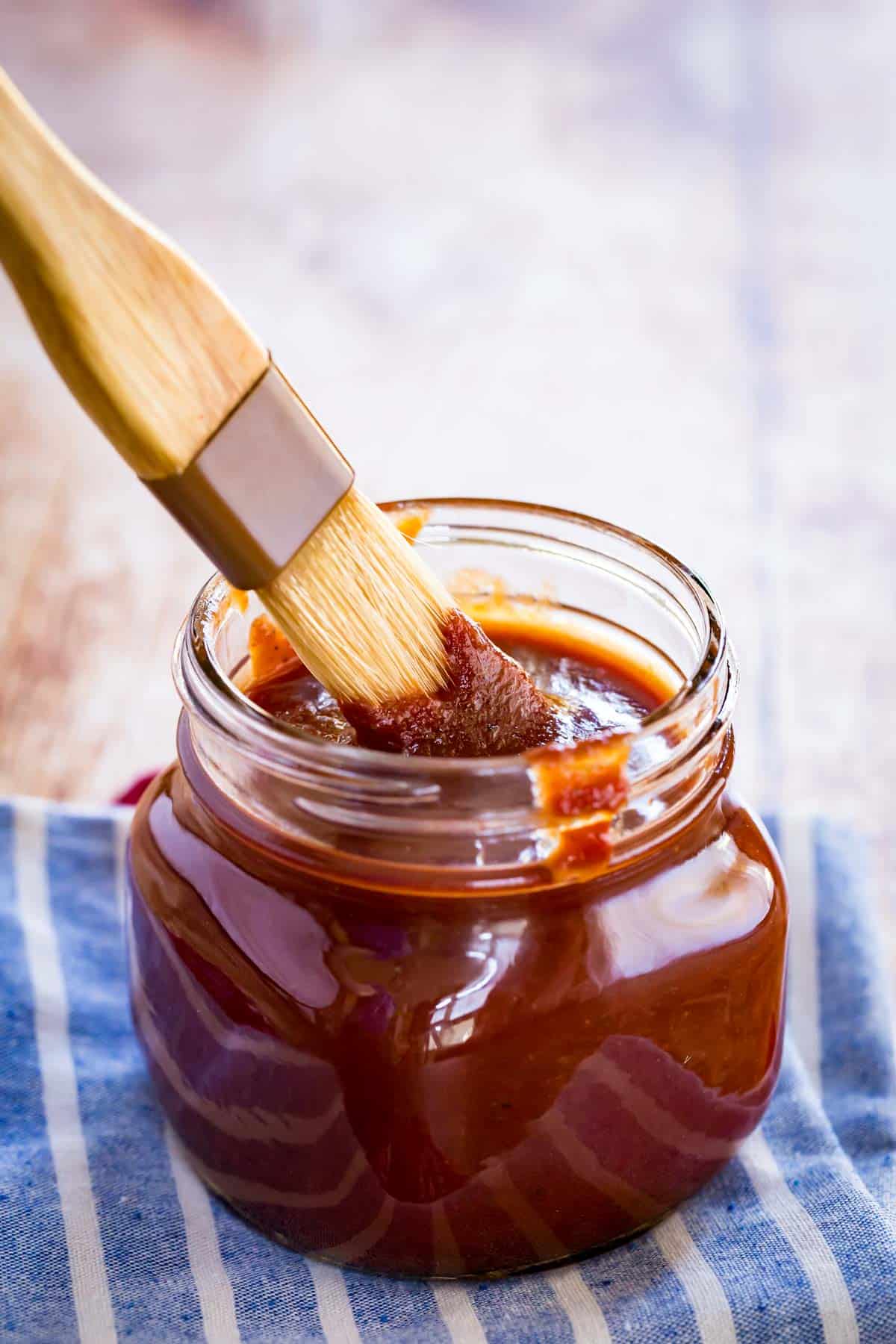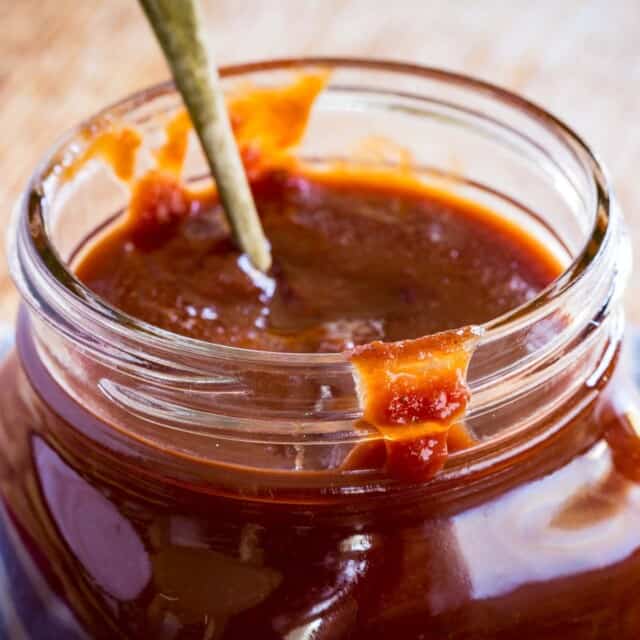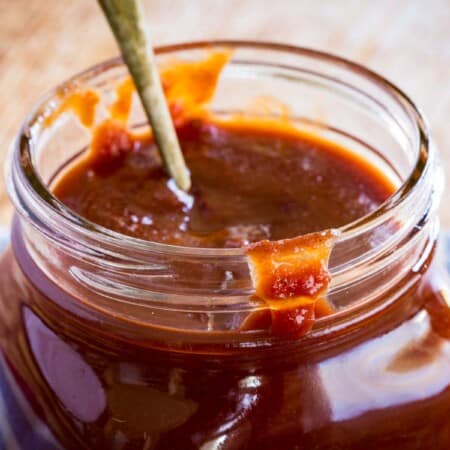 Bourbon BBQ Sauce
Easy homemade Bourbon BBQ Sauce is thick and rich, and takes just minutes to make. Sweet and smoky, it is the perfect addition to all of your favorite barbecue or grilled dishes.
Ingredients
6

oz.

can of tomato paste

3/4

cup

apple cider vinegar

1/2

cup

bourbon

or whiskey

1/4

cup

molasses

1/2

teaspoon

hot sauce

1/2

teaspoon

liquid smoke

(optional)

1/4

cup

brown sugar

1/2

Tablespoon

salt

1

teaspoon

dry mustard powder

1

teaspoon

onion powder

1/2

teaspoon

garlic powder

1/2

teaspoon

dried oregano

1/2

teaspoon

cumin

1/2

teaspoon

black pepper
Instructions
Combine all of the ingredients in a medium saucepan and whisk togther until smooth.

Place over medium heat and bring to a slow boil, stirring frequently, then reduce heat and simmer 10-15 minutes until foaming stops and it is slightly thickened to the desired consistency.

Use immediately, or cool and transfer to a jar or airtight container and refrigerate for up to 1-2 weeks.
Nutrition Facts
Bourbon BBQ Sauce
Amount Per Serving (2 Tablespoons (approximately))
Calories 59
Calories from Fat 9
% Daily Value*
Fat 1g2%
Sodium 309mg13%
Potassium 204mg6%
Carbohydrates 10g3%
Protein 1g2%
Vitamin A 165IU3%
Vitamin C 2mg2%
Calcium 21mg2%
Iron 1mg6%
* Percent Daily Values are based on a 2000 calorie diet.
Categories:
More recipes with whiskey